How to Hire a Band for Your Wedding
Live music can make your wedding reception a totally unique experience. Check out these tips for hiring the right band for your big day!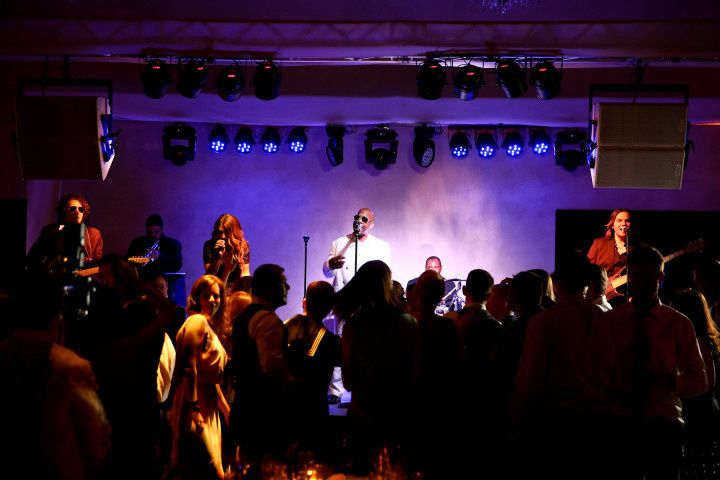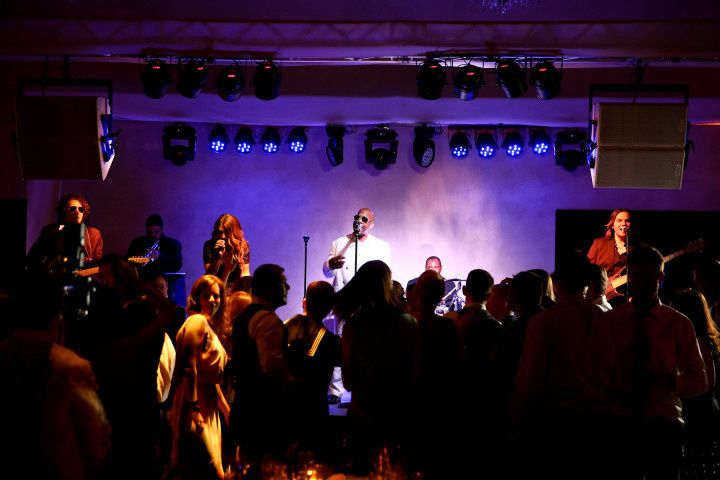 The most important wedding detail to your wedding guests is the music. In a recent WeddingWire survey of wedding guests 95 percent said the music played at the wedding reception will determine how much fun they have at a wedding. So it's important for the couple to hire a wedding band who can get guests up on their feet and keep them on the dance floor. "A great band has an incredible visual and aural energy," says Jim Eppolito of West Coast Entertainment in Beverly Hills, California. "Seeing musicians playing instruments and singing — creating music — for many can be magical."
But how do you find and book a band for your wedding? Lisa Ciampi Borrés of Élan Artists, which has offices around the country, suggests that couples start researching a wedding band soon after their engagement and book a band about 9 to 12 months before the wedding date.
"The first thing a couple should do is to decide how a band would be used for their wedding," explains Jim. "Some bands are great dance bands and other groups are more ambient music groups."
Here are some tips on how to hire a wedding band that will turn your reception into an amazing party.
Do your research.
When you begin researching potential wedding bands for your wedding, think of great parties or weddings you've attended. Ask the couples or party hosts for references. "Event planners are always a great resource especially if the planner has an ongoing relationship with a band," Jim says. "If you are at a hotel or location where bands are often used, they would be a good resource, since you're looking for dependability and a high degree of professionalism. You can also ask friends or family members who have attended a recent wedding where they feel the band excelled for their recommendations."
What type of band do you want?
There are different types of bands a couple can hire for their wedding. Determine the type of music you want played – Sinatra, Marvin Gaye, Beyoncé. "There are some bands that are set up to play a wide variety of music to accommodate the variety of guests with various ages and tastes in music," Jim tells WeddingWire. Couples can also find a specialty group that focuses on a specific genre or era of music, such as Motown, '80s, Latin Bands, Klezmer Bands and cover bands.
Ask the right questions.
When meeting with potential bands bring a list of questions with you to ask the sales manager or the bandleader. Here are some key questions you should definitely ask:
What are the band's favorite songs to perform?
What's your play list? Will you work with us on the song list?
How many singers and instruments are available?
What type of wardrobe do you wear to perform?
Do you provide ceremony and cocktail hour music?
How many breaks will the band take and what will play when they're on a break?
How many hours are included and what are your costs? Are there overtime fees?
Do you have any specialty groups or songs the band can play?
Do you perform at more than one event a day?
Will someone in the band act as the emcee?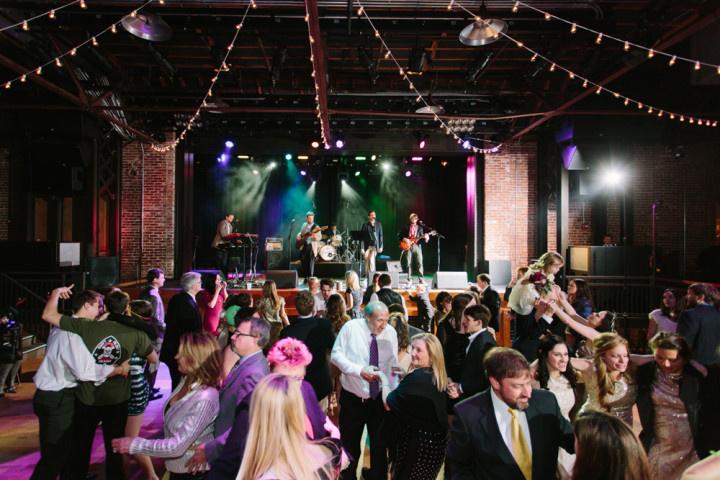 Attend a showcase.
Some bands may offer couples an opportunity to hear them perform before deciding to book them. If you're looking to hire a wedding band, the most effective way to determine if a group's sound is right for your wedding. "Showcases and live performances are the best way to experience music," explains Lisa. "The energy and spirit of the group is palpable and it gives the client a glimpse of what their event will be like."
In addition to determining if you like a band's sound, Jennie Polo of Junior's Entertainment Group in Miami, Florida says that it's important for the couple to pay close attention to the transition between songs. "A gap between songs can empty a dance floor," she explains. "Also, there must be a neat execution of every genre and the band should perform at the right volume."
Determine how many instruments and singers you want.
While the total number of performers you book will depend on your budget and type of band you want to hire, there are some core elements couples should be aware of when researching and meeting with potential wedding bands. Jennie, of Junior's Entertainment, explains that there are four sections: brass, rhythm, harmony and vocals. A brass section is composed of a trumpet, trombone, and sax. The rhythm section can be composed of one or two performers, the drummer or a drummer with a percussionist. The harmony section is made up of a keyboard, bass and guitar. "There should be at least three vocalists, which are the lead singer with two backup vocalists for the high and low cords and they will all take turns depending upon the type of song," she explains. "While the final number of performers will depend on the couple's budget, the more musicians you have the richer the sound will be."
Should you hire one band or several?
One band should be able to play music at your ceremony, cocktail, and reception. And though you can decide to hire specialty groups for each event, you should hire a wedding band that's versatile enough to play a wide range of musical genres throughout the wedding. "We suggest the couple think about their musical preferences for the ceremony and cocktails, and from there we can decide what instrumentation would make the most sense," says Lisa of Élan Artists. "If the couple is looking for a different ceremony and cocktail experience, adding a new group can be a way to build variety into their special day."
Review the contract before signing it.
Before signing a contract and booking a band for your wedding, in addition to ensuring the wedding date, time, venue and fees are listed correctly, Jim shared a list of other contract points couples should have in their wedding band contract:
The name of the band and the instrumentation/personnel who will be performing at your wedding
If you are booking a band based on a video you've watched of the band, confirm if the performers in that video are the same performers that will be performing at your wedding
A payment schedule with a cancellation clause that specifies how that effects deposit and balance payments
Confirm what the band will wear: Black tie, etc
A set up time and breakdown time may be helpful depending on the logistics for your wedding, including ceremony and cocktail hour if the band will perform for these events as well
Your contract may come with a rider, a list of requirements the band needs that clarifies what the band is supplying and what the couple is providing. If you're hiring a local band, Jim explains, the rider may include stage dimension minimums, power requirements and meal needs that the couple must provide (see below). For couples flying a band to a destination wedding, the rider would include air travel and hotel requirements. And just like the rest of the contract, you can negotiate the rider's details.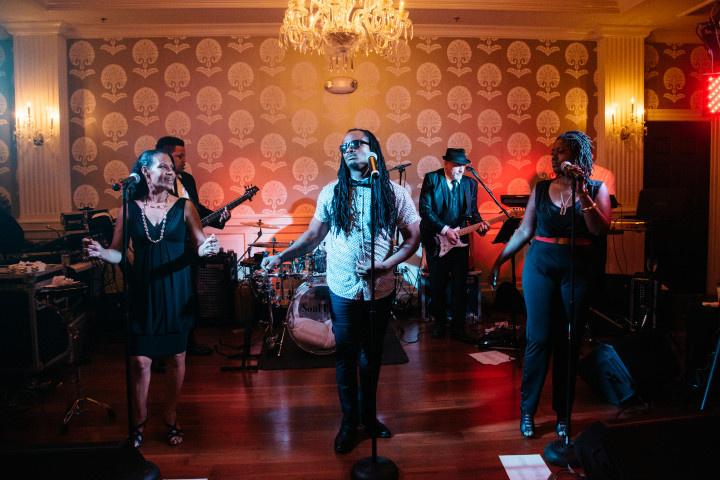 Discuss meals and breaks.
Live bands will often rotate on breaks so that even while your guests are eating there is still live music being played throughout the typical four-hour reception. When musicians are on a break it's common for the couple to provide meals for the band on-site. Your contract will list how many meals are needed. Talk to your venue and caterer about vendor meal options when negotiating contracts with them to solidify pricing and menu items. You don't want to be surprised on the day of the wedding with a second bill from the caterer.
Create a loose playlist—but trust your band.
As you're planning your reception, think about the songs you enjoy dancing to at weddings and parties, and what you think your family and friends will enjoy. The most popular songs to play at a wedding, according to a recent WeddingWire survey, are "I Wanna Dance With Somebody" by Whitney Houston, "Uptown Funk" by Bruno Mars and "Don't Stop Believin'" by Journey. "All of our bands play a wide variety within every genre and we work together with the client to understand their 'must play lists' and 'do not play lists'," explains Lisa.
While letting the band know of the few songs or artists you do or do not want played at their reception, it's important to trust the band's experience as to what will get and keep guests on the dance floor. "If a couple want a high energy dance party and they hire a wedding band they trust, it's good to allow the band some degree of flexibility in responding to whatever music the guests are responding to in the moment," says Jim.
If the band isn't familiar with a song you want, ask them to learn it. "Our groups will learn up to five songs," Lisa adds, "as long as there is enough time for them to rehearse and master the selection prior to the wedding date."
Some bands can provide more than music.
"The art of the immersive experience is the new trend in entertainment," says Lisa. "Some elements of these experiences include characters adorned in custom wardrobe and accessories, spotlight musical vignettes, custom choreography, LED walls, Video Mapping and an overall collaboration with the event designer to ensure a seamless visual, musical and theatrical experience for the guest." Ask the bandleader or sales manager what additional entertainment they offer and what entertainment suggestions they would make based on your wedding's style and location.