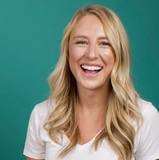 Jeffra Trumpower has been part of the wedding industry for over a decade, specializing in marketing and content development. She fell in love with weddings while managing social media, real weddings, and blog content at WeddingWire. Over the years, she expanded her role to other areas of marketing, and she currently oversees the creative marketing execution to couples and wedding pros, leading WeddingWire through innovative design, video production, live and virtual events, and more. Originally from the Eastern Shore of Maryland, Jeffra currently resides in Bethesda, Maryland, just outside of Washington, DC, with her husband, daughter, and Jack Russell terrier. She loves being outside, especially while camping, painting, riding bikes, or gardening (ask her about wedding flowers!).
Experience
Jeffra began her career in public relations, working for an in-house broadcast PR firm managing their radio promotion marketing, graphic design, and social marketing for brands like Procter & Gamble, Johnson & Johnson, Weber Grills, and more. She joined WeddingWire to lead and build social media and blog content, creating strong relationships with wedding vendors, and feature them through editorial across the site. Over the years she grew into the Creative Director and has been traveling around the country to speak on wedding trends and consumer insights.
Education
Jeffra attended the School of Communication and Fine Arts at American University, where she received her Bachelor of Arts in Public Communication and Studio Art. While in college, Jeffra studied abroad in London, where she expanded her education in Sociology and Psychology, particularly how it relates to marketing and business communication.
Accolades:
Jeffra spoke on behalf of WeddingWire to showcase wedding trends on NBC's
The Today Show
and WJLA DC. Appeared on WUSA DC to discuss destination wedding and honeymoon trends Jeffra has been on several broadcast news outlets providing advice to couples rescheduling their weddings due to COVID-19. During the 2020 Presidential Election, Jeffra spoke to several news outlets on how to navigate political conversations with family. Jeffra has been featured in multiple news outlets, including CNN, Betches, PopSugar,
Washington Post
,
The New York Times
, and more.
WeddingWire Q&A with Jeffra
What is your ideal wedding style?
Bohemian Chic. I love the ethereal dresses and flowing, loose florals. You can also incorporate the look into any season throughout the year. I saw a Bohemian Chic wedding in the snow-covered mountains of Colorado and it blew me away - and I very rarely dream of changing my own wedding details.
Dream honeymoon location?
Greek Islands; Paros is one of my most favorite places on Earth, it has beautiful wine vineyards and sand beaches, the perfect combo, in my opinion!
What was (or would be) your first dance song?
We picked a totally random, amazing song, "Brighter Than Sunshine" by Aqualung and to this day was one of my favorite decisions, it was unique and forever ours.
Favorite celebrity wedding look?
Mandy Moore. Everything about her wedding was personalized and a reflection of them as a couple. Also, I loved her pink wedding dress!
Articles published by Jeffra Trumpower