Who Do You Invite to a Bridal Shower?
Ready to make your bridal shower guest list. Here's your ultimate guide to who to invite to your bridal shower.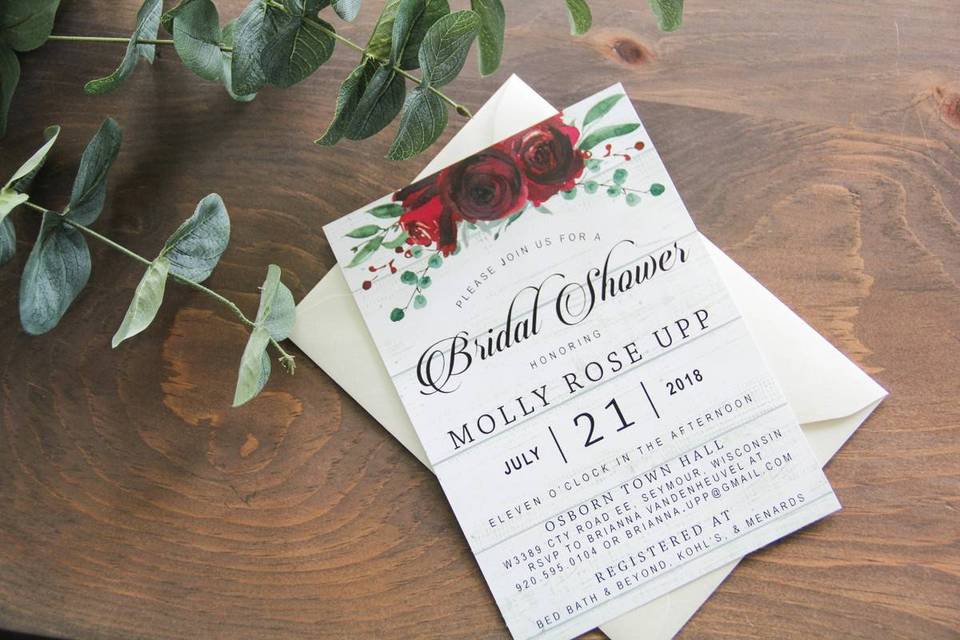 Your bridal shower is more intimate than your wedding, so when it comes to figuring out who to invite to a bridal shower, you can limit the list to your nearest and dearest. Since a bridal shower is traditionally hosted by the bridesmaids, and/or the mother of the bride, it's important to let them know who you want to invite to your bridal shower since they will be mailing the bridal shower invitations.
Not sure where to start? A general rule is to begin with the wedding guest list. Not every woman invited to the wedding is invited to the bridal shower, but only people invited to the wedding can be invited to the bridal shower. And if you're planning your bridal shower during COVID, you'll likely want to keep your guest list on the smaller side. So, who do you invite to a bridal shower? To help you determine your guest list for this special event, follow these bridal shower guest list guidelines:
Keep the list short.
While you may think it was hard to narrow down the wedding guest list, the bridal shower guest list should be even shorter. A bridal shower is a more intimate affair of your closest friends and relatives on both side of the aisle. You do not have to invite the plus ones of friends invited to the wedding, co-workers and acquaintances of your parents. You also don't have to invite friends of your future spouse unless you're close to them too. You do want to invite your partner's mom, grandmother, sister, aunts and close cousins.
Limit the list to those invited to the wedding.
One of the most important rules of the "Who do you invite to a bridal shower?" etiquette issue is being sure that all invitees are also invited to the wedding. The exception would be an office shower where colleagues, regardless of whether they are invited to the wedding, will throw a celebration at the office.
Defer to the hosts.
While you may be the guest of honor, it's the host(s) who will get the final say on who to invite to the bridal shower. Most bridal showers are a surprise and the bride may not know how many people can fit in the venue or the party's budget. Give your suggested guest list of who you'd like to include to mom, the maid of honor or a bridesmaid.
Multiple showers are okay.
Sometimes not everyone can travel to a bridal shower. If half of the guest list lives in another part of the country it's totally fine to have a second shower in that area for those relatives and friends to celebrate and shower the couple with gifts. For example, friends may host a shower where the couple currently lives, but mom may host one for relatives and her friends in her hometown.
Same-sex wedding showers can be separate or shared.
For a same-sex couple, you can have separate showers or a shared shower. If you're hosting separate showers the guest lists do not have to overlap and should include the friends and family of the guest of honor. For a shared shower, you would invite friends and family on both sides of the aisle. The same "rules" apply re: not inviting someone to a shower who is not invited to the wedding, inviting co-workers and long-distance relations.
Co-ed showers are common.
You might think that, when it comes to who to invite to a bridal shower, the guest list should be female-only. Today it's not unheard of to invite men to a bridal shower, especially if there are bridesmen in the bridal party. (You may have heard of a Jack & Jill Shower where men and women are invited.) It's okay to invite close guy friends to what was once an all-women event. And ask dad and your groom to make a special appearance towards the end of the shower to say hello and thank everyone for their well wishes and gifts. Some future spouses will participate in a final bridal shower event such as a Live Newlywed Game or bring a gift of his own.
Coworkers don't have to make the cut.
Your officemates may decide to throw you an office shower regardless of whether you invite them to your wedding. If you're very close with your boss, assistant or other colleagues – you socialize with them outside the office – and they are invited to the wedding, you may consider inviting them to your bridal shower, but it's not mandatory to invite them.
Include long-distance friends & family.
Just because they live far away doesn't mean you shouldn't mail them an invitation to your bridal shower. Even if you're pretty sure they won't be able to make it, it's nice to show them you're thinking of them when deciding who to invite to your bridal shower—and you can always include a virtual component to your day so they can join the celebration from home. They are not obligated to send a bridal shower gift just because they received an invitation.
Invite the couple's children.
A bridal shower is more of an adult event with activities that kids may not be interested in, but you should still invite the children and soon-to-be step-children of the guest of honor. It's up to the host(s) to determine if the celebration will be kid-friendly, have a kid's menu, and if other kids should attend such as nieces and goddaughters.
Offer a virtual component.
Whether you're hosting your bridal shower during the COVID pandemic or after gathering restrictions have been lifted, it's a good idea to be deliberate about who to invite to your bridal shower. Fortunately, there are ways to include loved ones who aren't able to travel to this pre-wedding party. Create a Zoom meeting and set up your computer or tablet in a prime location so your virtual guests can enjoy the festivities. Enlist a bridesmaid or other family member or friend to play tech support in case there are any issues.