How Soon Is Too Soon for a Wedding Shower?
Here's how to find the sweet spot for the shower.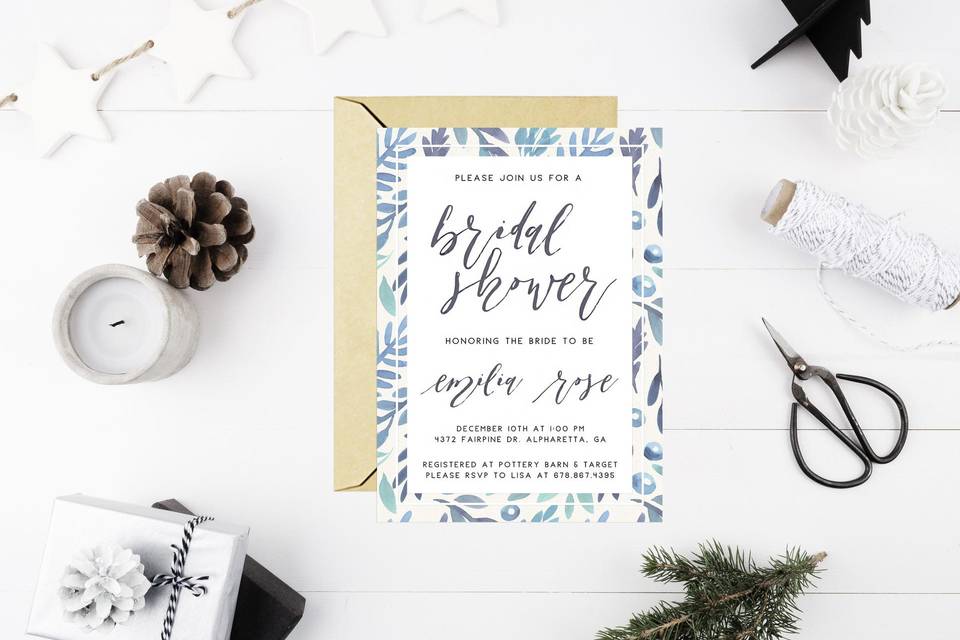 Many couples today have a bridal or wedding shower, or a pre-wedding celebration where the bride or couple's closest friends and relatives gather together in excitement to "shower" the couple with gifts, support and love. "The tradition usually involves fun games, trivia and hands-on activities, but modern couples are leaning towards more casual, daytime events with food and drink," says Leah Weinberg of Color Pop Events in Long Island City, New York. "It's nice to do because it's a less stressful environment for the future married couple to interact with some of their guests and it gives the close friends and family members of the couple to get to know each other before the actual wedding."
But how do you know when to throw a bridal shower? Does your length of engagement determine how far away or close to your wedding date your bridal shower falls? "In the mythical olden days, weddings happened shortly after the engagement, even within a few weeks, so showers would be scheduled quickly," explains Jodi R.R. Smith, owner of Mannersmith Etiquette Consulting. "Nowadays things are quite different—wedding couples may be finishing graduate degrees, deployed overseas or simply saving up for a lavish affair, which means there can be years between an engagement and wedding."
On average, wedding showers are typically planned for anywhere from three weeks to three months prior to the wedding date as a lead up to the big day, but it can very much depend on the situation, according to Weinberg. Here are some ways to figure out when to throw a bridal shower and to make sure your wedding shower date isn't too soon, but rather just right in terms of timing.
Figure out who's hosting first.
When it comes to figuring out when to have the bridal shower, it's essential to figure out who's hosting before setting the date. That's because there are several people or groups of people who can plan and host a shower—and are ultimately responsible for setting the date. While the bridal party (bridesmaids led by the maid of honor) traditionally hosts, these days, the mother of the bride, future mother-in-law, family friends, close friends, and other loved ones can all take the reins. Once the hosts have been named, they can work with the guest of honor to figure out the best date for the bash.
Solidify the wedding guest list.
"The wedding shower is an event for the wedding guests, so if you send out bridal shower invitations too early, without the wedding guest list nailed down, you may end up between a rock and a hard place," Weinberg says. "You might end up sending a wedding invitation to someone you weren't planning to, because they received a shower invitation or risk having the faux pas of inviting someone to the shower and not the wedding, which can make you look greedy for extra presents." The bridal shower hosts should work with the bride or couple to make sure the bridal shower guest list matches up with the wedding guest list to avoid any bridal shower etiquette issues.
Start the planning process early on.
Perhaps even right after you get engaged, start scouting out potential dates for your wedding shower. "This gives the shower planner enough time to find a venue that feels appropriate—large enough, the right atmosphere, and price point," says Weinberg. "Also, for anyone that may need to travel or take time off, receiving the invitation as early as possible gives them time to ask for vacation days, book flights and all related concerns."
Find a sweet spot.
When it comes to deciding when to throw a bridal shower, you don't want to have the shower too far away that the introductions made amongst your wedding guests are near-forgotten by the time your wedding day roles around, however, Weinberg warns not to pick a date for the shower that's too close either. "The wedding shower is often when the two families are spending time together for the first time, putting names to faces," she says. "Those introductions and interactions can be stressful!" She recommends having the shower at least two weeks before the wedding to ensure that the stresses of the wedding shower don't get intermingled with the social stresses of the wedding day!"
Consider the bachelorette party plans.
If there will also be a bachelorette party, it's important to factor that into bridal shower planning. According to the WeddingWire study, 57 percent of bachelorette parties occur within a month of the wedding. So if your bachelorette party and bridal shower will take place in the same location, you might consider having them on same day or weekend so that anyone who has to travel in doesn't have to make two trips. But if you're hosting a destination bachelorette party in a different location, you'll have to plan for two separate weekends—and we recommend at least a week or two in between events.
Pick the right time of day.
Now that you've set the date (or at least narrowed down some dates), you'll need to figure out the ideal time of day for the shower. A bridal shower usually starts between 10:30 a.m. and 3 p.m. and lasts between two and four hours. If the bridal shower theme includes brunch, you'd want to host the event on the earlier side, while an afternoon tea would be on the later side. And for something completely different, an evening cocktail party can be a fun twist on bridal shower tradition!
Consider two showers.
When location is an issue, for example one side of the family is located far from the other, it is possible to have two different showers. "A friends-only shower in the big city and then family-only shower where each person was raised is not uncommon," says Smith. "When there are multiple showers, the wedding couple, their parents and siblings should be included on the guest list regardless of their ability to attend." If you have many loved ones scattered around the country, you might also consider having a virtual bridal shower, or including a virtual component to an in-person shower.