The Bridal Shower Checklist Every Host Needs
From invitations to food and drink, this bridal shower checklist has all the items you'll need to plan an epic pre-wedding event.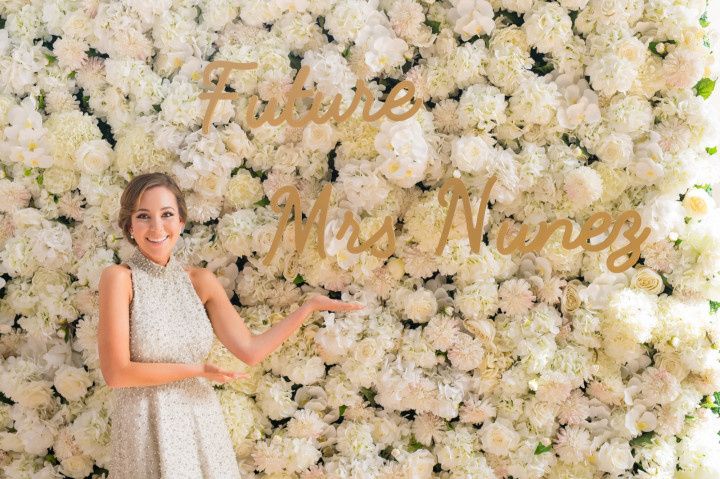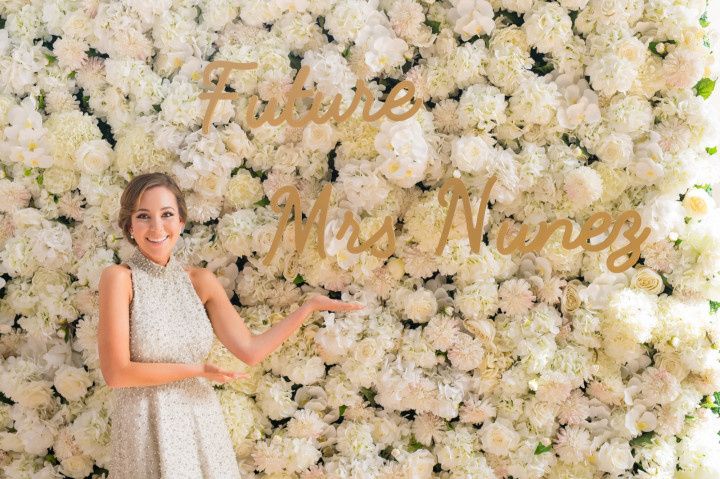 Are you planning a shower for your bestie or close family member and are looking for a bridal shower checklist to help you get started? We've got you covered! There's a lot that goes into planning the ultimate bridal shower, from setting a date to putting together a guest list, choosing a theme, sourcing food and drink, and more. Fortunately, the process is pretty straightforward and, if you plan the shower with fellow bridesmaids, wedding party members, and/or relatives of the guest of honor, it's easy to delegate these tasks to ensure the process is stress-free. Check out this bridal shower checklist featuring everything you need to help you start planning a killer shower the bride-to-be is sure to love!
The Basics
The first steps of a bridal shower planning checklist are actually pretty similar to wedding planning—figuring out who's hosting (read: paying), what the budget will be, and who's on the guest list. Traditionally, the maid of honor and bridesmaids host the bridal shower, but close friends and family members may also want to take the reins. And while it used to be taboo for the mother of the bride or future mother-in-law to host a shower for her daughter, it's now a common practice. The planning team should consult with the guest or guests of honor (if it's a couple shower) to determine the guest list and narrow down some dates and times for the big day. Then, the venue hunt begins! Some wedding showers take place in a host's home, others at a venue like a restaurant, country club, or other event space. Each venue type has its own advantages and the decision really depends on the style and budget of the hosts and guest of honor.
The Bridal Shower Theme
When it comes to choosing a bridal shower theme, you'll want to make sure to keep the guest of honor's interests in mind. Yes, an uber-traditional tea party-themed shower may be fun for some, but don't be afraid to rock the boat a bit and try something new, from a travel-themed event to a group cooking class, a pool party, a picnic in the park, a boozy brunch, or something totally out of the box! Once you've selected your theme, choosing decorations, food, invitations, and other details will more easily fall into place.
Bridal Shower Checklist
Now that you've got the basics down, you're probably asking: So what exactly do I actually need to throw this shindig? Well, this bridal shower checklist is a rundown of every single product and service you'll need to think about as you plan this celebration.
Vendors
While some bridal shower hosts opt to DIY much of the event, we do recommend at least considering hiring some vendors to help ensure the day runs smoothly. For example, booking a caterer to provide the food, buying a cake from a local bakery, or opting for a professional photographer to capture the occasion. While yes, you might save some money by going the DIY route, hiring professionals means less stress on the day of!
Bridal Shower Invitations
You can opt for e-mail or printed bridal shower invitations here. Either way, we recommend sending them out about four to six weeks before the event. While it's okay to include the guest of honor's wedding registry information on the shower invitations, you could also include the couple's wedding website address as an alternative. And don't forget to let guests know the best way to RSVP, along with a deadline so you'll be able to finalize the guest count a week or so before the big day.
Floral Arrangements and Decorations
Whether you're hosting the shower at someone's home or at a venue, you'll want to choose decorations that compliment your theme. This may include floral table centerpieces, in which case you might want to consider hiring a florist to provide the arrangements. You could also opt for other bridal shower decor, such as garlands, fun photo backdrops, signage, balloons, string lights, and more.
Food and Drink
Eating and drinking are among the most important activities at a bridal shower—so an important part of the planning process is sourcing ample food and drink for the celebration. Depending on the time of day and theme, you may opt to offer a full brunch with mimosa bar, afternoon tea service, a Mexican themed lunch featuring margaritas, hors d'oeuvres, or just cake and dessert. If you're hosting the bridal shower at a restaurant or a venue with in-house catering, you'll work with the event space to plan the menu. Otherwise, you might opt to hire a caterer or take out from a favorite eatery. And while having the hosts prepare the food and bring drinks is an option, it is a lot of work and might cause added stress. We don't recommend asking bridal shower guests to bring a dish, potluck style—guests should focus on enjoying themselves, not worrying about cooking before the event.
Tables, Chairs, and Other Rentals
These are the little details that often get forgotten on a bridal shower checklist—everything from tables to chairs to drinking glasses, forks, knives...the list goes on and on. If you're hosting the bridal shower at a restaurant or other venue or working with a caterer, they'll likely provide the rentals. However, if you're hosting the bridal shower at someone's home you'll need to source these items. Make sure that you have enough tables and chairs to seat all of your guests, as well as plates, silverware, cups, glasses, and napkins, as well as serving pieces for the food. And don't forget to include a special chair for the guest of honor to sit on during the gift-opening portion of the event.
Music
The right music can set the tone for the event. Check out our bridal shower playlist, or delegate a member of the bridal party to create your own. Consider including songs that fit your shower theme (French tunes for a Paris-themed celebration). You can even hire live musicians to perform during the event for an extra-special touch.
Bridal Shower Games and Activities
While opening gifts is an important part of most wedding showers, it's always a good idea to plan some games and activities for your guests to enjoy. There are plenty of printable bridal shower games that are affordable and fun, or you can always opt for the classic toilet paper wedding dress competition! If you're hosting a couple shower or the guest of honor's future spouse will be joining the celebration, the shoe game is a fun option, as well.
Special Gifts and Speeches
A bridal shower is all about celebrating (and spoiling!) the guest of honor, so adding a homemade group gift or asking loved ones to give speeches can be a lovely touch. A few ideas for a group gift: a cookbook made with recipes submitted by family and friends in advance, a photo collage or video slideshow, or a special album with personalized notes and photos.
Gift List and Ribbon Bouquet Attendants
An often-forgotten addition to a bridal shower checklist—designating a person to keep track of the gifts received so the guest of honor can easily write thank-you notes later on. And the ribbon bouquet is a fun tradition where a member of the bridal party or other close family member or friend creates a hat/bouquet using the ribbons and bows accumulated during the gift-opening process. Traditionally, a paper plate is used as the base of hat/bouquet, and you'll also want some scissors and tape to help put it together. The bride then dons the creation as a funny hat during the shower and can use it as a bouquet at the rehearsal.
Party Favors
When it comes to bridal shower favors, there are many options to choose from. Of course, you could go the edible route with cookies, candy, or mints. Or, you could opt for on-theme keepsakes like mugs for a wintertime shower, measuring spoons for a cooking theme, or nail polish for a spa theme.