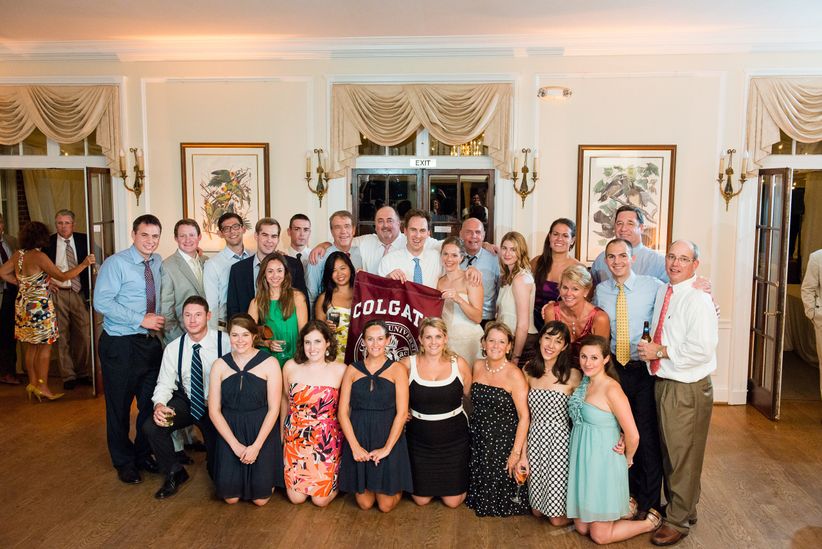 Photo: Michelle Lindsay Photography
Learn how to throw the ultimate co-ed wedding shower here!
There are a lot of wedding traditions that have been given a 21st-century update, such as the man of honor and best woman roles, email save-the-dates, and not tossing but gifting the bouquet, so it's not surprising to hear about co-ed wedding showers. A party that was once strictly off limits to the men in the wedding is now welcoming them in with open arms, including co-ed themes and details that caterer to brides and grooms and their mix of friends. "I find that many wedding parties are no longer traditionally a female/male split," says Alena Bard, owner of
Alena Swanson LLC
in Albuquerque, New Mexico. "I have sisters as Best-Ladies, and Brothers and Male BFFs as Men of Honor. With a co-ed wedding party and a co-ed group of best friends, there is no reason to traditionally divide the gender lines for events that surround the wedding either!"
The Guest List
When deciding who to invite, feel free to invite a mix of genders. "Many couple showers are heavier on the friend guest front," says Tara Guérard, owner of
Tara Guérard Soirée
in Charleston, South Carolina. "If a couple has just moved to a new city together, and most of the new friends they have made are other couples, this is a great way to celebrate."
The Venue
Anyone can host a traditional shower, a family member, bridesmaid or friend, so there's no reason the same group of people can't host a co-ed one. "I can't imagine a sweeter gesture then a father hosting a shower for his baby-girl!" Alena says. "But I believe hosting a shower takes teamwork, and often takes all the bride's side of the wedding party. I might suggest that a member from each side of the wedding party or a co-ed team, or co-ed 'couple' should lead the planning and hosting, to be sure both voices are heard and able to influence the event."
A co-ed shower can be hosted anywhere a bridal shower can be held – a restaurant, hotel, a parent's home or private club. As long as the guest list can be in the room or rooms comfortably you can host a shower pretty much anywhere.
The Theme
A traditional shower theme may focus on the gifts the bride will receive, and some classics can easily be used for a co-ed shower. "I think a gift theme of sorts is a great idea," says Hope Weis of Hope Weis Consulting in Chicago. "Choose a theme that appeals to a hobby the couple enjoys together, such as cooking or camping."
An
Around the House theme
encourages guests to bring gifts for various rooms in the couple's home. A kitchen theme focuses on cooking and may include cookbooks, appliances, dishes and gadgets. Travel showers center on the couple's love of adventure and can include travel accessories, guidebooks and luggage.
Want something a little more modern? A
Stock the Bar theme
can allow guests to enjoy a variety of cocktails, while shower gifts include bottles of wine, liquor and bar accessories. A Fitness theme would include sports in the day's activities (golf or a suite at a ball game perhaps) and gifts for the couple can be gear for their favorite activities. A Home Renovations theme will help the future newlyweds fix-up their house with items they may have registered for at Lowe's or Home Depot.
The Gifts
Speaking of presents, it's no longer mandatory for the engaged couple to open up all of their shower gifts to the "ooohs" and "ahhs" of guests. Many hostesses are requesting that gifts come unwrapped or wrapped in cello (clear wrapping paper) so that more time at the shower is spent on mingling and entertainment. "I don't know many brides who are opening each present at their shower these days," says Lindsay Landman of Lindsay Landman Events in New York City. "Having gifts come unwrapped allows the couple to spend more time visiting with family and friends who have come to celebrate with them. They still have to send thank-you notes after the shower whether or not they say thank you in person."
The Entertainment
For entertainment, games like
Bridal Bingo
or making a toilet paper wedding dress may not seem right for a co-ed crowd, but there are games and activities that would be more appropriate. A version of the Newlywed Game, customized with questions and answers about the couple's relationship could be hilarious for everyone. All you need is a list of giggle-inducing questions, paper and markers. You can also plan a customized group game that's similar to the popular app Heads Up, with categories and topics that cater to the couple's lives and wedding planning. There are also plenty of Mad Libs-style letters guests can fill in with their thoughts and well wishes for the couple. Or skip the games altogether and just enjoy each other's company with good food, great music and some toasts!
The Favors
Before guests leave be sure to gift them a shower favor, which can be part of the theme or a more traditional item. A few modern theme favors include beer or soda can
koozies
,
bottle openers
and
luggage tags
. Or go with the classics: mints, chocolates,
cookies
or fancy soap.
And once the shower is over and the guests have gone home, the couple has to make sure they have an organized list of who gifted them each item and share the task of writing thank-you notes. They should split the list in half with each of them writing the note to their relative or friend, but sign both of their names to it.