The Pregnant Bridesmaid Etiquette Guide Every Bride & 'Maid Needs
Whether you're a bridesmaid or a bride, here are all of your pregnant bridesmaid etiquette questions, answered!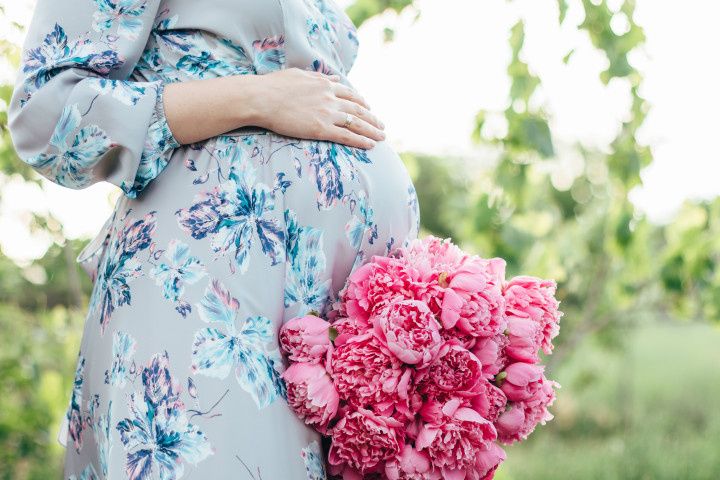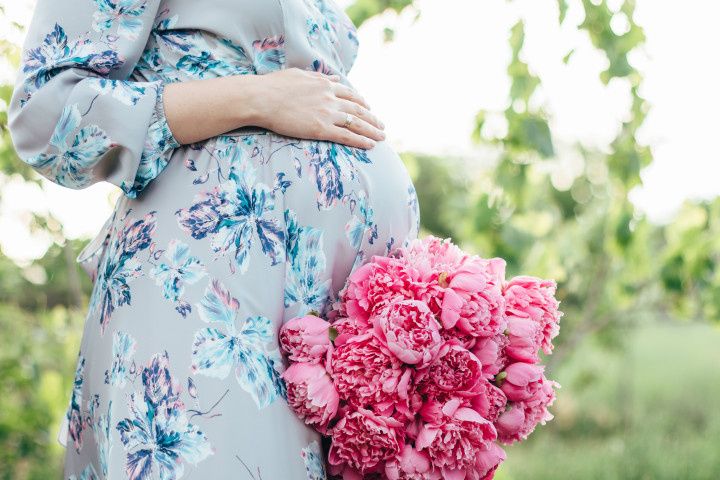 Do you have pregnant bridesmaids in your wedding party? Are you a bridesmaid and worried about telling your BFF that you're expecting? There are some sensitive topics that may arise between a bride (or groom) and a pregnant bridesmaid, including shopping for a maternity bridesmaid dress, destination wedding travel concerns, and how many bridesmaid responsibilities to tackle.
Read on for advice on how to solve some common pregnant bridesmaid etiquette dilemmas.
If you're a pregnant bridesmaid…
I was asked to be a bridesmaid but I'm pregnant and I'm due around the wedding date. Should I decline or accept the invitation?
It's important that you tell the bride that you're pregnant and when you're due. A due date near the wedding day may mean you can't attend the wedding because if the baby is early you may prefer not to walk down the aisle because you don't know how comfortable you'll feel after delivery. Or you may be due soon after the wedding date and too uncomfortable to want to walk down the aisle and stand through the ceremony. (Perhaps you can walk and then sit in the front pew.)
But just because you may not be able to walk down the aisle, or attend the wedding, you can still participate in planning and attending the shower and bachelorette, and assist the couple in various planning to-do's: making wedding favors, stuffing the invitations, etc.
Don't decline an invitation to be a bridesmaid just because you're pregnant. Voice your concerns and discuss them with the couple and then make a decision that is best for your health and well being, but also allows the bride to honor your friendship at her wedding too.
I'm a pregnant bridesmaid. Does my role and responsibilities change because I'm pregnant?
Only if you want them to. If your doctor suggest that you take it easy or you would prefer to take on a smaller list of responsibilities, let the couple and other bridesmaids know and explain what changes you would like to make.
Maybe you can't take on the added responsibility of planning the bachelorette party or spending a day learning a flash mob dance. It's okay to say no or adjust your role for the health and well being of you and your baby.
My OBGYN told me I shouldn't travel to my friend's destinations wedding because of Zika concerns, but I'm a bridesmaid. How do I tell my friend I can't go to her wedding?
Be honest with your friend and explain your doctor's concerns and why she doesn't want you to travel to the destination. If the wedding is still a few months away you can check with your doctor and the U.S. State Department website to learn if the destination is safer for pregnant women closer to the wedding date. The couple will most likely understand and be sympathetic as to why you can no longer be a bridesmaid. But just because you can't go to the wedding doesn't mean you can't take part in pre-wedding festivities such as co-hosting the shower and attending the bachelorette party.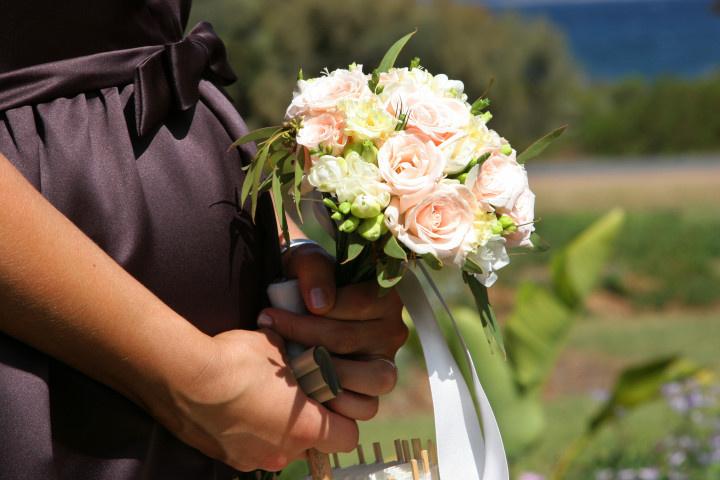 If you're a bride…
I really want my pregnant friend to be a bridesmaid but I'm afraid it's a burden to ask her to spend money and time on pre-wedding parties and stand at the altar. How can I keep her in the wedding party so she's comfortable?
It will be important to her to know that you value your friendship so much that you want her to be a bridesmaid, so ask her and then talk to her about your concerns. She may have some too.
Ask her what she would feel comfortable doing and whether she would like to be an official bridesmaid with all the responsibilities that go with it, or if she'd rather be an honorary one with limited assignments and participation. Perhaps she wants to go all in with a few limitations such as not attending a destination bachelorette party and wearing flats instead of heels on the wedding day.
I have several bridesmaids who are pregnant or trying to get pregnant. How do I pick a bridesmaid dress style that will be comfortable and fit each of them?
Pregnant bridesmaids may each have their own comfort and style thoughts so you may want to allow them to pick their own bridesmaid dress, with guidelines from you regarding the wedding's formality (length, neckline and sleeve length) and color options.
If you're shopping for a similar look for each bridesmaid, consider an empire-waist dress or a convertible dress, such as a twobirds convertible dress, which allows each bridesmaid to wear a dress in the same fabric and color but in a style most flattering and comfortable to them.
When ordering dresses for pregnant bridesmaids, there are maternity styles available from some of the most popular bridesmaid dress designers, including Jenny Yoo as well as retailers such as BHLDN and David's Bridal. Consider requesting extra length so the hemline is long enough in the front. It can always be hemmed if it's too long. A flowing fabric like chiffon can be the most comfortable and least restricted fabric option.
Is it wrong for me to ask a bridesmaid to step down because now she's pregnant?
Yes it's wrong. You should not fire a bridesmaid because she's pregnant. If you have concerns about her comfort level as a bridesmaid then voice your concerns in person or over the phone, not over text or email.
Are you worried she won't be able to travel to your wedding? Or if she's due around the wedding date that there's a chance she won't be able to attend the wedding? Or are you concerned that she won't want to participate in your shower and bachelorette?
If you're considering her to be a bridesmaid she must be a close relative or friend, so you should feel comfortable speaking to her about your hesitations and how you would be okay if she wanted to step down or at least minimizing her role and responsibilities to make her more comfortable.
Several of my bridesmaids are pregnant. How can I make being a bridesmaid less stressful for them?
It's important to make sure to ask pregnant bridesmaids about their comfort and stress level. They may be totally fine running around to shop for dresses or happy staying in crafting wedding favors, but be thoughtful and remember that they may need a few more breaks in the day to put their feet up and have a proper meal.
Ask them what style bridesmaid dress would be ideal for them — lightweight fabric, empire waistline — and type of shoes. Some pregnant women will be fine in heels while others may prefer flats.
If some women are going to be more than six-months pregnant on the wedding day, ask them if they would prefer to sit in the front row after walking down the aisle instead of standing for the length of the wedding ceremony.
And just because they're pregnant don't assume they won't want to take part in the shower and bachelorette party. Just be sure to offer some colorful mocktails to keep them in the spirit of the celebration.