The Indispensable Guide to Bridesmaid Gift Etiquette
Not sure how much to spend on bridal party gifts? How about where to buy them? We're sharing the answers to all of that and more in this handy guide.
We have included third party products to help you navigate and enjoy life's biggest moments. Purchases made through links on this page may earn us a commission.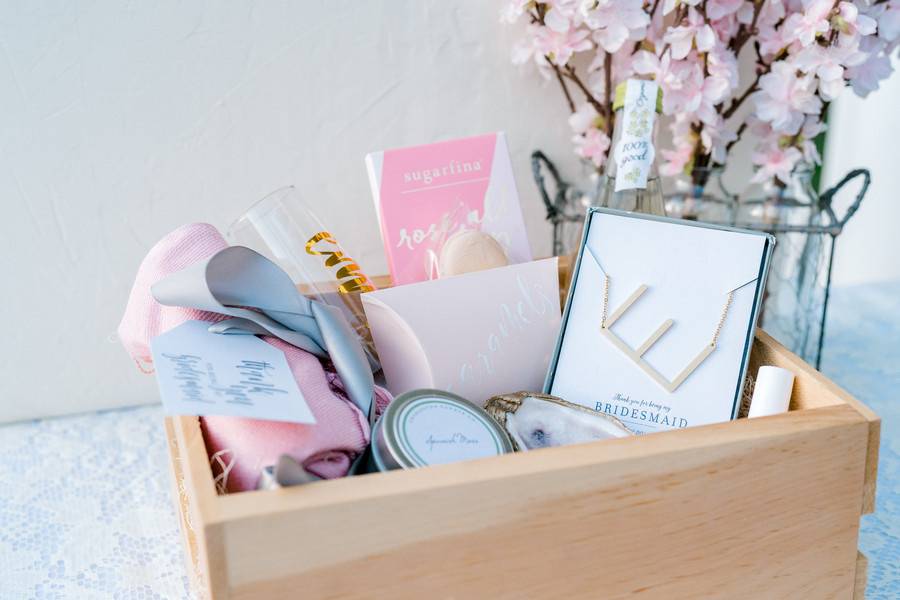 From helping to plan the bridal shower and bachelorette party to providing 24/7 emotional support throughout your engagement, it's safe to say being a bridesmaid is a big job. After months of helping you plan, party, and keep every plate spinning, your besties deserve an extra-special thank you. One great way of letting them know just how much you appreciate all they've done for you? Bridesmaid gifts. If you're not sure where to start, don't worry. We're answering all the biggest FAQs about maid of honor and bridesmaid gift etiquette right here. Find out everything you need to know before shopping, like how much to spend on bridesmaid gifts and when to hand them over.
Do you have to buy bridesmaid gifts?
It's important to properly thank your wedding party for all the time, effort, and money they've put into helping you and your S.O. celebrate this milestone. Expressing your gratitude with thoughtful presents is always a kind gesture, but buying gifts isn't the only way to show your crew some love. While plenty of couples still opt to pick out personal presents, others prefer to cover some of the bridesmaids' wedding expenses as a thank you instead. Paying for their bridesmaid dresses or wedding accommodations is a huge gesture they're sure to appreciate. (Just make sure to still give each person a handwritten thank-you card to clearly express your gratitude.) If your budget is a little tighter, you should still try to get gifts for your bridesmaids and MOH. Small tokens like an affordable pair of earrings or personalized drinkware will go a long way.
How much should you spend on bridesmaid gifts?
Wondering how much to spend on gifts for your bridal party? There's no hard and fast rule. While you definitely want to get your crew something nice, it's also important not to get carried away or spend beyond your limits. When figuring out how much to spend on bridesmaid gifts, the best thing you can do is allocate a portion of your wedding budget early on. However, if it's getting close to the big day and you didn't do that, don't worry. You're only expected to spend as much as you can comfortably afford. Whether that's $50 per person or $150, the final figure is totally up to you and your spouse. Putting in a little extra effort with presentation and thank-you notes is a great way to elevate any present.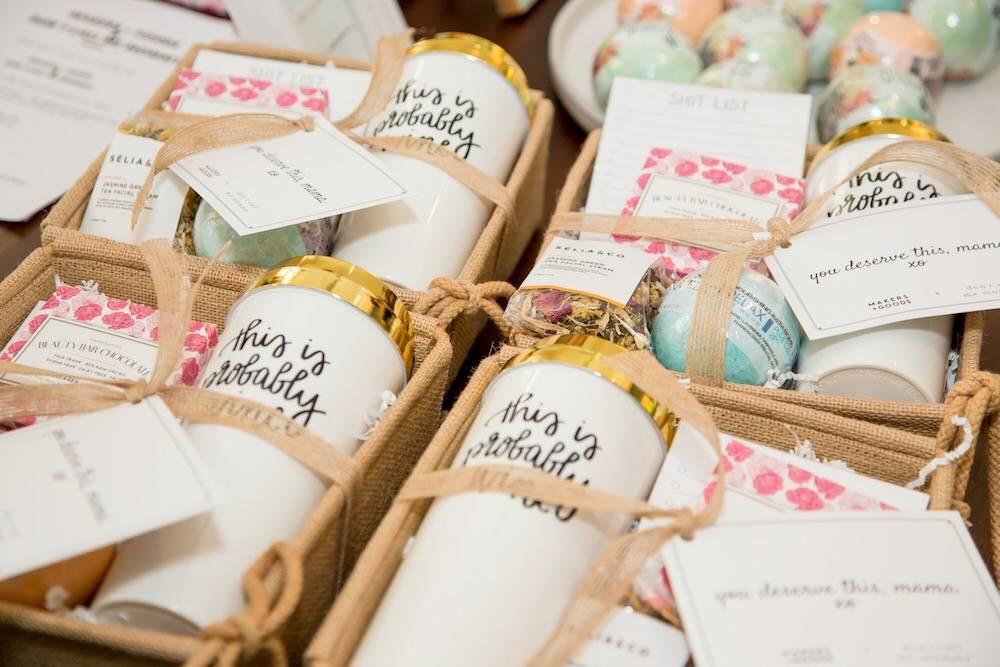 Where can you buy bridesmaid and maid of honor gifts?
WeddingWire Shop is a goldmine when it comes to wedding gifts and favors, especially if you're wondering where to get bridesmaid gifts on a budget. Our online store has so many wonderful options, from stylish makeup bags to chic totes. The icing on the cake? A lot of items can be customized with each bridesmaid's name or monogram. You'll also find some fabulous gifts at Etsy, including a ton of unique, personalized options. Or, if you're going for a cool-girl vibe, check out Packed Party for more cute keepsakes and favors.
Wherever you decide to buy gifts, make sure you start shopping early. The month before the wedding can get hectic and you'll need to leave some extra time if you want to personalize your presents. We recommend planning ahead and starting your search a couple of months before the big day.
What are good bridesmaid gift ideas?
A general rule of thumb for bridesmaid gift shopping is to make each present as personal as possible—and we're not just talking about adding monograms. The best bridesmaid gifts are tailored to the recipient, meaning you don't necessarily need to buy the same thing for everyone. Take the time to pick out something that shows just how well you know your crew. A good example would be a personalized thermos for someone who loves the outdoors or a luxe skincare set for your beauty-guru bestie. If you're putting together gift baskets, feel free to include a few items that are the same for everyone. Mini bottles of bubbly, cute hair ties, and personalized dress hangers are all great gift ideas that'll help fill out bags or boxes.
It's also totally acceptable to buy all of your 'maids a gift from the same category (think: jewelry), but you should still choose something slightly different for each person. A necklace or bracelet featuring their birth flower or stone is going to feel personal no matter what. One last note: Avoid handing over bridesmaid robes or PJs as your main present. While they'll definitely look cute in getting-ready photos, they're not necessarily the most thoughtful gift idea. Instead, think of them as fun extras for your crew.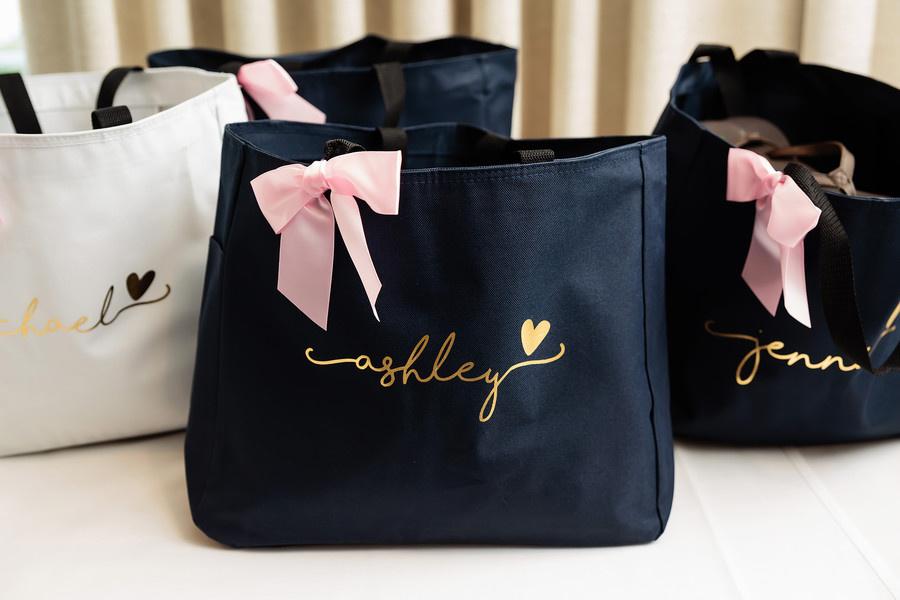 When do you give bridesmaids their gifts?
You'll likely have a few different opportunities during your wedding weekend to hand over the bridesmaids' presents. Ultimately, deciding when to give the bridal party their gifts is up to you. Many couples choose to give the bridesmaids and groomsmen their gifts at the rehearsal dinner. That way, you'll have a little more time to thoughtfully present each gift (and your bridesmaids will be able to safely stow them away before the wedding). It's also common for brides to give thank-you gifts to their besties on the day of the wedding. An ideal time to do this would be while you're all getting ready, especially if you're giving them jewelry to wear with their bridesmaid attire.
Is maid of honor gift etiquette different?
It's a good idea to level up the gifting for the VIPs in your wedding party. Your MOH likely took on a lot more responsibility and expenses than the rest of your crew, and while you don't necessarily have to get the maid of honor an extra gift, you should plan to spend a little bit more accordingly. Your right-hand woman deserves something truly special for being your rock throughout the wedding-planning process.
Not sure what to get your maid of honor as a gift? Again, the best thing you can do is pay attention to her interests. If she's no stranger to your local spa, a gift voucher is an excellent idea. If she loves to cook, a beautifully engraved cutting board fits the bill. Choosing something that reflects her personality and interests will help show your bestie she's one in a million.
Once it's ready to be delivered, you might be wondering when to give the maid of honor her gift. While it's definitely acceptable to give all of your bridal party's presents at the same time, you can also schedule some one-on-one time with your MOH shortly before the wedding. This will give you a chance to hand over your present and sincerely thank her for everything she's done without any time constraints or interruptions.