What to Wear While Getting Ready for Your Wedding
Thinking about what to wear while getting ready for your wedding? Whatever you and your 'maids choose, it should fit the following criteria: comfy, cute, and totally Insta-worthy!
There's a good chance you won't want to show up with bedhead and yesterday's t-shirt when it's time to get ready for your wedding (not that we're judging if you do; you're going to be getting gorgeous anyway!). Since this is your special day, you probably want to look and feel amazing all day long. And who could blame you! What better way to do this than to dream up something super-special for you and your bridal party to wear while you're getting primped and primed for that big walk down the aisle.
Wondering what to wear while getting ready for the wedding? Luckily, with all the amazing options out there, this should be an easy (and fun!) decision. Here, we'll walk you through lots of different options to consider, because this isn't exactly a one-size-fits-all situation.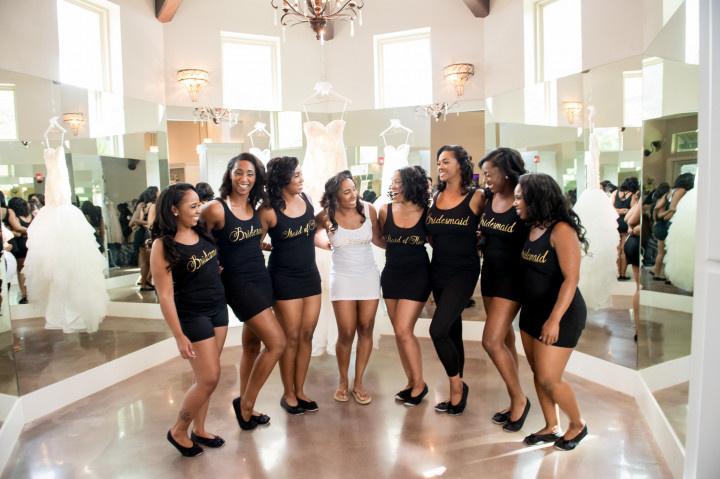 Option #1: Cute tanks or tees
"Wifey," "The Future Mrs," or simply, "Bride." For a cute, fun-loving option on the morning of your wedding, why not choose bridal party tees or tank tops that lets you flaunt your soon-to-be status. And for the bridesmaids? A matching top that simply says "Bridesmaid" would work just fine, or you can opt for something more lighthearted, like "Team Bride" or even, "Real Bridesmaids of (Your Name)" as a fun nod to the Real Housewives TV series. One thing we love about this option is that it's the perfect way to be inclusive if you'll have a bridesman or man of honor. He'll be able to match everyone without having to step outside his comfort zone.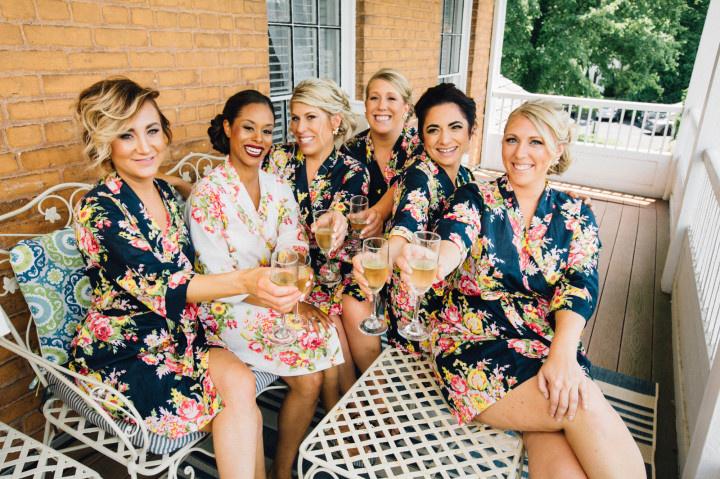 Option #2: Luxurious matching robes
Looking for a day-of outfit that totally doubles as a thank-you gift to your amazing bridal party? Opt to hand out gorgeous silk robes for everyone to wrap up in while getting their hair and makeup done. Consider a matchy-matchy floral design in a trendy color that everyone would like, or take it up a notch and buy each lady a robe in her favorite color. Either way, they're sure to love this option! Don't forget to snag a bridal robe for yourself too, and match your special ladies, or opt to wear the same robe but in white.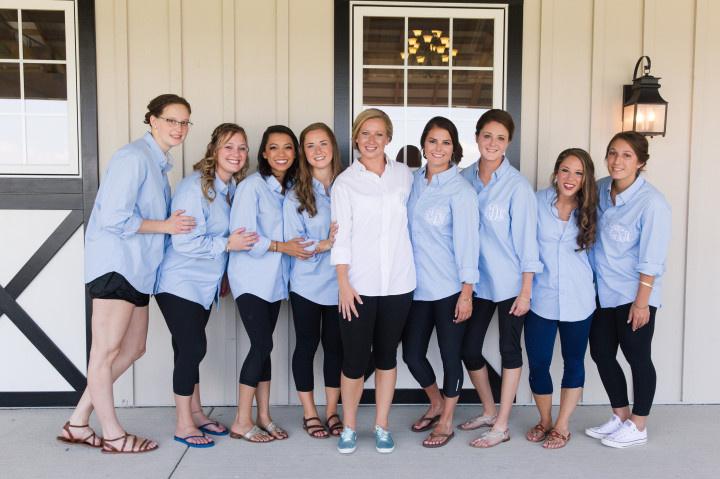 Option #3: Button-down shirts
Don't underestimate the power of a button-down shirt on the morning of your wedding. It pretty much belongs on any list of must-have items when you're getting ready. That's especially the case if you'll be at a public place like a hair salon, where robes may feel a bit inappropriate. A button-down shirt allows you to stay warm and covered while you're getting your hair and makeup done, but it's easy to remove without having to pull it over your head and mess up your gorgeous look.
If you'd like to have your whole bridal party wear one, you've got lots of options! One of our favorite things if you're wondering what to wear while getting ready for a wedding is a crisp, white button-down with a monogram on the front pocket. This is a thoughtful way to honor your squad with a gift they can wear on the morning of your wedding, and many other times, too! Other fun options are button-downs that speak to your wedding's theme. Country affair? How about different plaid shirts tied at the waist? Garden wedding? Try a floral design in a lighter fabric. And of course, wearing button-down shirts is another great way to include a special guy in your morning-of festivities, or better yet—purchase them for your groomsmen too, and knock two to-dos off your list at once.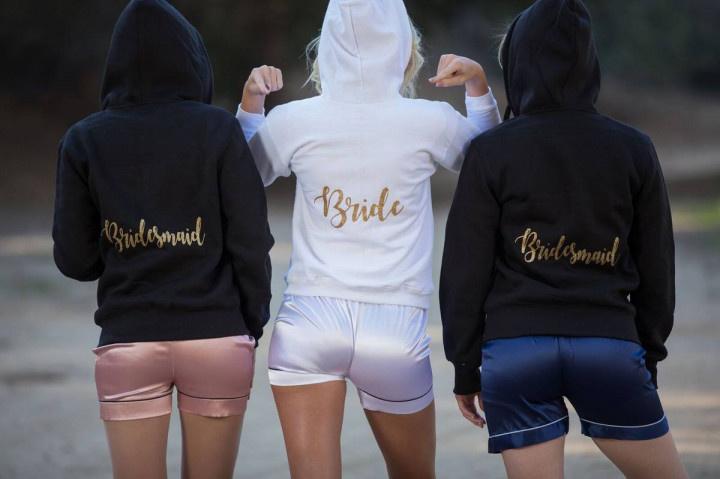 Option #4: Matching hoodies
Everyone loves hoodies! They're great for lounging around on weekends or venturing out when it's just a tad too cold to go without that second layer. When you opt to give your group a matching hoodie, they can flaunt their status while staying warm and cozy on the morning of your wedding. A wedding-related inscription is a great choice here, or you can choose to personalize with each bridesmaid's name for more general wear (they'll thank you!).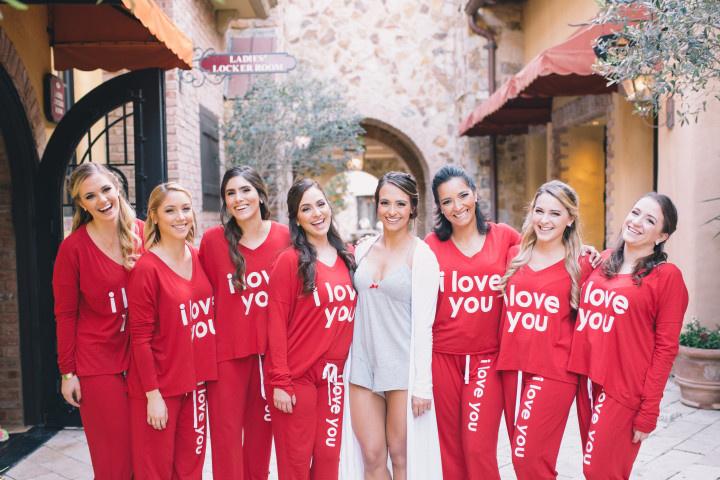 Option #5: Lingerie or pajamas
As long as you won't be getting ready in a public place, there's nothing that says you and the girls can't hang around in lingerie (mimosas, please!). And here's a bonus to consider—tastefully done photos of you and your bridal party in gorgeous lingerie could turn out amazing! The options are endless here, depending on your personality, and of course, the comfort levels of your group of ladies. Some of our favorite options for what to wear while getting ready for a wedding include nightgowns in silk or chiffon fabric, or tanks with silk shorts. Other great options are a fun romper or cotton pajama sets that can be monogrammed or personalized.