13 Bridal Party Tees Perfect For Squad Pics
These bridal party tees and tank tops are ideal for those Instagram-worthy getting-ready photos for your crew.
We have included third party products to help you navigate and enjoy life's biggest moments. Purchases made through links on this page may earn us a commission.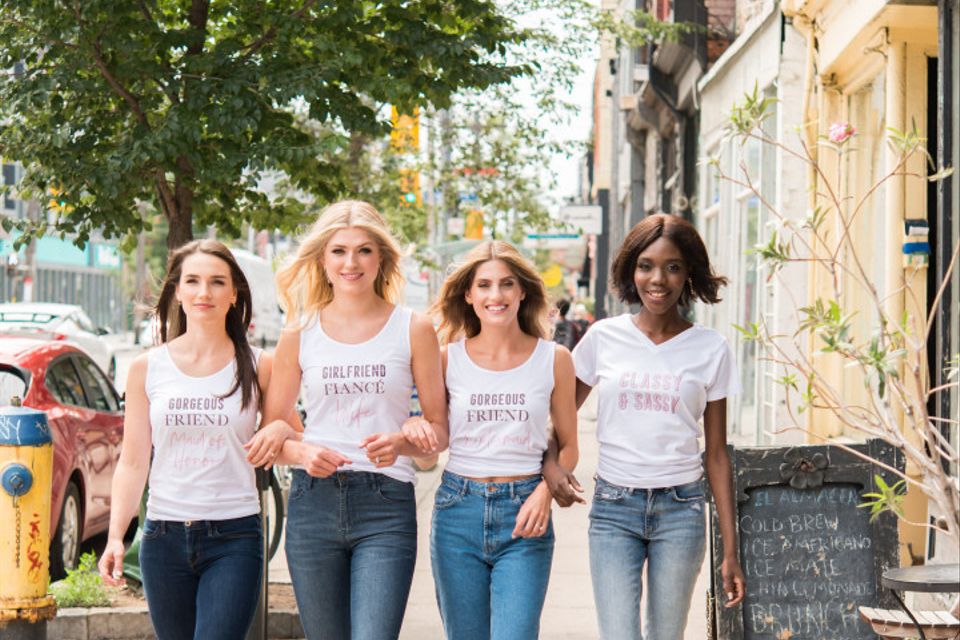 Getting ready with your squad of besties on the morning of your wedding day will undoubtedly be one of your fondest memories. Why not kick the fun up a notch with matching bridal party tees or tank tops? They're a super-cute way to show the world you're all in this together—and take some totally Instagram-worthy group pics in the process!
Opting for a t-shirt or tank top is a more modern option than a robe, but remember—the best bridal party tees are the ones that allow for easy removal so you and your crew don't mess up that beautiful hair and makeup when it's time to get dressed. Look for v-neck shirts or loose-fitting ones with wide necklines. No matter whether you're looking for bridal party tank tops or tees, we've got them here on our list. You'll find popular options like "Team Bride" and "I Do Crew" and a couple to match some of today's trendiest themes, too.
Snag some of these bridal party tees and bridal party tank top and hand them out the morning of your wedding for some seriously unforgettable moments.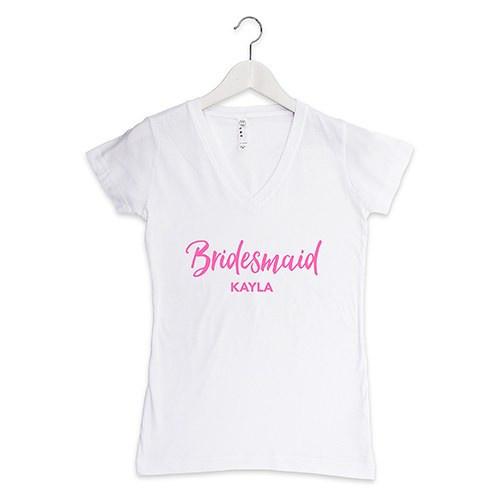 We're kicking off this list with a personalized bridesmaid tee. Choose from five totally on-trend font colors, and add each bridesmaid's name, up to 12 characters, at no additional cost. The shirt is made from a super-soft cotton blend, with a v-neck that'll make it a snap to remove, even after hair and makeup are complete.
WeddingWire Shop personalized bridesmaid t-shirt, $18, WeddingWire Shop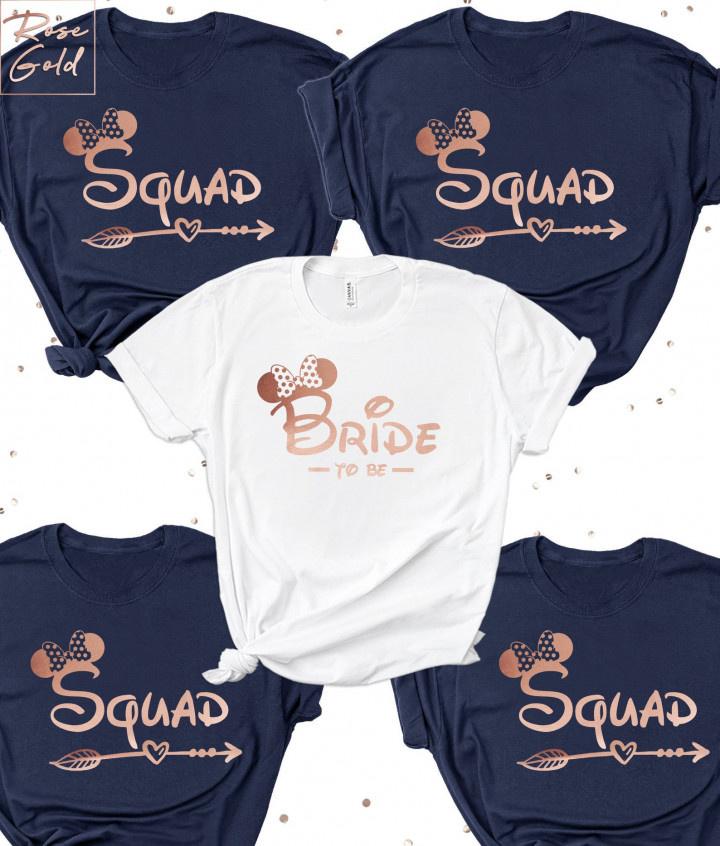 Calling all Disney fans! These super adorbs bridal party tees are the perfect choice for brides with an affinity for that popular mouse. And it goes without saying they're a must-have if you're having a Disney destination wedding!
Rose Gold London Disney bridal party tees, $18, Etsy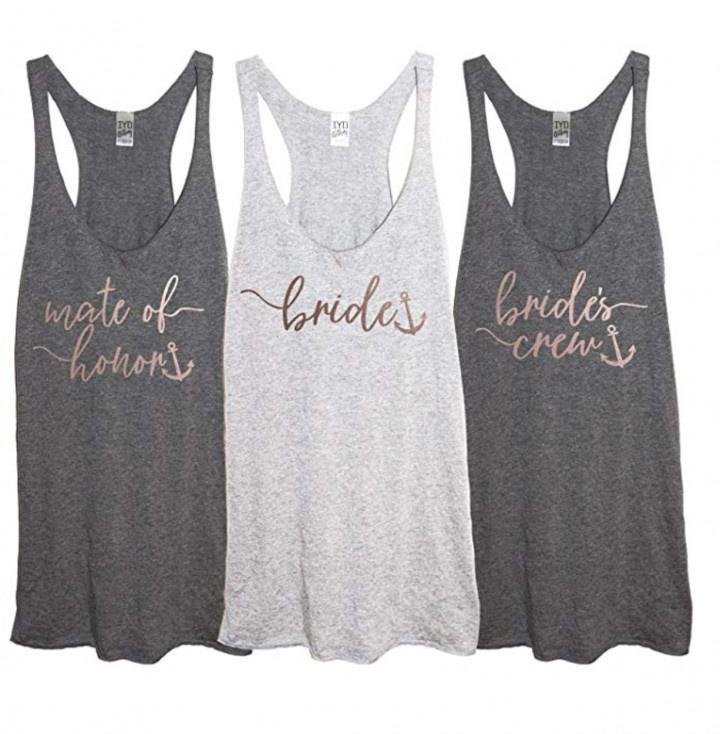 Anchor's away! If you're planning a nautical fete, or you're simply a sea lover, these bridal party tank tops are sure to make waves! With rose gold lettering on a grey background, these tanks are made of soft, stretchy cotton for a comfortable fit. And we love the nautical-inspired play on words—Mate of Honor for your maid and Bride's Crew for your bridesmaids.
It's Your Day Clothing anchor bridal party tank tops, from $17, Amazon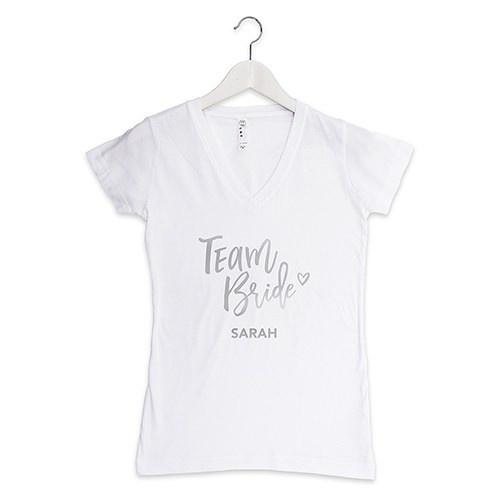 This fun, whimsical tee also features each bridesmaid's name, scrawled under the phrase "Team Bride" so everyone will know where her loyalty lies. A sweet little heart accompanies the saying, which is available in 5 different wedding-ready colors, like silver, gold or bright pink. This tee sports a deep v neck, which makes it a great choice to wear while getting gorgeous.
WeddingWire Shop personalized team bride t-shirt, $18, WeddingWire Shop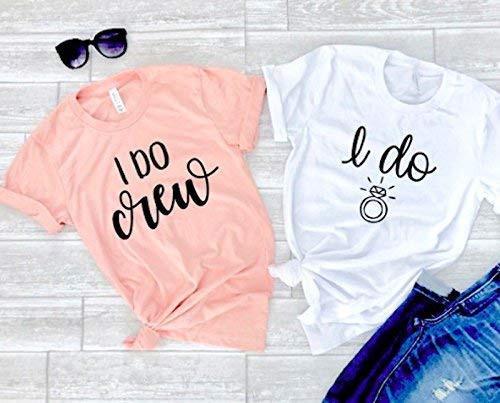 Gift your I Do Crew with tees that say just that. These adorable, crazy soft bridal party tees are the perfect way to keep your squad outfitted in getting ready attire on the morning of the big day. Choose from a huge variety of color customizations, or opt for the super trendy black lettering on peach as shown.
Up 2 Our Necks in Fabric bridal party tees, $24, Amazon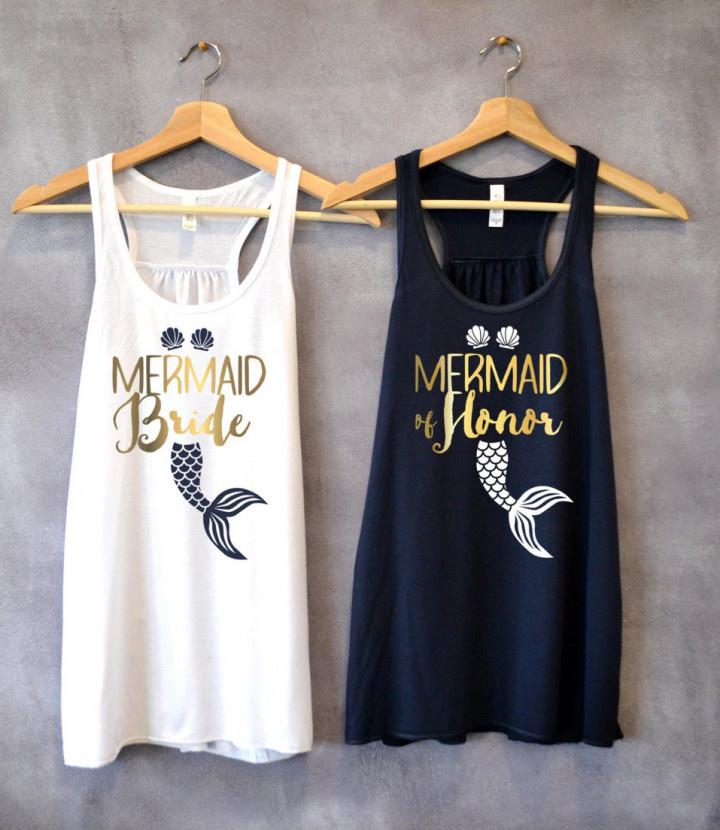 Are you a mermaid at heart? If so, you've got to check out these mermaid-themed bridal party tank tops. They come in white for the bride and an attractive nautical navy for the bridesmaids, these tanks feature a racerback with ruching for just a touch of added style. Gold script proclaims each mermaid's specific role, including cheeky phrases like Mermaid Mama and Mermaid Queen. Also available in black, grey, coral and mint.
Hello Handpressed mermaid bridal party tank tops, $19, Etsy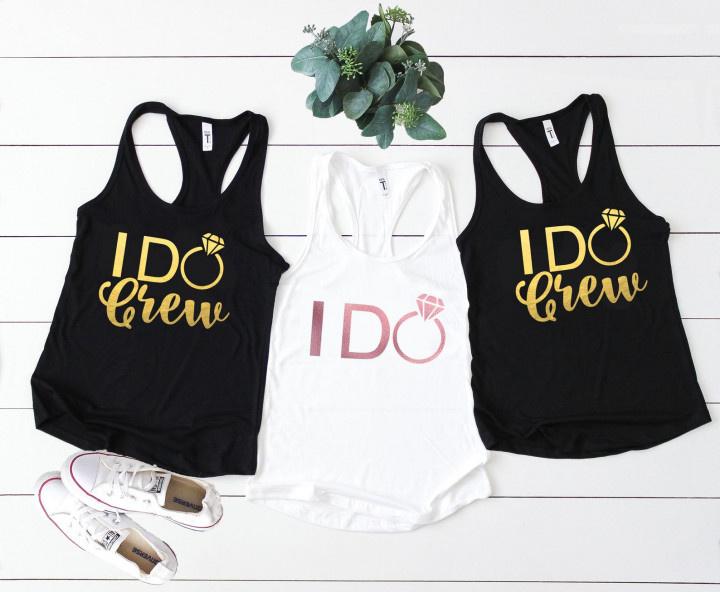 If you've chosen to outfit your ladies with bridal party tank tops, you'll love these black and gold ones with "I Do Crew" emblazoned across the chest. They come with a deep neckline and racerback style for easy removal and a breezy fit. And if black isn't your thing, you can choose from a variety of different shirt colors. The best news? At just under $5 a pop, these shirts are an excellent value, too!
Brides Nola I Do Crew tank tops, $5, Etsy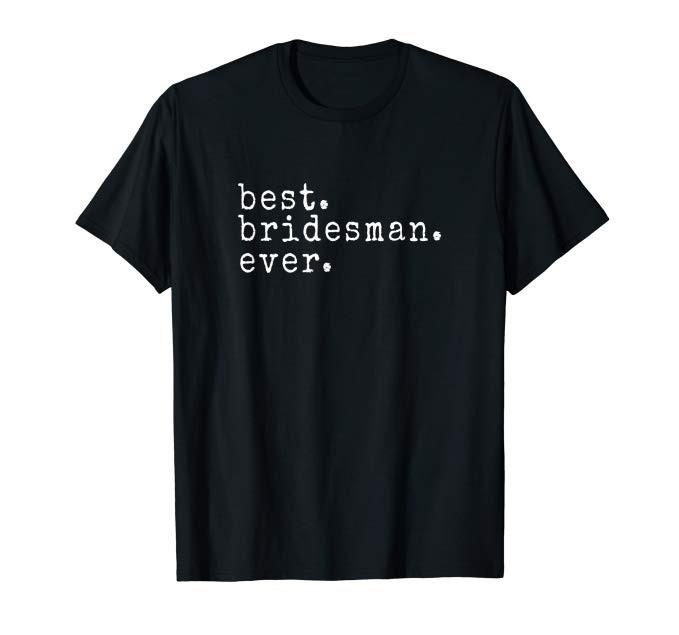 When shopping for the best bridal party tees, you can't forget your bridesman! If you've got one, he needs to have his very own amazing shirt too! We've found it here with this black tee that simply states, Best. Bridesman. Ever. What more could he ask for?
Funny T-Shirt for the Bridesman bridesman tee, $20, Amazon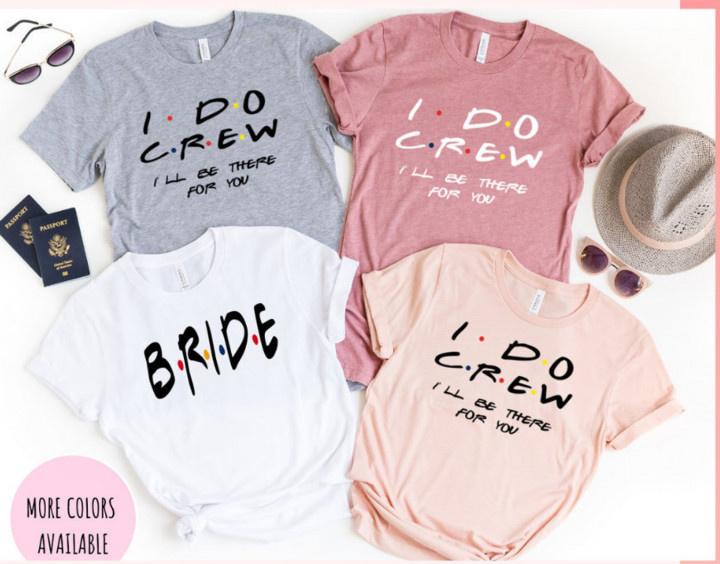 If you feel like you've found your lobster and have opinions on whether or not they were "on a break," then you're probably a fan of the hit `90s TV show, Friends. If so, you'll love these bridal party tees in that classic Friends font. Snag one for each of the ladies in your "I Do Crew" and don't forget to snag one for yourself, too!
Bacheloristas Friends bridal party tees, $22, Etsy
Status: upgraded! The girls that make up your bridal crew were your friends first until they were upgraded to besties. Now? Bridesmaids! We love this super adorable tank that gives a nod to your friendship journey. Easy, breezy bridal party tank tops allow for mess-free removal after hair and makeup are complete, and prevent your best girls from getting overheated before the big event.
WeddingWire Shop personalized bridal party tank tops, $18, WeddingWire Shop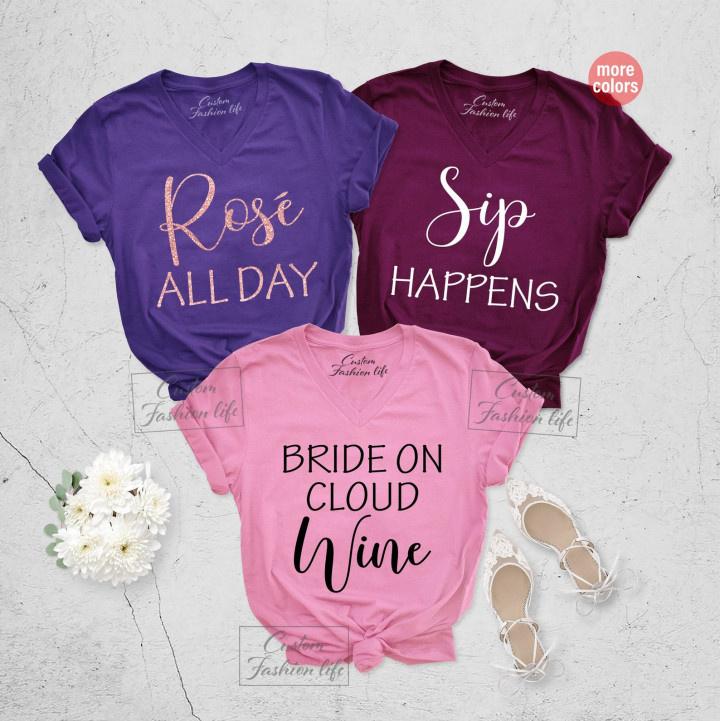 Rosé All Day! That's just one of the fun phrases you'll find on these wine-themed bridal party tees. They're fully customizable, too. Choose from crew-neck or v-neck tees or even bridal party tank tops, and pick a color that works for your squad. Camouflage green bridal party tee shirts? You do you!
Custom Fashion Life wine bridal party tees, $12, Etsy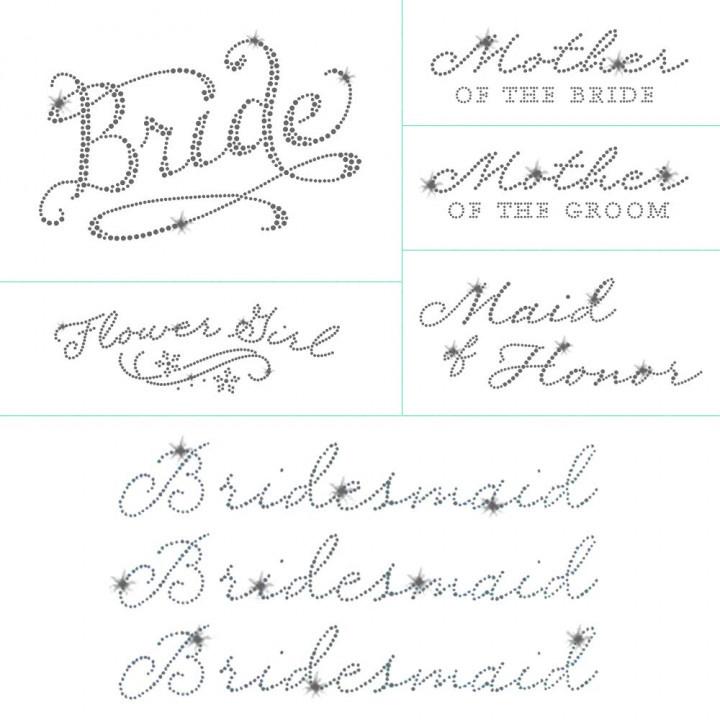 Not finding what you're looking for? Consider a make-your-own bridal party shirt. These rhinestone iron-ons allow you to do just that. For just under $20, you'll receive a pack that includes your all-important role along with all the key supporting roles, like Bridesmaid, Mother of the Bride and Flower Girl. These rhinestones will look great with any color shirt, too!
JCS Rhinestones appliques, pack of 8, $20, Amazon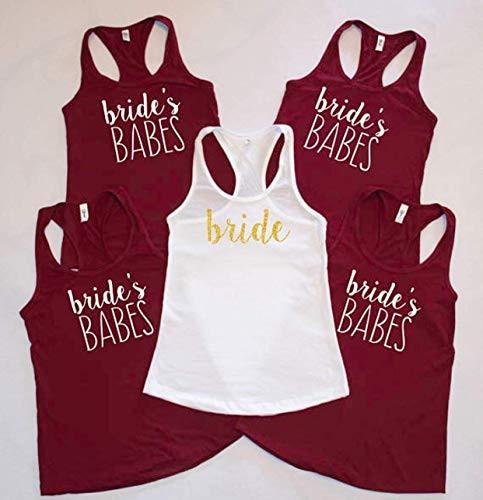 If you're looking for bridal party tank tops that are just a little bit different from everything out there, why not opt for these burgundy tanks that state, "Bride's Babes" instead of bridesmaids. It's a catchy twist on the title that your squad of babes is sure to love!
Glitter Get Up racerback tanks, $15, Amazon
Disclosure: This post contains affiliate links, some of which may be sponsored by paying vendors.