How Long Does Wedding Hair and Makeup Actually Take?
Ready to plan your big-day timeline? It's essential to know how long wedding hair and makeup will take to make sure you stay on-schedule.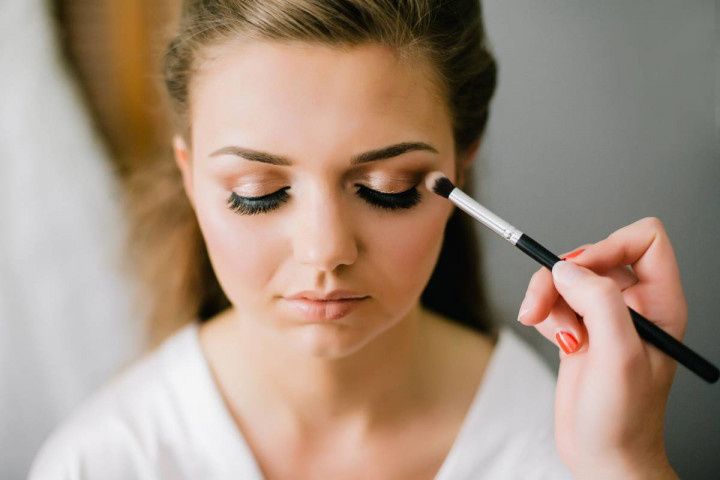 As the countdown ticks closer to the big day, you'll need to start putting together a schedule of who needs to be where and when that day in order for everyone to make it to the ceremony on time. So you might find yourself wondering, how long does wedding hair and makeup take? The answer: kind of a long time! Winnie Scott, the dedicated bridal coordinator from Andre Chreky Salon and Spa in Washington, DC says, "It's not unusual for wedding hair and makeup to take many hours, even most of the day. It all depends on what the bride is looking for—what type of experience she wants to have, and of course, how many people will be styled."
So when planning your morning-of routine, don't forget to account for how many hair or makeup professionals will be available, and the size of your squad. Obviously, having two professionals helping nine bridesmaids get their wedding-ready look together will take quite a bit longer than if each attendant has her own dedicated hair and makeup artist.
Here are some tips to start with when you're figuring out how long wedding hair and makeup takes and planning your big-day timeline.
Figure out who's paying for what.
This is key since you can't really nail down what services you'll need until you know what's in the budget. If you're footing the entire bill, it's okay for you to dictate which services each attendant will get. If they will be expected to pay, there's a good chance they'll DIY their makeup. Either way, knowing this ahead of time will prevent stylists from either being underworked or having to scramble to get everyone ready.
Know which services each person will be receiving.
Once you've figured out exactly what your group will need, you'll know how many hair stylists and makeup artists to hire.
Get a rough idea of how long each service will take.
While it may only take about 15 to 20 minutes to style a loose bun, a dramatic updo or longer look with lots of curls could take upwards of an hour for each bridesmaid. And that's just an estimate. Each salon will likely quote a slightly different time requirement, so be sure to clear this with your specific stylist or salon in order to determine how long your crew's wedding hair and makeup will take.
Communicate your expectations to your wedding party.
Need your ladies to arrive with day-old hair? Don't forget to tell them! Scott says, "day-old hair is best for updos since it grips much better than clean hair." We know, so many details to think of!
Nail down a schedule.
Once you've got all these pieces of the puzzle in place, you should be able to draw up a rough schedule for the morning and determine how long your wedding hair and makeup will take. Be sure to inform everyone ahead of time when they need to arrive and where they should go.
Remember to make it fun.
We know, things can get pretty stressful when you're trying to keep everyone on a tight schedule. Just don't forget to enjoy yourself. It's a celebration after all! Serve some light hors d'oeuvres, play some favorite tunes, and snap some Insta-worthy pix you can look back on years from now.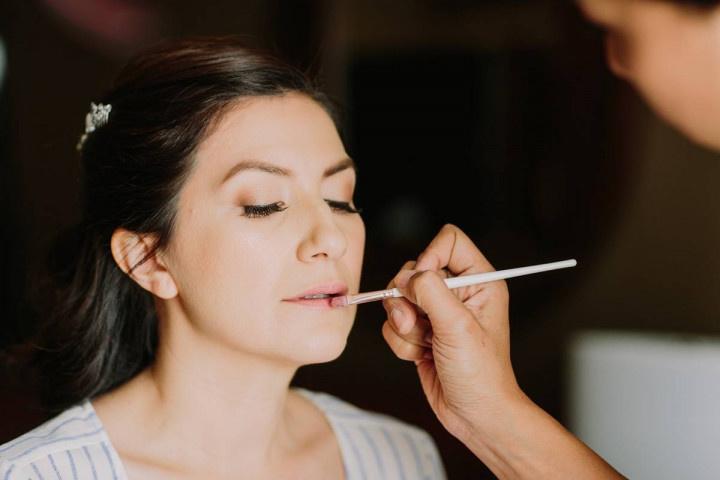 Sample Getting-Ready Timelines
Timeline #1: Four bridesmaids, one hair stylist, one makeup artist, 2:00 p.m. ceremony
9:00 a.m. Meet at salon and bride's makeup begins (~60 minutes)
9:00 a.m. to 11:00 a.m. Bridesmaids' hair (~30–45 minutes x 4)
11:00 a.m. to 12:30 p.m. Bride's hair (~60–90 minutes) and bridesmaids' makeup (~15–20 minutes x 4)
12:00 p.m. Photographer arrives at bridal suite to capture the final moments getting ready
1:00 p.m. Bridal party photos at ceremony venue/optional first look photos
2:00 p.m. Ceremony starts
Timeline #2: Six bridesmaids, two hair stylists, one makeup artist, 4:00pm ceremony
10:00 a.m. Meet at salon
10:30 a.m. Bride's makeup begins
10:30 a.m. to 12:30 p.m. Bridesmaids' hair (~30–45 minutes x 3 bridesmaids per hair stylist)
12:30 p.m. to 2:30 p.m. Bride's hair/bridesmaid's makeup (~15–20 minutes x 6)
2:00 p.m. Photographer arrives
3:00 p.m. Bridal party photos at ceremony venue/optional first look photos
4:00 p.m. Ceremony starts