Airbrush Makeup vs. Regular Makeup: What You Need to Know
The age-old wedding beauty showdown: airbrush makeup or regular makeup? Make sure you're informed on the pros and cons before deciding whether to wear airbrush makeup for your wedding.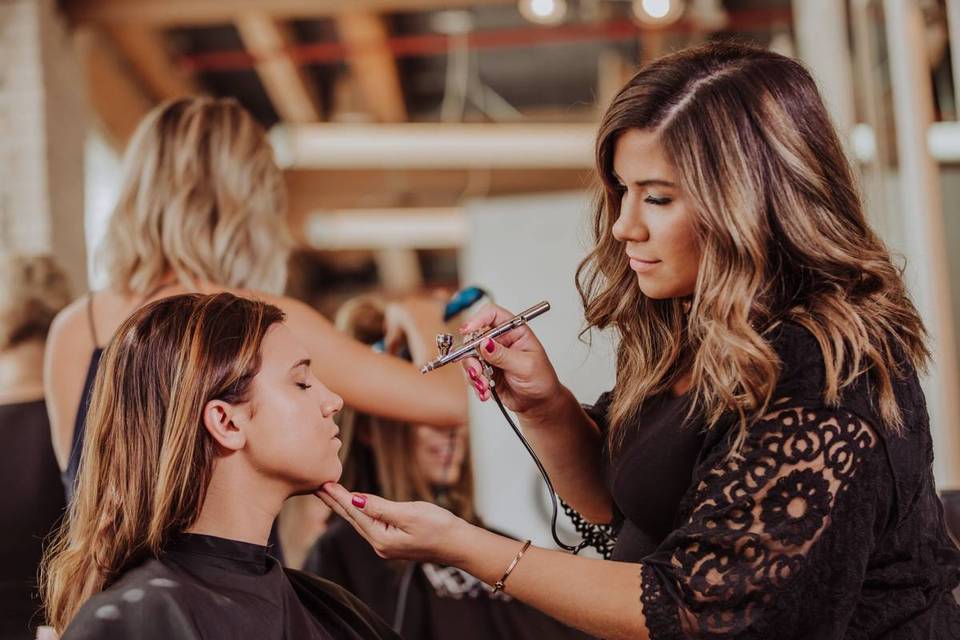 Besides your gorgeous attire, it's pretty safe to assume that everyone's attention will be focused on your lovely face as you're walking down the aisle on your wedding day. While the moment will feel fleeting, your photos will last forever—which begs the question, is airbrush makeup really worth the higher price tag? Popular in the world of film and celebrities, the airbrush makeup technique sprays a fine mist of foundation for a consistent, even application (often thinner than regular formulas) boasting lightweight coverage that covers imperfections.
To help you out, we asked top-notch beauty experts to break down everything to know about airbrush makeup for your wedding.
Airbrush makeup can last longer.
"Traditionally airbrush makeup lasts about 6 to 10 hours longer than traditional wedding makeup," explains New York City-based makeup artist Stacie Ford. "Mainly because it's an ultra fine concentrated mist that absorbs directly into the skin—not merely sitting on top of it—giving it longer durability. Overall it] feels featherlight on the skin yet can withstand [heat, humidity, tears, and sweat."

Why? Most airbrush makeup products are silicone based and will be applied for buildable coverage. "Investing in a high quality product for your wedding day will ensure that your makeup doesn't move from the first dance to the last kiss," adds Ashley Riddle of Up-Do's For I Do's in Vienna, Virginia.
Airbrush makeup feels lighter than traditional wedding makeup...
"Airbrush makeup is very lightweight on your skin it does not feel like you have anything on your face," explains Brittney Rice of Flawless: Airbrush Makeup + Hair Design in Asheville, North Carolina. "Although some think that airbrush makeup for your wedding will be 'cakey' it is actually the exact opposite airbrush makeup allows the natural hues in your skin to radiate through the makeup allowing it to look very natural."

Plus, it's not just limited to foundation. "The possibilities are endless with airbrush—you can conceal, foundation, blush, bronze, and highlight," adds Rice.
...but takes the same amount of time to apply.
All of our artist experts agreed that application time is roughly the same—even though the price isn't (average for airbrush wedding makeup is $110, but that can vary widely depending on your location.) "There is a little extra lag time while loading your airbrush makeup gun and swapping out colors within it in between clients," explains Elizabeth Dugan of Salon Elizabeth in Buffalo, New York.

"For larger parties, I like to keep a few guns on hand to keep things running smoothly—and on time. I have also been using Temptu Air Pods, these are a makeup artist's dream! [They] make application a touch quicker, [plus] I love these for highlighting and giving the cheeks a pop of color."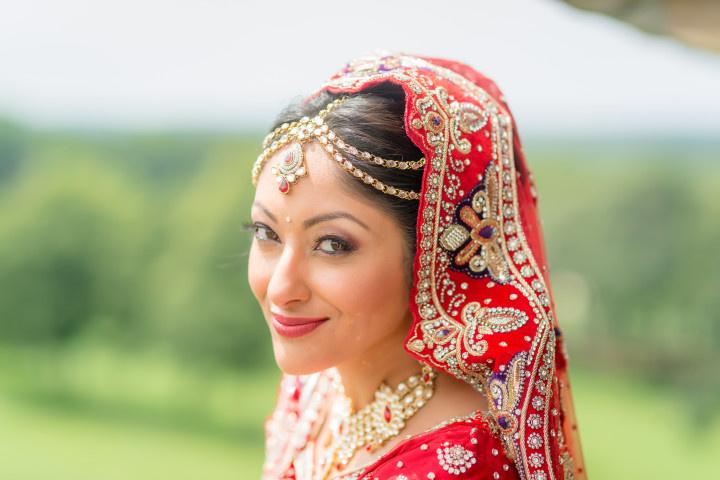 Airbrush makeup still offers significant coverage.
While most women do wear makeup on a daily basis, they aren't wearing the correct (or enough) products for advanced film and video. "The airbrush application lets a pro transform a bride into a better version of herself by controlling the amount of product that is applied to the skin," explains Riddle.

"With fewer products, airbrush makeup can still deliver a full coverage application. By layering the airbrush, our pros have better control over problem areas like scars, blemishes and tattoo coverage."
Airbrush makeup is pretty popular (and requires minimal touch-ups!).
"We highly recommend airbrush makeup to all of our brides. 99 percent opt for the upgrade from traditional makeup, shares Riddle. "If you are still unsure, try it out at a trial run to calm any anxiety about a new application."

Plus, you won't have to to worry about a wedding makeup meltdown. "Airbrush makeup once it dries on your skin it is there until you want to take soap and water and wash your face off," explains Rice. "If you cry, sweat, or it rains once the moisture hits your face just pat your face and it dries without no streaks!" Sounds like a win in our book.