The Hottest Wedding Hair and Makeup Trends for Summer
Hair and makeup stylists from across the country are dishing on the top wedding beauty trends this season.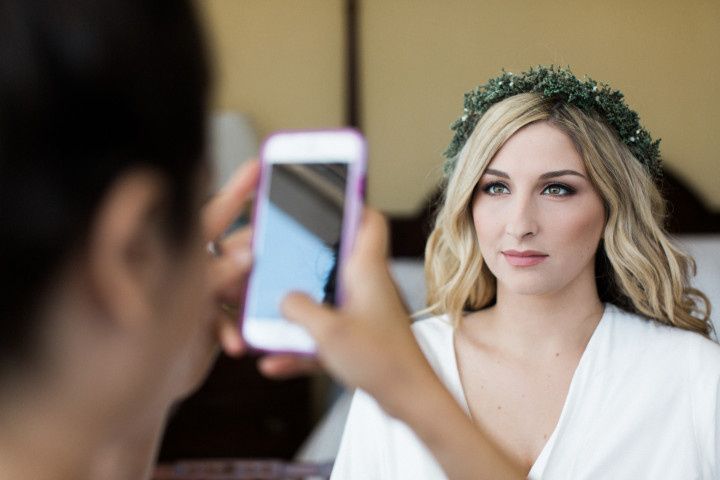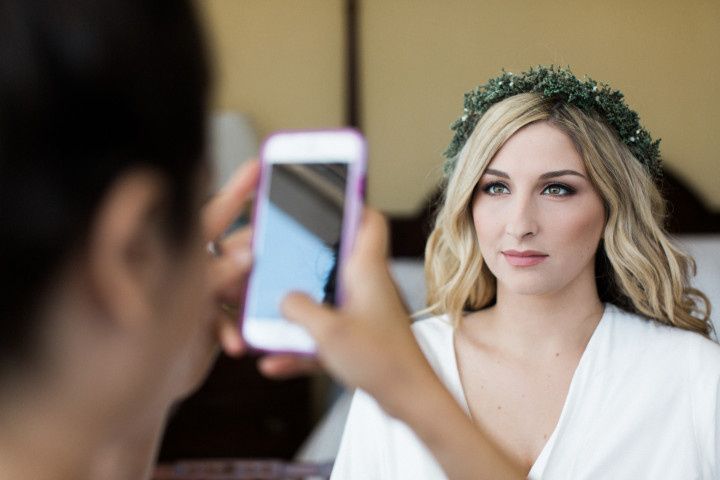 Photo: Dmitry Shumanev Photo & Video
Summer is right around the corner, and if you're saying "I do" this season you'll want to ensure that your wedding-day hair and makeup doesn't melt or frizz in the heat and humidity.
WeddingWire spoke with several hair and makeup stylists from across the country on the top wedding beauty trends this season from how to wear their hair, what color their lipstick should be and the best look to complement your wedding's style.
HAIR
Your wedding hairstyle should complement your wedding gown's style and the overall theme and vibe for the wedding. If you're getting married in a church followed by a ballroom reception, your 'do will be more formal than if you're getting married outdoors on a sunny afternoon. "The cut of your dress will play a huge factor in the hairstyle you choose to wear, as you want your hair to complement your neckline," says JD Davidson of Status Salon in Pleasanton, California. "We also recommend that you choose a style that won't fight your hair."
Braids
This summer brides will be wearing braids JD tells WeddingWire. "We can incorporate braids into a down or updo style." For a rustic-style wedding, Linsey Snyder Wachalter of Face Time Beauty in New York and Palm Beach recommends bigger distressed braids, which will look gorgeous and complement the natural surroundings of the venue.
Quick Change
When a bride chooses to change into a reception dress that's less formal than her ceremony dress, her hairstyle can change too! "Brides really love the idea of getting the best of both worlds," says JD. "Being able to do a more traditional updo for the ceremony and then dropping down the bun to create a flirty, fun down style has been our biggest request this season."
Half-Up Looks
Perhaps because of the heat, half-up looks will be a popular request for summer weddings. "A half-up look allows the bride's hair to frame her face, and it also can feel cooler - temperature wise - on a hot summer day," Linsey explains. If you love the braids look you can also wear a half-up style with braids adds Kelly Wisniewski of Kelly Wisniewski Makeup Artistry in Chandler, Arizona.
Flowers
Instead of a glittering tiara or headpiece, flowers can be the perfect hair accessory. "You don't want to overwhelm your look," advises JD, "so we suggest a maximum of two pieces in the hair, such as a veil and flower or hair vine and a birdcage veil, but if you can't decide, wear a veil for the ceremony and then flowers for the reception." Flower crowns are still a popular choice, but JD notes that half-crowns are an updated version that are just as statement making. As for which blooms to pick, avoid giant flower in your hair, says Linsey. "I think understated and tasteful is always the way to go. The fact that you even have flowers in your hair is enough of a statement. White flowers are very pretty for a summer wedding, but if you're a ballroom bride, I would probably steer clear of flowers in your hair."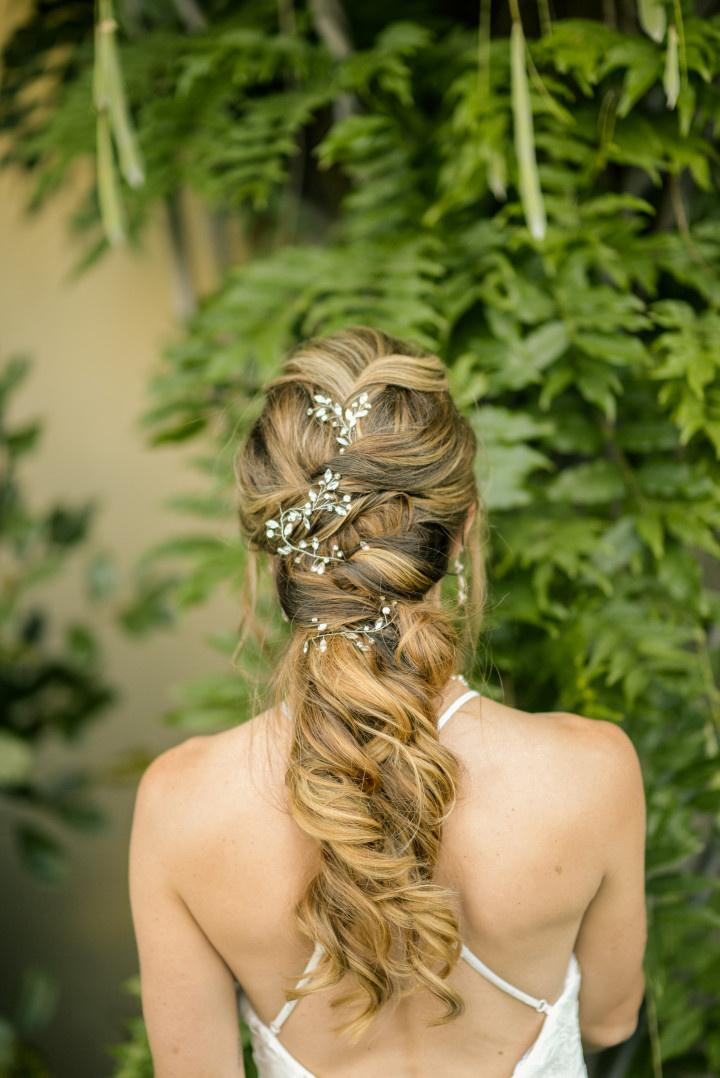 Photo: Status Salon
MAKEUP
For summertime brides, a softer look has surpassed requests of a more severe and contoured look, explains Kelly. But it's important for brides who don't wear a lot of makeup in general to not go too heavy with it on their wedding day. "A bride should look like herself, but the best version of herself," says Lisa. For a daytime wedding don't go too dark, and at night play up your eyes with more liner and a fuller lash, she suggests.
Pretty in Pinks and Corals
Whatever your skin tone and hair color, Lisa Lipsitz of Looks by Lisa & Co. in St. Louis, Missouri, recommends that brides add a pop of color to their wedding-day look. "A shade of pink or coral on a bride's cheeks or lips will ensure that she doesn't look flat or muddy in pictures." Not sure what shade is right for you? Linsey recommends rose. "A rose color is always very pretty. It's just the right amount of color," she explains.
Sparkle
Shimmer isn't just for little girls. Summer brides will be adding sparkle to their wedding-day look with the help of their makeup artists. "Sparkle is great in any season because it adds a bit of depth to the look," says Linsey. Just be careful where it's placed warns Lisa. "Sparkle will amplify and make lines and pores look bigger, so be very strategic where you are going to put it." A little sparkle on the center of the lid or a little shimmer down the nose is all you need explains Linsey. "Just pick one or two places to add shimmer/sparkle and that's enough."
Metallics
Rose golds and coppers aren't just limited to paper and décor details this year. For summer, metallics are a pretty look for wedding-day makeup too. Balance out the look by only using metallic makeup in specific places. "Glowy makeup with a pop of color on the lips and bare eyes or rose gold shimmer on the eyes with bare lips will be a pretty choice for a summertime soiree," says Linsey.
Nude Lips
"Nude is everywhere right now and looks good on everyone," Linsey says, "but you have to find the right nude for your skin. It can easily make you look washed out so pick a hue with a bit of pink which will give the skin life and brighten up the whole face." For this summer, JD recommends The Balm's Mai Billsbepaid, Kat Von D's Love Craft and Kevyn Aucion's Enduring.