Our Best Tips for Perfect Wedding Hair
There's a lot more to wedding day hair than you might think. Here are our best tips for perfect wedding hair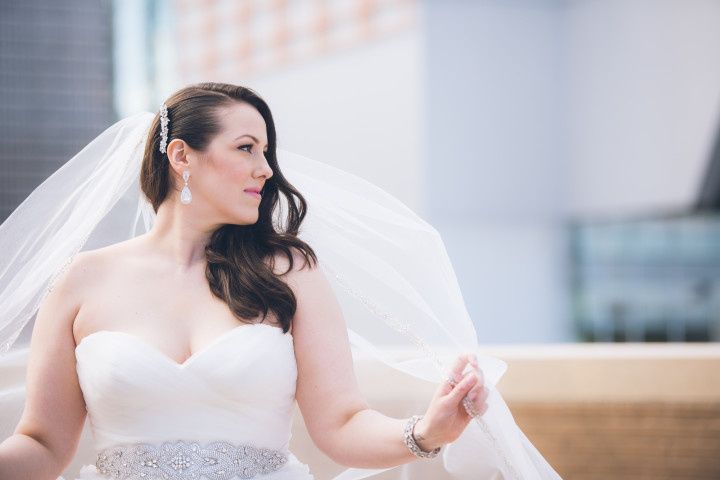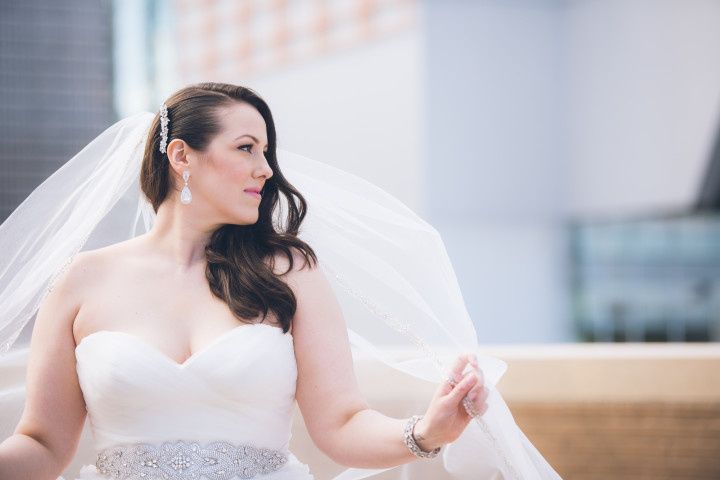 Photo: Sascha Reinking Photography
Check out our top tips to help you acheive amazing hair on your wedding day!
Do your research.
There's a lot more to wedding day hair than you might think. Gone are the days of simply up versus down - there's now everything in between! Browse Pinterest, hit up our hair galleries, or virtually try on your favorite celebrity beauty looks with our interactive makeover tool. You'll want to have at least 2 - 3 images of a styles you really love before sitting down with your wedding day stylist.

Aim to show off your best features.
Your wedding day is not the time to surprise everyone with an adventurous new look. Aim to look like the best version of yourself, and, in that vein, opt for a hairstyle that shows off your best parts. Got a gorgeous collar bone? Pull that hair up and show it off! Love your piercing green eyes? Keep tresses off your face.


A trial run is a must.
Your wedding day shouldn't be the first time you see your 'do. Schedule a trial run with your stylist a few months in advance (or, if you're working with a new person, before you actually book). Bring a picture of your dress and a few photos for inspiration, and ask for tweaks if you're not thrilled with the finished product. This way there will be no surprises on your wedding day.


Be diligent about trimming!
Now is not the time to slack on haircuts, especially if you're growing yours out for your wedding day! Schedule trims with your stylist every 8 to 12 weeks in the months leading up to your wedding day. Minimizing splits ends will mean a sleeker, frizz-free hairstyle on your wedding day.


Time your color touch-ups correctly.
According to our in-house expert, scheduling a color / highlight touch-up in the weeks before your wedding largely depends on how quickly your hair grows and how much you trust your regular stylist. As a general rule, blondes or anyone with highlights should schedule an appointment about two weeks before their wedding - this allows time for emergency corrections and tones to even out, but eliminates the need to worry about re-growth. Brunettes can head in to the salon about a month ahead of the wedding.

Sleep your way to healthier hair.
Your run-of-the-mill bed sheets are probably not doing your hair any favors. Prevent split ends and tangled knots by investing in 600-thread count Egyptian-cotton pillowcases, or even borrow a friend's for a few nights before the big day. The secret? These sheets cause less friction on your hair, which means less frizz and less tangled locks.


Don't wash your hair the night before (or even two days before).
Yes, we're serious on this one - greasy hair hold a style better. The oil acts as a natural product to help keep curls in tact.

Know that touch-ups are unavoidable.
Don't be afraid to grab your wedding day emergency kit and hit the bathroom mid-reception. Push in any loose bobby pins and give an extra zap of hairspray to any pieces that are coming undone. This way, you'll stay glamorous until the very end of your reception (and look great in pictures from start to finish).


Always have extra bobby pins.
With all the chaos happening on your wedding day it's easy for your hair to get a little out of control. Ask your stylist for a few extra bobby pins to keep in your clutch, or designate a bridesmaid to be on hair duty. Be sure to use pins that are the same shade as your hair for extra camouflage!