How to Choose a Wedding Hair Stylist
There are a few things you should consider when selecting your wedding hairstylist, and we're breaking them all down here.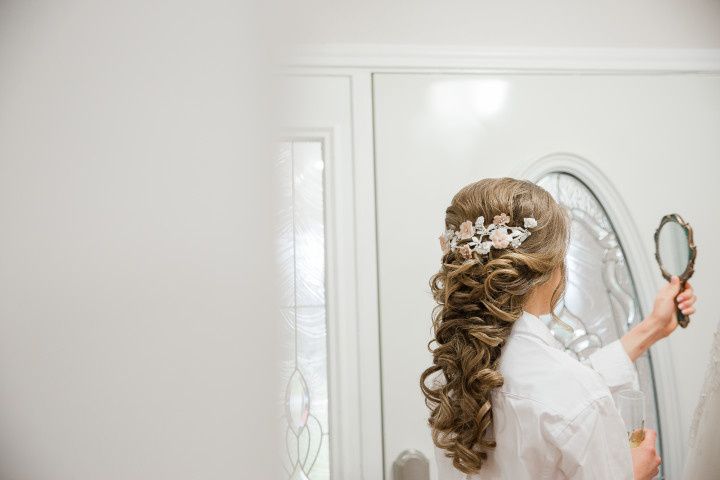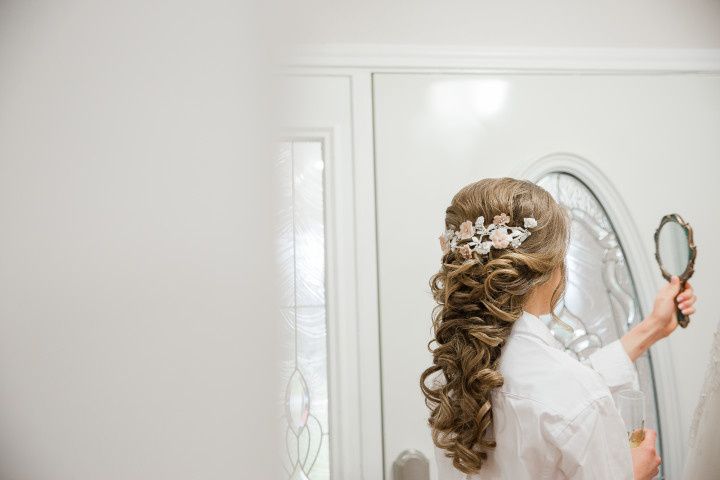 Photo: Monica Roberts Photography
Most, if not all of us, have had a traumatic hair moment or two at the salon, so finding just the right hairstylist to make your locks look lovely on your wedding day can make some brides a bit nervous.


Whether you already have one in mind or are deep in the hunt for the perfect match, there are a few things you should consider when selecting your wedding hairstylist, and we're breaking them all down here.
Think about your budget

Considering how much money you want to dedicate to your bridal beauty look will help you determine which hairstylists you can actually afford, so start off by setting a beauty budget for yourself before doing anything else. Then, get ready to weed out any hairstylists who exceed your budget so you're not tempted to steer off course. Stay strong!


Look for discounts

If you're hoping to keep the cost low when it comes to your locks, you don't have to worry about being a hair faux pas. Many beauty schools offer huge discounts on hair services with their stylists-in-training, so you can get a gorgeous 'do without breaking the bank.



Use your personal network

Anyone you know might know a fabulous hairstylist, so it's worth letting anyone and everyone know that you're looking. This way, your odds of finding someone increase, you'll have more options, and you'll have someone who comes highly recommended.


Ask your stylist

Some brides get so wrapped up searching for new experts that they forget to tap their own network of contacts! If you've been going to a certain stylist for a while now, he/she must do a pretty good job cutting and styling your hair, so it doesn't hurt to ask if he/she is willing to do your wedding hairstyle as well. You already have a level of comfort and trust established, so what do you stand to lose?


Get app happy

Don't have the time to do hours of online research for local hairstylists? We totally understand! Try the WeddingWire app to read reviews of stylists in your area.


Check out their work

A picture tells a thousand words, and you can usually tell if a hairstylist is a fit for your style from flipping through their portfolio. Seeing their previous work will tell you a lot about their style and whether or not it aligns with your vision for your wedding, so it's definitely worth taking the time to look.


Choose the one who listens to you

We've all had an experience with a hairstylist where we've left feeling frustrated and misunderstood, and that's definitely not how you want to feel on your wedding day. When you meet with or talk to potential hairstylists on the phone, you should get a vibe for how you'll work together and whether they're going to force their opinion on you, or if they're truly there to listen to your vision and make it a reality. If they're there for the former, then don't waste your time any further.