10 Questions to Ask a Hair Stylist
Before you deciding on a hair stylist for your wedding, ask these 10 pressing questions first!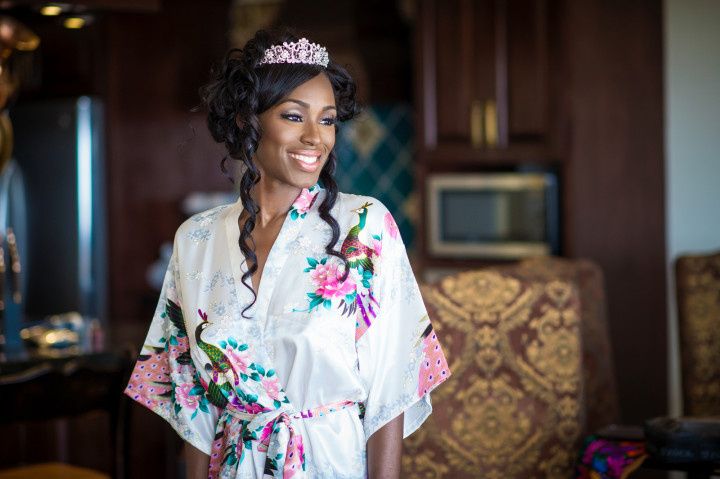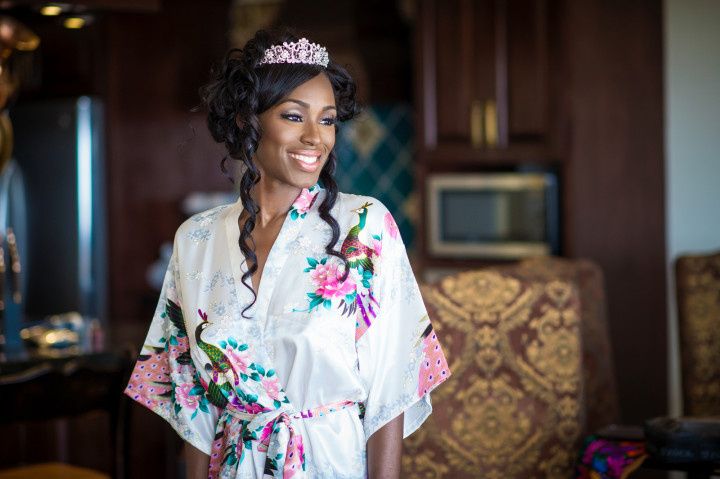 Photo: Alec & T. Photography
How much is it to book you?
This is a great question to kick things off and it's something you should know before hiring them! If they are more than what you've budgeted to spend on beauty services, you don't want to get your hopes up by doing a trial or seeing previous work they've done. If they're in your budget, then you'll know you can continue with your research.


Will you also do my bridal party?
If the salon has a limited staff or has multiple weddings that day, they may not be able to do hair for all of your bridesmaids or they may need more time to get everyone done. If they can accommodate all of you, how much will each bridesmaid cost? Does the cost differ if the bridesmaid gets an updo versus a blowout? If primping with your 'maids is important to you, then definitely ask these questions!


Will you come to my venue?
Find out if they'll travel to your preferred location or if you have to meet them at the salon the morning of the wedding. Typically, you should have them come to you so once your hair is done so you can get dressed at the same location. Also find out if you need to cover their travel cost. If they're traveling far, you may be asked pay for that as well.


Do you offer hair extensions?
Are you planning on giving your hair a little extra oomph? A lot of intricate updos and styled looks require extensions! Find out if your potential hairstylist offers that as part of their services. They'll likely cost extra, but if it's something you want, it's totally worth it.


Do you also do makeup?
It might be helpful to book a hairstylist who also does makeup so you don't have to deal with two separate vendors, two separate contracts, etc. Check in with them and see if they can also do makeup, if not, they'll likely have someone they can recommend.


Do you offer a trial run?
You'll definitely want to make sure your stylist offers the opportunity to test out a few 'dos before you decide on one. Your wedding day is certainly not the time to be trying out new hairstyles, especially if you plan to get extensions! Find out if this an extra fee or if it's included in the final cost.


Will the same person who does my trial do my hair on my wedding day?
Hopefully the answer to this is yes! You want your trial stylist to be with you on the big day because they'll be the most informed about what worked and didn't. He or she is the most familiar with your hair and will know exactly what you like and don't like, so make sure they're available!


Do you bring a team of hair stylists with you?
This is good info to know so you can give yourself enough time to get ready. If it's just going to be one or two people styling you and your eight bridesmaids, you'll need to start earlier! However, if there's going to be a hairstylist for every two girls, you can wait it out a little bit before you start primping


What kind of products do you typically use?
Find out what kind of hair products the salon typically uses. Notify them if you'd prefer to not use one of the specific products or if you have an allergy related to a product. If you have certain ones you'd like them to use, find out if you're allowed to make requests, or if they can use your products instead. Finding all this out beforehand will make the trial and wedding day run much smoother.


Can I see your portfolio?
This is an easy way to decide if you want to book a potential hair stylist. Check out their past 'dos and see if their style will work well with what you have in mind for yourself. Who knows, maybe a past client of theirs will inspire a totally new look for you to try!