12 Must-Have Items for Your Last-Minute Wedding Day Checklist
These items are oft-forgotten, but actually super-important. Be sure to add these 12 things to your last-minute wedding day checklist.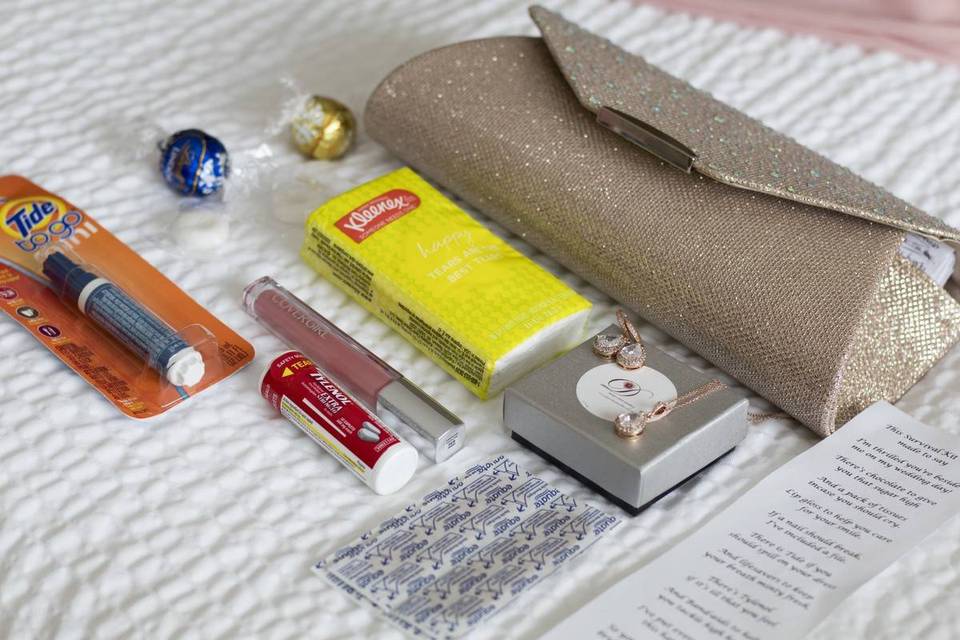 Picture it: Your wedding-day ensemble is bagged and hanging in the car. You've got all your accessories carefully packed along with it. Your wedding party gifts are wrapped and stacked in the trunk. Your vendors have all been called and scheduled and know exactly where they need to be, and when. Even your partner has their crap together—for once. (Wink!). The two of you feel officially ready to fly out the door, hop into the car and cruise on into your wedding weekend! But wait: There might be a few things missing from your last-minute wedding day checklist. Essential things that could make or break your big day! (Not to be alarmist or anything…) Do yourself a favor and double check this last-minute wedding day checklist before you head out for your big weekend.
Your Marriage License
Getting your marriage license from your local clerk's office or other government site is an important step on your wedding planning checklist—but so is actually bringing it to your wedding! The marriage license must be signed by your officiant
Wedding Rings
Those pesky little wedding rings can be easy to forget. You can certainly bring them to the wedding yourself, or hand them over to a trusted person at the rehearsal dinner. Usually, the best man is responsible for handling the rings, but you could also give them to your maid of honor, bridesmaid, groomsman, other family member or friend, or even your wedding planner.
A Handheld Steamer
I can't promise you sunshine on your wedding day, but I can promise you one thing: Wrinkles. In your own wedding dress (no matter how meticulously pressed it comes back to you from the seamstress), in your bridesmaids' dresses, in your partner's look and their attendants' outfits, in your mother's dress… you see where I'm going with this. Travel + stress + hasty packing just yields wrinkles, and everyone wants to look pressed and proper for the wedding pics, so grab a handheld steamer on Amazon (they're really affordable!) and include it on your last-minute wedding day checklist. On your big day, assign steaming duties to a bridesmaid or family member while everyone else is getting ready—it'll be a quick job since steamers are easy-to-use, way faster than ironing, and very effective. You could even use it to help smooth out decor elements like drapery or table runners in a pinch!
Your Checkbook or Cash
Who uses checks anymore? People getting married, that's who! In the hustle and bustle of week-before wedding prep, you may forget to chuck your checkbook into your bag, especially since this late in the game, most of your outstanding balances with vendors have been paid. But don't forget: You've still got to tip! Tips are usually dispersed on the morning of the wedding, and having a checkbook (or cash!) handy is key to saving yourself a rushed trip to an ATM when you're busy getting bride-d up. If you're the planning type, write up all your tip checks beforehand, pack them in envelopes labeled with the corresponding names of your vendors, and slip the envelopes somewhere you won't forget, like into a garment bag of one of the outfits you're packing.
An Overnight Bag
Storytime! I totally blanked on packing a change of clothes for the day after my wedding, so I had to do a walk of shame in the hotel lobby that fateful morning wearing my over-the-top, low-cut white jumpsuit that was strictly meant for my bonfire after-party. Not a good look (the hangover didn't help). Don't be me: Pack a little tote with something comfy and low-key you change into the next morning, complete with undies, a hairbrush and hair tie, and any other basics you'll be glad to see come morning light, and toss it in your car before you head out to kick off your wedding weekend (you will not have time to do this as soon as the festivities kick off!). Ask a trusted confidant to make sure that bag ends up wherever you do on your wedding night, and sleep easy knowing you won't be showing up at the continental breakfast in your $5,000 illusion lace mermaid. Oh, and don't forget your toothbrush!
Extra Undergarments
No matter how strategically you plan your double-stick tape and Spanx approach, come the morning of your wedding, all bets are off! Not to mention, all of your bridesmaids will suddenly need to tape their dresses on, also. Or someone will bring a bra that doesn't work with their dress. Or someone will sweat their tape off (or you will sweat your tape off). So, bring a little extra of everything as part of your wedding-day checklist. Grab some basic, one-size-fits all nude thongs, pasties and an extra roll or 20 of double-stick body tape and toss it all into your trunk. Not bringing these items is simply a risk not worth taking (and you can pass it all on to your next friend getting married if it goes unused!).
Backup Wedding Shoes
Whether you spent $50 or $1,500 on your wedding shoes, footwear issues do arise. Just in case of a broken strap or cracked heel, bring an extra pair of shoes that are a similar height and style to your original wedding shoes. And if you want to slip into a more comfortable pair of shoes for your reception, bring those as well!
An Emergency Kit
Creating a wedding-day emergency kit is actually an important part of a maid of honor's to-do list—so be sure to confirm that she's taking on this responsibility well before the big day. If it your MOH's first time at this rodeo, she might need a little help taking on this DIY project, so she should feel free to ask other members of the bridal party to pitch in (or check out this emergency kit checklist). A few must-include items: band-aids, antacids, pain reliever, nail polish remover, tissues, hairspray, bobby pins, safety pins, lotion, tampons or pads, a sewing kit, stain remover, and more.
Deodorant
Choosing the right deodorant for your wedding day actually may be quite a process. You'll want to find something that will keep you dry for an extended period of time, doesn't leave any white marks, and has a pleasing scent (or is unscented, if you prefer). And bar deodorant also serves another purpose—use it as a lubricant on your feet so your shoe straps are less likely to cause blisters and irritation.
Cake Knife or Serving Set
While your venue can certainly provide a serving set for your cake cutting, you may want to use one you received as a gift or even a cake knife that's been passed down through your or your partner's family. The cake serving set can be easy to forget, so it might be worth tasking your parents with bringing it.
A Set of Wedding Invitations and Other Stationery
A wedding flat lay is a photo composed of your wedding stationery, as well as other important and decorative items, like your shoes, rings, flowers, and more. Talk to your photographer before your wedding day to find out what they'll need to create a beautiful flat lay, and be sure to bring the necessary items with you.
Extra Phone Chargers
There will be some phone charging time during your wedding day (during the moment when you're getting ready) but you'll probably want your phone nearby, not yoked to an outlet across the room. You also won't want to be competing for outlet space with seven 'maids and two photo-happy mothers-of-the-bride. So, having some charging banks (charged up and ready to go) on your last-minute wedding day checklist will pay off big time! Bring a few so you and your partner each have one, and then you can lend one out to someone in need. That way, everyone can be in touch throughout the day, be able to navigate to wedding destinations, capture photos and of course, post to social media, sans three-percent battery life panic attacks!