These 17 Bridesmaid Button-Down Shirts are Super-Cute—and Won't Mess Up Your Makeup
Looking for the perfect gift for your 'maids? These bridesmaid button-down shirts are both fashionable and functional.
We have included third party products to help you navigate and enjoy life's biggest moments. Purchases made through links on this page may earn us a commission.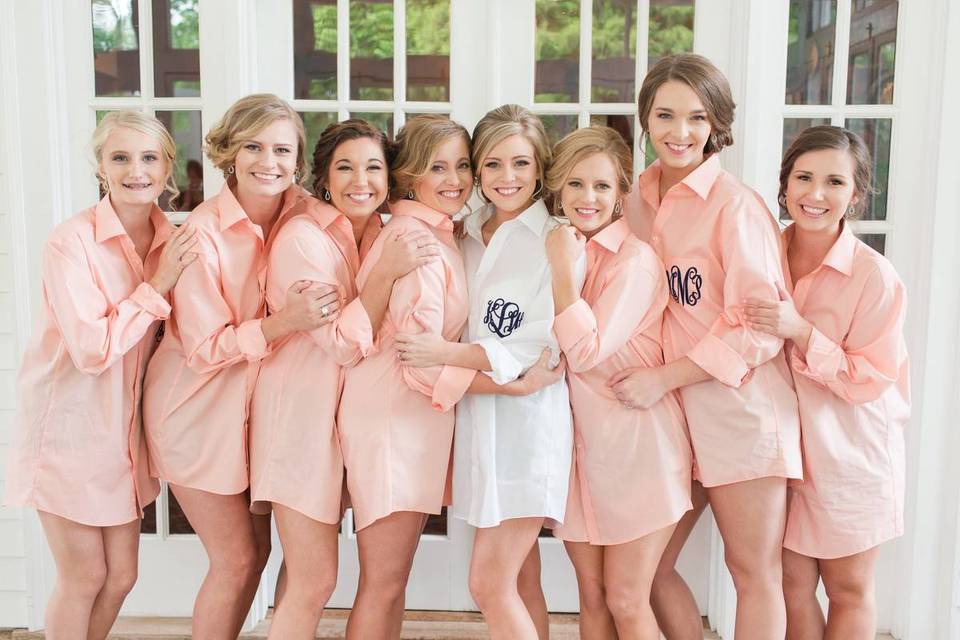 Your wedding photographs will capture so many amazing moments of your special day, and your getting-ready photos will be a source of tons of sweet memories as the years pass. That's why it's a super-cute idea to hand out matching bridesmaid button-down shirts to your leading ladies. We especially like embroidered button-down shirts for bridesmaids, which make a perfect gift for your gals—they're not only cute and personalized, but also functional. The button-front will allow your crew to put the shirts on and off without messing up those perfect updos and makeup jobs.
Need some inspo? We've got it right here! From the casual to the classy, and everything in between, our round up of bridesmaid button-down shirts is sure to help you find exactly what you're looking for.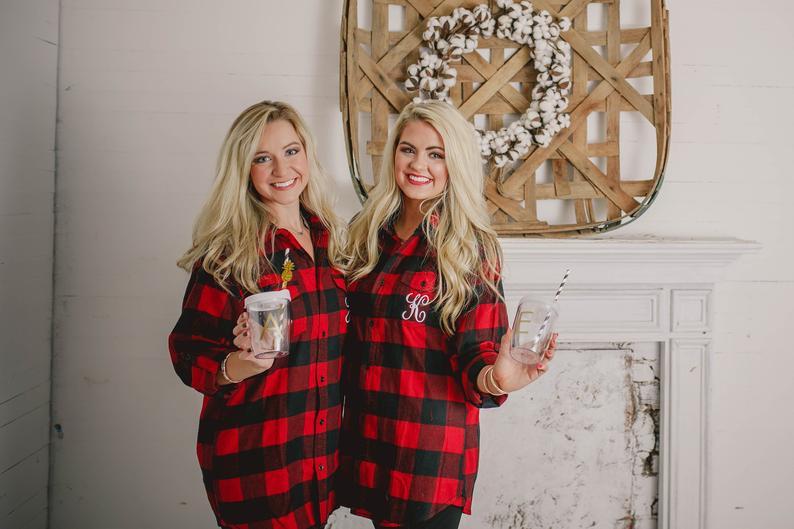 Who doesn't love a cozy flannel shirt? These adorable flannels will have you second-guessing whether you want to slip into that wedding gown after all. Well, probably not, but still. They're the perfect way for you and your crew to spend a relaxing morning at the salon. And the contrasting colors will help you stand out in your pictures.
Everly Grayce flannel bridesmaid button-down shirt, $29, Etsy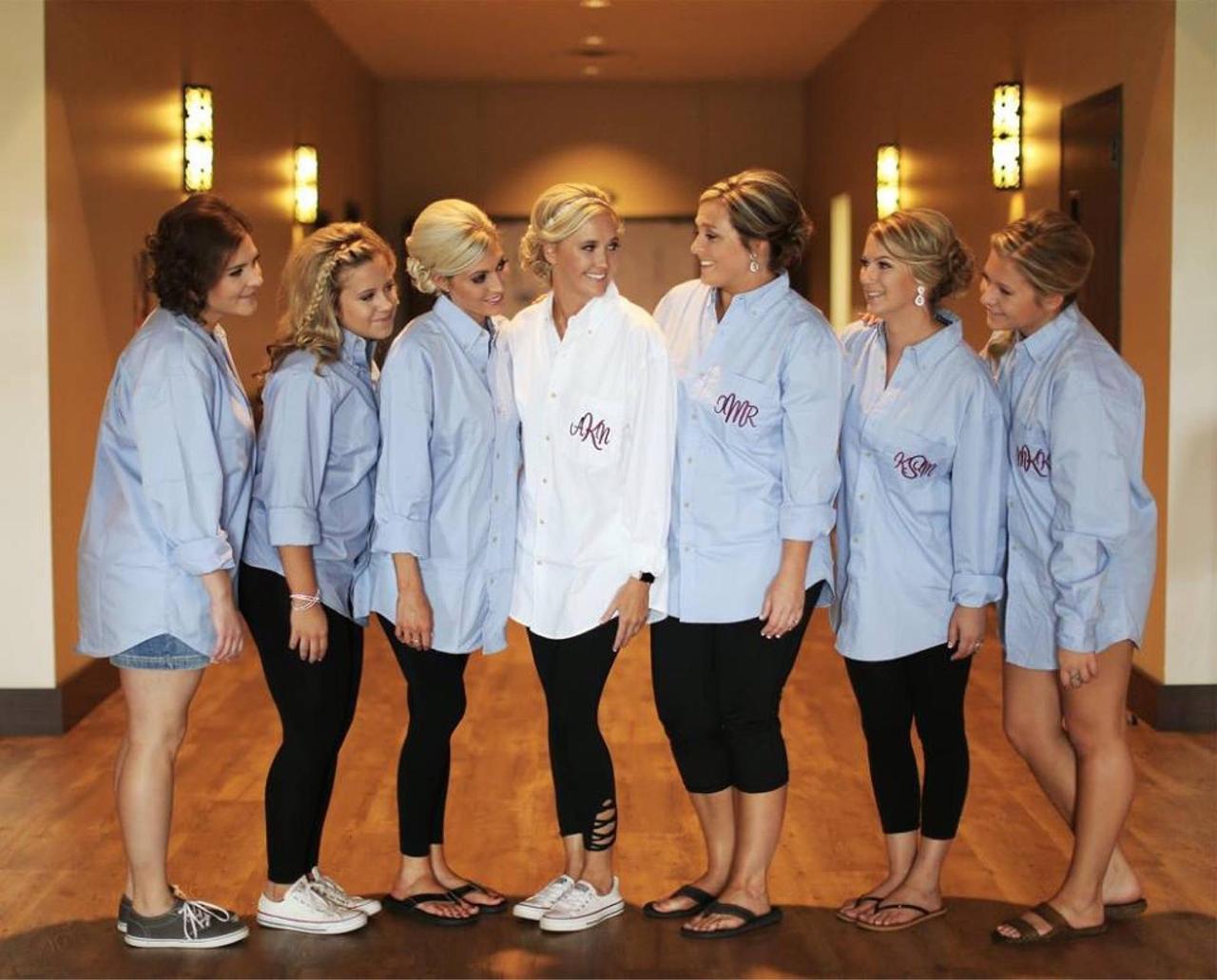 For a casual, chic look while getting ready, this set of seven bridesmaid button down shirts is a great choice. Choose from a variety of different colors for your leading ladies and opt for white for yourself, or mix things up however you'd like. Monogrammed pockets add a nice finishing touch to these crisp oxfords.
The Orange Monogram set of seven monogram oxford shirts, $160, Etsy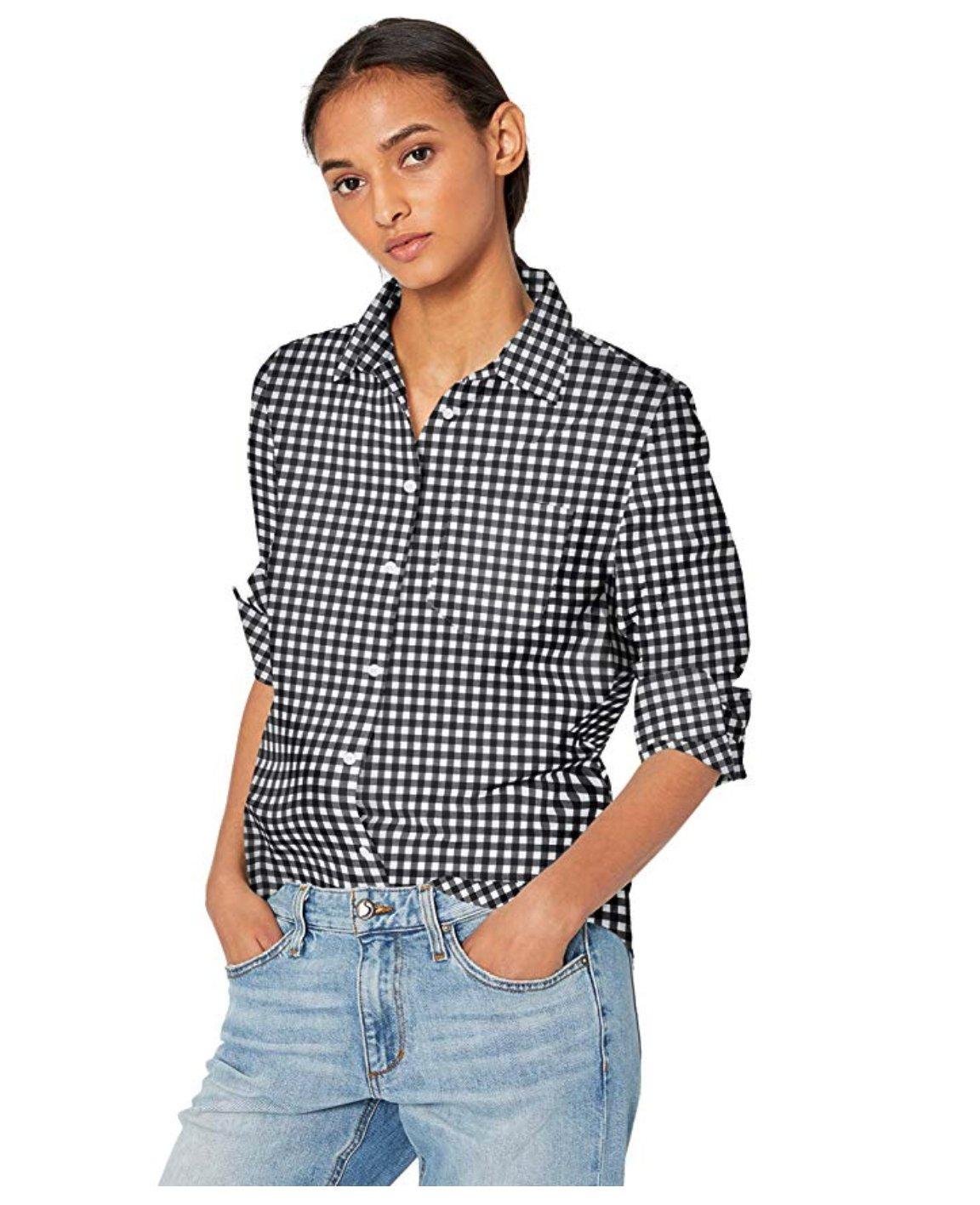 If you're looking for a basic bridesmaid button-down shirt for your besties, we've found it for you. This button down shirt fits loosely for easy removal while still looking dressy enough for your girls to wear it on other days, too. It's available in an array of different colors, allowing you to match, coordinate or stand out however you'd like.
Amazon Essentials classic-fit long-sleeve poplin shirt, $24, Amazon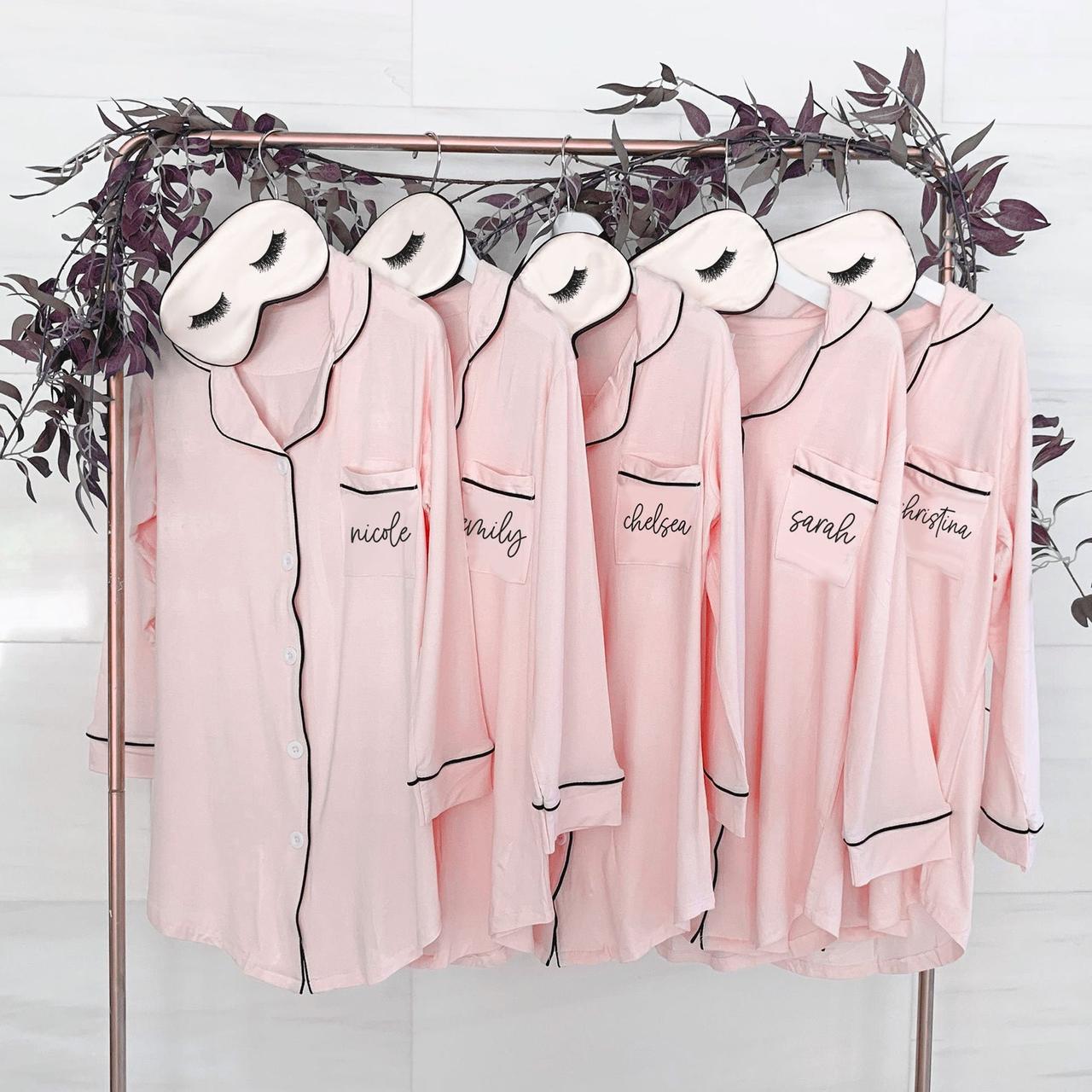 You and your crew will feel like the Pink Ladies in these bridesmaid button-down shirts in pink with black trim. These luxuriously soft sleep shirts come in a longer length and are loose fitting for easy removal when it's time to slip on those beautiful dresses. Available in pink or white, you can match your girls or mix things up a bit and stand out in white. These 1950s-inspired shirts make the perfect backdrop for your getting-ready pictures.
Mod Party personalized bridesmaid pajamas, $27, Etsy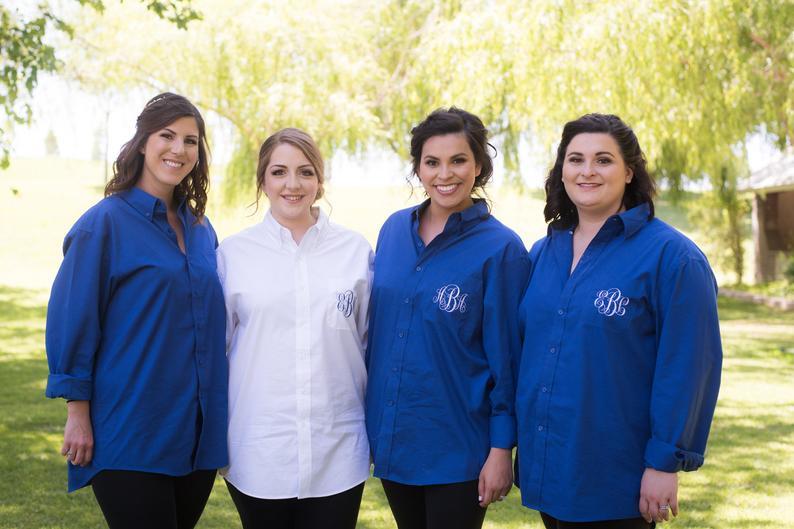 Gift your leading ladies something they can easily slip on and off when you opt for these oversized oxfords. They come in men's sizes for a looser, longer look and feel (read: shorts optional!) your ladies will love. And with more than 20 shirt colors and nearly 50 thread colors to choose from for personalization, it'll be a snap to find the perfect shirt for all of your bridesmaids.
Moomsie and Me monogram bridesmaid button-down shirt, $24, Etsy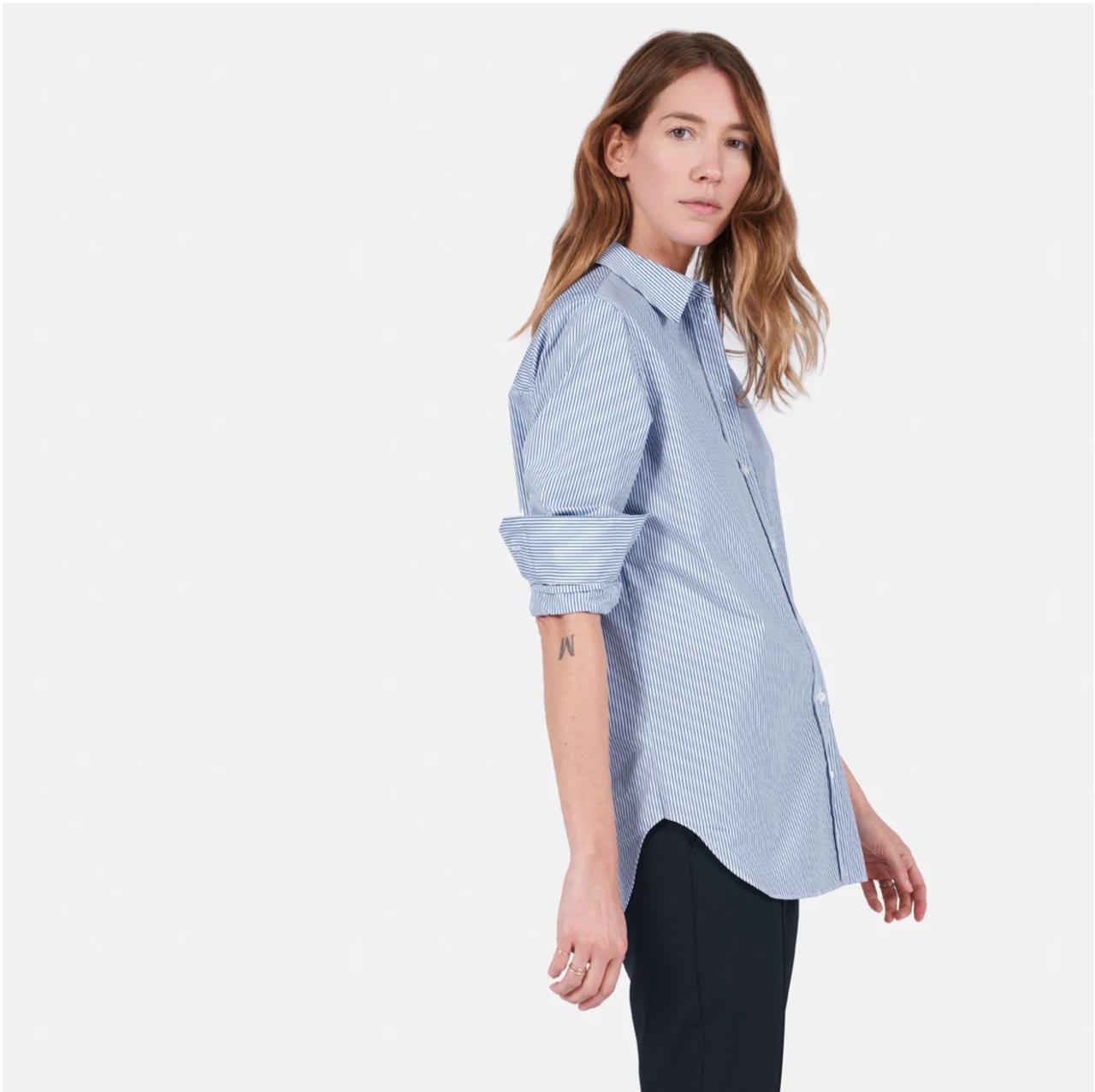 You don't have to have a nautical-themed wedding to enjoy these navy and white poplin button down shirts from Everlane. They're the perfect attire for your crew no matter what kind of affair you're prepping for. But one thing's for sure—your getting-ready photos will be on point!
Everlane women's relaxed poplin shirt, $55, Everlane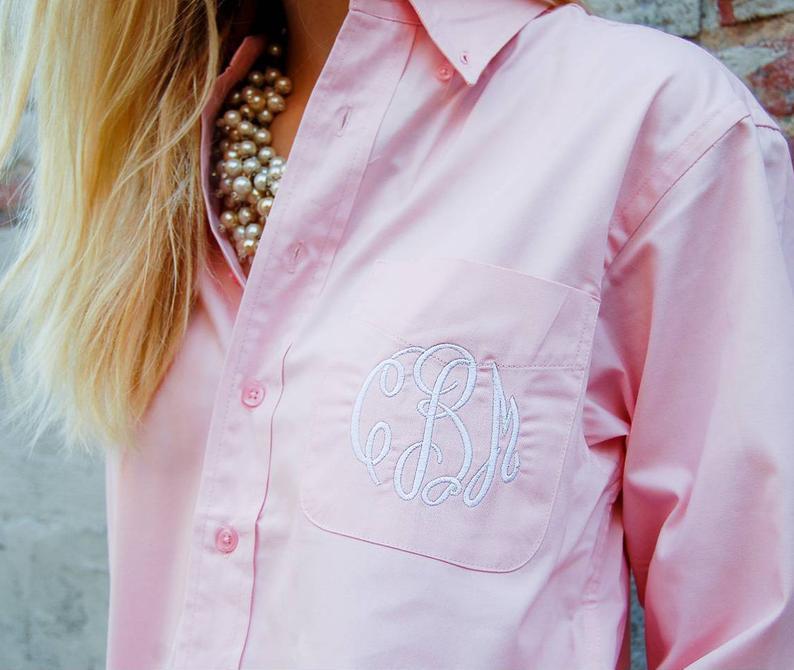 We love this feminine look: a white button down shirt for you with your girls all decked in pink for the morning of your big day. That's what you'll get when you choose these pretty oxfords from Etsy shop SEmbroidered Boutique. These snappy embroidered button-down shirts for bridesmaids are made of soft cotton for a comfortable fit that buttons to ensure no one's hairdo goes awry before the main event.
SEmbroidered Boutique monogrammed button-down bridesmaid shirts, $29, Etsy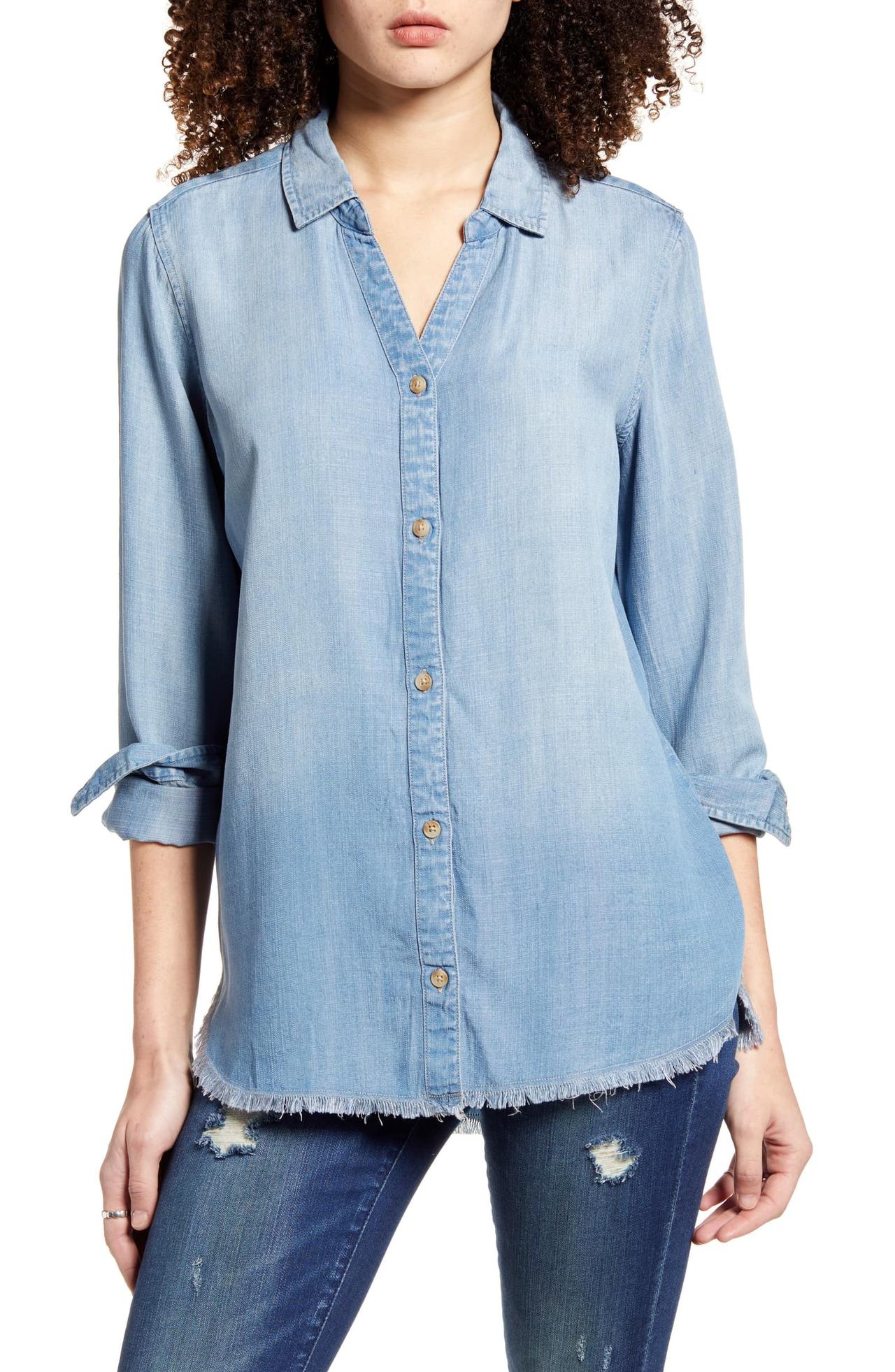 Opt for a trendy, laid-back look when you gift your girls these adorable chambray button-down shirts from Thread & Supply for Nordstrom. Super soft material and a fringed bottom combine for a stylish bridesmaid button down shirt she's sure to wear over and over.
Thread & Supply Rachel chambray shirt, $39, Nordstrom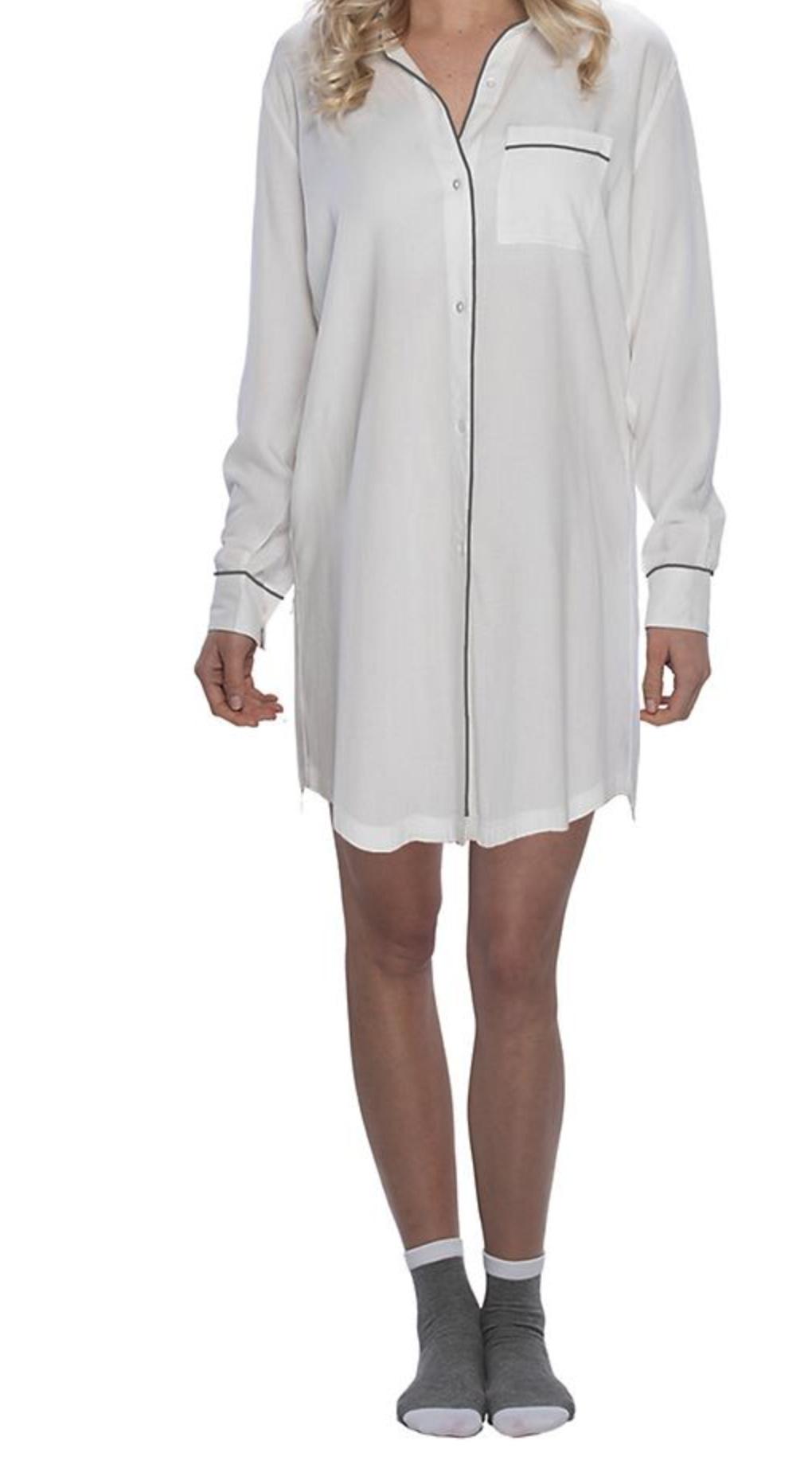 Available in pink or white, this sweet button-down tunic makes a great choice if you're looking for something cute and comfortable for you and your crew to wear on the morning of the big day. It boasts a slightly longer fit, which is nice to run around in sans shorts for warm-weather locations or if you'd like something more similar to lingerie while you're getting ready.
David's Bridal tunic button-down, $28, David's Bridal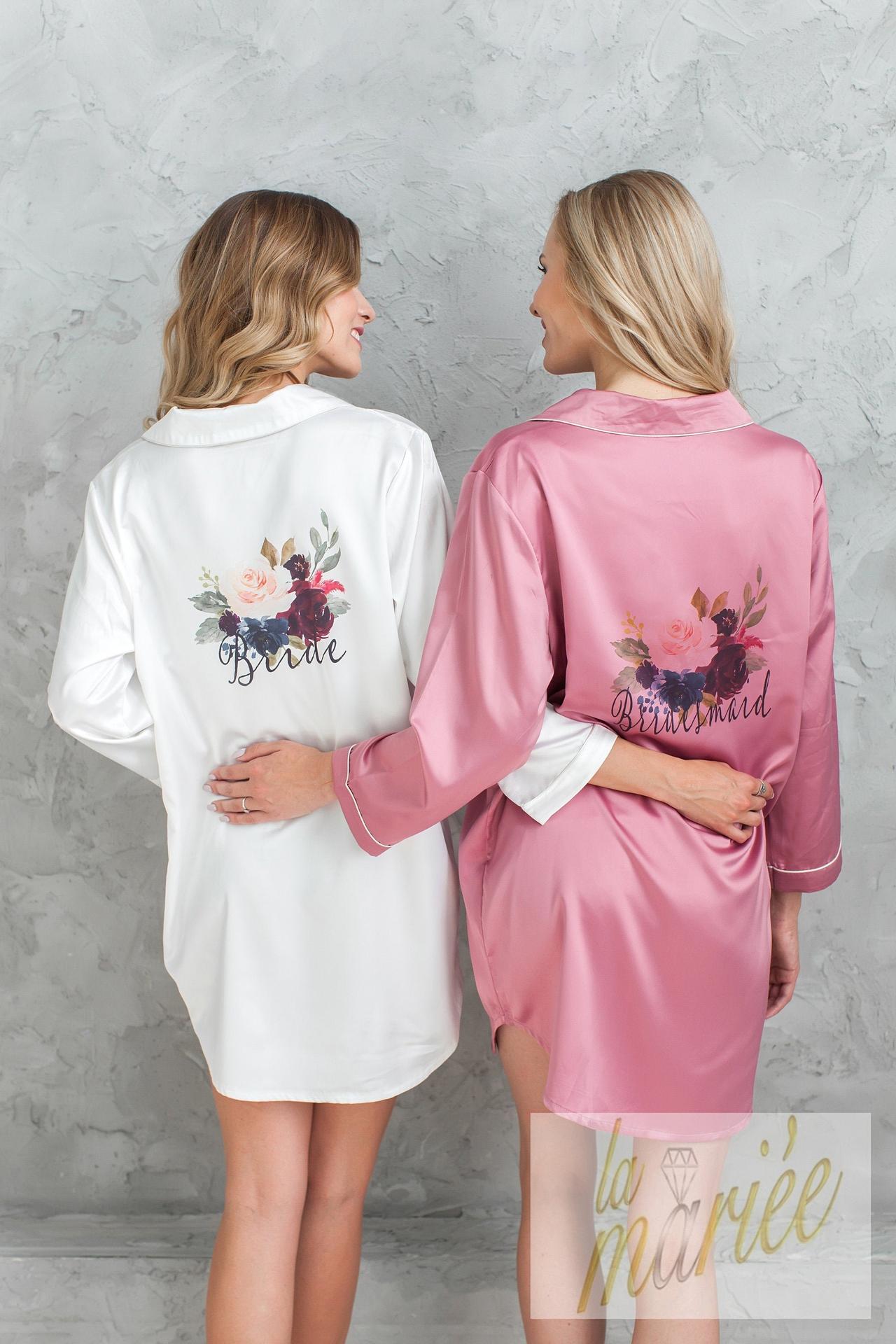 This flirty little satin number is just the thing for your getting ready photos. It's available in six different ultra-feminine colors with a pretty floral design on the back. From there, you can decide whether you want a monogram on the front pocket, or your name or role scrawled across the back. Either way, this satin sleep shirt makes a great bridesmaid button down shirt.
La Mariee Gifts NY satin sleep shirts for bridesmaids, $29, Etsy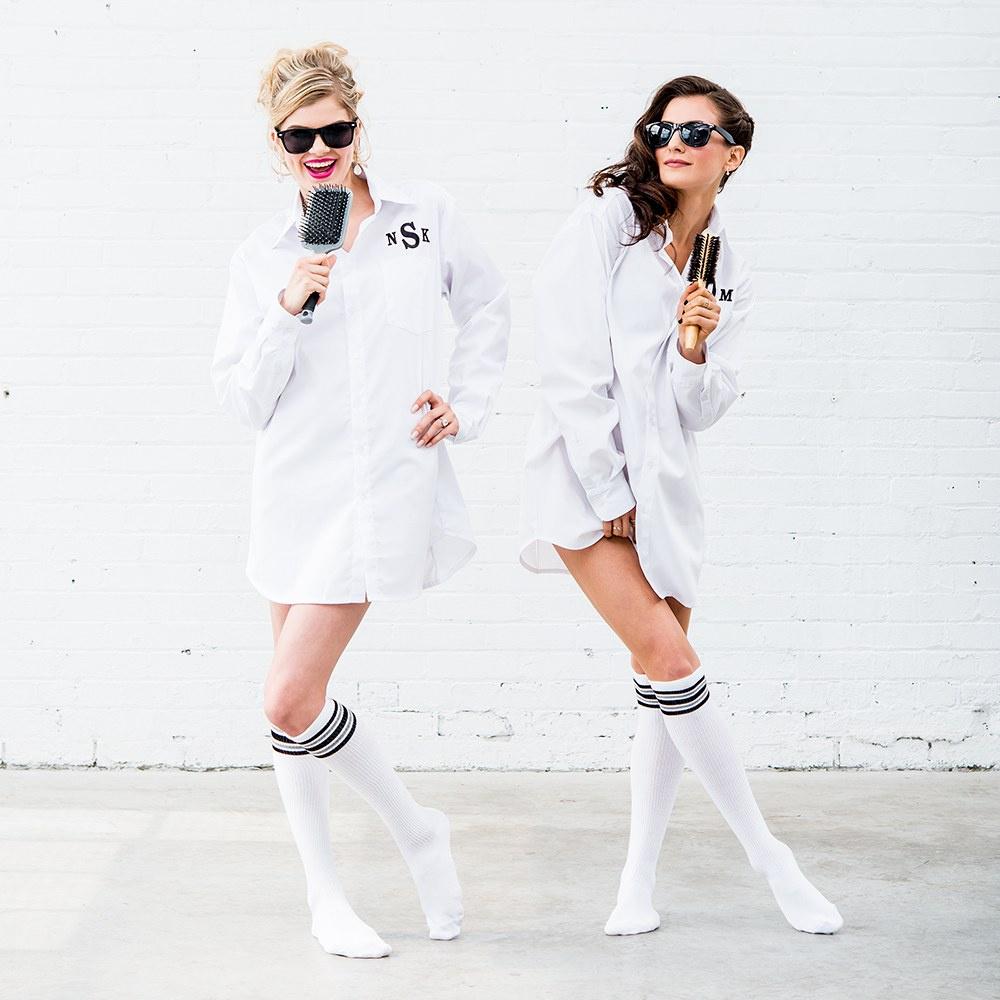 We can't get enough of this embroidered button-down shirt for bridesmaids from the WeddingWire shop. This classic white oxford sports a bold monogram high up on the shirt, above the breast pocket for a refreshingly different vibe. Choose from 15 different thread colors for a personalized look you'll love.
WeddingWire Shop personalized bridal button-down shirt, $27, WeddingWire Shop
If you'll be providing matching monogrammed bridesmaid button-down shirts to your best girls, these fully customizable shirts from Everly Grayce are not to be missed. Available in 16 different ultra-feminine hues, you can choose your favorite font for monogramming, and even your favorite coordinating thread color.
Everly Grayce bridesmaid button-down shirt, $23, Etsy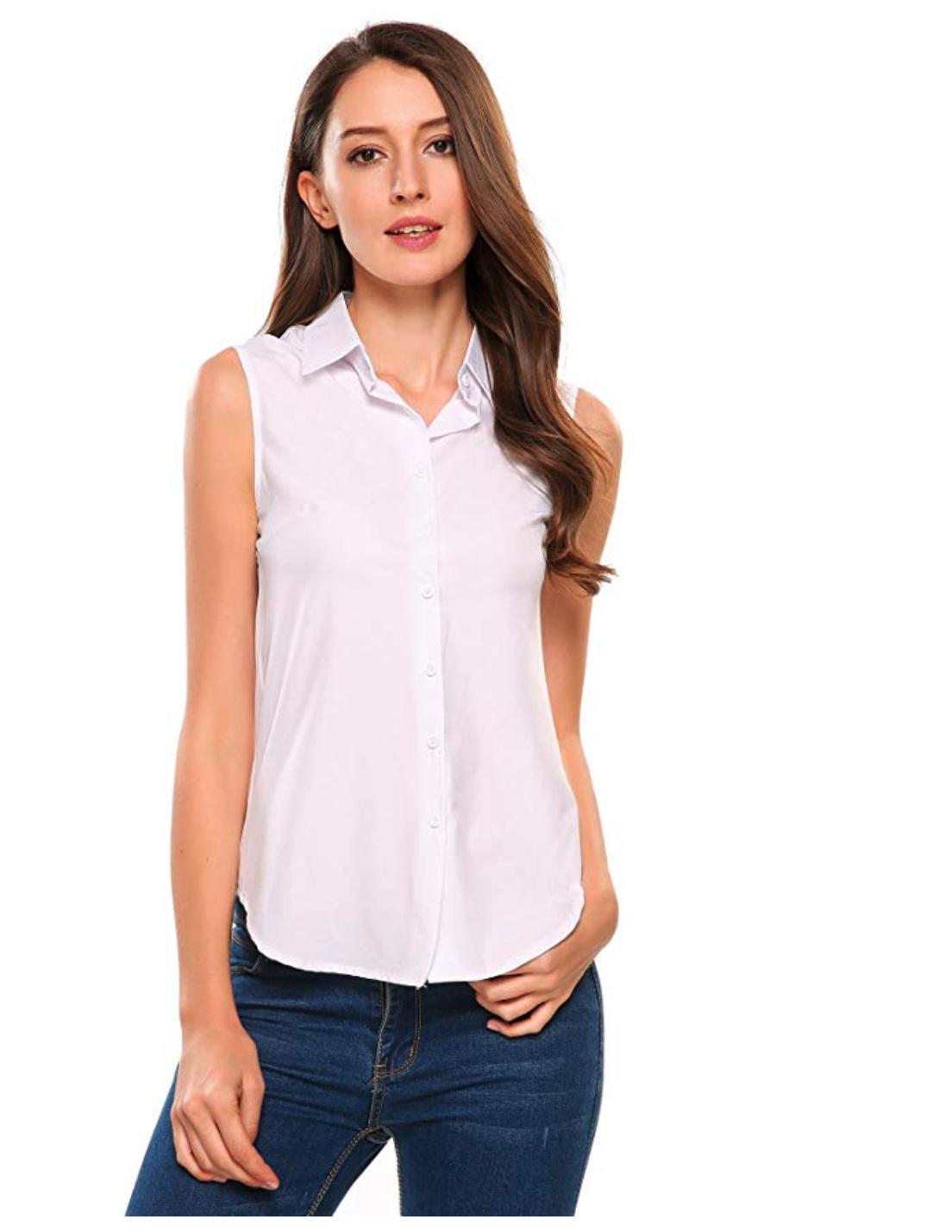 If Mother Nature cranks up the heat on the day of your wedding, you'll be glad you chose these sleeveless button-down shirts for bridesmaids. They'll still be able to slip in and out of them easily so as not to mess up hair and makeup, but the lack of sleeves will keep you and your girls as cool and collected as possible.
Zeagoo women's sleeveless button-down shirt, from $7, Amazon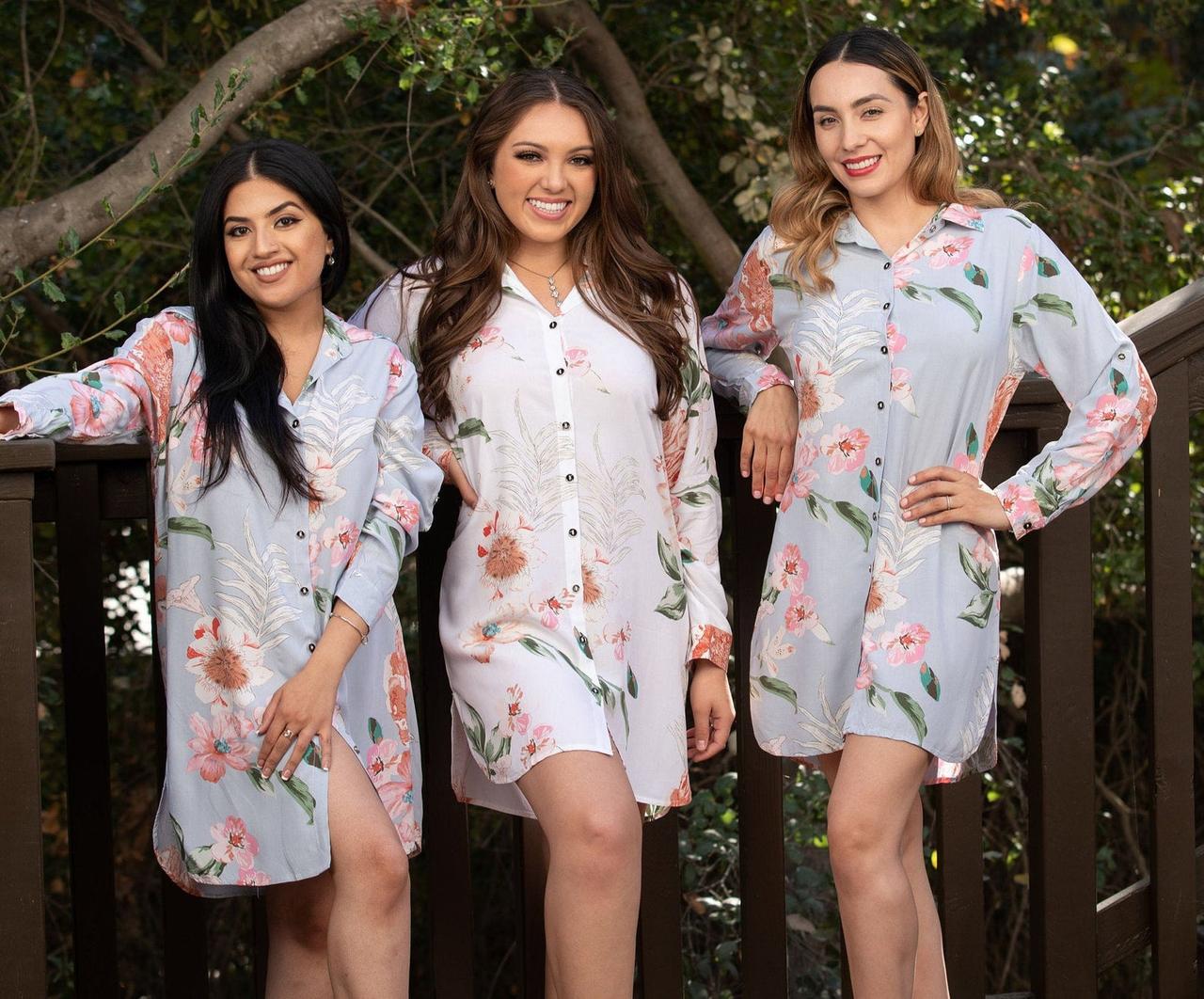 These beautiful floral sleep shirts are one of our favorite bridesmaid button-down shirts. They set the tone for a relaxing but upscale morning of mimosas, makeup and of course, lots and lots of photos. There are six floral hues to choose from, so you can opt to match your girls, have one color for yourself and another for them, or even let everyone choose their favorite color.
Totally Brides bridesmaid floral button-down shirt, $17, Etsy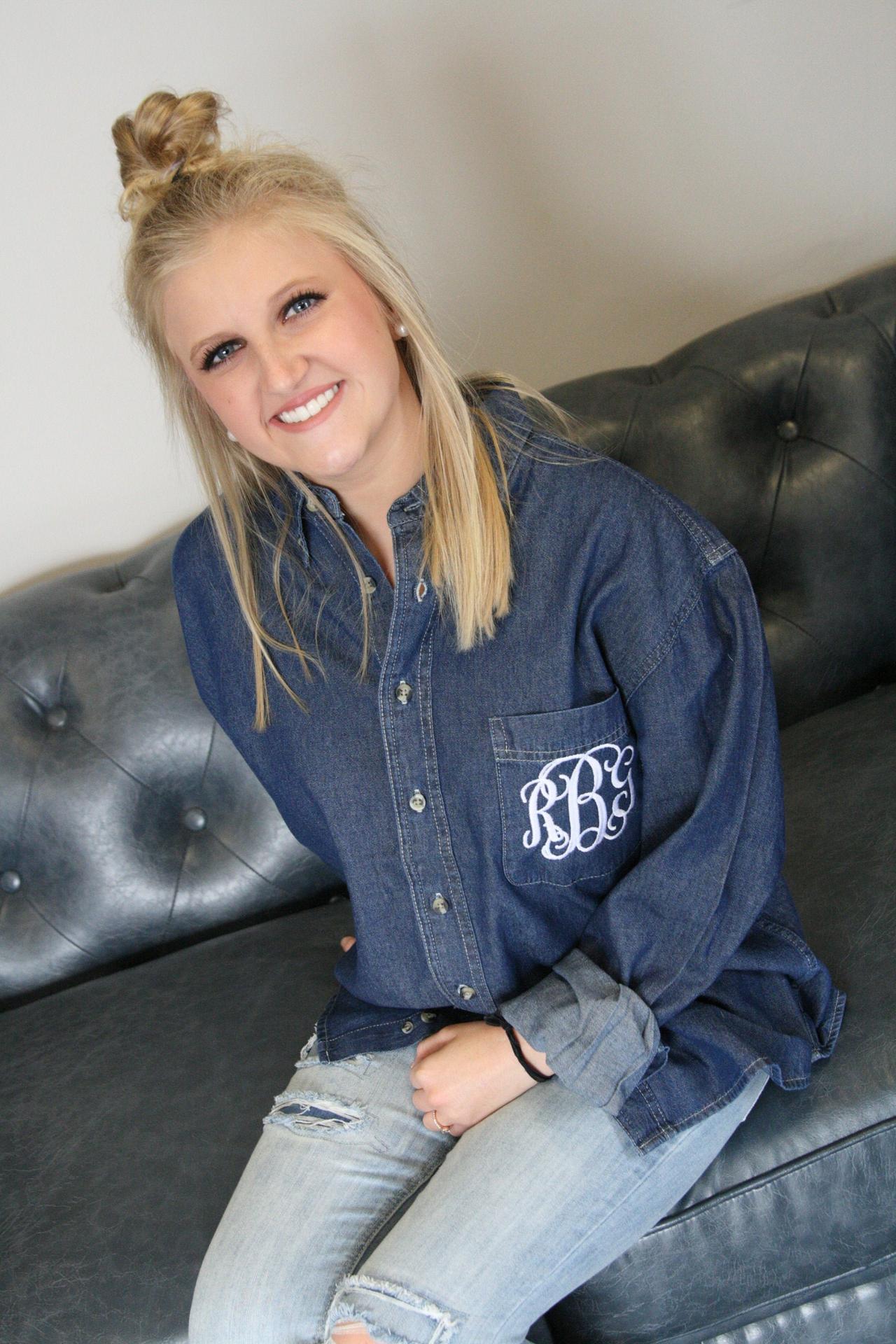 Is there such a thing as embroidered button-down shirts for bridesmaids that they'll look forward to wearing again? Yes! These super cute denim shirts definitely check all the boxes, with a cute, feminine fit and two trendy denim colors they'll love—dark or light wash. Choose from an array of pretty thread colors to suit each girl's personality or your wedding color palette.
Southern My Sass monogrammed denim shirts, from $23, Etsy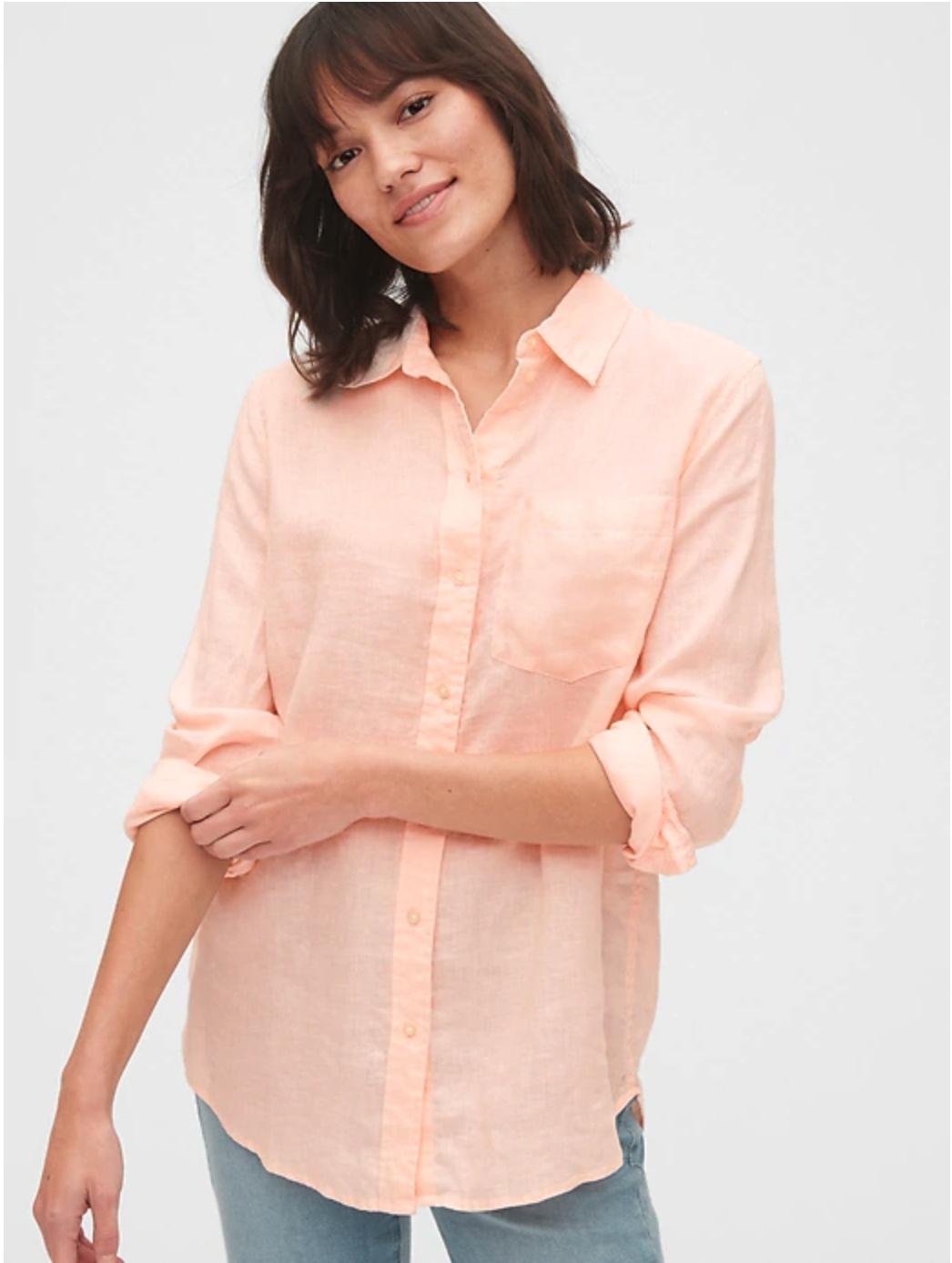 If you're looking for something with a lighter feel than a classic oxford shirt, consider these linen button-down shirts from Gap. The loose, boyfriend-style fit ensures the morning will be spent in comfort, while the pink hue totally lends a bridal vibe that's just right for your getting-ready snaps.
Gap linen boyfriend shirt, $48, Gap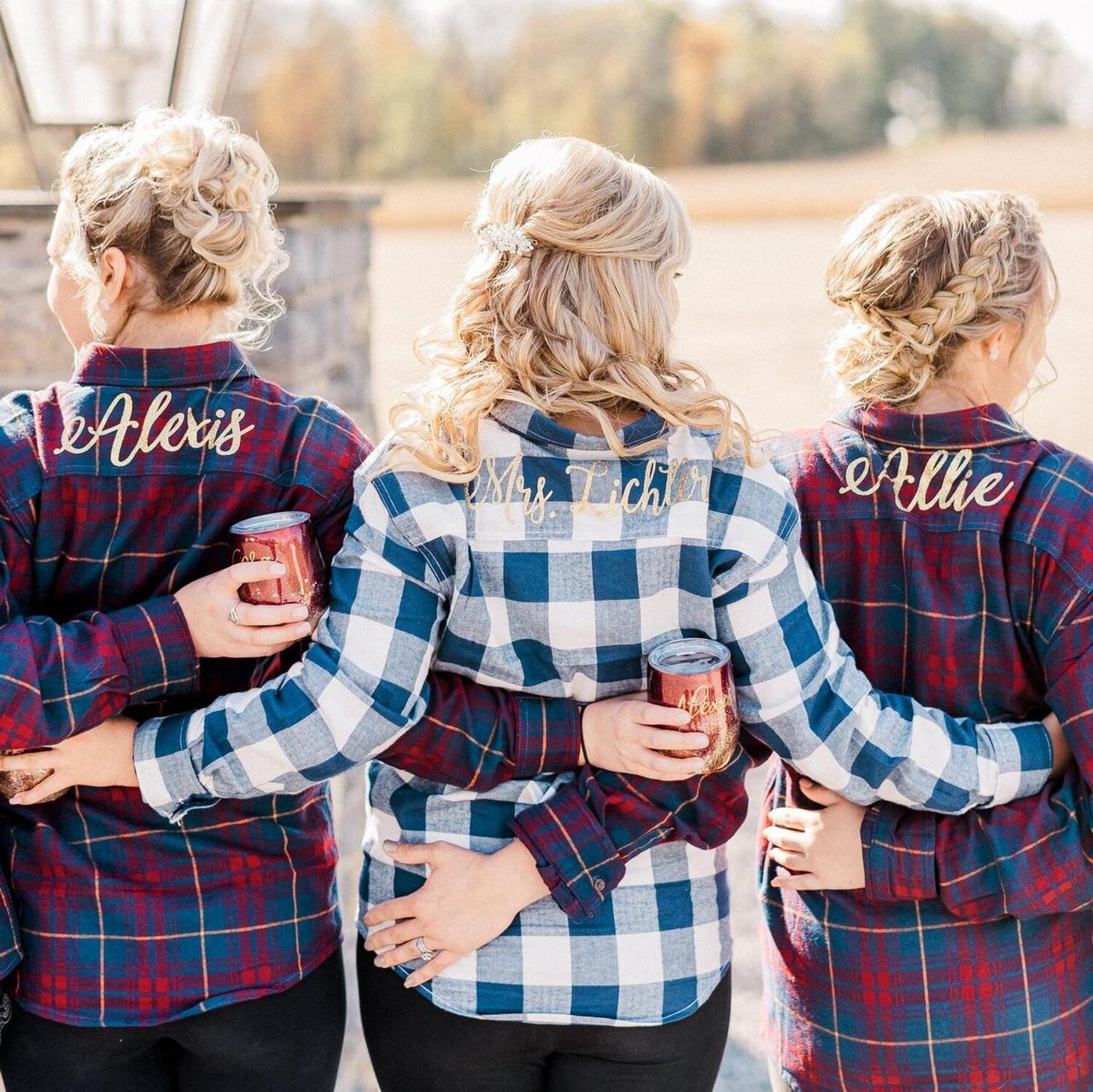 If you're a flannel gal, here's another set of bridesmaid button-down shirts to consider. Etsy seller Lettermix Studio offers a wide selection of different flannels to choose from, so you can cleverly match your fave fabric to your wedding colors if you want. And with each girl's name scrawled across the back, imagine the photo ops!
Lettermix Studios flannel button-down bridesmaid shirts, $33, Etsy
Disclosure: This post contains affiliate links, some of which may be sponsored by paying vendors.