Picked the Wrong Bridesmaid? Here's Exactly What to Do.
So, you've picked your wedding party and now you're regretting including a certain friend or family member. It happens. Here's how to handle this sticky situation.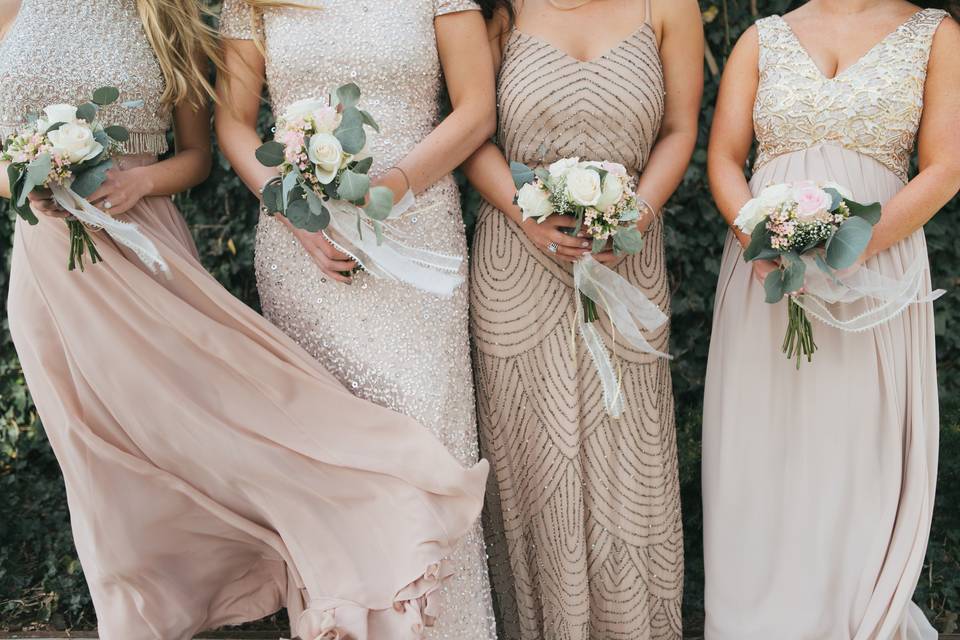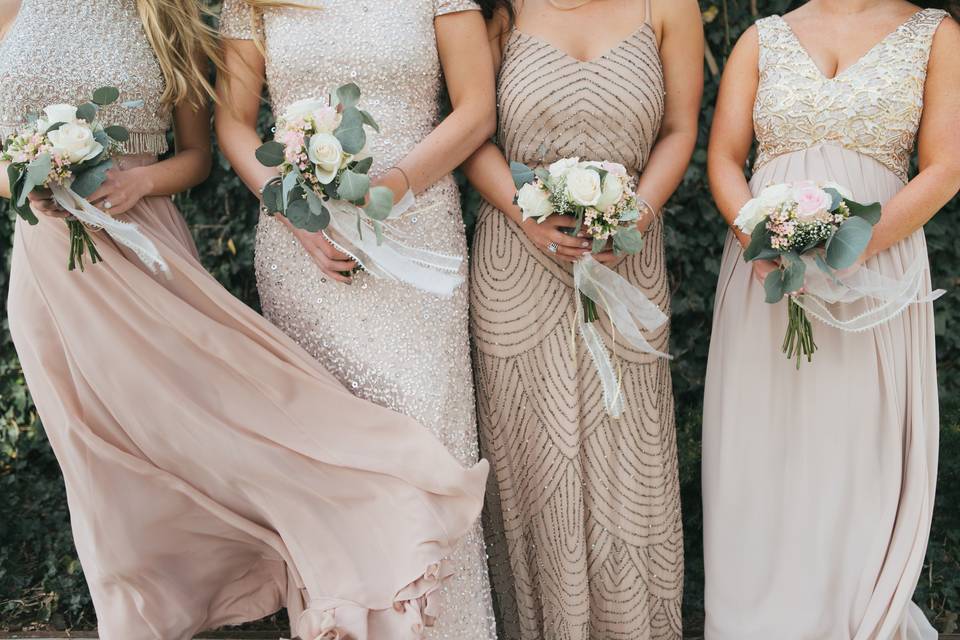 Though you may have dreamt of your wedding day as a child, once the time comes to plan the grand celebration, the experience could be different than you anticipated. In addition to the obvious financial stressors, weddings also come with emotional baggage. From toxic family members to the tedious process of deciding on a guest list, many couples have to make difficult decisions. And one of the most complicated is selecting who will be the VIPs — a.k.a., your wedding party. It's often considered an honor to be asked to be a bridesmaid, groomsman, bridesman, groomswoman, etc. but it also comes with a hefty list of responsibilities.
Even though it's an uncomfortable situation to be in, couples may regret their decision to ask a friend or family member to be in their wedding party. So if you find yourself fretting about what to do, take a deep breath. Here, wedding and psychology experts share how to navigate the conversation:
Here's why selecting a wedding party can be difficult.
Though there are many reasons why narrowing down your bridesmaid list can be a stressful experience, it really boils down to one (heavy) word: pressure. As wedding planner Nora Sheils of Bridal Bliss in Seattle, Washington explains, many feel pressured to include siblings, siblings-to-be, cousins, and other family members. On the other hand, others tend to have categories of friend groups (high school, college, colleagues, roommates, etc.), and it can sometimes feel like an 'ask-one, ask-all' situation.
Another layer of pressure comes when the bride has been part of a friend's wedding party but isn't sure if they want that friend to be in their own. Last but not least, the financial commitment is a biggie: if you know your friend won't be able to afford the many expenses of being a bridesmaid (the dress, the bachelorette party, the shower, and so on), you may be hesitant to include them.
If it sounds complicated, it's because it is. Or, as Sheils puts it: "Choosing a wedding party can be messy and hard! Choose wisely."
What to do if you feel like you made a mistake.
You thought you made the right choice on your bridesmaids, but now one of your friends isn't stepping up. They have RSVPed 'No' to everything, they don't respond to emails, and they otherwise seem unenthused about your marriage. As a result, you are having serious doubts about their participation, and it's making you anxious.
Or, there has been one pal who has shown up in a big way. They sent you a sweet engagement gift, they've been a significant part of the bachelorette party planning, and they are always there to listen to you vent. You didn't initially include them in your wedding party, but now you wish you would have.
In both of these situations, what should you do? Here's some expert advice:
Be honest and have an open conversation.
There's no way around it: feeling like you made a poor decision is hard. But as with any sort of relationship, communication is paramount to getting through it. And the first step is being honest with yourself and then with the person.
Before you ask someone to resign from your wedding party, explore where your feelings are coming from. If you feel differently about a friendship that has become toxic, it could be due to jealousy. Sometimes, a well-meaning friend could be upset you are getting married, and they're not, so they don't want to be part of the celebration. In this case, there is no way around it, Shelis warns since you don't want to look back on your wedding day and remember how horrible they were. "The wedding party is supposed to include your nearest and dearest, not a toxic friend," she adds.
On the other hand, a person could be acting out or being distant due to financial reasons. Shelis says this is all too common, and it's worth discussing kindly. "It may be a struggle for him/her/they to pay for the outfit, the glam, and so on," she continues. "Instead, include the person in all of the festivities, invite them to join you getting ready, and add a photo with them to your shot list. They will still feel included but won't be stressed about their finances."
Consider your options.
Here's the deal: you may not want someone to be part of your wedding party, but you're so far into planning, it feels impossible to remove them entirely. Instead, you should consider your options and get creative with solutions that make everyone happy, recommends wedding planner Loren Petrowski of Marry You in Hawaii in Honolulu, Hawaii. A few examples from her own experience include:
"I had a bride actually come to me and ask if we could change their floor plan at the last minute so that they would only have her and the groom sitting at a table. Then the rest of the wedding party would be sitting elsewhere in the room because she felt uncomfortable with her maid of honor being near her at that point. We were able to change it, but they decided to stick with the original floorplan, and my heart went out to that couple, and I still think about them."
"I remember a maid-of-honor who was more demanding than the bride, but the bride, who was anticipating this, hired someone from her planner team just to 'manage' this person. They were best friends, and she obviously knew that she needed to be in the wedding party but needed her own attention on the day, even though she wasn't getting married. Both the bride and the maid of honor were so happy at the end of the day that the maid of honor was in talks to hire that planner for her wedding."
Innovation also goes a long way if you didn't initially include someone in your wedding party, but you want them to be a bigger part of the day. In this case, think about inviting them to do a reading at your ceremony or give a toast at the reception. This way, they have a unique role, even if it isn't a bridesmaid.
Forget the 'rules' and go with your heart.
Though these strategies are helpful, it's also vital to keep in mind it's your day. And it's a super-meaningful and monumental time in your life, and it should be everything you want it to be. So, if you feel as if you overlooked someone, you can always make an addition, says licensed clinical social worker Hillary Schoninger, LCSW. "Maybe you were on the fence about a cousin, but you have seen a lot of helpful support since your engagement. Maybe in recognizing this person's impact, you can revisit asking them and having them be a part of your wedding party," she continues. "Remember this is your wedding, and you are allowed to have things be a certain way without having to explain yourself. If you find yourself explaining every decision you are making, you miss the opportunity to enjoy this time and the power of your own choices."