37 Unique "Will You Be My Bridesmaid?" Proposal Gift Ideas
Bridesmaid proposal gifts are a fun way to recruit your crew, and we're sharing all the cutest ideas.
We have included third party products to help you navigate and enjoy life's biggest moments. Purchases made through links on this page may earn us a commission.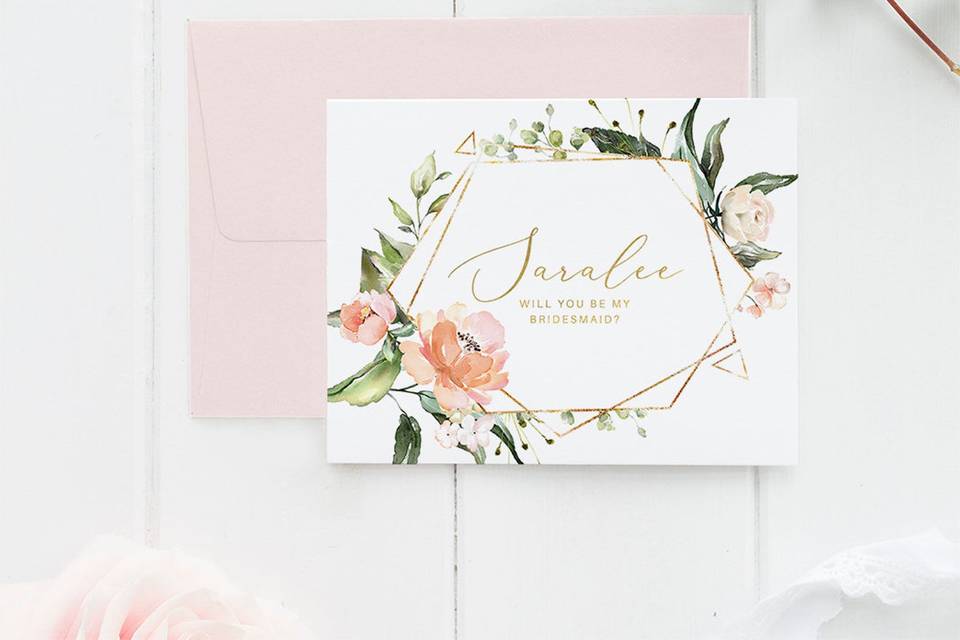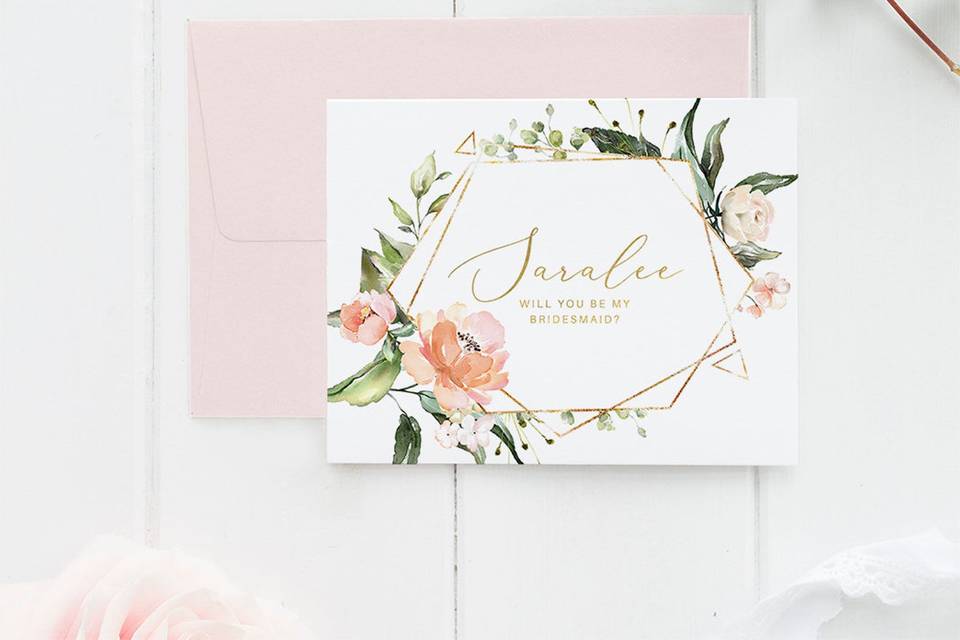 Asking someone to join your bridal party is a big deal—your future crew will have to invest time and money into helping you plan an amazing wedding. With that in mind, many to-be-weds like to come up with fun bridesmaid proposal ideas to make the question "Will you be my bridesmaid?" all the more meaningful.
So what is a bridesmaid proposal, exactly? While having a face-to-face conversation is still a polite and personal way to recruit your wedding party, sending or presenting a gift to ask your bridesmaids is another option that's rising in popularity. Similar to a proposal with an engagement ring, this act (coined the "bridesmaid proposal") is an opportunity for the bride to show her squad how much they mean to her with a tangible, thoughtful present.
Need a little help finding the perfect bridesmaid proposal gifts for your crew? Don't sweat it. We're sharing our top ideas below, as well as need-to-know etiquette.
When should you send a bridesmaid proposal?
It's best to complete your bridesmaid proposals within two or three months of getting engaged, if not sooner. This lets your gals know right away that you want them to be involved in all of your pre-wedding festivities, from the engagement party to the bridal shower, rehearsal dinner, and more. Depending on how long your engagement is (the average time is 15 months), this will give your bridesmaids ample notice to block out their calendars and prepare for the months ahead. Plus, it leaves you with some wiggle room when deciding exactly how to propose to your bridesmaids.
How much should you spend on bridesmaid proposal gifts?
Since you don't technically have to do a bridesmaid proposal, how much you spend is totally up to you. Ultimately, it'll depend on the gift itself, as well as the number of bridesmaids you're shopping for. Whether you're looking to spend $10 or $100 per person, remember that it's the thought that counts. It's also important to keep in mind that you're expected to buy thank-you gifts for your wedding party regardless of proposal presents, so you may want to budget a little more moolah for those. Luckily, you can find plenty of 'grammable gift ideas at any price point, and when your bridesmaids-to-be see how much thought you put into their proposals, we have no doubt that they'll be honored to accept.
The Best Bridesmaid Proposal Gift Ideas
When choosing a gift, find something that speaks to your personality while also keeping your friends' tastes in mind. Some of the trendiest bridesmaid proposal ideas include travel wine tumblers, jewelry they can wear on the wedding day, and personalized tote bags perfect for a beach bachelorette. Ready to start shopping? These creative bridal party proposal ideas are sure to get a resounding "yes."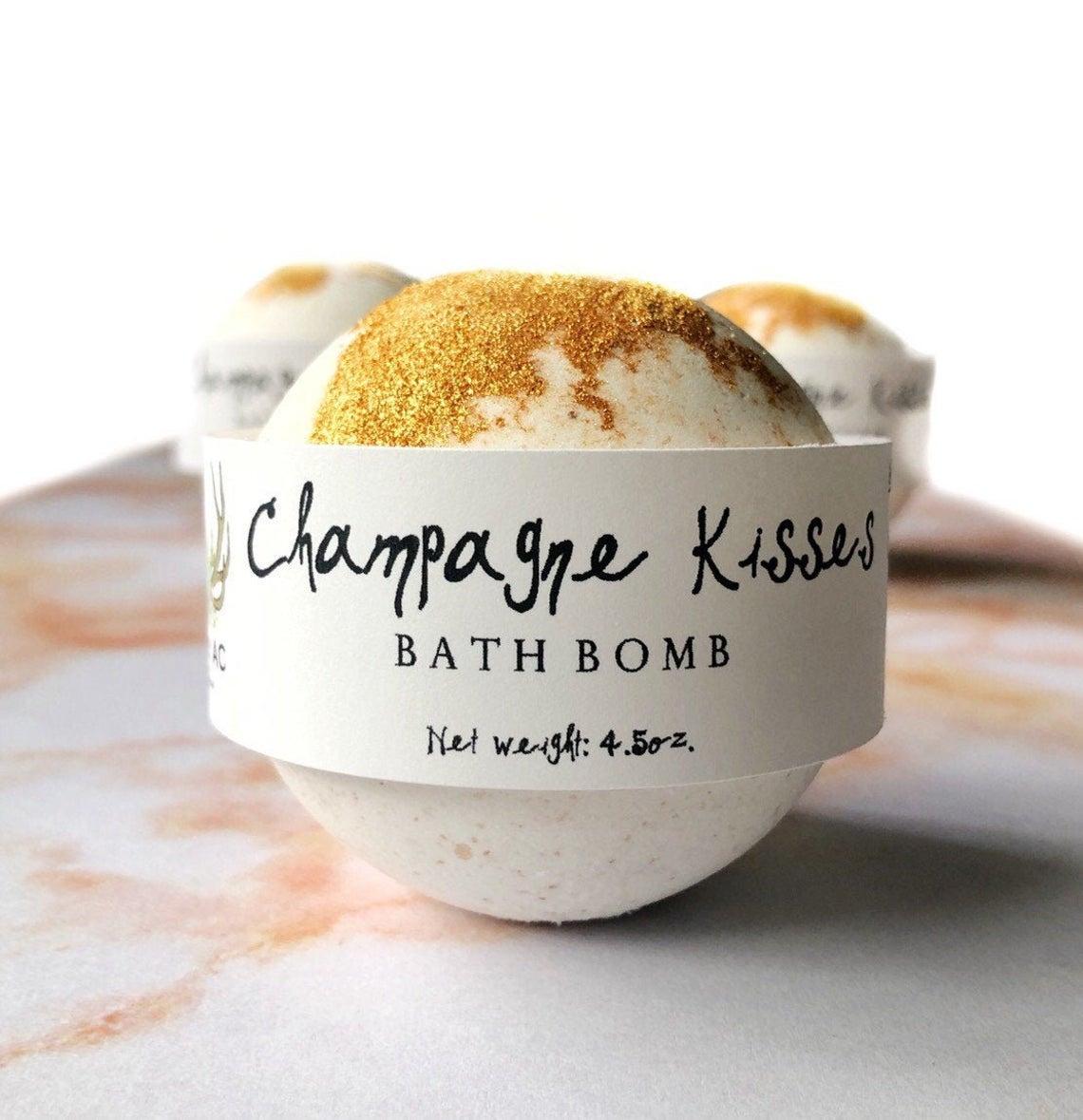 1. Champagne bath bombs
Like we said, bridesmaid proposal gifts aren't a necessity, but small tokens like these glittery scented bath bombs are a sweet and simple way to make popping the question more fun. Continue the champagne theme by gifting these with mini bottles of bubbly so they can toast their new wedding party status right away (OJ optional).
Shop Simply AC Champagne Kisses luxury bath bomb, from $10, Etsy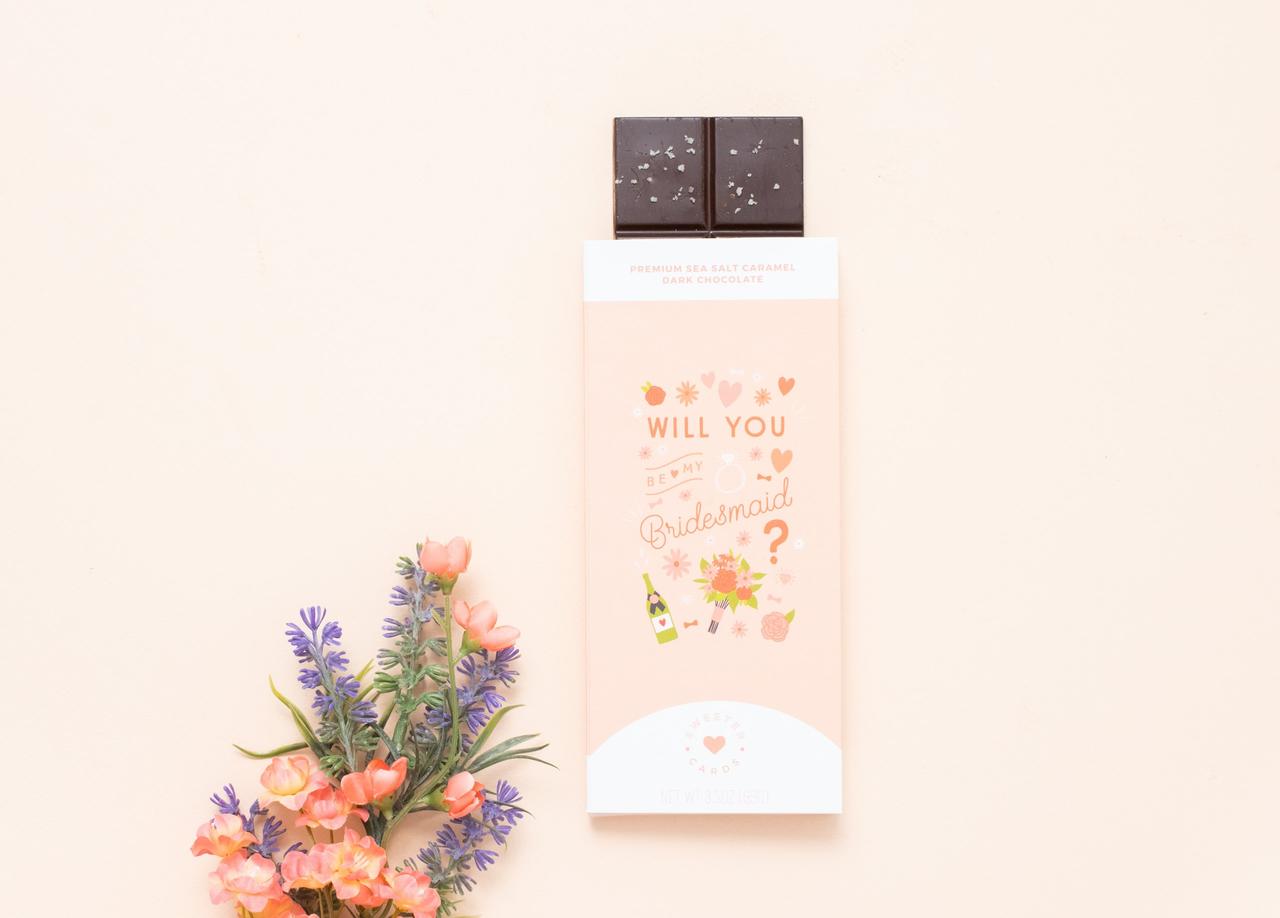 2. Bridesmaid proposal chocolate
Small bridesmaid proposal gifts are all it really takes to get the message across. This genius "will you be my bridesmaid?" gift doubles as a greeting card and a bar of delicious sea salt caramel dark chocolate. It's easily one of the cutest bridesmaid invitation ideas. Take the time to insert your own special message for each 'maid inside. Bonus: Get 10% off your purchase with our promo code WedSC.
Sweeter Cards bridesmaid proposal chocolate, $40 for a pack of 6, Sweeter Cards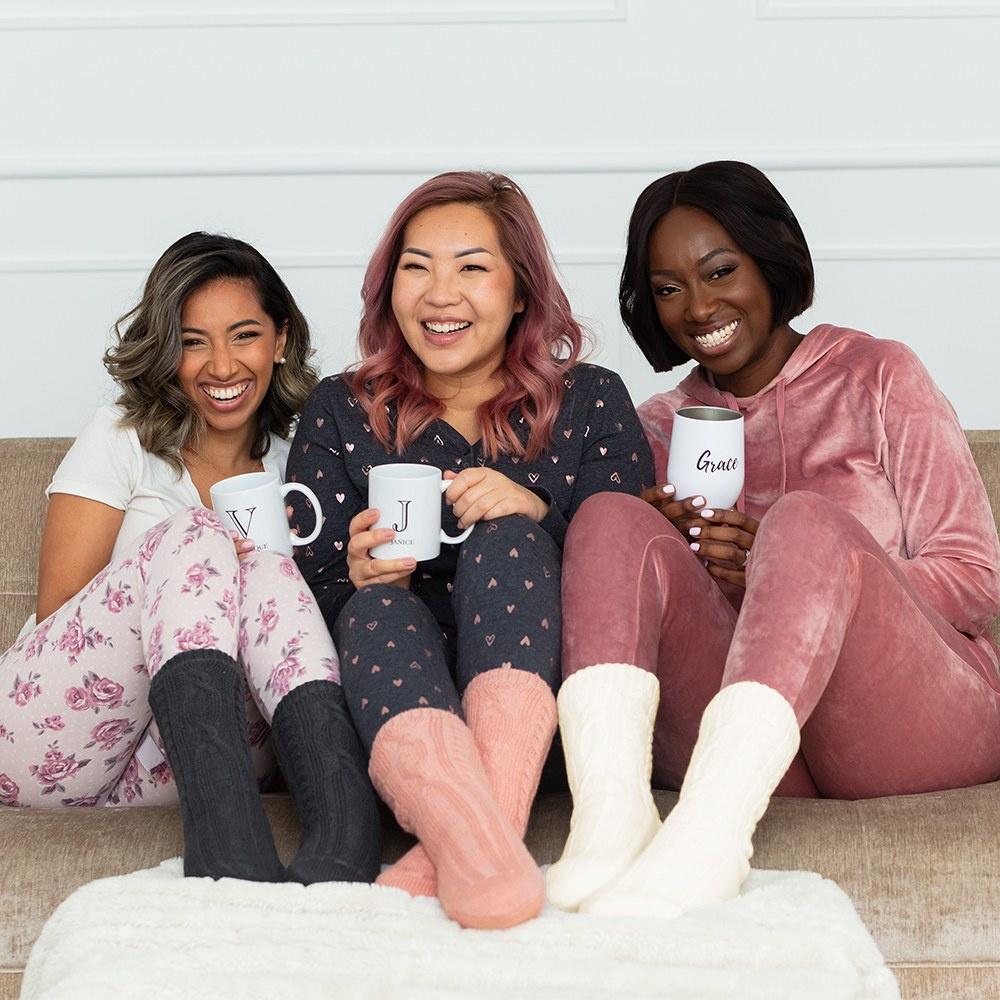 3. Cozy matching socks
Plan a girls' night in with all of your potential bridal party members complete with your favorite movies, hot chocolate, and these snug matching socks. You can customize the packaging for each pair to read: "Will you be my bridesmaid?" Talk about cute bridesmaid proposal ideas!
WeddingWire Shop personalized cozy sherpa-lined cable knit slipper socks, $17 per pair, WeddingWire Shop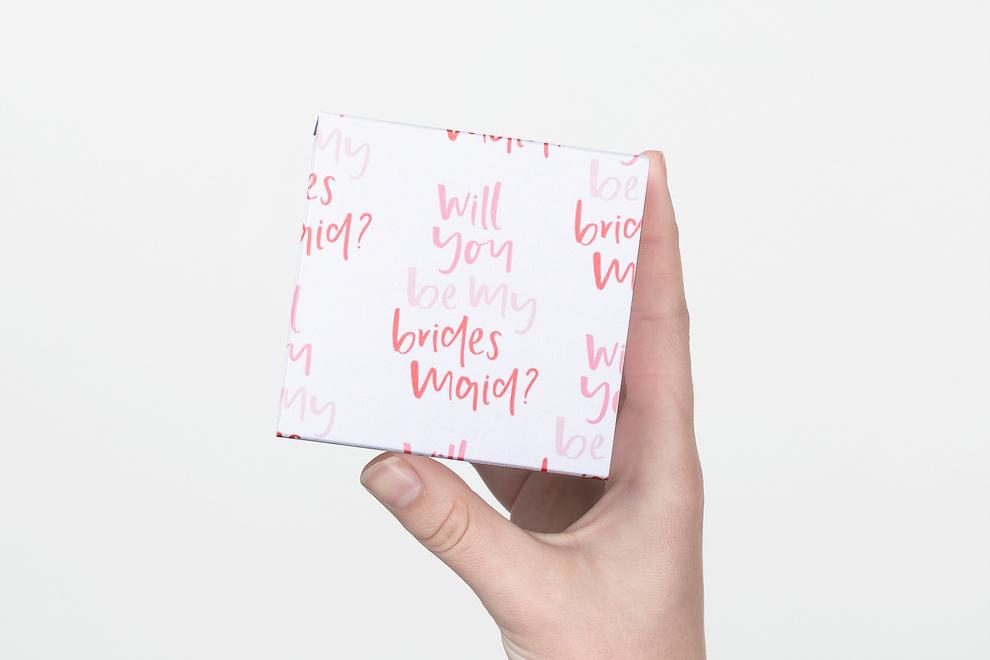 4. Fold-out gift boxes
A gift box from Greetabl is the perfect bridesmaid proposal for best friends who live far away. Each box folds out to reveal a personal message, photos of your choosing, and a lovely little gift. We're big fans of the pretty confetti and adorable heart-shaped tea. (Psst, get 15% off sitewide with our code TKWW15.)
Greetabl Be My Bridesmaid print gift box, from $18 with a gift, Greetabl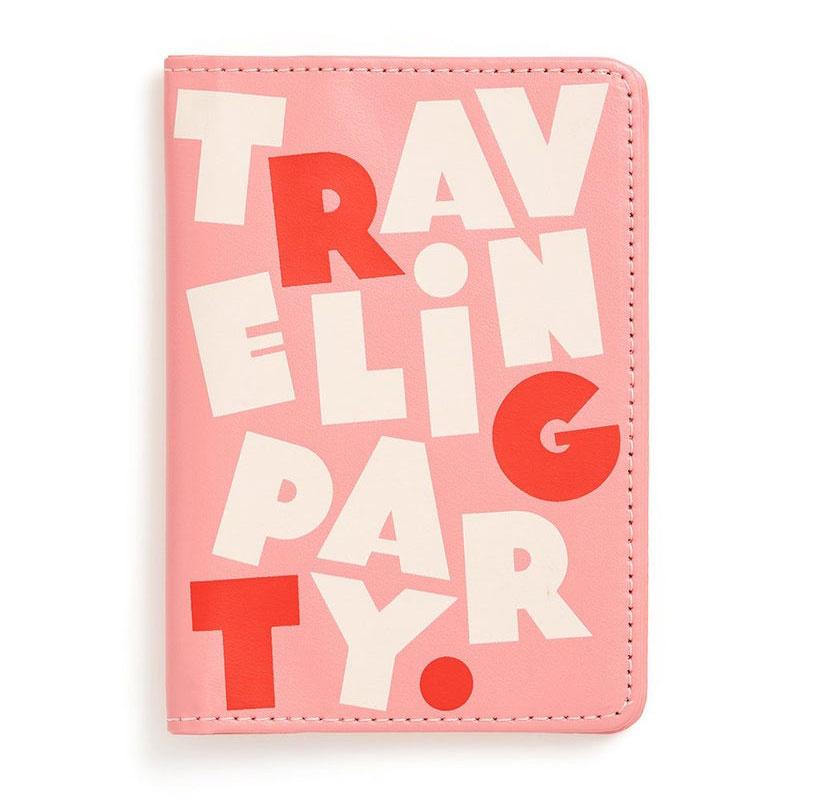 5. Trendy passport holders
Here's another cool gift that'll make asking your bridal party all the more fun. This chic passport holder will instantly get them in the mood to explore, making it an extra-fitting present if they have to travel for the wedding. There are so many cute styles to choose from, so you can pick out a different passport holder for each bridesmaid.
ban.do getaway passport holder, $24, ban.do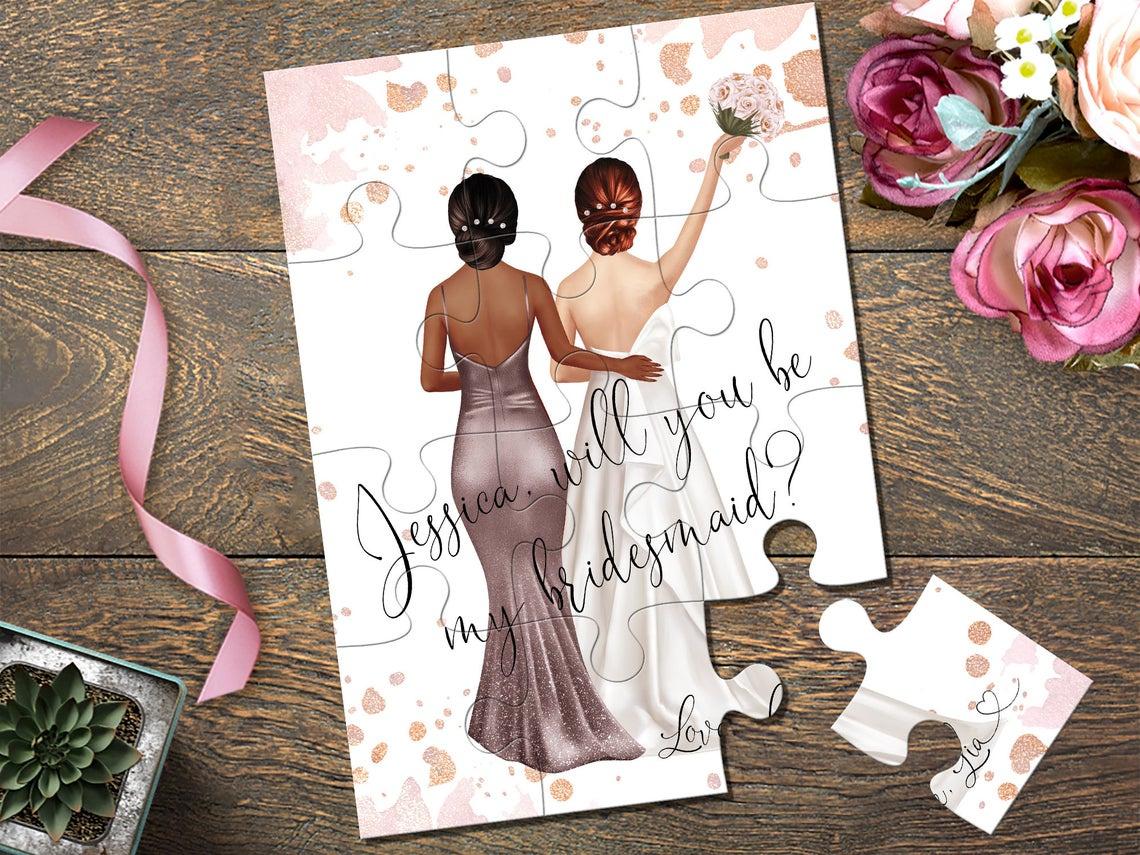 6. Custom illustrated puzzles
Here's another fun bridesmaid proposal idea that doubles as a cute keepsake. Look out for their reaction once they've figured out the hidden message—there might even be happy tears. (Psst, there's also an option for your matron of honor or maid of honor proposal.)
Two Crew Design Will You Be My Bridesmaid proposal puzzle, from $9, Etsy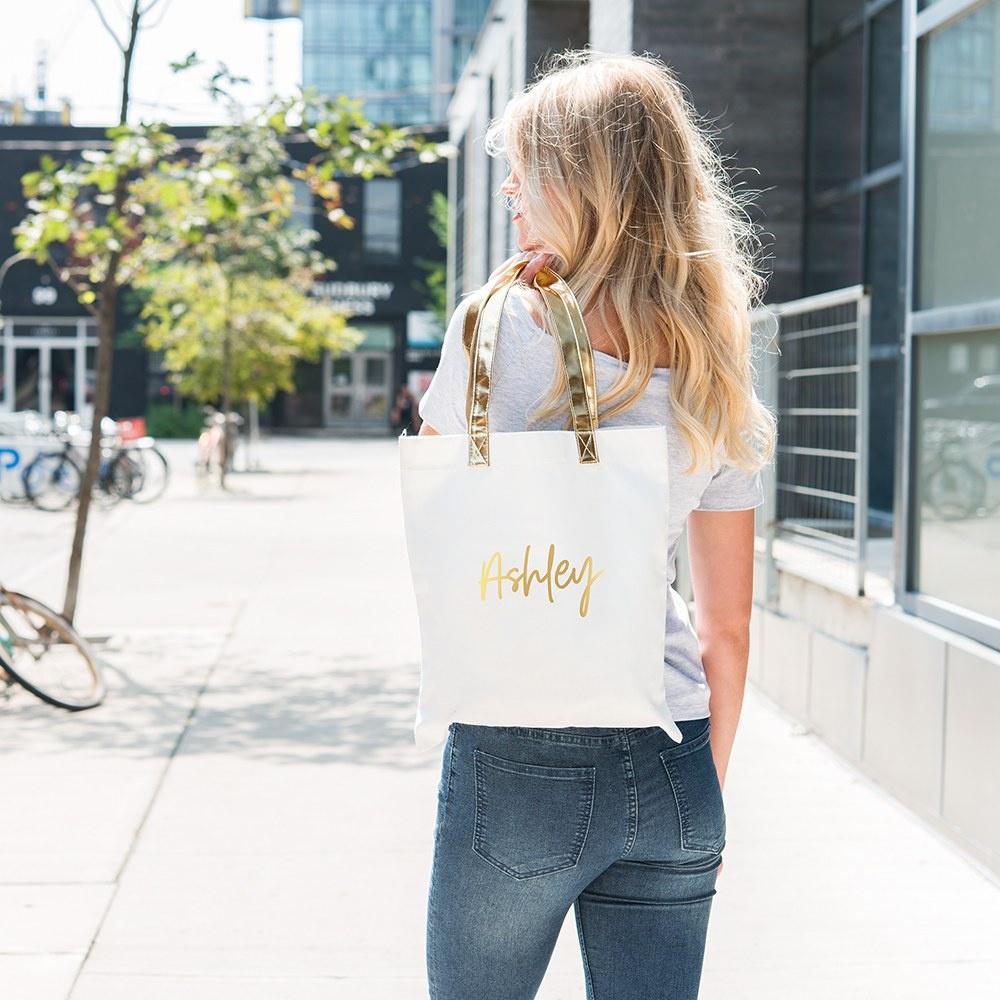 7. Personalized tote bags
A chic and versatile tote will come in clutch over the next few months. Your crew will need somewhere to store their essentials, whether they're helping you shop for a dress or they're lounging by the pool at your bachelorette party. For an extra-special treat, fill each bag with a few goodies like candy, lip balm, hand sanitizer, and mini bottles of wine.
WeddingWire Shop script font personalized cotton canvas fabric tote bag with gold strap, $19, WeddingWire Shop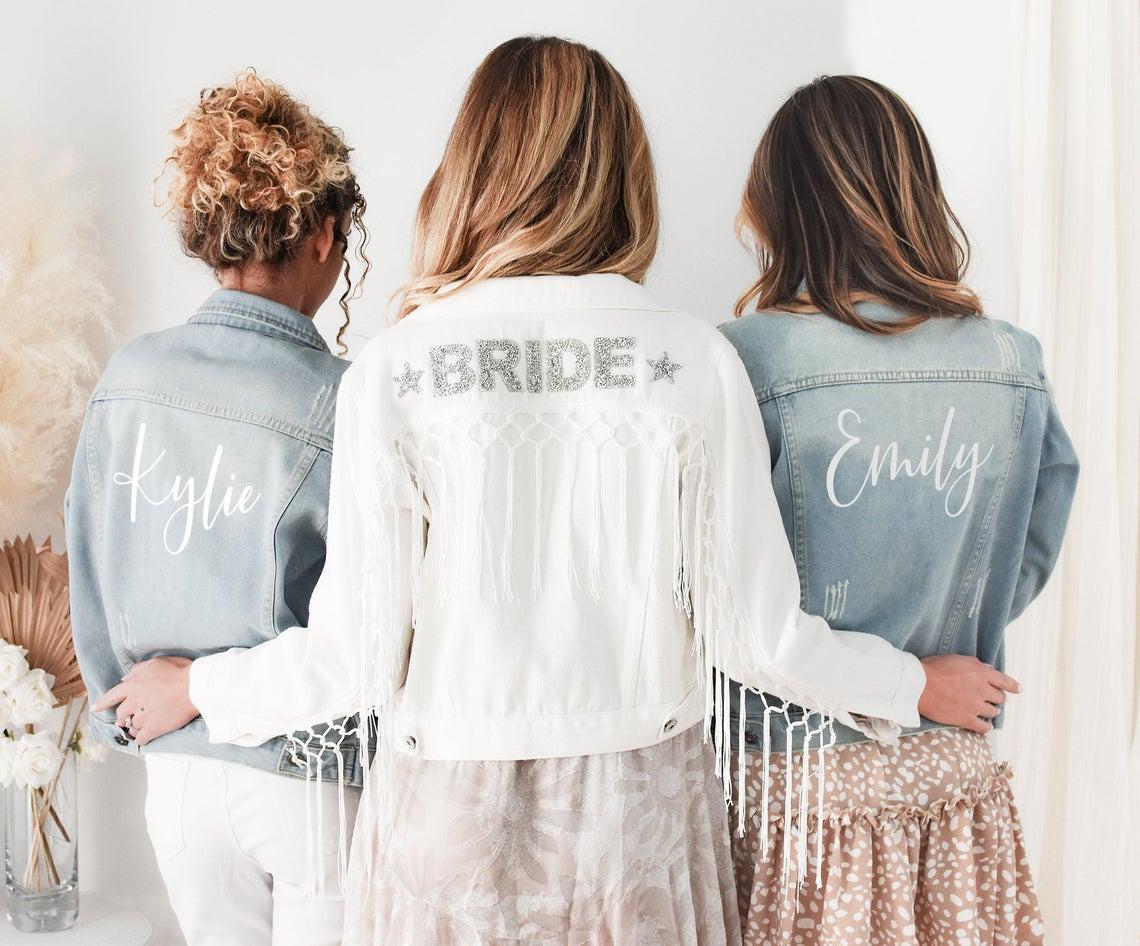 8. Pretty denim jackets
Jean jackets are making a serious comeback and we're 100% here for it. Just imagine how cool your wedding party will look on the 'gram in these coordinating denim outfits. (And don't forget to find a trendy bridal jacket for yourself too!)
Mod Party custom bridesmaid jean jacket, from $51, Etsy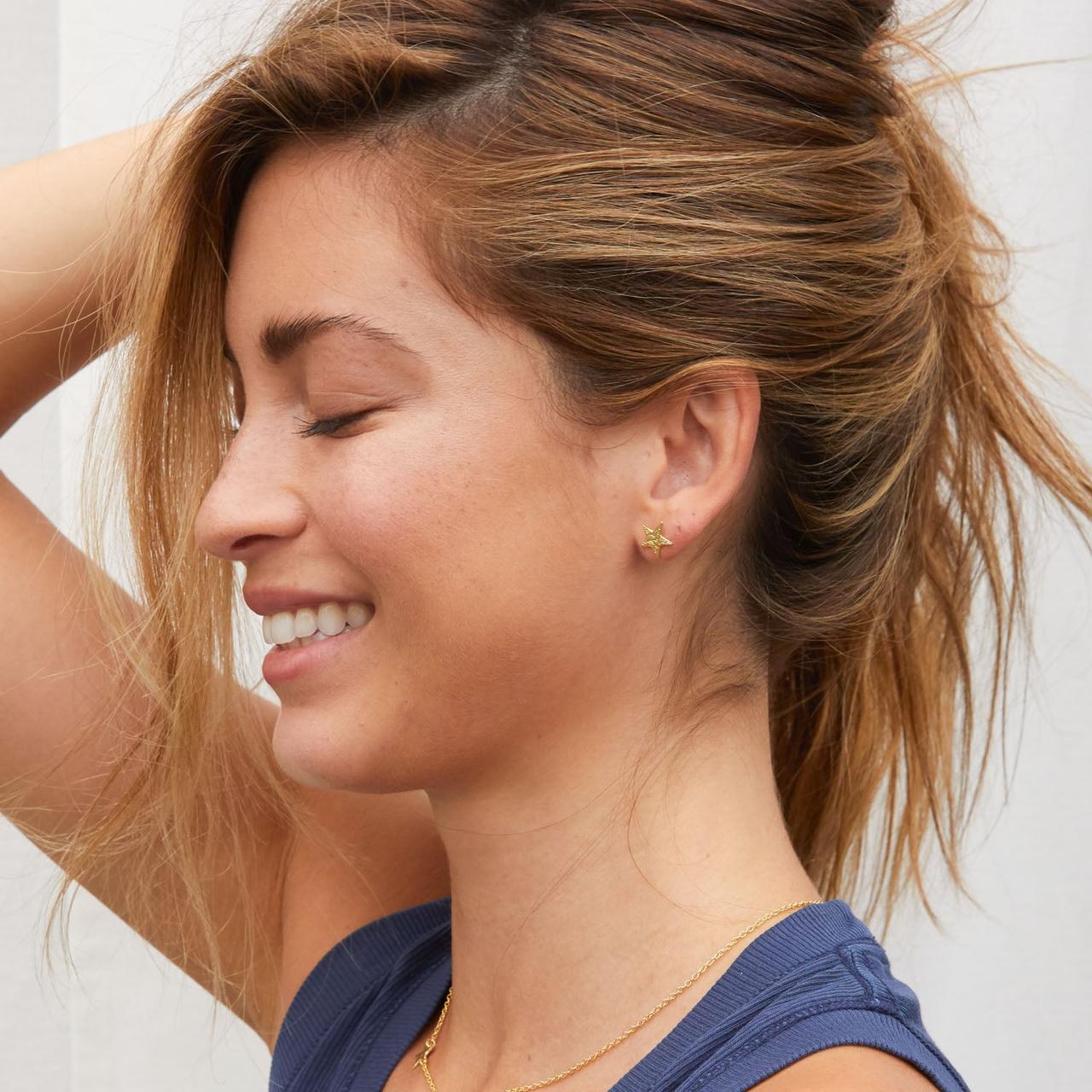 9. Star stud earrings
These gold star studs will make for beautiful bridesmaid earrings to wear on your special day. Not only that, but they're subtle enough for your besties to add to their everyday wardrobes. The star-shaped design will forever be a reminder of how they shined next to you on your wedding day. If that's not a super-sweet bridesmaid proposal gift idea, we don't know what is.
Gorjana small star studs, $35, Gorjana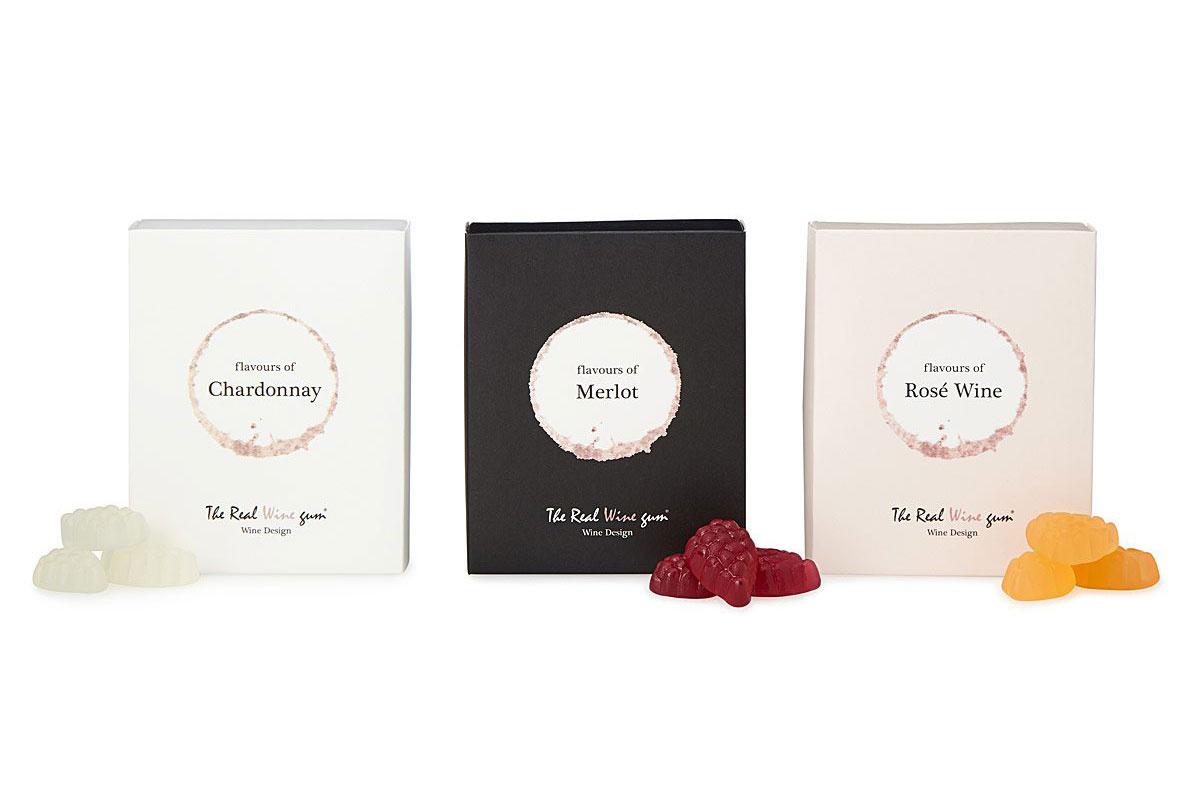 10. Wine-flavored gummies
There are tons of cute ways to propose to your bridesmaids. Give them each a box of these boozy gummies alongside a heartfelt note listing all the reasons you think they'd make a great bridesmaid. There's a box of chardonnay-flavored gummies, a box of merlot-flavored gummies, and a rosé option—yum! If you're feeling extra generous, pair your gift with bottles of vino complete with these personalized wine labels.
Uncommon Goods wine gummies trio, $24, Uncommon Goods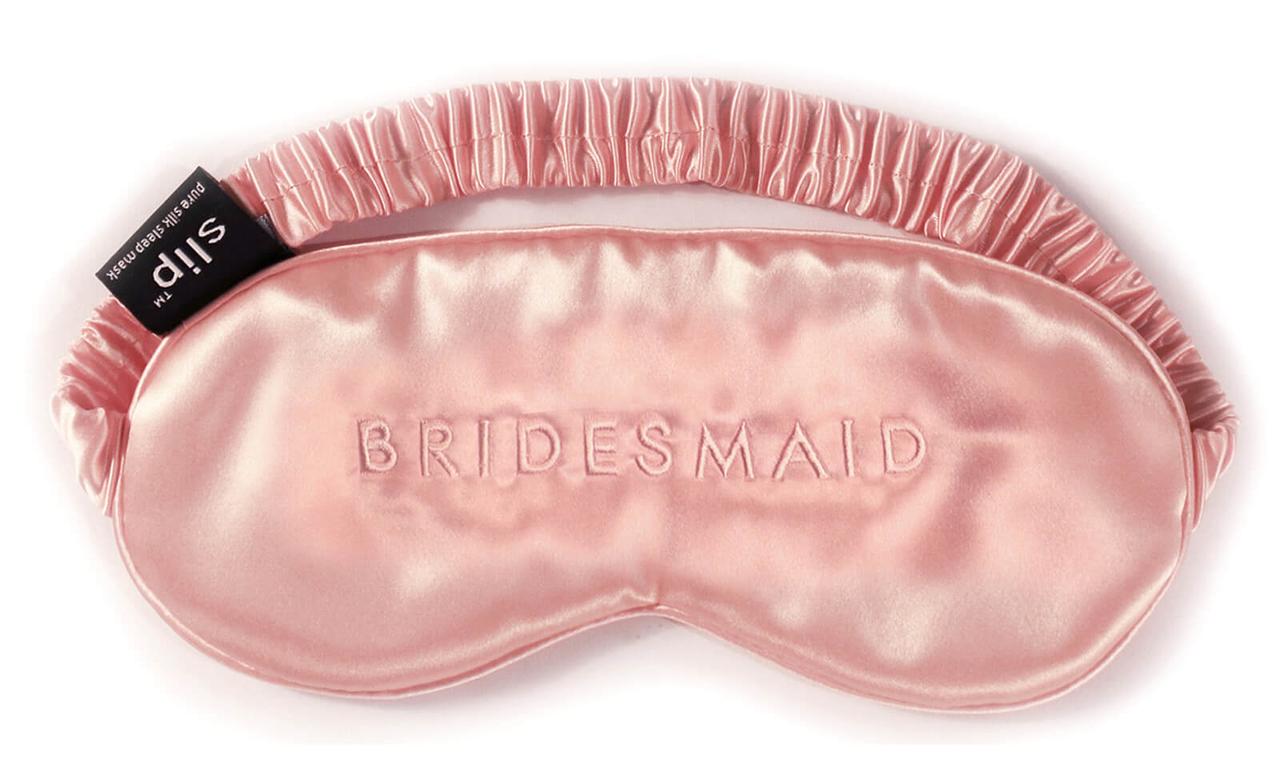 11. Silk sleep masks
There's no denying your crew are going to need their beauty sleep in the busy months ahead. Help them get a head start by gifting each person a luxuriously soft silk eye mask embroidered with the word "bridesmaid."
Slip Bridesmaid silk sleep mask, $50, SkinStore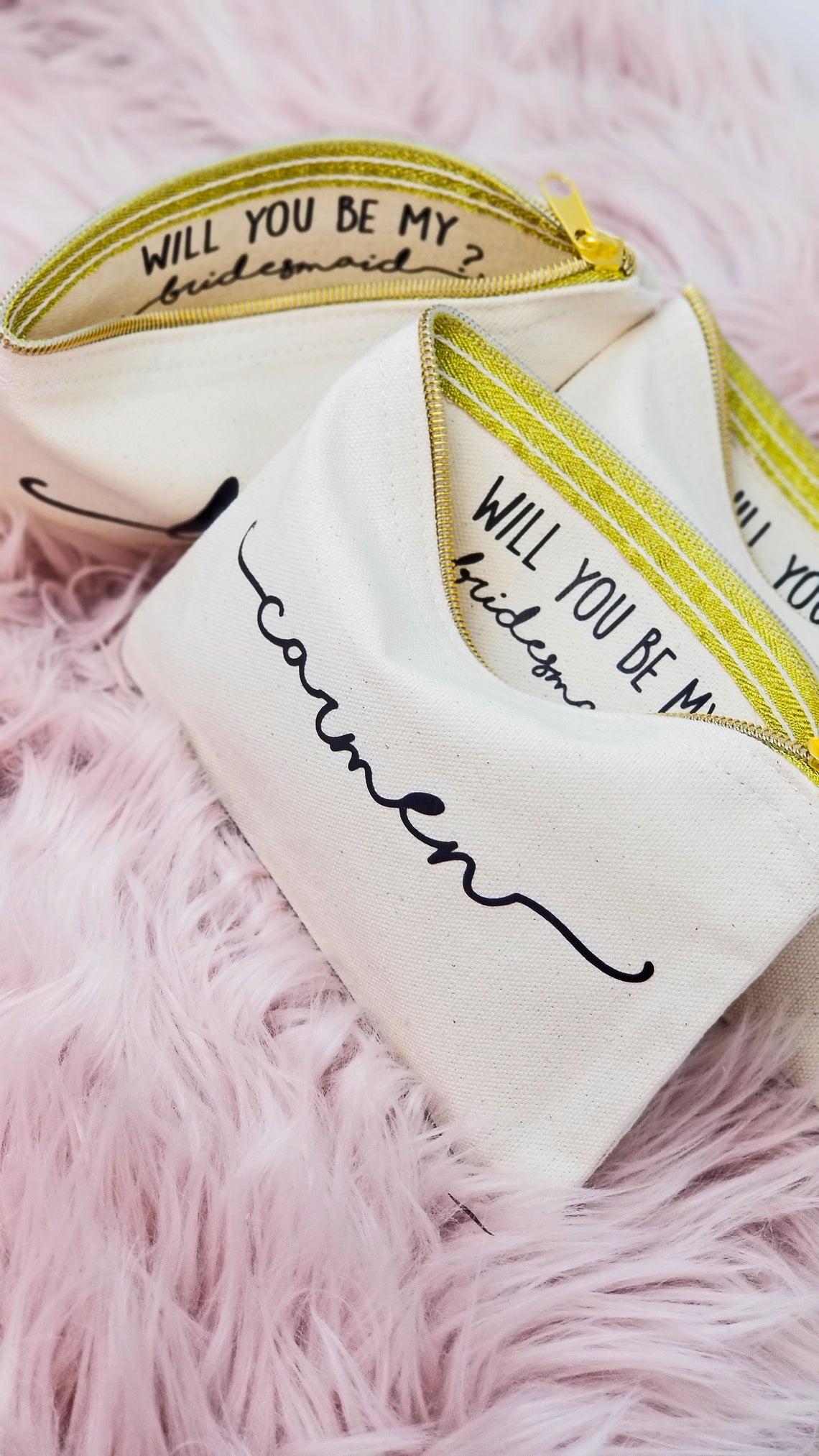 12. Personalized makeup bags
These pretty personalized toiletry bags have a secret message hidden inside. Fill them with sample-size beauty products or tasty chocolates to encourage your crew to open the zipper and read: "Will you be my bridesmaid?"
Crafting Hands Boutique Will You Be My Bridesmaid makeup bag proposal gift, from $14, Etsy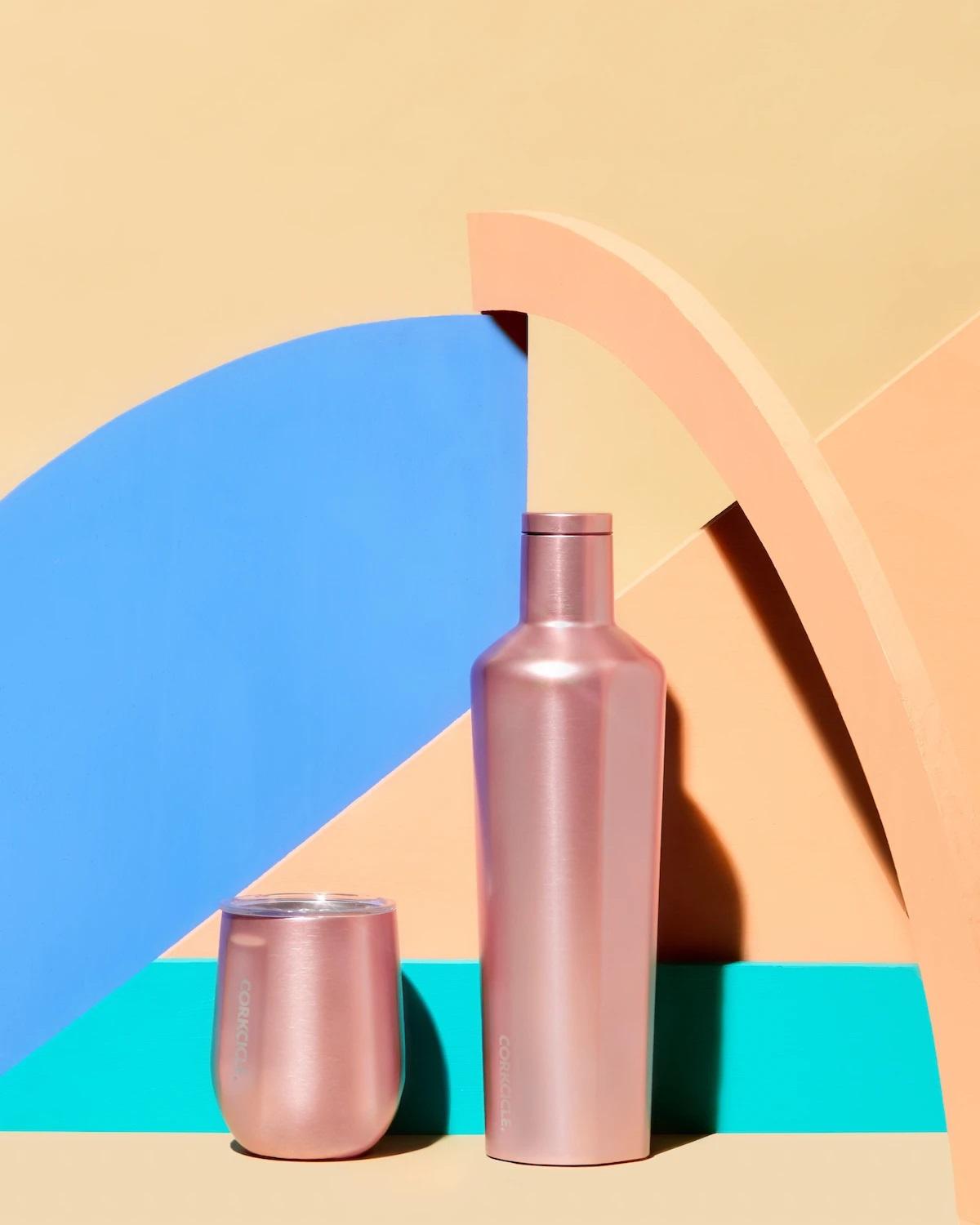 13. Sleek wine tumblers
We've got plenty more awesome bridesmaid proposal ideas to come. Why not invite everyone around for a backyard barbecue and ask them as a group? Then, give each person a stylish stemless rose gold tumbler filled with wine so they can toast to being in your wedding party. You can have each travel wine glass customized with your crew's names for an extra-personal touch.
Corkcicle 12oz metallic stemless in Rosé Metallic, from $33, Corkcicle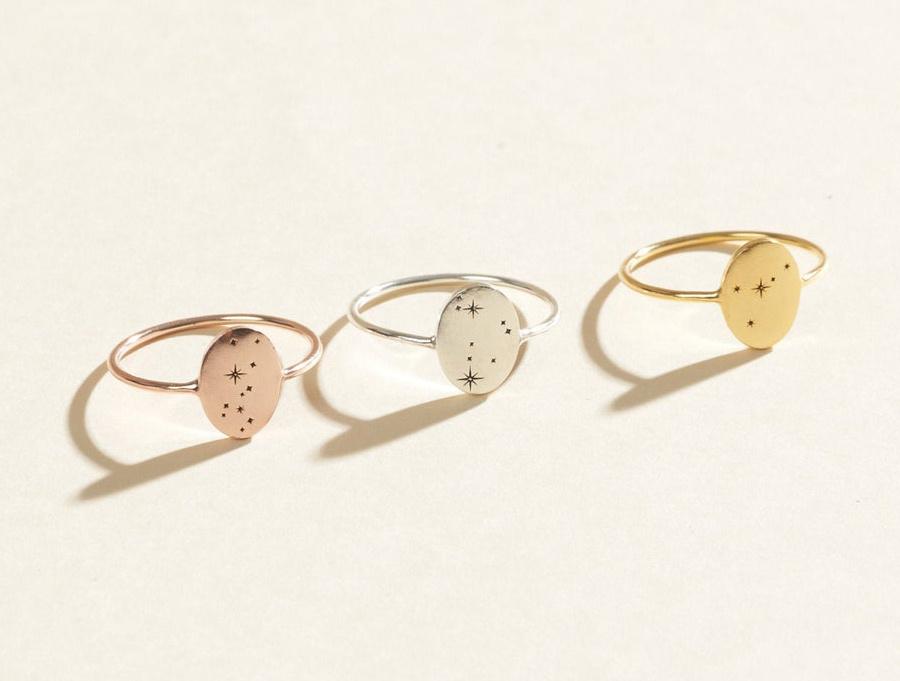 14. Constellation signet rings
If there's anything we've learned from Ariana Grande, it's that buying rings for your best friends is totally acceptable. But unlike Ari, you don't have to spend a fortune to show your loved ones how you feel. These star-studded rings will be a symbol of your bridal party's unique bond from the moment you pop the question.
Caitlyn Minimalist constellation ring, from $29 each, Etsy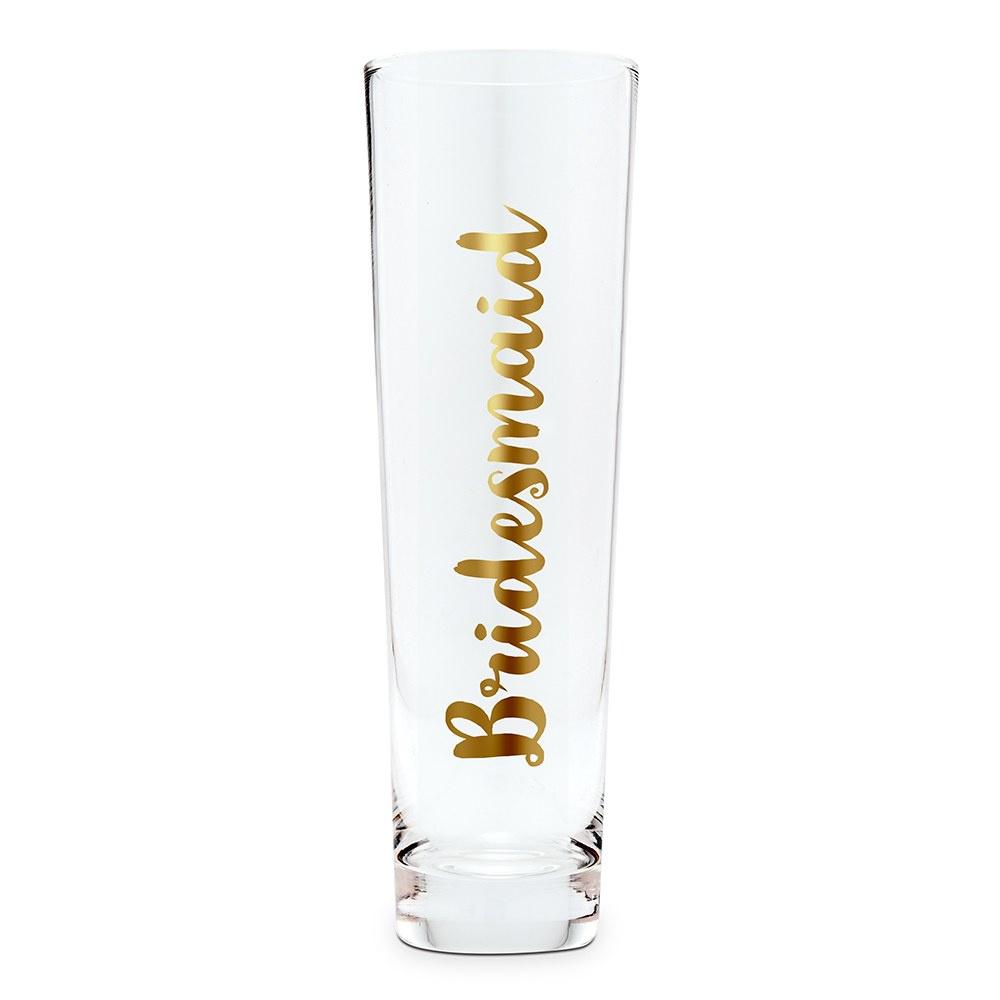 15. Bridesmaid champagne flutes
While it's generally good etiquette to avoid thank-you presents your crew won't really use after the big day, proposal gifts are a little different. In this case, it's okay to choose items stamped with "team bride" or "bridesmaid," especially if it's just a small token to communicate the good news. They'll want to raise a glass right away when you ask them to be your bridesmaids, which is why these fun stemless champagne flutes make great bridesmaid proposal gifts.
WeddingWire Shop Bridesmaid stemless toasting champagne flute, $7, WeddingWire Shop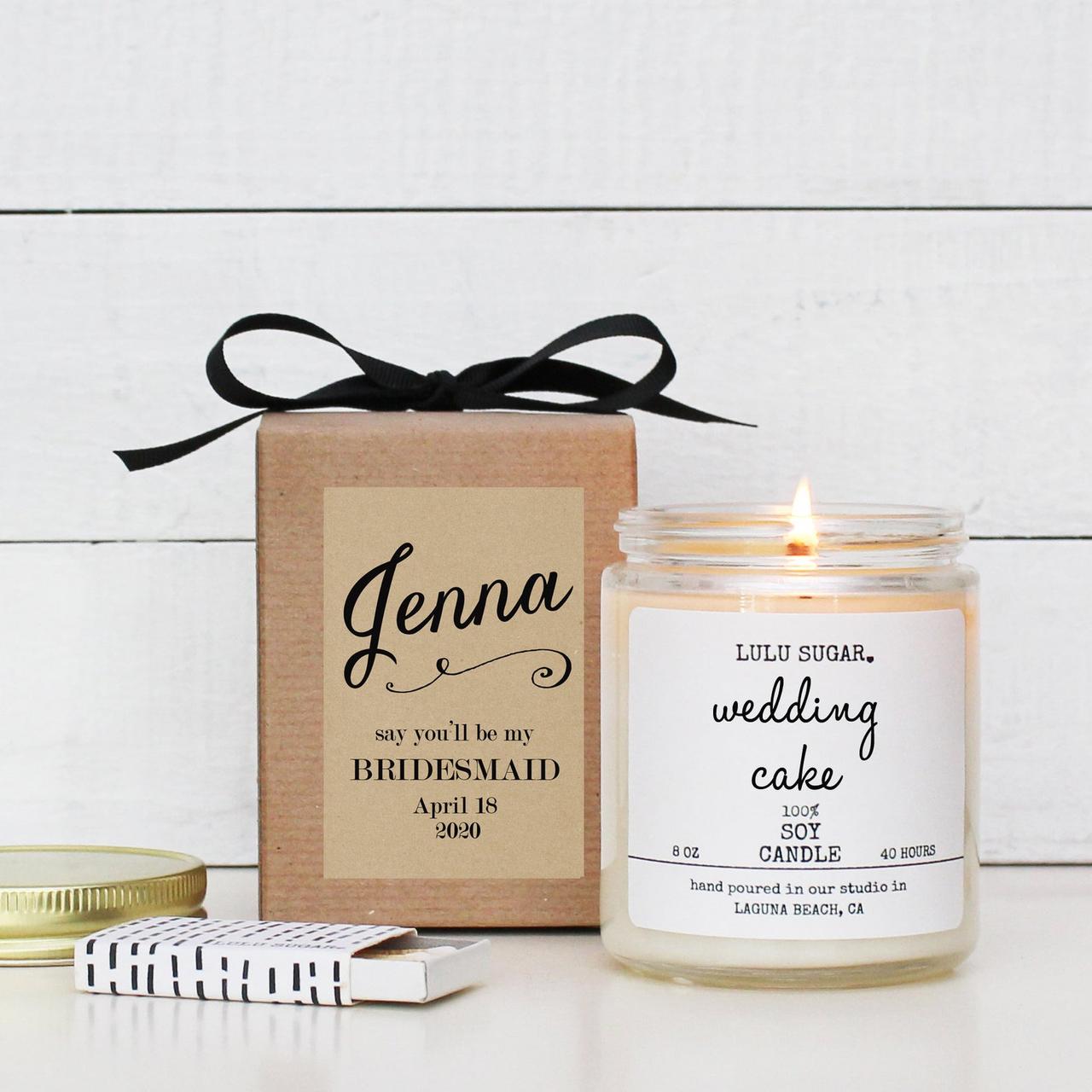 16. Wedding cake candles
What's more fitting for a bridesmaid proposal than a scented candle that smells like wedding cake? It comes in a cute personalized box that reads: "Say you'll be my bridesmaid." Choose from 27 different color ribbons for a sweet finishing touch.
Lulu Sugar bridesmaid proposal gift candle, $28, Etsy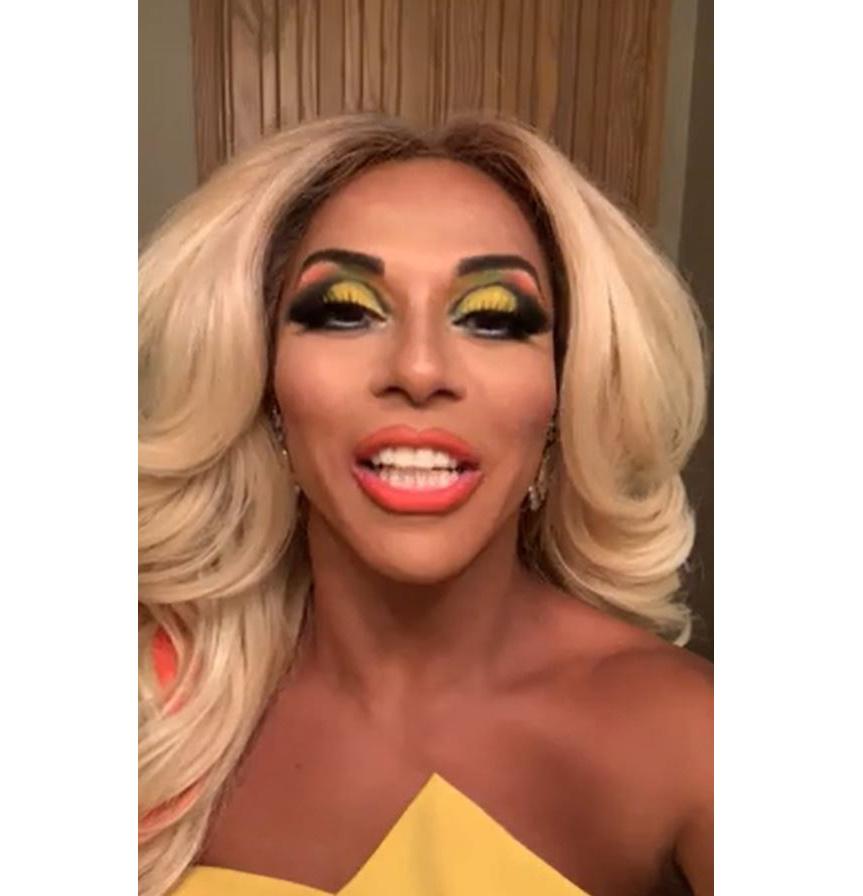 17. Celebrity shout-outs
If you're not sure what to say (or you're worried you'll get all choked up), we've got the perfect solution. Have one of their favorite celebs ask them for you! It's one of the best bridesmaid proposal ideas out there—who could say no to Shangela?
Cameo celebrity video message, rates vary, Cameo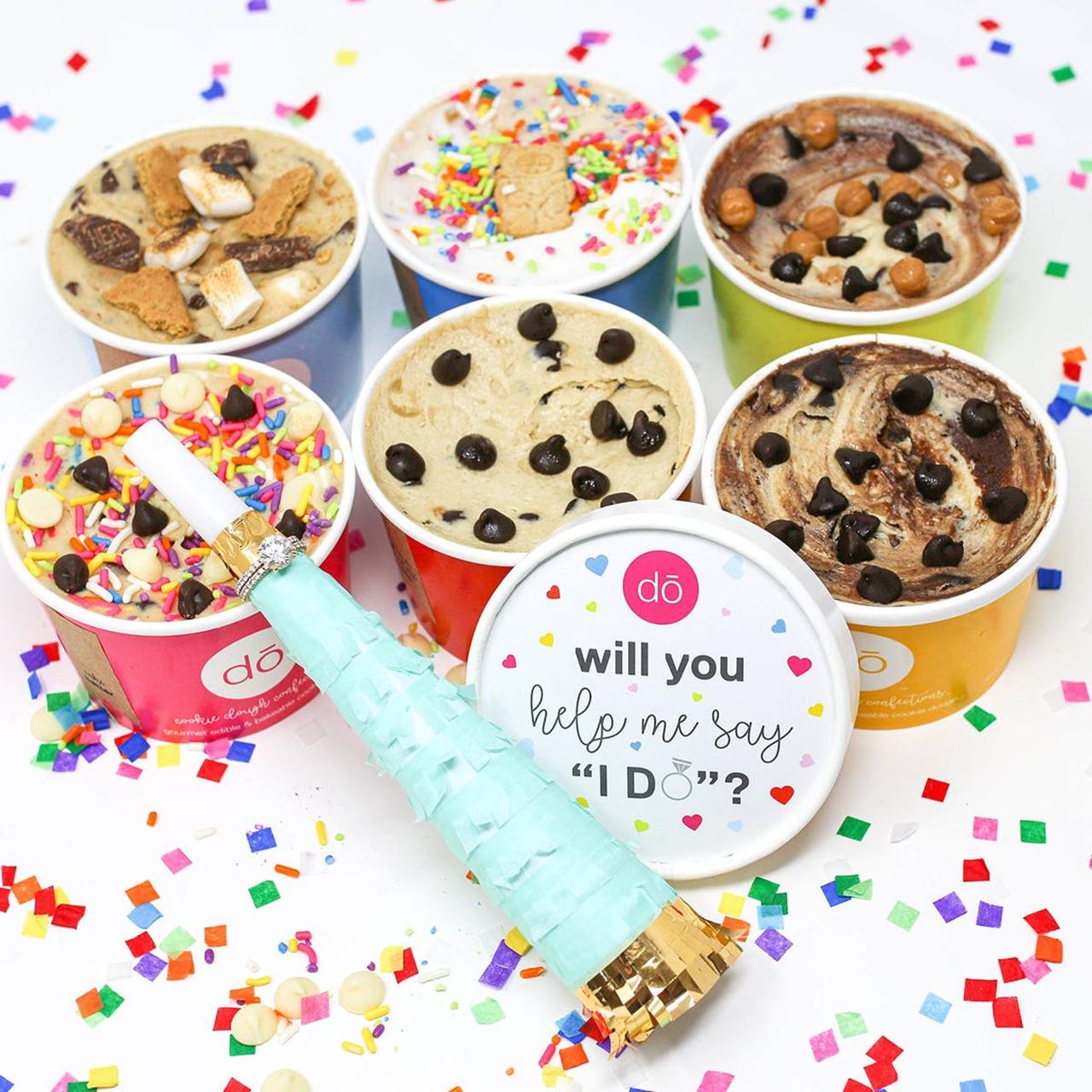 18. Tasty proposal cookies
Or, plan an extra-sweet bridesmaid proposal with this irresistibly tasty cookie dough. There are 18 uh-mazing flavors to choose from, including sugar cookie, s'mores, and classic chocolate chip. There are also gluten-free and vegan options for anyone with dietary requirements. Get all six tubs in the same flavor or mix and match by trying to pair flavors to your bridesmaids' personalities.
Goldbelly bridesmaid proposal cookie dough, $75 for a pack of 6, Goldbelly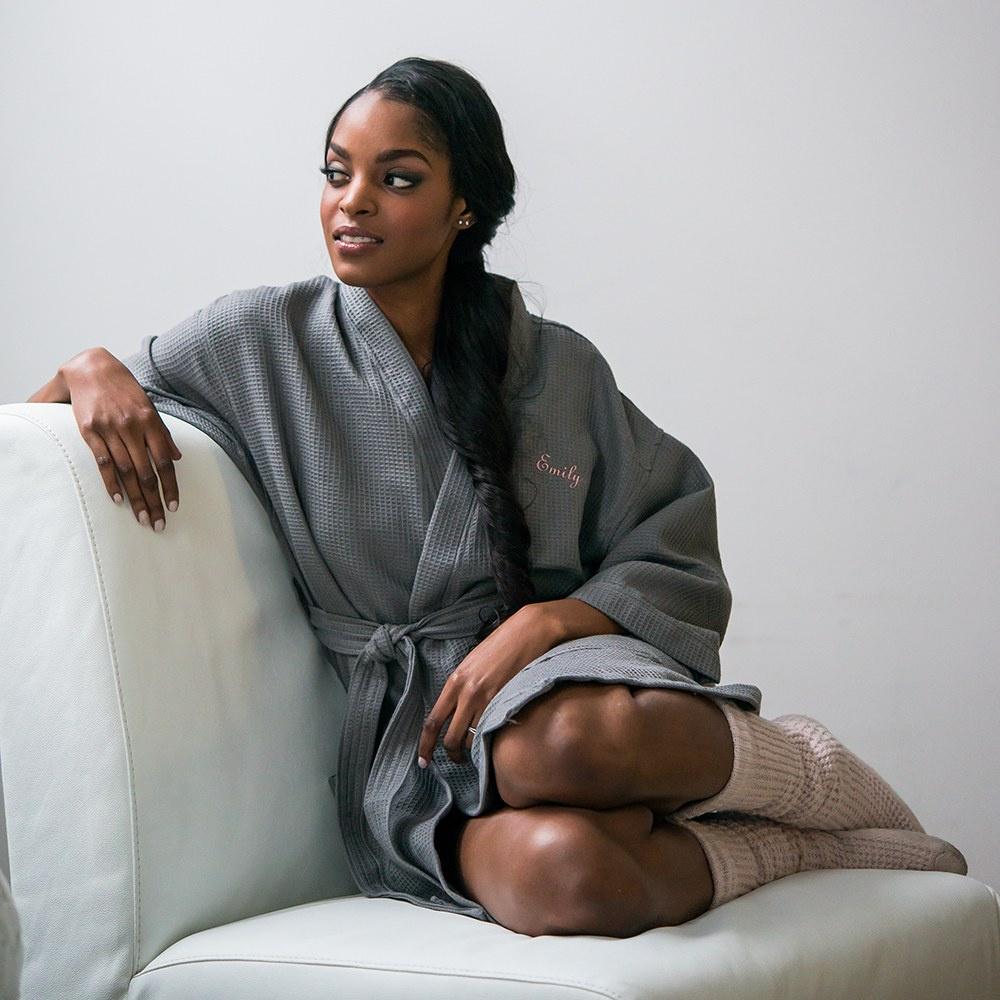 19. Embroidered bath robes
How's this for a creative bridesmaid proposal idea? Organize a DIY spa day for your girls, complete with custom robes, refreshing face masks, and, of course, a few margaritas. It's fun, inexpensive, and you'll get some quality time with your crew. Score!
WeddingWire Shop personalized embroidered waffle spa robe, $30, WeddingWire Shop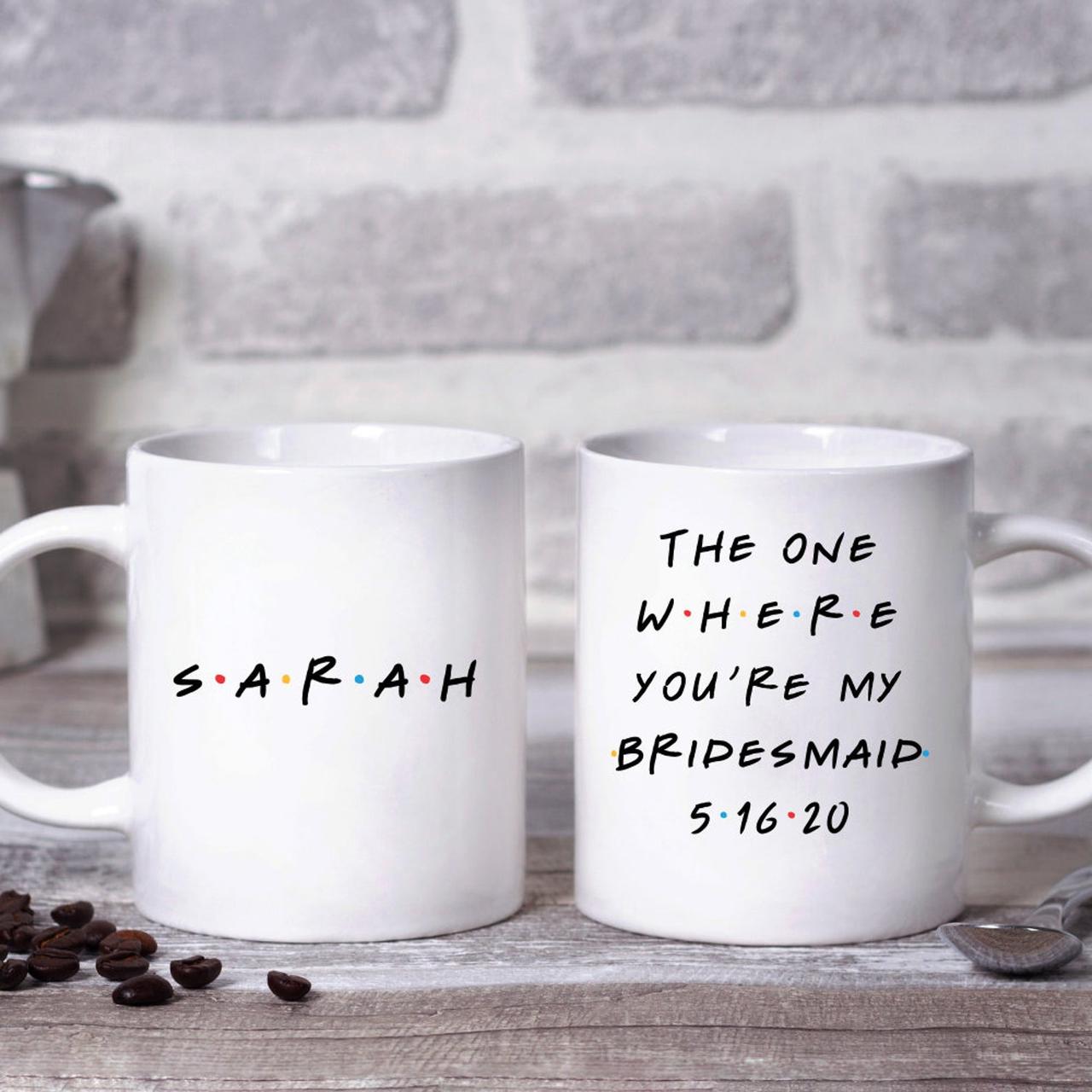 20. Pop-culture coffee mugs
There are tons of possibilities to incorporate these Friends-inspired mugs into your proposals. Ask your besties to be a part of your wedding with a heart-to-heart over their favorite coffee, or plan a funny bridesmaid proposal with an evening of your favorite Friends episodes. Either way, we bet the answer to your big question will be "yes."
Brook Hill Coffee Mugs The One Where You're My Bridesmaid Friends inspired mug, $17, Etsy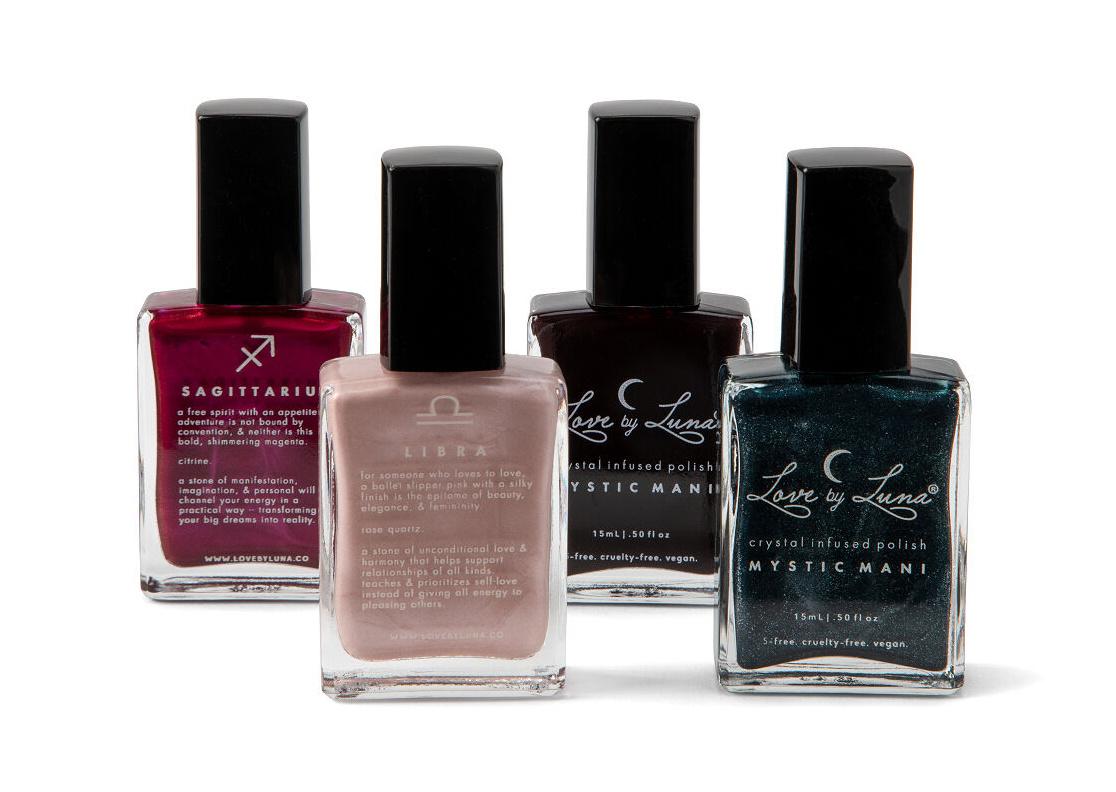 21. Zodiac nail polish
Looking for cute bridesmaid proposal gifts you can give each member of your squad? Nail polish inspired by their star signs will show just how well you know them. These cool nail polishes by Katie Huang are infused with micronized crystals related to each zodiac sign. Plus, they're vegan and 5-free, meaning your squad won't have to worry about harmful chemicals.
Katie Huang crystal-infused zodiac nail polish, $18, Uncommon Goods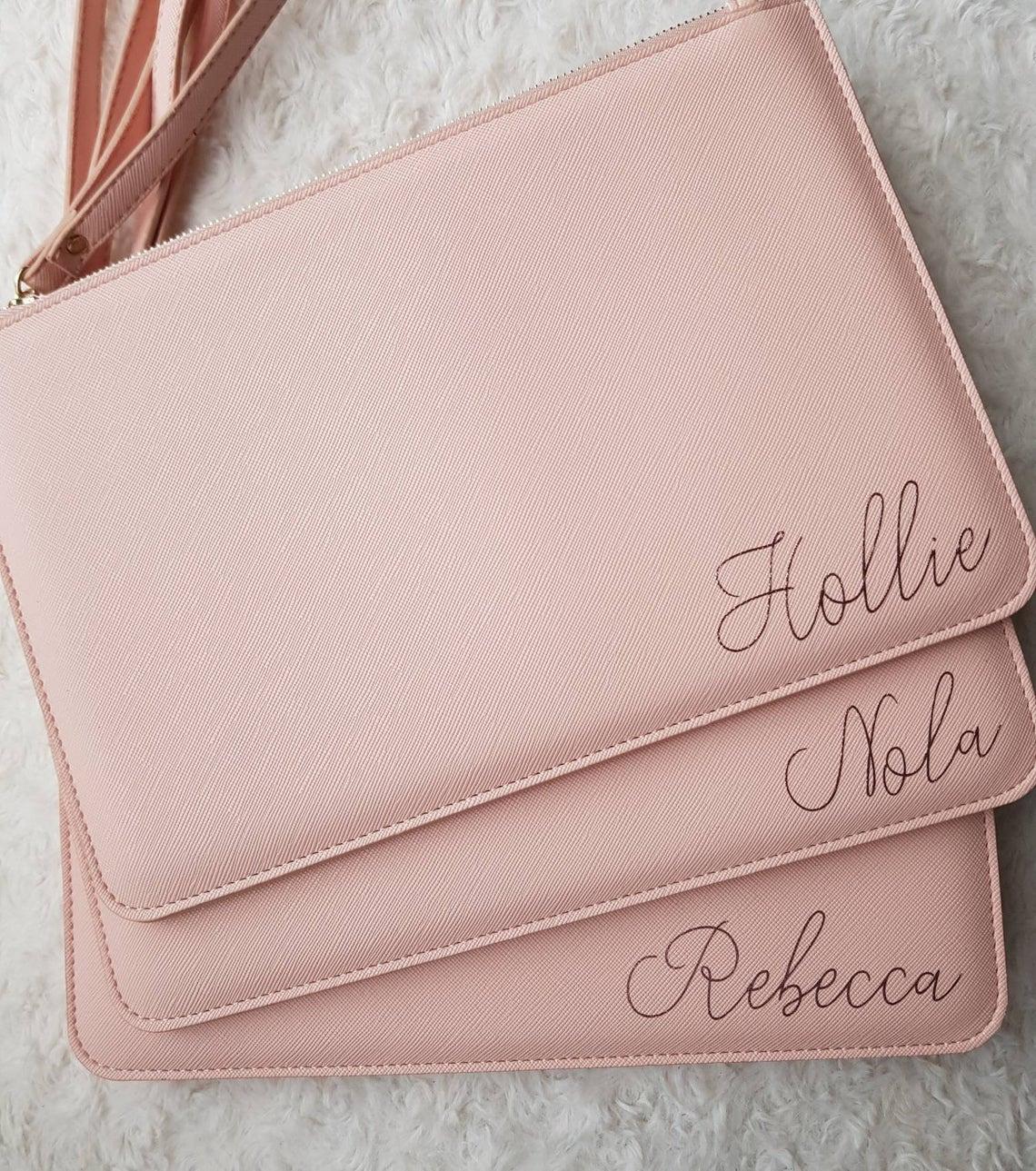 22. Custom clutch bags
These pretty bags come in a choice of four classic colors, so you can mix and match to suit each person's unique style. Your bridesmaids will need a cute clutch for the wedding day, so consider it a super-practical bridesmaid proposal present.
Chained with Daisies clutch bag bridesmaid proposal gift, $13 each, Etsy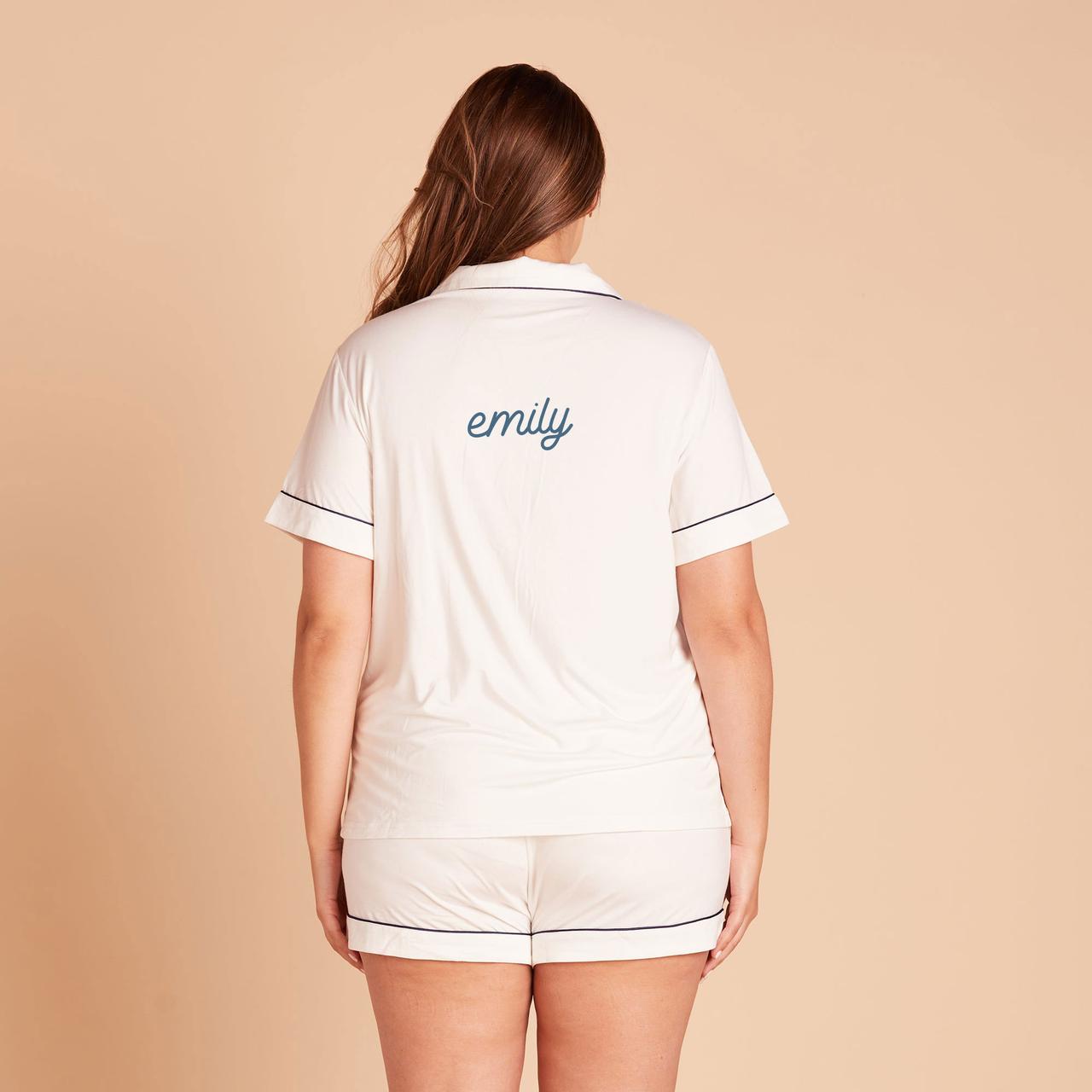 23. Matching PJ sets
Bridesmaid pajamas are rising in popularity when it comes to getting ready on the morning of, but you definitely don't want to pressure your crew into spending more money than they already have to. If you want your wedding party to take part in the trend, consider buying them some pretty PJs as bridesmaid proposal gifts. These Birdy Grey pajamas are available in sizes XS–3X and can be personalized with your 'maids' names or wedding titles for just $6 extra.
Birdy Grey Jonny pajama set, from $39, Birdy Grey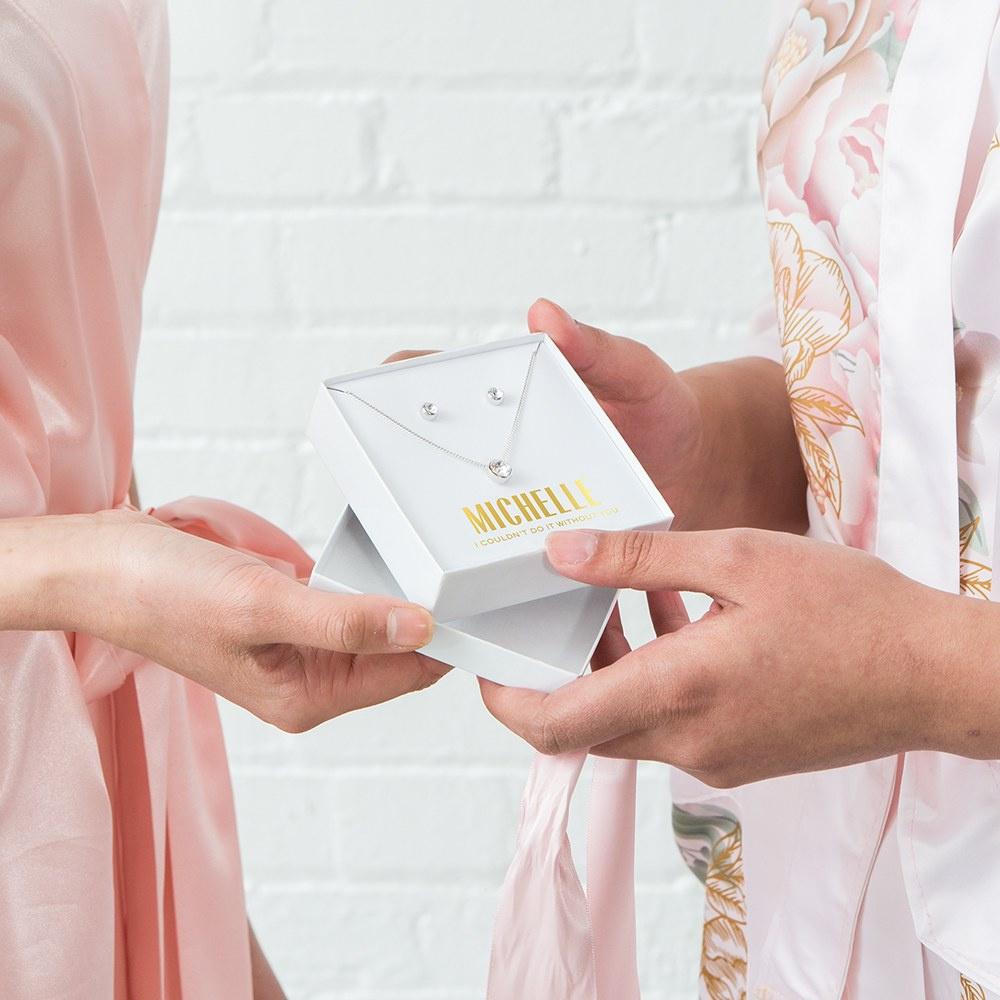 24. Jewelry gift sets
This stunning set proves that jewelry doesn't have to come with a big price tag to be a winning present. This thoughtful bridesmaid proposal idea includes a pendant necklace and matching stud earrings made from high-quality stainless steel and Swarovski crystals. Under each of your future bridesmaids' names, the gift box reads: "I couldn't do it without you." (Awwh!)
WeddingWire Shop Couldn't Do It Without You personalized bridal party crystal jewelry gift set, $28, WeddingWire Shop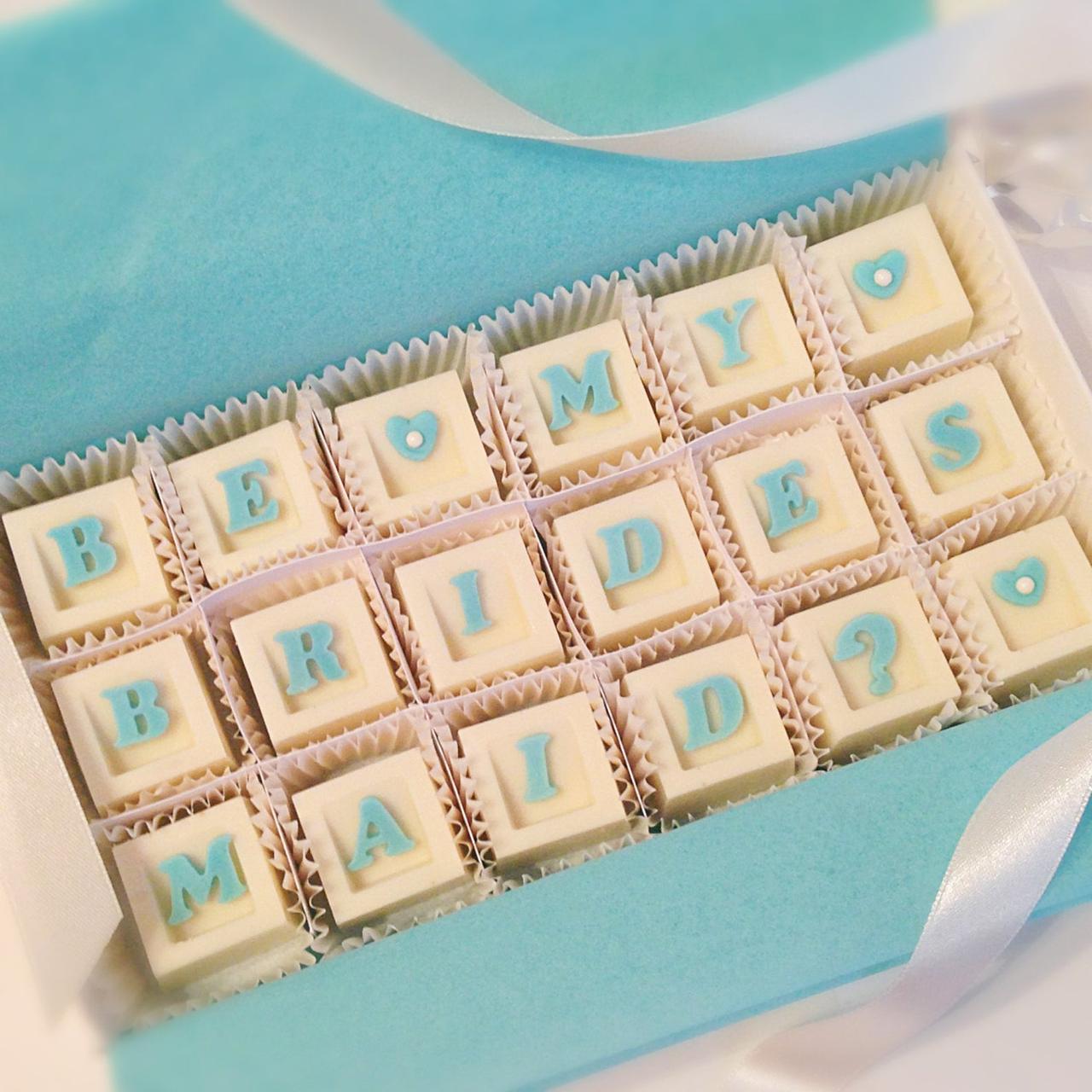 25. Bridesmaid proposal chocolates
Spelling it out in chocolate has to be one of the most genius bridesmaid proposal ideas we've ever seen. These candies come in milk, dark, or white chocolate, or a combination of all three.
Diamond Chocolates Will You Be My Bridesmaid unique bridesmaid proposal, $38, Etsy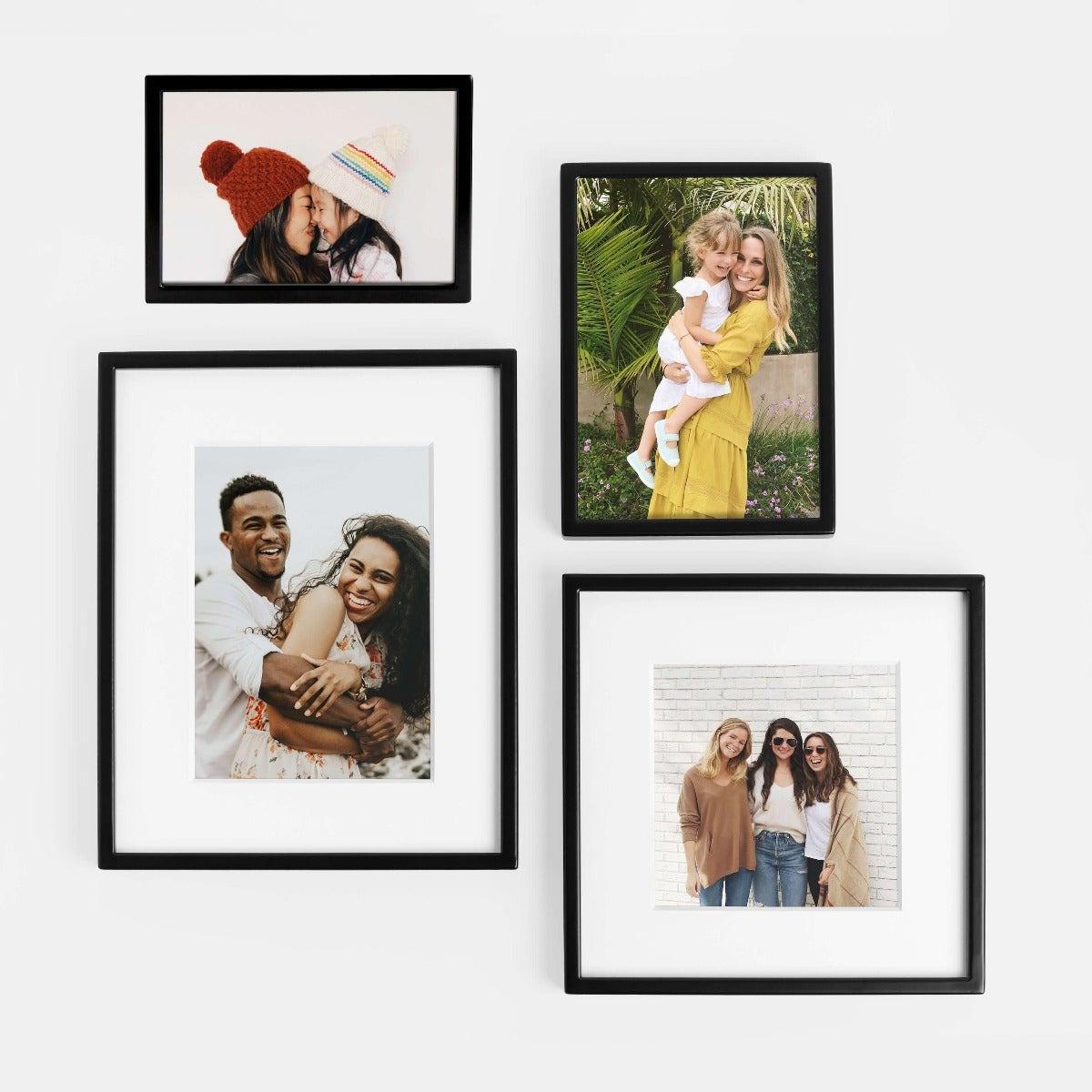 26. Meaningful photo frames
Remind your loved ones just how much they mean to you while you pop the question with a sentimental picture of you together. Bonus: These sleek frames are freestanding, so they won't have to break out any DIY tools to show off their new decor.
Artifact Uprising metal tabletop frames, from $52 each, Artifact Uprising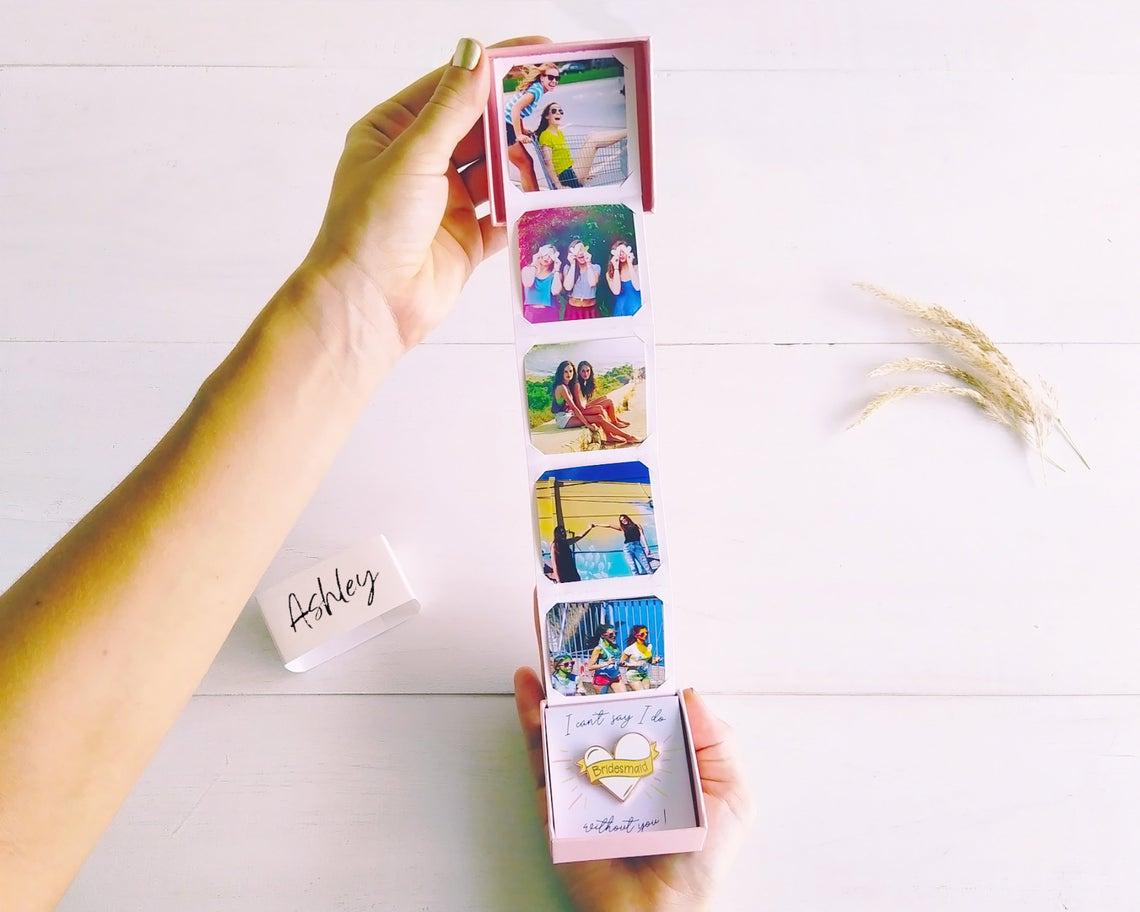 27. Magnetic photo boxes
Speaking of pictures, a fold-out box full of your favorite memories with each person is bound to give them all the feels. It comes with an adorable "bridesmaid" pin and the photos are magnetic, so your 'maids can easily put them on display afterward.
Lovin Box Will You Be My Bridesmaid proposal gift box, from $24, Etsy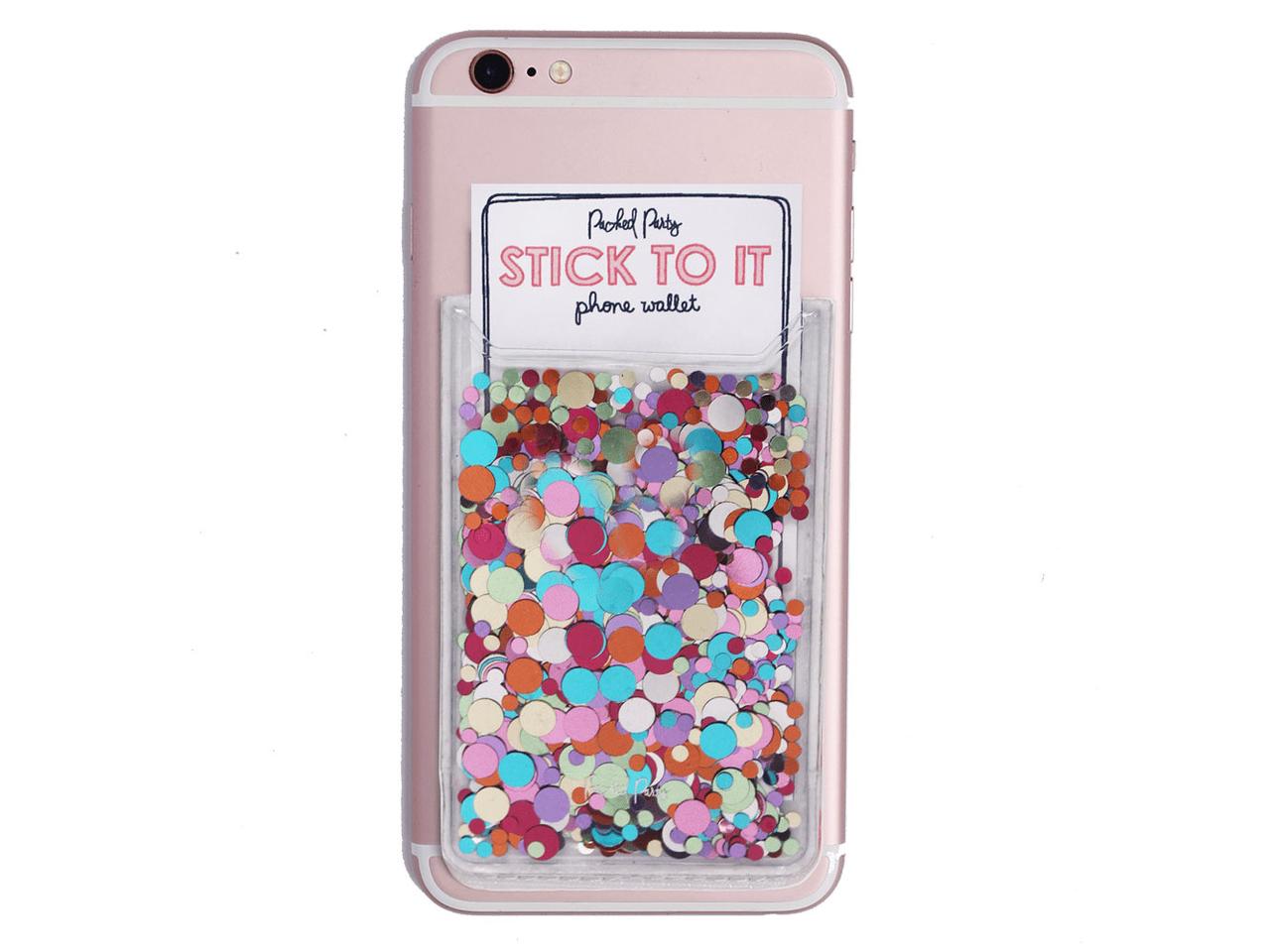 28. Confetti card holders
We have no shortage of gift ideas to hand over while asking your bridesmaids. This useful and budget-friendly card holder adheres to the back of a phone so they can keep all their most important belongings in one place. The colorful confetti design hits the perfect celebratory note.
Packed Party Stick to It multi confetti phone wallet, $12, Packed Party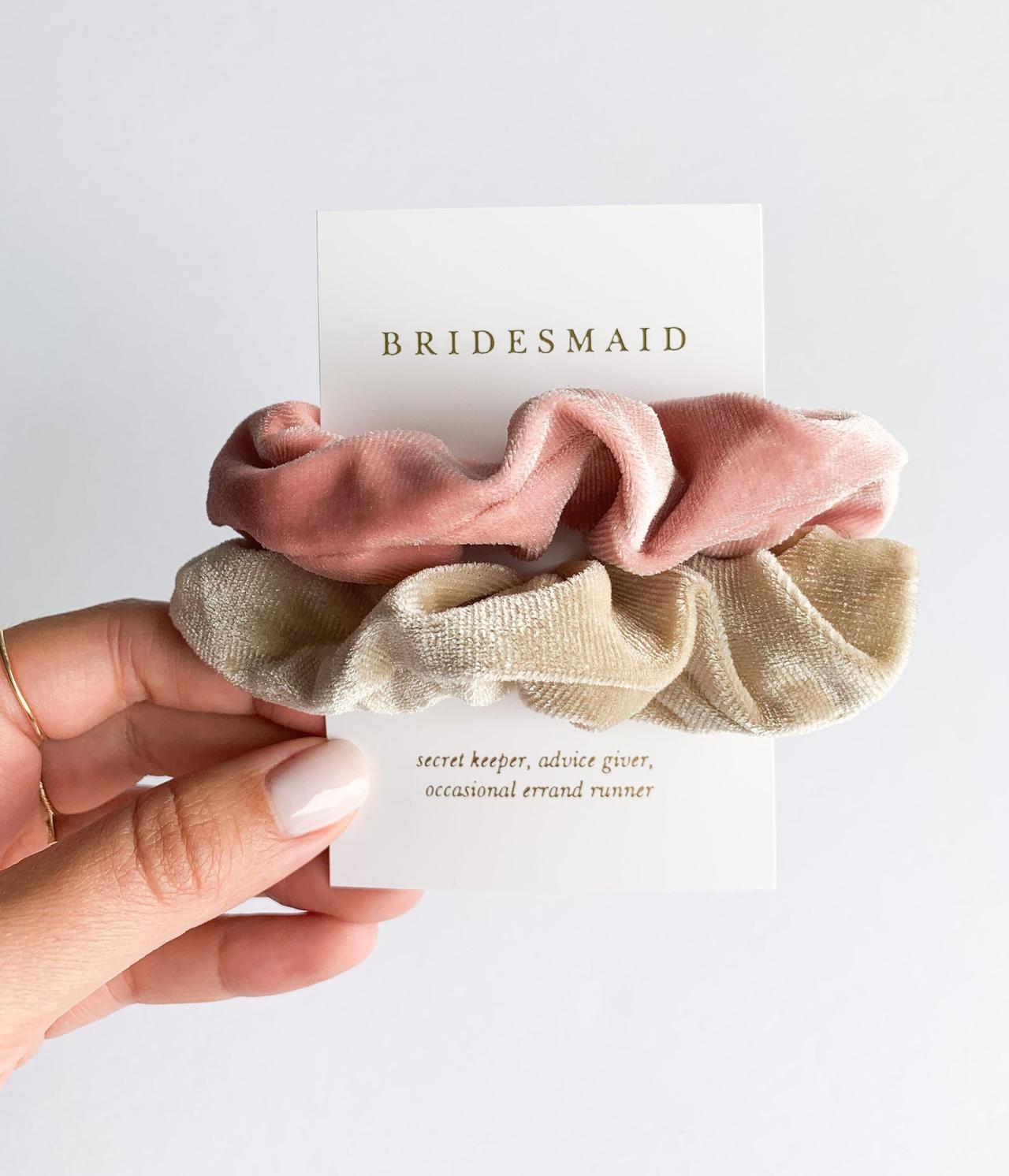 29. Stylish bridesmaid scrunchies
Let's face it, you can never have too many scrunchies. These chic hair ties come with a cute definition of a bridesmaid as someone who keeps secrets, gives advice, and occasionally runs errands. It's a sweet way of recruiting your crew while also hinting at the wedding planning duties you expect them to take on.
Backup Bridesmaids bridesmaid scrunchie gift, from $7, Etsy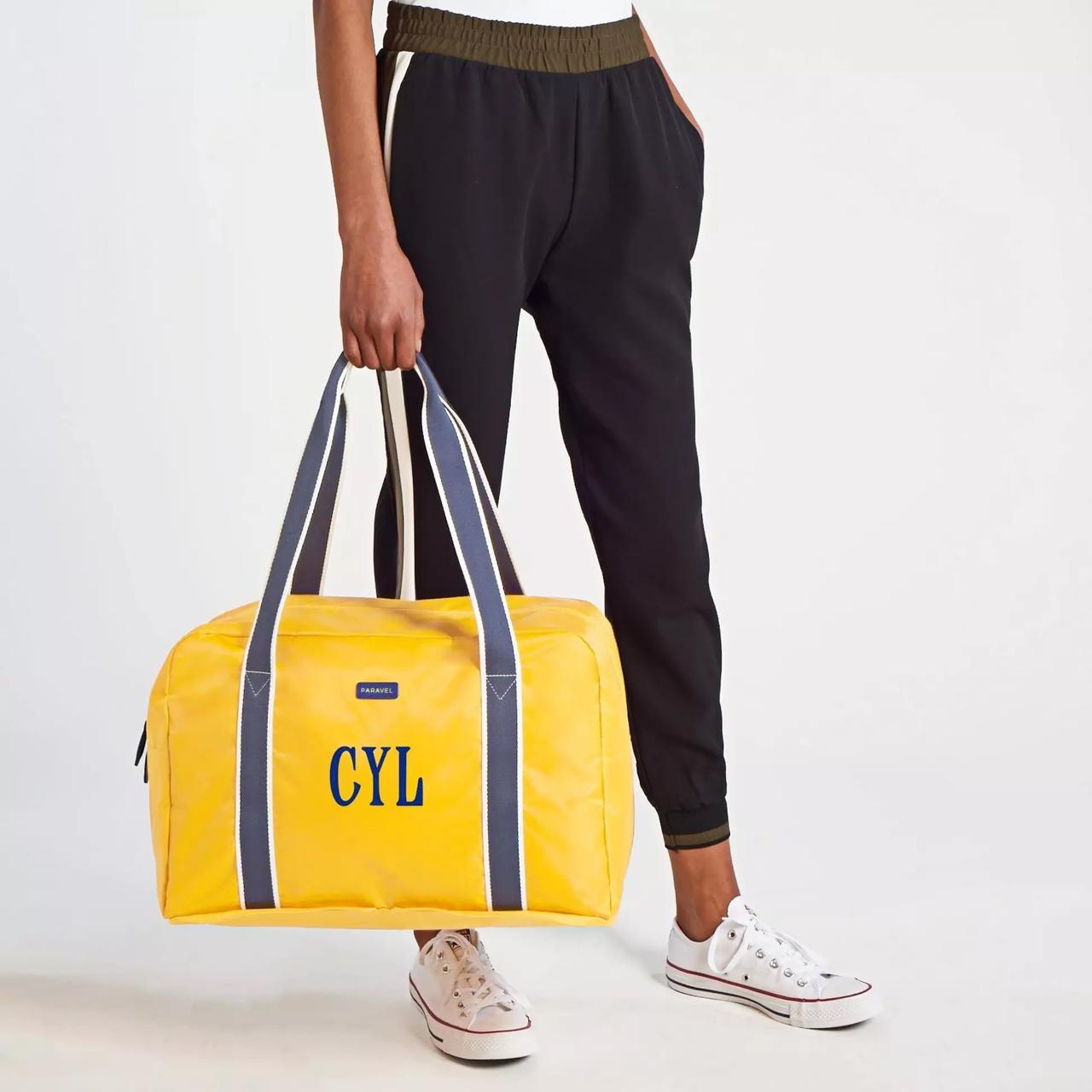 30. Fold-up duffel bags
If you're expecting your squad to travel for a destination wedding, a stylish weekender is a useful bridesmaid proposal gift they'll definitely appreciate. This handy fold-up duffel comes in a range of colors and can be personalized with their names or monograms so they never get mixed up.
Paravel fold-up bag, from $70, Paravel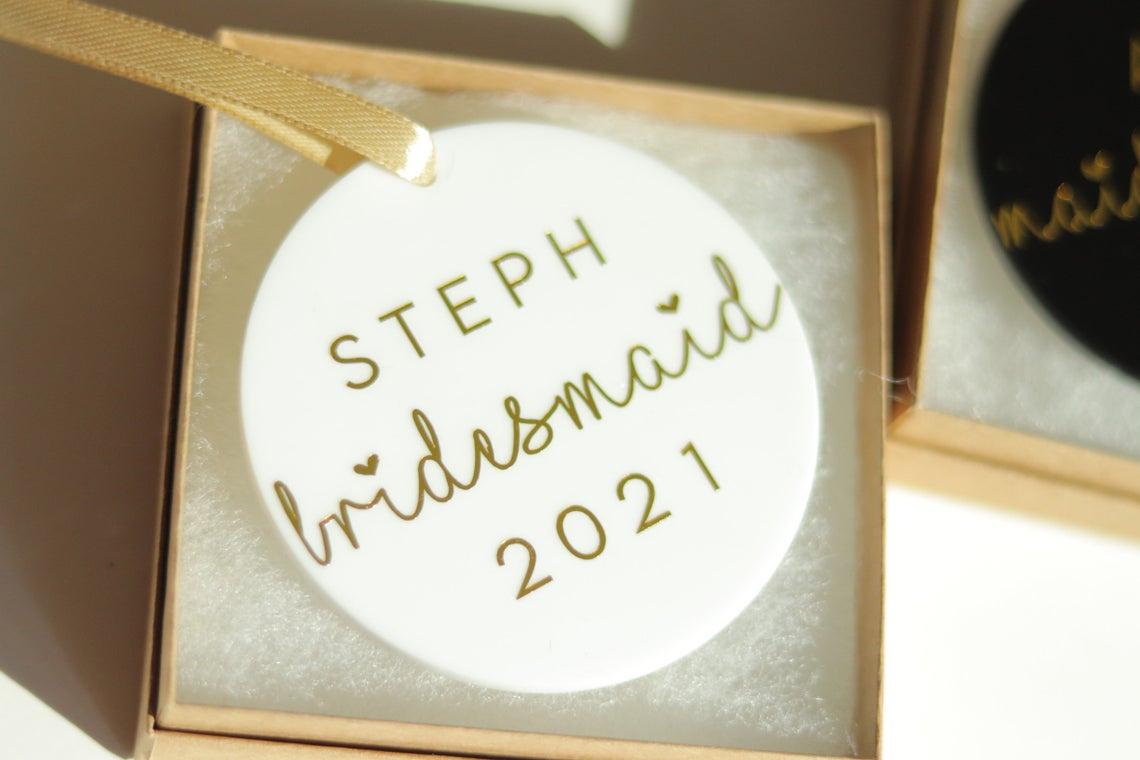 31. Bridesmaid keepsake ornaments
A chic ornament with each bridesmaid's name, wedding title, and the year of your nuptials is a lovely memento to give someone at any time of the year. That said, it's an especially great bridesmaid proposal gift if you plan on popping the question over the holidays.
Sassy and Co Designs bridesmaid proposal ornament gift, from $14, Etsy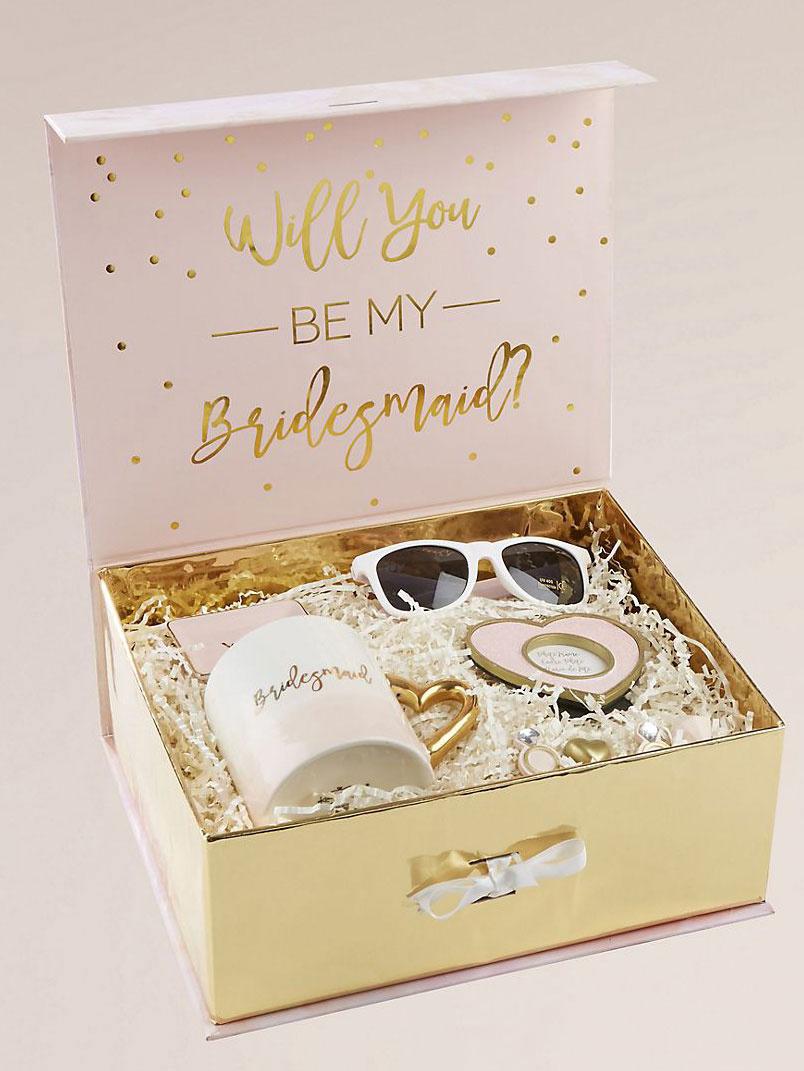 32. Cute gift sets
If you're wondering how to send a bridesmaid proposal gift that'll easily get the point across, look no further. This adorable proposal box set includes a mug with the word "bridesmaid" written in gold, as well as an adorable heart-shaped picture frame, a trinket dish that reads "XOXO," a pair of bach party-ready sunglasses, and four on-theme magnets. Inside, the lid reads: "Will you be my bridesmaid?" It doesn't get much clearer than that.
David's Bridal Will You Be My Bridesmaid gift box kit, $50, David's Bridal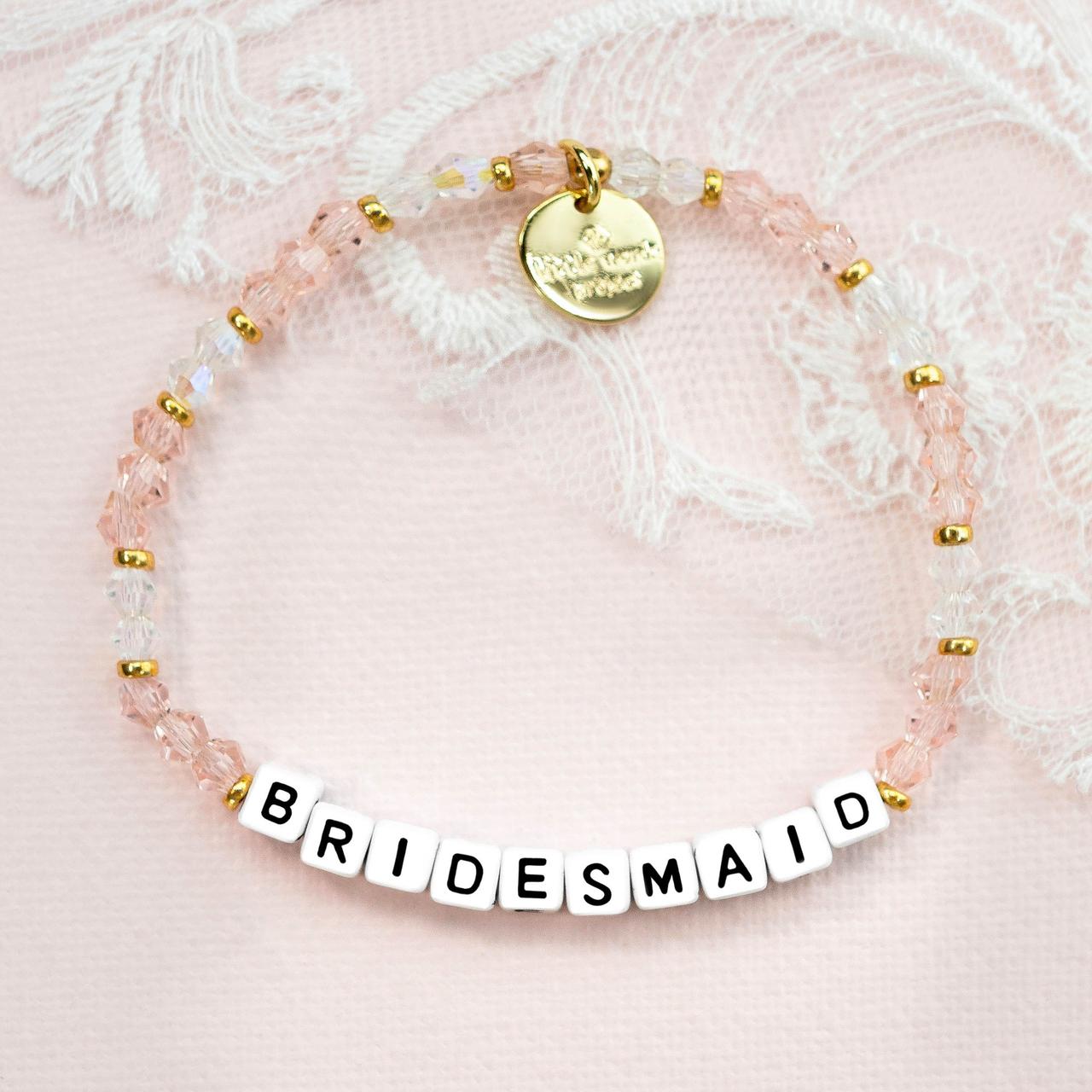 33. Coordinating friendship bracelets
This bridesmaid bracelet is a sweet gesture to show them just how serious you are about having them by your side when you tie the knot. The best part? There are different styles to suit everyone in your crew.
Little Words Project Bridesmaid bracelet, $20, Little Words Project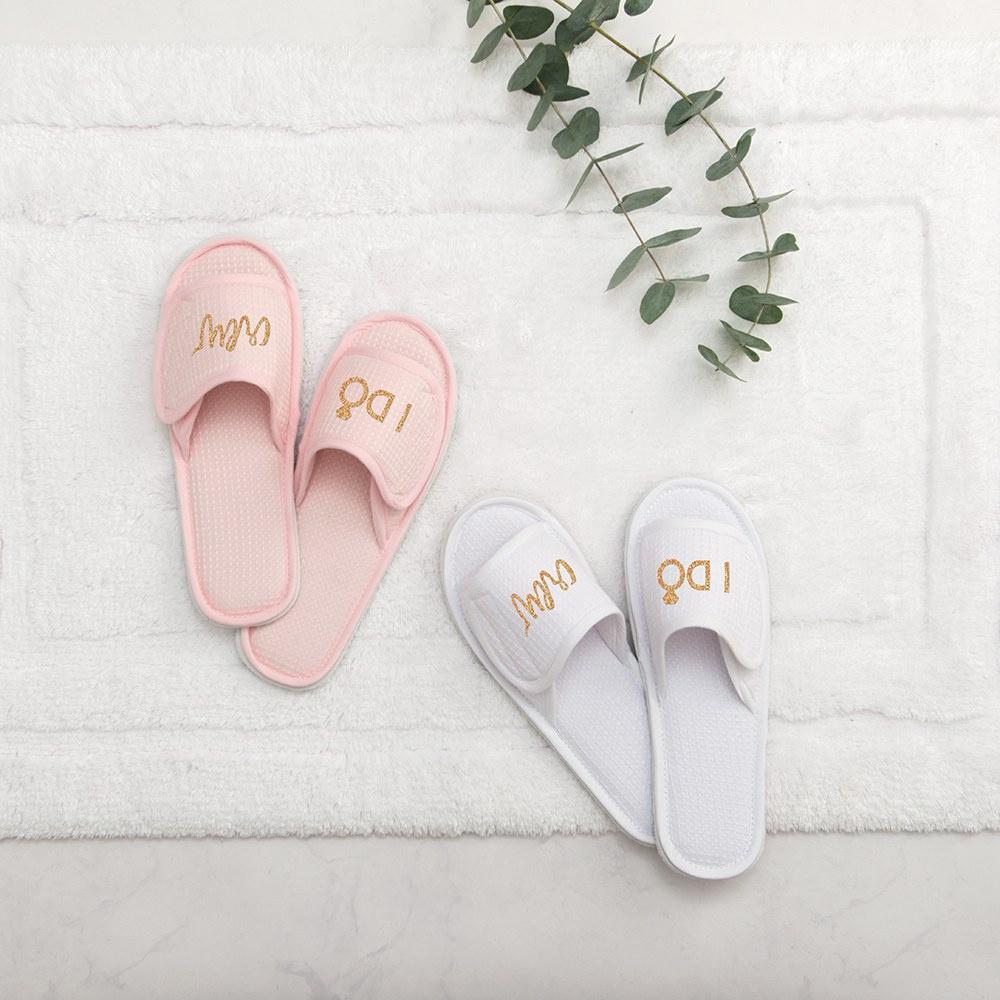 34. Snug cotton slippers
Still wondering what to include in your bridesmaid proposal? You can't go wrong with a cozy and affordable pair of slippers with "I Do Crew" in sparkly gold letters. These simple and affordable gifts would also make great bridal shower favors, especially when it comes to game prizes.
WeddingWire Shop I Do Crew cotton waffle spa slippers, $11 per pair, WeddingWire Shop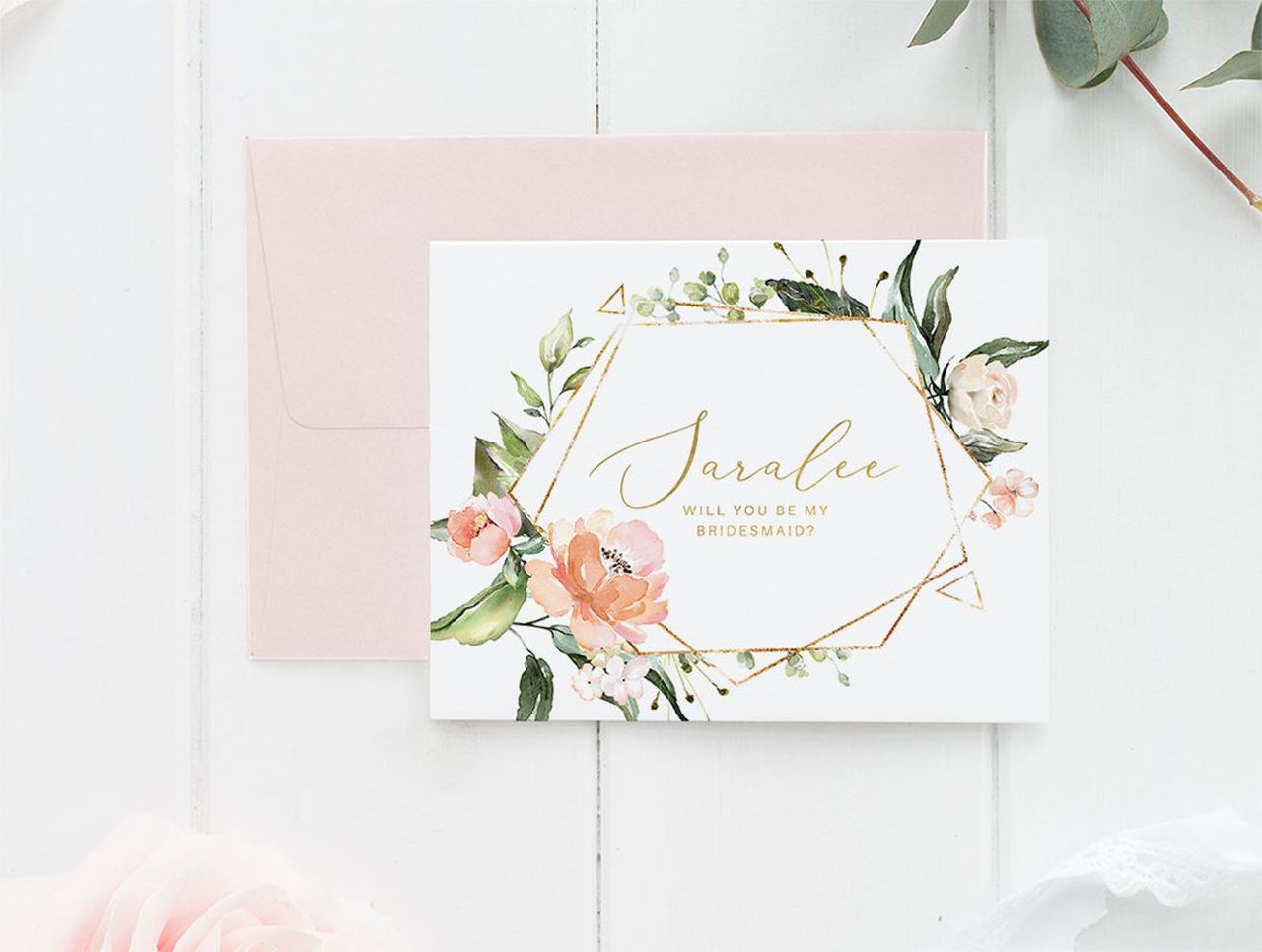 35. Sweet handwritten card
The most affordable bridesmaid proposal ideas involve forgoing a gift and opting for a sentimental card or a simple sit-down conversation instead. Taking the time to write a meaningful, handwritten message is just as thoughtful as splashing out on an expensive gift.
Pixelcouture Designs bridesmaid proposal card, from $5, Etsy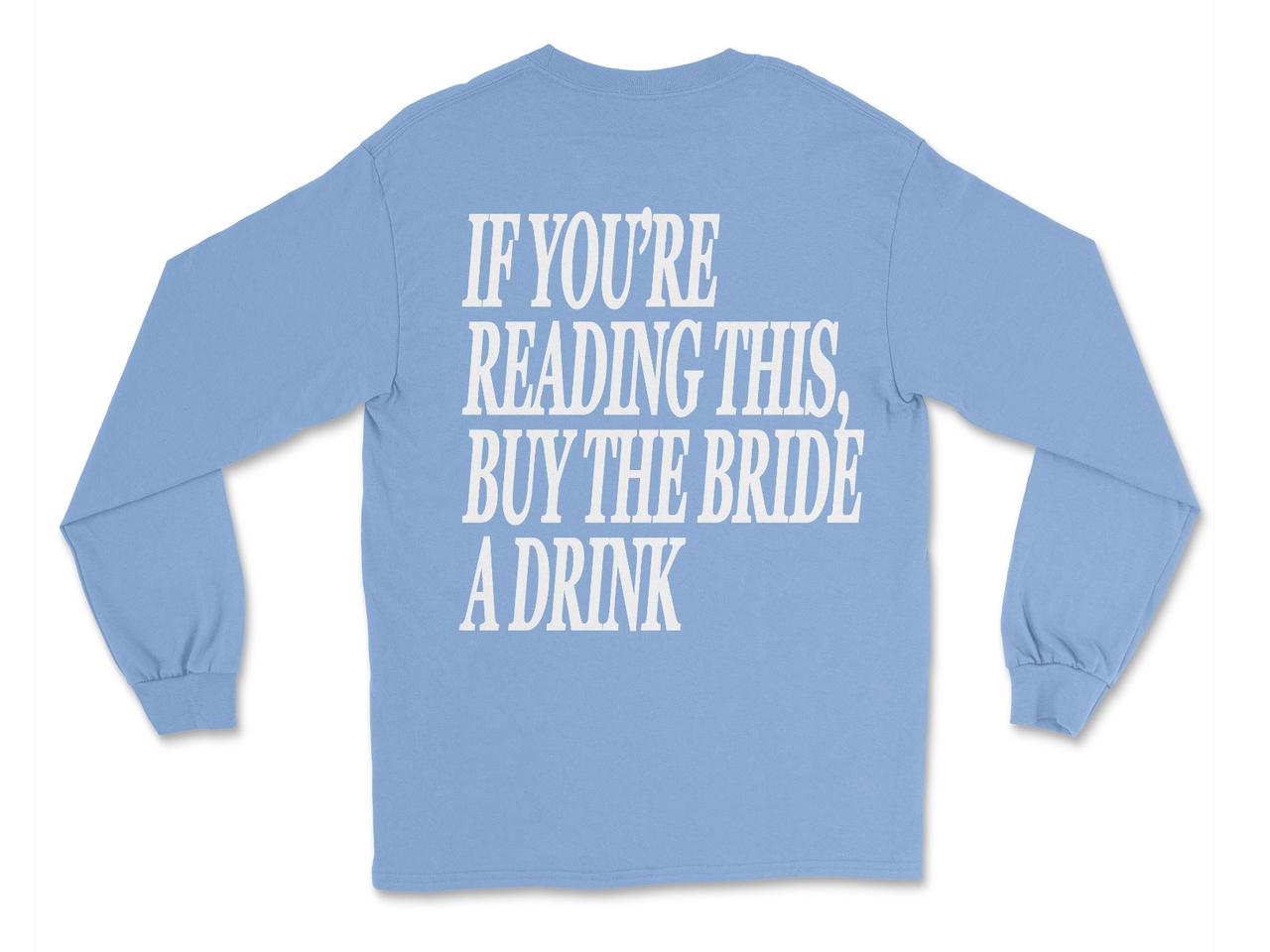 36. Funny matching sweatshirts
Giving your crew matching bridal party T-shirts or sweatshirts is a fun way to bring everyone together. Add your own personalization to the front of these sweatshirts, such as "[Your name]'s Bridal Party" or "[Your name]'s Bachelorette" followed by a hashtag, Venmo handle, or a phrase of your choice. On the back, these funny bridesmaid proposal gifts state: "If you're reading this, buy the bride a drink." One thing to note: You have to order a minimum quantity of six, so if your wedding party is on the smaller side, you might want to shop around.
Partier If You're Reading This long-sleeve crew neck in Blue, $60 each, Partier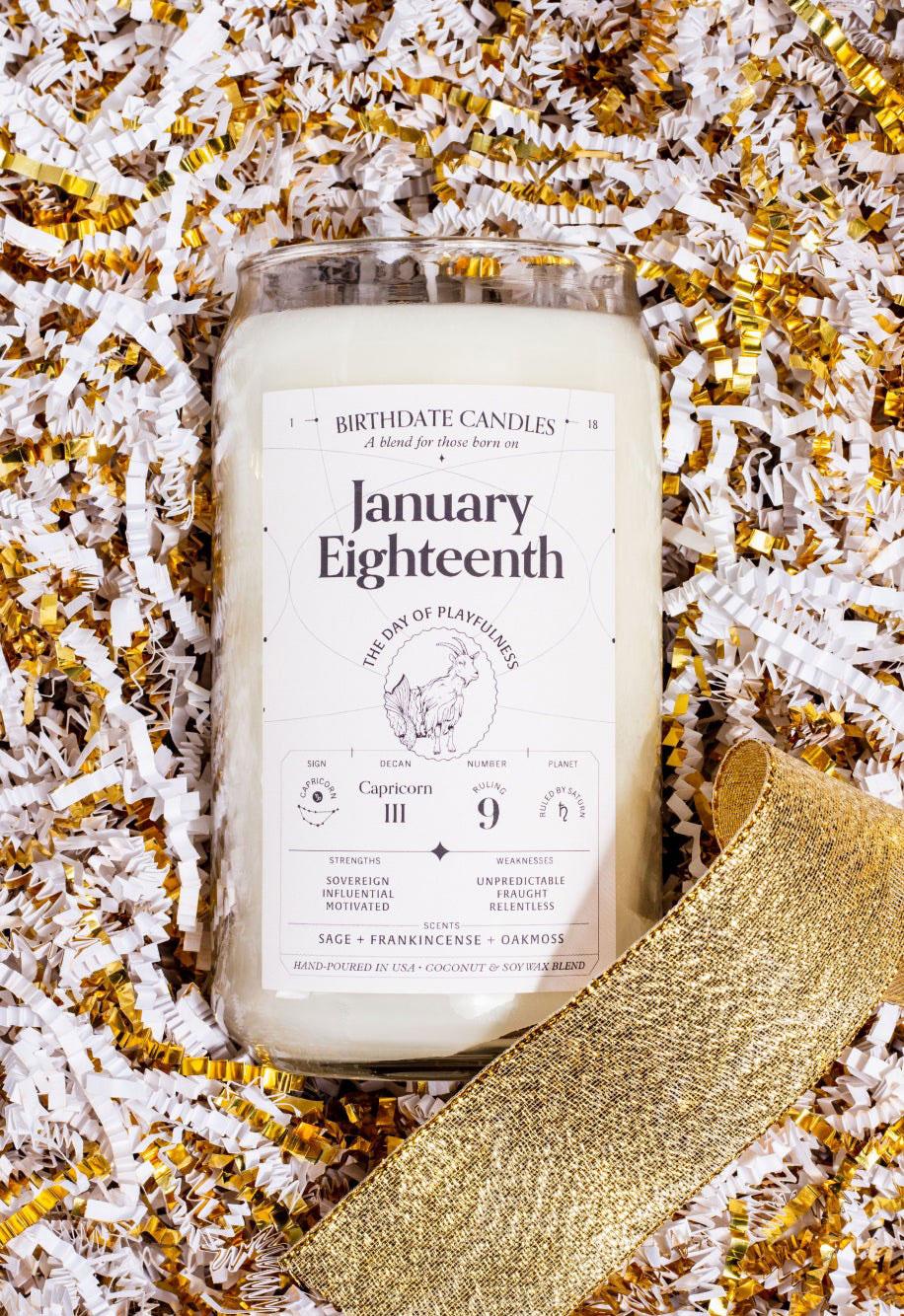 37. Meaningful birth date candle
This one's for your astrology-obsessed bridesmaids-to-be. Birthdate Co.'s celestial-inspired candles were created with astrology, numerology, and tarot in mind. There's a special candle for every day of the year, making this a super-unique bridesmaid proposal idea.
Birthdate Co. birthdate candles, $48, Birthdate Co.