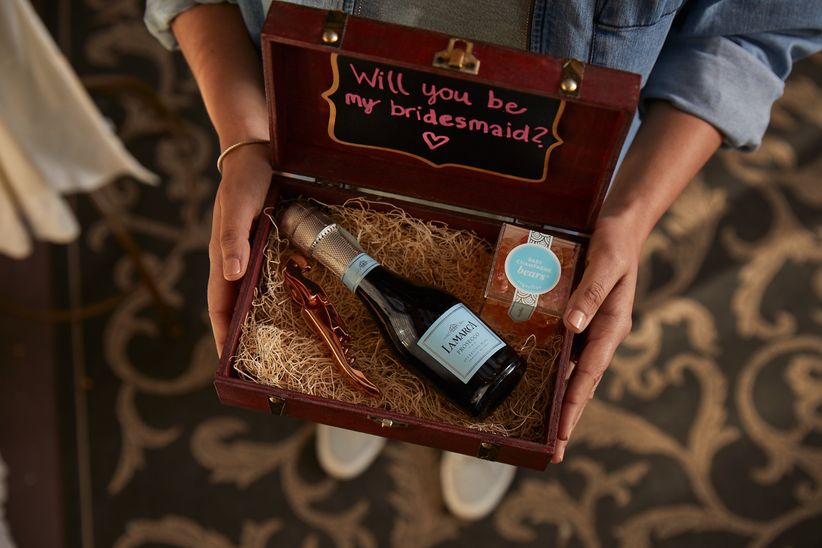 The bridesmaid proposal (aka when a bride asks her friend to be in her wedding) has been taking over the wedding world lately. And just like actual proposals, part of the excitement around receiving a bridesmaid proposal is sharing a snapshot of the moment, so you've probably seen these trendy friend 'proposals' in your newsfeed at some point! Whether you've scrolled past a cute goodie box, bottle of bubbly, decorative sign, or a crafty jigsaw puzzle, brides are getting more creative by the day when asking their besties to be members of the wedding party. We've teamed up with Total Wine & More to explain more about exactly what a bridesmaid proposal is, why you should consider one, and ways you can personalize this fun gesture for yourself.
Keep reading to find out why a bridesmaid proposal is the ultimate way to ask your friends to be in your wedding.
What is a bridesmaid proposal?
The majority of brides still ask their friends to be in their wedding during a face-to-face conversation but sending or presenting a gift to someone with a note asking them to be your bridesmaid is rising in popularity. Similar to a proposal with an engagement ring, this act (coined 'bridesmaid proposal') is an opportunity for the bride to show her friends how much they mean to her with a tangible, thoughtful gift. Being a bridesmaid is an honor, but the role also comes with important duties, such as planning a bachelorette party and coordinating the bridal shower — not to mention the financial commitment that's also involved. Bridesmaid proposals are a sweet way for brides to show their gratitude for their friends taking on such a big responsibility.
When should you send a bridesmaid proposal?
It's best to ask your bridesmaids to be in your wedding within two or three months of getting engaged, if not sooner! This lets your 'maids know right away that you want them to be involved in all of your pre-wedding festivities, from the engagement party to the bridal shower, rehearsal dinner, and more. Depending on how long your engagement is (the average time is 14 months), this will give your bridesmaids ample notice to block out their calendars and prepare for the months ahead — plus, it leaves you with some wiggle room when deciding exactly how to pop the question to your friends.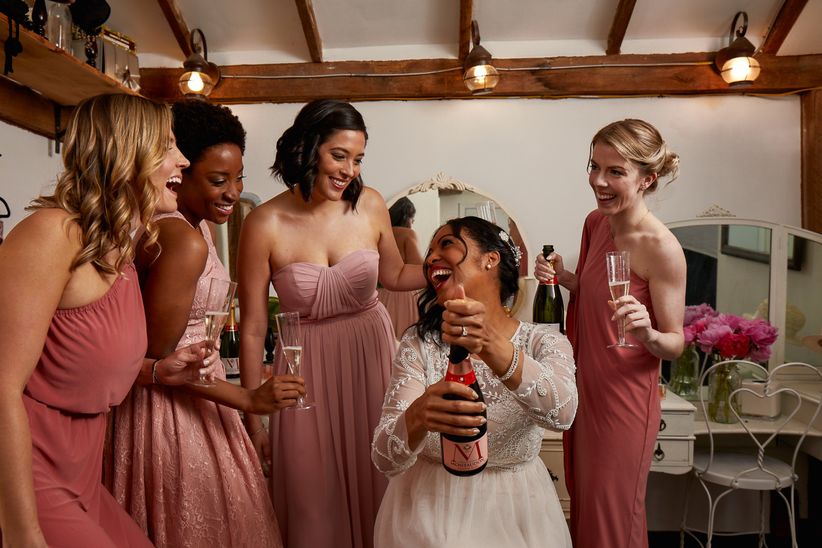 How do you choose a bridesmaid proposal gift?
When it comes to choosing a bridesmaid gift, you'll want to find something that speaks to your personality while also keeping your friends' tastes in mind. Some of the trendiest bridesmaid proposal ideas include photo collages, calligraphy dress hangers, and bottles of wine (we love La Vostra prosecco, which is top-rated and comes in cute mini bottles). You can decorate a bottle of your fave wine with a customized label for a sweet, one-of-a-kind keepsake — we think your friends will definitely appreciate the sentimental angle! Whether you want to surprise your friends with bottles of champagne, reds, whites, or even cans of rosé (this option from Jacqueline Leonne features a pretty design), we recommend checking out Total Wine & More to get everything in one place. Along with their selection of more than 8,000 wines, they offer dozens of accessories, including wine bottle holders, tumblers, sparkly water bottles, decorative gift bags, and (of course) wine glasses! Build a unique proposal gift box for each of your 'maids by handpicking items that fit your budget and style. You can even schedule a consultation with an expert from Total Wine & More to get their personalized recommendations.
How much do bridesmaid proposal gifts cost?
How much you spend on your bridesmaid proposal gift is totally up to you and will depend on the gift itself, plus the number of bridesmaids you're shopping for. Whether you're looking to spend $10 or $100 per bridesmaid, remember that it's the thought that counts! You can find plenty of 'grammable gift ideas at any price point — and when your bridesmaids-to-be see how much thought you put into their proposals, we have no doubt that they'll be honored to accept.