The 24 Best Groomsmen Proposal Gifts to Help You Ask Your Guys
From your old college roommate to your sports-obsessed best man, these awesome groomsmen proposal ideas cover all bases.
We have included third party products to help you navigate and enjoy life's biggest moments. Purchases made through links on this page may earn us a commission.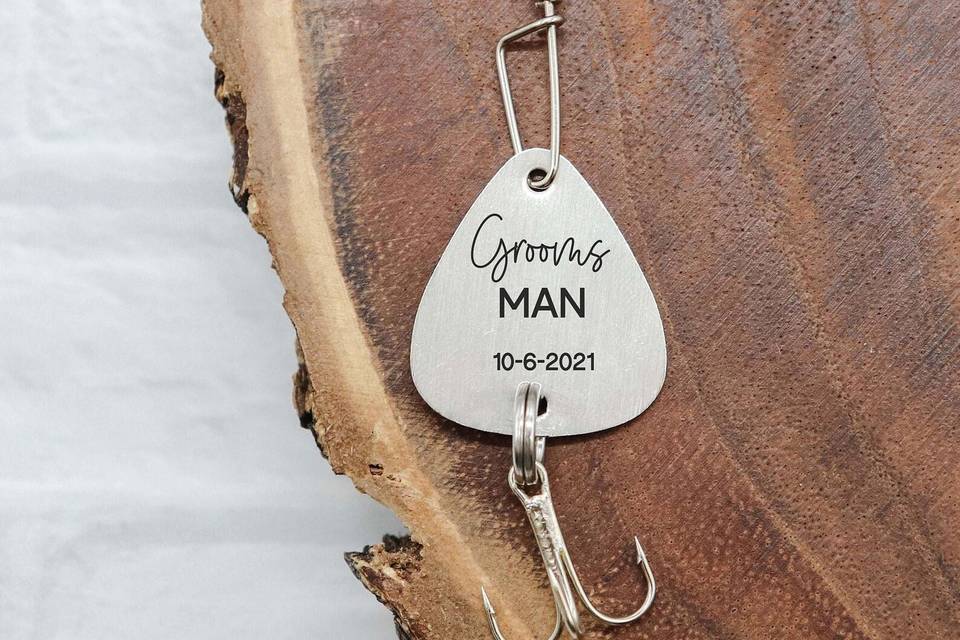 You (or your partner) already popped the question once. Now, it's time to plan amazing groomsmen proposals that'll set you up for the journey ahead. Choosing who will take part in your wedding is a big deal, so make sure you take some time to decide exactly who you want by your side. After that, you're free to start drafting your team.
Not sure exactly how to ask your groomsmen to be in your wedding? There are so many clever and creative ways to propose to your wedding party, whether it's your best man, best woman, groomsmen, or groomsmaids. Make the moment count with a token of appreciation for everything they've done for you in the past (and the groomsmen duties they're about to take on).
To help you get started, we're sharing our expert advice below, plus editor-approved gift ideas for everyone on your list. From the style gurus to the football fanatics, these presents are total crowd-pleasers.
Do You Have to Give Proposal Gifts to Your Groomsmen?
When it comes to giving proposal gifts, the first thing to keep in mind is that they're not compulsory. Many to-be-weds choose to buy groomsmen or bridesmaid proposal gifts because they're a sweet way to honor relationships and say "thank you" in advance. But, not buying a proposal present isn't going to stop your loved ones from standing by your side on your big day (or persuade them to accept the role if they really can't commit to it). Just make sure that you do thank your crew for all of their support at some point before or after the wedding.
How to Give Groomsmen Proposal Gifts
There are a few things to consider when giving proposal gifts to your future groomsmen/women and best person. For starters, do you want to ask everyone at once? Or would you rather have a meaningful one-on-one moment with each of your loved ones? Do you plan on toasting everyone's new wedding party status afterward? Or would you prefer a chill day out fishing or playing golf? Choosing the right time and place will help set the tone for handing over your gifts and asking that all-important question.
Lastly, think about how you want the moment to play out with your chosen friends and family. Some grooms opt for a light-hearted approach with a funny proposal card, while others prefer to take it a little more seriously. However you decide to deliver your gift, make sure it's something personal or practical your loved ones will really appreciate—it's not every day you ask someone to help you tie the knot!
The Best Groomsmen and Best Man Proposal Gifts
Ready to fill your cart with awesome presents? We've rounded up all of our favorite picks below. Not only that, but we also came up with some cool ways to ask your groomsmen and best man inspired by each gift idea. Happy shopping!

Sleek can coolers
No matter their drink of choice, they'll appreciate the ability to keep it cool. Enter: custom groomsmen koozies. These stainless steel ones look pretty slick (and they're easily reusable). They fit standard 12-ounce cans or bottles.
Groomsmen proposal idea: Invite your wedding party nominees over for a casual backyard barbecue (or just a few beers) and surprise them with these personalized can coolers.
WeddingWire Shop custom stainless steel insulated beer can cooler, $20 each, WeddingWire Shop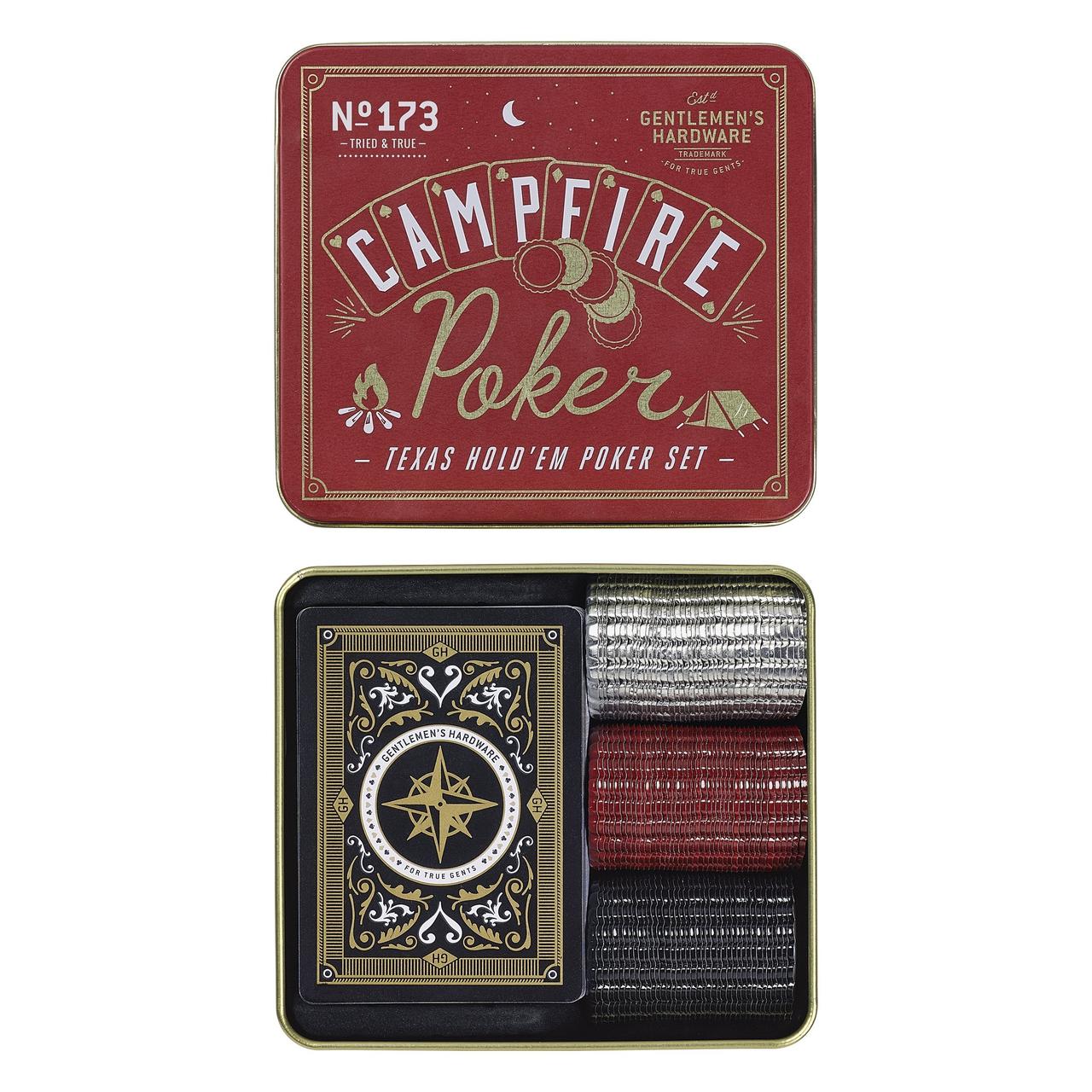 Travel poker sets
Need a groomsmen proposal gift for the gamer in your life? Honor his interests with the game gentlemen have been playing for decades: poker. This weather-proof poker set is specifically designed for playing on the go and outdoors. It includes 52 playing cards, 120 metal poker chips, and the instructions for Texas Hold'em.
Groomsmen proposal idea: Request that your guys join you for poker night and then present them each with this on-theme gift box. Whatever happens, they'll all leave feeling like winners thanks to their shiny new wedding titles (and your thoughtful proposal gifts).
Gentlemen's Hardware campfire poker set, $36, Gentlemen's Hardware
Cameo video messages
Cameo is an amazing best man proposal idea, especially if your favorite guy doesn't live nearby. The site plays host to A-listers (and B-listers and C-listers) from various facets of the entertainment industry, including athletes, musicians, actors, reality stars, and more. Simply choose a celeb and request a personalized video message.
Groomsmen proposal idea: Pick one of your best man's all-time favorite celebrities to do the asking for you, whether it's an actor from his most-watched TV show, a retired sporting legend, or a singer you both love. Then, send it directly to his phone for an unexpected virtual surprise.
Cameo celebrity video message, rates vary, Cameo
Personalized golf balls
If you spend every Sunday hitting the fairway, a golf-themed groomsmen proposal gift is a nice way to tee up your friendship. These personalized golf balls can be stamped with each person's name for an elevated twist to their usual gear. (Bonus: They'll no longer argue over who owns which ball.)
Groomsmen proposal idea: Invite your crew for a round of golf or a trip to the driving range. Once everyone has arrived, kick off your quality time together by presenting each person with their proposal gift and popping that burning question. For a touch of humor, you could even get down on one knee.
Titleist Velocity custom golf balls, $36 for a set of 12, RING BEAR
Engraved wooden watches
Let your guys know it's time with a sleek wooden watch engraved with each person's initials, new wedding title, and the date of the big day. This unique accessory is made from authentic sandalwood and high-quality stainless steel. (And hopefully it'll keep them on track with their duties, like planning an epic bachelor party.)
Groomsmen proposal idea: Ever heard of an engagement watch? Your future groomsmen will get a kick out of you popping the question the traditional way by getting down on one knee.
Swanky Badger sandalwood links watch in Groomsmen, from $70, Swanky Badger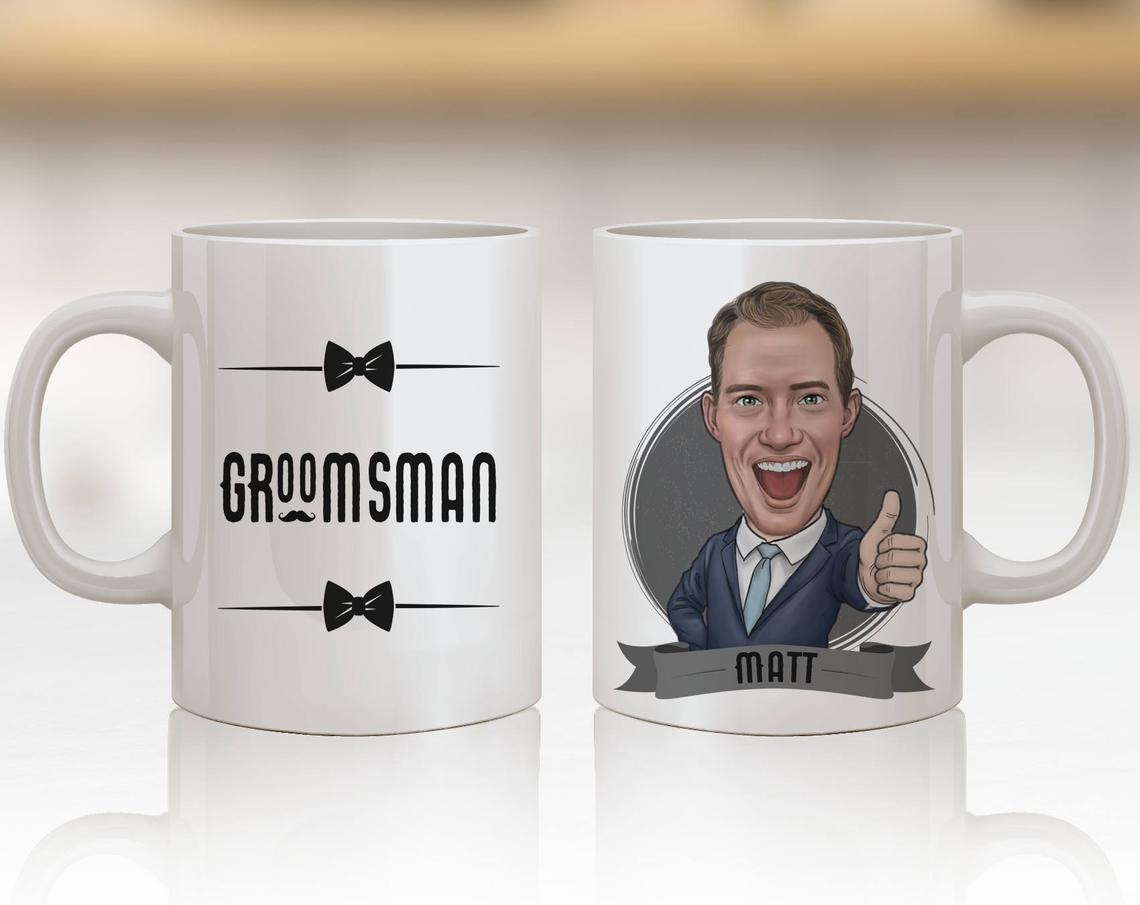 Custom coffee mugs
Your squad will love seeing their mugs on these novelty coffee mugs. This playful gift idea makes the question "Will you be my groomsman?" crystal clear. Simply send the Etsy seller a photo of each person you want a caricature of and they'll take it from there. For an extra-personal touch, include a bag of gourmet coffee (or as we like to call it: wedding planning fuel).
Groomsmen proposal idea: Plan a non-alcoholic groomsmen proposal over your best friend's favorite brew. The next time they come to visit, simply offer them their usual hot drink in this playful, personalized mug. Or, if you'd prefer to pop the question right away, you can always DIY your own gift box—complete with the mug, tea or coffee, and some sweet treats—and deliver it to their door.
Tooned Up Gifts groomsmen proposal gift ideas, from $35, Etsy
Wedding title baseballs
The perfect way to ask a baseball fan to be in your wedding? With an actual baseball, of course! Each ball is customized with your friend's new wedding title. When placed inside the gift box, the message reads: "Take a swing at being my groomsman."
Groomsmen proposal idea: Invite your groomsmen or best man to a game and pull out these bad boys right there in the stands. It's a moment your guys won't soon forget.
One 19 Stationery groomsmen baseball proposal gift, from $11, Etsy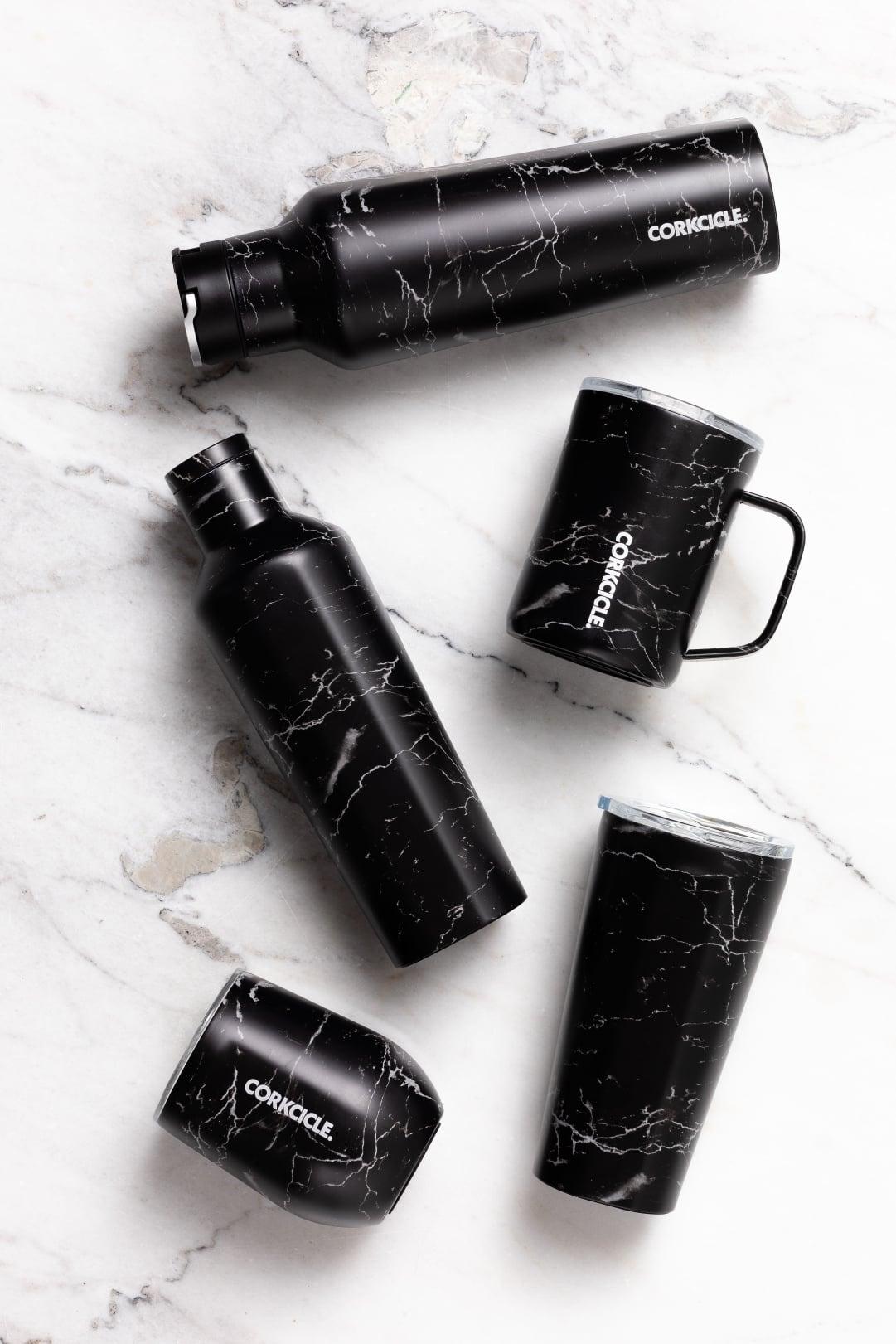 Insulated travel tumblers
Everyone needs a sturdy, insulated travel tumbler, whether it's for drinking coffee while commuting to work or sipping beer around a campfire. Corkcicle has a selection of stylish travel tumblers for everyone in your group. The best part: Items from the site's wedding party collection can be personalized with your crew's names.
Groomsmen proposal idea: How about a football-themed groomsmen proposal? Invite your future wedding crew to a tailgate party and present each person with a shiny new travel tumbler customized with their name. (Oh, and don't forget the booze!)
Corkcicle personalized origins stemless tumbler, $28, Corkcicle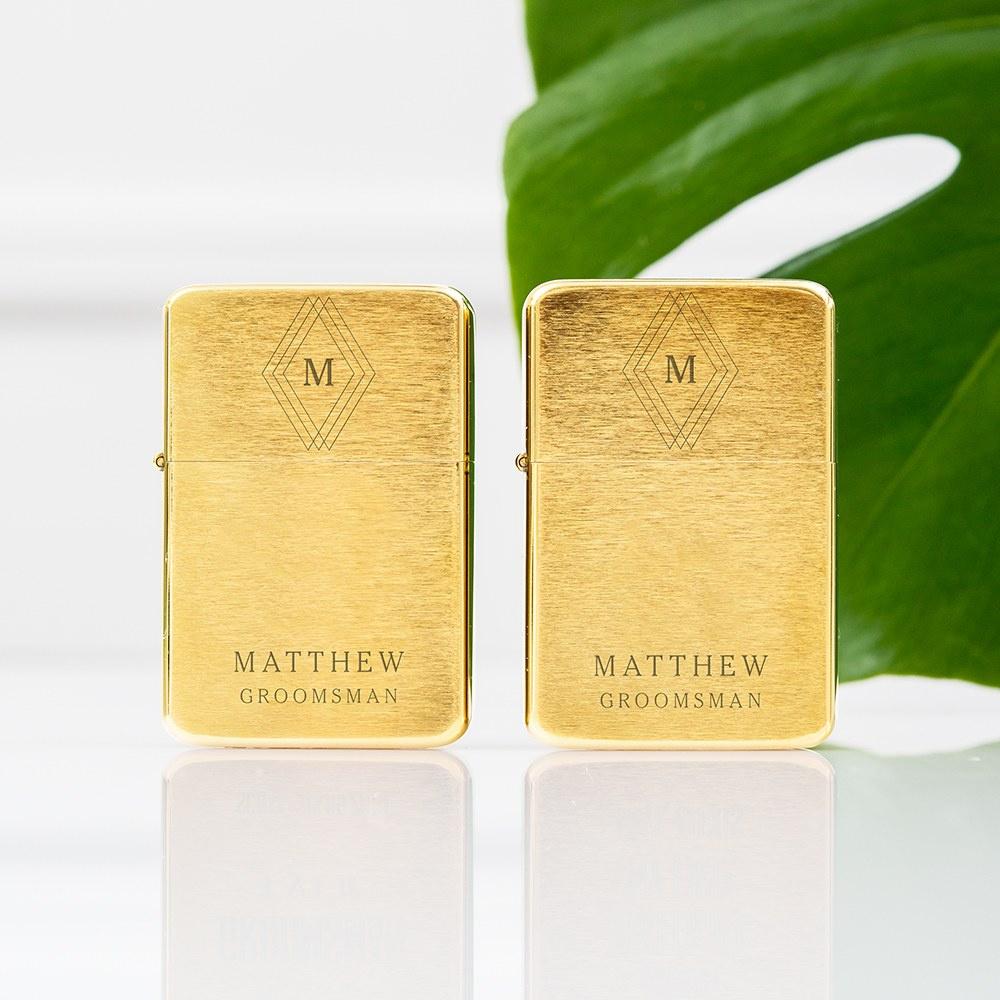 Etched windproof lighters
Don't be afraid to get creative with gifts for asking your groomsmen. These useful lighters are personalized with each person's first name and wedding role. Plus, they come in four sleek colorways.
Groomsmen proposal idea: We've got lots of awesome groomsmen invitation ideas. Why not invite your guys to a cigar lounge and present them with these chic monogram lighters? It's a unique setting to hang out (and start making bach party plans).
WeddingWire Shop custom classic metal windproof lighter in Diamond Emblem Monogram Engraving, $17 each, WeddingWire Shop
Cool drinking gadgets
If a personalized bottle opener feels overdone to you, skip it and go straight for this way-cooler gadget. Your groomsmen will be seriously excited to try out this bad boy. It conveniently cuts off the top of a standard beer or soda can, transforming it into a smooth-rimmed drinking cup. Adding a shot of liquor or slice of lime has never been so easy.
Groomsmen proposal idea: Invite your friends for a pool or beach day where you can fill them in on the good news: They're going to be groomsmen! This unique gift idea will come in clutch as they're sipping celebratory drinks.
Draft Top The Draft Top 2.0, $25, Bespoke Post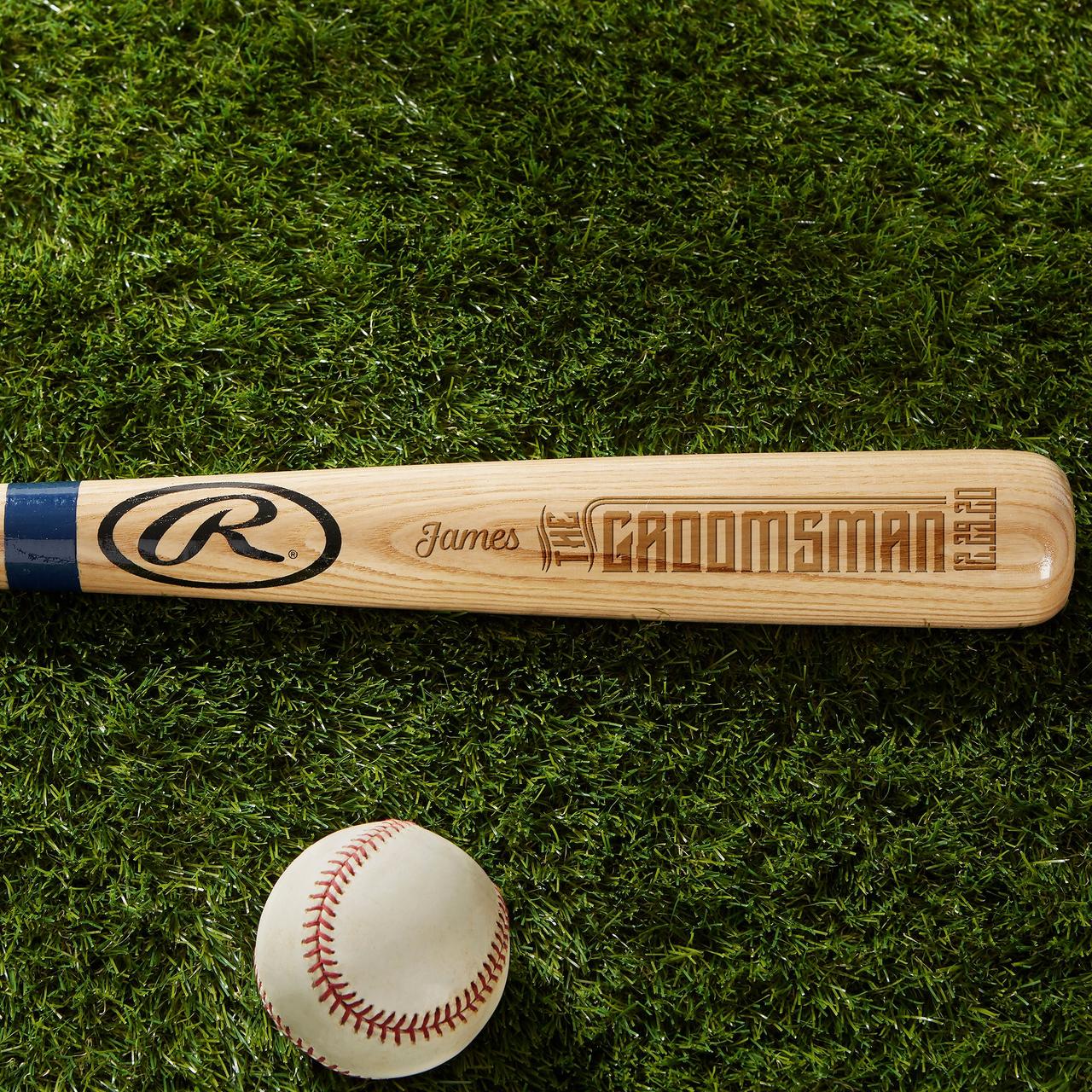 Personalized baseball bats
Here's another creative gift idea for baseball fans. This Little League-approved Rawlings bat is crafted from ash wood and personalized with your friend's name, role in the wedding, and the date. It's especially thoughtful if you've spent time on the field or in the stands together.
Groomsmen proposal idea: Invite your baseball-loving buddy out to bat and surprise them with this awesome personalized proposal gift. It'll earn prime real estate on display in their man cave.
Rawlings I Do Crew personalized 28" baseball bat, $50, Personalization Mall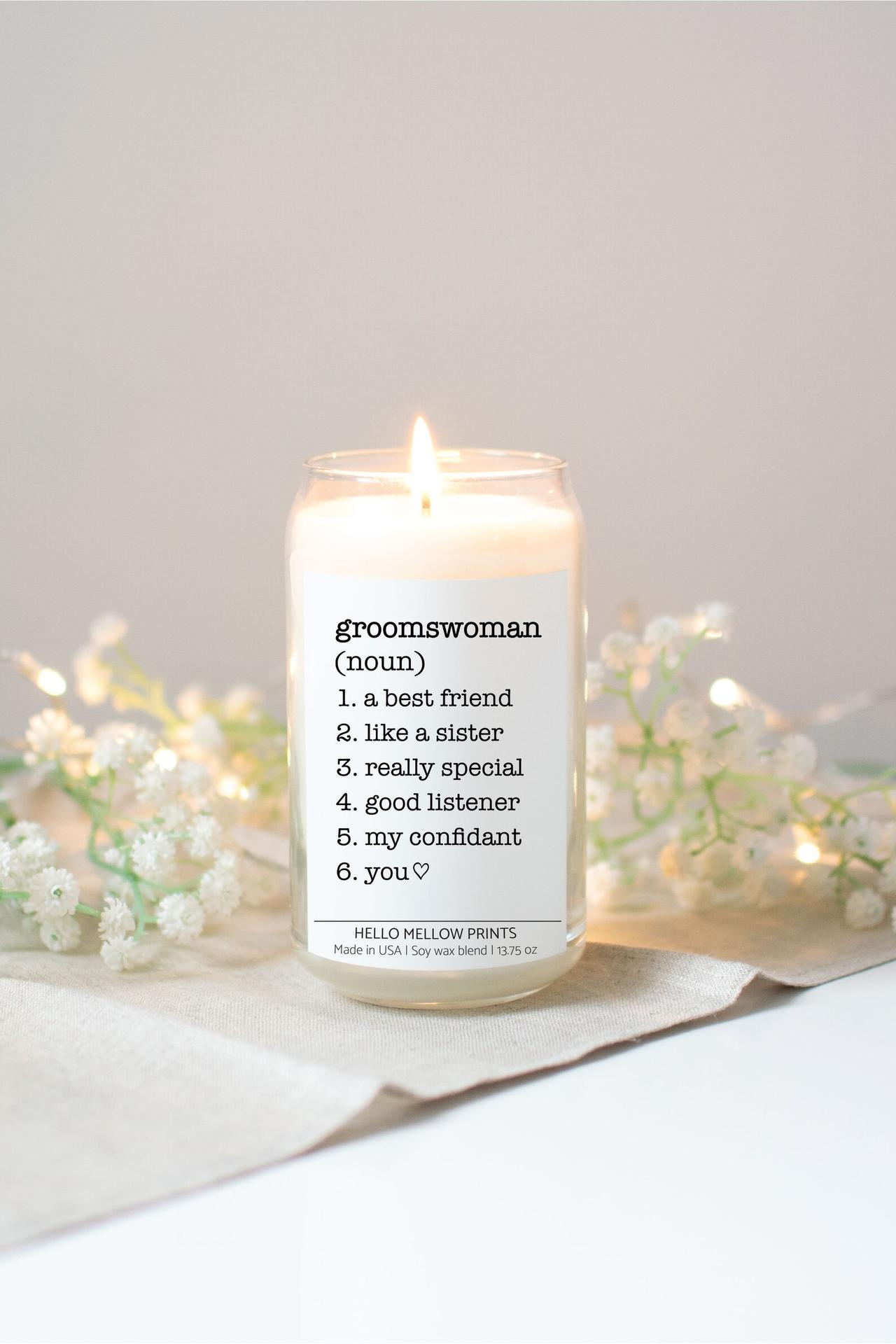 Scented groomswoman candles
There's no reason your groom's crew can't include your favorite lady. This lovely scented candle will make for a charming groomsmaid proposal gift. The label is printed with a sweet explanation of what makes a groomswoman, including the final definition: "you."
Groomsmen proposal idea: Spend a pampering spa day with your groomsmaid or best woman where you can ask her to be by your side on the big day. Or, send her a box of goodies that let her know just how much you appreciate her, including this thoughtful scented candle.
Hello Mellow Prints groomswoman proposal candle gift, $28, Etsy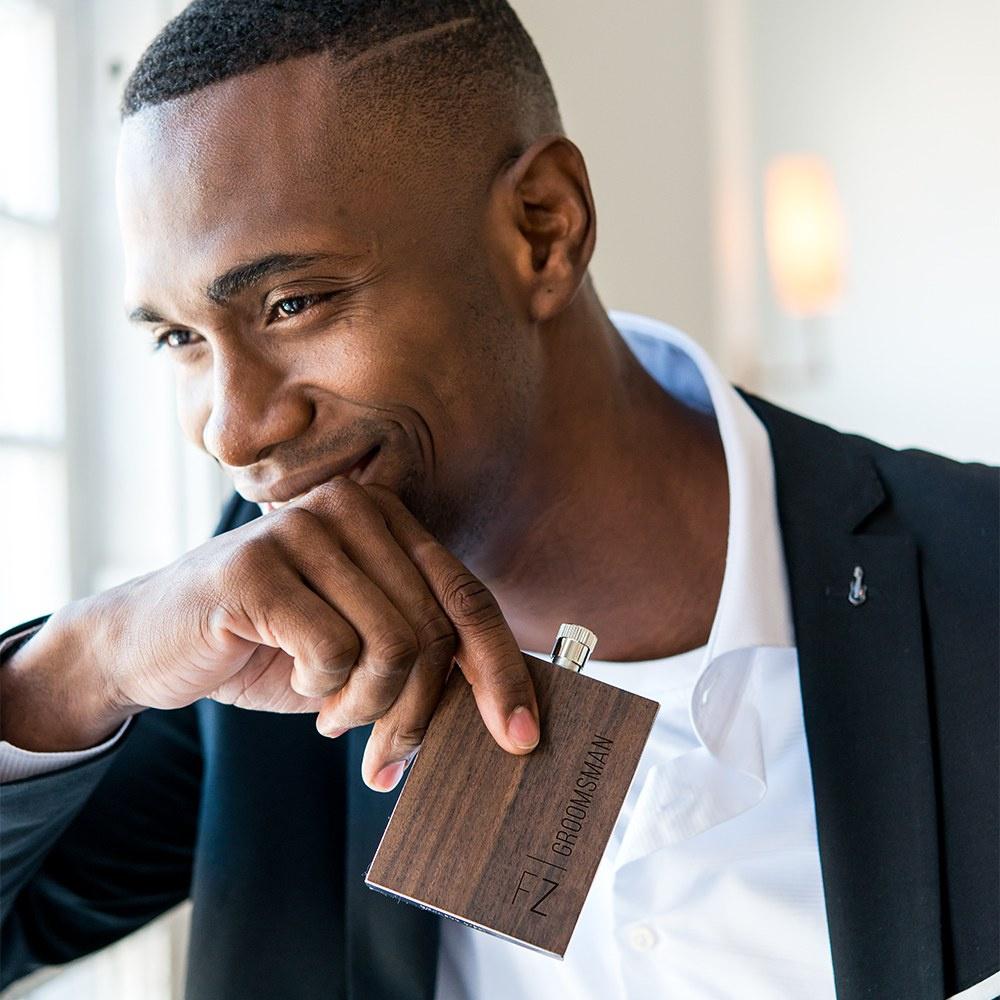 Personalized hip flasks
Throw it back to your college drinking days and present them with a sophisticated flask featuring their monogram and hard-earned wedding title. It's one of the best groomsmen proposal gifts for your old college roommate or go-to drinking buddy.
Groomsmen proposal idea: Invite your future groomsman or best man over for a few drinks, but instead of serving it in a regular old glass, hand him this monogrammed hip flask. He'll flip out (in a good way) when he sees his new wedding title printed on the front.
WeddingWire Shop personalized rustic wood wrapped stainless steel hip flask in Vertical Groomsman Monogram, $25, WeddingWire Shop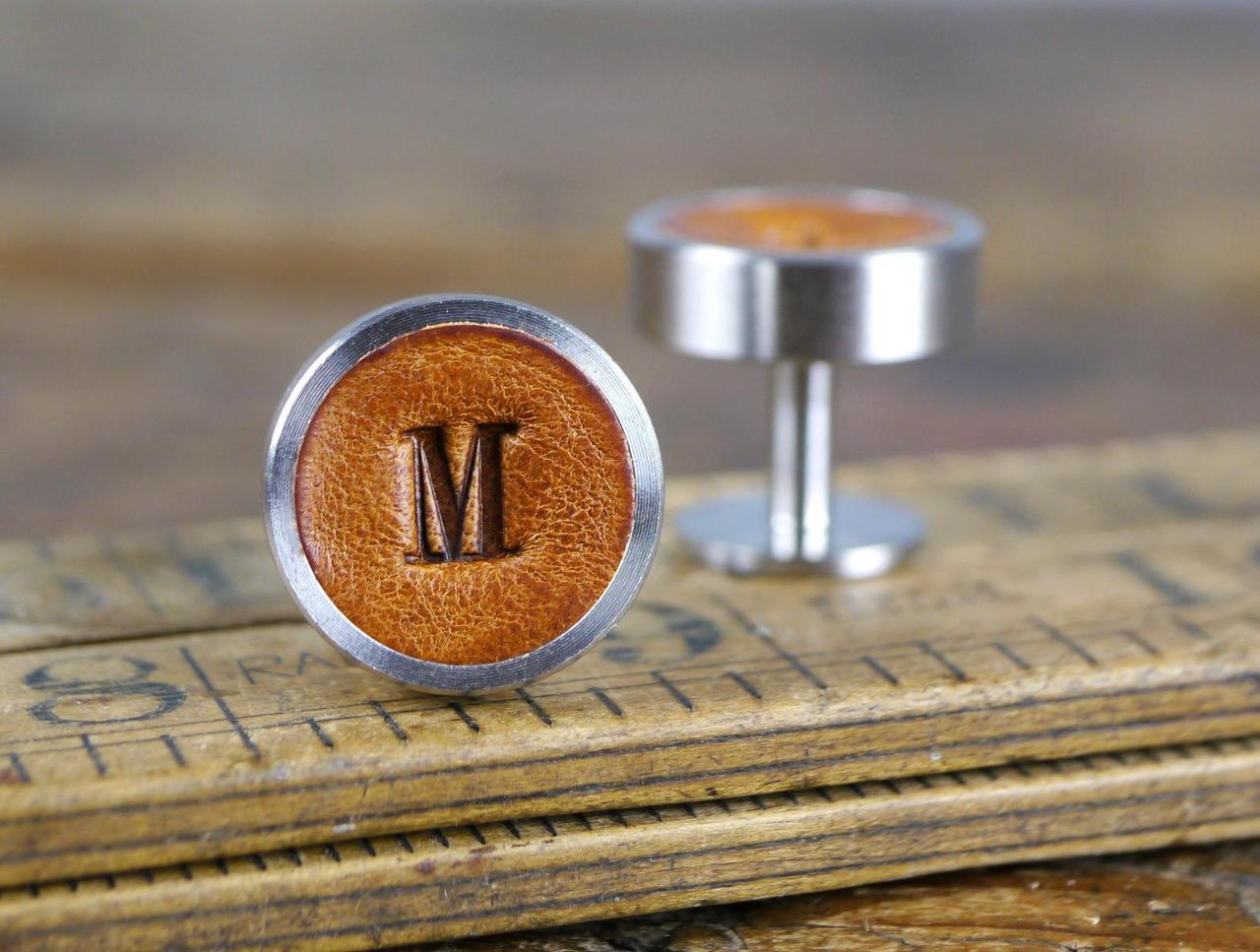 Handcrafted cuff links
A shiny new pair of cuff links will add a dapper finishing touch to their wedding attire. These handmade leather and stainless steel accessories are stamped with each person's initials for a truly one-of-a-kind look.
Groomsmen proposal idea: For a sentimental groomsmen proposal, present your potential groomsmen with these personalized cuff links. When they ask what the cuff links are for, tell them they have to look their best when they stand by your side on your wedding day.
Kingsley Leather personalized cuff links groomsmen gift, $70, Etsy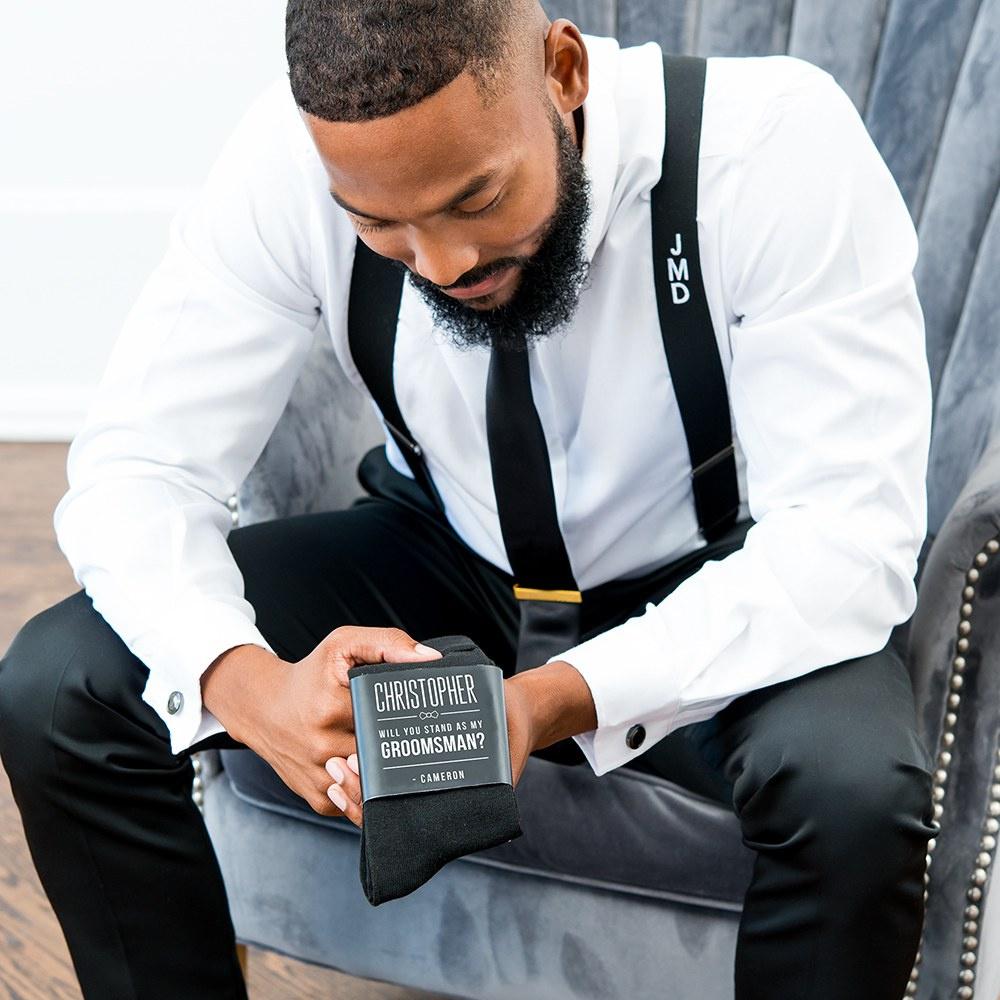 Groomsmen proposal socks
Small tokens are all you really need to get your crew on board. These groomsmen proposal socks say it all for you with the words: "Will you stand as my groomsman?" There are 12 different hues to choose from. If you're not sure which they'd prefer, you can't go wrong with classic black.
Groomsmen proposal idea: This simple but effective gift idea deserves an equally understated proposal. Plan a low-key activity with your friend (think: playing video games or going for a bike ride), and take the time to ask them if they'll be a part of your wedding party. Before they go, be sure to hand over your gift.
WeddingWire Shop Will You Stand personalized men's socks wedding gift, $11, WeddingWire Shop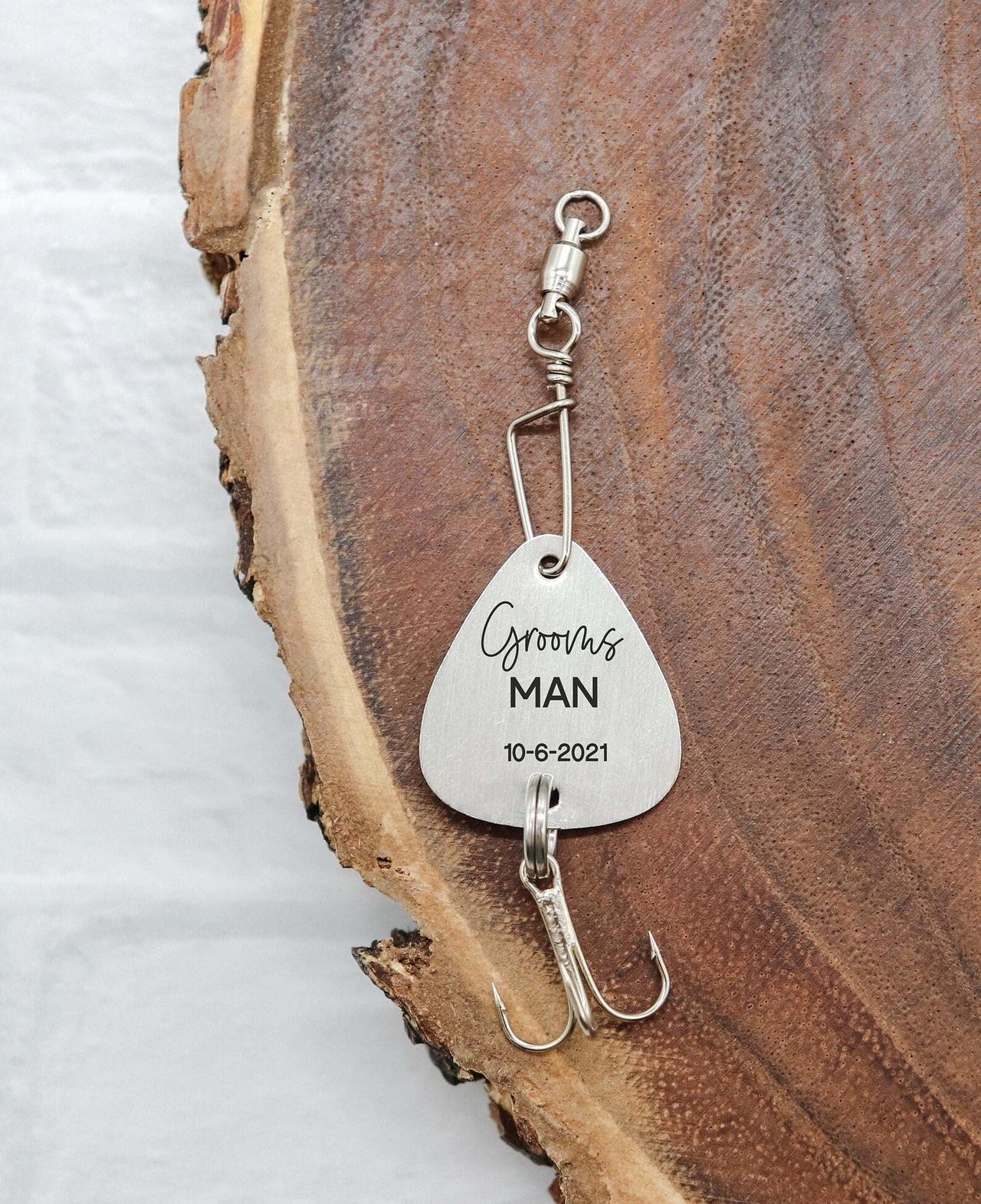 Custom fish hooks
Nothing says "be my groomsman" quite like a gift engraved with the wedding title. This cool fishing lure is personalized with the word "groomsman" and the date on the front, and there's space to add your own personal message on the back.
Groomsmen proposal idea: Invite your guys on a relaxing fishing trip and give each person one of these sweet, personalized lures. You'll have plenty of time to express just how much you appreciate them and want them to be a part of your special day.
Allie Made Co groomsman personalized fishing lure, from $27, Etsy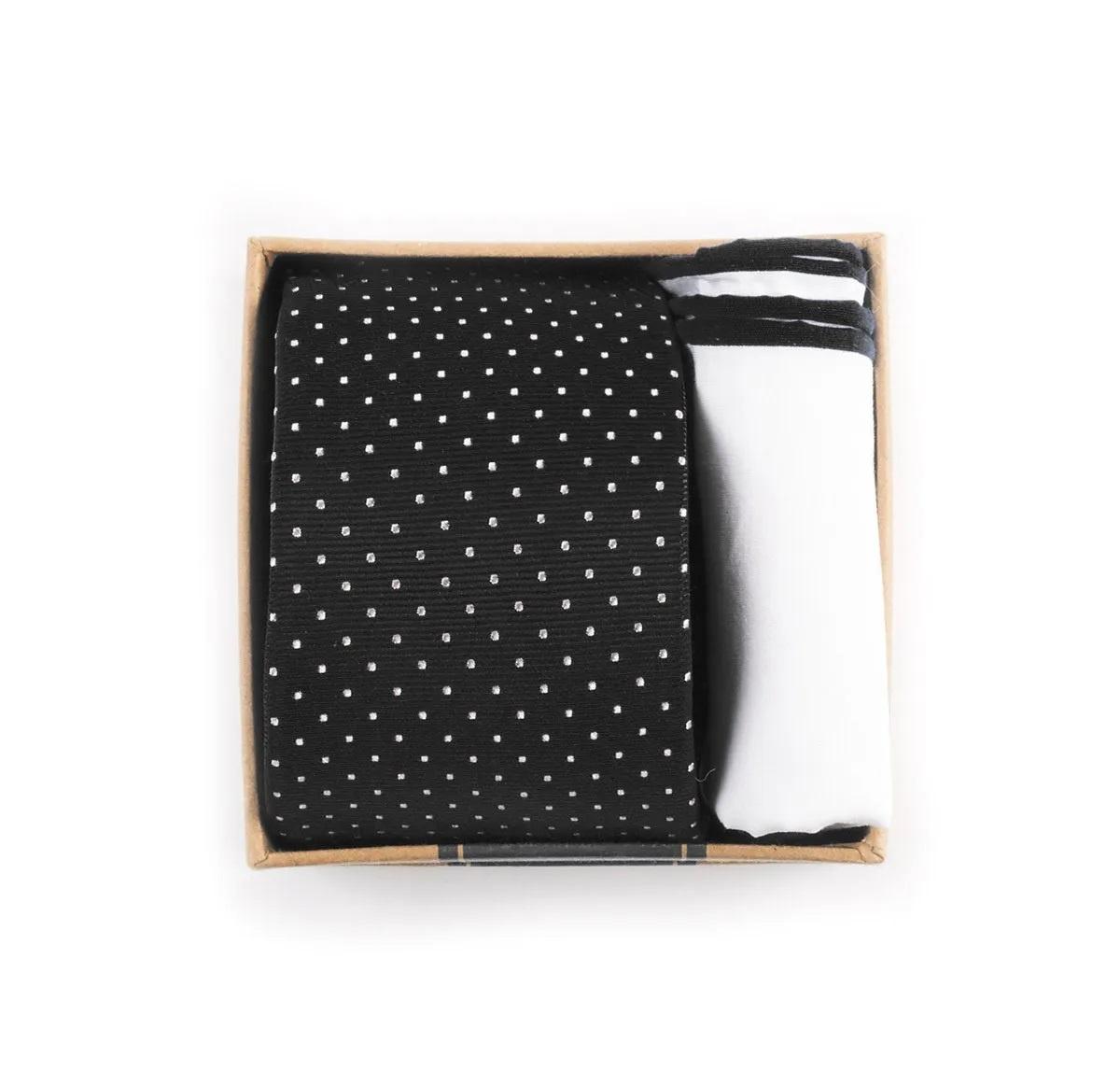 Fancy tie sets
Propose to your crew with some chic accessories that'll serve them well at the pre- and post-wedding festivities to come. This tie and pocket square set is the perfect proposal box for style-savvy groomsmen. If they'll be donning a tuxedo at any point, go for the bow tie gift set instead.
Groomsmen proposal idea: Give your potential groomsman or best man a reason to get dressed up by inviting them to dinner at a fancy restaurant. Then, give them this thoughtful set (gift-wrapped, of course), along with a card or note printed with the big question.
The Tie Bar black tie box gift set, $30, The Tie Bar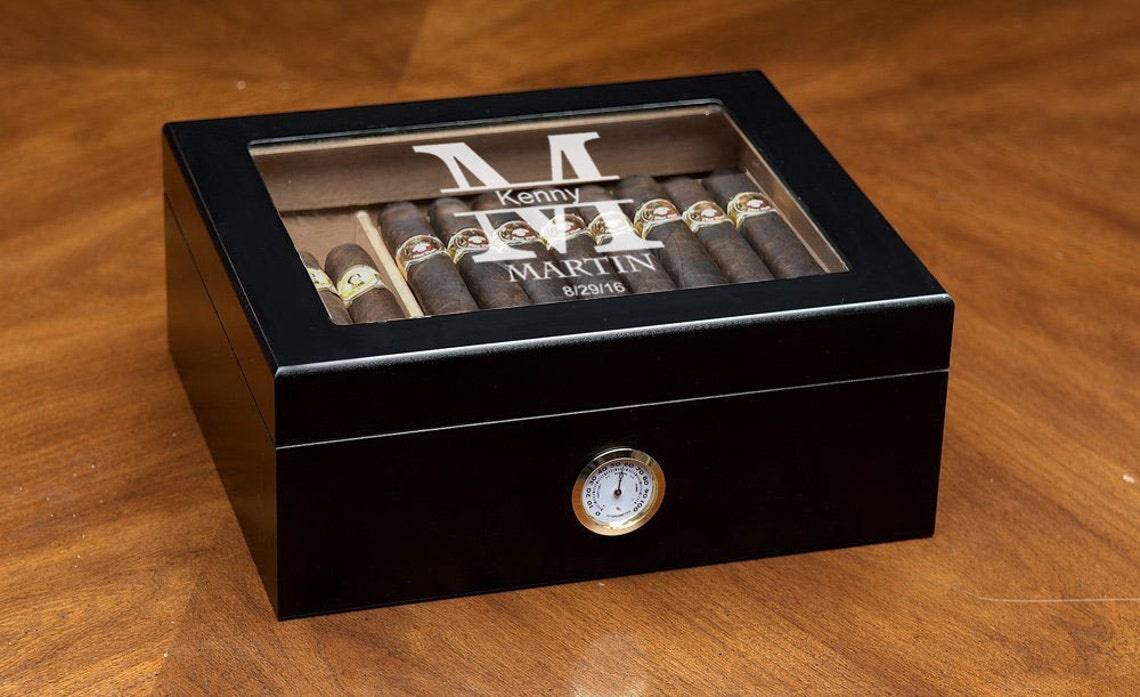 Monogrammed humidors
If anyone in your crew is big into cigars, they'll fully appreciate an elegant humidor with their name, monogram, and the date of your nuptials. You can give your loved one the humidor on its own or make it a box set with an engraved lighter and ashtray.
Groomsmen proposal idea: Rather than going to a cigar lounge, fill this bad boy with your own handpicked smokes for your new groomsman to enjoy at his leisure. Want to go the extra mile? Complete the cigars with custom groomsmen proposal labels.
Kustom Products engraved cigar humidor, from $46, Etsy
Stemless wine glasses
If you've often bonded over a crisp glass of wine, treat your future groomsman or groomsmaid to a set of stemless red wine tumblers engraved with their name or monogram. There are six different designs to choose from, so you're bound to find one that suits their style.
Groomsmen proposal idea: Want another creative idea for asking your groomsmen? Plan a sophisticated dinner party complete with a few nice bottles of vino. Set each person's place at the table with their own personalized wine glass. Once everyone is seated, make a speech explaining why they've been invited.
Swanky Badger stemless wine glasses, $50 for a set of 4, Swanky Badger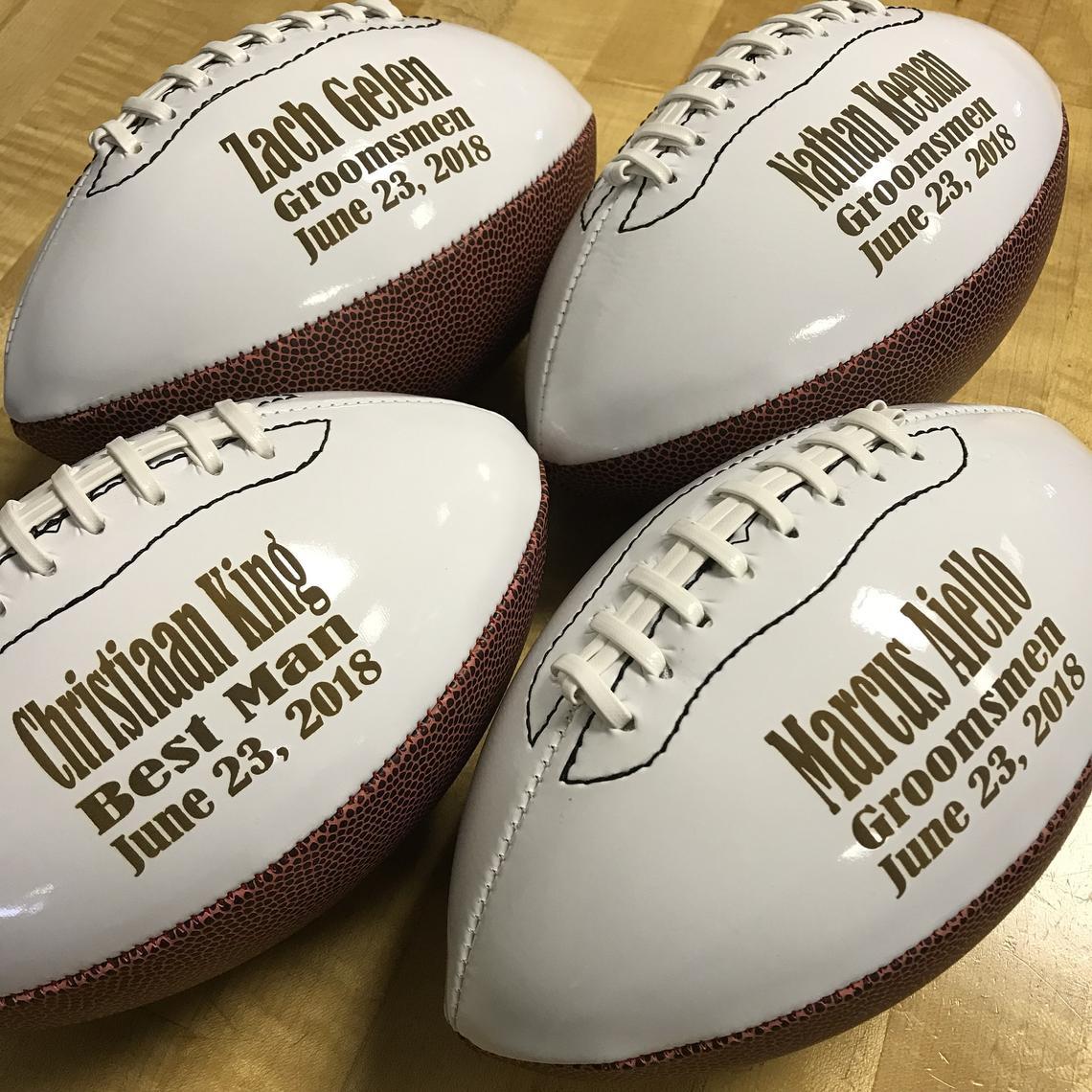 Personalized footballs
Do you and your crew always reunite during Super Bowl season? Or maybe you used to play together back in high school or college? Whatever the reason for your connection to the sport, a personalized football is a lovely way to honor your unique friendship.
Groomsmen proposal idea: Ask your best man- or groomsman-to-be if they want to throw a ball around, and then throw this ball around. They'll get instantly excited when they read their name, wedding title, and the date of your upcoming nuptials.
JCS Designs 2017 best man/groomsmen football gift, $37, Etsy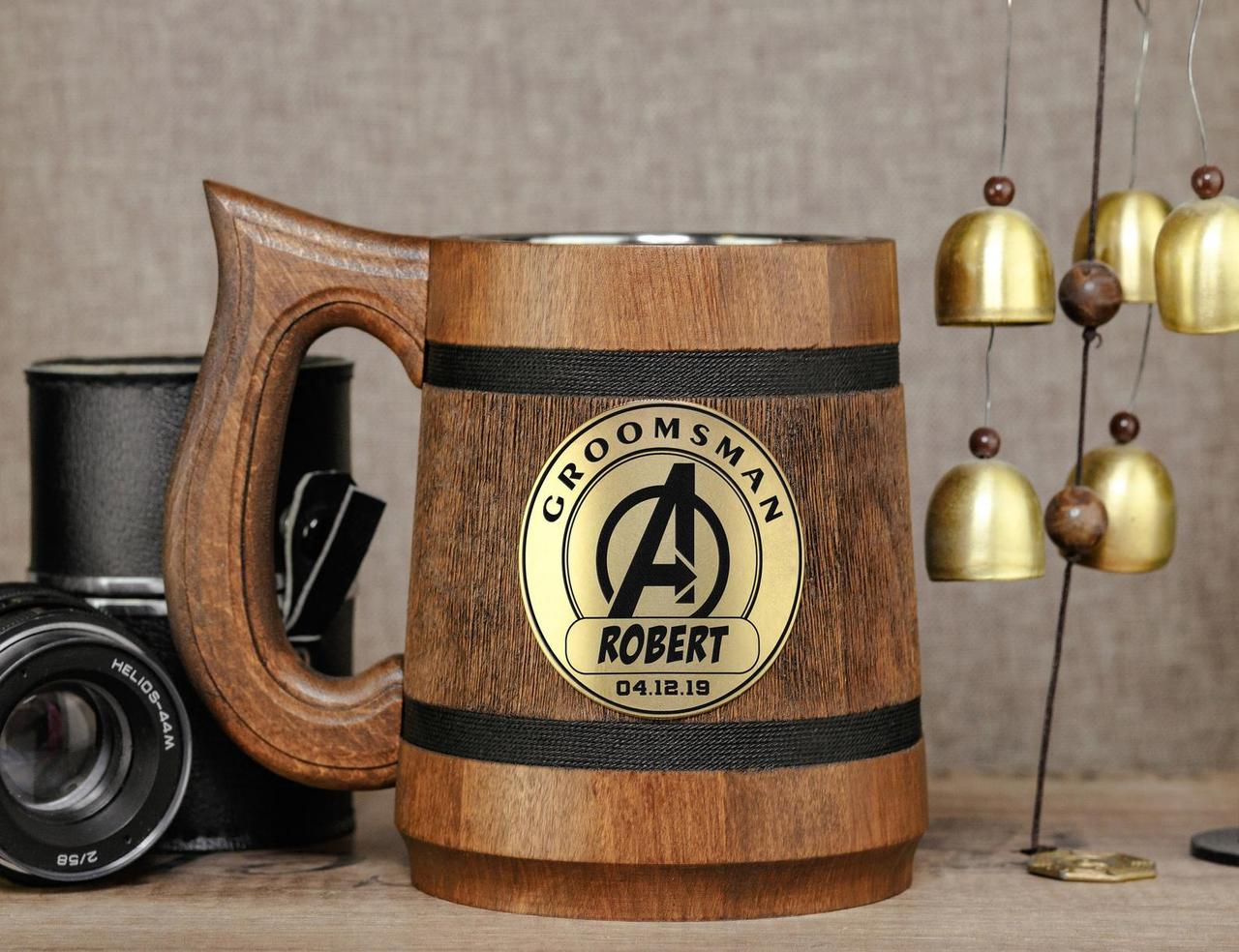 Superhero beer mugs
Have you ever seen a cooler beer mug? Inspired by a traditional German stein, it'll seriously elevate their usual pint. If the carved wood exterior isn't enough to grab your attention, you can also add an engraved plaque featuring their name, title, logo of their favorite superhero, and the wedding date. It's a great groomsmen gift idea they'll hold onto as a keepsake long after you say "I do."
Groomsmen proposal idea: Invite your groomsmen-to-be over for a Marvel movie night and use these custom beer mugs to assemble your very own Avengers. Make it a night to remember by stocking up on your crew's favorite drinks and snacks beforehand.
Customize In US Avengers beer mug with engraved plaque, $70, Etsy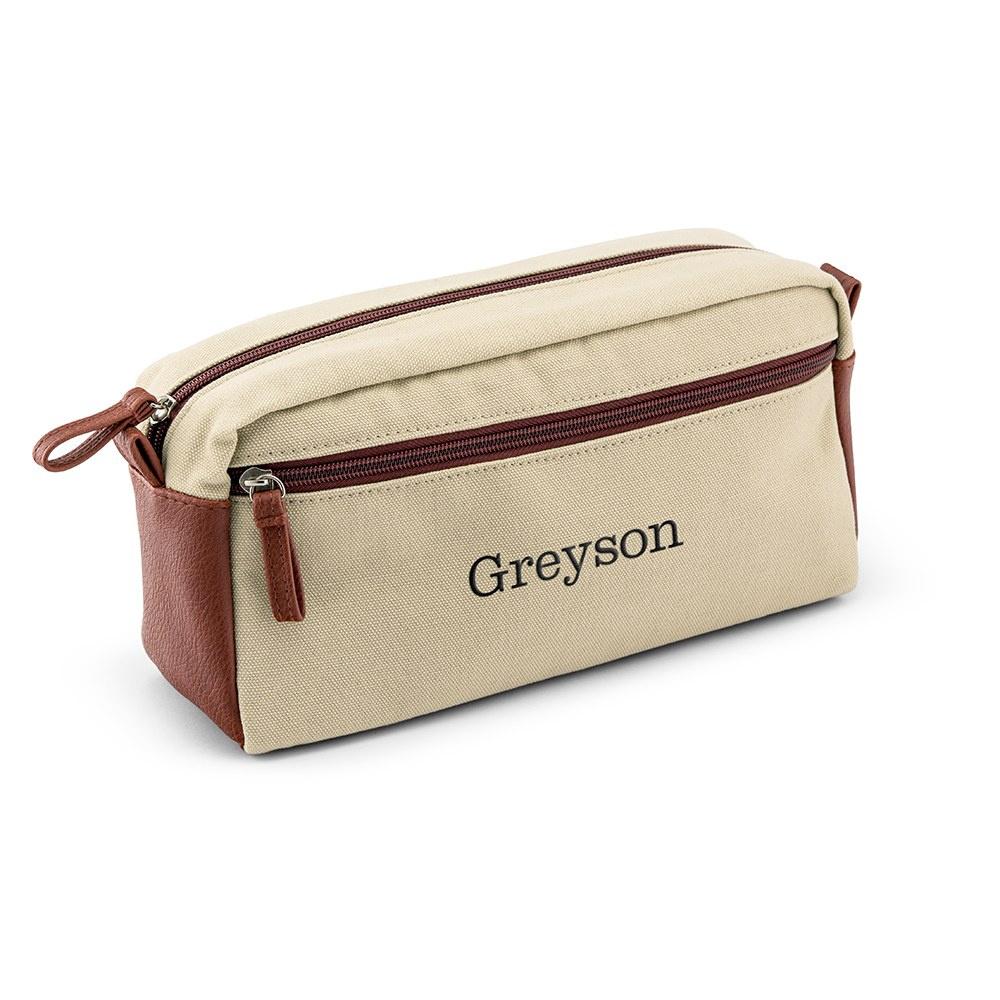 Luxe dopp kits
Some of the best gifts hint at the festivities to come. If they'll have to travel for the wedding (or an awesome bachelor's weekend), these classic leather toiletry bags will be a welcome present. Have each one personalized with your crew's names so they don't get mixed up.
Groomsmen proposal idea: Fill the bag with travel-size grooming essentials for a clever groomsmen proposal idea ahead of a destination wedding. Or, if they don't have to travel for the big day, you could stock it with their favorite candy and a handwritten card.
WeddingWire Shop personalized dual compartment travel toiletry bag, $20 each, WeddingWire Shop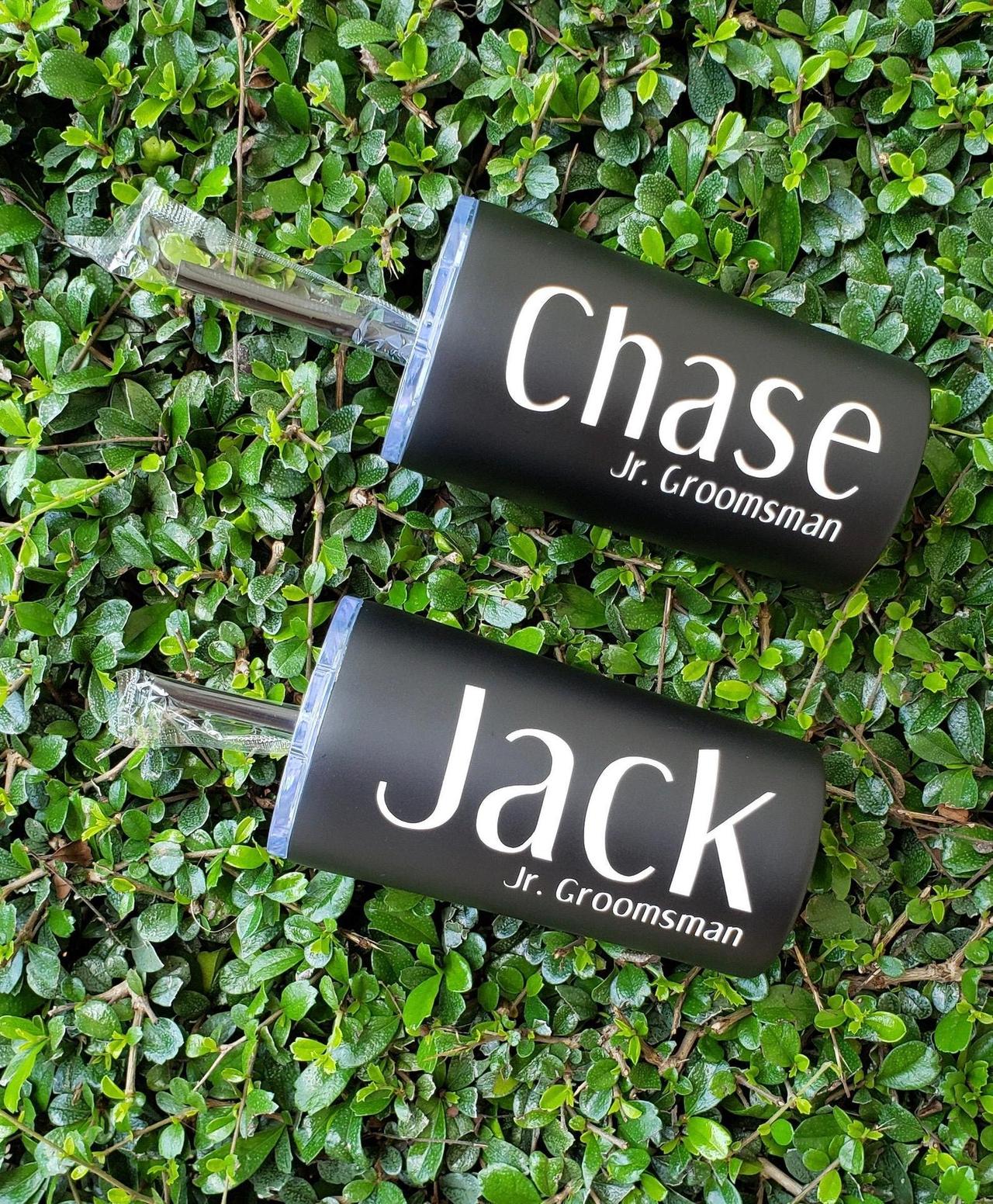 Junior groomsmen tumblers
These mini personalized tumblers come in 11 different hues, so you can select the one that your junior groomsman loves the most. Simply let the Etsy seller know the name and title you'd like to include and they'll get to work creating a useful, personalized gift.
Groomsmen proposal idea: This junior groomsmen proposal gift is perfect for raising a (non-alcoholic) toast to their newly accepted wedding title. Offer to take them to the park, the movies, or another place they can put the tumbler to good use. While you're spending time together, fill them in on their role.
Jay Creative Studios junior groomsmen mini tumblers, $19, Etsy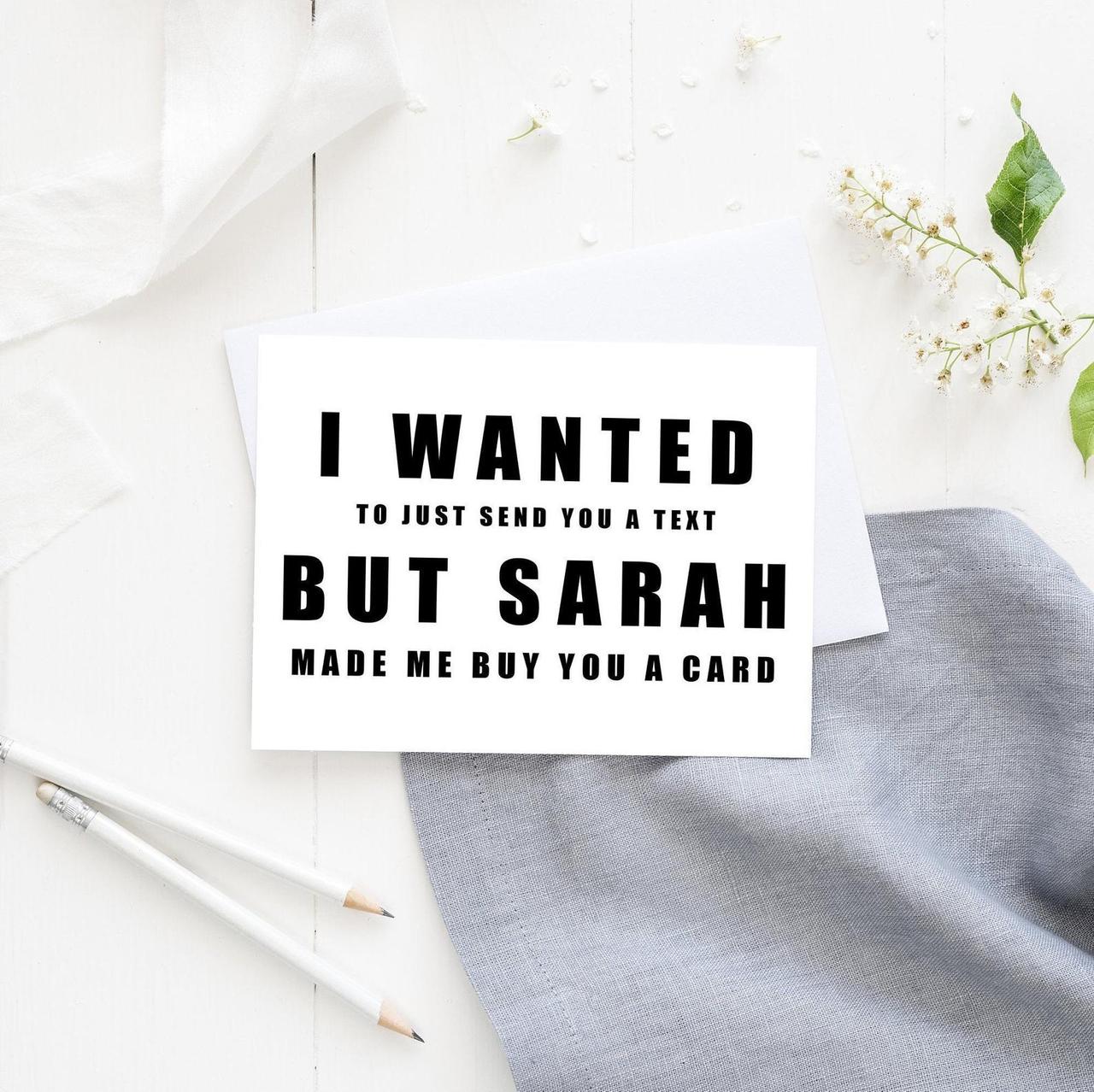 Humorous proposal cards
If you're not usually the sentimental type, let them know a formal groomsmen proposal was all your fiancé's doing with this funny groomsmen proposal card that reads "Will you be my groomsman?" or "Will you be my best man?" inside.
Groomsmen proposal idea: It's totally acceptable to hand over a groomsmen proposal card on its own, but it'll also add a humorous twist to any of the gifts on our list. If your nominated wedding party member lives out of town, you can send it in the mail. Otherwise, we suggest giving the card in person so you can witness their delight.
Poppy Paper Designs groomsman proposal card, $5, Etsy