You (or your partner) already popped the question once. Now, it's time to plan an amazing groomsmen proposal that'll set you up for the journey ahead. Choosing who will take part in your wedding is a big deal, so make sure you take some time to decide exactly who you want by your side. Then, once you've drafted your team, you might want to think about how to ask your groomsmen. Like we said, deciding who gets to play a part in your special day is huge. Make the moment count with a token of appreciation for everything they've done (and the groomsmen duties they're about to take on). Not sure where to start? We've got lots of great groomsmen proposal ideas for everyone on your list. From the style gurus to the football fanatics, these gifts are total crowd-pleasers.
Engraved Wooden Watch
Let your guys know it's time with a sleek wooden watch engraved with each person's name and new wedding title. There's also the option of including elegant groomsmen proposal boxes so you can even get down on one knee.
Shp By Anna engraved groomsmen/best man proposal gift, from $47, Etsy

Backyard Barbecue
Invite your wedding party nominees over for a casual backyard barbecue (or just a few beers) and surprise them with these personalized groomsmen can coolers.
WeddingWire Shop custom stainless steel insulated beer can cooler, $18, WeddingWire Shop
Celebrity Cameo
Cameo is an amazing best man proposal idea, especially if your favorite guy doesn't live nearby. Pick one of his favorite celebrities to pop the question for you, from athletes and musicians to Hollywood stars.
Cameo celebrity video message, rates vary, Cameo
Golf Groomsmen Proposal
If you're always hitting the green together, try this golf groomsmen proposal idea. Simply meet the guys for your usual round and give them each one of these personalized golf balls.
Callaway Warbird Plus I Do Crew personalized golf ball set, $23 for a set of 3, Personalization Mall
Personalized Hip Flask
Throw it back to your college drinking days and present them with a sophisticated flask featuring their monogram and hard-earned wedding title. It's one of the best groomsmen proposal gifts for your old college roommate.
WeddingWire Shop personalized rustic wood wrapped stainless steel hip flask in Vertical Groomsman Monogram, $20, WeddingWire Shop
Custom Coffee Mug
Or, plan a non-alcoholic groomsmen proposal over their favorite brew. Your squad will love seeing their mugs on these novelty coffee mugs.
Tooned Up Gifts groomsmen proposal gift ideas, from $35, Etsy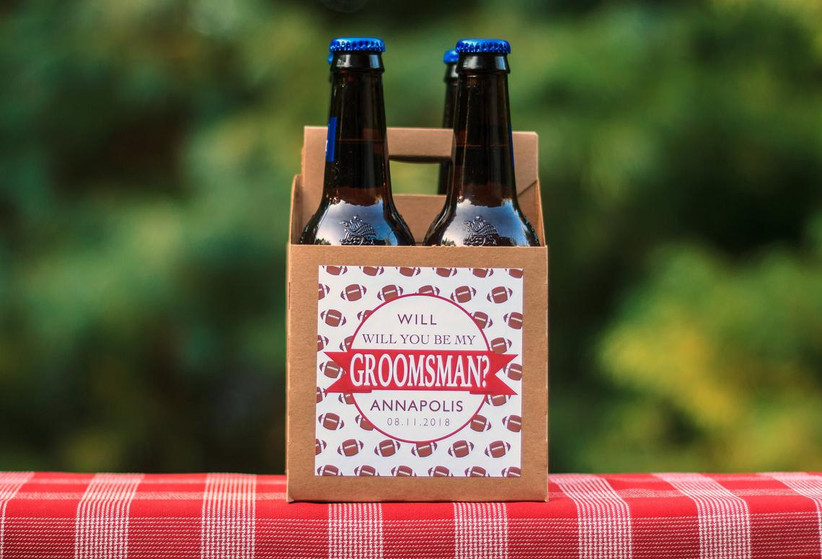 Tailgate Groomsmen Proposal
Get creative with gifts for asking your groomsmen. This football-themed proposal idea couldn't be simpler—just fill the carrier with a few of their favorite beers and invite them to the next tailgate party.
Prepping Parties football groomsmen proposal beer carrier, from $16, Etsy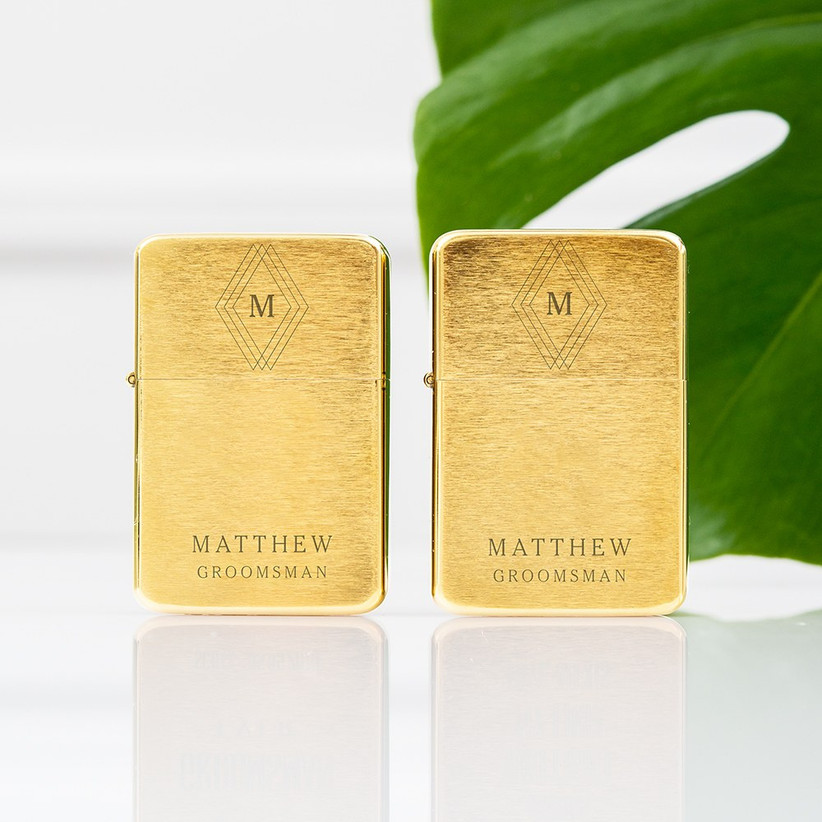 Cigar Lounge
We've got lots of awesome ideas for asking your groomsmen. Why not invite them to a cigar lounge and present them with these chic monogram lighters?
WeddingWire Shop custom classic metal windproof lighter in Diamond Emblem Monogram Engraving, $15, WeddingWire Shop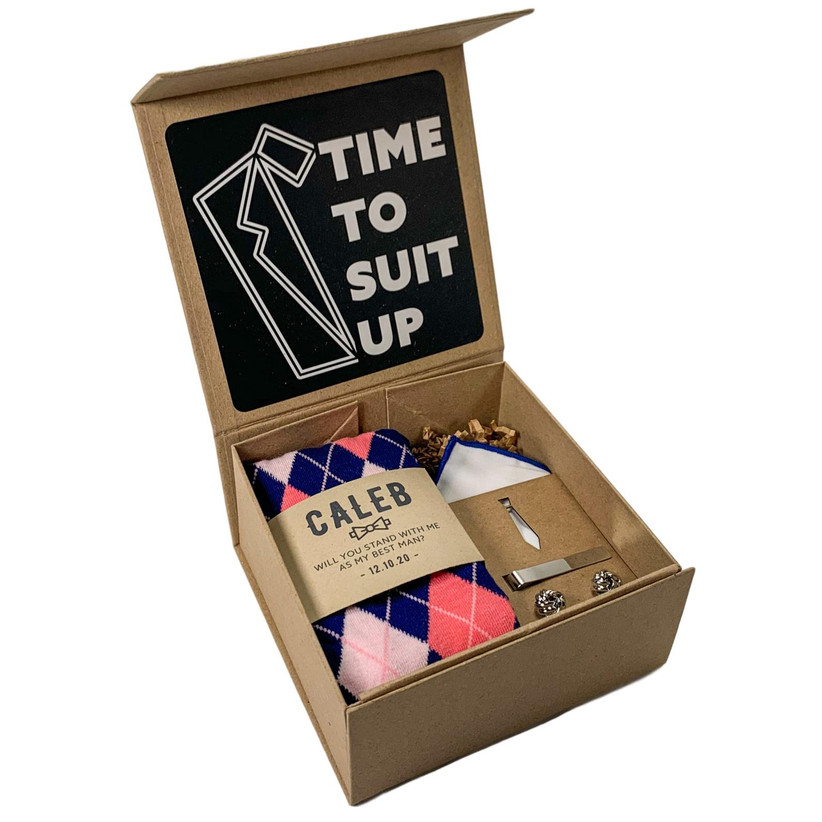 Groomsmen Proposal Box
Let them know it's time to suit up with this personalized set. It's up to you exactly which items you want to include. The whole kit features a pocket square, a tie clip, cufflinks, and socks with a custom label.
No Cold Feet Co. Time To Suit Up groomsmen proposal box, from $15 for the box only, Etsy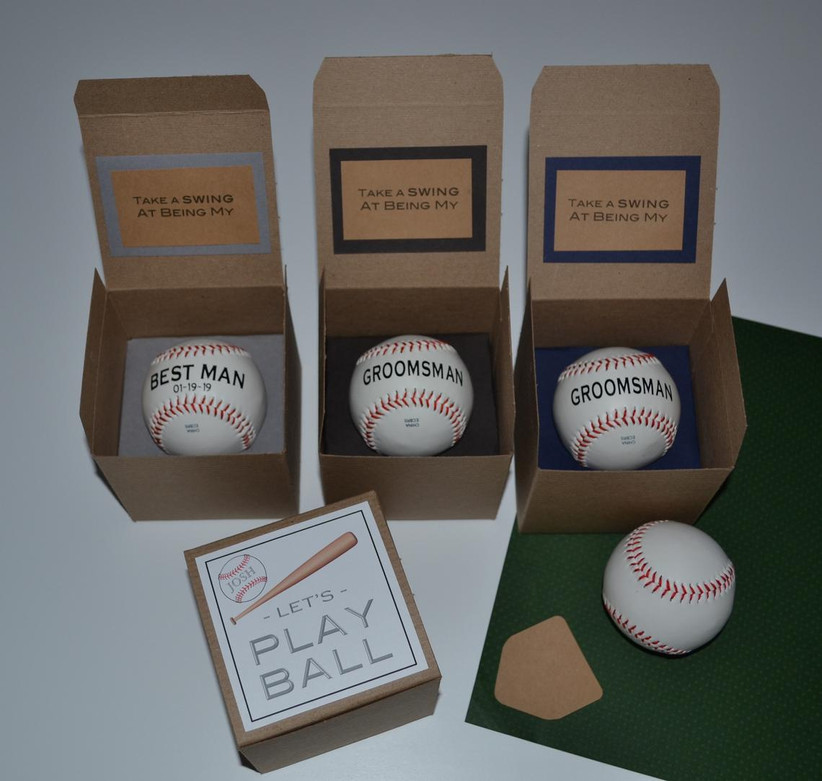 Baseball Game
Still looking for groomsmen or best man proposal ideas? This one's for the baseball fans. Invite them to a game and pull out these bad boys right there in the stands. It's a moment your guys won't soon forget.
One 19 Stationery groomsmen baseball proposal gift, from $11, Etsy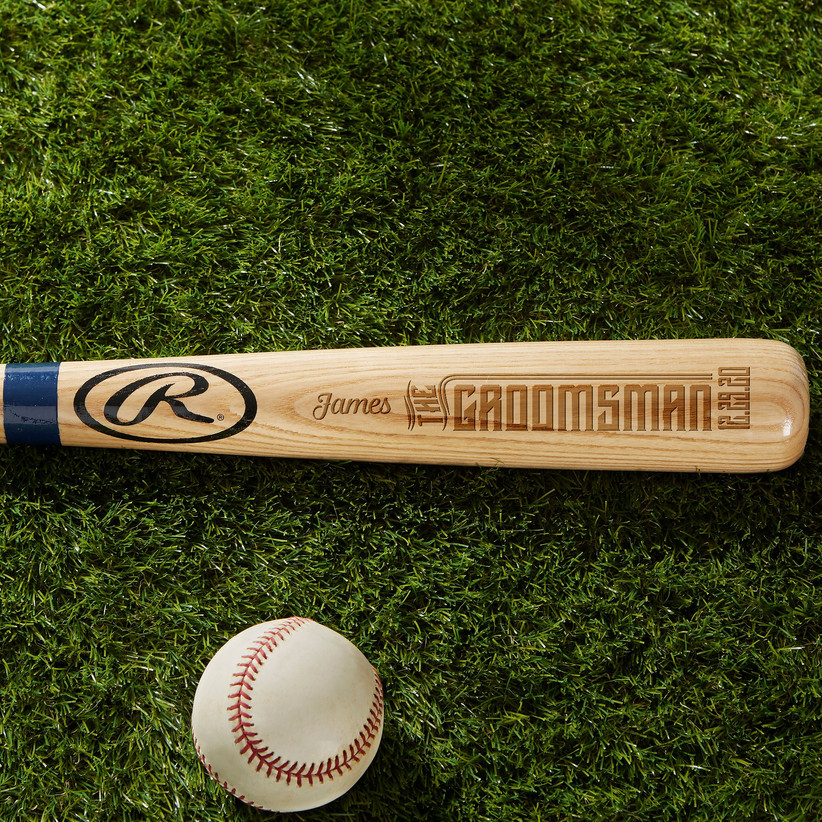 Personalized Baseball Bat
Or, invite your baseball-loving buddy out to bat and surprise them with this awesome personalized proposal gift. It'll earn prime real estate on display in their man cave.
Rawlings I Do Crew personalized 28" baseball bat, $35, Personalization Mall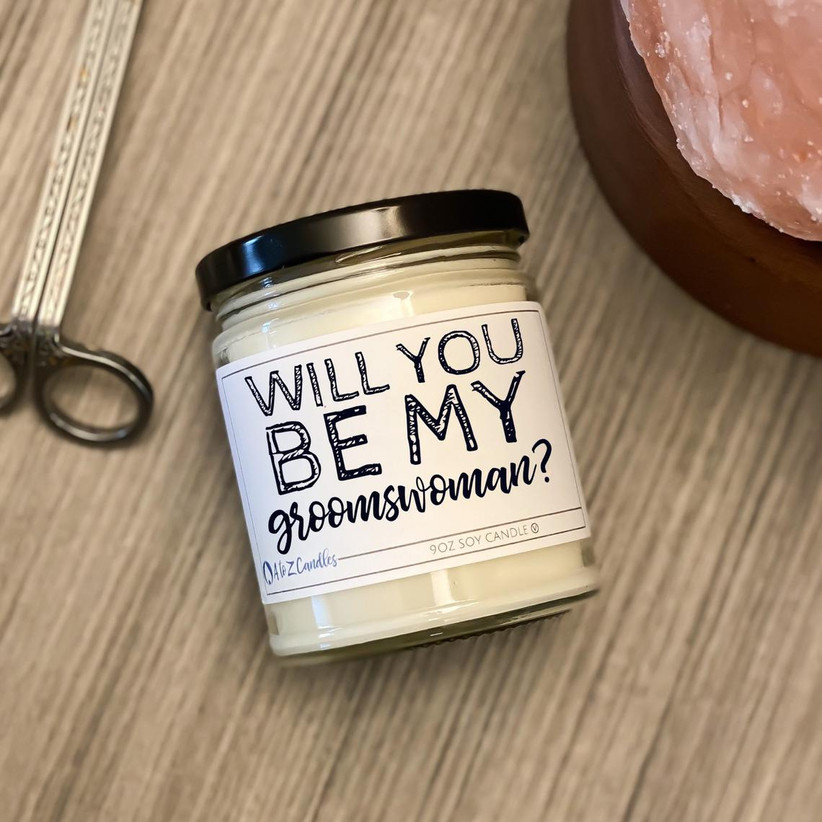 Scented Groomsmaid Candle
There's no reason your groom's crew can't include your favorite lady. This lovely scented candle will make for a charming groomsmaid proposal gift.
A to Z Candles groomswoman proposal gift, from $12, Etsy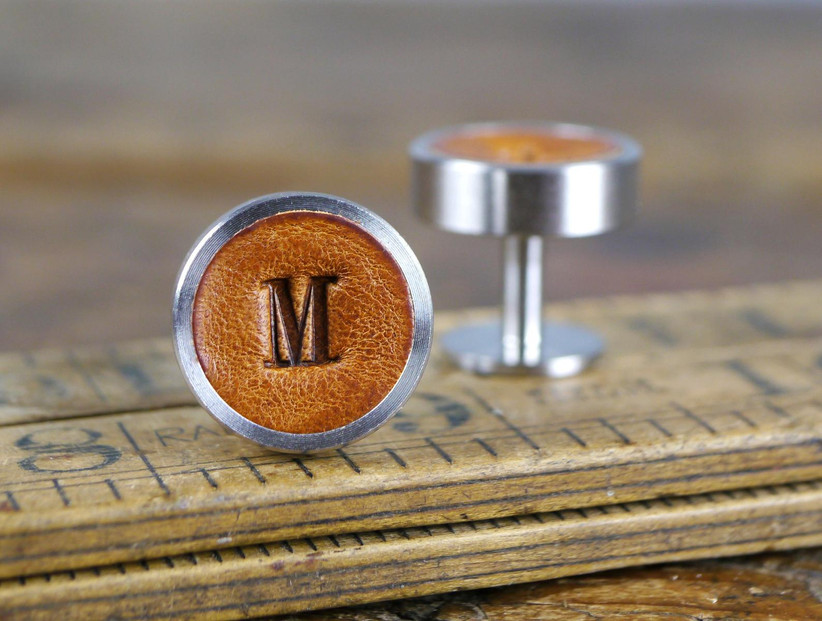 Sentimental Groomsmen Proposal
Present your potential groomsmen with a pair of personalized leather cufflinks. When they ask what for, tell them they have to look their best when they stand by your side on your wedding day.
Kingsley Leather personalized cufflinks groomsmen gift, $69, Etsy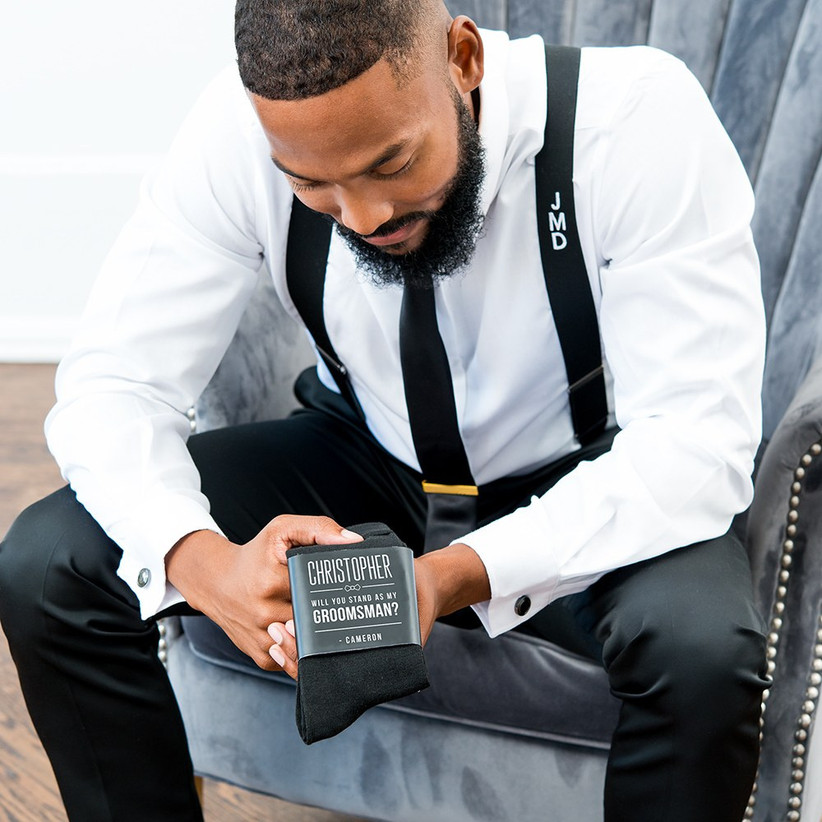 Groomsmen Proposal Socks
Looking for groomsmen proposal box ideas? Small tokens are all you need to include. These groomsmen proposal socks will say it all for you.
WeddingWire Shop Will You Stand personalized men's socks wedding gift, $10, WeddingWire Shop
Fishing Trip
Still not sure how to propose to your groomsmen? Invite them on a relaxing fishing trip and then give them one of these. It's a cool fishing lure engraved with each person's name and wedding title.
Moe's Handcrafted Creations personalized usable fishing lure for groomsman, $13, Etsy
Fancy Tie Set
Propose to your crew with some chic accessories that'll serve them well at the pre- and post-wedding festivities to come. It's the perfect proposal box for style-savvy groomsmen. Just add a card or label to help get the message across.
The Tie Bar black tie box gift set, $30, The Tie Bar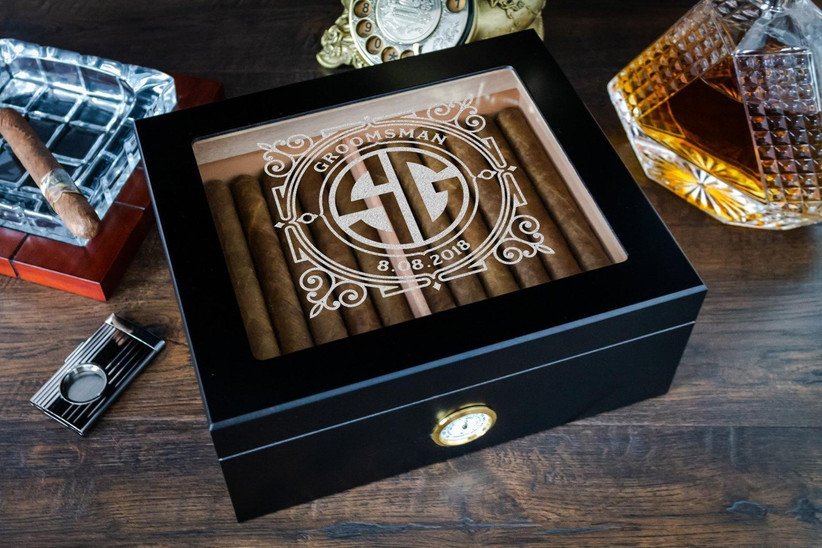 Monogrammed Humidor
If anyone in your crew is big into cigars, they'll fully appreciate an elegant humidor with their monogram and brand new wedding title. Turn it into a gift box by including cigars adorned with custom groomsmen proposal labels.
Magic Wood Shop glass top cigar humidor gift for groomsmen, from $52, Etsy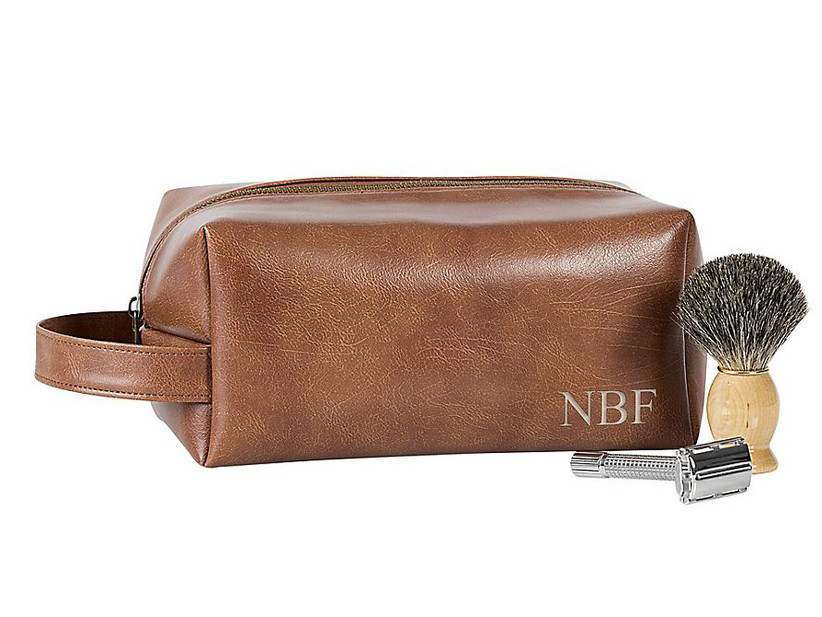 Luxe Dopp Kit
Some of the best groomsmen gifts hint at the festivities to come. If they'll have to travel for the wedding (or an awesome bachelor's weekend), these classic leather toiletry bags will be a welcome present.
David's Bridal personalized vegan dopp kit, $45, David's Bridal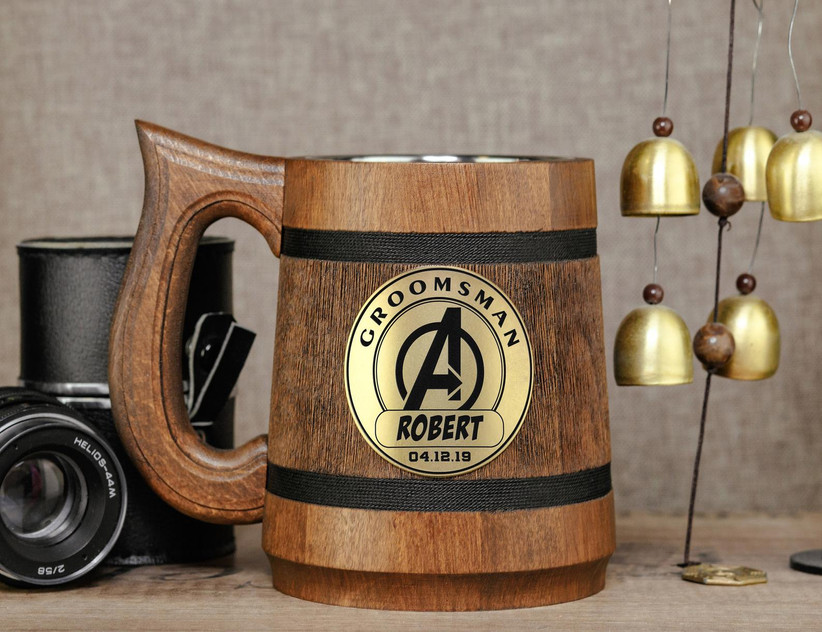 Superhero Groomsmen Proposal
Invite your groomsmen-to-be over for a Marvel movie night and use these custom beer mugs to assemble your very own Avengers.
Customize In US Avengers beer mug with engraved plaque, $70 for a set of 5, Etsy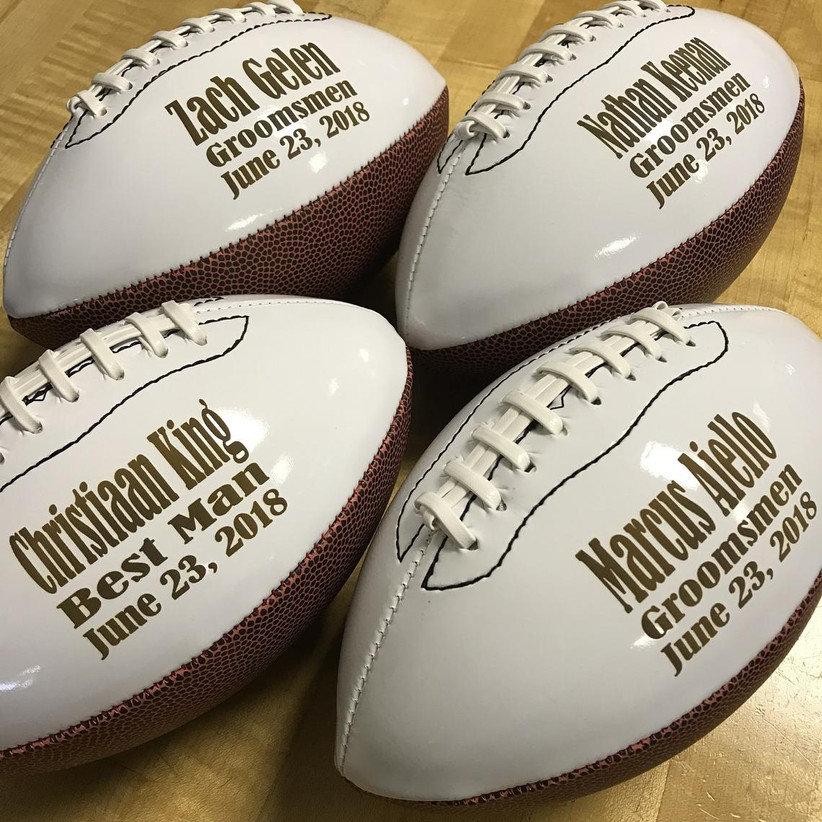 Football Groomsmen Proposal
Ask your best man or groomsmen if they want to throw a ball around, and then throw this ball around. They'll get instantly excited when they read their name, wedding title, and the date of your upcoming nuptials.
JCS Designs 2017 best man/groomsmen football gift, $32, Etsy
Poker Night
Request that your guys join you for poker night and then present them each with a personalized proposal gift box like this one. It includes four stainless steel flasks, 100 poker chips, a deck of cards, four dice, and a bowl for snacks.
Teals Prairie & Co. The Explorer large poker night gift set & flasks, $60, Zazzle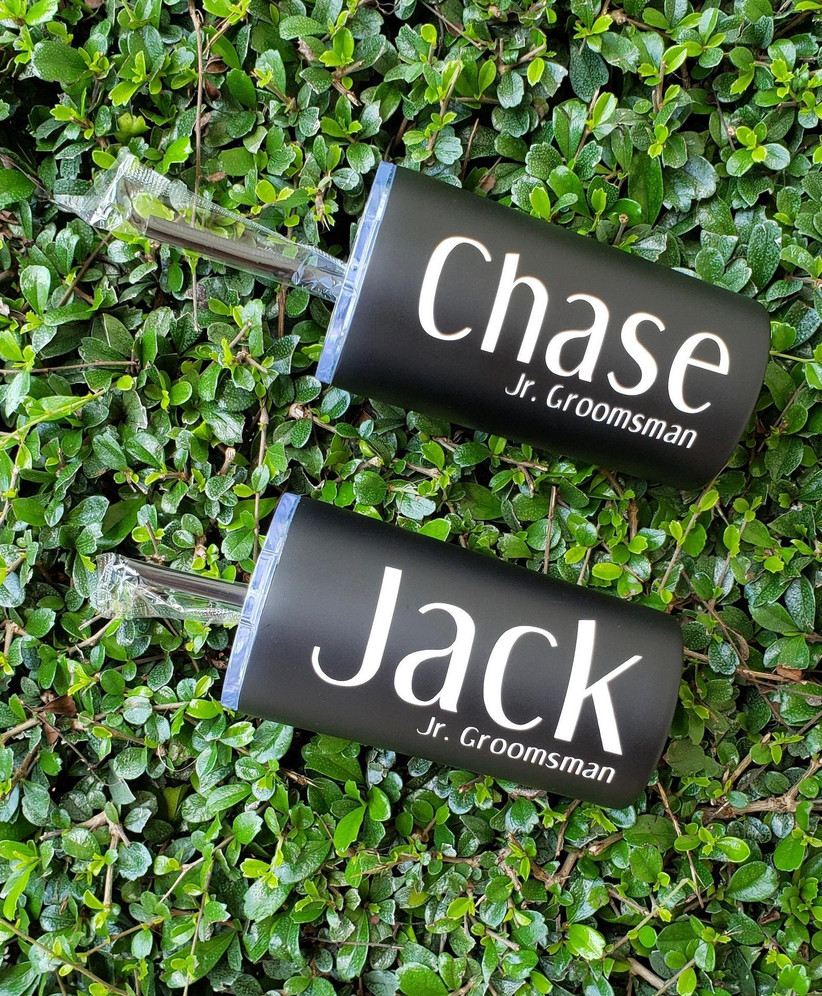 Junior Groomsmen Tumblers
This junior groomsmen proposal gift is perfect for raising a (non-alcoholic) toast to their newly accepted wedding title.
Jay Creative Studios junior groomsmen mini tumblers, $18, Etsy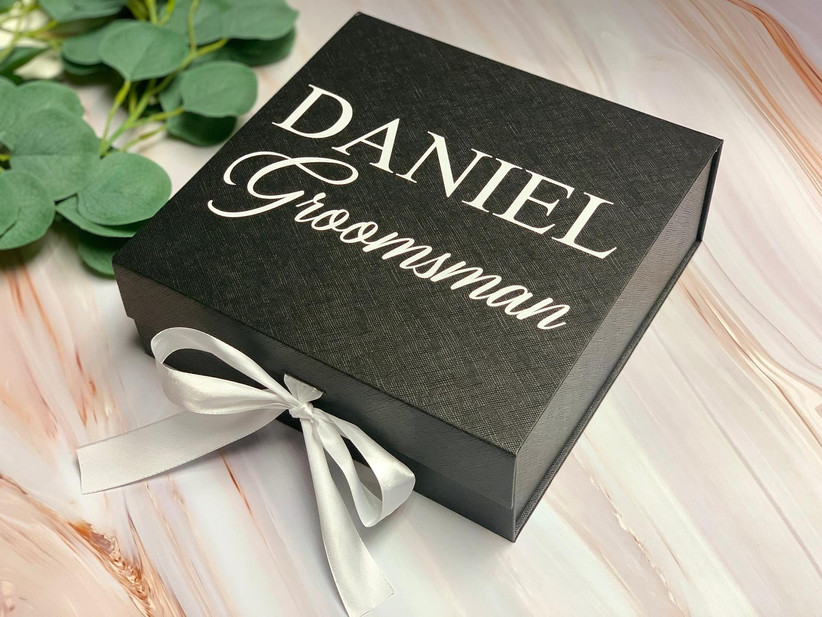 DIY Gift Box
Easily create your own groomsmen proposal box sets by gathering some of your favorite gift ideas from above and placing them in one of these sleek containers.
Love Meets Craft groomsmen proposal box, from $15, Etsy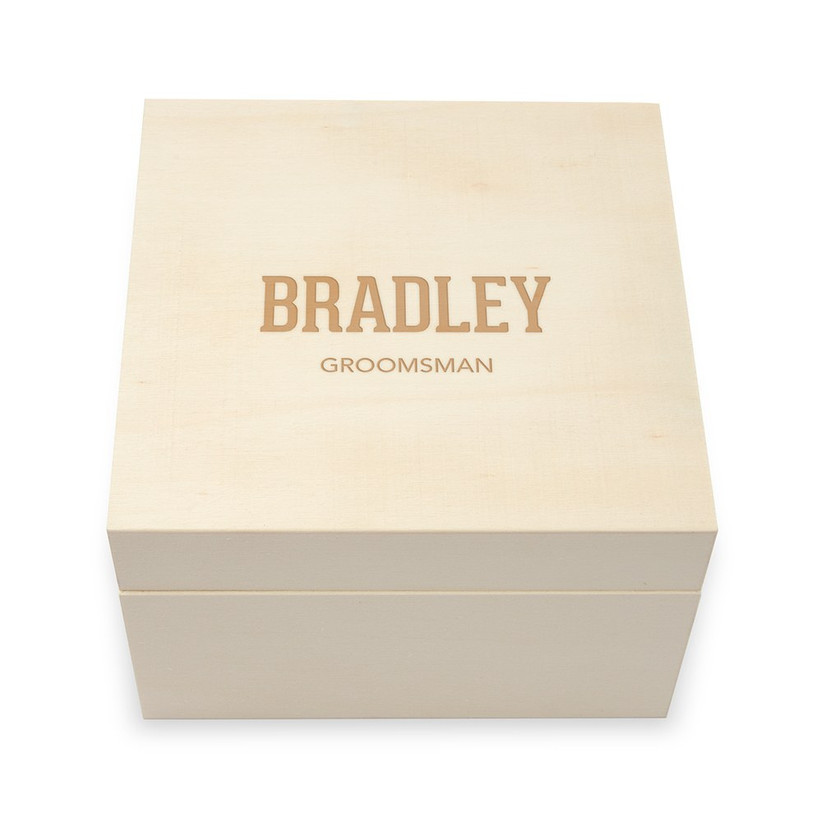 Engraved Keepsake Box
Go for a more rustic vibe with this custom wooden box they can hold onto long after you pop the question. Don't forget to fill it with some of their favorite things, like mini bottles of wine, specialty coffee, or gourmet candy.
WeddingWire Shop personalized wooden keepsake gift box in Collegiate Etching, $20, WeddingWire Shop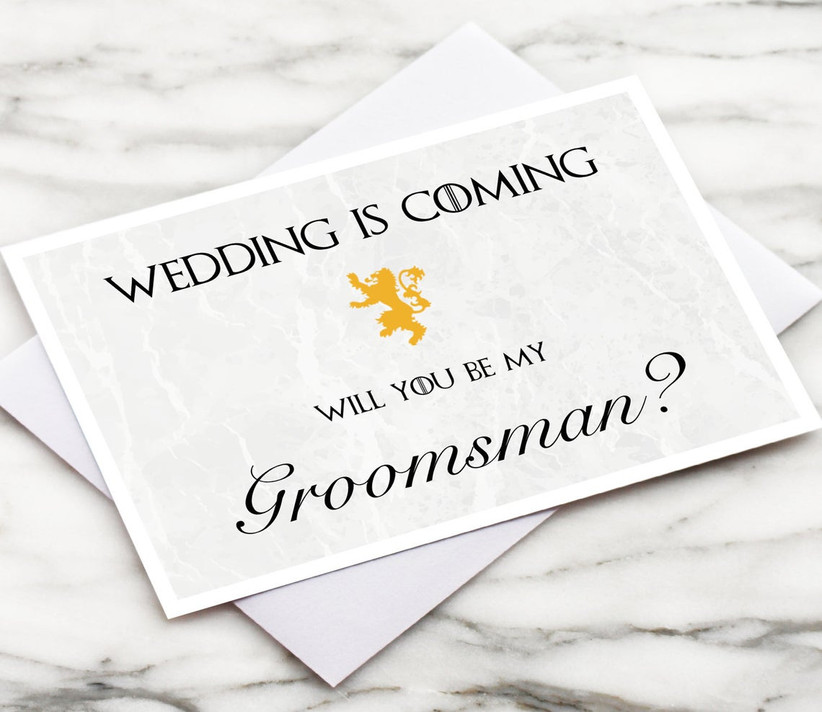 Pop Culture Groomsmen Proposal
When in doubt, take inspiration from their favorite TV show. These Game of Thrones groomsmen proposal cards will be appreciated by anyone who followed the series.
Sansone Stationery Game of Thrones groomsman proposal card, $4, Etsy
Funny Groomsmen Proposal
If you're not usually the sentimental type, let them know a formal groomsmen proposal was all your fiancé's doing with this hilarious card that reads "Will you be my groomsman?" inside.
Poppy Paper Designs groomsman proposal card, $4, Etsy
Disclosure: This post contains affiliate links, some of which may be sponsored by paying vendors.