Your groomsmen play an important role in your big day, so thanking them with a thoughtful groomsmen gift they will actually use is a total must. And we highly recommend tailoring their gift to their interests and style. While it's totally okay to give all of your groomsmen the same gift, why not mix it up and personalize each and every present? Whether you're an outdoorsy group and want to give them a useful item for their next camping trip or prefer something more stylish we've rounded up the most steal-worthy groomsmen gift ideas.
Here are some of our favorite groomsmen gifts they will actually use.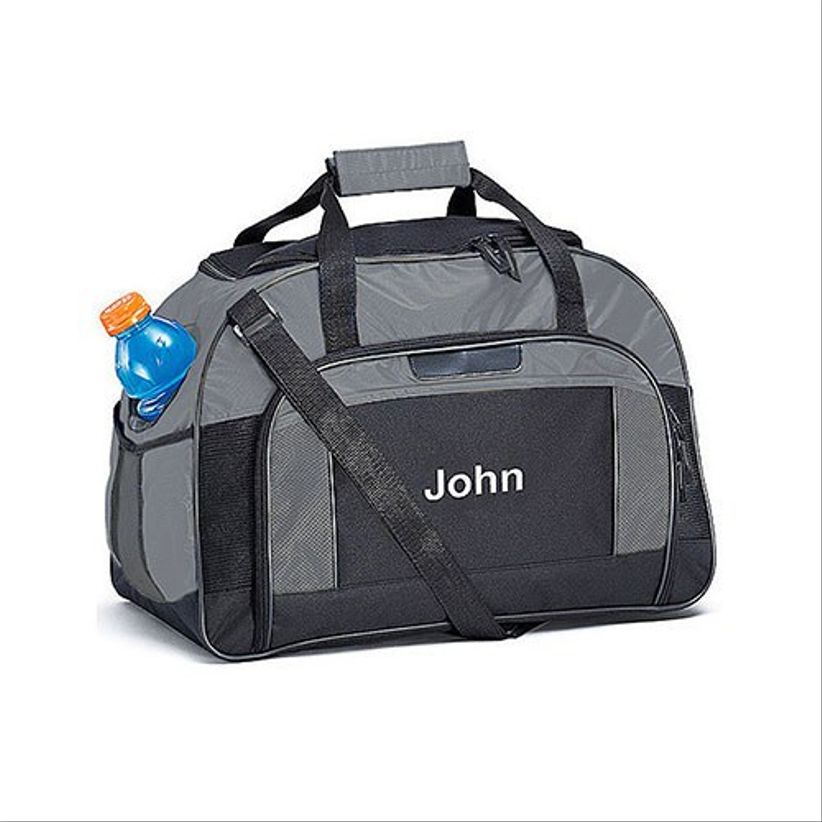 Sports Bag
This tote will take your crew from the gym to a weekend getaway and beyond. It even features an insulated bottle holder to keep drinks cool, as well as spacious compartments and a shoulder strap. And—bonus!—you can personalize the bag to make it truly special groomsman gift. This also makes a nice present for a ring bearer, if you've included little ones in your big day.
WeddingWire Shop sports bag, $20, WeddingWire Shop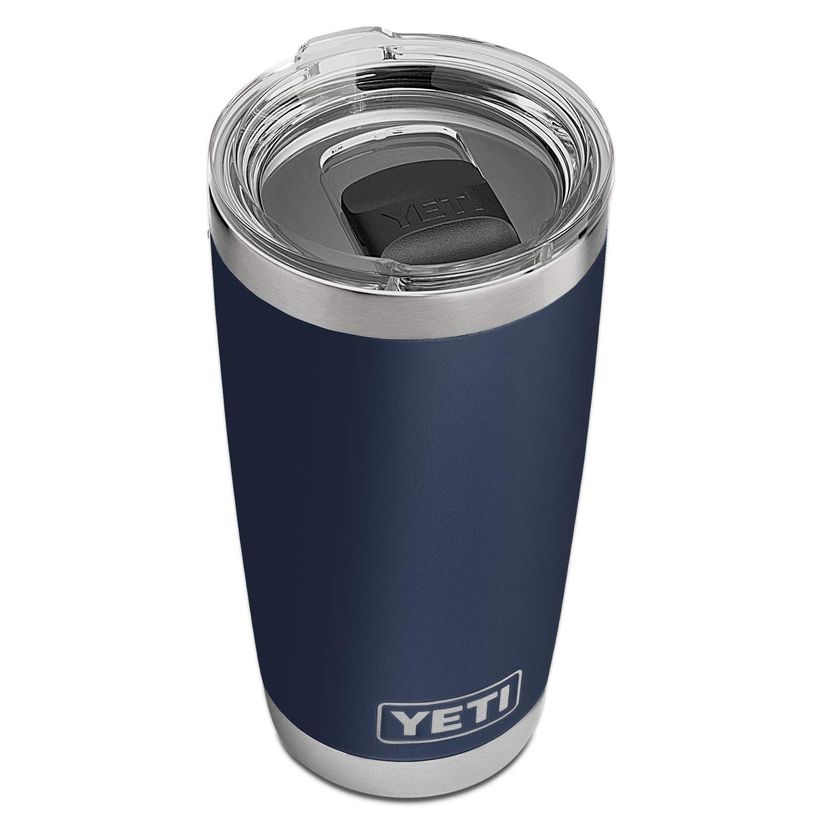 Stainless Steel Tumbler
With a vacuum insulation to keep beverages hot or cold, this groomsmen gift idea can be used throughout your destination bachelor party weekend and also while you're getting ready for the big day. So, if you're looking for a useful gift idea, a tumbler is a great choice.
Yeti Rambler, $30, Amazon
Cooler Chair
If your crew is into that tailgate life, this cooler chair is a twofer. Not only is it an easy-to-carry folding chair, it's also a cooler! This is an ideal gift for tailgaters, campers, hikers, fishers, and more. And yes, this groomsman gift they will actually use can be personalized with each guy's name for an extra unique touch.
WeddingWire Shop personalized black folding cooler chair, $20, WeddingWire Shop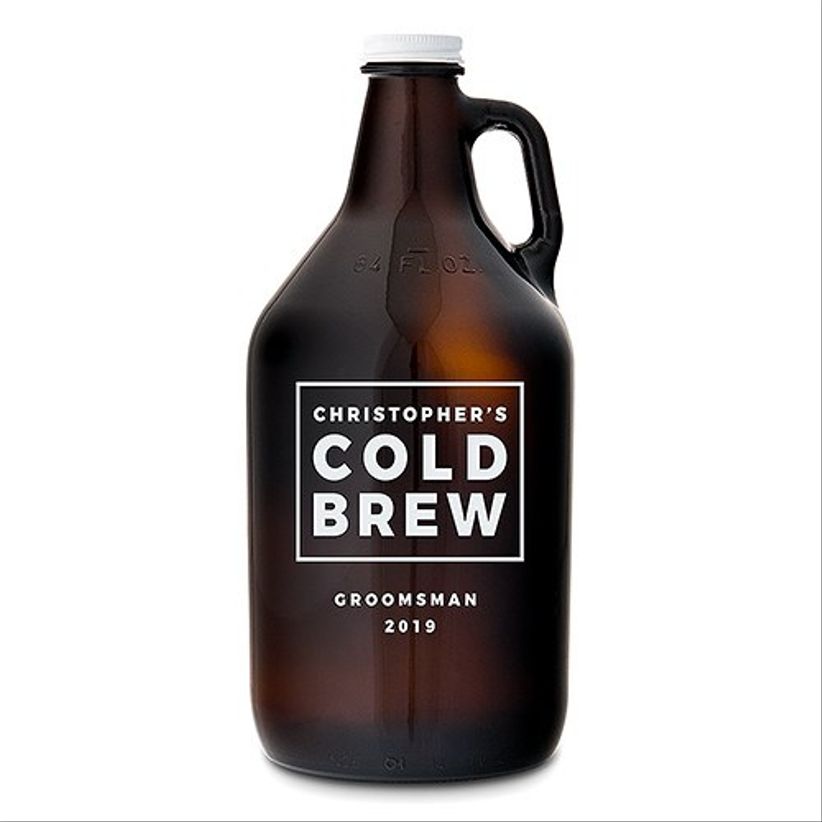 Beer Growler
A beer growler is a must for any true beer lover. This amber glass version can hold 64 ounces of brew, and can be personalized to make it a perfect groomsmen gift they will actually use.
WeddingWire Shop personalized amber glass beer growler, $23, WeddingWire Shop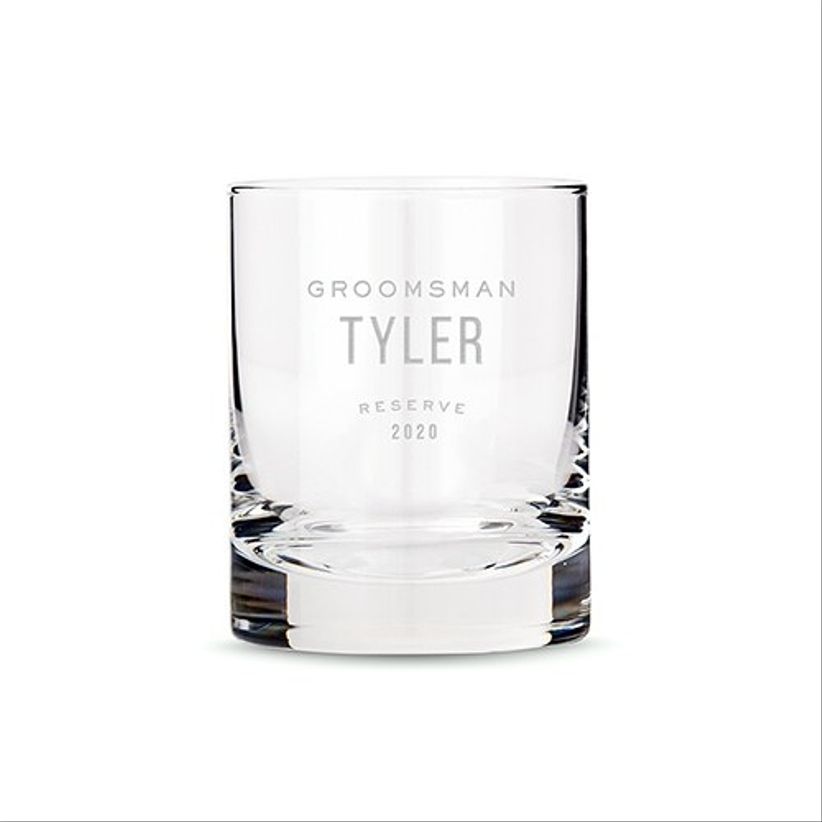 Whiskey Glass
If your crew would rather enjoy a glass of scotch than a cold brew, these heavy-bottom whiskey glasses are an ideal groomsman gift idea. These glasses can be etched with each groomsman's name or monogram, too.
WeddingWire Shop personalized whiskey glass, $8, WeddingWire Shop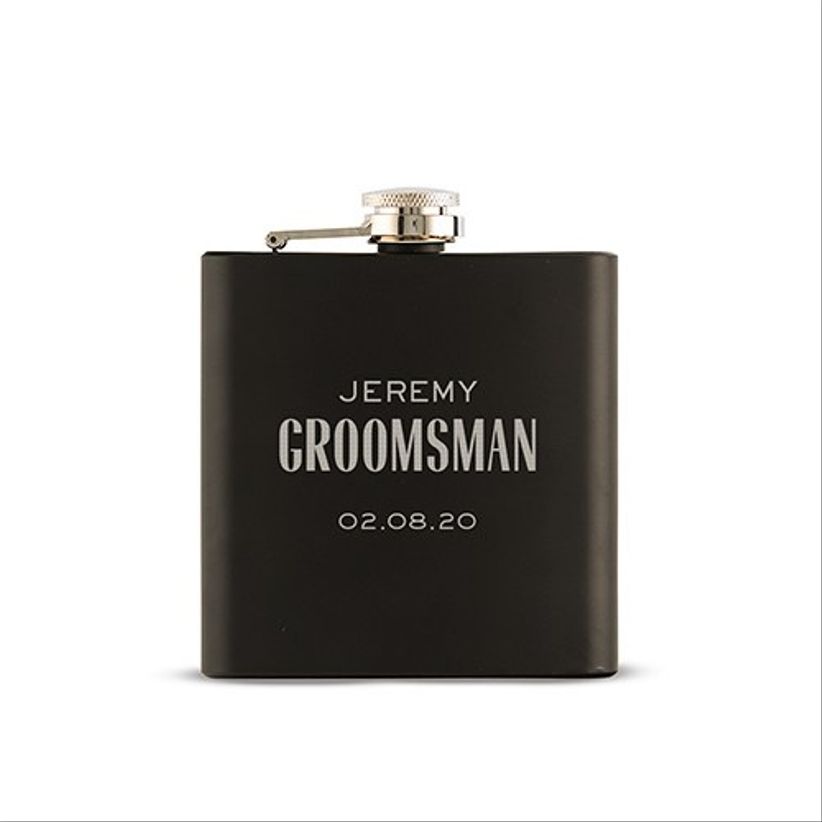 Flask
A flask is among the most popular groomsmen gifts—and it's easy to see why. Flasks have an old-school, Rat Pack vibe, while remaining a bit edgy for the modern groomsman. And a personalized flask is not usually something a guy would buy for himself, so if your groomsmen like to imbibe, they'll appreciate this gift.
WeddingWire Shop personalized flask, $9, WeddingWire Shop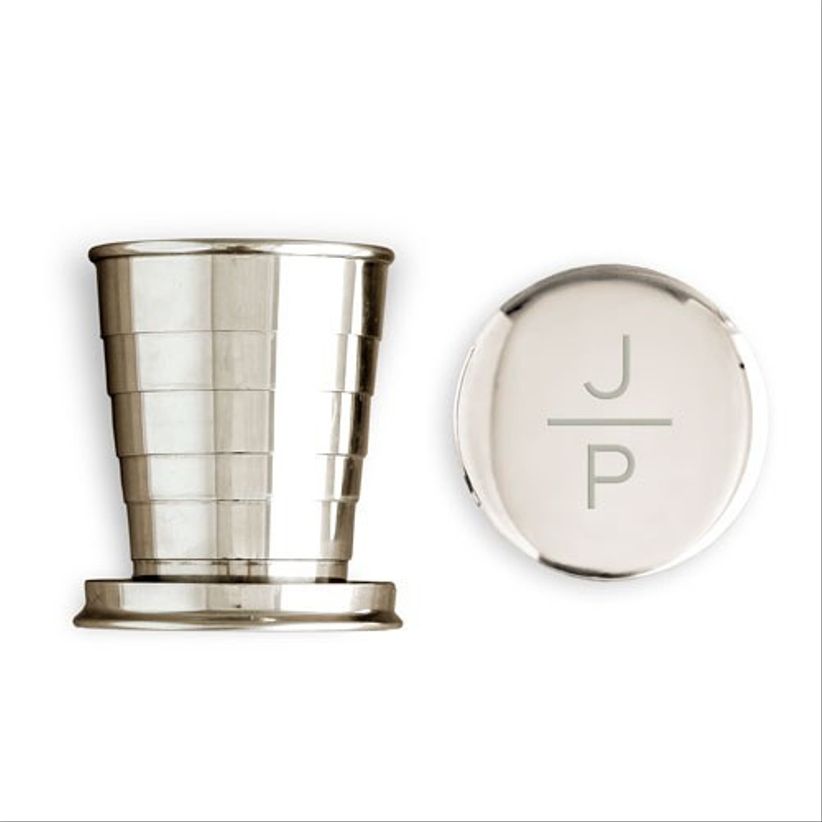 Collapsible Shot Glass
Got a groomsmen crew that loves to party? This stainless steel monogrammed shot glass is a step up from the ones you used in college, and it's collapsible so it can be easily transported. This also makes a great bachelor party favor.
WeddingWire Shop personalized collapsible shot glass, $16, WeddingWire Shop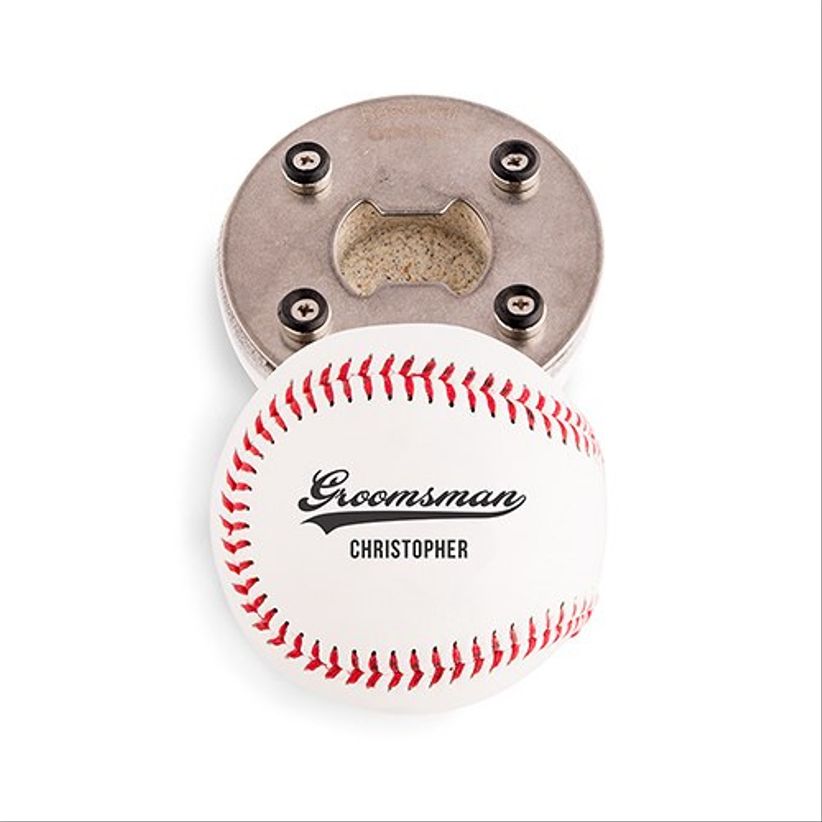 Bottle Opener
Combine two of your pals' hobbies—sports and beer—with this baseball bottle opener. It's actually made from a real baseball, and can be personalized with each guy's name.
WeddingWire Shop baseball bottle opener, $23, WeddingWire Shop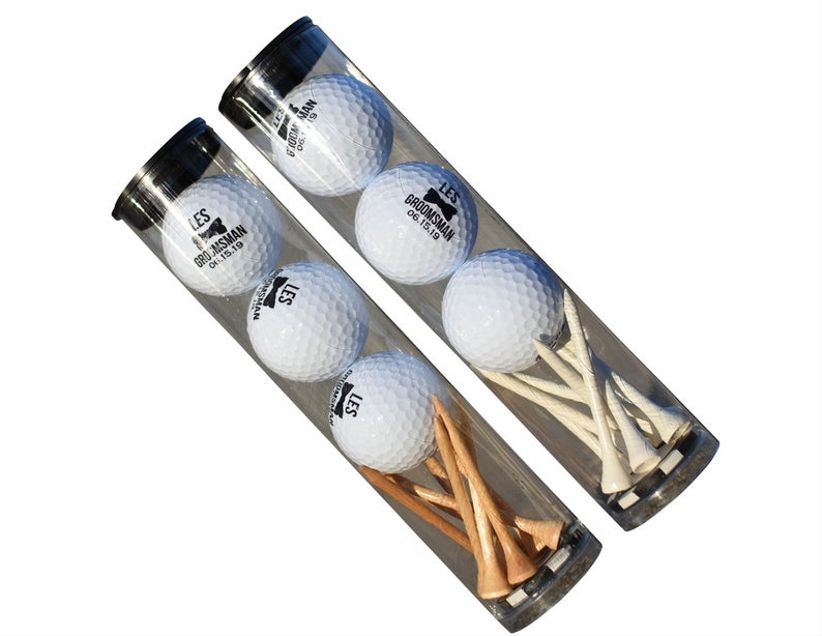 Personalized Golf Balls
If you are planning to take your boys golfing on your bachelor trip, this gift option is just for you. Each set comes with three golf balls that you can customize and monogram, along with tees.
High Point Gifts personalized golf balls, $128 for 8 sets, Etsy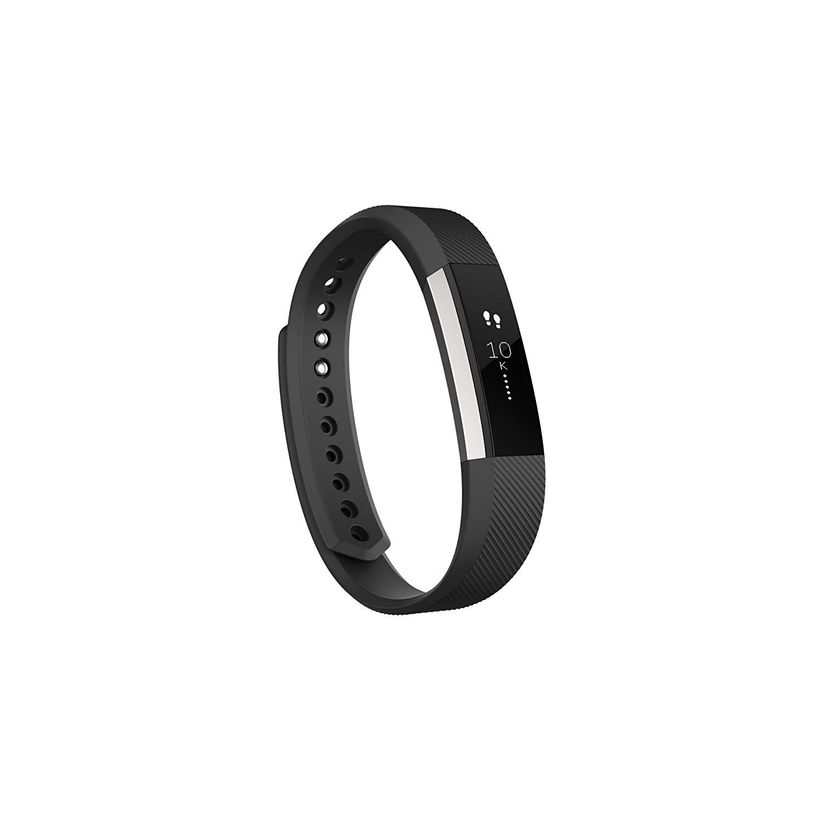 Activity Tracker
Fitbits have been one of the most popular groomsmen gift ideas in recent years and we can see why. Fitness buffs or outdoorsy guys will never want to take it off.
Fitbit Alta activity tracker, $85, Amazon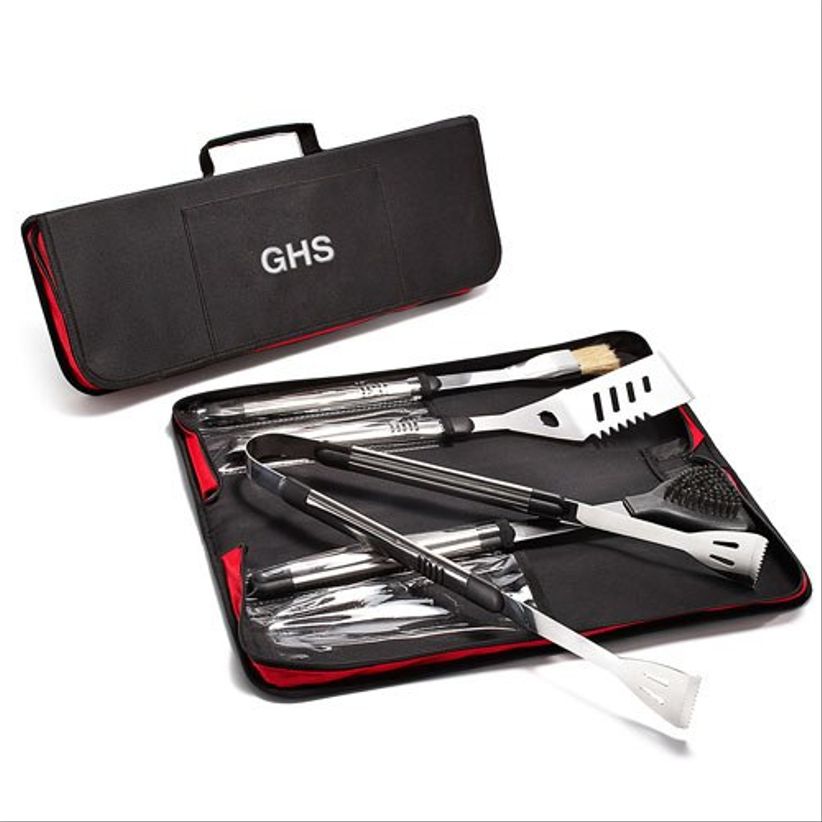 Barbecue Tool Kit
Whether you've got a crew of grill masters or barbecue newbies, this barbecue tool kit is a thoughtful groomsmen gift they will actually use. The kit includes a grill brush, spatula, basting brush, and tongs, all safely kept in a sturdy case that can be decorated with a monogram.
WeddingWire Shop Barbecue Kit, $30, WeddingWire Shop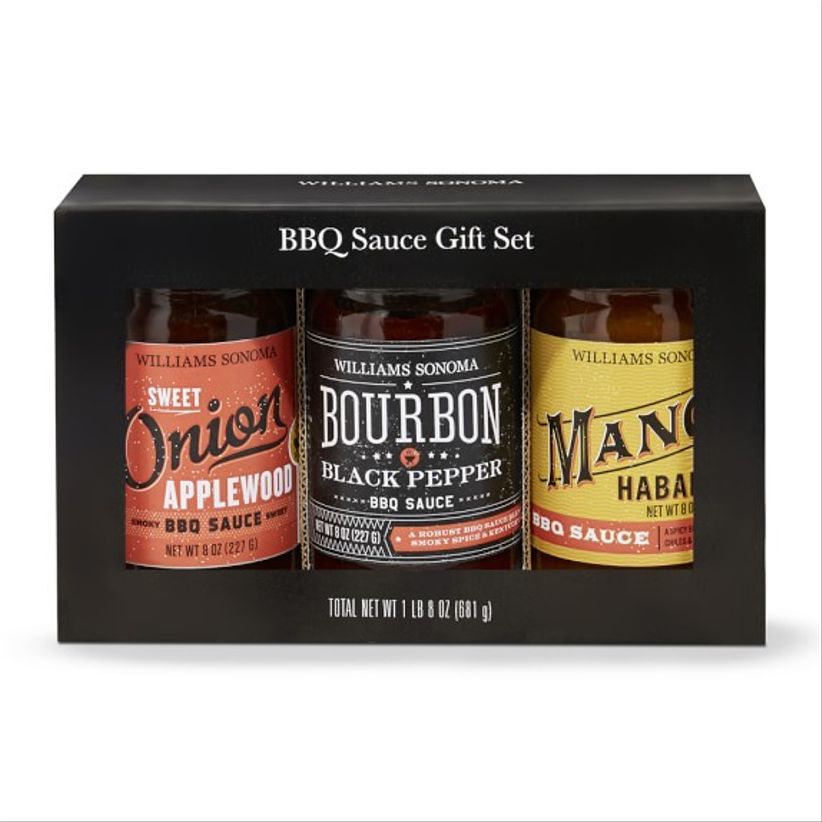 Barbecue Sauce Set
Here's a fun and foodie-friendly groomsman gift—a trio of high-end barbecue sauces. The set includes a variety of sauces, including Bourbon Black Pepper and Mango Habanero.
Williams-Sonoma BBQ Sauce Gift Set, $30, Williams-Sonoma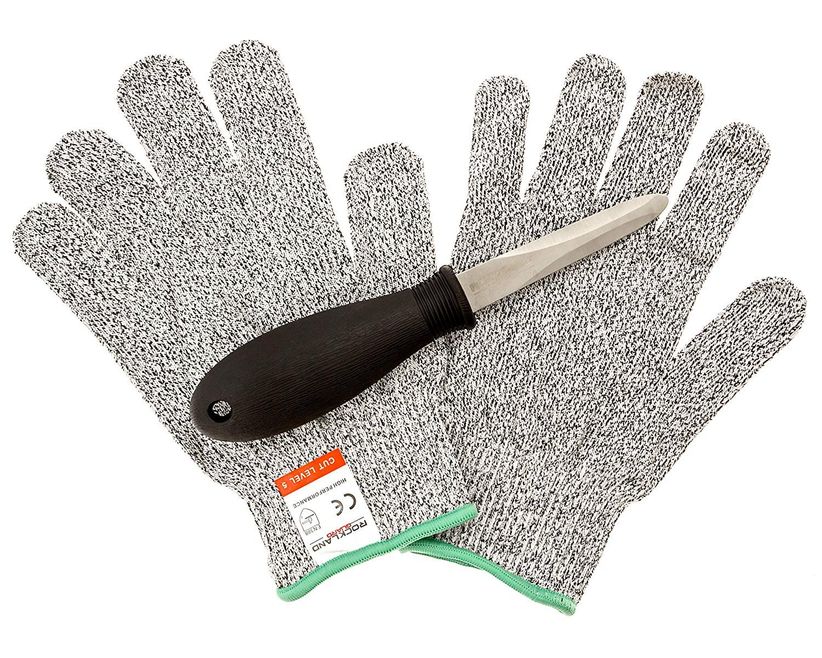 Oyster Shucker Set
Seafood lovers will love this nautical-inspired groomsmen gift option. Not only does the set include a stainless steel shucker, it also comes with a pair of cut-resistant gloves. Just add a bottle of hot sauce to really upgrade your groomsmen gift. Yum!
Rockland Guard oyster shucking set, $15, Amazon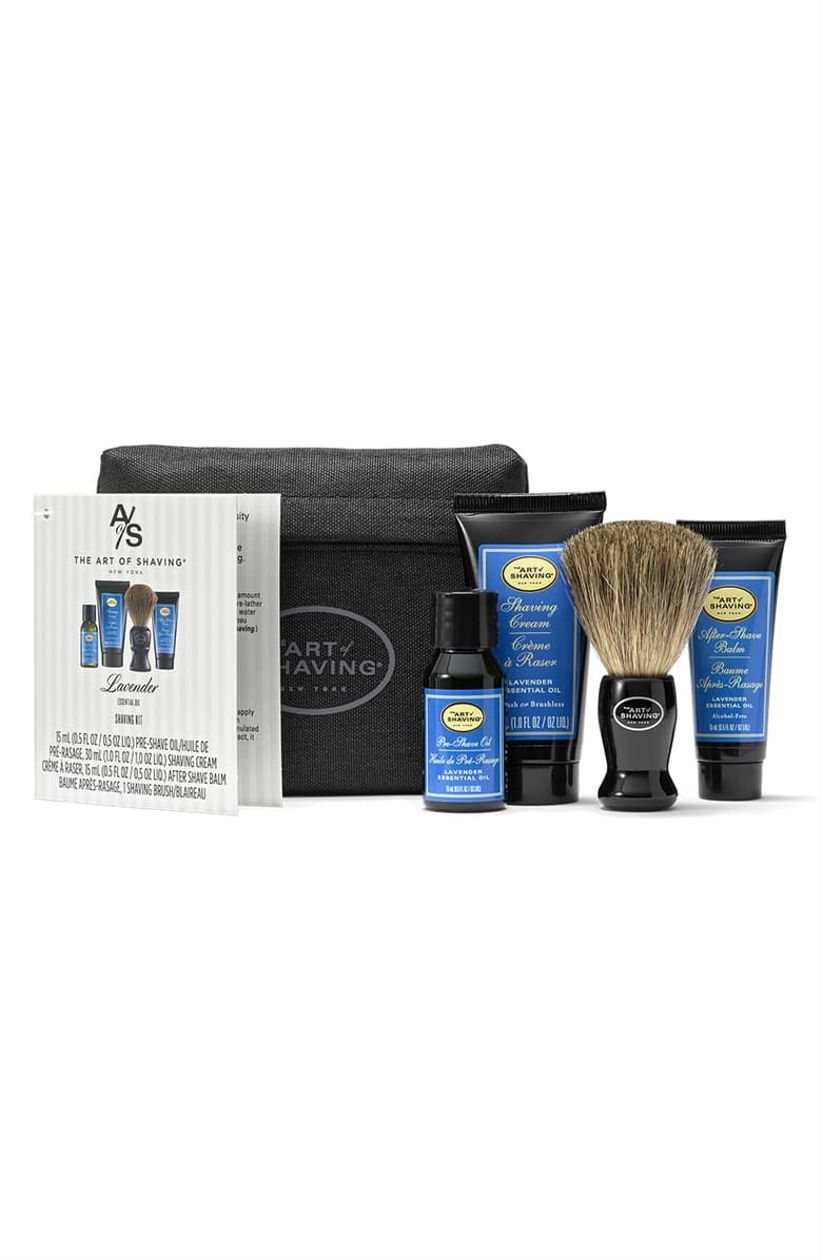 Shaving Kit
Guys who love a clean shave will definitely appreciate this groomsmen gift idea. The kit includes all the necessities for the perfect shave, such as pre-shave oil, shaving brush, and more.
The Art of Shaving travel size starter kit and bag, $30, Nordstrom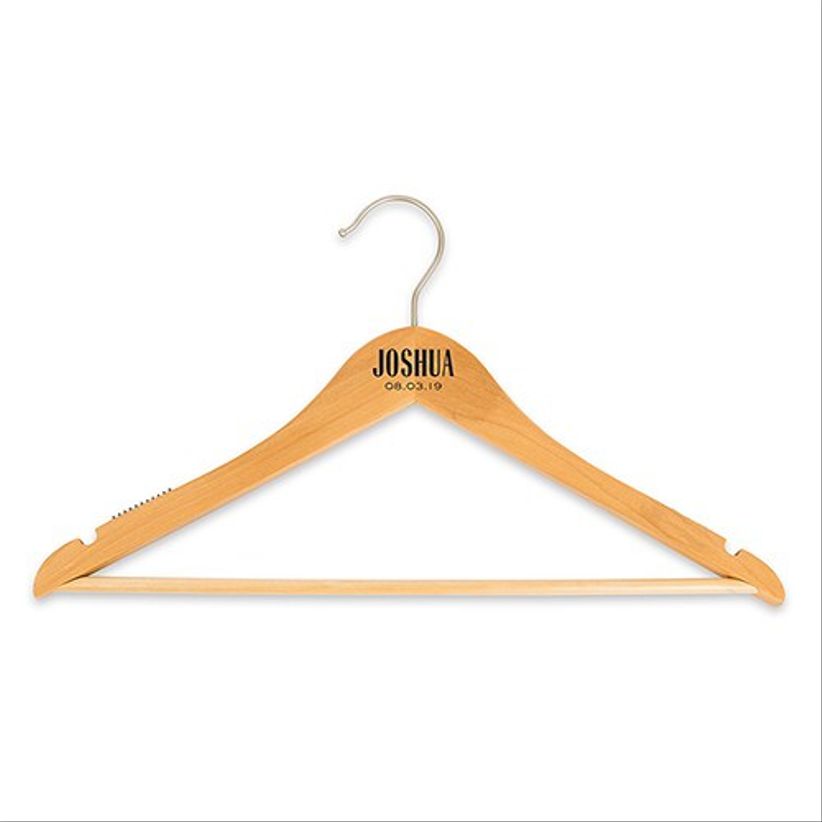 Personalized Hanger
Personalized hangers are often thought of as a popular bridesmaid gift, but they make a thoughtful groomsmen gift, as well. Not only will these hangers create a cool wedding-day photo op, they're also useful long after your big day has ended.
WeddingWire Shop personalized wooden hanger, $10, WeddingWire Shop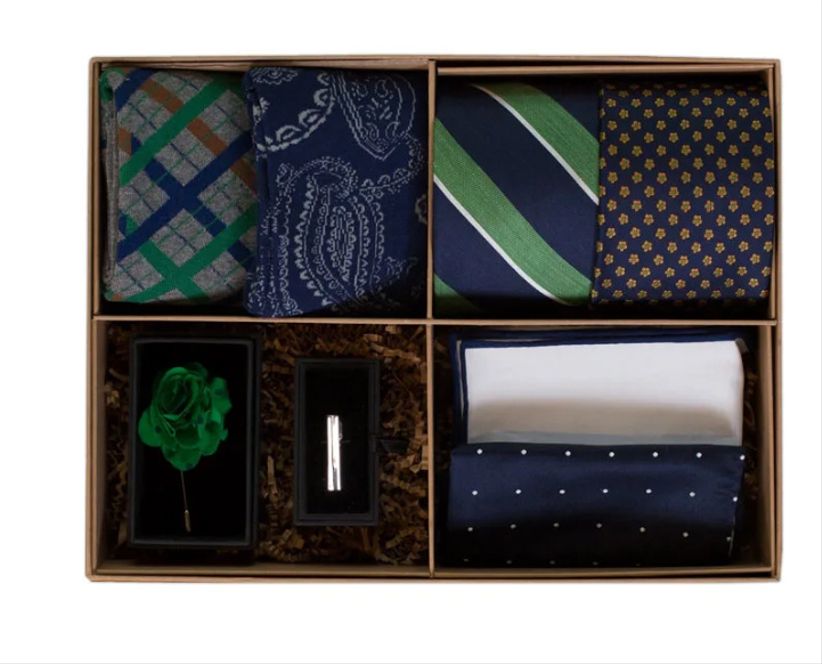 Style Box Gift Set
Accessories such as ties, socks, and pocket squares, make popular groomsmen gifts they will actually use, so why not give your guys a matching set with all of these and more? This gift set from The Tie Bar features two ties, two pocket squares, two pairs of socks, a lapel pin, and a tie bar—perfect for your guys to wear to your wedding and beyond.
The Tie Bar style box gift set, $75, The Tie Bar
Robe
These monogrammed cotton waffle-weave robes will ensure that your guys are comfy (and coordinated!) while prepping for your big day, as well as lounging on the couch watching Netflix.
WeddingWire Shop cotton kimono men's robe, $30, WeddingWire Shop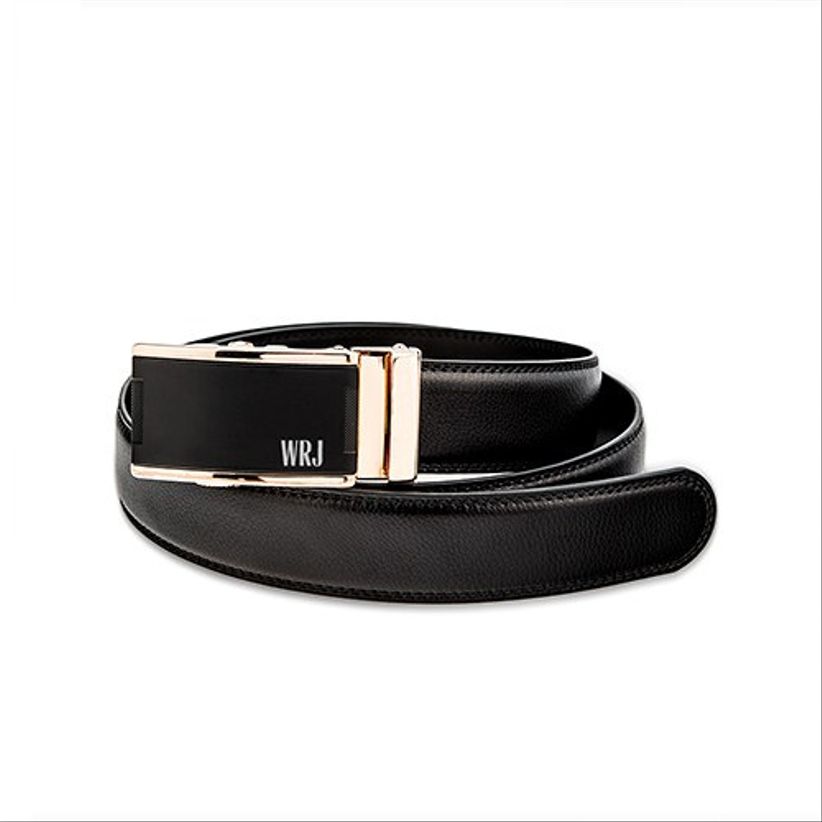 Monogrammed Belt
A belt is an important accessory, but most guys wouldn't splurge on a monogrammed version—which is why this belt makes a stylish (and actually affordable!) groomsmen gift. Think of how dapper your guys will look in those wedding portraits with these matching accessories.
WeddingWire Shop men's black leather belt, $20, WeddingWire Shop
Hourglass Cufflinks
Cufflinks are among the most popular groomsmen gifts, and it's easy to see why—a guy can never have too many pairs! We like this set which features real working hourglasses on each cufflink—so cool!
Joseph Cirincione hourglass cufflinks, $68, Uncommon Goods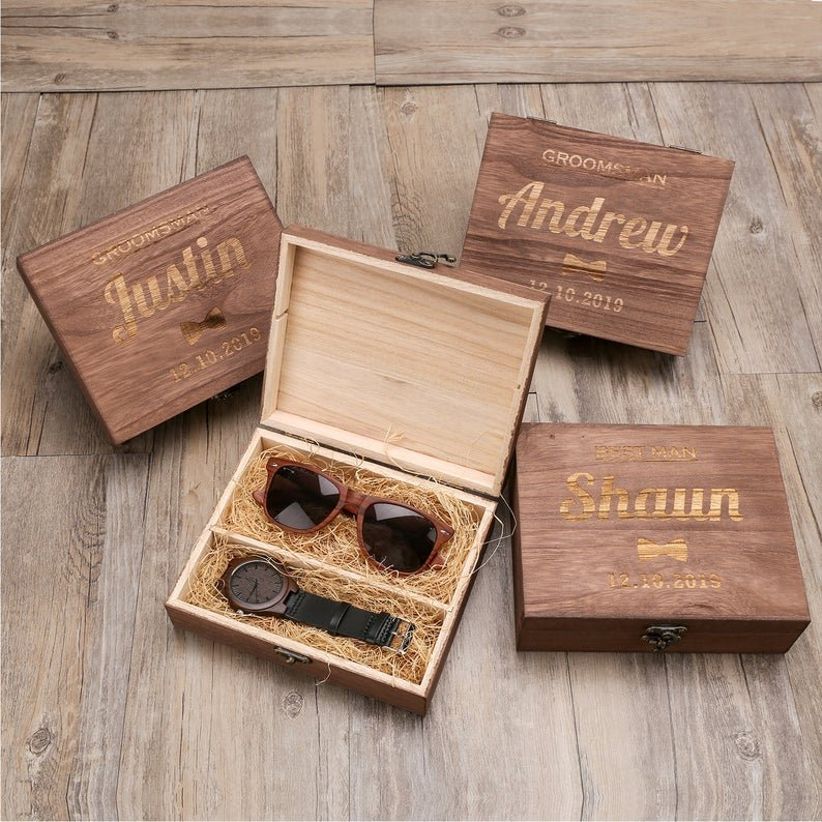 Watch and Sunglasses Set
If you're hosting a rustic wedding, this gift set featuring a wooden watch and pair of sunglasses, is a great groomsmen gift idea. The guys can wear these versatile accessories for a fun photo op on your big day, and will love wearing them post-wedding, too.
Pongs Art groomsman gift set, $45, Etsy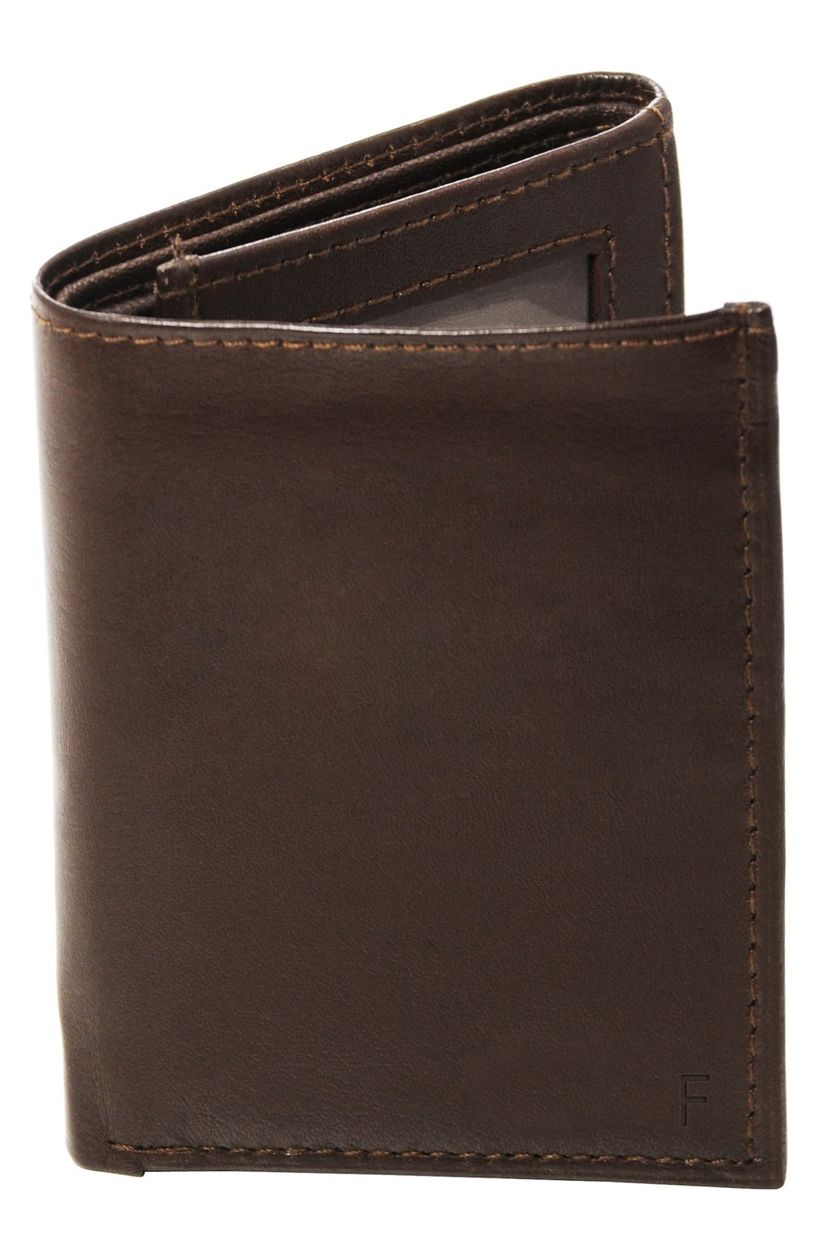 Monogram Wallet
If you are looking for a more classic gift option, we definitely suggest giving your groomsmen a monogrammed wallet. This leather trifold wallet is both stylish and affordable, with space for cash, credit cards, and more.
Cathy's Concepts Oxford monogram leather trifold wallet, $38, Nordstrom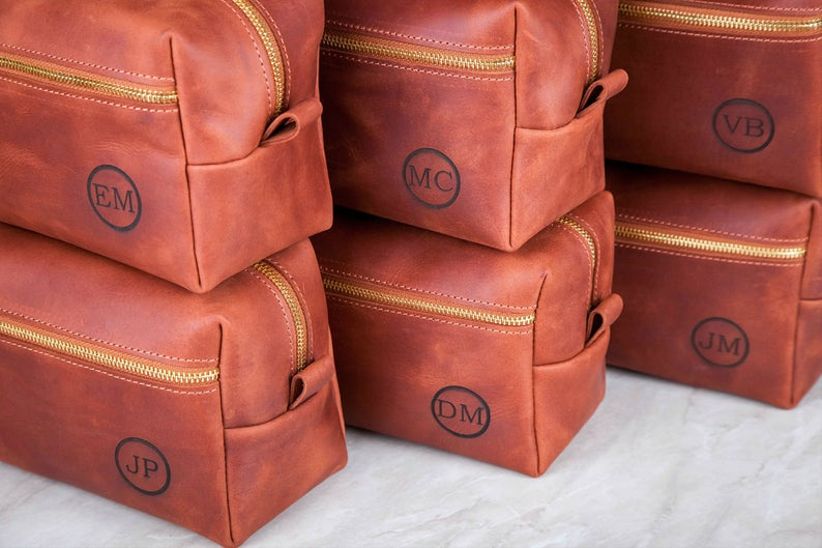 Toiletry Bag
Every guy needs a toiletry bag (also known as a dopp kit), and these are both stylish and affordable. This groomsmen gift comes in a variety of colors and sizes, plus you can have the bags monogrammed in one of several font options.
Rachiba leather toiletry bag, $36, Etsy
Valet Box
This velvet-lined dresser box is another great groomsmen gift they will actually use. Your guys can easily keep their cufflinks and other accessories stored and organized with this elegant box.
Cathy's Concepts monogram valet box, $52, Nordstrom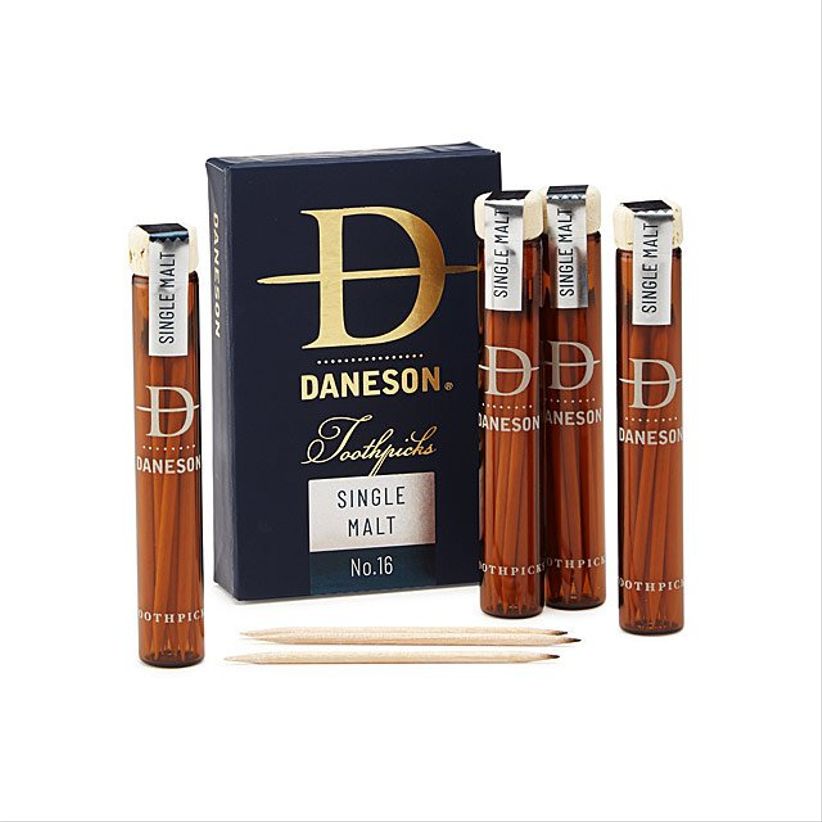 Scotch-Infused Toothpick Set
Looking for a groomsmen gift that's a bit offbeat? Yes, these toothpicks are actually infused with real, barrel-aged scotch. If you're creating a groomsman gift box with a few smaller items, these make a fun and unique addition.
Uncommon Goods scotch-infused toothpick set, $36 for 4, Uncommon Goods
Disclosure: This post contains affiliate links, some of which may be sponsored by paying vendors.