These Unique Groomsmen Gift Ideas Are the Perfect Way to Say Thanks
Picking out a good groomsmen gift is a great way to thank your guys for standing by your side. And lucky for you, we're sharing all our best ideas.
We have included third party products to help you navigate and enjoy life's biggest moments. Purchases made through links on this page may earn us a commission.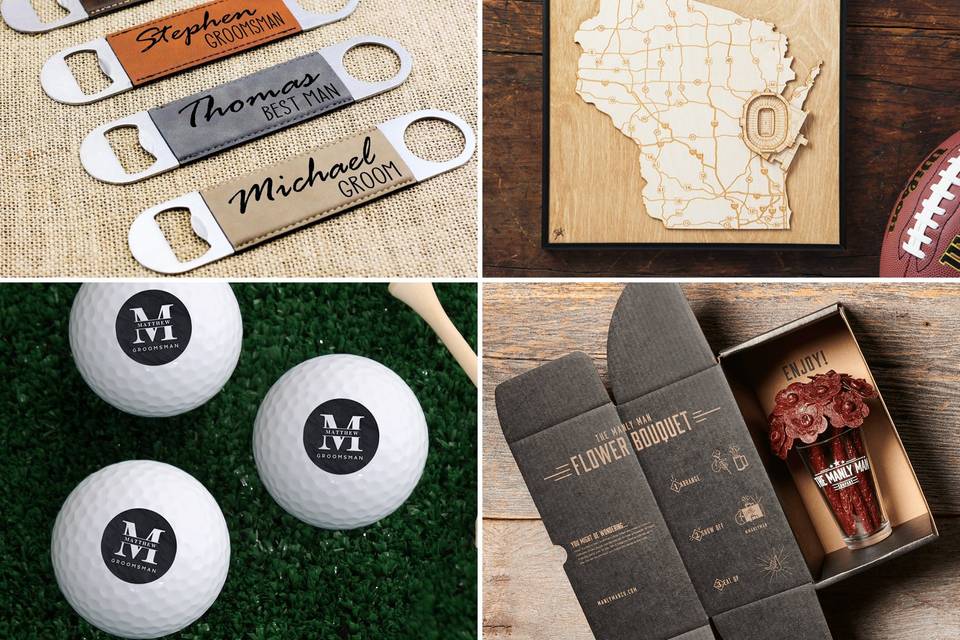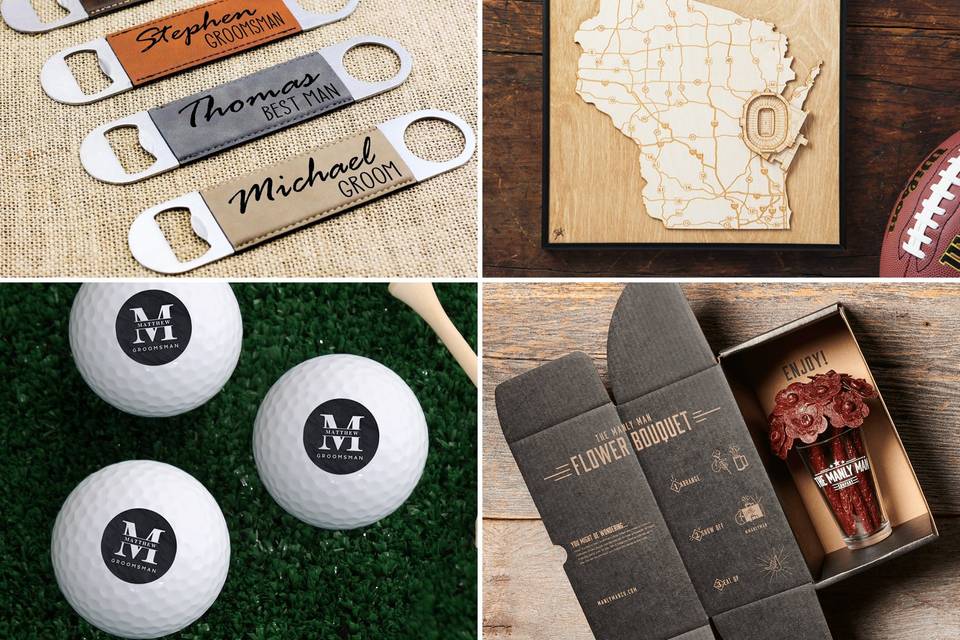 Your wedding is an exciting time for you and your new spouse—but before you get swept up in all that newlywed bliss, don't forget to thank the people who helped make it happen. We're sharing our top groomsmen gift ideas for doing just that, from personalized keepsakes to practical presents they'll use on the daily. The best part? You don't have to go crazy buying super-pricey presents for everyone (unless you want to). There are lots of thoughtful, inexpensive groomsmen gift ideas on our list too. So what are you waiting for? Show your guys just how much you appreciate them stepping up to the plate with one of these unique picks.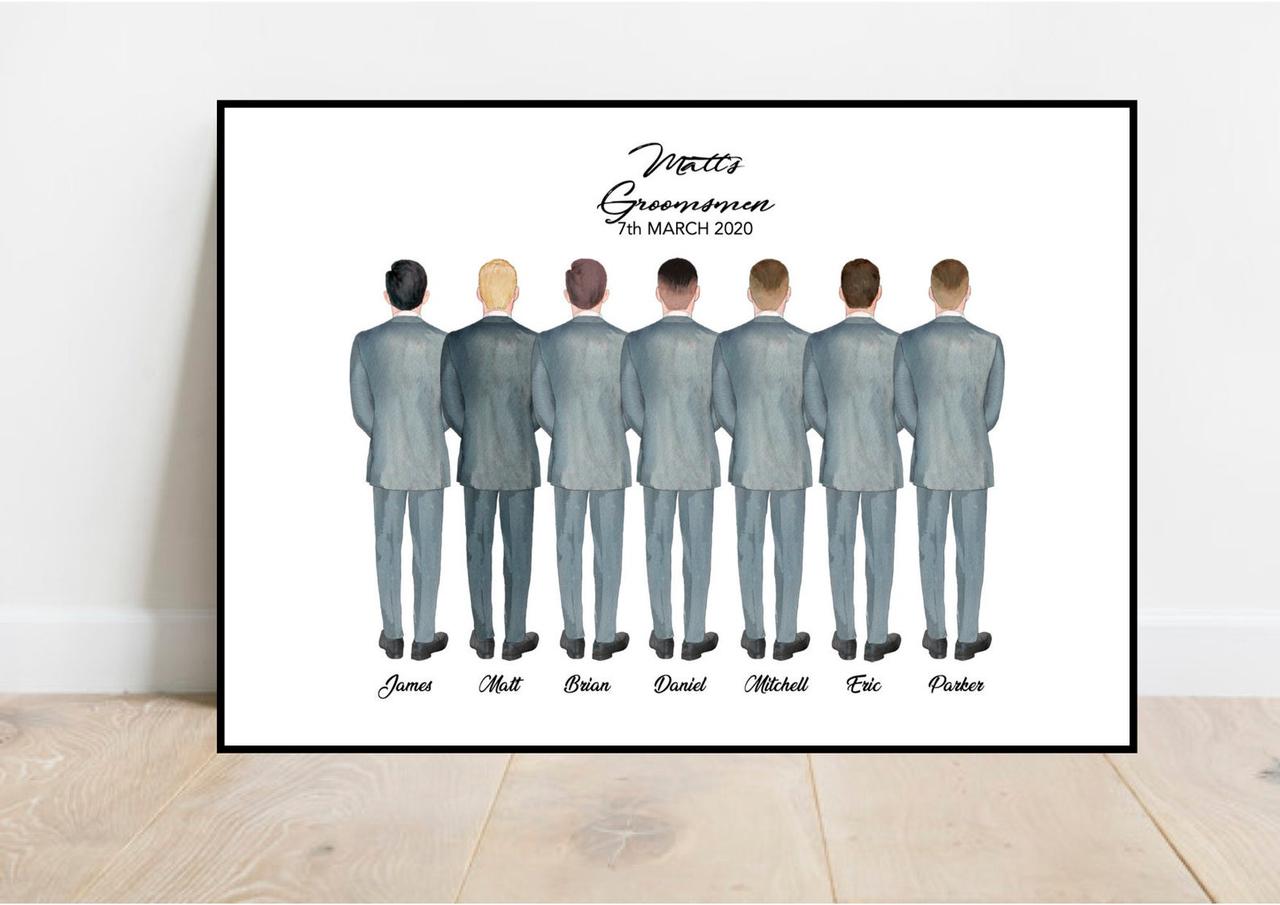 As far as personalized groomsmen gifts go, this is easily one of our favorites. Have the Etsy artist create an illustrated print of you and your guys all dressed up for the nuptials.
Personalised & Pretty wedding groomsmen print, from $16, Etsy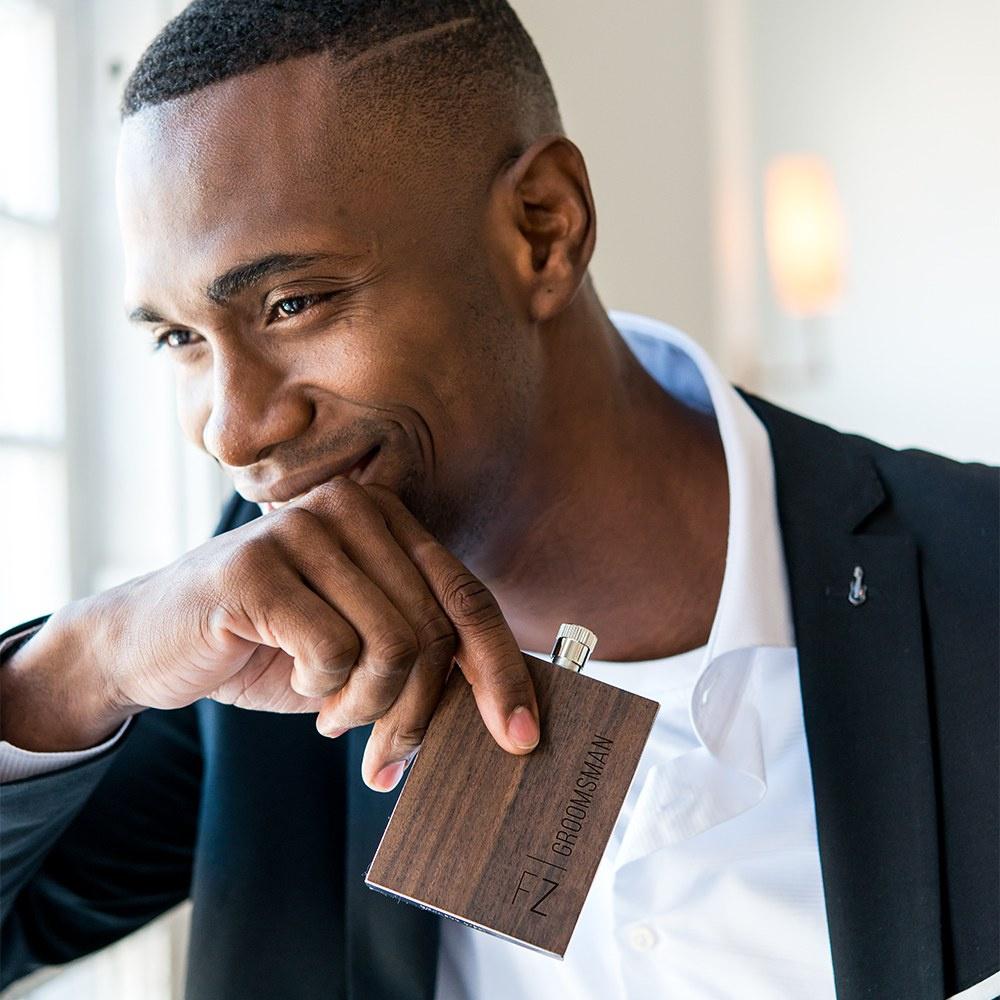 WeddingWire Shop has some of the best groomsmen gifts you can shop online, from personalized drinkware to accessories like pocket watches and cuff links. A sleek monogram hip flask is the perfect gift for your ex college roommate or favorite drinking buddy.
WeddingWire Shop personalized rustic wood wrapped stainless steel hip flask in Vertical Groomsman Monogram Print, $20, WeddingWire Shop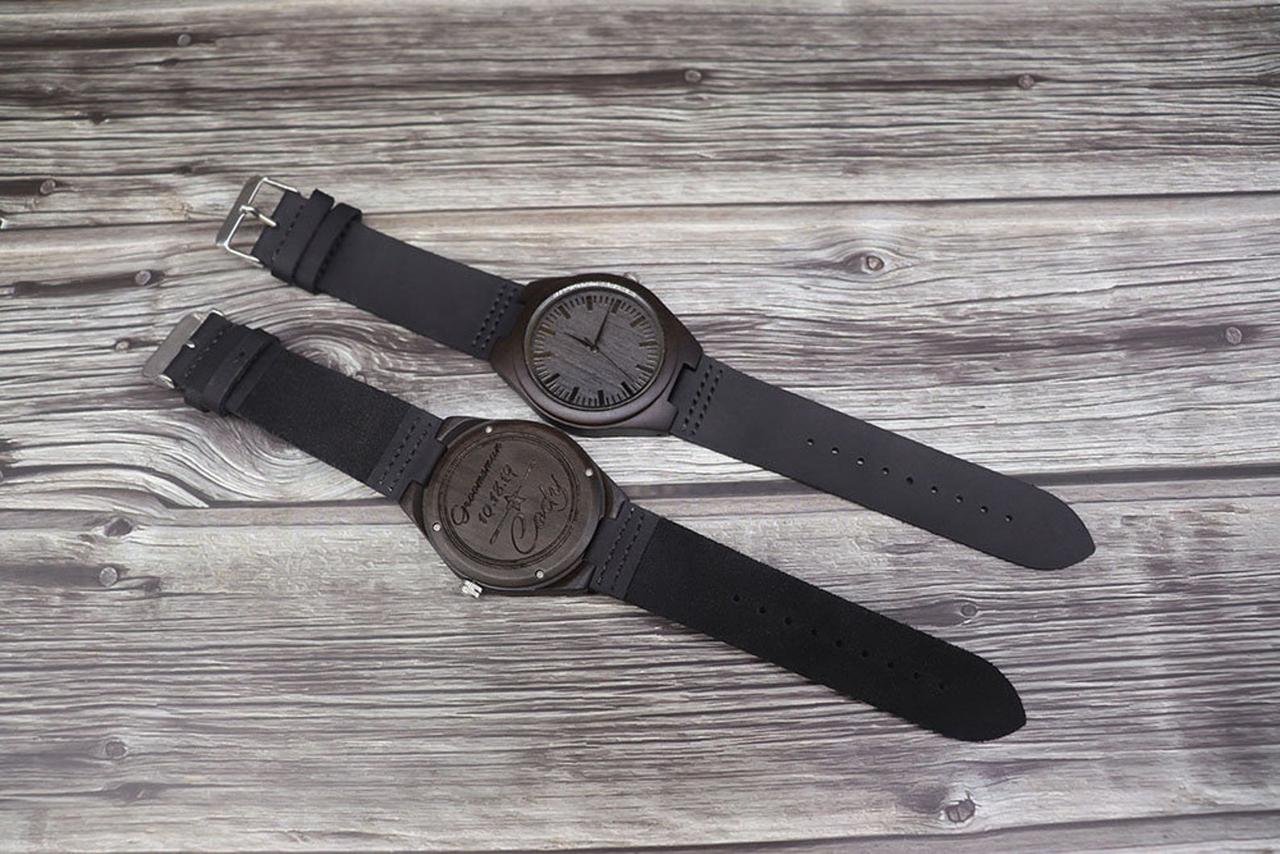 Engraved groomsmen gifts offer a personal touch that'll mean the world to your wedding party. This stylish (and affordable!) watch is carefully crafted with wood and leather. The result? A unique present for your groomsmen that's full of meaning.
Shp By Anna engraved wooden watch, from $27, Etsy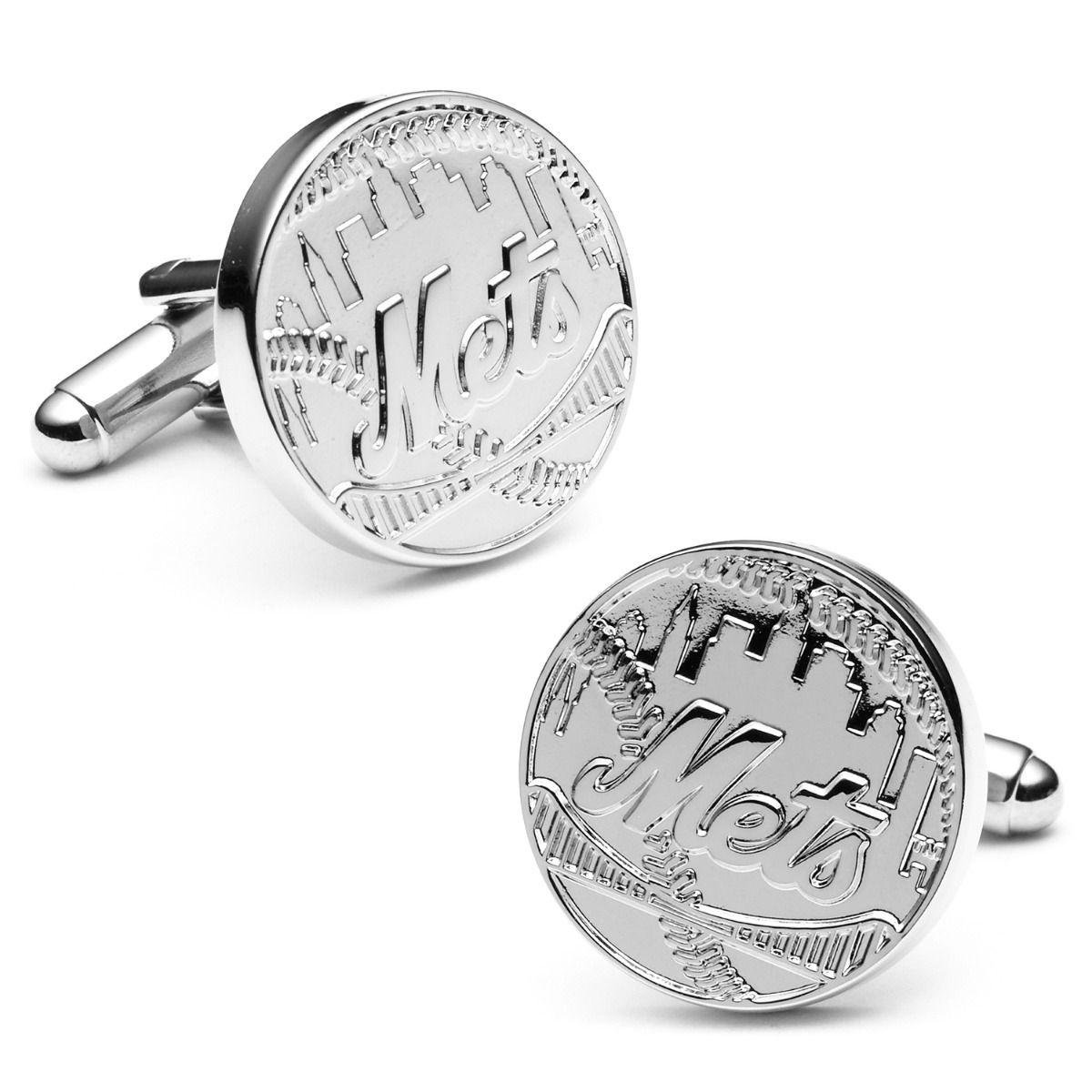 It's okay to get wedding gifts for your groomsmen to wear on the big day, but you should try to pick out something you know they'll love long after that. Instead of gifting them any old suit accessories, consider a pair of sport-themed cuff links representing their favorite team or sport. We love the subtlety of these monochrome baseball cuff links.
MLB silver edition NY Mets cuff links, $70, Cufflinks.com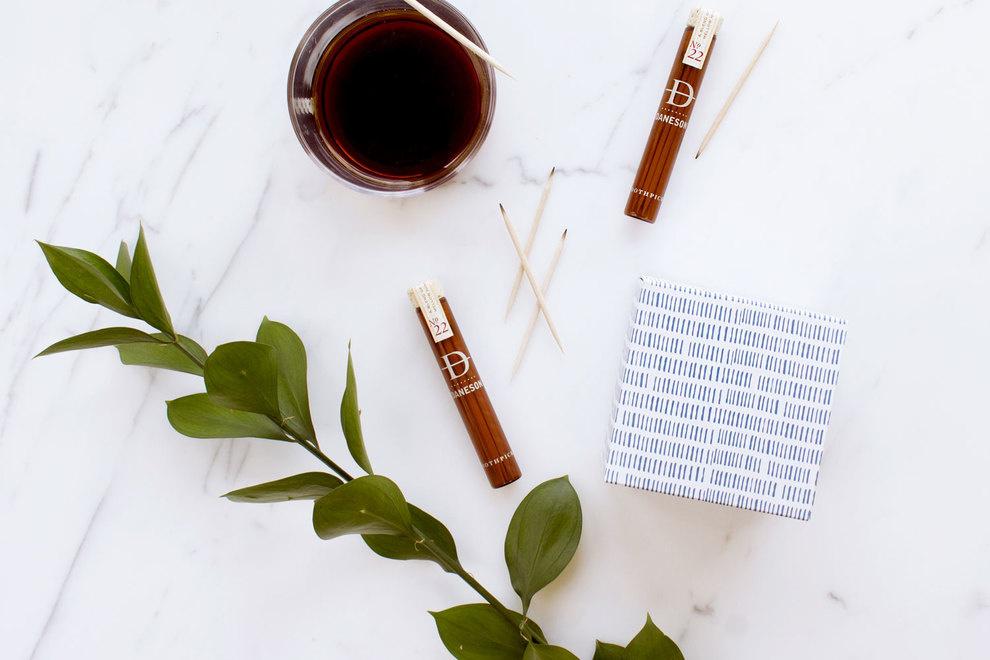 Greetabl lets you put together cool miniature gift boxes in a fun print of your choosing. Each box folds out to reveal a personal message and photos, as well as a little something extra tucked inside. Choose from a selection of small groomsmen thank-you gifts, such as delicious sriracha hot sauce or bourbon-infused toothpicks.
Greetabl Mini Stripes print gift box, from $13 with a gift, Greetabl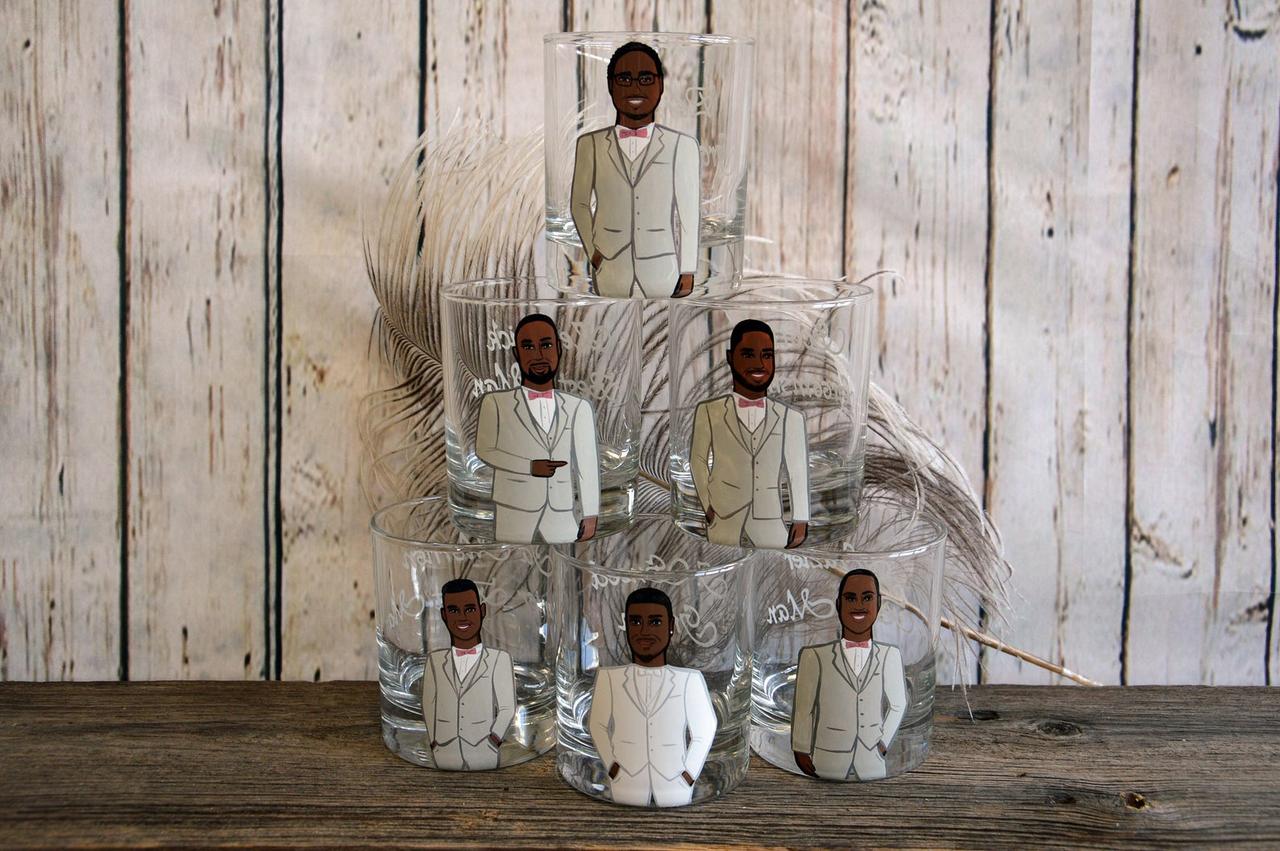 Aiming to get a laugh? Check out these funny groomsmen gifts hand painted with each person's caricature. Trust us, your guys will find it hilarious (and they'll be eager to get pouring too).
pastinshs personalized caricatures on wine, champagne, beer, or whiskey glasses, $34 each, Etsy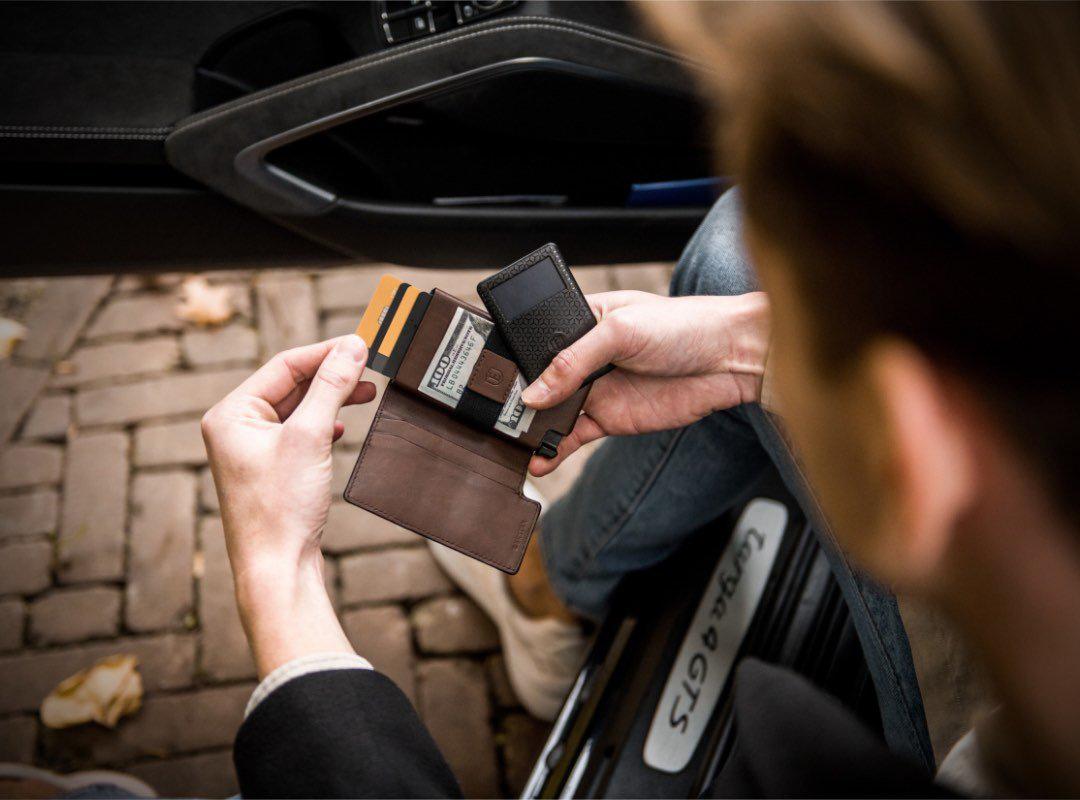 Want to really impress your squad? Cool groomsmen gifts aren't hard to find so long as you know where to look—and we do. This stylish and convenient wallet has a handy ejectable card tray. Plus, it's slim enough to fit in their back pocket.
Ekster Parliament wallet, $89, Ekster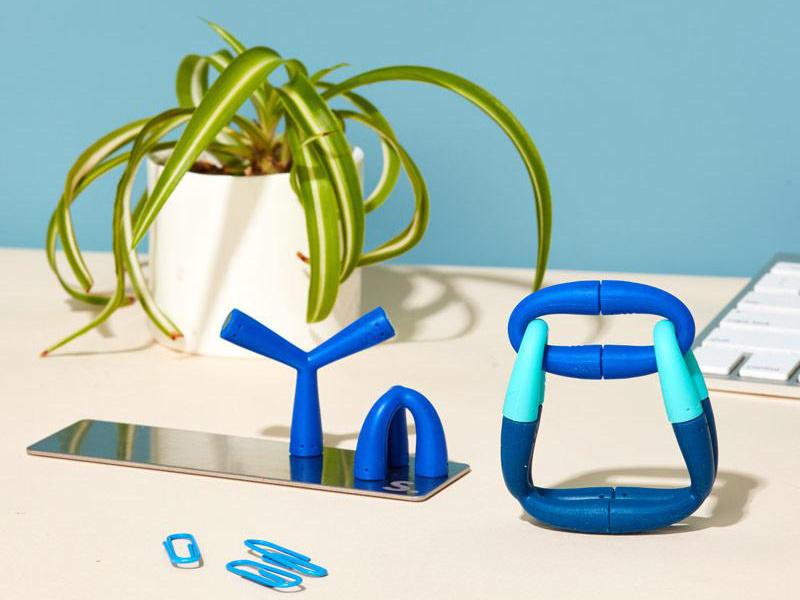 Feel free to get creative with your groomsmen gifts—there's no rule saying your present has to be super practical or personalized. At the end of the day, it's about finding something the recipient will love. Anyone who still hasn't said goodbye to their old fidget spinner will jump for joy after unwrapping this bad boy. It's the ultimate desk accessory to keep hands busy.
Speks Fleks magnetic silicone building set, $25, Speks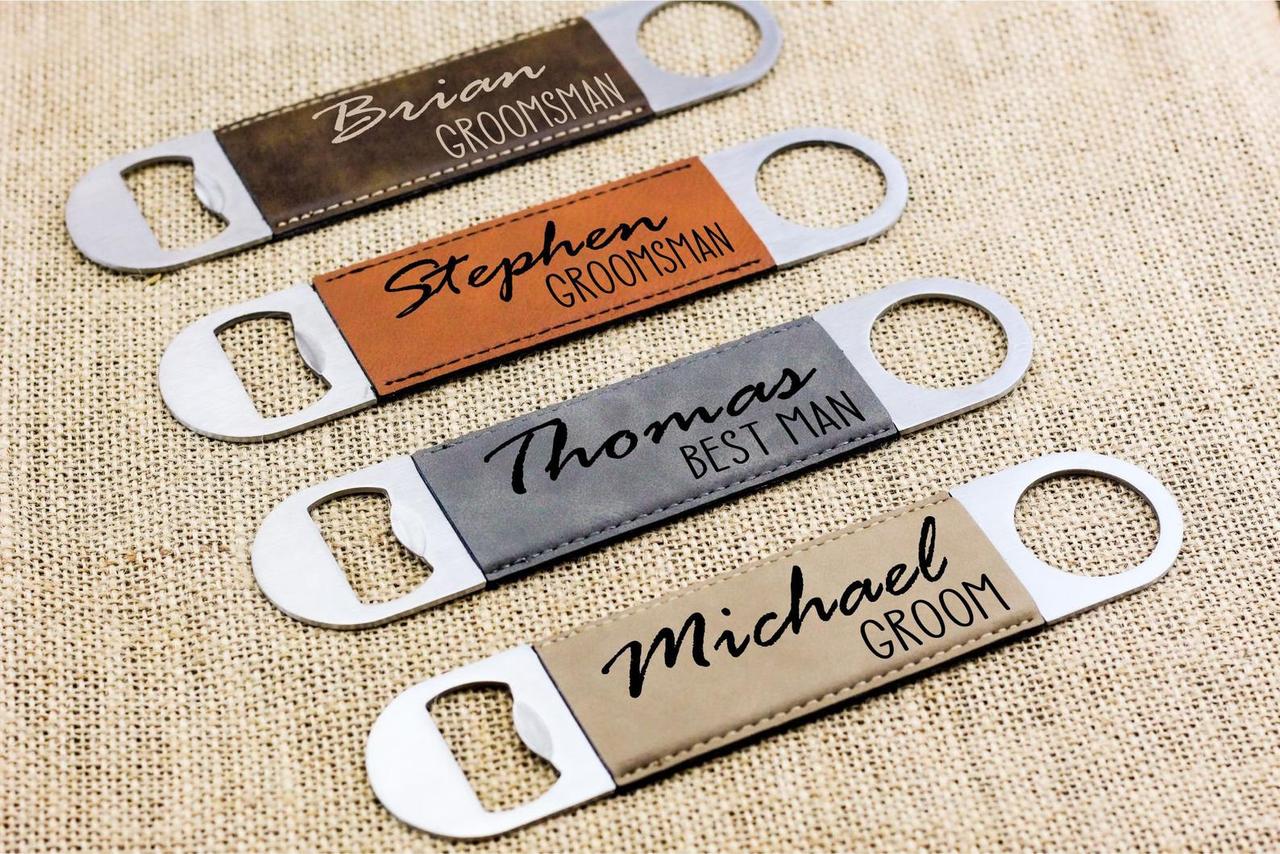 There's no one thing that makes a good groomsmen gift, but you can be pretty sure anything that's both practical and personalized is up there with the best. Give each member of your wedding party one of these handy bottle openers finished with their name and title.
Personalized Moments personalized bottle opener, $10 each, Etsy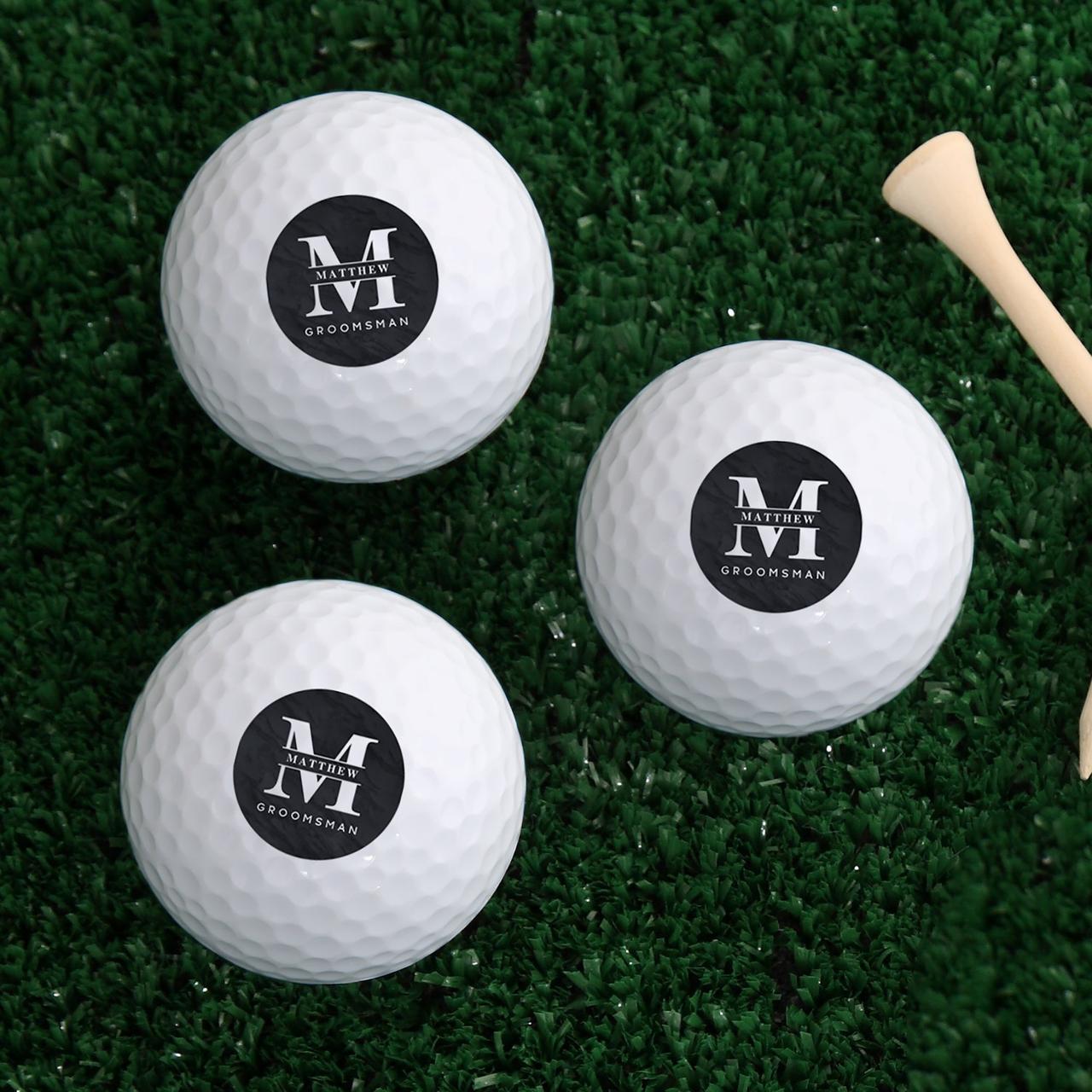 Impress your golf buddies with a set of golf ball groomsmen gifts stamped with their names, first initials, and wedding title. They can finally say goodbye to losing track of their ball mid game.
Callaway Warbird Plus personalized golf balls, $23 for a set of 3, Personalization Mall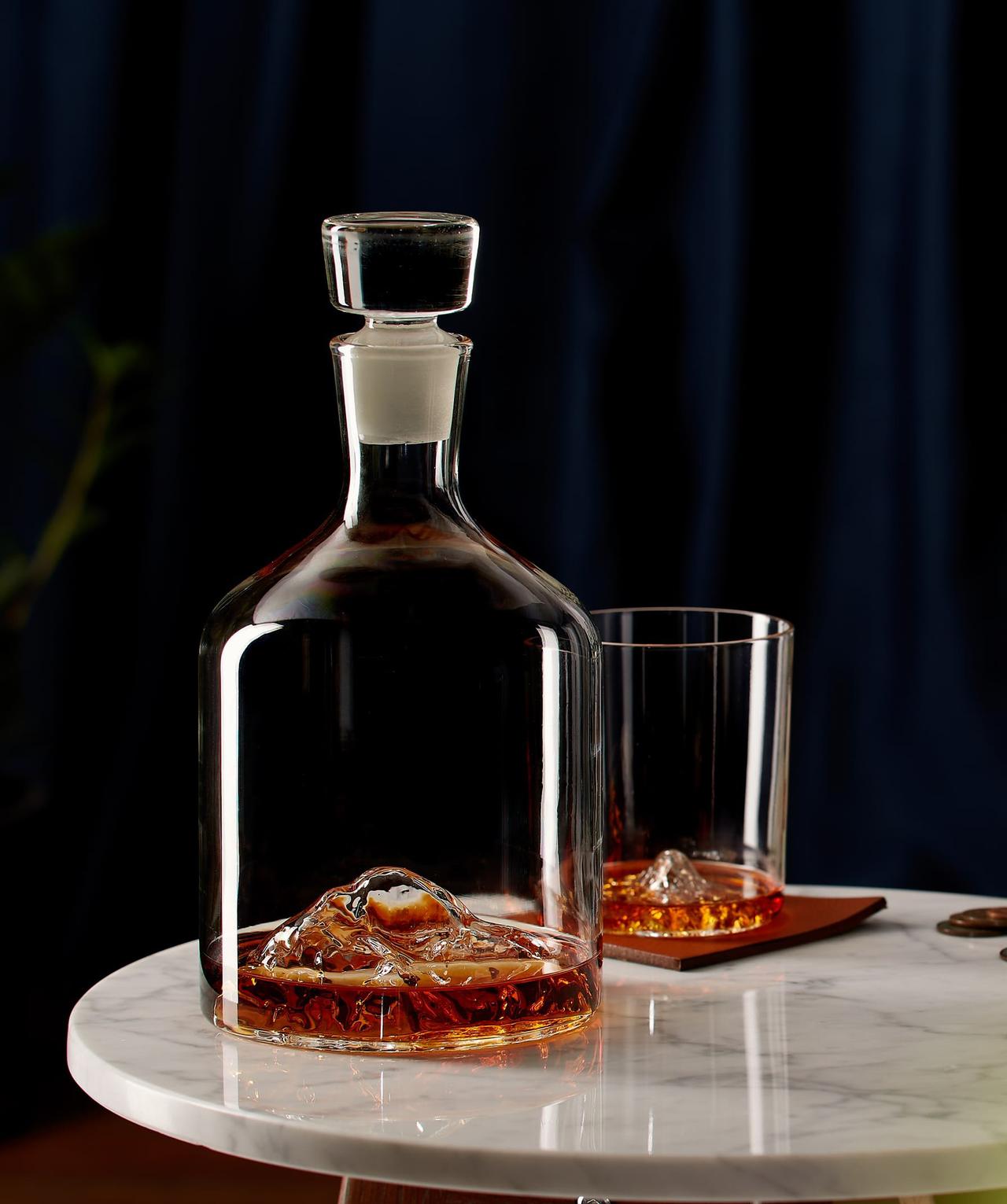 This one's for the bourbon enthusiasts. Thank them for fulfilling their groomsmen duties with a beautiful whiskey decanter set showcasing an incredible mountain design. The nature-inspired glassware is also a great groomsmen gift for the outdoorsmen in your crew.
Whiskey Peaks mountain decanter and Mt. Rainier set of 2 whiskey glasses, $95, Huckberry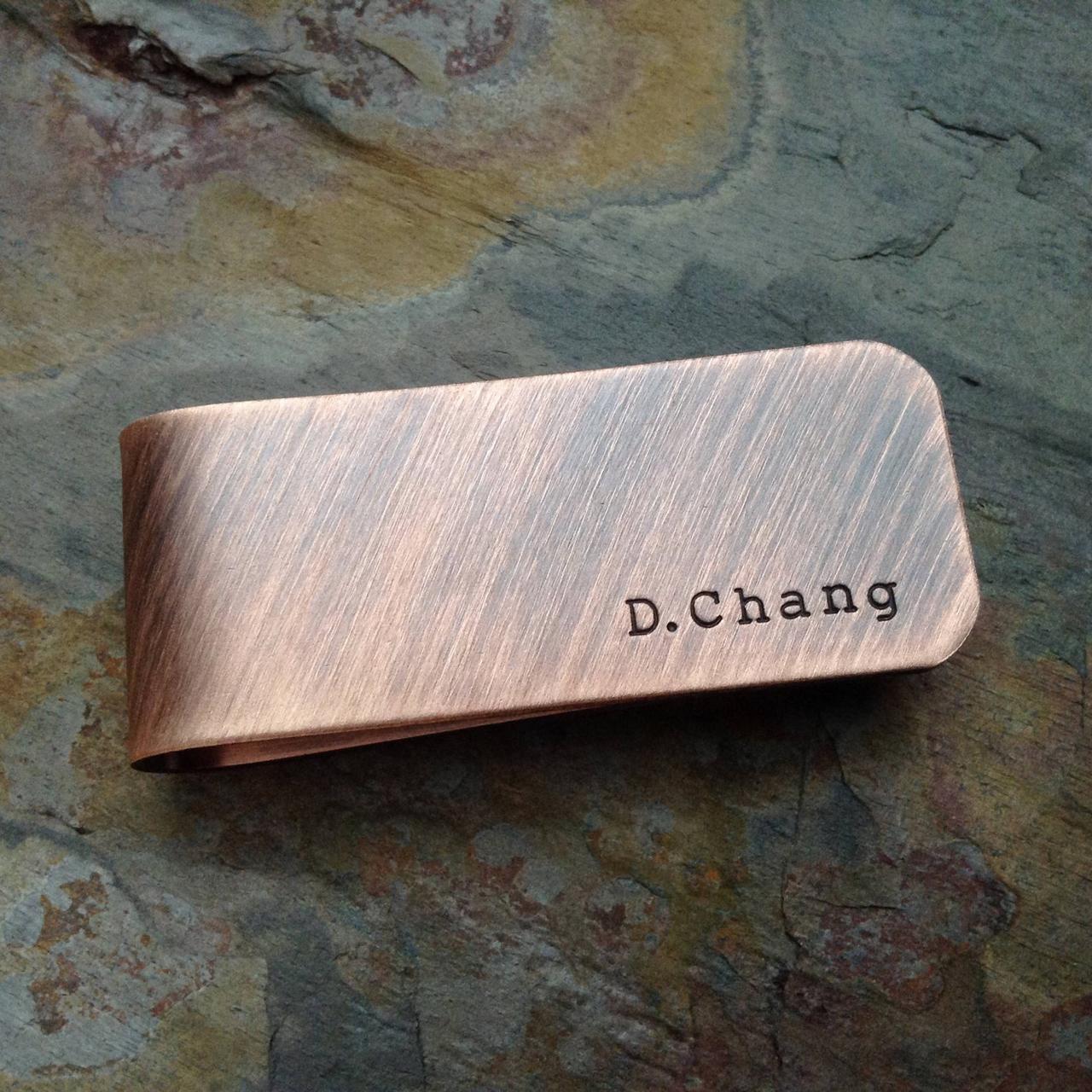 When it comes to buying wedding party gifts for the guys, don't overthink it. All it really takes is a small memento to show your gratitude. Hand each person one of these sleek money clips on the morning of the wedding to keep their cash safe (and easily reachable for the next round).
321 Simple Creations personalized money clip, from $18 each, Etsy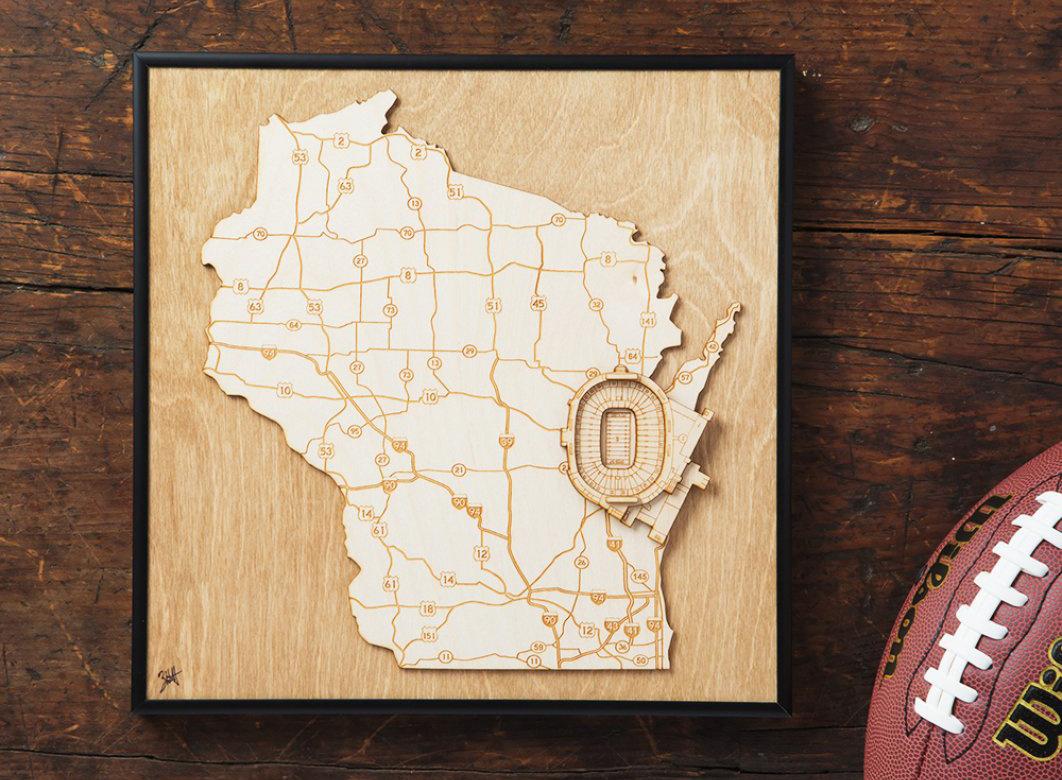 Sports-themed groomsmen gifts are another surefire way to your guys' hearts if you love watching games together. An intricate laser-cut map of their home team's stadium will take a prize position on any fan's wall.
Stadium Map Art laser cut stadium state map, from $125, The Grommet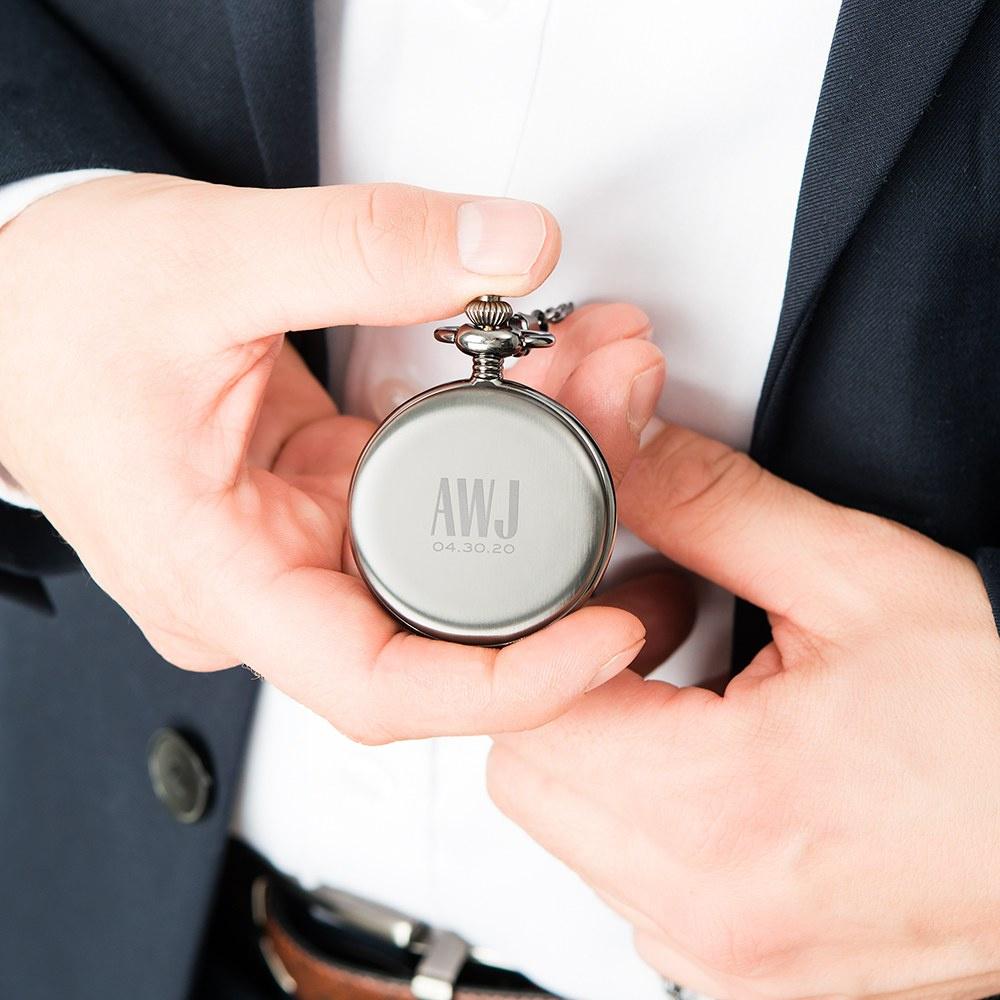 For the guy with a timeless sense of style, consider gifting them this classic pocket watch featuring their initials and the wedding date. It's a practical groomsmen gift that doubles as a cool memento.
WeddingWire Shop personalized gunmetal pocket watch and fob in Sans Serif Monogram, $26, WeddingWire Shop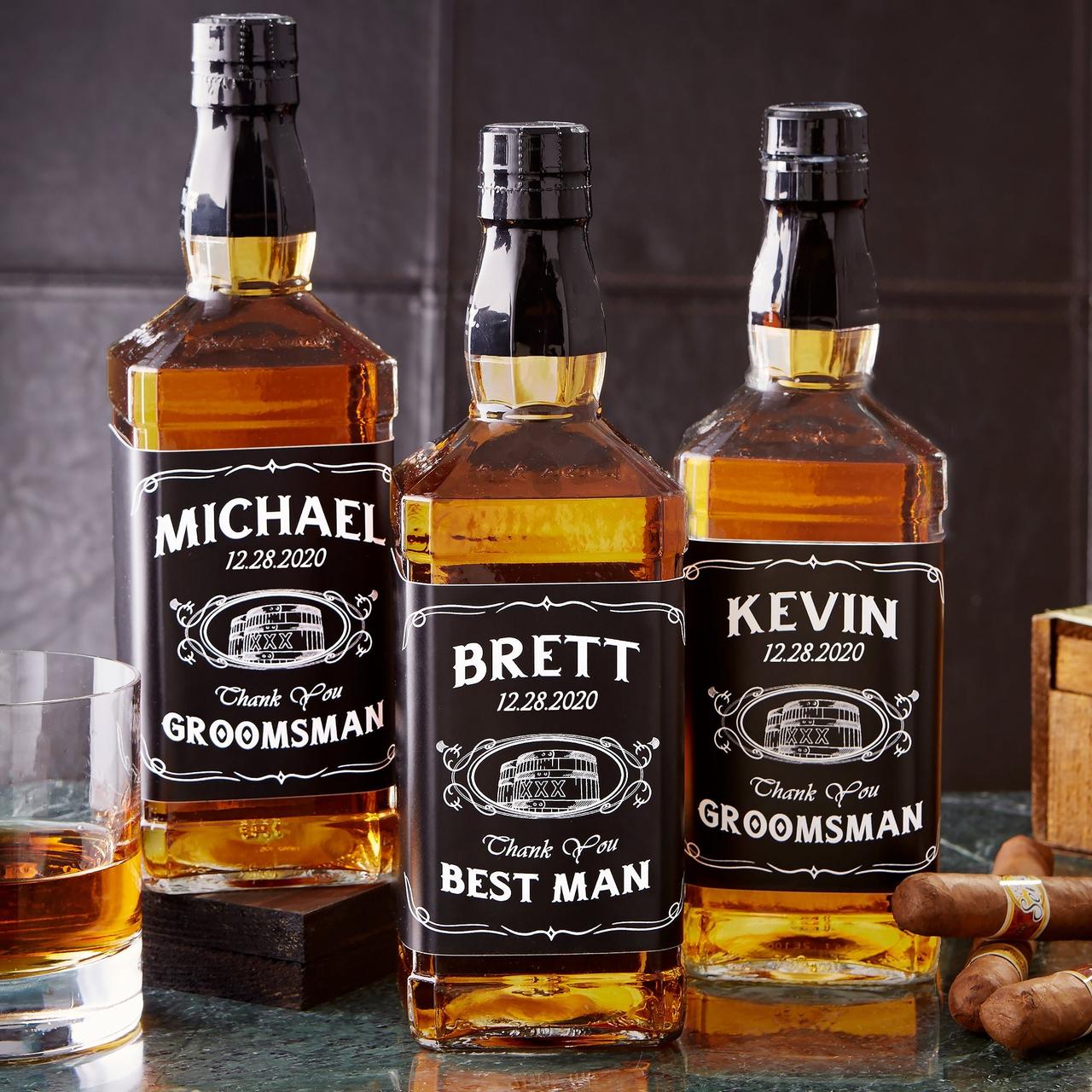 Alcohol is a great last-minute groomsmen gift, especially if your guys have a go-to scotch or bourbon. If you have a little extra time on your hands, make it feel all the more special with custom labels printed with their names, the wedding date, and a heartfelt "thank you."
Personalization Mall personalized whiskey bottle label, from $4 each, Personalization Mall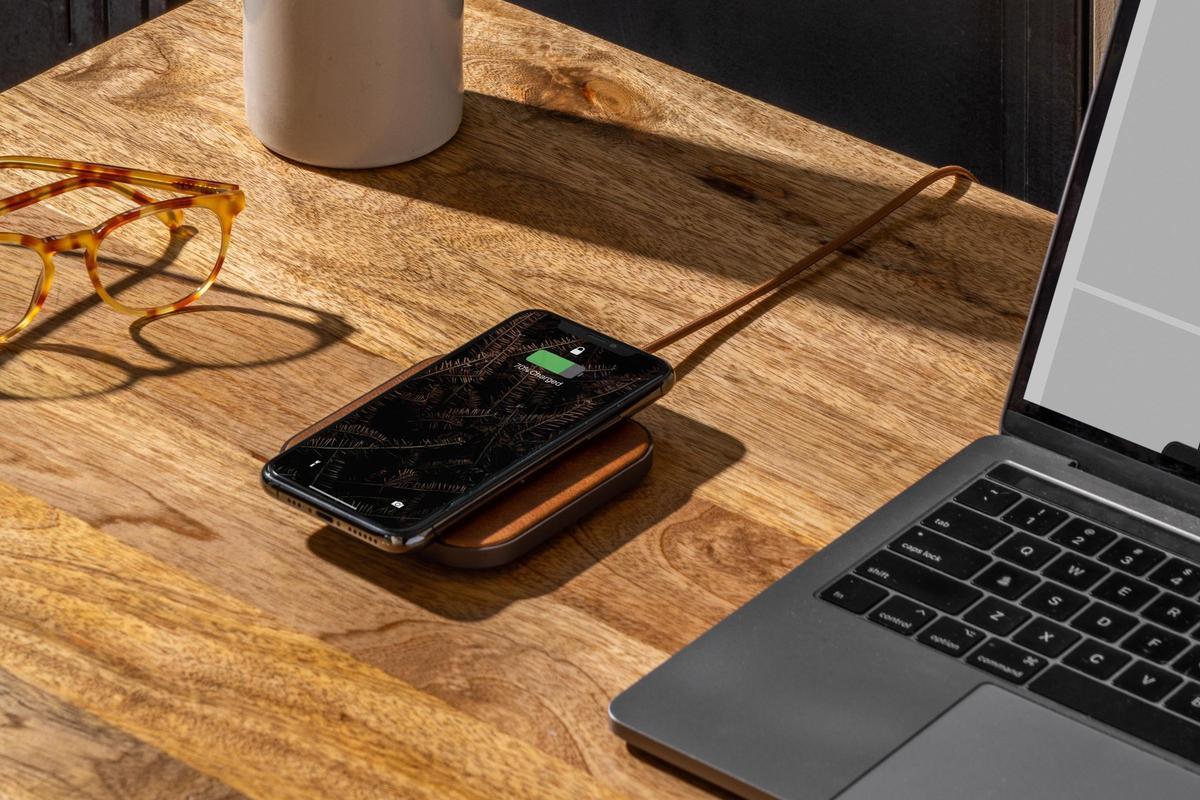 Gifts for groomsmen from the groom don't have to feel super personal if that's not your style. Instead, why not give your crew something they can actually use in their everyday life? This chic charging tray is conveniently small and allows for wireless phone charging.
Courant CATCH:1 charging tray, $80, Courant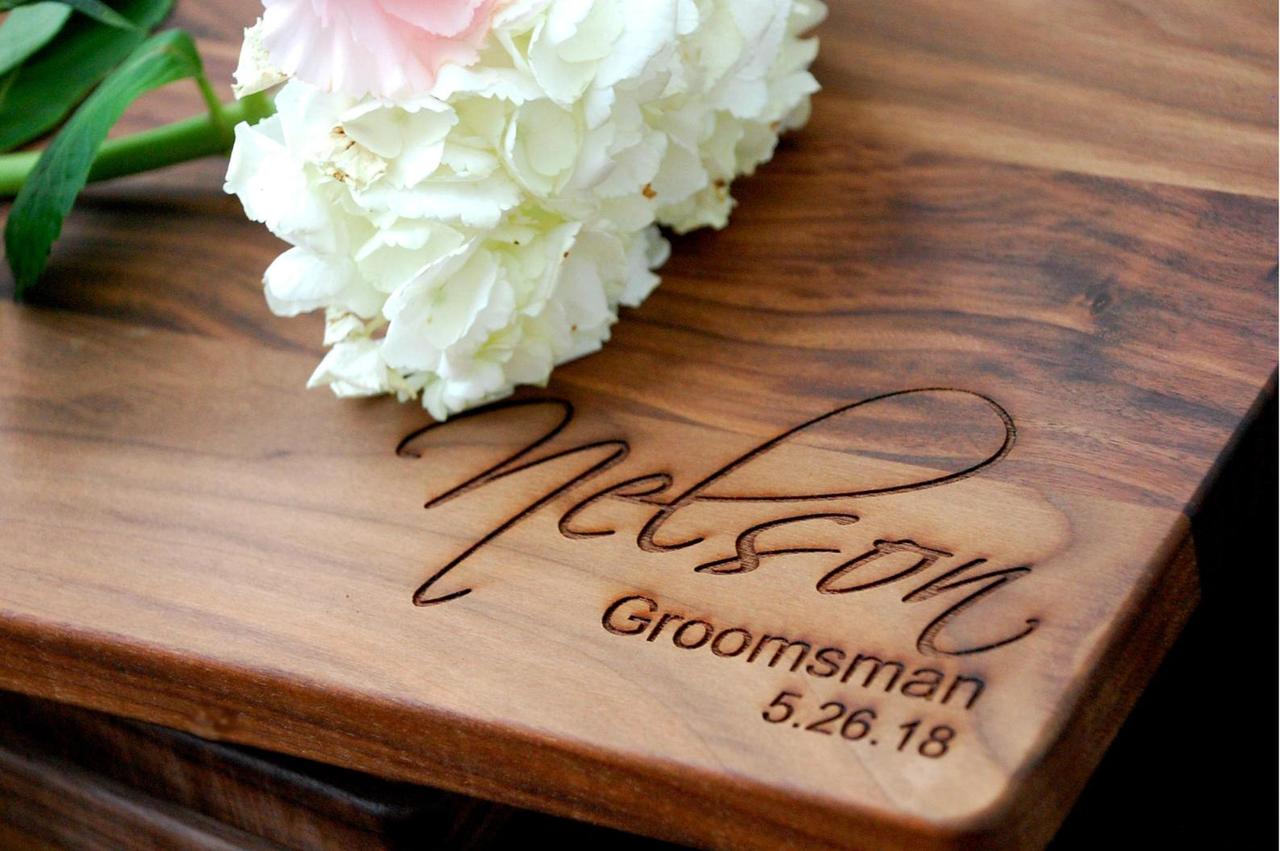 The most thoughtful groomsmen gifts reflect each person's personality and interests. If their favorite hobby is getting creative in the kitchen, help them cook up a storm with an elegant wooden cutting board engraved with their name, wedding title, and the date.
A Personalized Wedding custom cutting board, $24, Etsy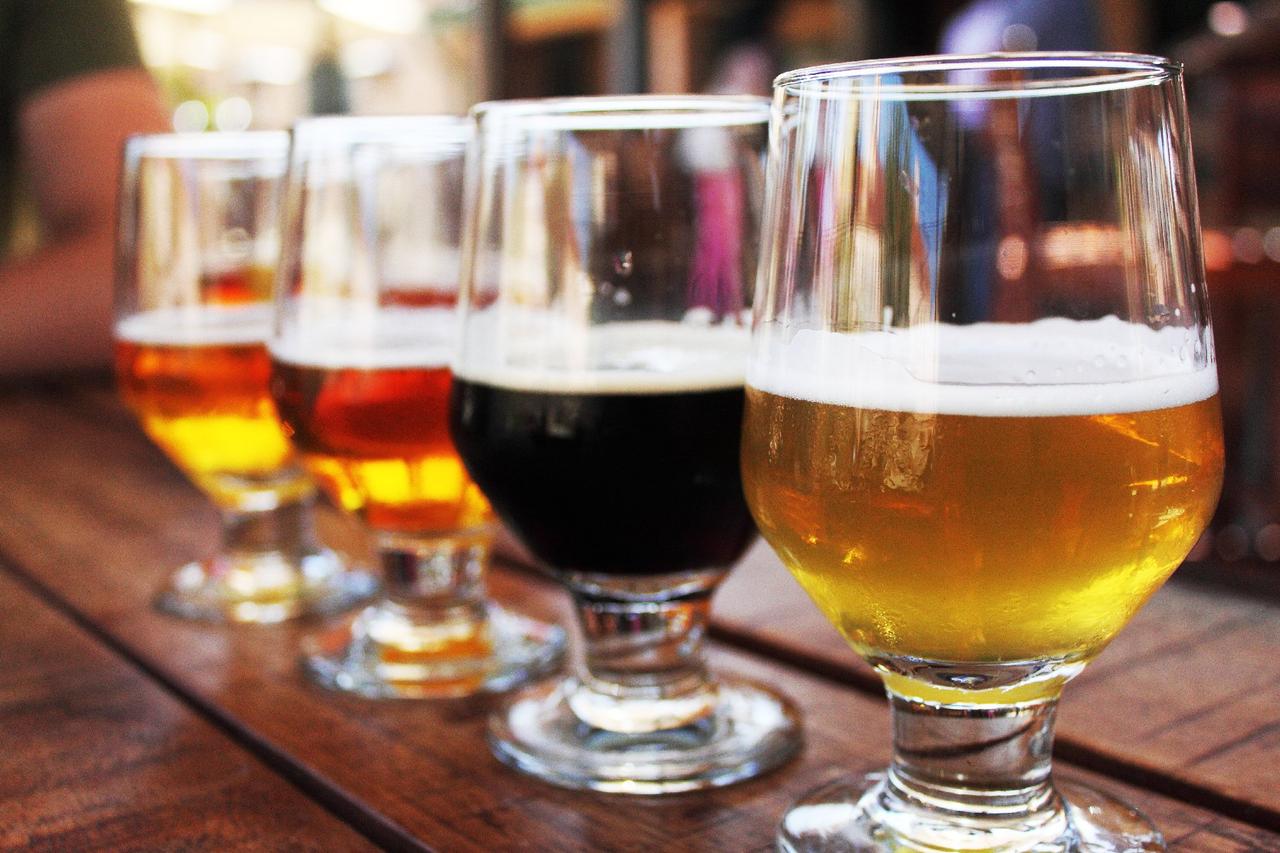 Beer-related groomsmen gifts are almost always well received. If one of your guys really went above and beyond for you, up the ante by gifting them a craft beer subscription. Each delivery includes a selection of tasty and unique beer from across the US.
Craft Beer Club craft beer subscription, from $45 per shipment, Craft Beer Club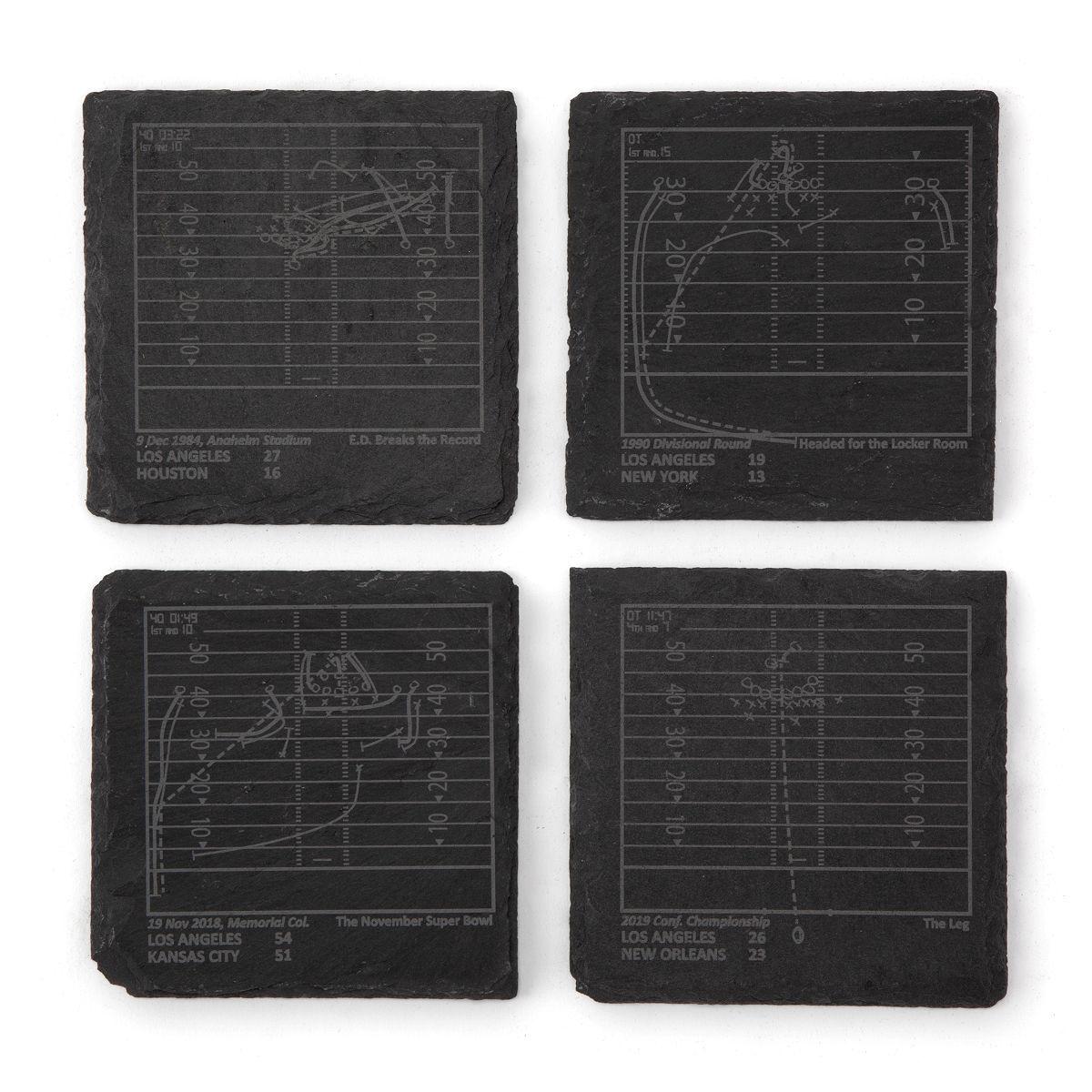 Who said coasters can't be a badass groomsmen gift? These super-cool coasters are laser engraved with some of the greatest plays in their favorite football team's history. It's an excellent pick for the person who's always listing off stats at half time.
Uncommon Goods football greatest plays coasters, $40 for a set of 4, Uncommon Goods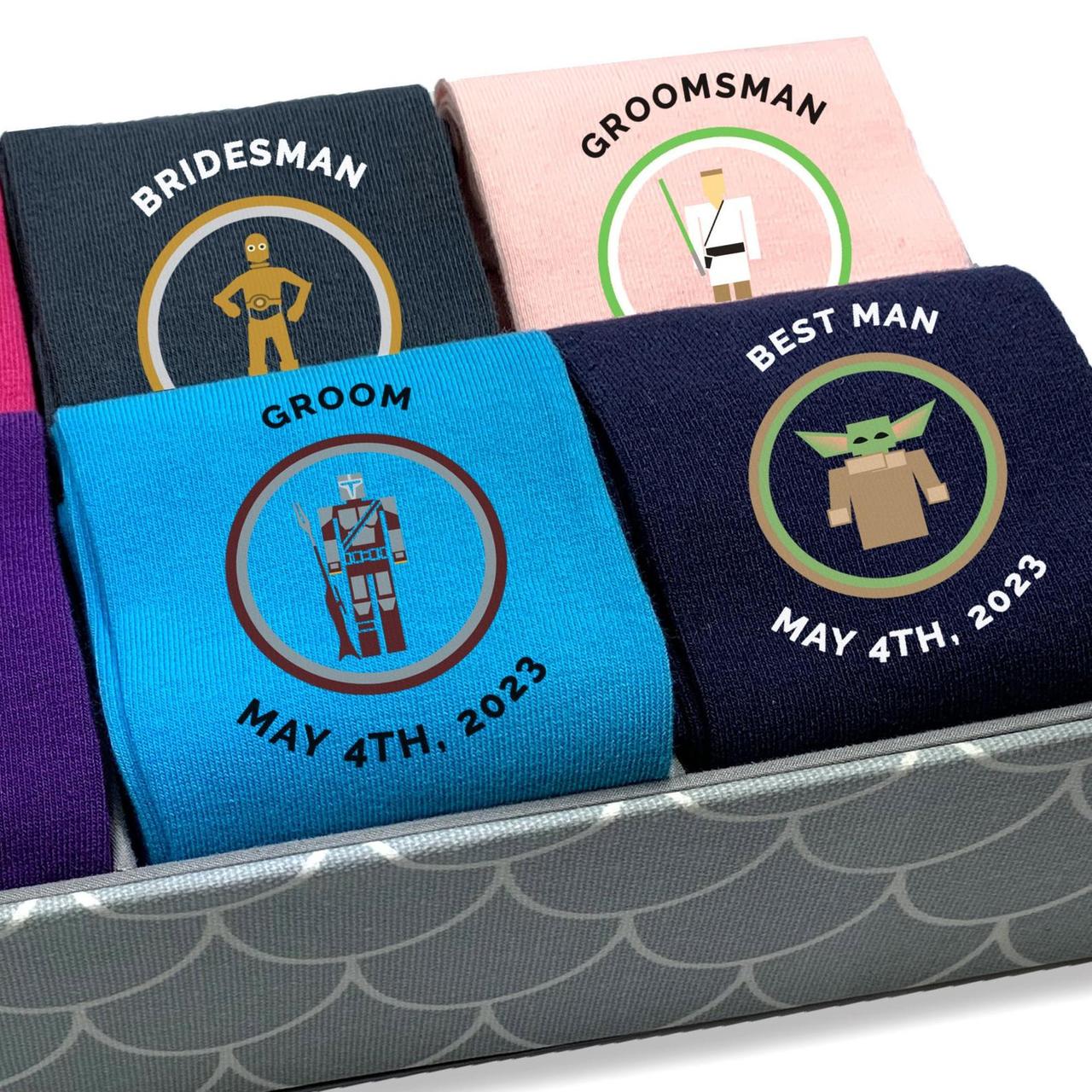 These Star Wars groomsmen socks are a gift that won't be forgotten, especially if you and your buddies bonded over watching all the films. Choose a color and select each person's favorite character. Then, provide the Etsy seller with their name and wedding title for a truly personalized present.
Shop Sock Prints customized superhero wedding socks, from $14 each, Etsy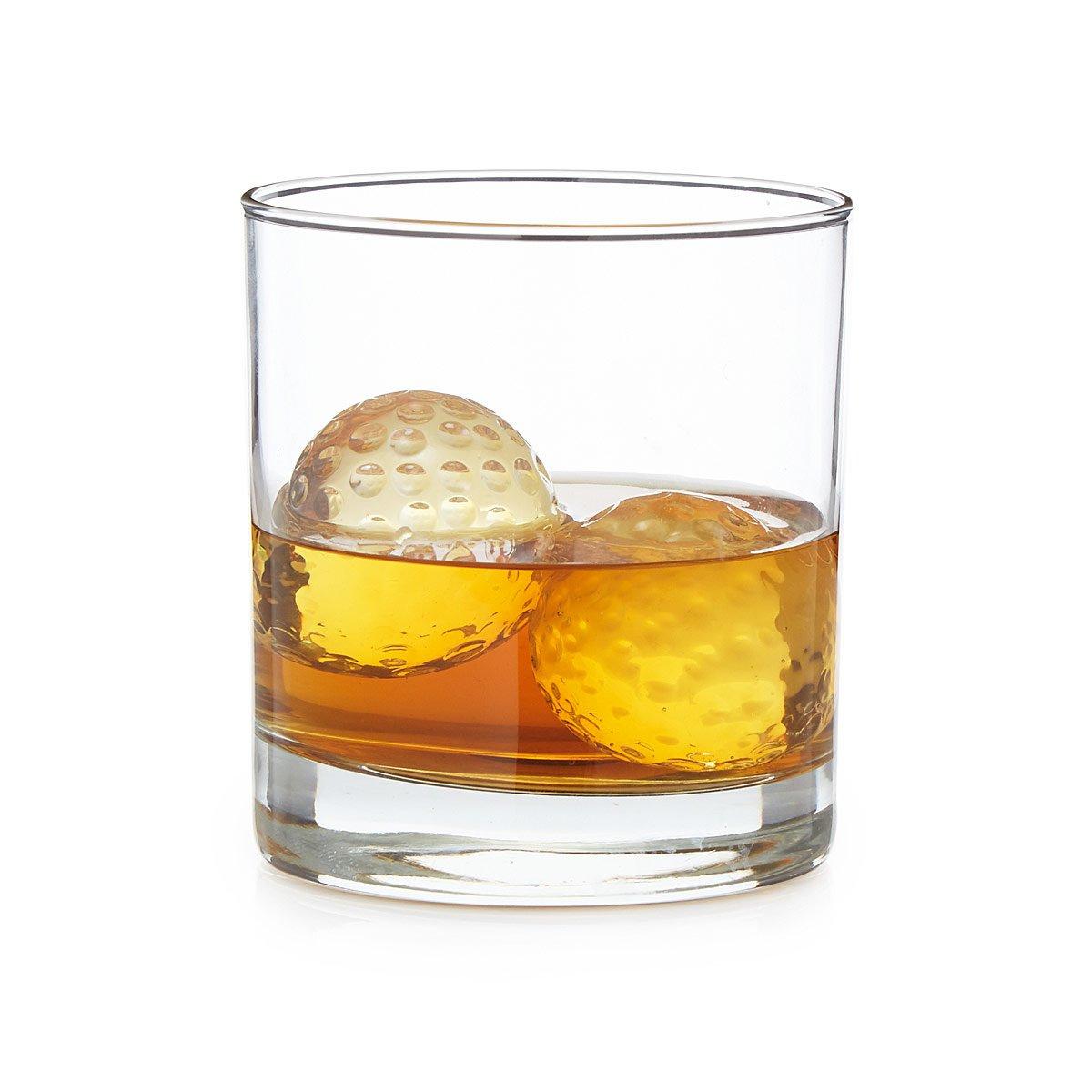 We've got plenty more good ideas for unique groomsmen gifts where those came from. Sunday golfers will appreciate dropping these golf ball-inspired whiskey chillers into their drink after a relaxing round with friends.
Uncommon Goods golf ball whiskey chillers, $30 for a set of 2, Uncommon Goods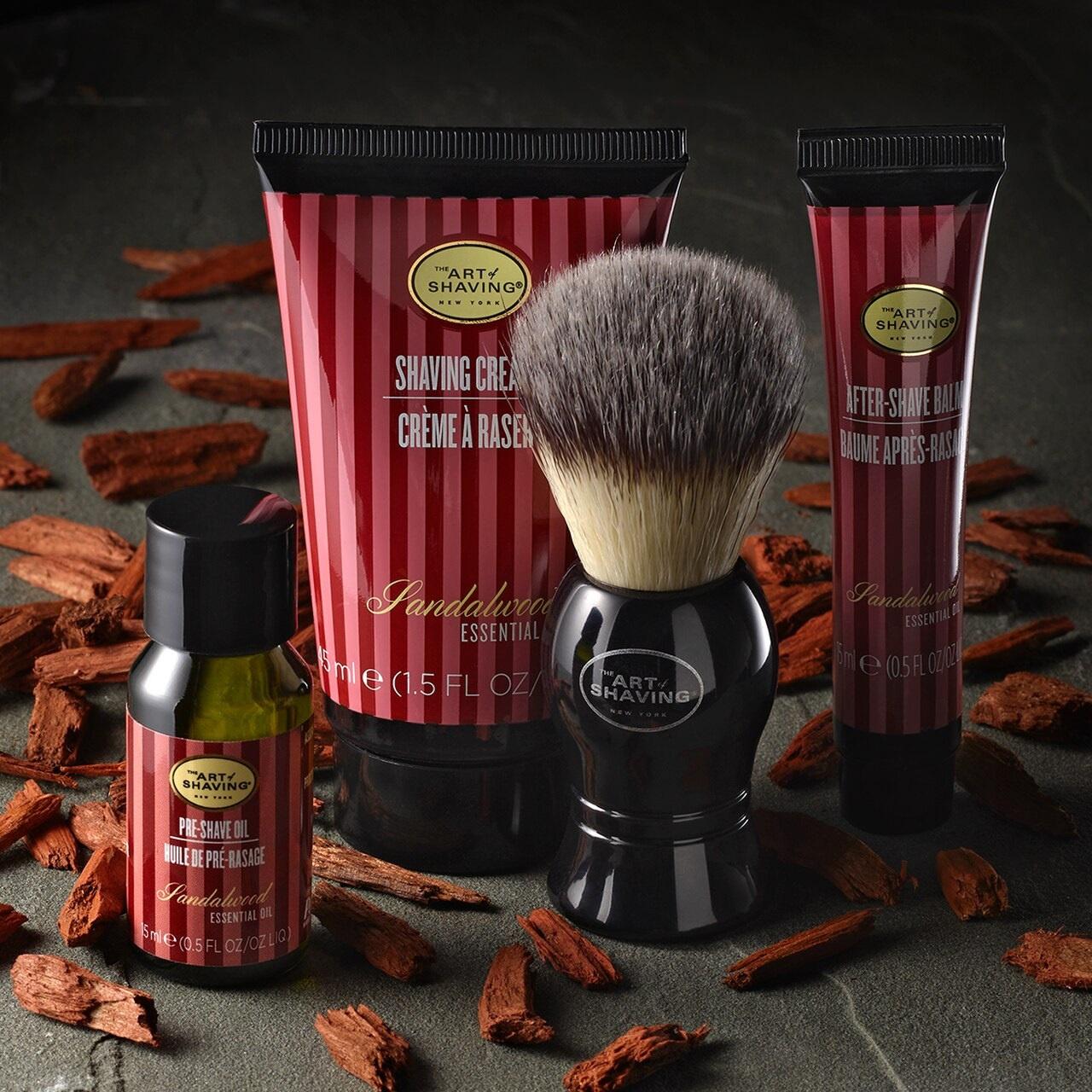 While alcohol-themed gifts can be great, they're not always the right fit. If you're on the hunt for non-alcoholic groomsmen gifts, grooming kits are great alternatives. This luxurious set includes a pre-shave oil, shaving cream, after-shave balm, and a durable brush.
The Art of Shaving The Gifted Groomer kit, $35, The Art of Shaving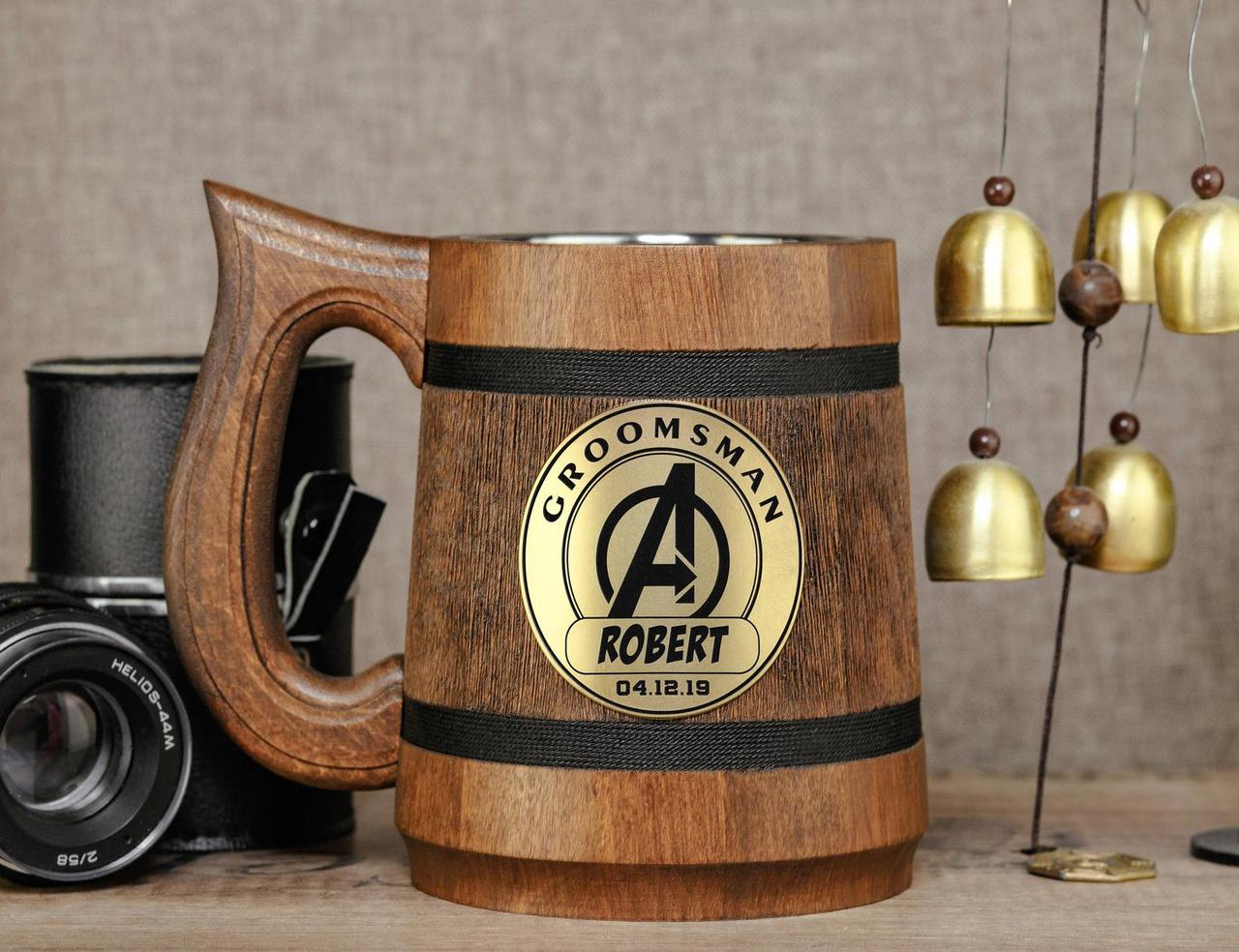 If they're first in line at the movie theatre every time a new Marvel film comes out, they'll love this personalized wooden tankard. Add a shiny plaque engraved with their name, wedding title, and the logo of their favorite superhero. It's a perfectly nerdy groomsmen gift for your movie-buff buds.
Customize In US engraved beer mug, $70 with plaque, Etsy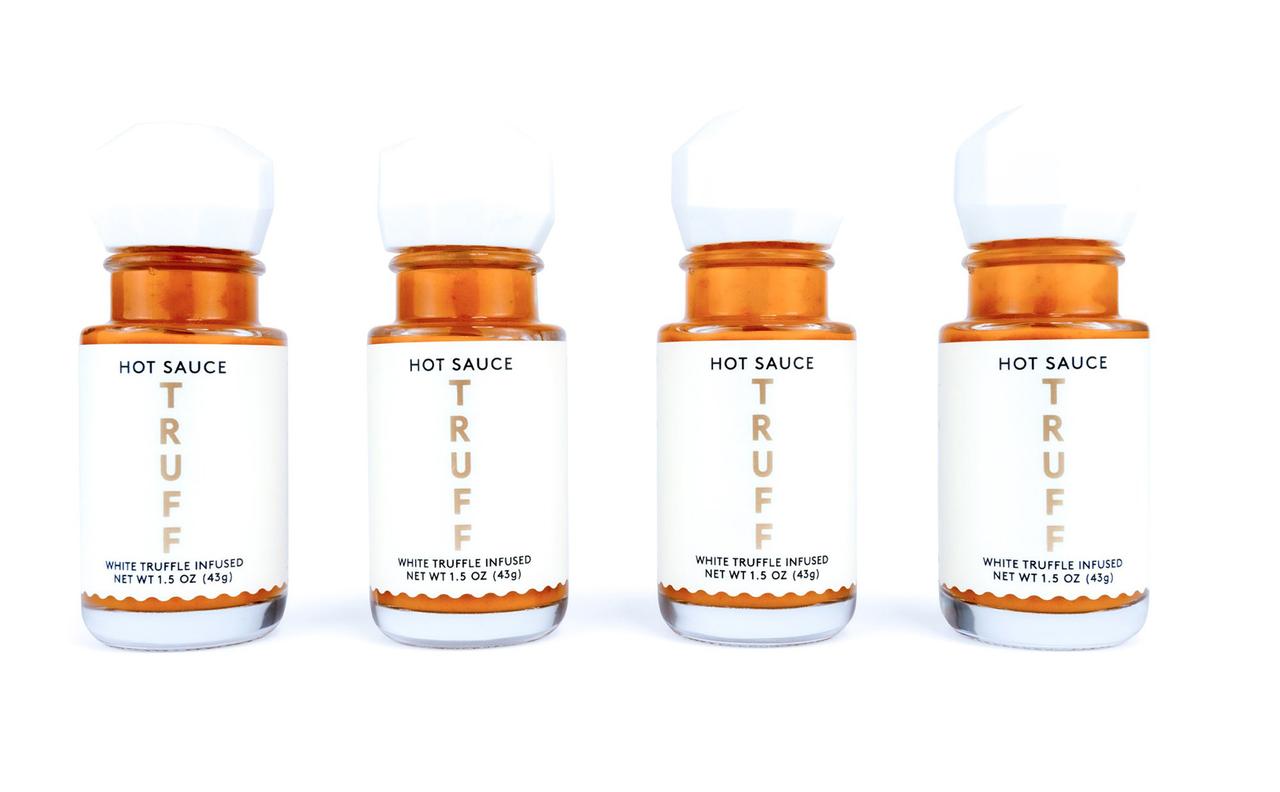 TRUFF hot sauce isn't just one of the best groomsmen gift ideas ever—it's a great present no matter what the occasion. The brand's white truffle hot sauce is a must try for anyone who appreciates some spice. Pick up a set of miniature bottles to share between your crew.
TRUFF mini white hot sauce, $40 for a set of 4, TRUFF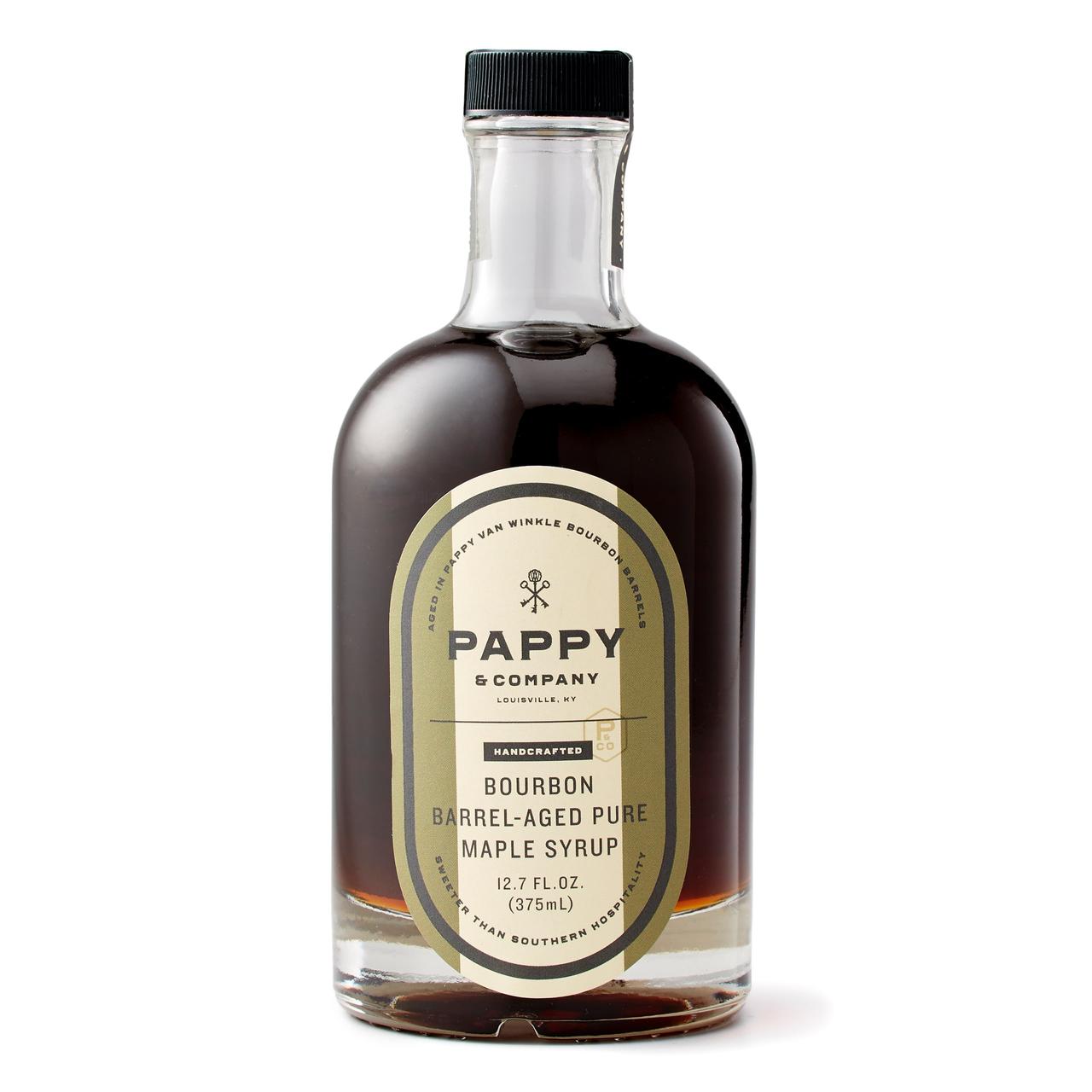 Maple syrup might not be a traditional groomsmen gift, but trust us—they'll love it. This bourbon barrel-aged maple syrup will take their waffles to a whole new level. You might even see one of your guys whip out a bottle during the post-wedding brunch.
Pappy & Company bourbon barrel-aged pure maple syrup, $38, Huckberry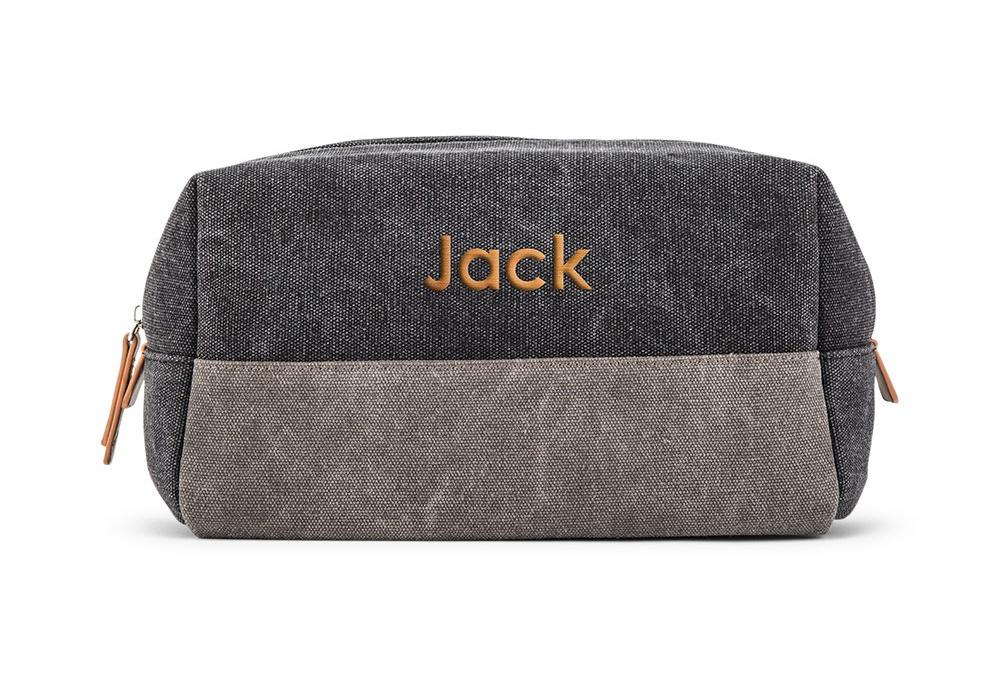 A dopp kit is a great present for anyone who's always on the go, but this one will look really chic next to their bathroom sink too. Plus, you can have each one embroidered with their names to avoid any mix-ups.
WeddingWire Shop personalized travel toiletry bag in Black and Gray Canvas, $19, WeddingWire Shop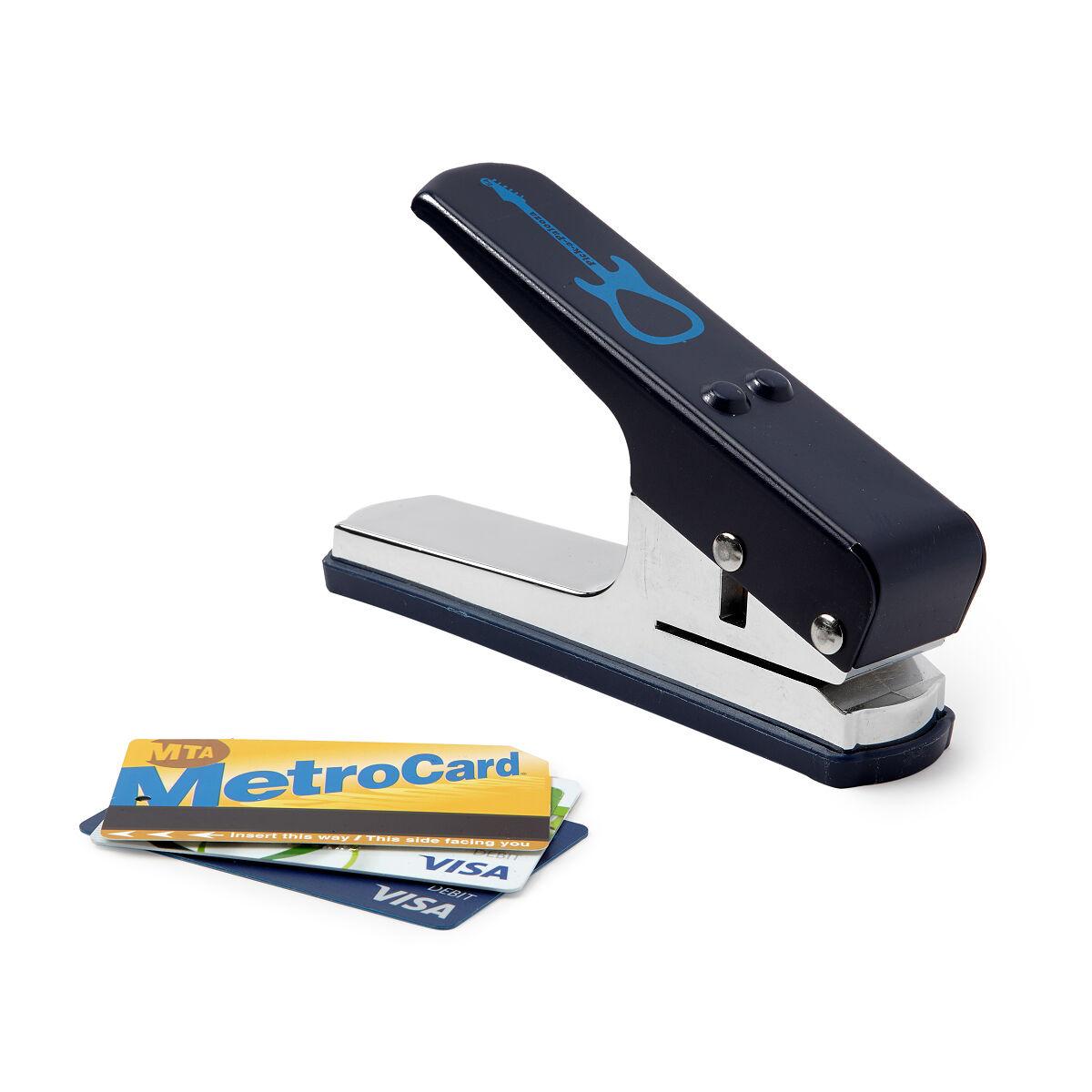 Here's an unusual groomsmen gift for DIYers. Musicians can use the gadget to make their very own guitar picks from old ID cards, credit cards, and more. They'll have the most unique guitar plectrums around.
Uncommon Goods make your own guitar pick punch, $20, Uncommon Goods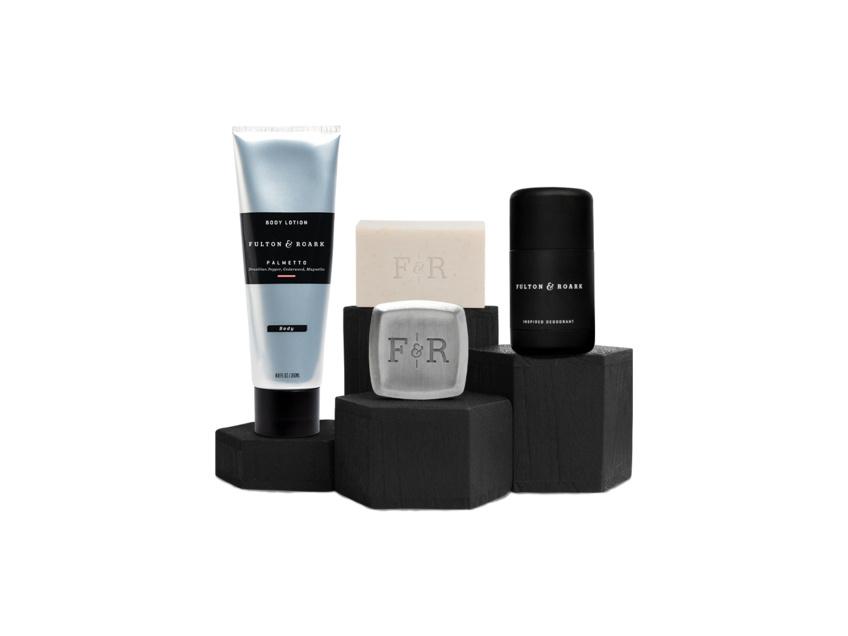 For the guy who always smells as sharp as he looks, check out this great gift set. It includes body lotion, deodorant, solid cologne, and a bar of soap in one streamlined fragrance. As a result, he won't have to worry about competing scents. Bonus: The solid cologne allows the wearer to control just how much they want to apply without having to spritz anything into the air.
Fulton & Roark Total Package gift set, from $115, Fulton & Roark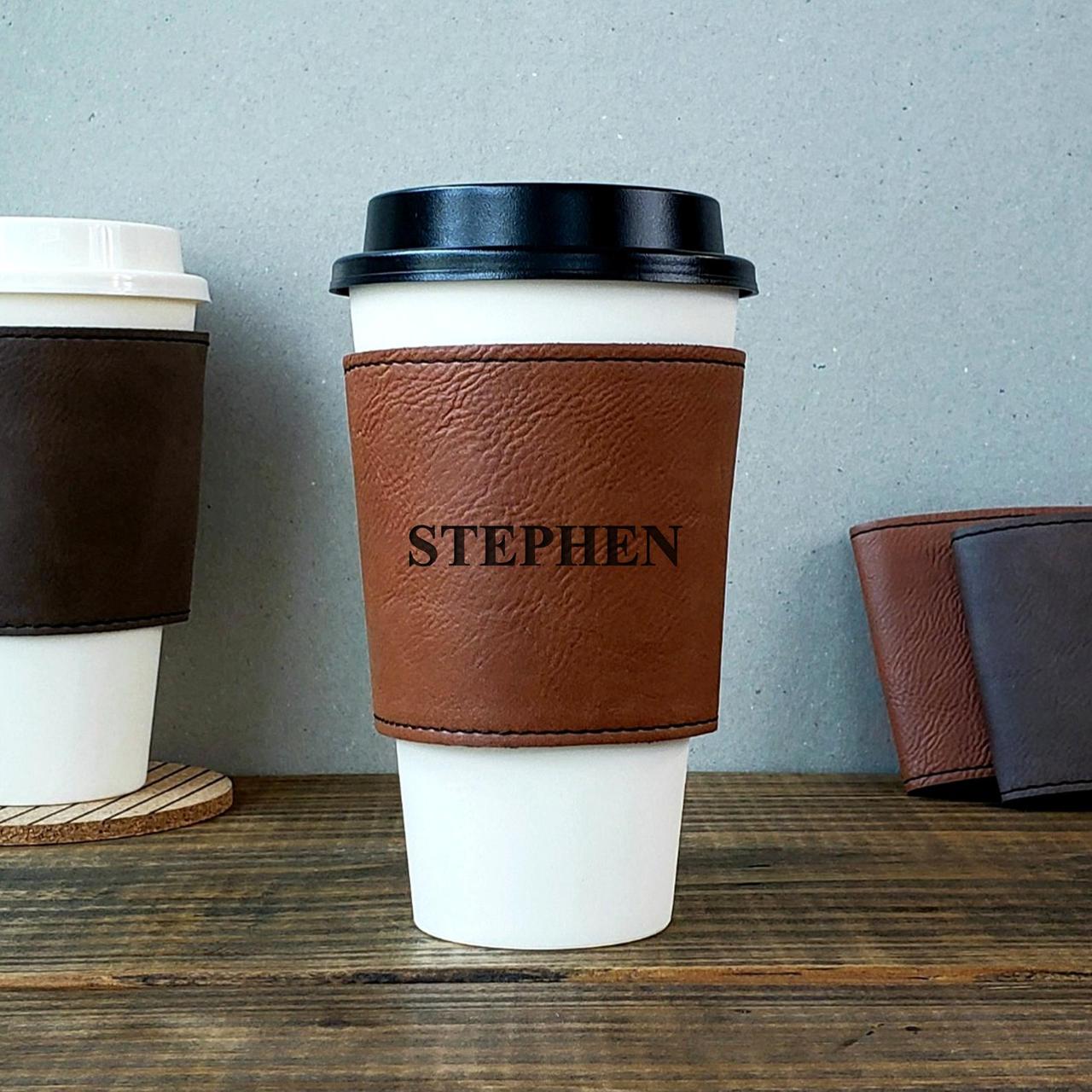 Upgrade their coffee runs by gifting each person a sophisticated faux-leather cup sleeve engraved with their name. It's easily one of the top groomsmen gifts for your Starbucks-obsessed friends.
Moose + Arrow Co. personalized cup sleeve, from $22, Etsy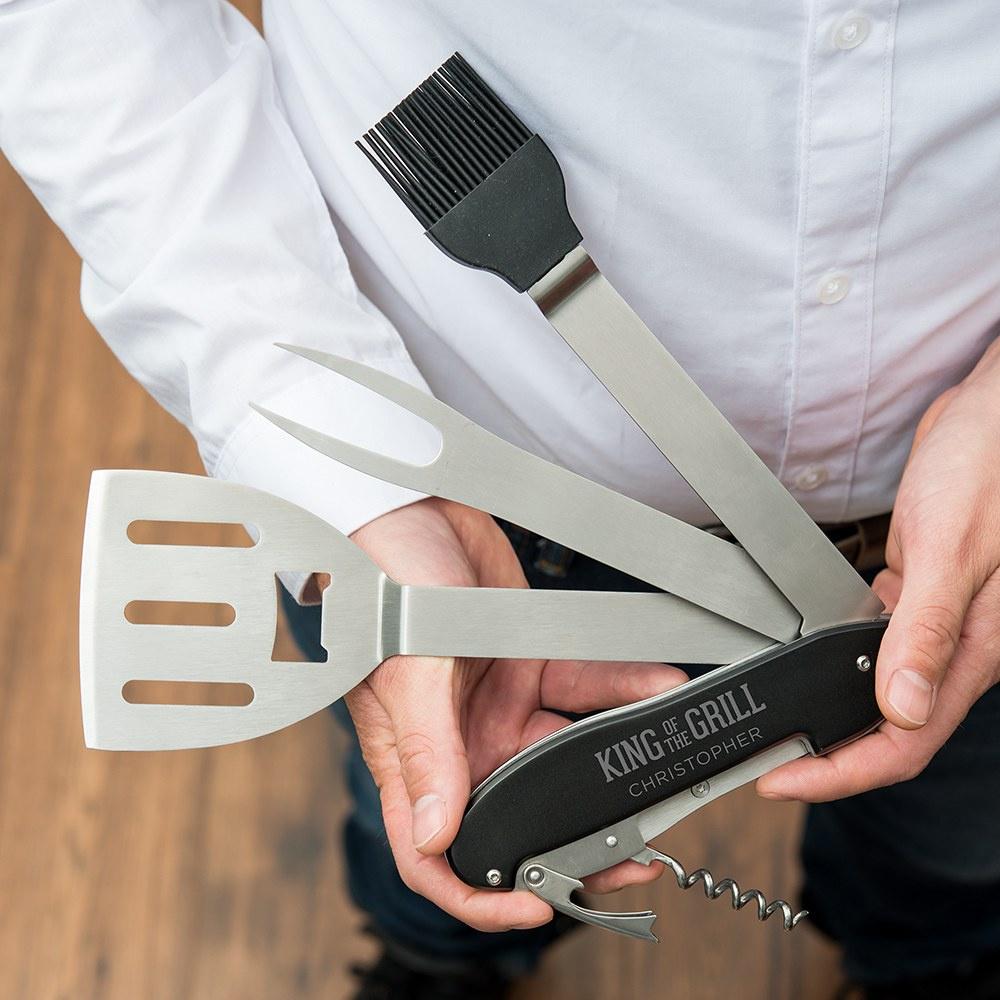 We love useful groomsmen gifts because they'll remind your guys of this special occasion all the time. Every time your best friend, brother, or whoever fires up the grill and gets this bad boy out, they'll think of your wedding day. The barbecue multi-tool includes a spatula, basting brush, grill fork, corkscrew, and bottle opener.
WeddingWire Shop personalized BBQ multi-tool grill utensils set in King Of The Grill, $26, WeddingWire Shop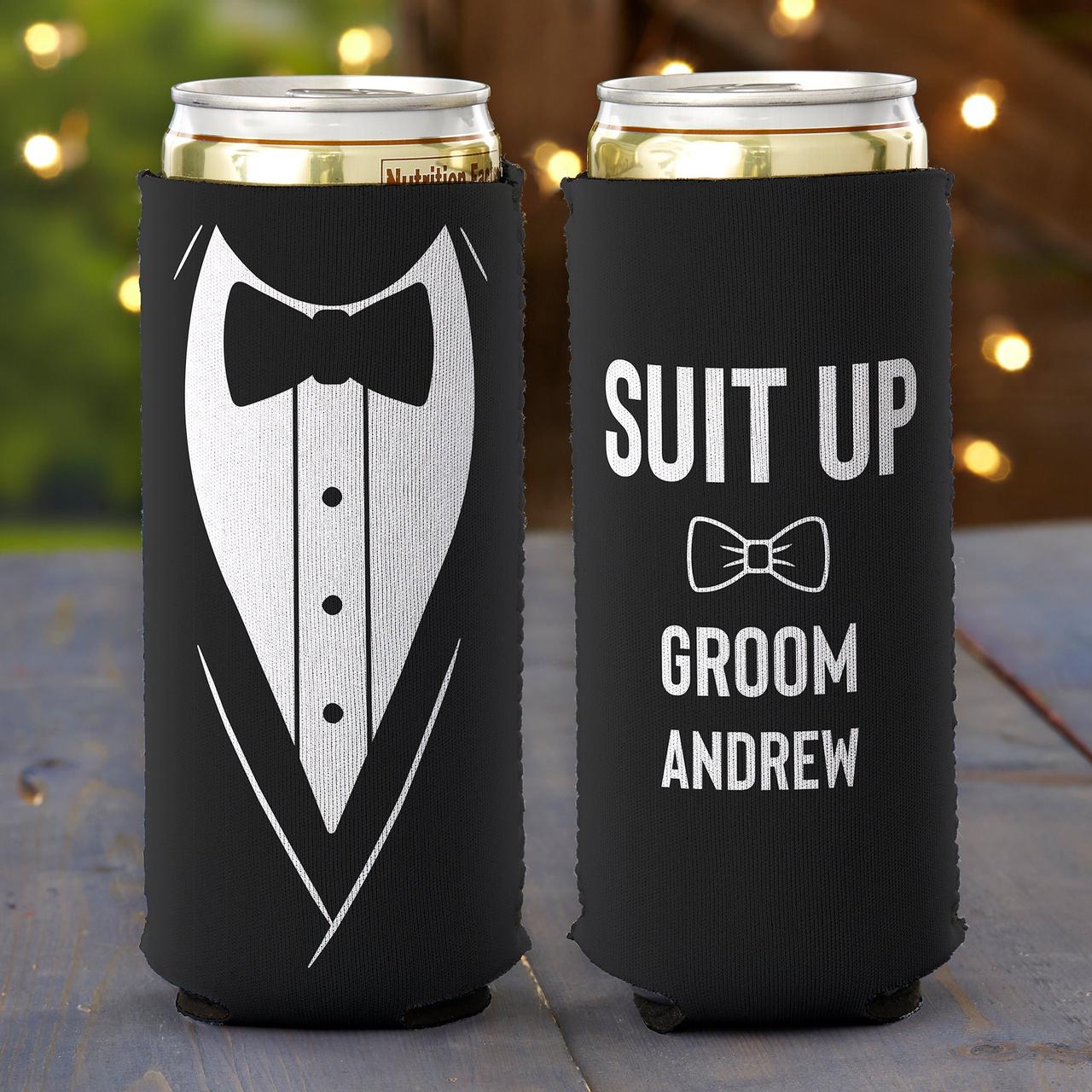 Inexpensive groomsmen gifts can be just as good as pricier presents. These playful tuxedo can koozies are a fun tribute to your guys in their best attire (and a great groomsmen proposal gift if you're still drafting your team).
Personalization Mall Suit Up personalized slim can cooler, $8, Personalization Mall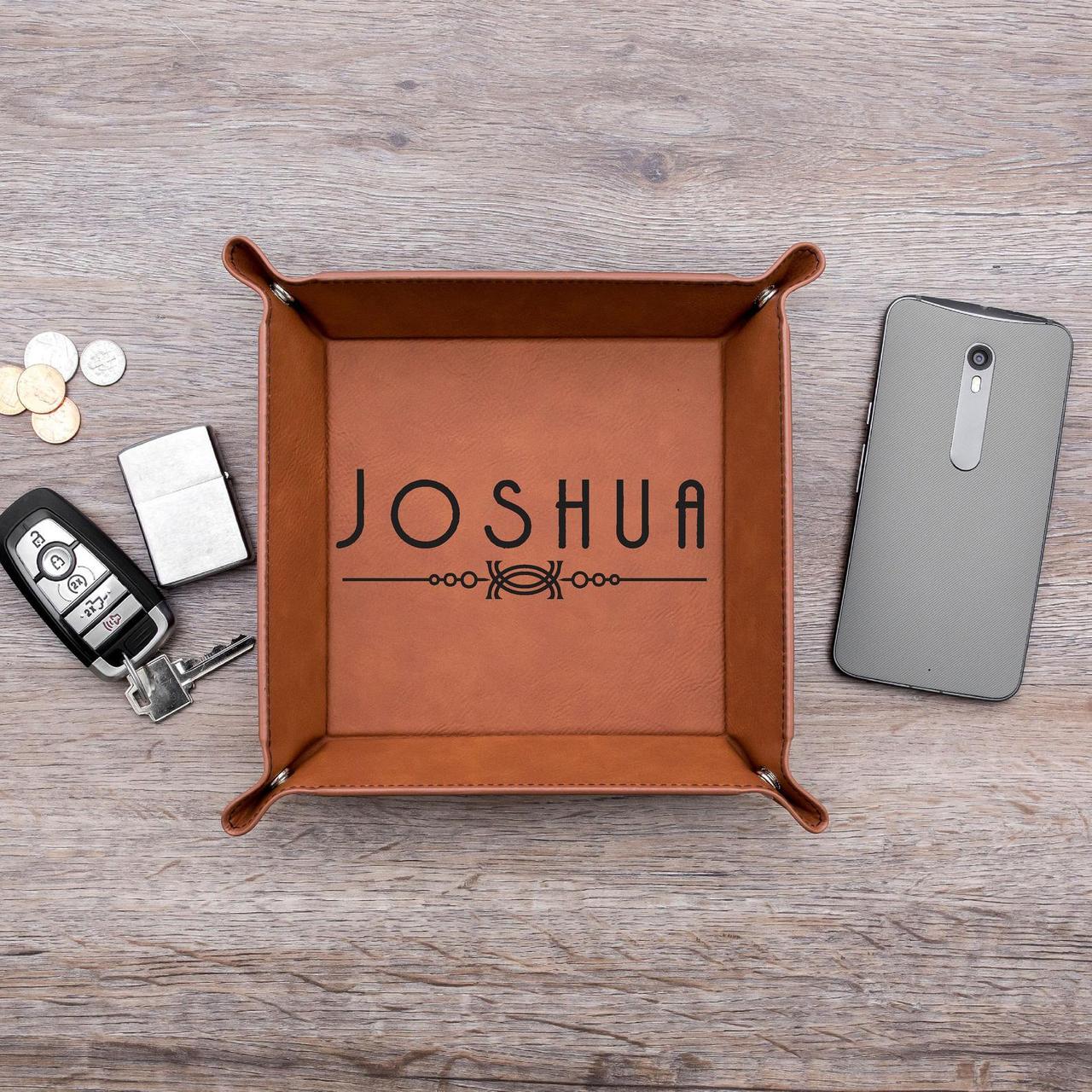 This groomsman gift idea doesn't look cheap, but you can grab one for under $20 personalized with a name. Choose between a selection of colorways to suit the recipient or your wedding style.
Rustic Route Designs personalized leather valet tray, from $18, Etsy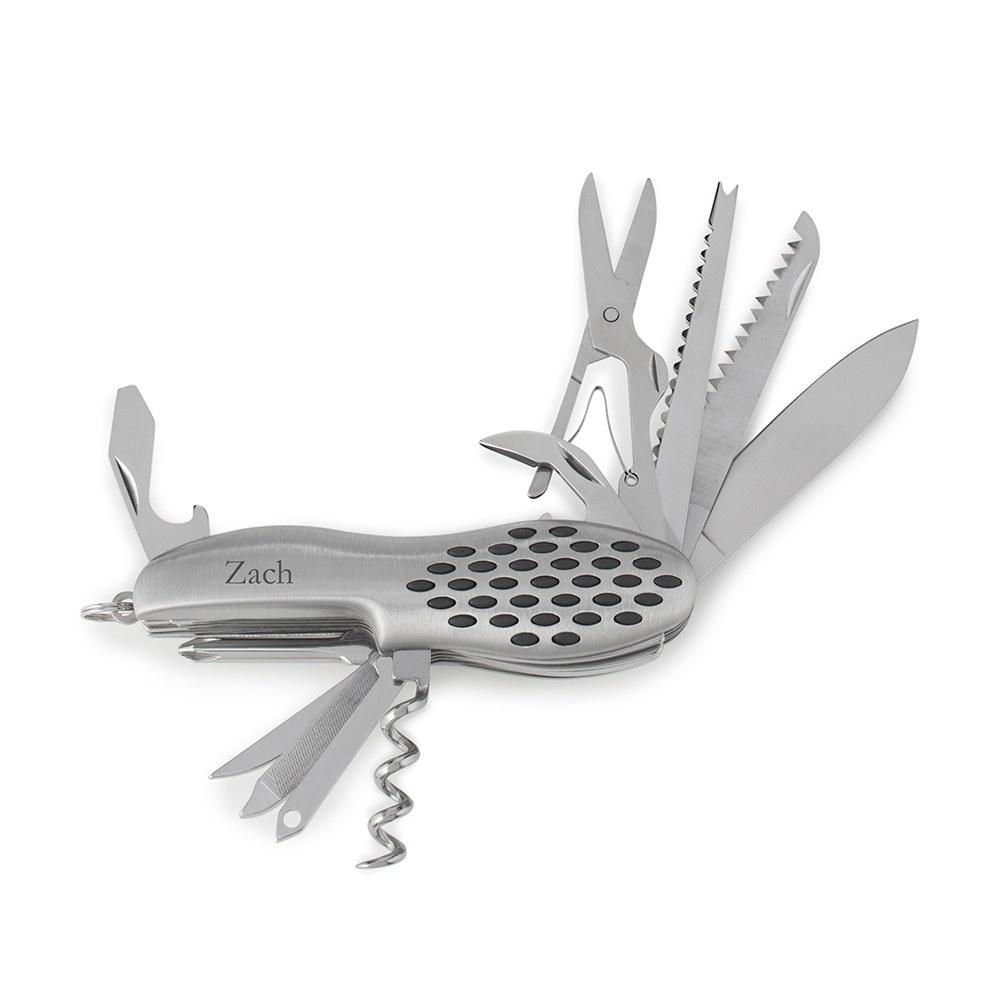 We bet they'll actually use this groomsmen gift all the time. It's an especially good choice for anyone that's into camping. The sleek stainless steel multi-tool contains all the essentials, from a fish scaler to a corkscrew. And that's not all—you can have it adorned with their name too.
WeddingWire Shop stainless steel camper pocket knife in Monogram Engraved, $13, WeddingWire Shop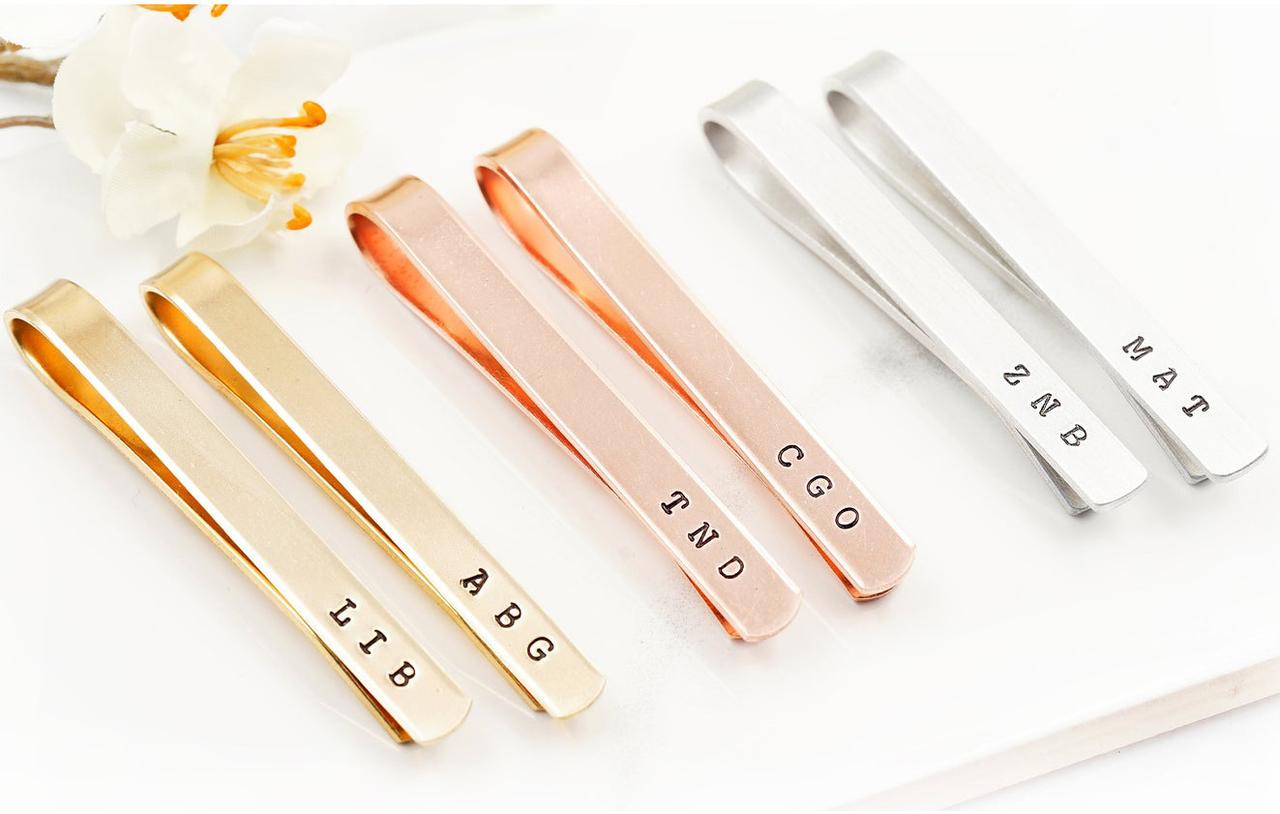 Here's another great groomsman gift they can wear on your wedding day and beyond. Have these classic tie clips engraved with each person's initials for a personal and sentimental keepsake that'll go with pretty much any suit.
Metal and Idea personalized tie clip, from $12 each, Etsy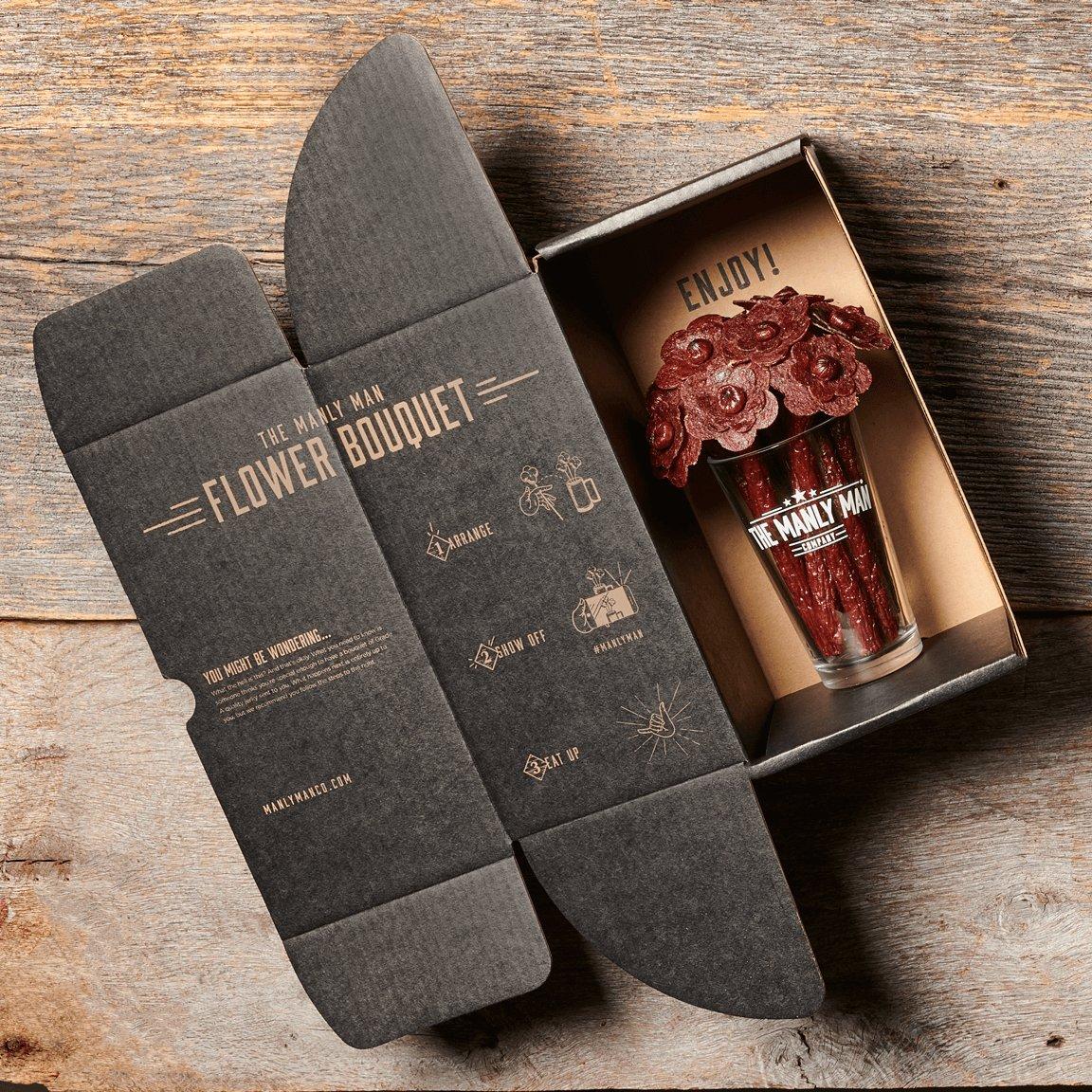 This one tops the list of unusual groomsmen gift ideas. It's a miniature bouquet made out of beef jerky (yep, you read that right) in a beer glass vase. Just don't be surprised if the tasty arrangement doesn't last long!
Manly Man Co beef jerky flower bouquet, $89, Manly Man Co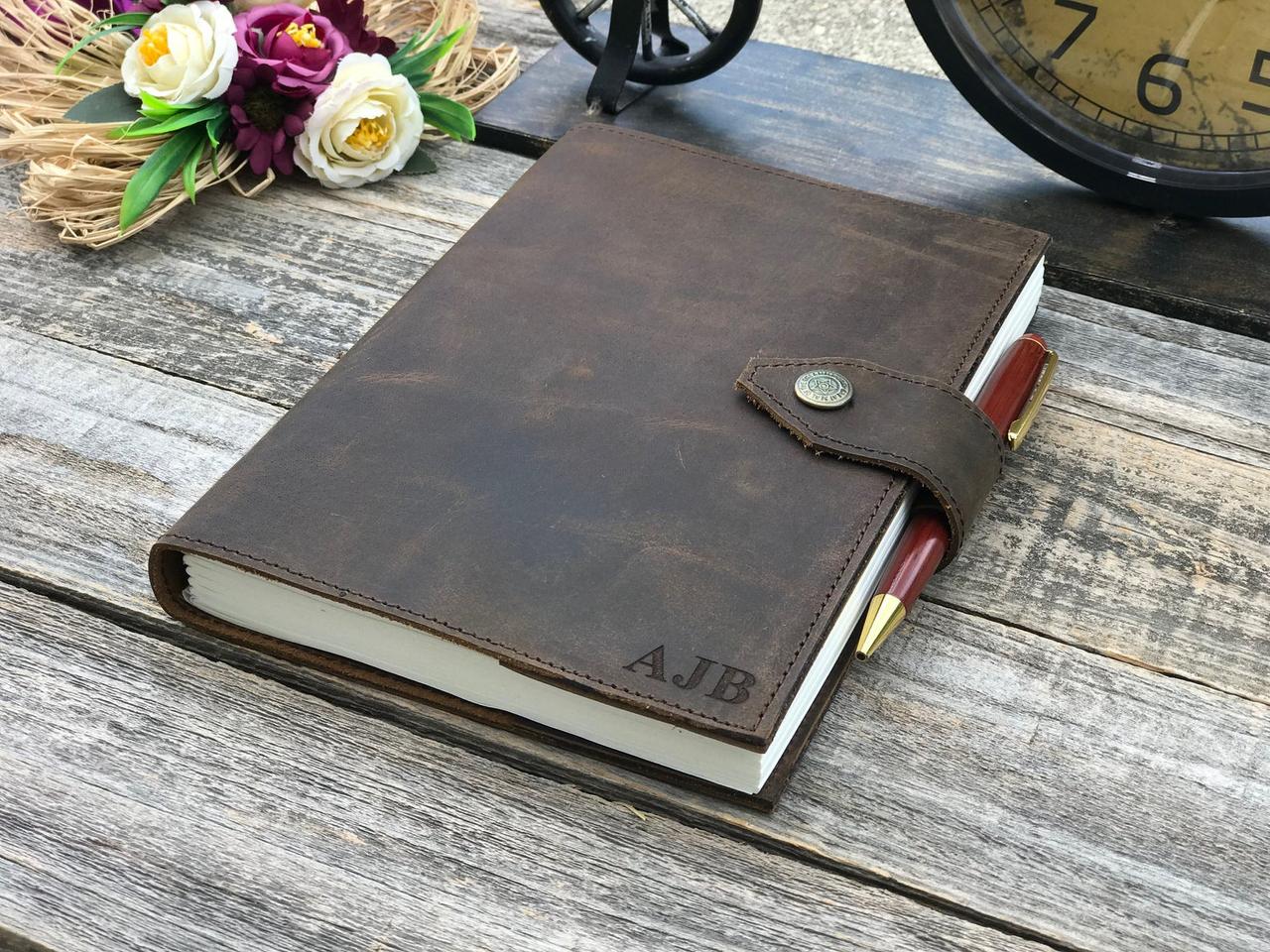 Etsy has so many awesome groomsmen gifts to choose from. Encourage your creative friends to jot down their thoughts with this beautiful (and refillable!) leather notebook. The initials on the front are the perfect finishing touch.
Lightning Design Store personalized leather journal, from $65, Etsy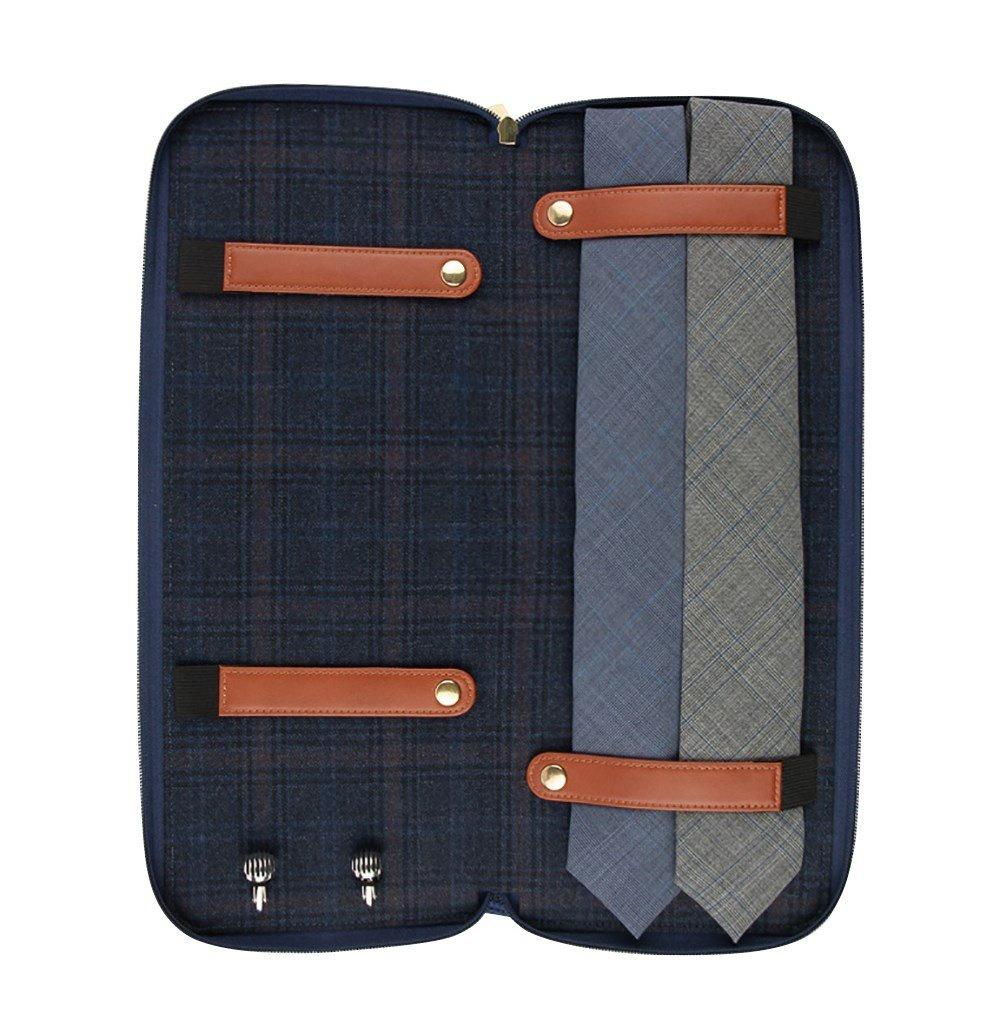 If you've got a friend who wins best-dressed every time, help him keep his outfits looking sharp with a travel tie case that prevents creasing.
The Tie Bar navy travel tie storage case, $35, The Tie Bar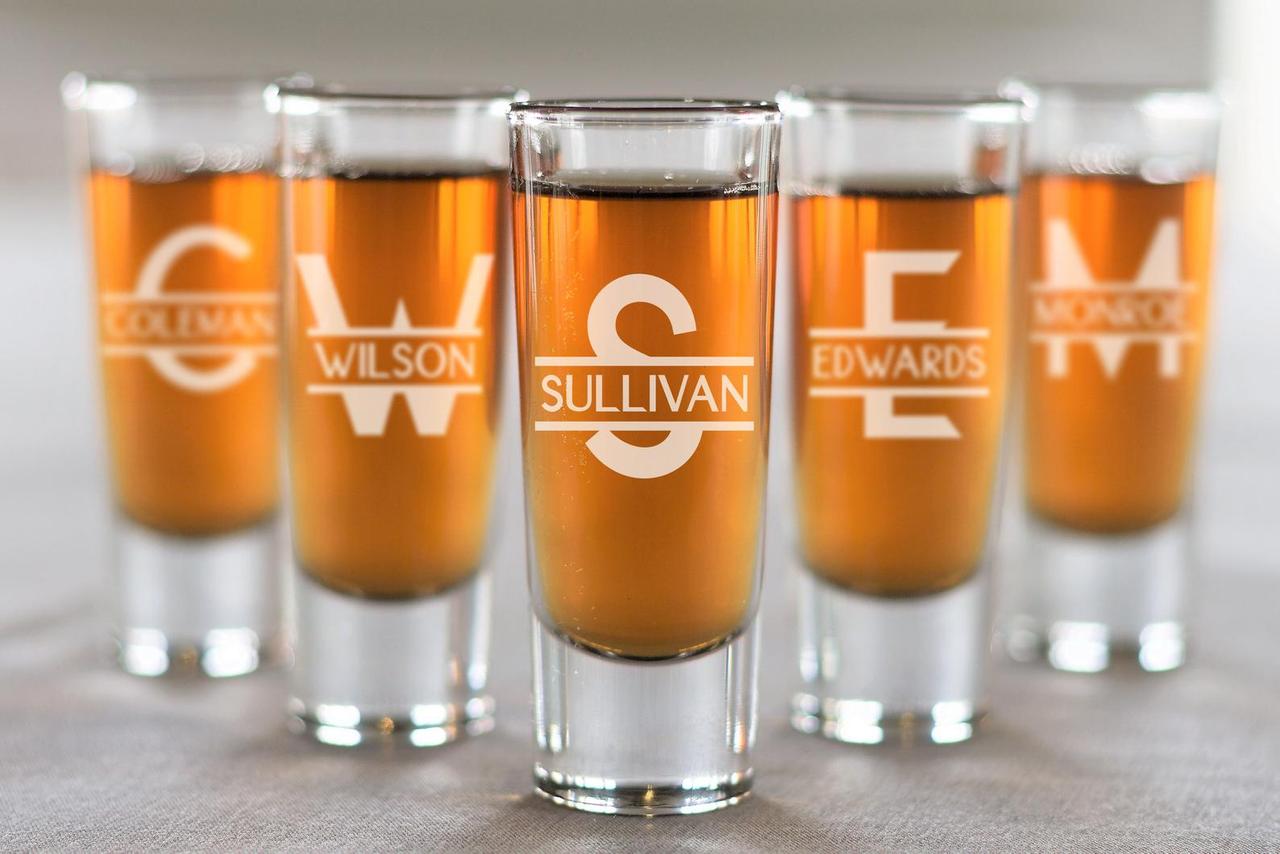 To make shopping even easier, these affordable groomsmen gifts come in a set of six. Each shot glass can be personalized with their first or last name and an initial.
Blue Ridge Mountain Co set of 6 shot glasses, $54, Etsy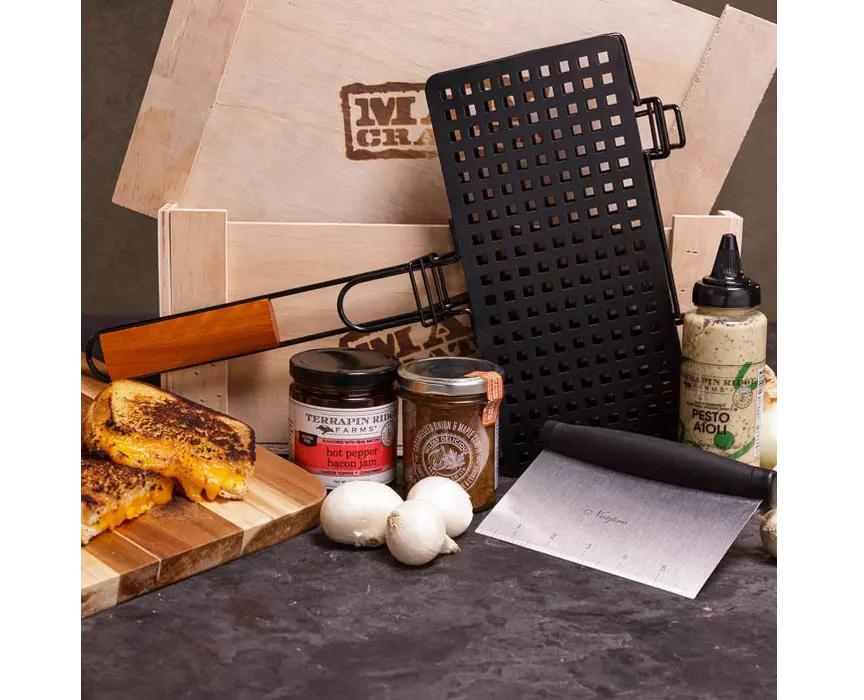 Sometimes it's the simple things in life that bring the most joy. If the humble grilled cheese is a staple part of your best guy's diet, treat them to an upgrade. This gourmet gift box includes the tools and enhancements they'll need to give their sandwiches a serious makeover. Talk about a cool wedding party gift for your groomsmen!
Man Crates gourmet grilled cheese crate, $70, Man Crates