The Groomsmen Guide: How to Ace Your Groomsman Duties
Learn the ins and outs of all your groomsmen duties with our handy-dandy groomsmen checklist and guide.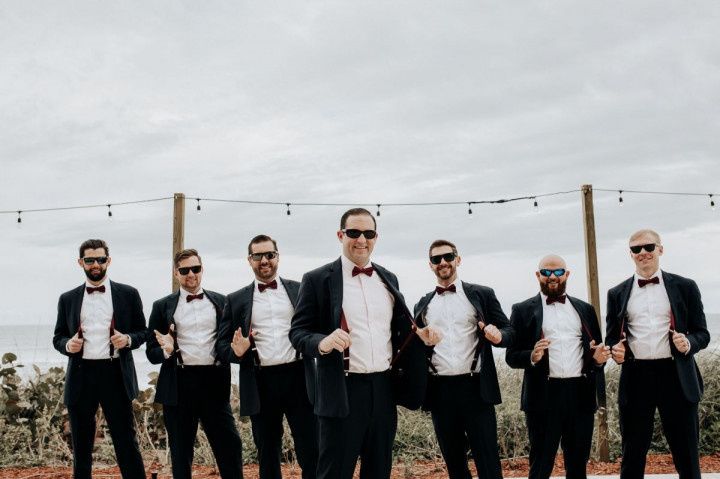 Being asked to serve as one of the groomsmen in your buddy's wedding is a huge honor — but be warned that it's also a big undertaking. The list of groomsmen duties, while not nearly as long as that of a best man, is extensive — and there are few responsibilities on a groomsman's to-do list that can be easily forgotten.
Before we get into all that, what are groomsmen? Officially, a groomsman is one of the groom's male attendants in a wedding ceremony. (FYI: If a gal getting married chooses to have a male attendant, he'd be known as a bridesman.) So while groomsmen are well known for duties like standing beside the groom during his "I dos" and helping plan the bachelor party, it's important to remember the lesser known groomsmen tasks, like helping to keep the groom calm, being a model wedding guest (RSVP-ing on time, reserving travel and hotel with the room block early) and assisting with the getaway car. So if you're looking to totally nail the title of "Groomsman", bookmark this checklist ASAP.
So, what do groomsmen do, exactly? Here's the ultimate list of groomsmen duties and responsibilities, from start to finish.
Groomsmen Duties Before the Wedding Day
1. Help pick the ring
Before the couple can "I do", someone has to say "yes"—and that means finding the perfect ring. Future groomsmen could be asked to help with the ring shopping, so if you don't know a lot about engagement rings or proposals, just do a little research in advance so you can provide an educated opinion.

2. Purchase or rent wedding attire
Just like the bridesmaids, groomsmen are in charge of purchasing and tailoring their wedding attire. Whether you've decided to rent or buy your suit or tux, it's important to start the process early so you have everything in hand well in advance. This will keep you and the couple stress free!

3. Plan the bachelor party
Everyone loves a good party and even though planning the bachelor party is, traditionally, a best man duty, that doesn't mean the other groomsmen can't lend a hand. If you all work together, it'll be a night or weekend you'll never forget. If you don't help planning, it's nice to chip in funds to the festivities.

4. Attend the engagement party, bachelor party, and rehearsal dinner
Unless something major comes up, groomsmen are supposed to be in attendance for any pre-wedding activities, excluding the bridal shower. While oe of those events may sound way more fun than the others, it's good to show your support for the couple from the engagement all the way to them saying, "I do". Knowing the order of the processional and recessional, which is something you'll learn at the ceremony rehearsal, is paramount to having a hiccup-free wedding.

5. Get a wedding gift
With a life outside the upcoming nuptials, getting the couple a wedding gift may slip your mind—but it's customary for members of the wedding party, including the groomsmen, to bestow a present on the couple. If you're not sure what to get them, check out their registry and find something that they can use together. If they aren't having a traditional gift registry, consider splitting an activity, or part of their honeymoon, among the other groomsmen or wedding party.

6. Book travel and hotel accommodations
You'll also need to book hotel and travel accommodations on your own. Couples tend to book a room block in a specific hotel close to the venue, so make sure you reserve a hotel room as soon as possible. This is especially important for destination weddings. You'll want to be at the destination with plenty of time to participate in any and all wedding weekend activities. Many people will consider waiting to book cheaper flights, but if you're shut out, you'll be in a bind and the couple will be incredibly stressed at your potentially late arrival. Avoid all that added stress and make plans as soon as you can.

7. Decorate getaway car (optional)
It's the job of the groomsmen and bridesmaids to make sure the couple's getaway car is properly decked out for their departure. Not every couple will have a getaway car and not every couple will want their car decorated (especially if it's a rental), but if they do it's your job as a groomsmen to make it look amazing.

See More: How to Write a Best Man Speech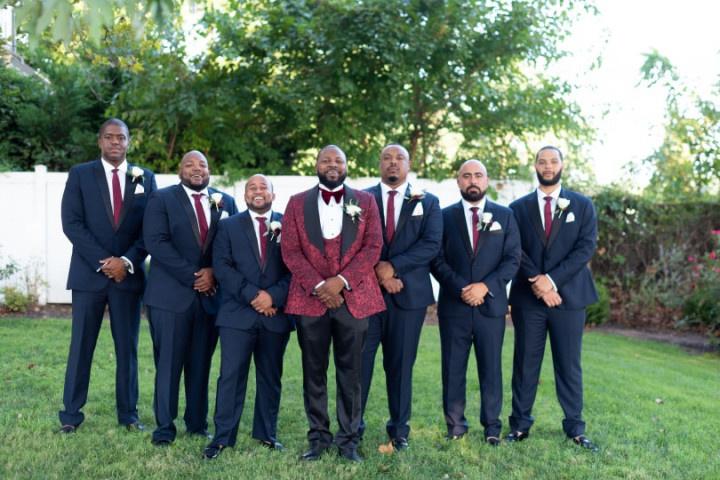 Groomsmen Duties on the Wedding Day: Pre-Ceremony
1. Keep the groom calm
One of the main duties of the wedding party is to keep their friend or family member calm and collected before and during the ceremony—so groomsmen are tasked with the groom. Contrary to popular belief, grooms can get nervous in the hours leading up to their wedding, so groomsmen should try and keep him relaxed in the hours prior to "I do".

2. Get ready with the groom
Make sure you have every piece of groomsmen attire before leaving for the groom suite or venue. You don't want to forget your necktie or shoes at home or back at your hotel. Once the wedding day arrives, you'll get dressed with the groom, share a toast, and likely take a few pictures while his significant other is doing the same.

3. Have drinks and snacks on hand
Plan to bring the groom's favorite snacks and foods to the pre-ceremony prep. Nerves and stress can lead to not eating, and not eating for a whole day (while drinking) is not a good idea—for both the groom and groomsmen. Make sure the groom has something to eat before walking down the aisle. Pro-tip: Avoid messy foods that could leave stains.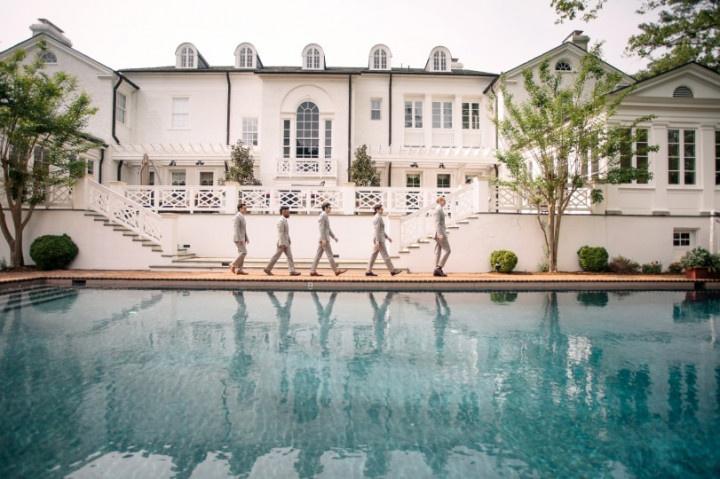 Groomsmen Duties on the Wedding Day: Ceremony
1. Help guests find their seats
If the couple has not asked anyone to be ushers, it will be your job as a groomsmen to help guests find their seats. For traditional Christian weddings, the bride's family sits on the left while the groom's family sits on the right. This is the opposite in traditional Jewish ceremonies. As these practices are becoming less popular, just make sure everyone has a seat before the processional begins.

2. Know the venue and important locations
Similarly, you'll want to know the details of the venues and important locations like the bathrooms, coat check, and where to place cards and gifts. The best man and maid of honor will most likely be the go-to for any of these questions, but as they have a ton of pre-wedding responsibilities, make sure you can help any guests.

3. Know your cue
You'll likely have learned and practiced your cue for the processional at the rehearsal dinner. It's essential for you to know when you're supposed to walk down the aisle and who is supposed to be with you. Some couple's will have the bridesmaids and groomsmen walk separately, but if that's not the case for your wedding, know your processional partner.

4. Stand by the groom
This is the main reason you were asked to be a groomsmen. The groom couldn't possibly get married without you by his side. As you stand at the altar, be aware that you're being photographed, so try and avoid making any crazy faces.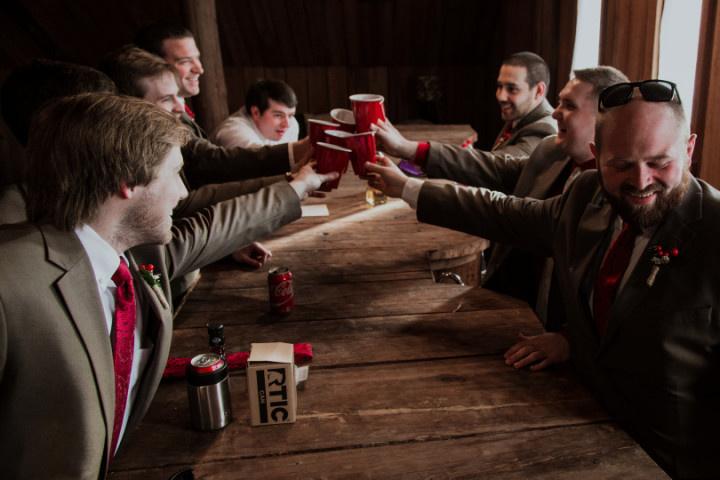 Groomsmen Duties on the Wedding Day: Reception
1. Interact with guests
Couple's will likely do their portrait session between the ceremony and reception. As a groomsmen, you'll likely be in the role of introducing guests to one another. Watch the room and make sure everyone is having a good time.

2. Dance!
The groomsmen and bridesmaids are usually the first to dance, after the newlyweds and their parents. So don't be shy and dance your butt off. If you look like you're having fun, everyone else will soon follow.

3. Send off the couple
As the night draws to a close, make sure the couple is properly sent off to the hotel or off to their honeymoon. The groomsmen may also want to stick around to make sure all the vendors have been paid and any important items (like gifts) have been collected.
Disclosure: This post contains affiliate links, some of which may be sponsored by paying vendors.