Dressing Your Groomsmen 101
You've selected a venue, set the date and picked out your own big day ensemble—now it's time to help your friends get suited up.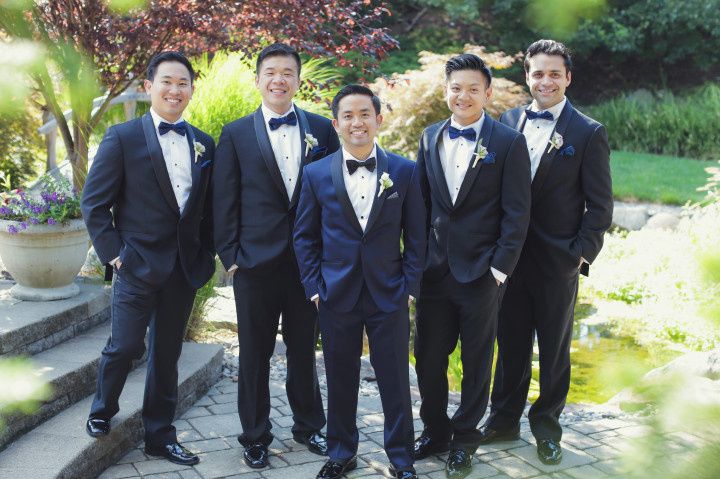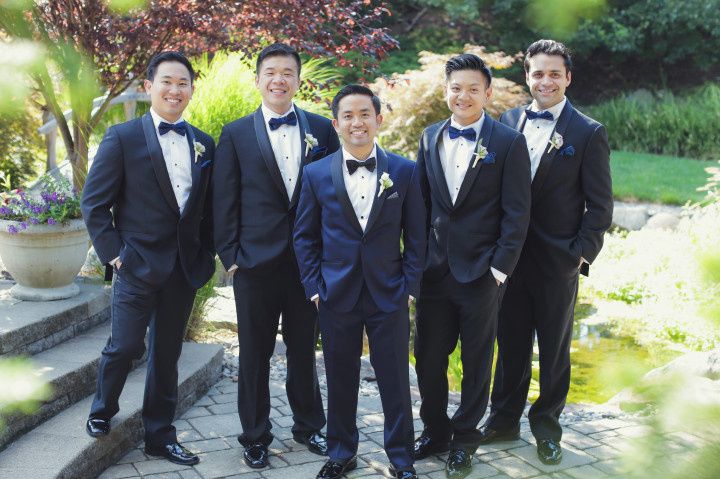 Photo: Vanessa Joy Photography
You've selected a venue, set the date and picked out your own big day ensemble—now it's time to help your friends get suited up. Below, we've outlined a few things to consider when deciding on your groomsmen's attire (but just remember that this process should be more fun than stressful—so don't get too wound up about the details).

Here's a few things to think about when deciding on your groomsmen's attire.

Consider cost.
Your friends could be in vastly different financial situations, so factor that in when picking out their formalwear. You'll likely want to choose something that's accessible to your friends with smaller budgets, since groomsmen are traditionally responsible for paying for their own attire. Consider cost when deciding between renting suits or buying them.

Be sure the outfits you choose match the formality, theme and style of the event.
You and your spouse-to-be should have chosen the location of the wedding, along with the colors, theme or at least the general vibe of the event before you decide on your formalwear; those factors will help you figure out what your groomsmen should wear. If you're having a beach wedding, the guys could wear linen pants and nice white shirts instead of tuxedos, for example. Or if you are getting married in a barn, it would be more appropriate for the groomsmen to wear suspenders and bowties than full suits. Conversely, a black tie event calls for three-piece suits, so cowboy boots and jeans would be inappropriate.

Talk to your spouse-to-be about their side of the aisle.
To create a cohesive picture at the top of the aisle, bridesmaids and groomsmen should be wearing outfits that complement each other in some way. That doesn't mean the groomsmen's vests have to match the bridesmaids' dresses—like they did a few decades ago!—but it does mean that you'll want to know what your spouse's friends are wearing so that you can dress your party accordingly.

Matching suits are nice, but not required.
While you can get matching suits if you choose to rent or buy them, it's not a requirement at a modern wedding. Take a cue from today's brides and give your friends some guidelines, then let them run free: For example, pick a specific color and have your friends decide on the fit and style of their suit. Or give them a specific jacket or suit style and have them pick their own color. You could also decide on the color and cut of your own suit, then have them pick something within that color family (e.g. you wear a dark gray tux and have them choose a suit in any shade of gray).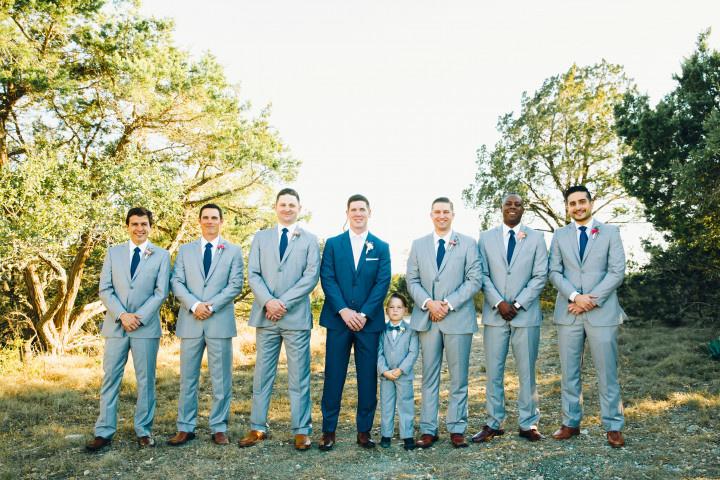 Photo: Helo Photography
Consider alternatives to the traditional three-piece suit.
You could also kick the three-piece suit to the curb and opt for something else entirely. The choices are pretty much endless, so long as the outfit aligns with the tone and formality of the wedding, but some options include: two-piece suits (no vest); dress pants and shirts with suspenders and no jackets; "beach wear"; dress pants and shirts with a sweater or cardigan instead of a jacket; dress pants and shirts with a vest and no jacket; dress shirts and clean blue jeans with vests and/or ties. The list goes on!

Offer a few different suit choices to your groomsmen and come to a consensus.
If you know you want your groomsmen in more traditional, matching suits, pick out a few different styles and talk to them about your vision (consider cost, color and your friends' bodies—if they're all about average, any suit style will do, but the same won't be true for men who are taller, larger or smaller than average). Share the options with your friends and talk through what will work best for everyone.

Set some parameters and let your groomsmen do their thing.
If you're not worried about having everyone in the same look, set a few parameters and let your groomsmen wear whatever they're comfortable in (but have them show you what they pick out, of course). You could ask them to wear the same color shoes and a suit in good condition, for example, or just outline the vibe or feeling you want to convey and have them interpret it, e.g. rustic, James Bond, steampunk etc.

Consider non-traditional shoes.
Depending on the type of wedding you're having, it could be fun to have your groomsmen wear suits with fresh sneakers, clean Converse, cowboy boots or other non-traditional shoes instead of the oft-worn shiny black cap toes. Dress shoes—especially if they're brand new or rented—can be super uncomfortable, which will stop your friends from dancing! So non-traditional shoes are often just the thing to take your reception to the next level.

Give them something special to wear on the big day.
Whether you choose a very specific look or let your groomsmen take the lead, it's always nice to tie the whole thing together with some matching details. Pick out socks, ties, pocket squares, cufflinks or boutonnieres for your friends to make sure they feel special on the big day.