If you're ready to start shopping for wedding party thank-you gifts, you might be realizing that it's not as simple as you first thought, especially if you have a large group or don't know what to buy. If that's the case, don't worry. We're here to answer all the biggest FAQs, from how much to spend on groomsmen gifts to what makes a truly special present. These tips will help make shopping for your crew a breeze, whether you're in the early stages and don't know where to look or you've got your gifts all wrapped up but just don't know when to hand them over. (And if you're wondering about best man gift etiquette, we're covering that too!)
Do you have to get gifts for your groomsmen?
Taking on the role of a groomsman is a big responsibility. Your guys deserve something great as a "thank you" for standing by your side, not just on the wedding day, but every day before that. Presenting your friends with best man and groomsmen gifts is a great way to let them know just how much they mean to you. That said, it's not the only way. Some couples choose to pay for some of the groomsmen's wedding expenses as a token of gratitude instead. Picking up the tab for their wedding suits or accommodation is an acceptable alternative to buying everyone a present.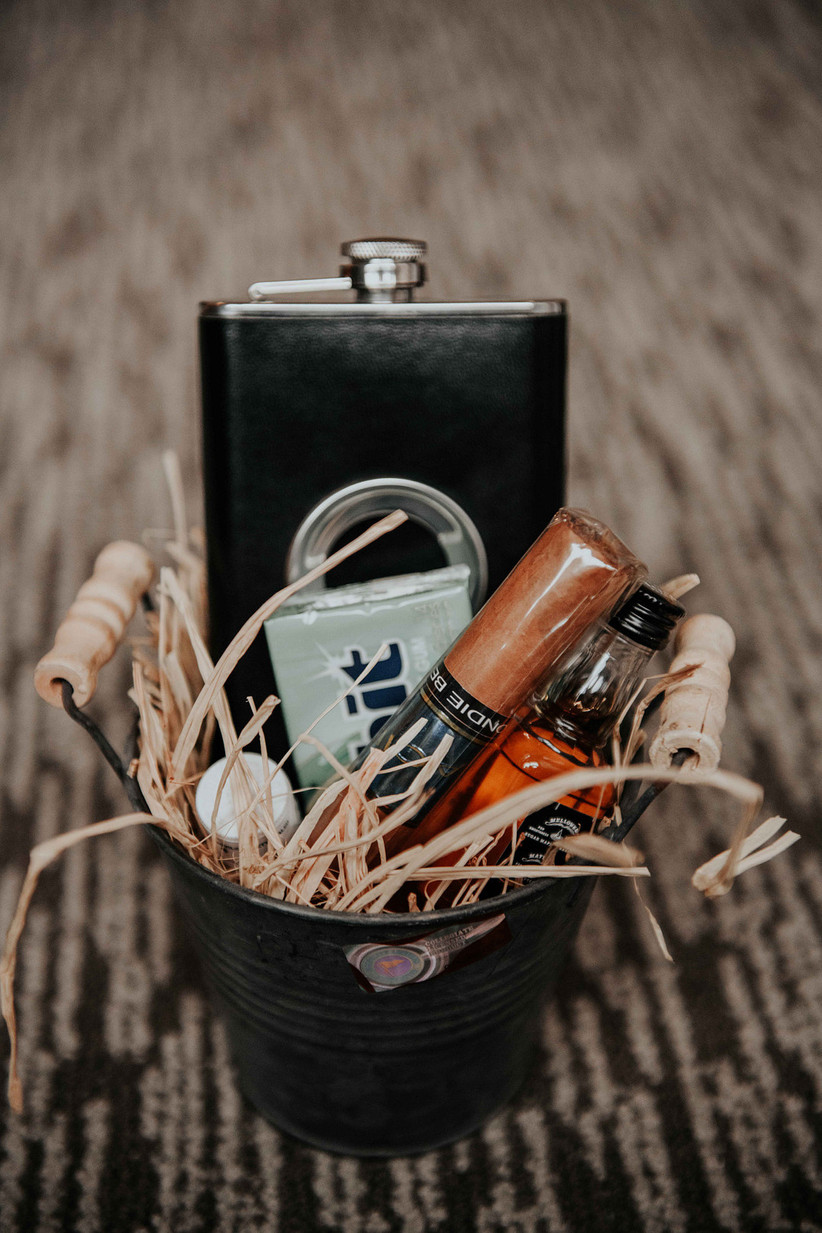 How much should you spend on groomsmen gifts?
Deciding how much to spend on groomsmen gifts ultimately depends on your own financial situation. If you can comfortably afford to spend $150 on each member of your crew, go for it. On the flipside, if $150 feels a little (or a lot) out of reach, that's okay too—even $15 or $20 per person can go a long way with a little bit of thought. Your loved ones won't expect you to go broke buying them gifts. Instead, choose an amount that suits you and your partner, and put some extra effort into writing heartfelt thank-you notes for everyone. You'll be sure to get the message across (without having to dip into your rainy day fund).
One last tip: Try to allocate a portion of your wedding budget for wedding party gifts early on. That way, you won't run into any financial roadblocks when it's time to start shopping.
Where can you buy groomsmen gifts?
There are lots of places you can go to buy groomsmen gifts online. Some of our favorites include WeddingWire Shop, Etsy, and David's Bridal. WeddingWire Shop has so many great gift ideas at different price points, from monogrammed hip flasks to embroidered toiletry bags. Similarly, Etsy has a variety of options that can be customized and personalized to suit each member of your squad, plus a great selection of handmade gifts. Looking for something a little more unique? Trendy online stores like Uncommon Goods and Huckberry are chock full of cool and unusual items that make excellent gifts.
No matter where you choose to pick up presents for your crew, try to check it off your list one or two months before the wedding. If you leave it to the last minute, you'll risk running out of time for personalizations and your gifts might feel rushed.
Who should pay for groomsmen gifts?
Figuring out who pays for what while planning a wedding can get confusing, especially if you've got parents helping out with the costs. Does the groom or best man buy gifts for the groomsmen? How about whoever is paying for the wedding? If these are the questions you're stuck on, the answer is actually pretty straight forward. When it comes to groomsmen gifts, it's proper etiquette for the groom (or the couple) to foot the bill. These are some of your closest friends and family who have stepped up to help you plan and celebrate an important personal milestone. It makes sense that you should be the one to thank them, which includes picking out their presents and covering the cost.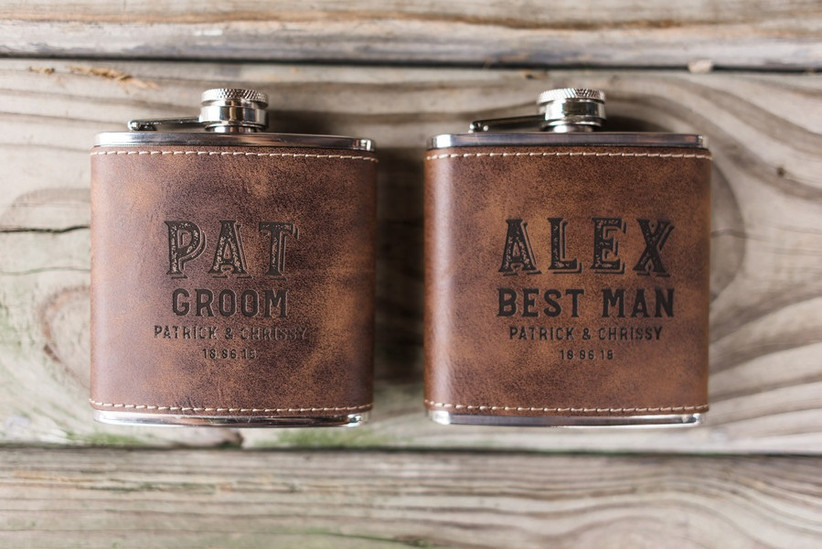 What makes a good groomsmen gift?
There are lots of really popular gift ideas out there, but what's actually a good gift to give your groomsmen? The key is to pay attention to each person's interests. While buying the same thing for everyone might save you some time and effort, it's not a good idea if the gift won't be appreciated by everyone. Of course, that's not to say you can't give your guys a variation of the same thing if they all have similar interests. For example, if your crew meets up regularly for a round of golf, getting personalized golf balls for everyone makes sense. At the end of the day, the best groomsmen gift ideas are the ones that reflect your relationship with each person.
Having your gifts personalized is another way to help make them feel special. Not sure what to write or engrave on your groomsmen gifts? It depends on the item. If your gifts are intended to be meaningful keepsakes of your special day, like a flask or cuff links, having them personalized with each person's wedding title and the date is a nice gesture. But, if you're giving your groomsmen something practical designed to be used often, it's better to personalize it with their name or monogram.
When should you give your groomsmen their gifts?
You should have your wedding party gifts ready to hand over shortly before the wedding. Avoid delivering your presents too early (anything more than one month out), as you want to make sure you're properly thanking your crew for everything they've done in your thank-you cards. You can't show your gratitude for an awesome bachelor party if it hasn't happened yet. Instead, plan to hand over your presents at the rehearsal dinner, on the morning of the wedding, or a couple of weeks before the big day.
Is gift etiquette different for the best man?
The role of best man calls for even more responsibility than being a groomsman. As a result, it's a good rule of thumb to raise the price tag a little for your best man's gift. If you're putting together gift boxes for everyone, make sure you go the extra mile with your best man's gift set. For example, if you're giving everyone miniature bottles of bourbon, it's a nice idea to give your best man a full-size bottle or splurge on a set of whiskey glasses to go with it. And don't forget, the key to picking out a thoughtful gift is to reflect your best man's personal interests or your relationship.
Once everything is wrapped up and ready to deliver, feel free to hand it over at the same time as your other groomsmen gifts. Alternatively, set up some private time with your best man in the weeks leading up to the wedding. This will give you a chance to fully express your appreciation and spend some quality time together.