How to Find the Perfect Engagement Watch for Your (Almost) Fiancé
Engagement watches are trending, so why not pop the question to your partner with a shiny new timepiece? We've gathered our favorite options right here you can shop online.
We have included third party products to help you navigate and enjoy life's biggest moments. Purchases made through links on this page may earn us a commission.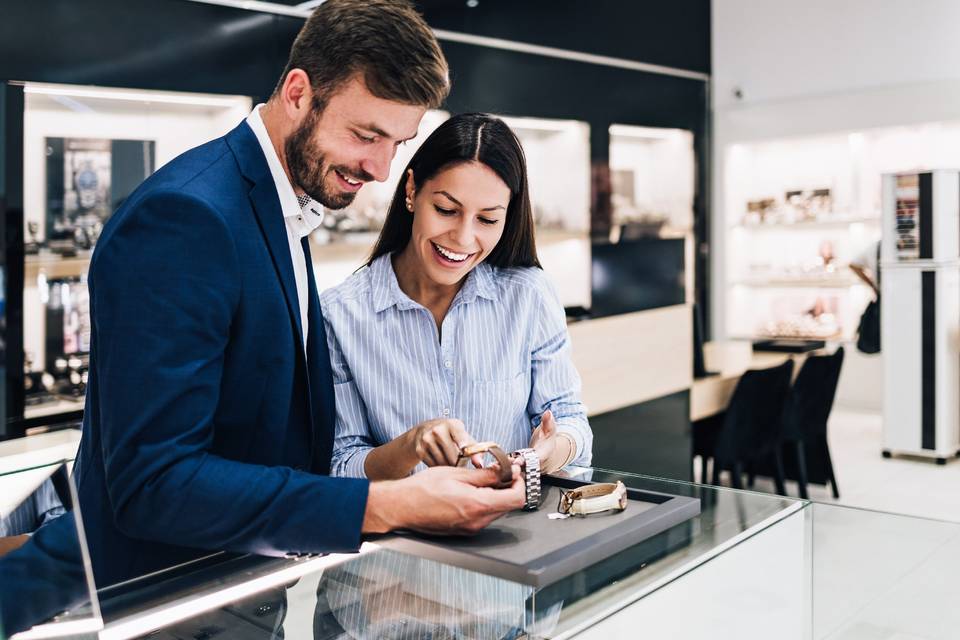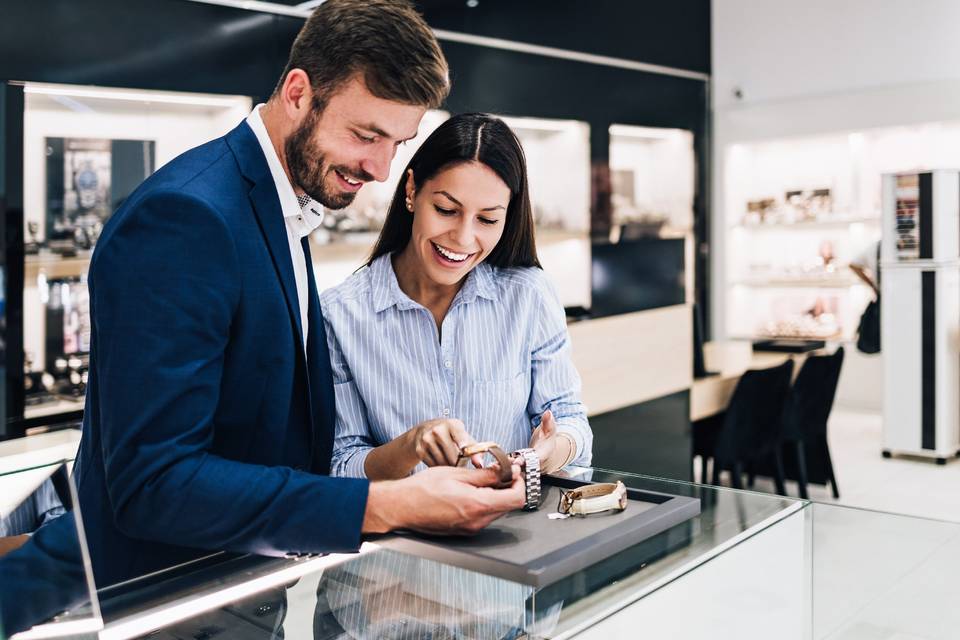 Engagement watches have been around for longer than you might think. That said, this unique tradition has definitely seen a spike in popularity over the last few years. There are lots of reasons you might want to swap out a ring for a shiny new timepiece, especially if you're proposing to a guy. While there are some solid options out there for men's engagement rings, there's no denying there's a much greater selection of stylish and versatile watches. Another pro to giving your partner a watch is that it can be both practical and sentimental. A precious timepiece symbolizes just how much you value every moment with your other half. Finally, an engagement watch is a lot bigger than a traditional ring. It's something everyone's bound to notice if you know your S.O. will want to flaunt their new accessory.
When to Buy an Engagement Watch
If you're ready to propose to your other half, then it's time to start shopping. You'll want to give yourself a few months to find the one before you plan on popping the question. That way, there's plenty of time to figure out the best option for you and your partner. Of course, you don't have to be the one who popped the question to treat your other half to an engagement watch. Often, they're given as a gift in response to receiving a ring. Purchasing something in return after your S.O. proposes is a great way of sharing the love. It shows that they deserve something special to mark the occasion too.
Where to Buy an Engagement Watch
There are so many well-established brands out there that make proposal-worthy watches. Your best bet is to shop somewhere that offers a selection of brands so you can compare different styles and price points. Here are some of our favorite places to buy watches:
Your local jewelry store: Your first port of call should be to stop off at your local jeweler. They'll likely have a gorgeous selection of watches (as well as rings if you haven't quite made up your mind yet). It's always an advantage to see something in person—especially when it's such an important item.
Nordstrom: You can find everything from classic Longines timepieces to sleek and affordable Movado wrist watches.
Saks Fifth Avenue: If your budget's a little bigger, Saks offers a range of stunning designer options, including Chopard and Cartier. They also stock some well-known watchmakers like IWC and Shinola.
Jomashop: Looking to save on a luxury timepiece? Jomashop sells discounted watches from Rolex, TAG Heuer, Gucci, and more. The only catch is that you'll receive a Jomashop warranty instead of the manufacturer's one.
What to Look for in an Engagement Watch
An engagement watch isn't just like any other accessory you'd give as a gift. Similar to a ring, you want it to last. Here's what you need to look for when buying to help ensure exactly that.
Pay attention to the brand. Many manufacturers have been around for decades (if not centuries) perfecting their signature style and craft. You can typically rely on well-established brands like Longines, Blancpain, and OMEGA. That said, newer companies like Shinola and MVMT have certainly started to prove their worth when it comes to affordable alternatives.
Check out the material of the watch. A good-quality timepiece will be made from stainless steel, if not something stronger like titanium. It should also have a PVD coating to help keep the color intact for longer. If the watch has a leather strap, full grain is generally considered the best quality. A watch with sapphire glass is also superior to one with mineral or crystal glass.
Some other qualities to look out for are water resistance, the movement, and the overall look. Most watches have a quartz movement, which is battery powered and fairly low maintenance. But if your S.O. is passionate about watches, they may actually prefer one with a mechanical movement. The need for manual winding gives a nod to the bygone era of classic watchmaking.
How to Choose the Best Engagement Watch for You
If you're still not sure where to start, check out our top tips on picking out the right option for you and your (soon-to-be) fiancé.
Start by setting a budget. Since it's for (or in honor of) a proposal, you should expect to splash out around the same as the cost of an engagement ring.
Next, you'll want to take your partner's tastes into account. For example, would they prefer a vintage leather-strap watch, or something modern and metallic? Would they appreciate a dial dotted with diamonds, or is minimalist more their style?
Another thing to keep in mind is that dress watches are often preferred when it comes to a proposal. Typically, that means a traditional leather band, thin lugs, a polished case, and a simple and elegant style. In saying that, you should opt for whatever you think your partner will love most. If that means a metal bracelet, go for it.
Engagement Watches for Him
We've covered the when, where, and how of engagement-watch shopping. If you're ready to get started, see our favorite timepieces for popping the question below.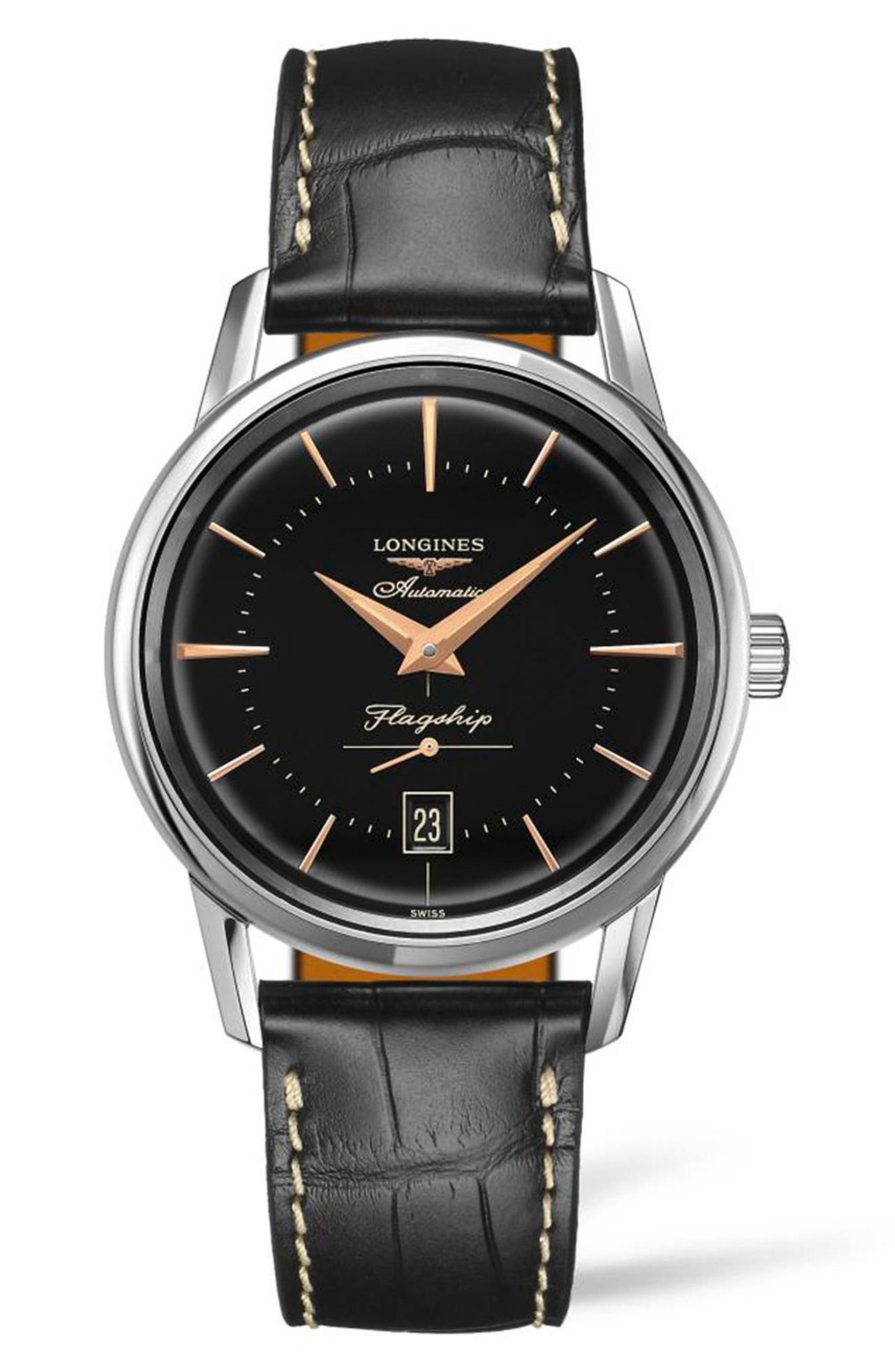 This sleek option has the understated style associated with a good dress watch. It's made from stainless steel and features protective sapphire glass, meaning it's made to last. This historic Swiss manufacturer has been producing traditional and elegant timepieces since 1832.
Longines Flagship Heritage automatic leather strap watch, $1,675, Nordstrom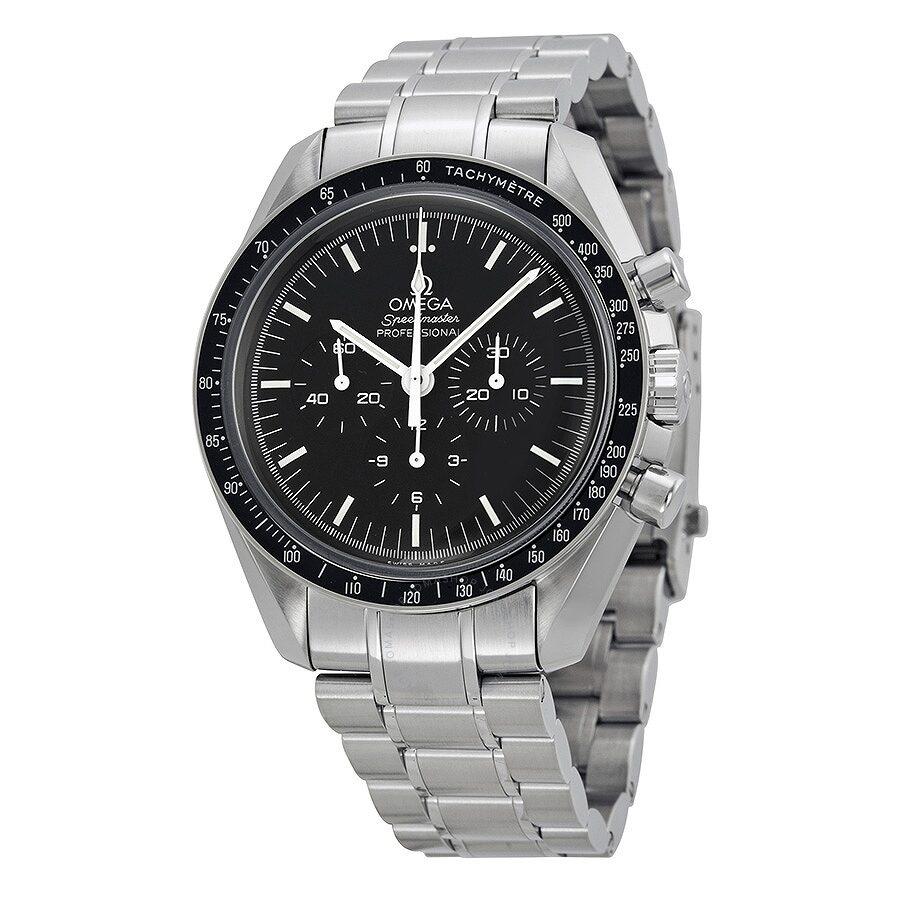 If your partner has a penchant for all things space (or would just appreciate a timepiece with a cool backstory), consider the moonwatch. The NASA-approved OMEGA Speedmaster earned its nickname from being the first watch on the moon in 1969. Talk about a cool proposal gift!
OMEGA Speedmaster professional moonwatch men's watch, $5,350, Jomashop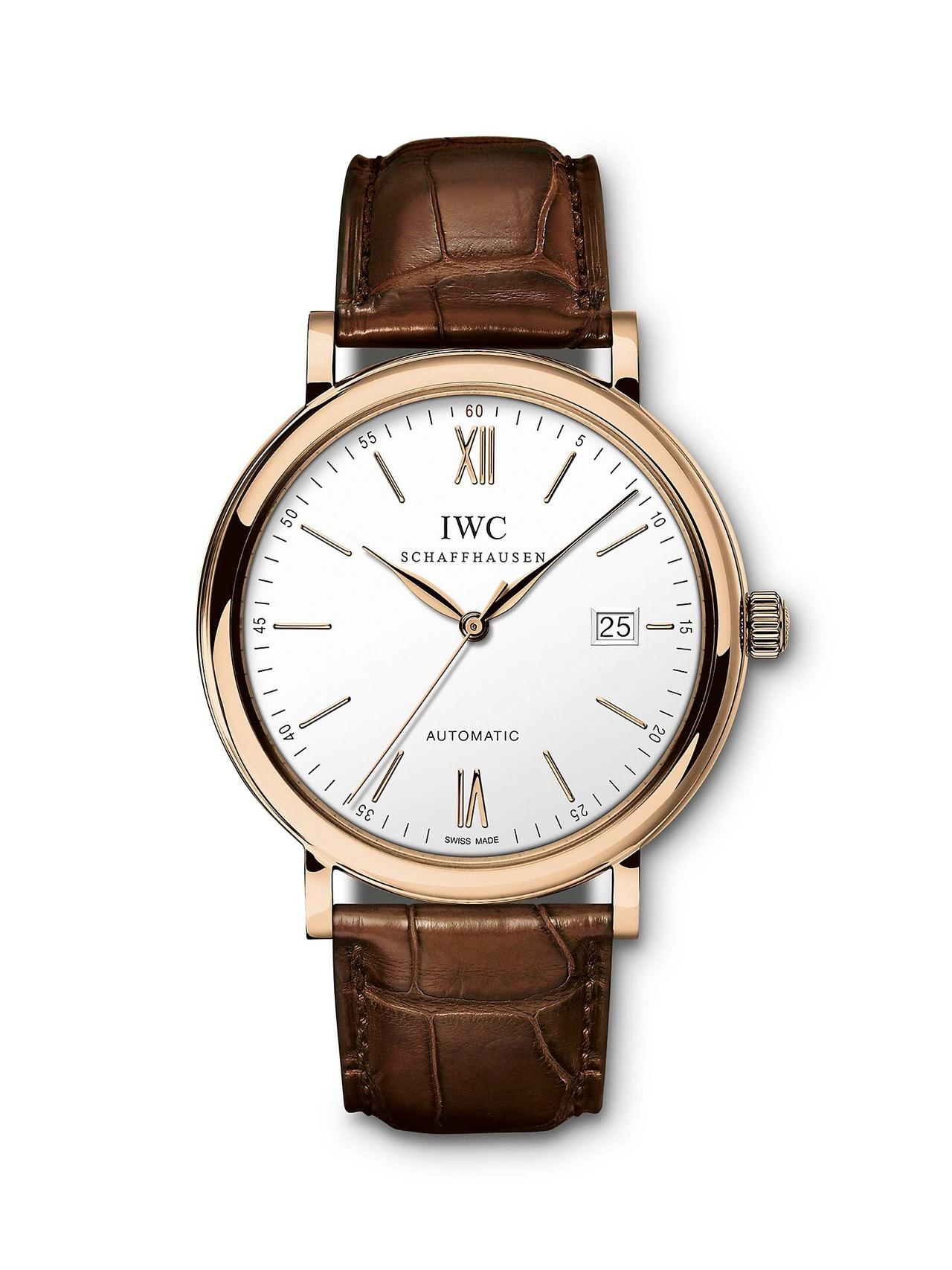 Here's another timeless style for the guy who appreciates tradition. It features a classic mechanical movement, sapphire glass, and an elegant, minimalist design. IWC is another renowned Swiss manufacturer, this time founded by American watchmaker Florentine Ariosto Jones.
IWC Portofino 18k 5n gold & alligator strap watch, $11,600, Saks Fifth Avenue
If your guy has a contemporary style, pick out an engagement watch for him that's a little more modern. Ditching leather straps for stainless steel is a simple way of bringing a watch firmly into the 21st Century. While formal options usually have leather straps, this shiny timepiece could easily pass as a dress watch thanks to its minimalist overall look.
TAG Heuer CARRERA Calibre 5 men's watch, $2,550, Jared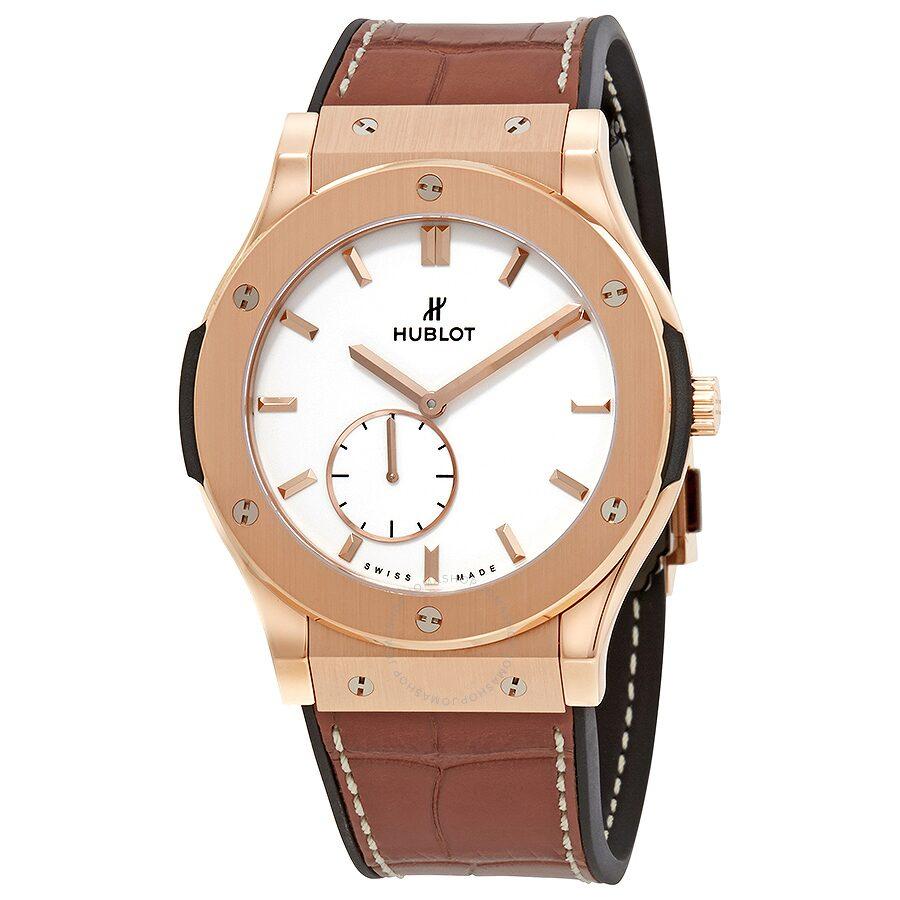 Hublot prides itself on innovative designs, and this fashionable men's engagement watch is definitely a testament to that. While it's a little on the pricey side, you certainly do get what you pay for. In this case, that's an 18-karat rose gold bezel, scratch-resistant sapphire glass, and a comfy, rubber-backed leather strap. It also has a transparent back revealing the watch's inner mechanisms, perfect for the guy who's fascinated by how things work.
Hublot Classic Fusion Classico ultra thin 18kt rose gold white dial men's watch, $23,514, Jomashop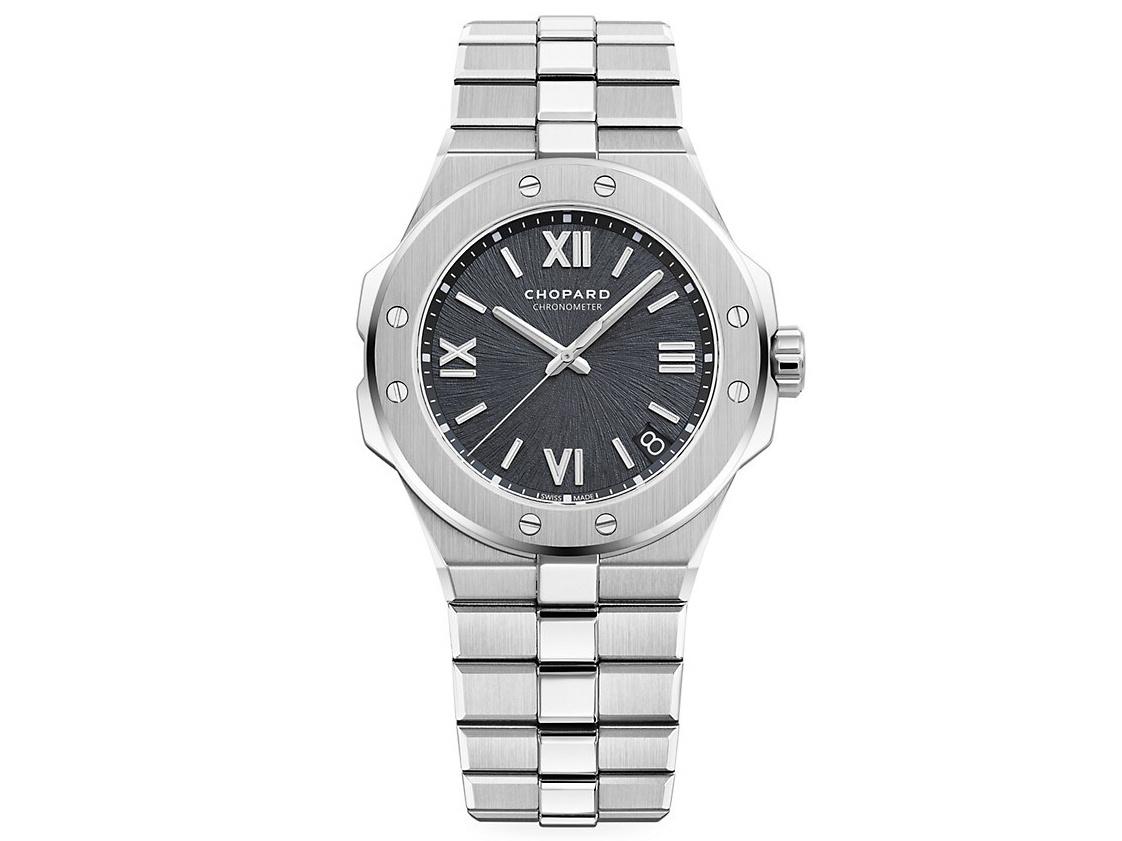 Sleek stainless steel gives this pick a contemporary design, while a see-through back displays historic Swiss craftsmanship. What makes this option really stand out is the mesmerizing sunburst-motif dial inspired by the eye of an eagle.
Chopard Alpine Eagle stainless steel & grey-dial bracelet watch, $12,900, Saks Fifth Avenue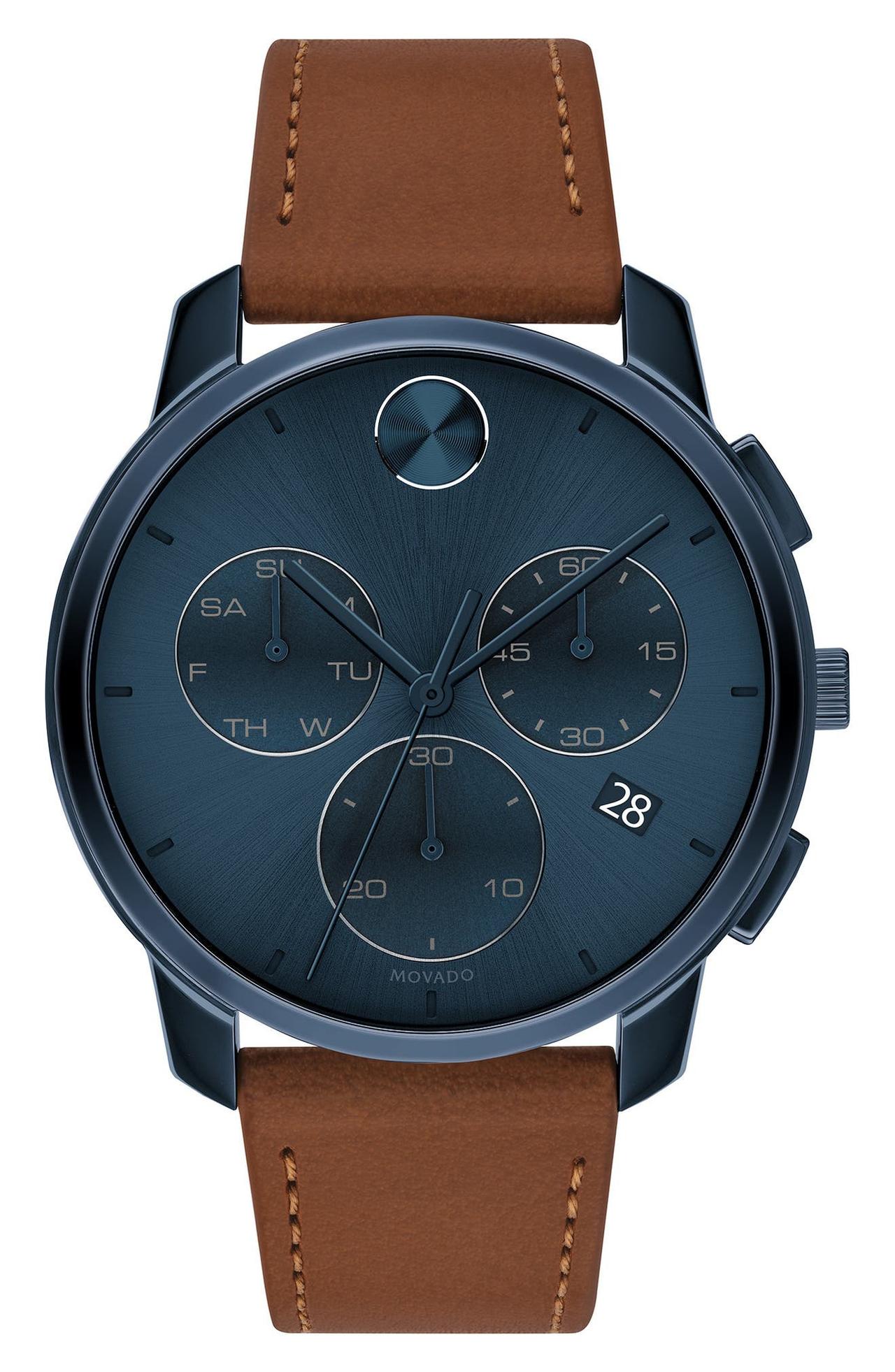 If you're looking for more budget-friendly men's watches to give as an engagement gift, Movado has some awesome affordable options. Clean and sophisticated, this brown leather-strap watch will look good with almost anything. Your fiancé might have to be a little more careful with it though, since the face is made from mineral glass.
Movado bold chronograph leather strap watch, $395, Nordstrom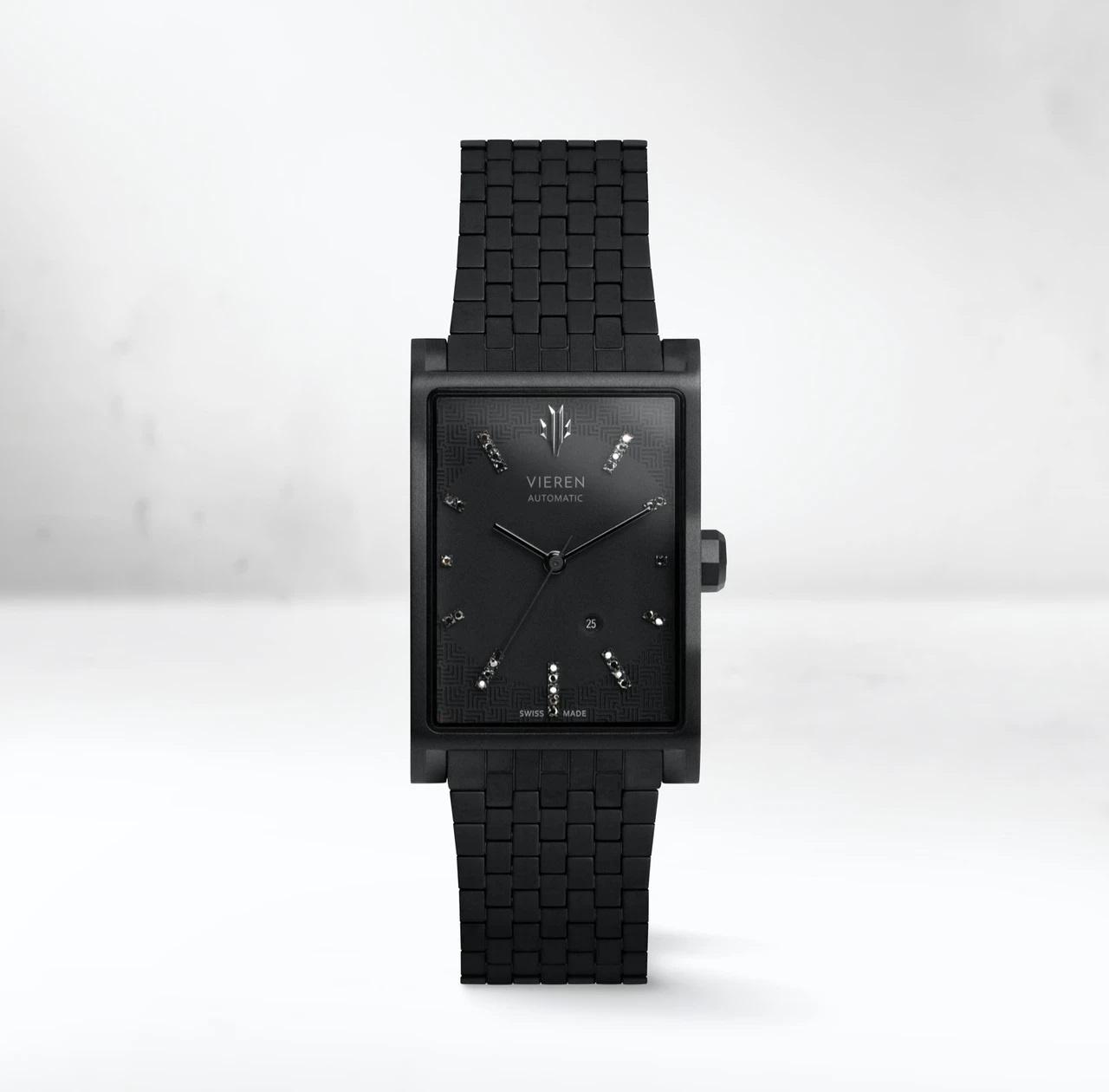 Diamonds are fast becoming a big part of engagement ring history, and there's no reason you can't mimic that with a watch. This cool monochrome timepiece features 31 black diamonds and a sapphire crystal face. The stainless steel case is also plated with black diamond-like carbon. (Psst, it's also available in white if traditional diamonds are more his style.)
Vieren OG Automatic black diamond watch, $2,500, Vieren
Want something that's truly unique for your marriage proposal? This men's engagement watch is crafted from reclaimed oak and stainless steel. It's sure to garner compliments whenever he puts it on.
Original Grain Alterra Chrono 44mm, $399, Original Grain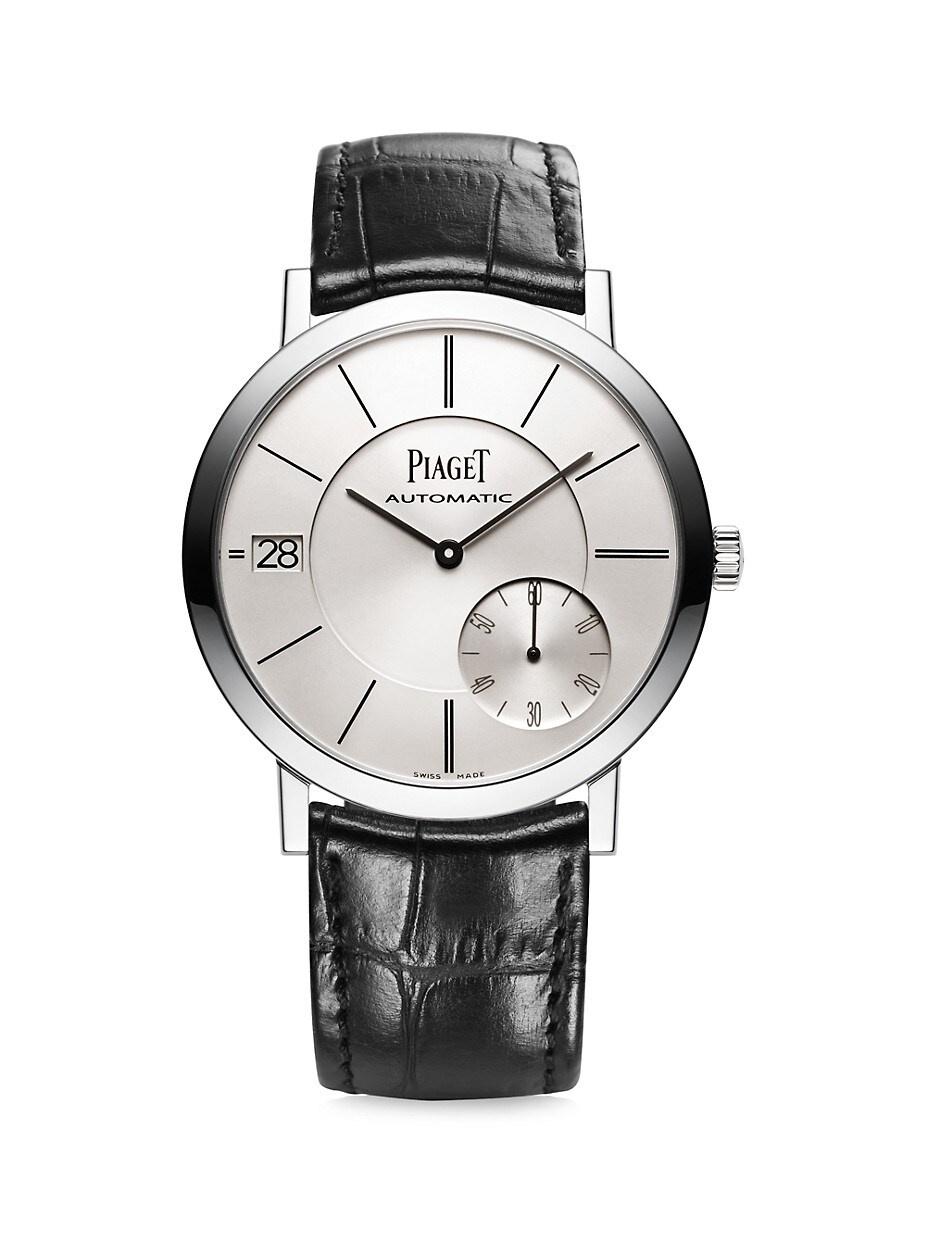 When it comes to buying a watch for your (almost) fiancé, pricey usually means precious. This luxury timepiece has a shiny white gold case and silvered dial. The automatic movement also means your partner won't have to wind it up or replace batteries. It's simple, elegant, and designed to keep going forever.
Piaget Altiplano ultra-thin 18k white gold & black alligator strap watch, $24,600, Saks Fifth Avenue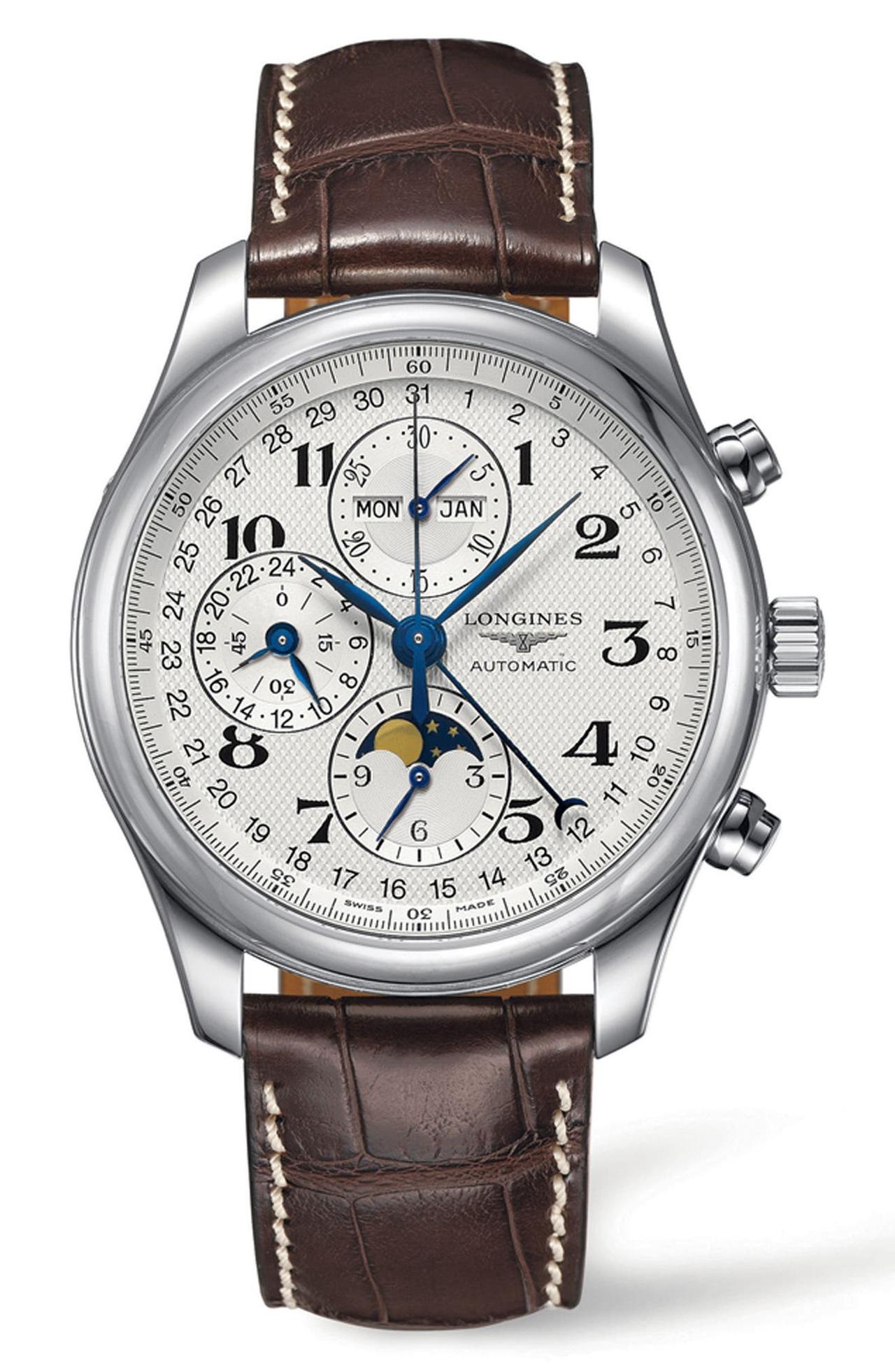 There's a reason we've got two Longines watches on this list—you just can't beat good quality. This leather-strap chronograph is less of a dress watch and more designed for everyday use. That said, many people wear their engagement rings every day, so it's not necessarily a bad thing.
Longines Master automatic chronograph leather strap watch, $3,550, Nordstrom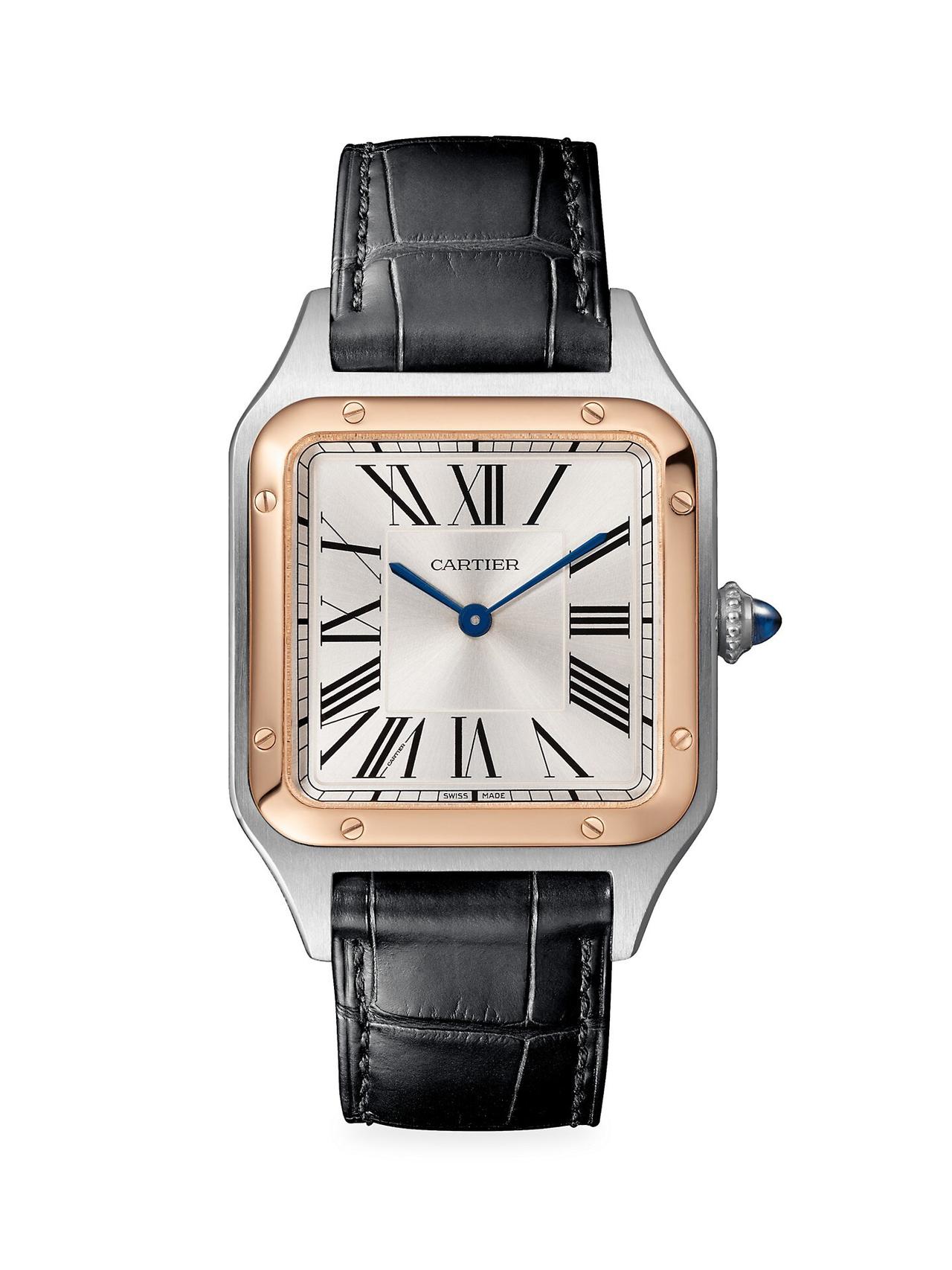 Your S.O. will want to show this designer timepiece off ASAP. It features an 18-karat rose gold bezel, a satin-brushed silver dial, and blued-steel hands. It's also water-resistant up to 100 feet and has a sapphire crystal face if something extra-sturdy is what you're looking for.
Cartier Santos-Dumont large model watch, $5,600, Saks Fifth Avenue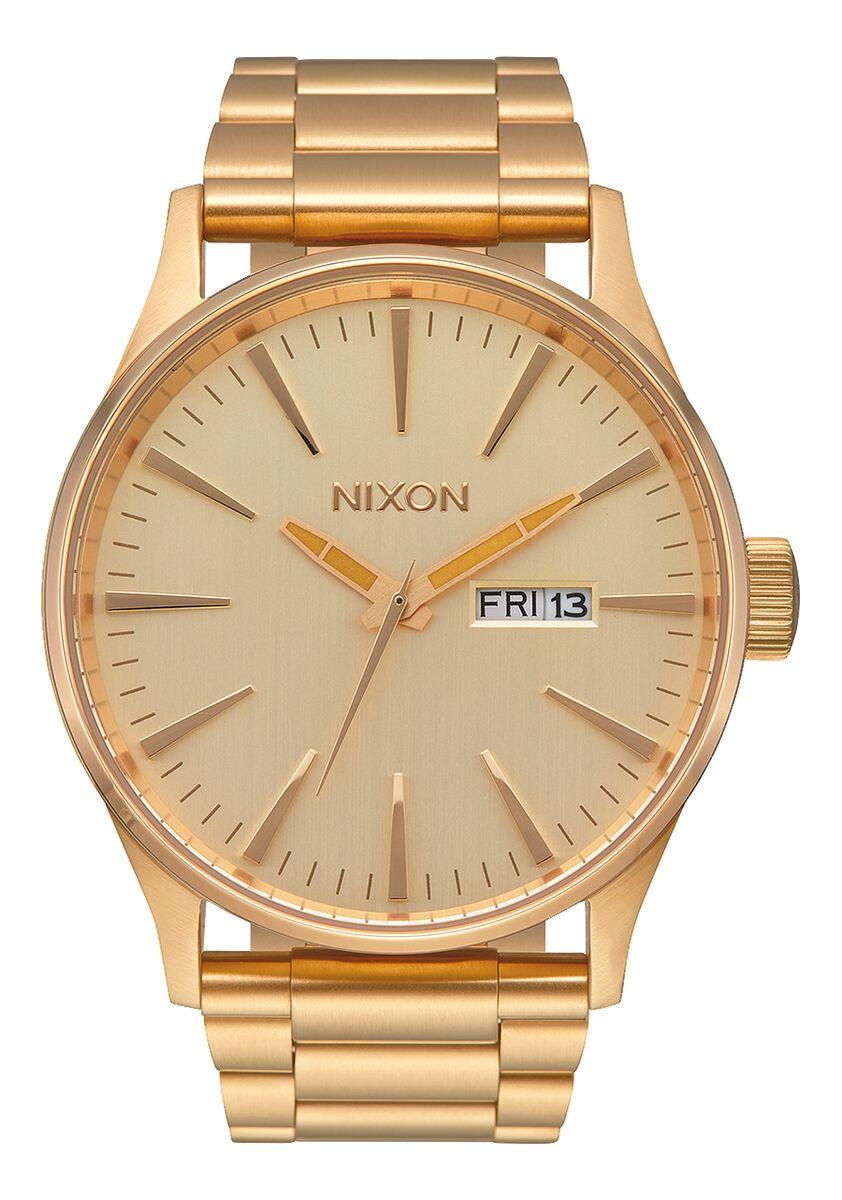 All gold everything is sure to grab people's attention. This budget-friendly stainless steel watch has an adjustable bracelet, a quartz movement, and a hardened mineral glass face.
Nixon Sentry all gold stainless steel watch, $250, Nixon
Rado specializes in creating watches that are made to last. This automatic chronograph is bright and elegant, with a traditional leather strap and transparent sapphire back.
Rado DiaMaster Thinline automatic watch, $2,250, Rado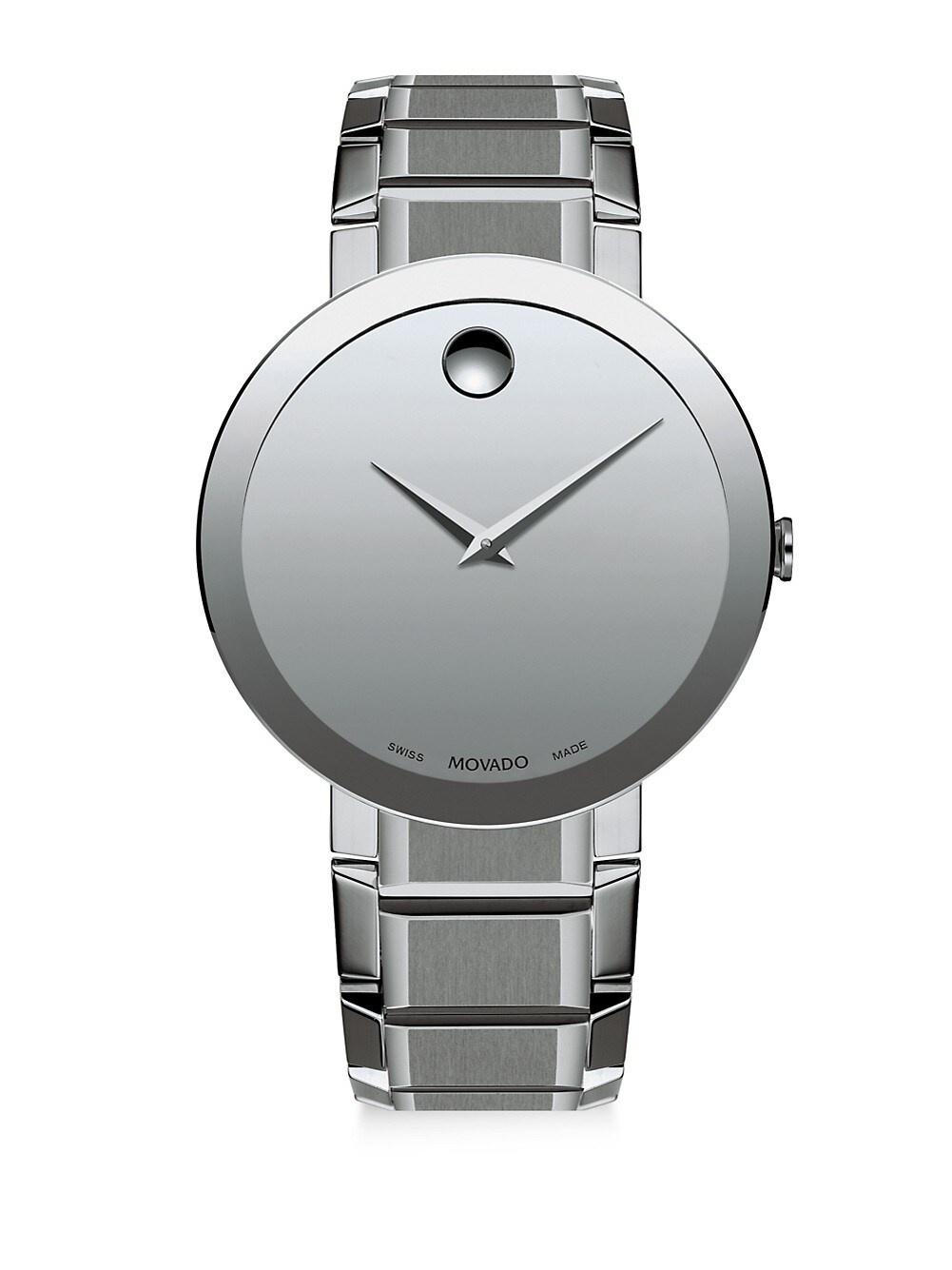 Known for their contemporary and artistic designs, Movado's unique creations would make for interesting engagement watches. This monochrome pick takes minimalist elegance to another level thanks to its flat, bezel-free design.
Movado sapphire stainless steel bracelet watch, $1,895, Saks Fifth Avenue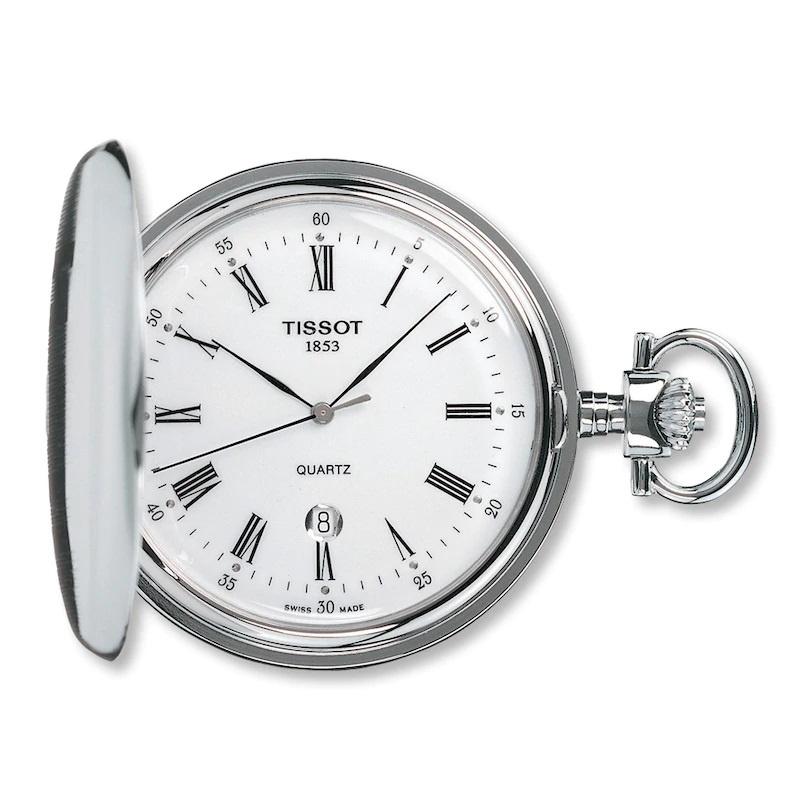 If an engagement wrist watch isn't quite alternative enough, how about a pocket watch? This silver timepiece oozes perennial style. It's the perfect way to propose to the guy who appreciates old-world elegance.
Tissot men's pocket watch with chain, $275, Jared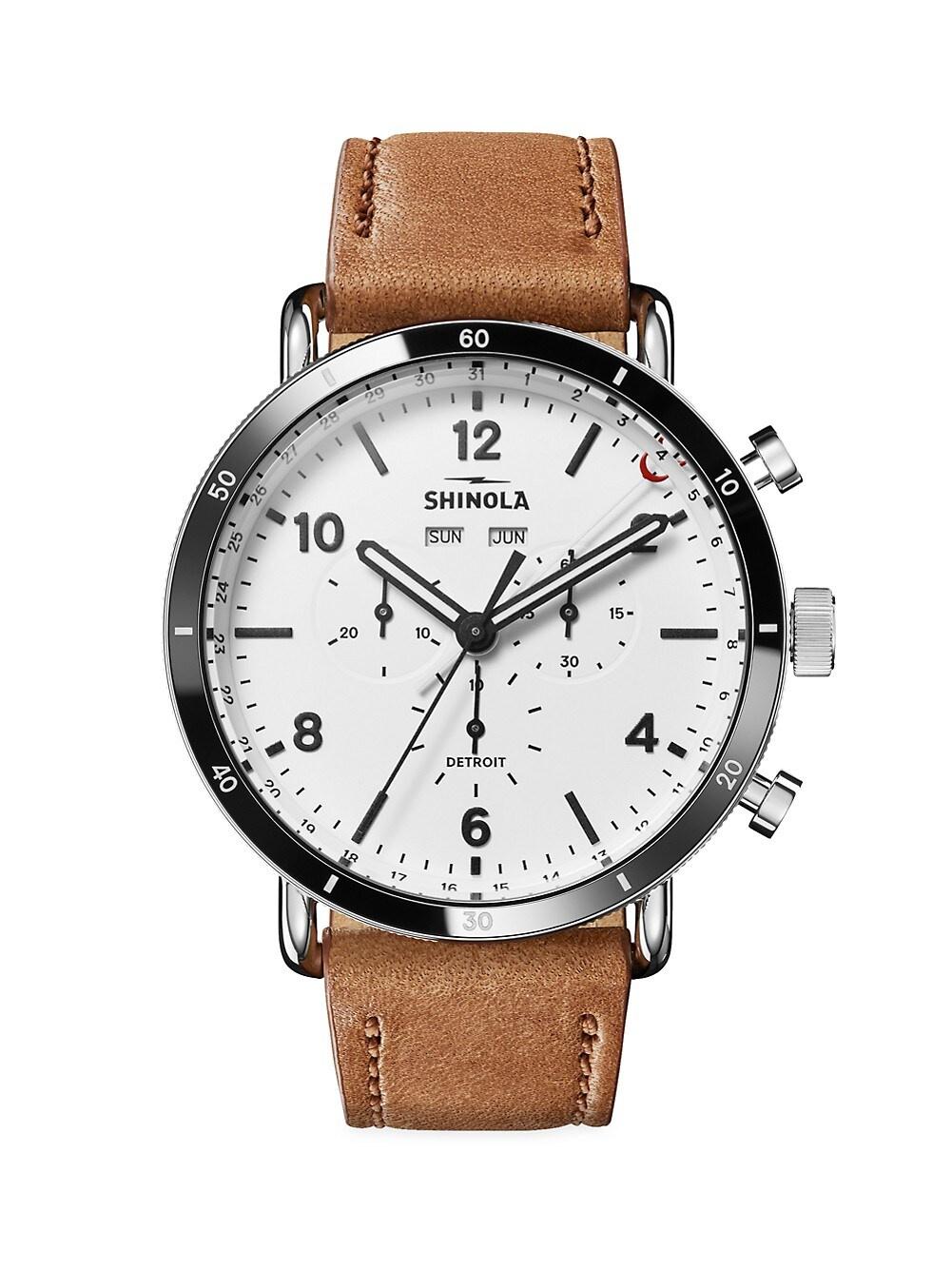 For a watch featuring sapphire crystal and stainless steel, this option from Shinola is surprisingly affordable. It may not be a dress watch, but it'll certainly still be a stylish addition to your S.O.'s wardrobe.
Shinola Canfield Sport stainless steel & leather watch, $850, Saks Fifth Avenue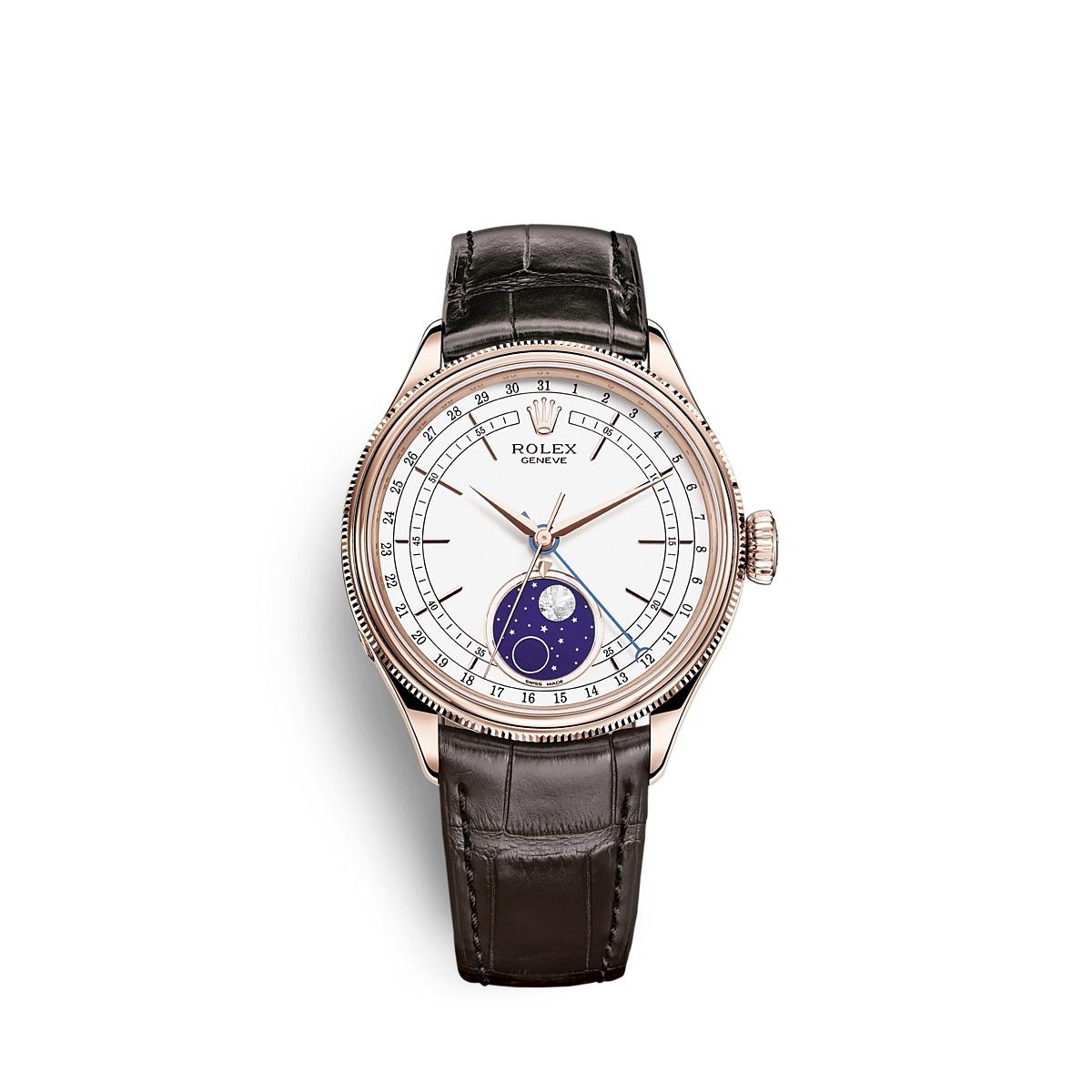 What's a roundup of men's engagement watches without Rolex? If you're willing to splash the cash, we're obsessed with this model that shows the phases of the moon in a blue enamel disc. The domed and fluted bezel adds a unique edge, complemented by a polished rose gold finish.
Rolex Cellini Moonphase polished finish 18ct Everose gold, $26,750, Rolex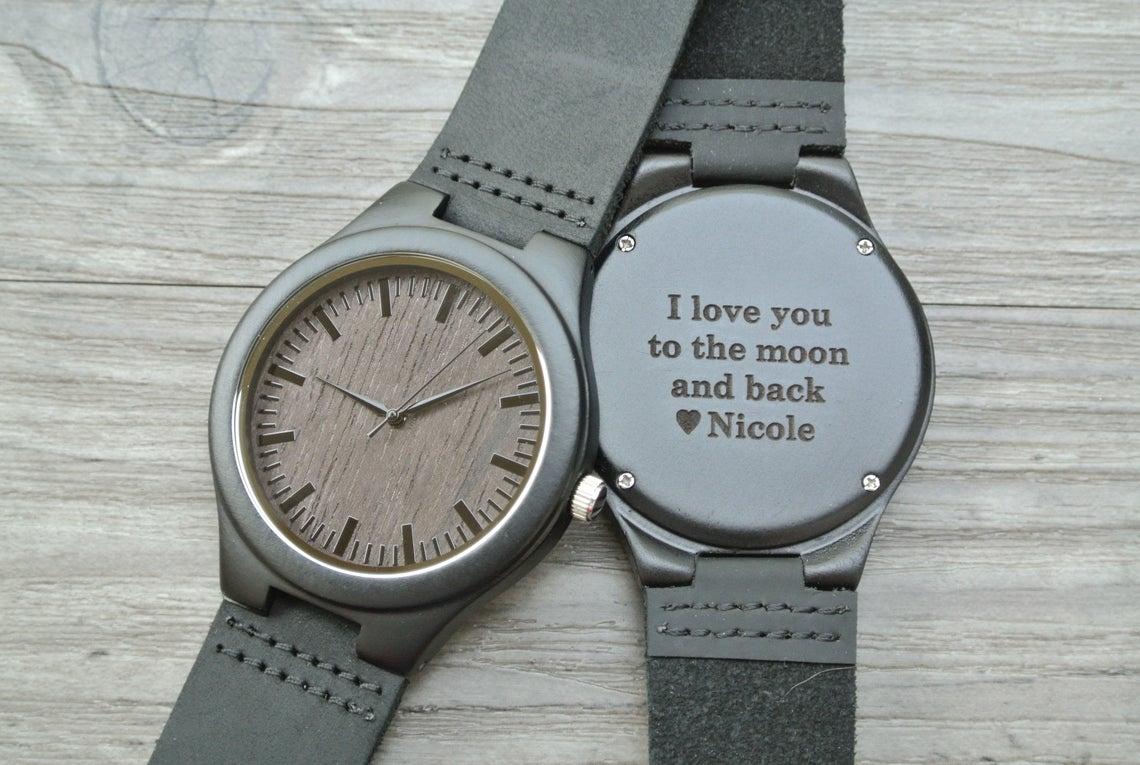 You don't have to break the bank to get your hands on an engagement watch for him that's worthy of a proposal. This affordable option is handcrafted from wood with a leather band and a quartz movement. Have it engraved with a sweet message to your other half for a proposal gift they can't say no to.
W ChroNos wood watch with engraving engagement gift, from $60, Etsy
Engagement Watches for Her
When it comes to buying an engagement watch for a woman, the guidelines are pretty much the same. It's important to pay attention to etiquette and quality, but at the end of the day you should get whatever you think she'll prefer. See our top picks for women's engagement watches below.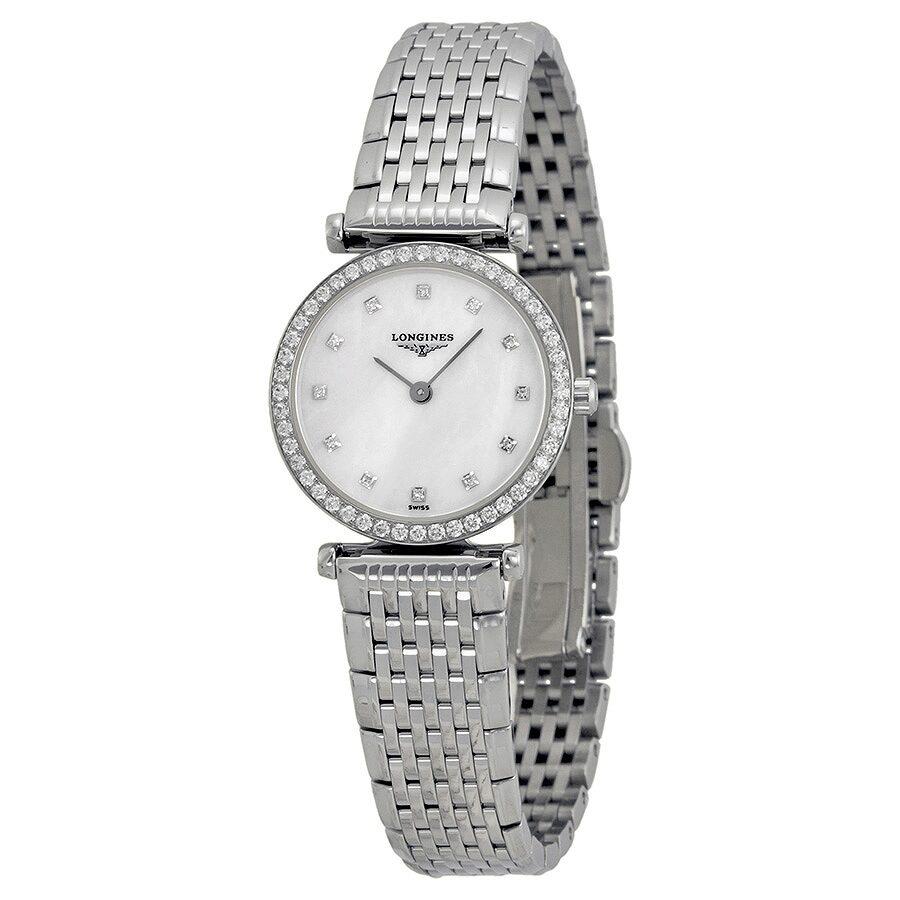 Take inspiration from traditional engagement rings and get a watch for your fiancé-to-be dotted in diamonds like this stunning Longines model.
Longines La Grande Classique mother of pearl diamond ladies watch, $3,147, Jomashop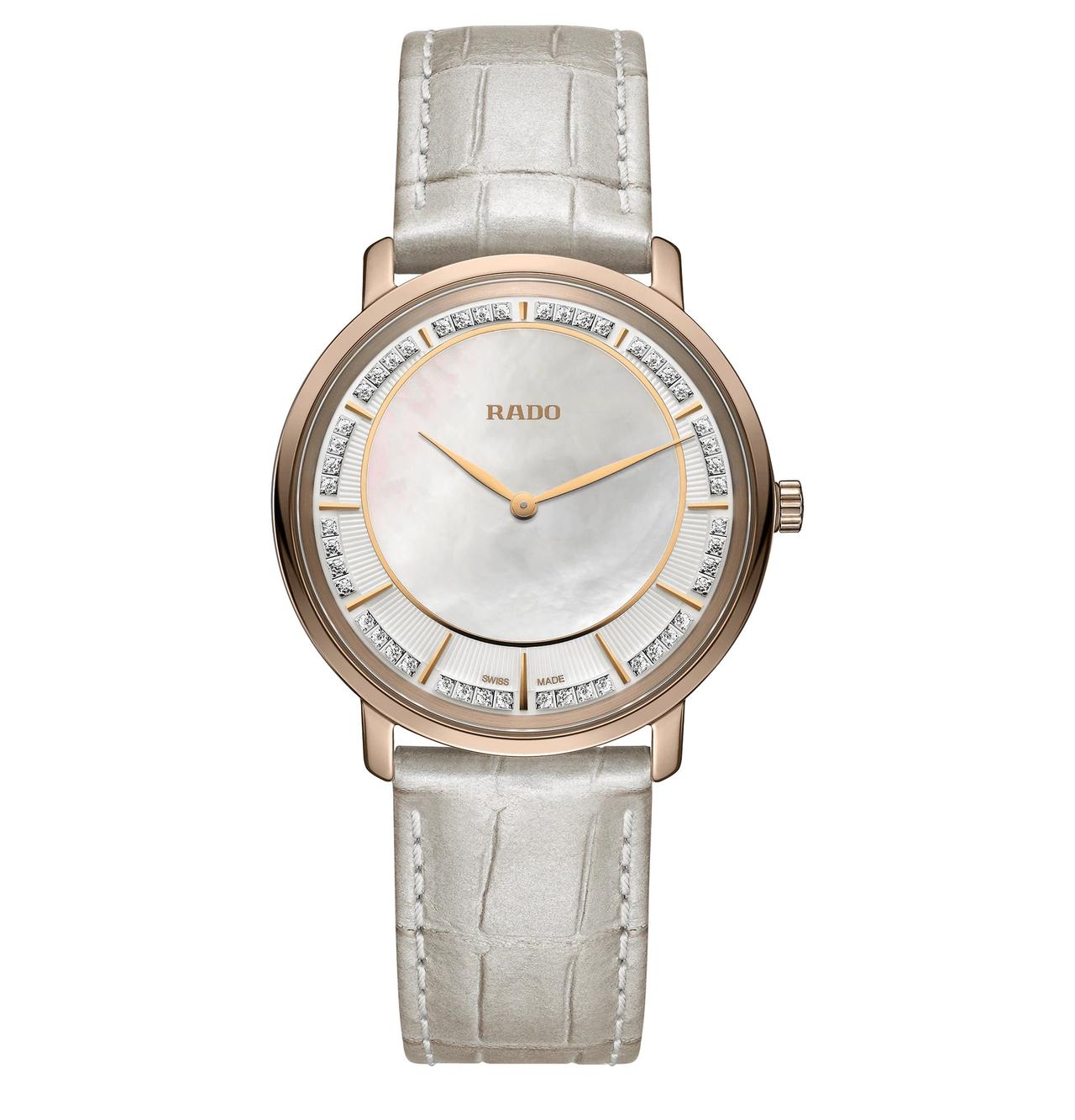 Here's another diamond-studded pick that's the perfect replacement for a traditional sparkler. A soft leather strap and a mother-of-pearl dial complete the look.
Rado DiaMaster Thinline watch, $2,500, Rado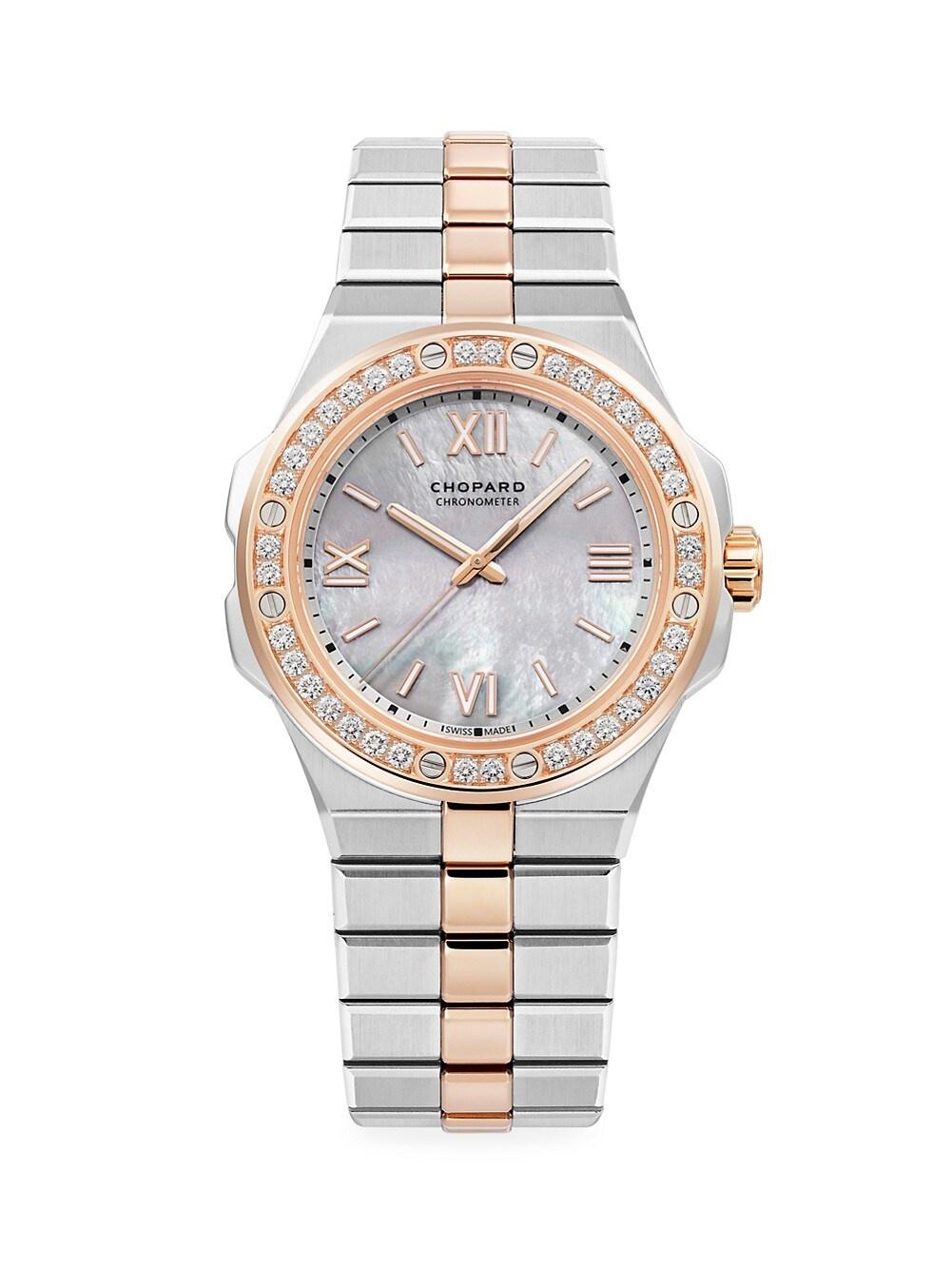 Producing watches since 1860, Chopard expertly blends style and craftsmanship. The stainless steel and rose gold band looks ultra sleek, while the diamond bezel perfectly frames a mother-of-pearl dial.
Chopard Alpine Eagle 18k rose gold, stainless steel & diamond bracelet watch, $20,400, Saks Fifth Avenue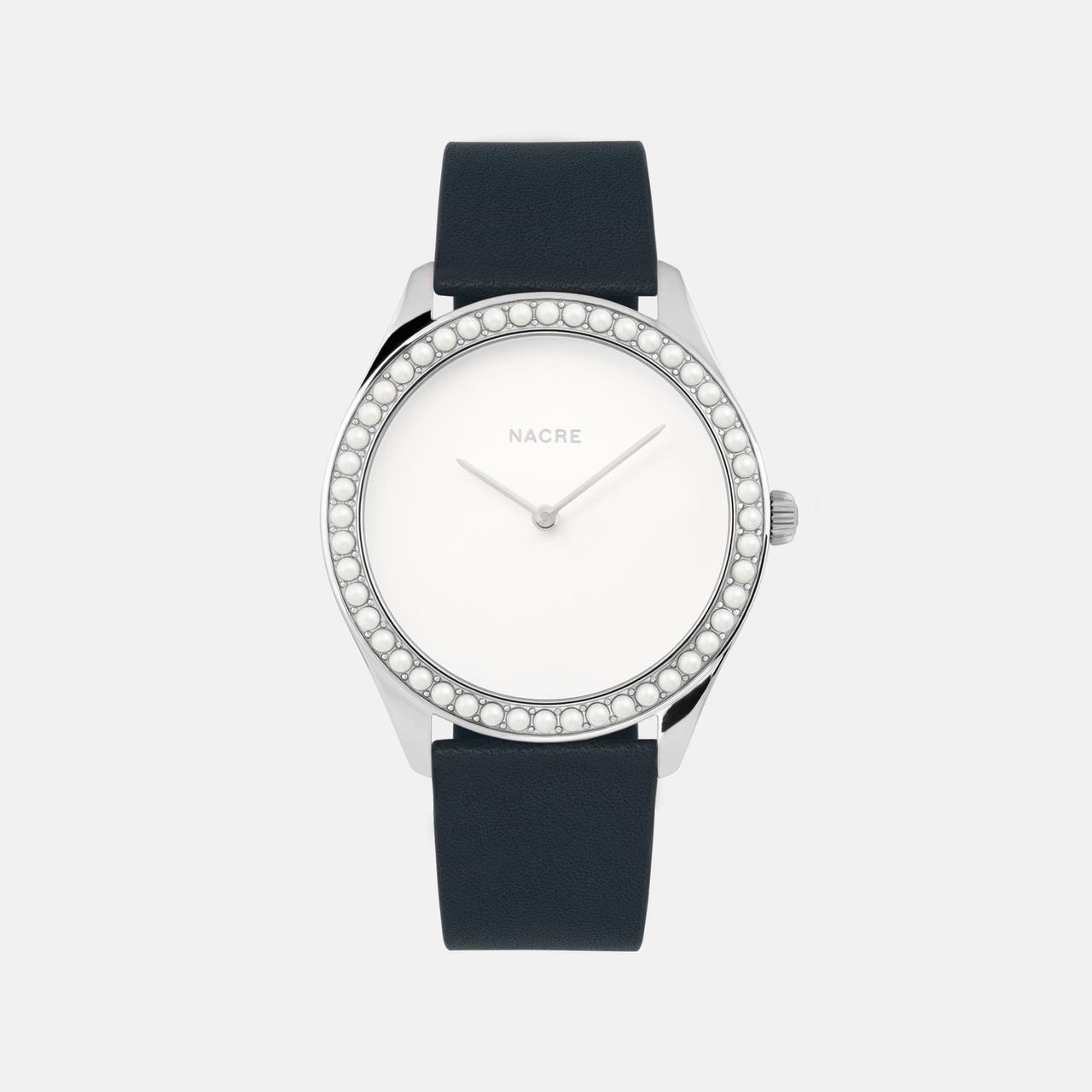 If your girl has a more understated style, we've got minimalist engagement watches for women too. This beautiful timepiece features a high-quality leather strap, a pearlized dial, and signature Nacre pearls around the bezel.
Nacre Lune 48 in Stainless Steel, $270, Nacre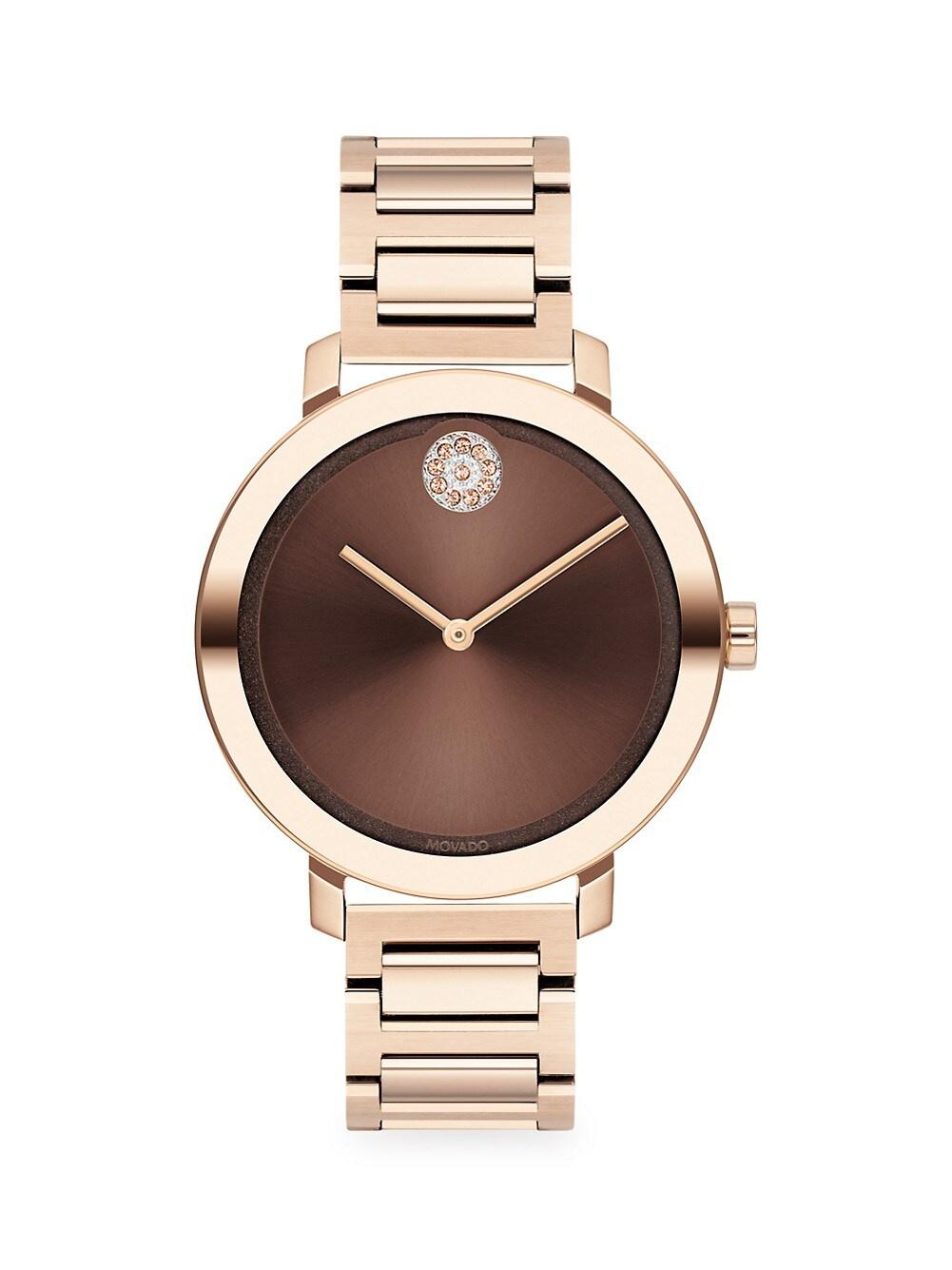 Some girls prefer gold. This champagne-hued model from Movado boasts a modern flat bezel, plated stainless steel, and a standard quartz movement.
Movado Bold Evolution champagne gold ion-plated stainless steel & crystal bracelet watch, $695, Saks Fifth Avenue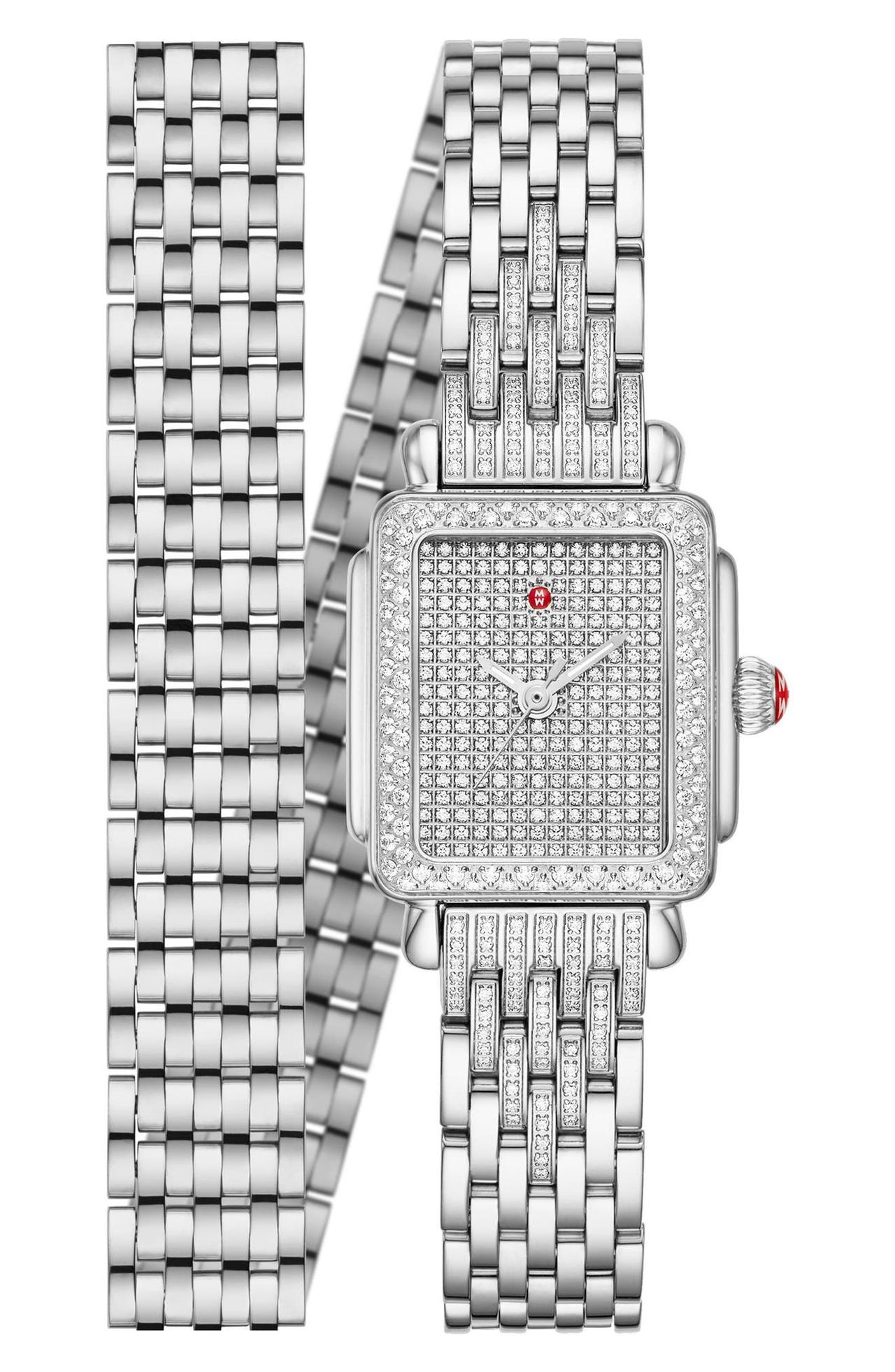 Looking for something truly unique to propose to your other half? Try a timepiece that doubles as a sleek bracelet. This elegant wrap watch is covered in over four hundred diamonds.
Michele Deco Madison diamond bracelet wrap watch, $4,295, Nordstrom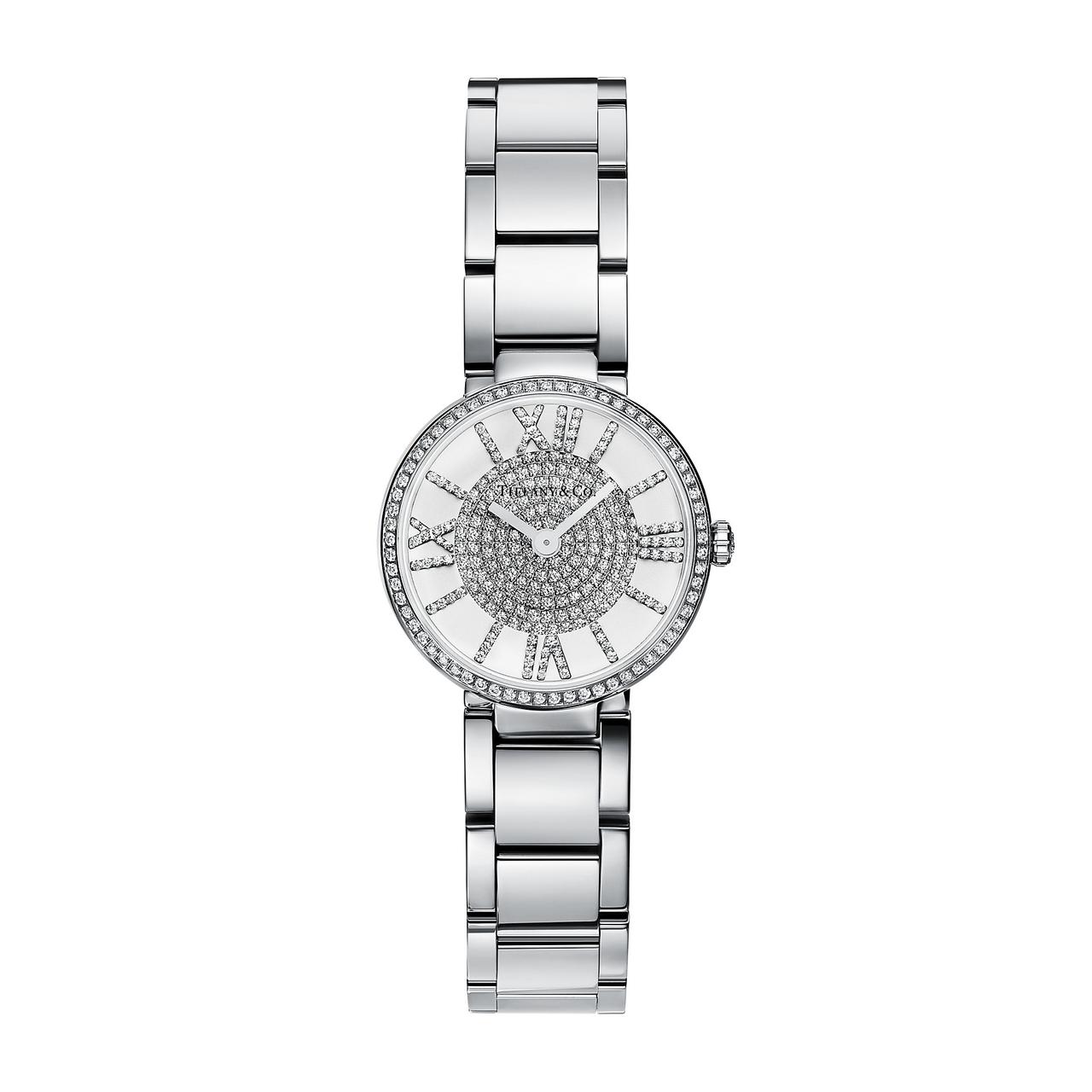 Or, if clean lines are more her style, pick out an engagement watch for your fiancé-to-be that's a little more refined. We love the neat, pavé diamonds on the dial of this stylish model
Tiffany & Co. 2-hand 24mm watch, $7,800, Tiffany & Co.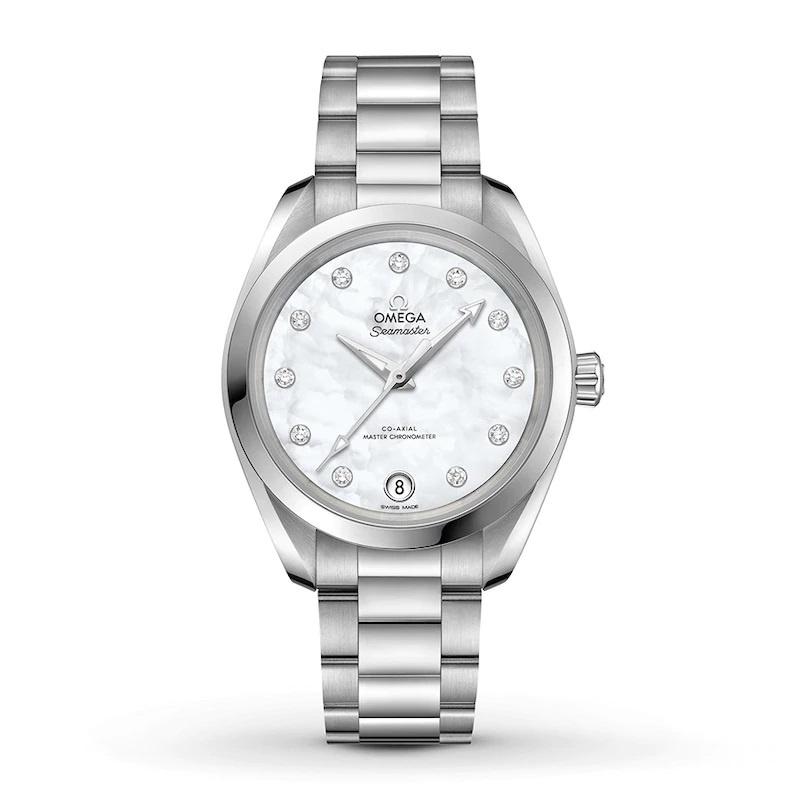 After creating the first watch worn on the moon, OMEGA knows how to design lasting models. The diamond-encircled dial makes this one fully proposal-ready.
OMEGA Seamaster aqua terra women's watch, $6,850, Jared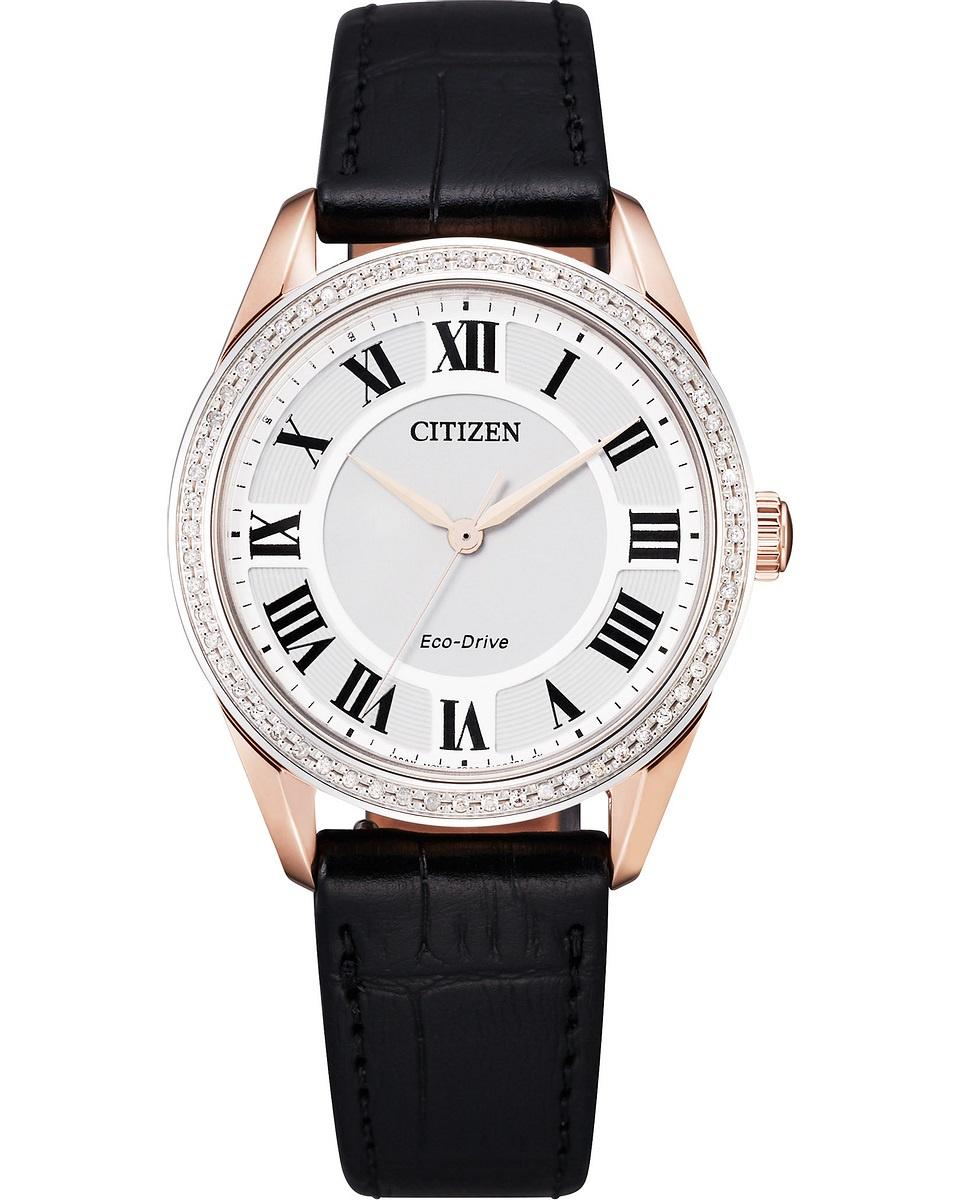 This budget-friendly watch boasts a diamond-accent bezel that won't break the bank. Plus, two-toned stainless steel gives the illusion of precious rose gold. If that's not enough, Citizen is paired with 1% for the Planet, meaning a portion of all sales goes toward supporting environmental causes.
Citizen Arezzo watch, $600, Citizen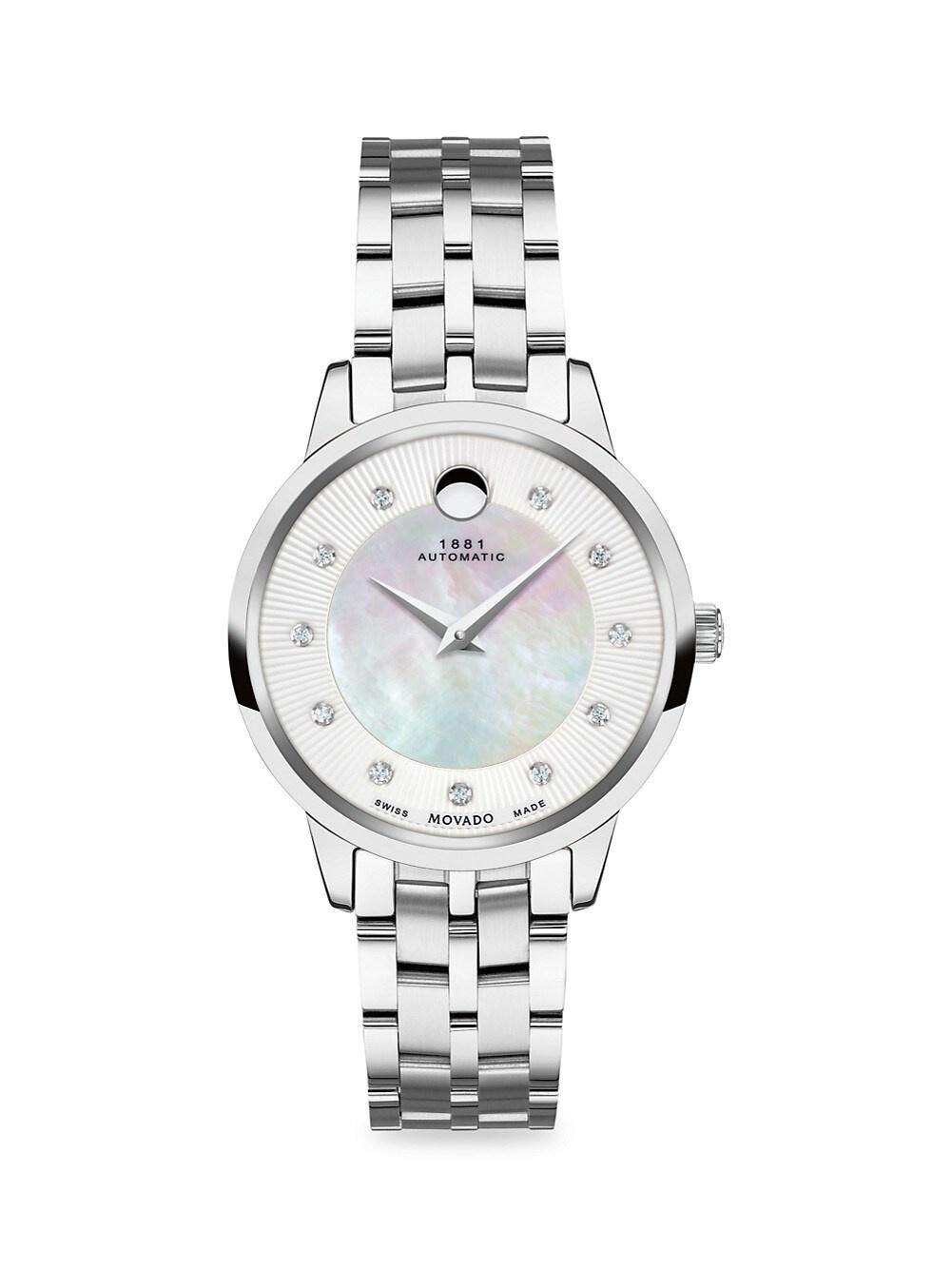 Diamonds mark the hours on this stunning engagement watch's mother-of-pearl dial. Automatic movement means your S.O. won't have to worry about changing batteries or winding it, and the stainless steel bracelet should keep intact for a long time.
Movado 1881 automatic stainless steel & diamond watch, $1,495, Saks Fifth Avenue