33 Non-Diamond Engagement Rings That Still Have Plenty of Sparkle
Not into everyday diamonds? Check out these colorful gemstones and unique engagement rings instead.
We have included third party products to help you navigate and enjoy life's biggest moments. Purchases made through links on this page may earn us a commission.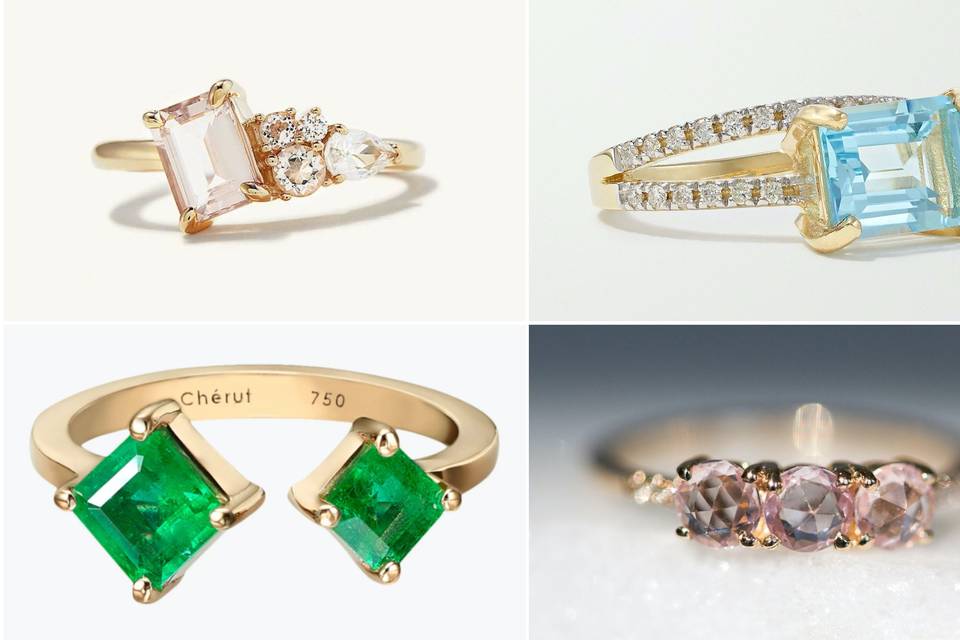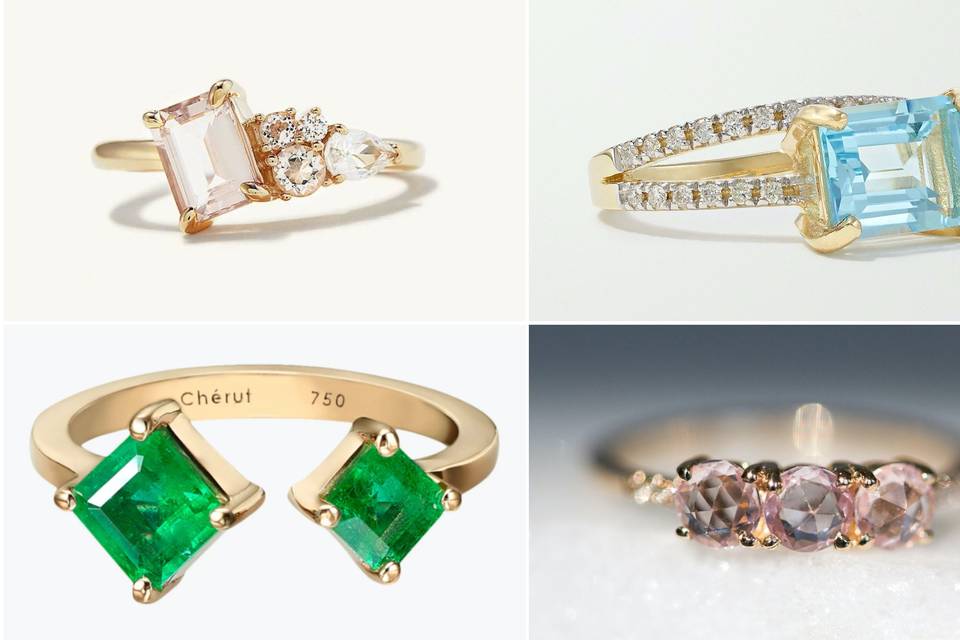 Whether you're looking for engagement rings at a lower price point or simply want a unique style that stands out among the rest, there are a lot of reasons to consider diamond alternative engagement rings—the most important factor being just how gorgeous they are! From yellow citrine to bright pink tourmaline, dark blue sapphire rings, and everything in between, there's a perfect gemstone or diamond alternative for everyone. And fun fact: Diamonds weren't even considered to be the engagement ring standard until the 20th century, so there's no shame in skipping them if they're not your style. We did a little digging to find the best engagement rings without diamonds, and where you can shop for them right now. Ready to break tradition? Shop our favorite diamond alternative engagement rings at these online fine jewelry retailers below.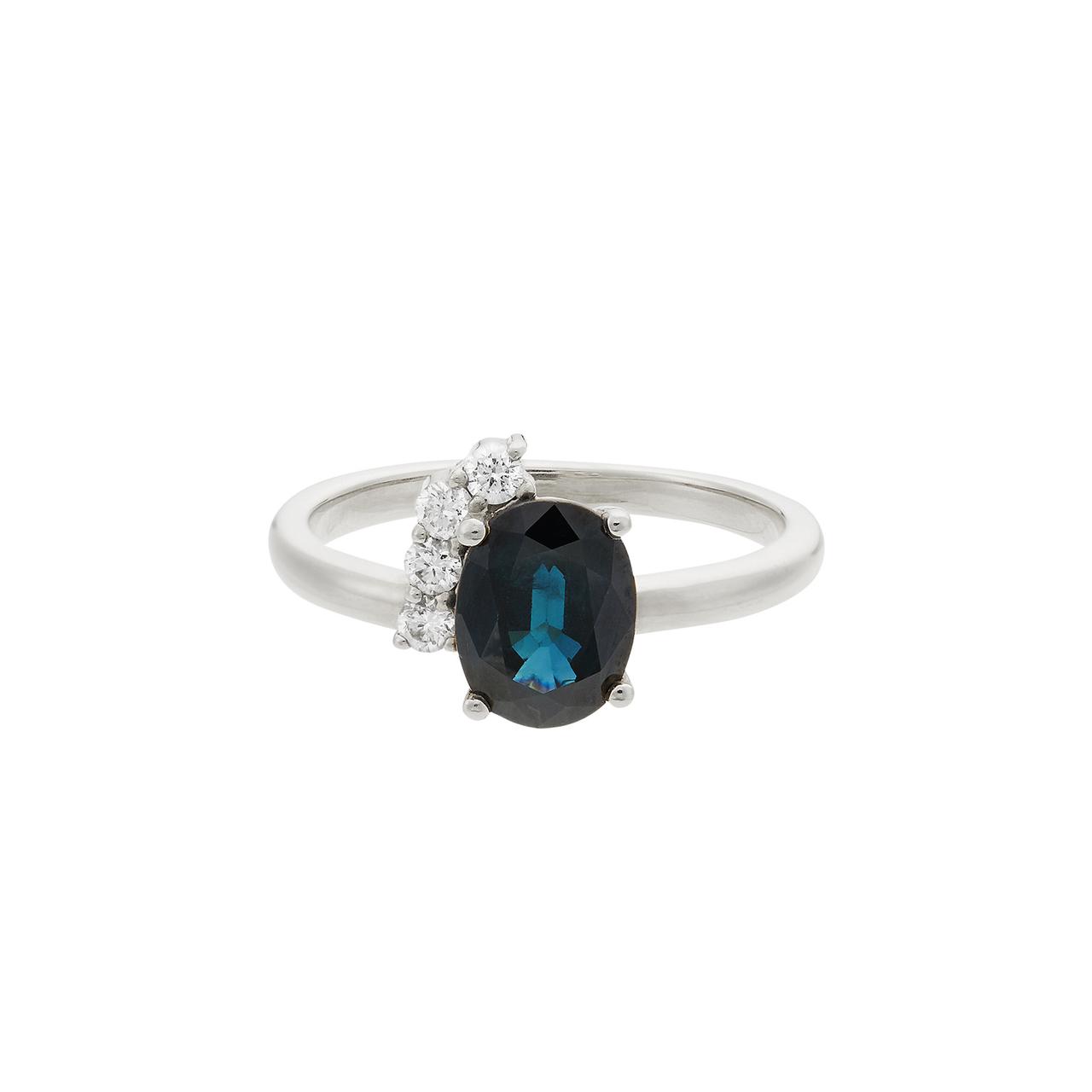 Sapphire Oval Engagement Ring
We're getting alt-Kate Middleton vibes from this deep blue sapphire engagement ring. Instead of a full diamond halo, this non-traditional ring has an asymmetrical cluster of brilliant-cut diamonds on one side.
Mejuri oval cut ring in 14K white gold, $1,400, Mejuri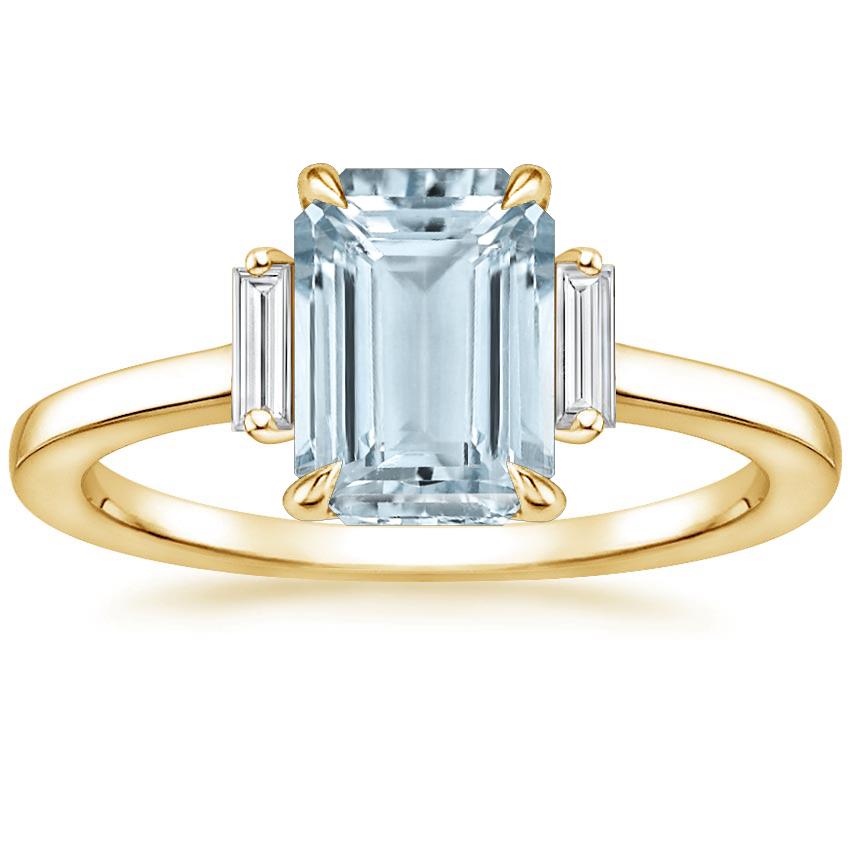 Three-Stone Aquamarine Engagement Ring
A trio of airy blue aquamarine stones look radiant against yellow gold metal. This combo is undeniably classy but also a bit whimsical.
Brilliant Earth 18K yellow gold aquamarine piper diamond ring, $2,540, Brilliant Earth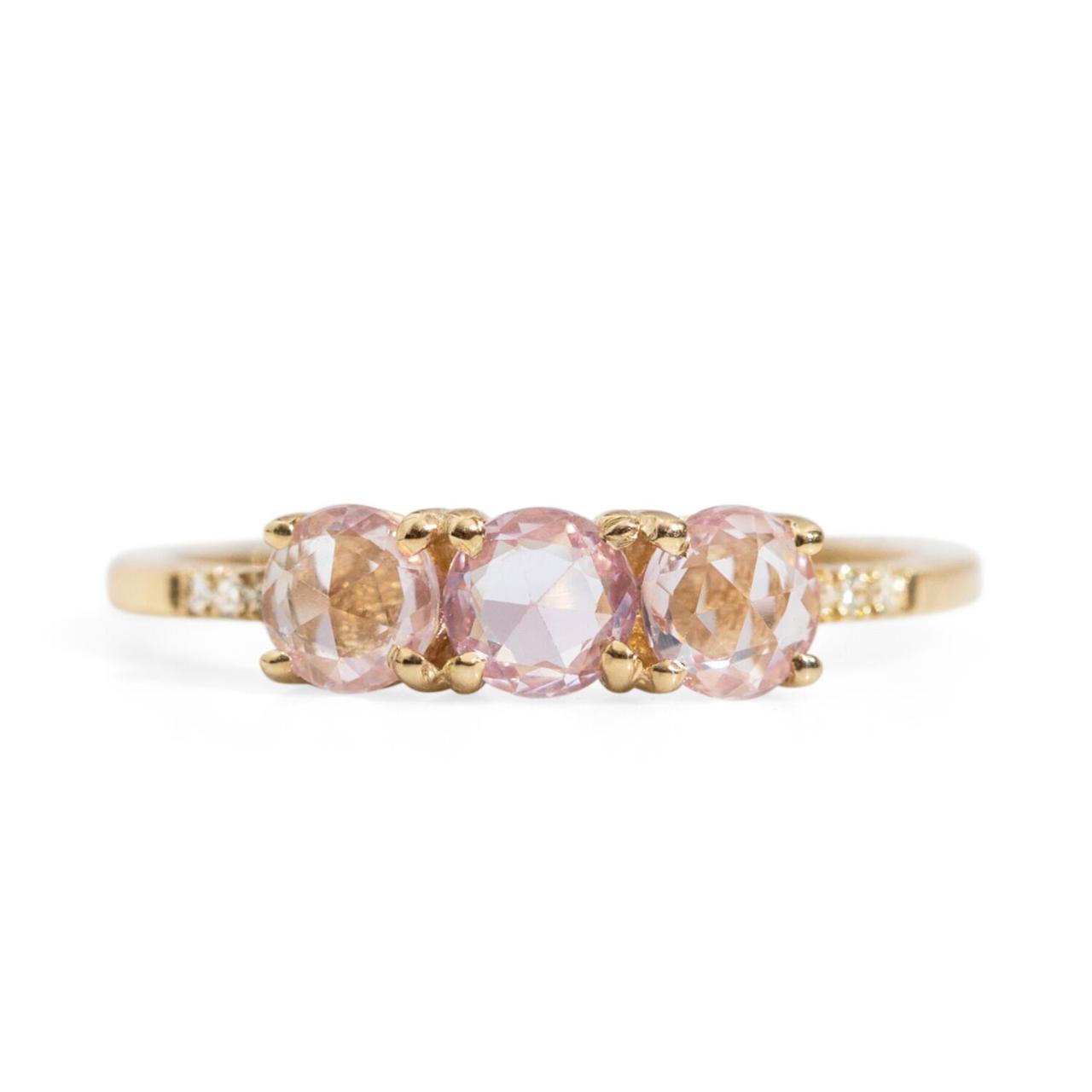 Rose-Cut Pink Sapphires
If you're looking for affordable non-diamond engagement rings, this under $800 pick is a must-see. With three rose-cut sapphires and a pavé setting, this ring will be sparkling non-stop.
Jennie Kwon La Vie En Rose ring in 14K yellow gold, $745, Catbird
Blue Topaz and Yellow Gold Engagement Ring
At first glance, it looks like this blue topaz engagement ring is actually two rings in one. The split-shank pavé band gives this otherwise classic style a sartorial edge.
Mateo Point of Focus 14K gold ring, $1,375, NET-A-PORTER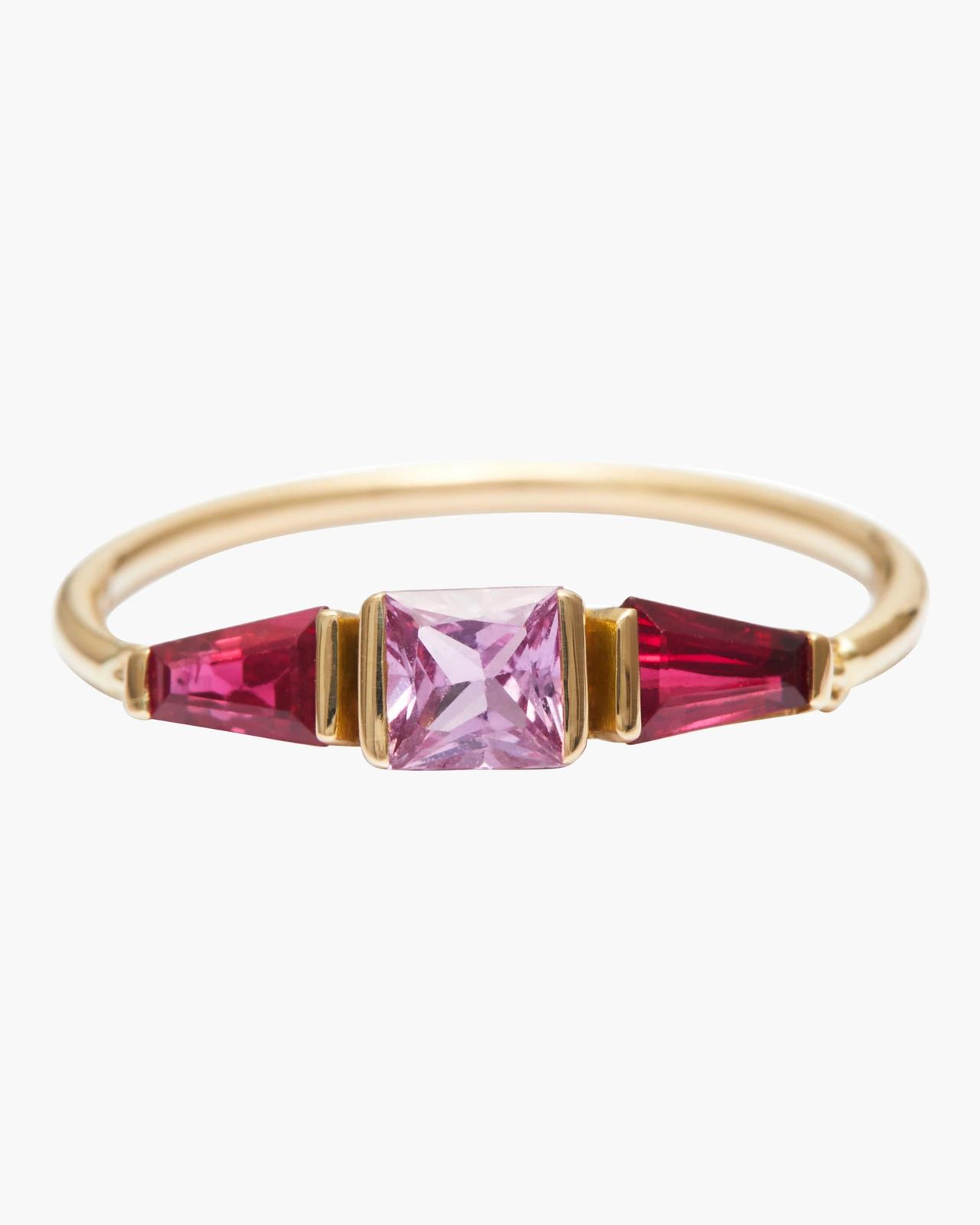 Minimalist Engagement Ring with Rubies and Pink Sapphire
An eye-catching pink sapphire is framed by two rubies on this small but mighty diamond alternative engagement ring.
Yi Collection pink sapphire and ruby lacroix ring, $1,250, Olivela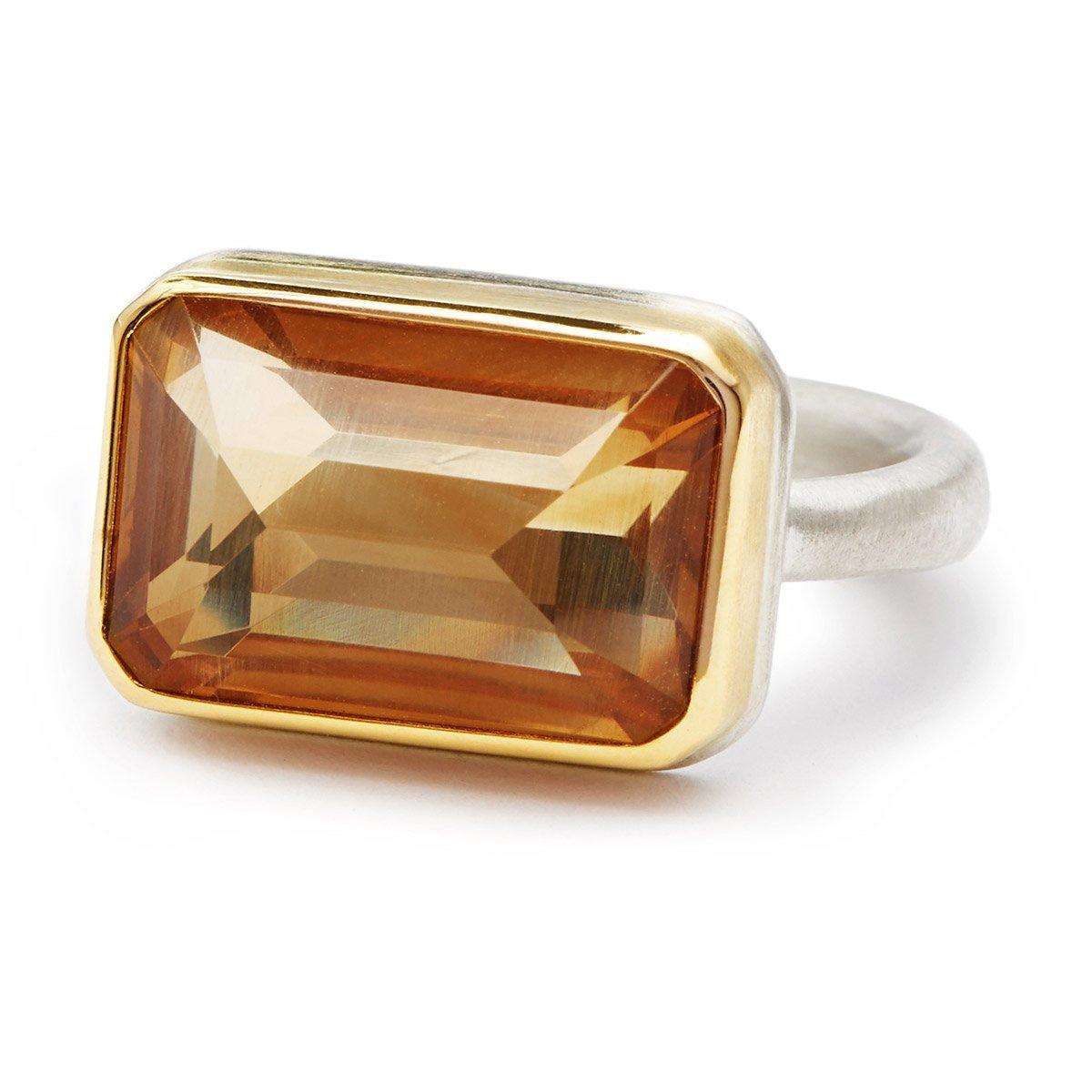 Citrine Engagement Ring
The color orange is having a moment. Make a statement with this bold citrine engagement ring, which mixes sterling silver and 14K yellow gold.
Jamie Joseph rectangular inverted citrine ring, $1,010, Greenwich St. Jewelers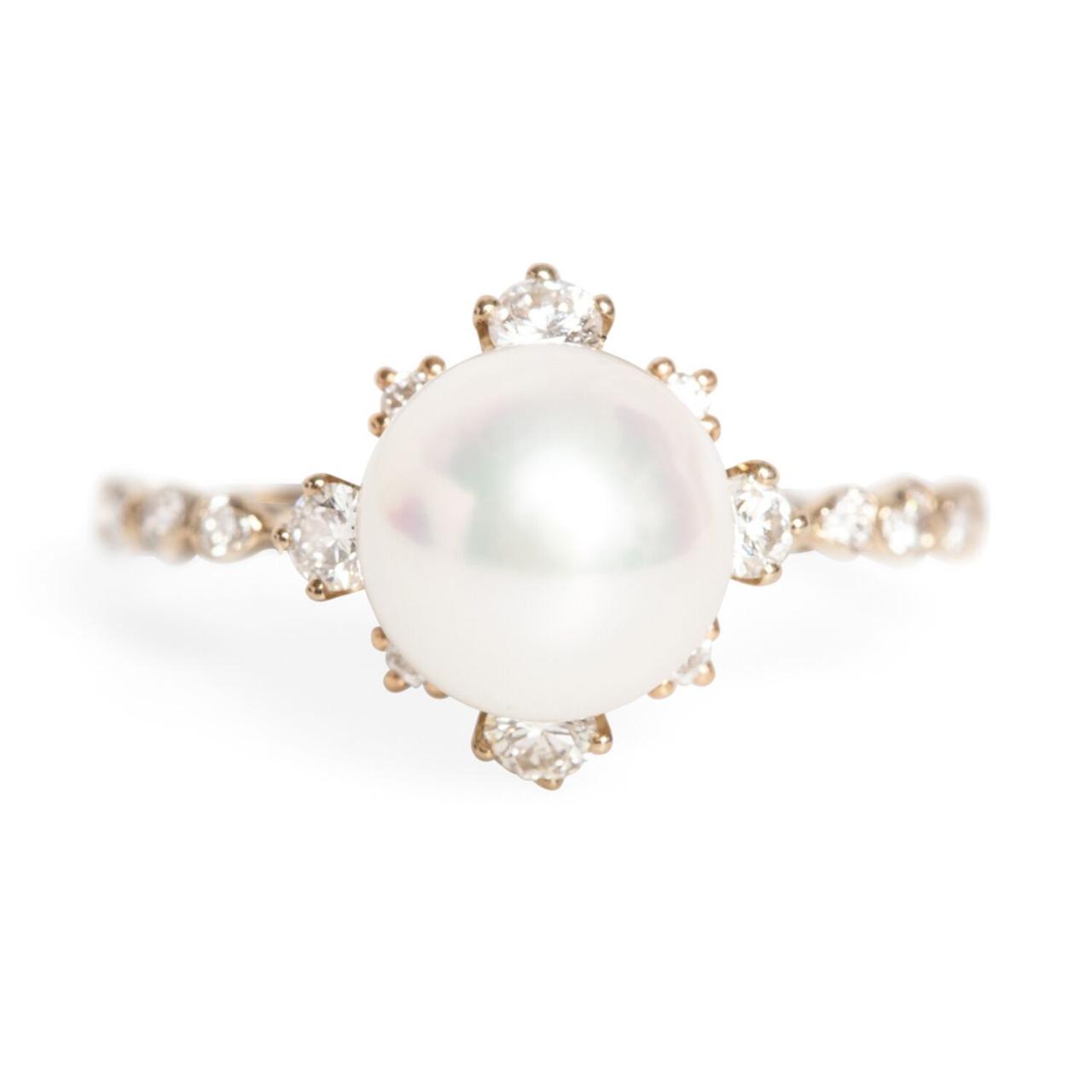 Pearl and Diamond Engagement Ring
Mystical, delicate, and romantic, all rolled into one—this gorgeous pearl engagement ring is an instant statement piece. One thing to keep in mind: Pearls are a more fragile jewel, so they should be treated gently and cleaned regularly, especially with everyday wear.
Kataoka winter pearl ring, $4,780, Catbird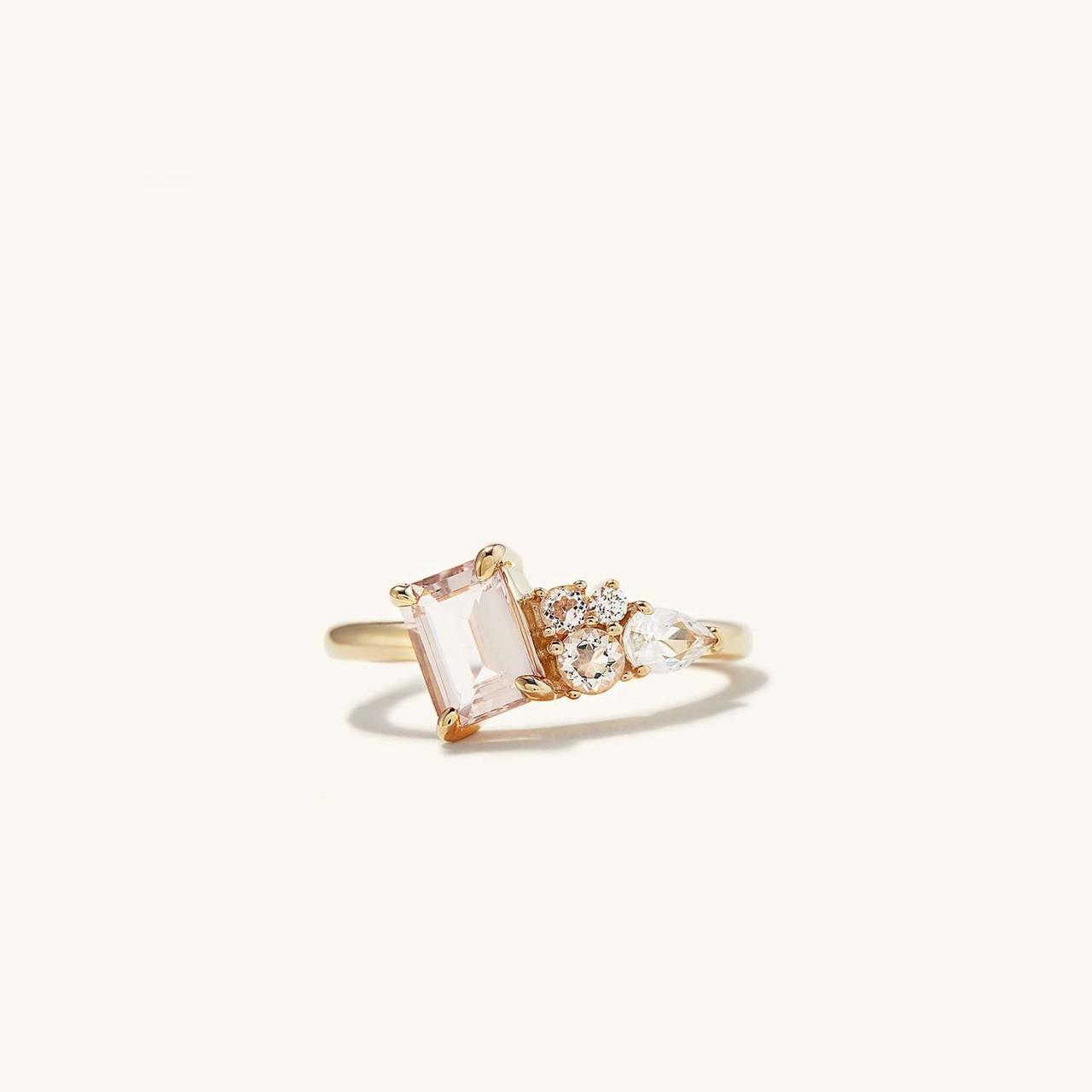 Morganite Cluster Engagement Ring
This asymmetrical cluster ring includes peach morganite, diamonds (tiny ones!), and white sapphire in a yellow gold setting. Personalize it by engraving the inside of the band.
Mejuri Italic cluster ring, $750, Mejuri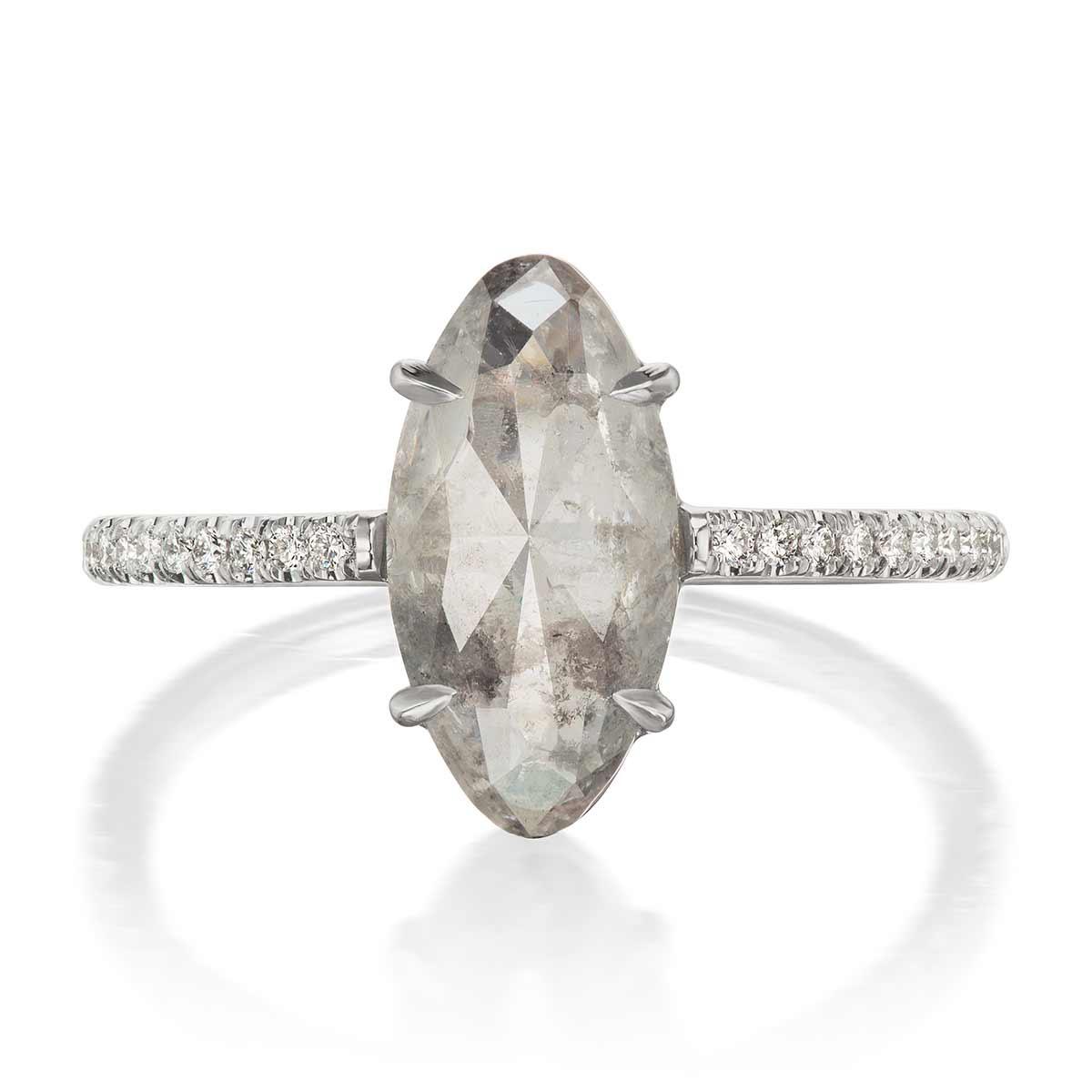 Salt and Pepper Diamond Engagement Ring
While this ring does feature a natural diamond, the center stone doesn't look like it, thanks to the unique salt and pepper coloring. The gray oval-cut diamond is showcased with a minimalist pavé band to keep all eyes on the main stone.
Sycamore Studio Morgan 1.56-carat oval salt and pepper ring, $4,500, Greenwich St. Jewelers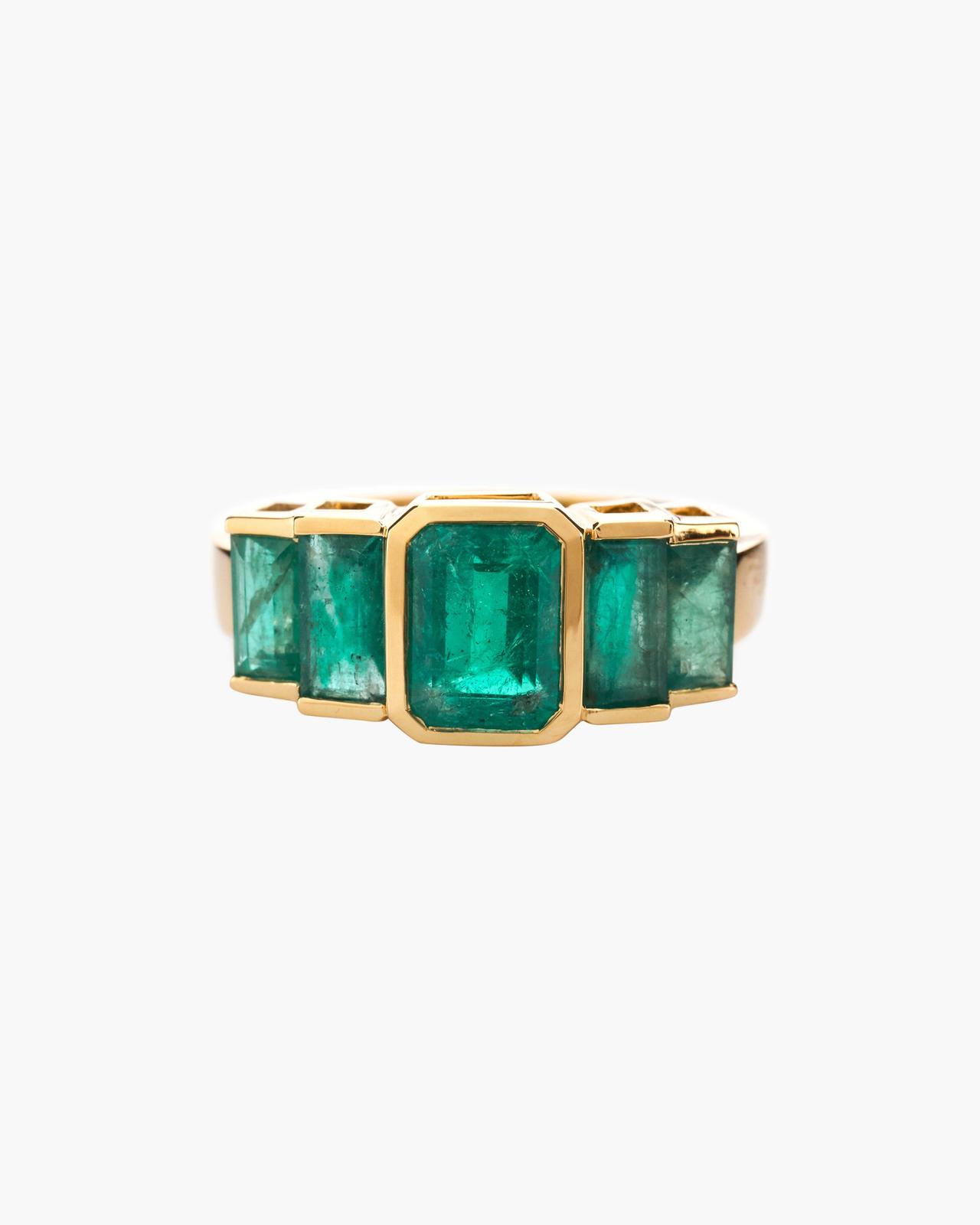 Yellow Gold Engagement Ring with Emeralds
Why have just one emerald when you can have five? This made-to-order engagement ring looks like an heirloom piece that will never go out of style.
Yi Collection emerald tonal deco ring, $4,950, Olivela
Ruby and Diamond Engagement Ring
Ruby engagement rings are a sophisticated option if you're in the market for diamond alternatives. This July birthstone symbolizes passion, power, and nobility.
Jennie Kwong ruby round deco ring, $1,415, Catbird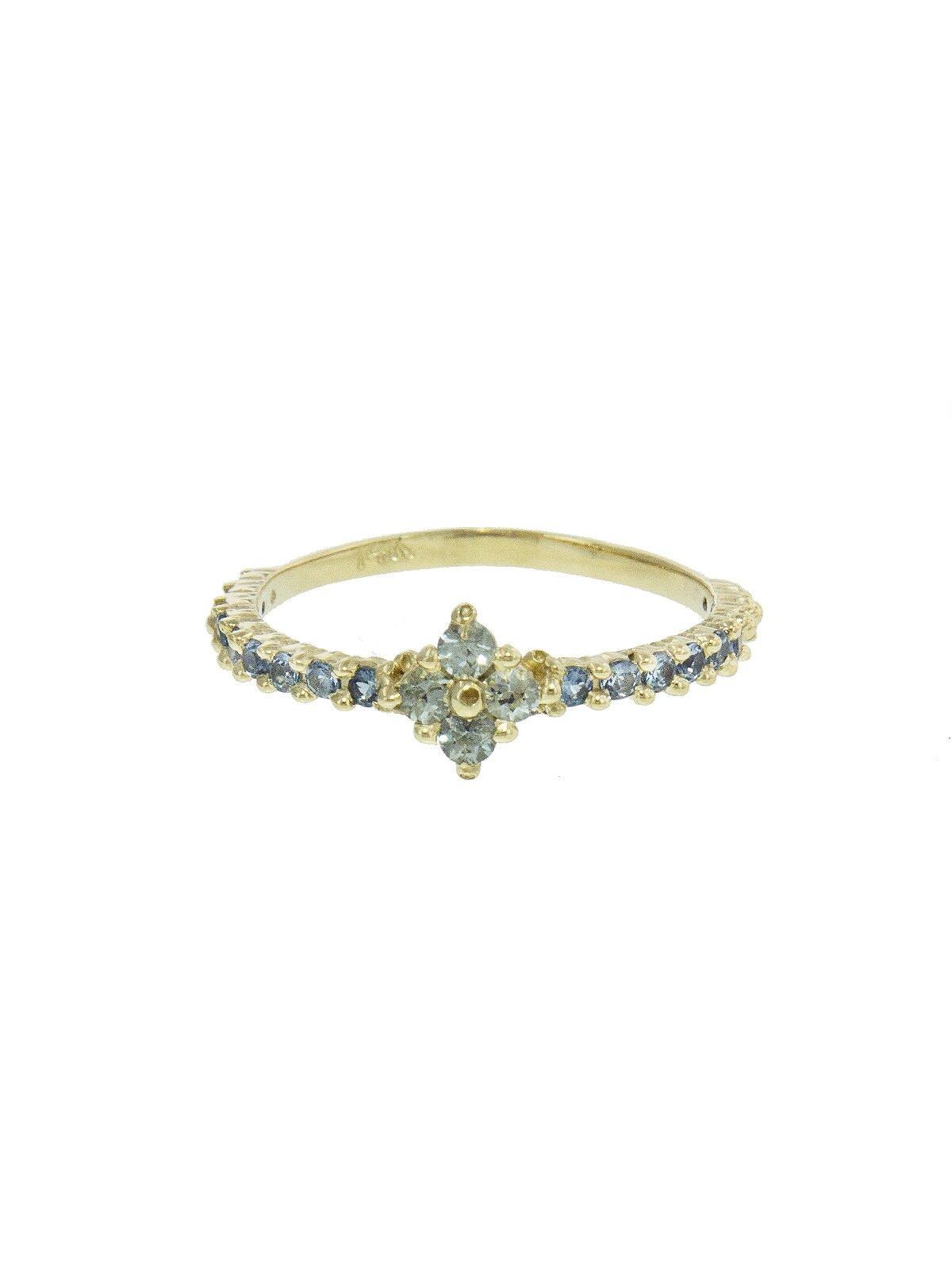 Dainty Green and Blue Sapphire Engagement Ring
Showcasing the prettiest gradient of light green and periwinkle, this gemstone engagement ring would be perfect for anyone whose favorite color is blue.
Ruta Reifen Montana sapphire clover ring, $860, Ylang23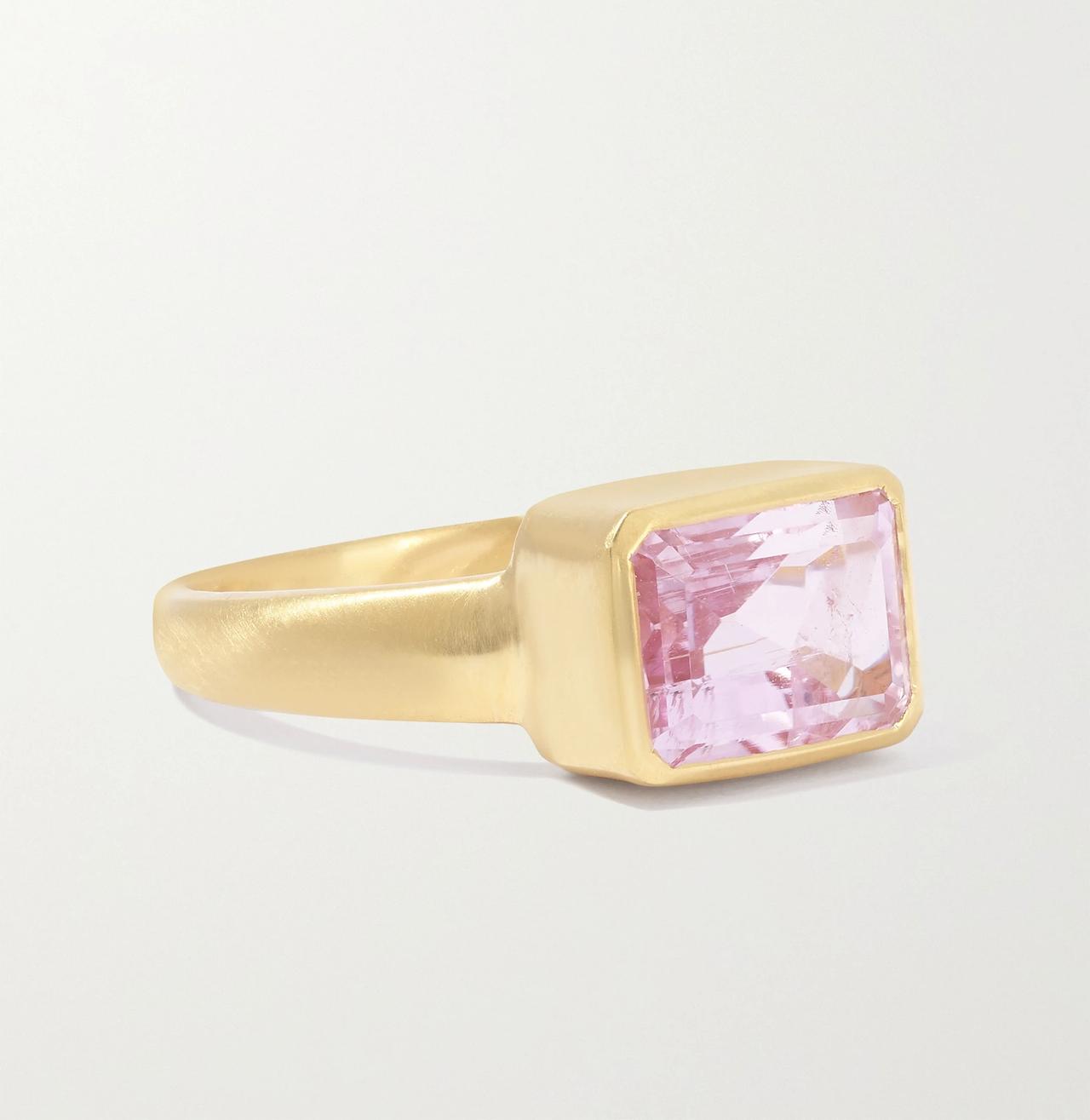 Pink Bezel-Set Kunzite Engagement Ring
The protective bezel setting on this ring is ideal if you're worried about damaging your engagement ring with daily wear. Bubblegum pink kunzite is even more radiant when paired with warm, yellow gold tones.
Pippa Small 18K gold kunzite ring, $2,265, NET-A-PORTER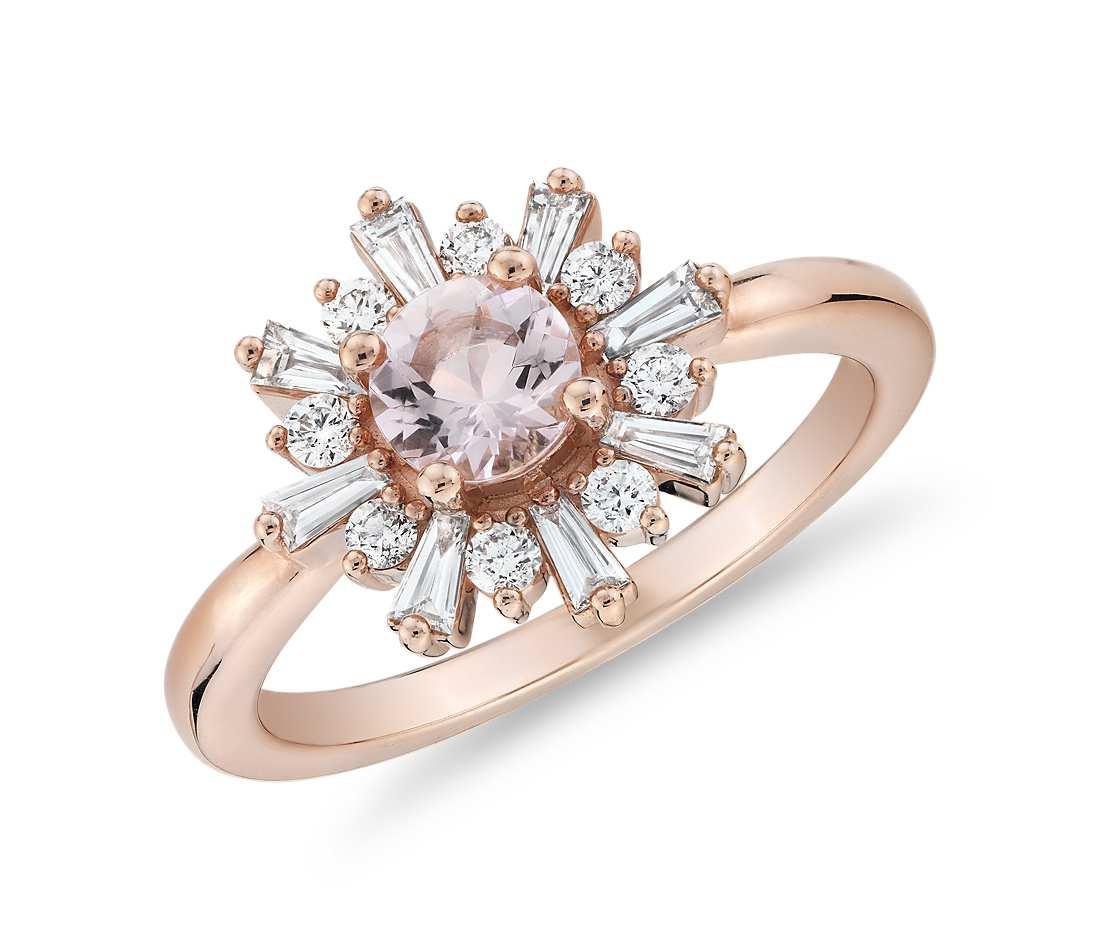 Starburst Engagement Ring with Morganite
Morganite is one of the most popular choices for non-diamond engagement rings, and this gemstone's naturally pink hue is so pretty. It's also durable—morganite is ranked about an eight on the Mohs Scale, which determines a stone's scratch resistance and hardness (diamonds are a 10, for comparison). A dramatic baguette halo setting will add even more sparkle and wow factor.
Blue Nile morganite ring with baguette diamond halo in 14K rose gold, $1,980, Blue Nile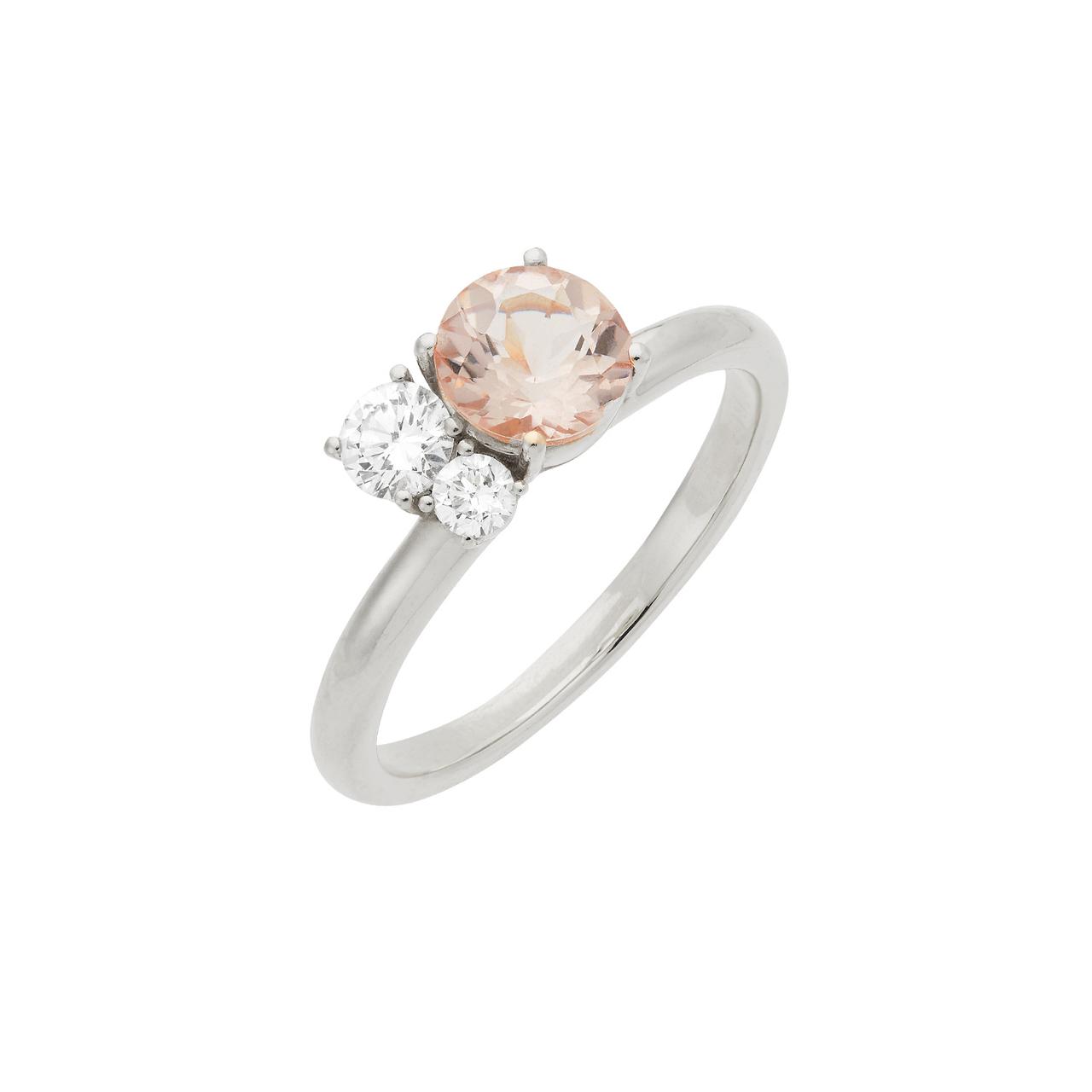 Modern White Gold Engagement Ring
Two asymmetrical diamonds make the center morganite stone on this ring really pop. Think of this bauble as a fashion-forward take on the iconic round-cut solitaire engagement ring.
Mejuri round-cut peach morganite ring in 14K white gold, $950, Mejuri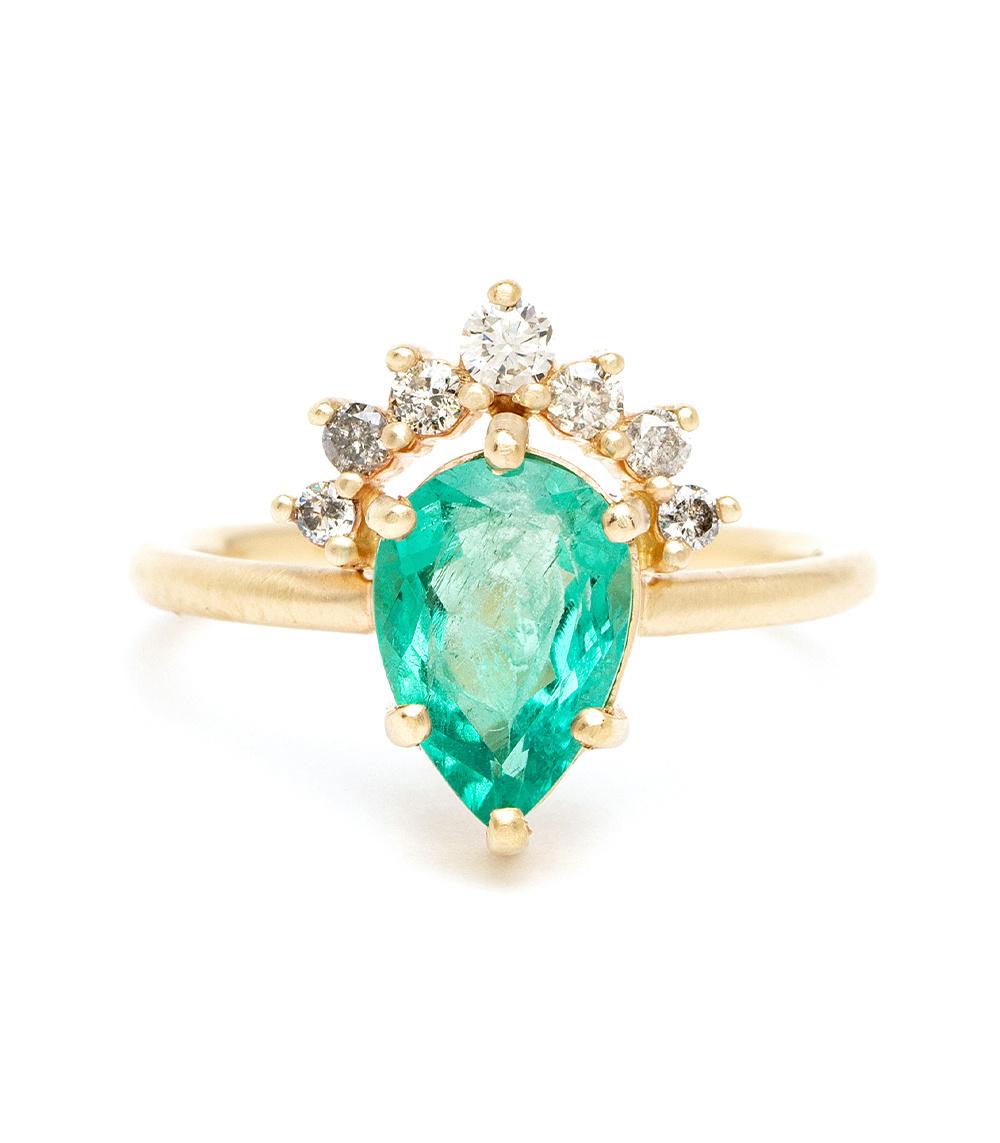 Pear-Shaped Emerald Engagement Ring
Pear-shaped engagement rings have skyrocketed in popularity over the last few years, but we're betting you haven't seen one like this. The 1.48-carat emerald at the center of this ring would be enough to grab our attention on its own, but a crown of tiny diamonds is like icing on the cake. Emeralds, which are the May birthstone, are flattering against any skin tone.
Sofia Kaman Aliza pear-shaped emerald ring, $6,500, Sofia Kaman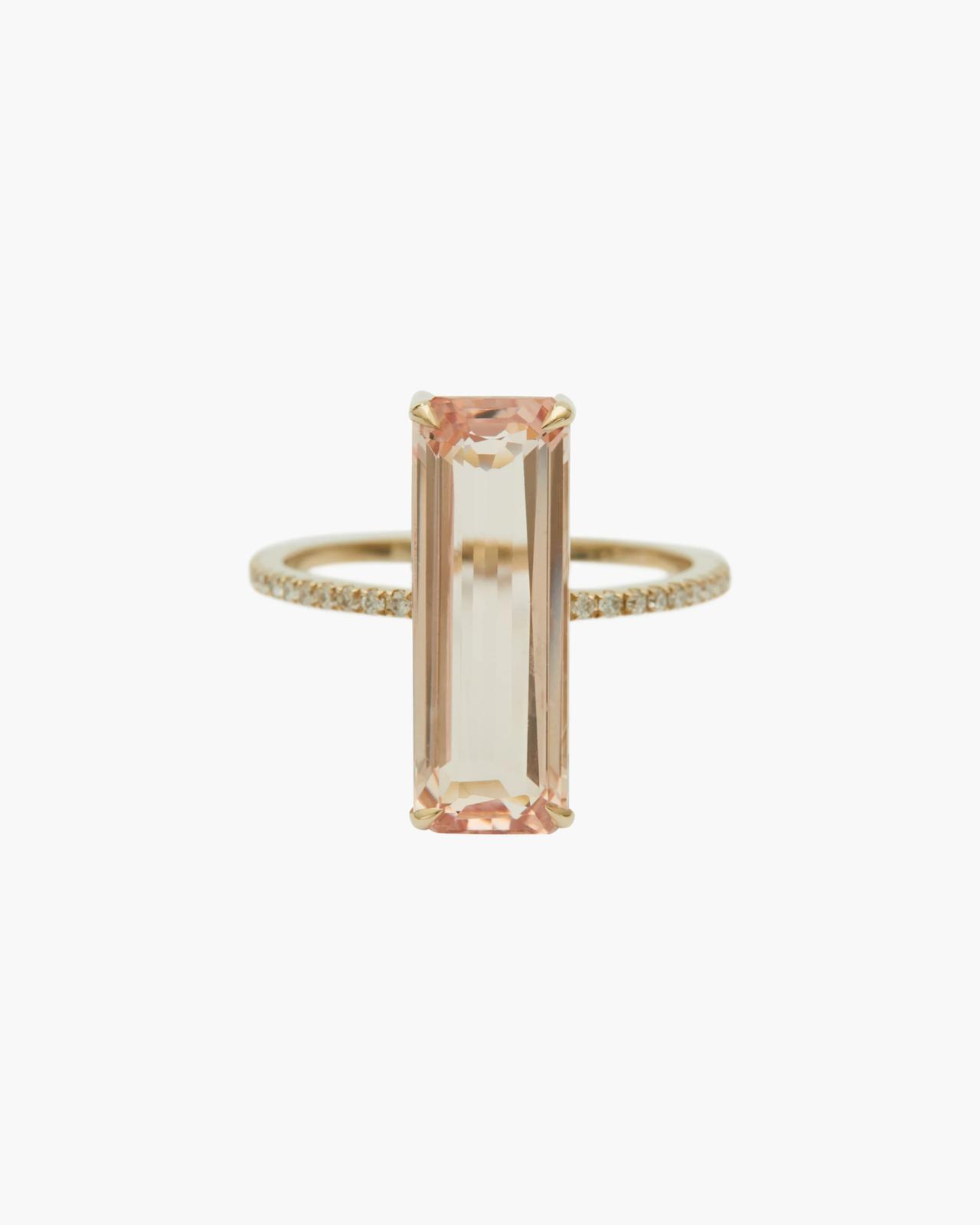 Morganite Engagement Ring with Pavé Band
Morganite comes in a variety of colors from bright pink to barely-there peach, which is another reason why it's one of the best diamond alternatives. This chic ring is a beautiful example of the lighter variety—the rosy golden hue is feminine but not overly girly. Each ring is made to order, so you know yours will be extra special.
Yi Collection morganite and white diamond ring, $3,550, Olivela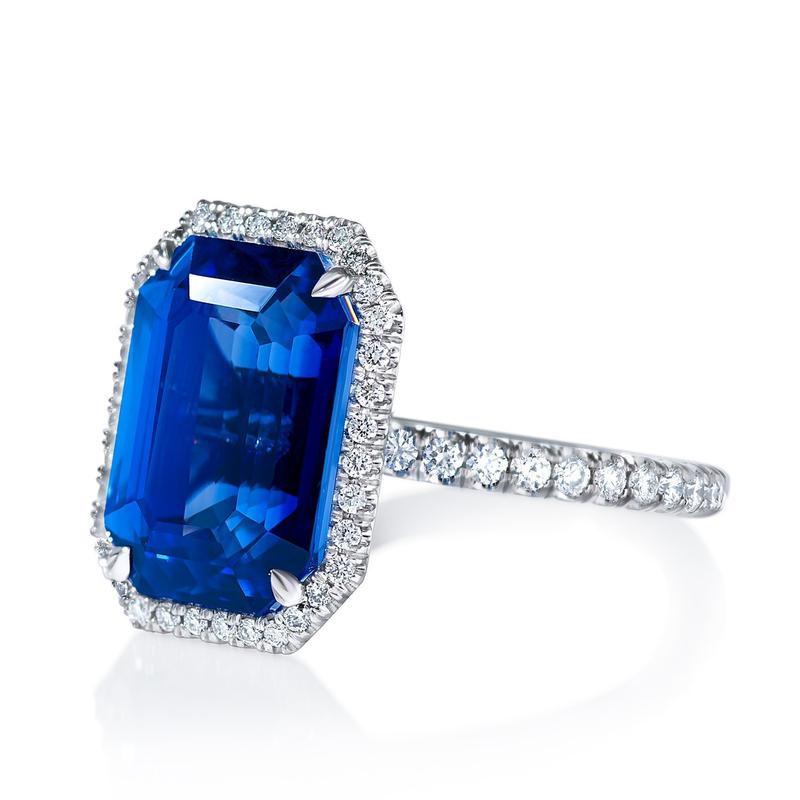 Blue Sapphire and Diamond Halo Engagement Ring
Go for Old World elegance with a decadent, emerald-cut sapphire engagement ring. This stone shape is like an optical illusion—the wide, flat surface area makes emerald cuts seem larger than they really are (and the added halo doesn't hurt, either).
Ring Concierge sapphire emerald-cut with diamond halo engagement ring, price varies, Ring Concierge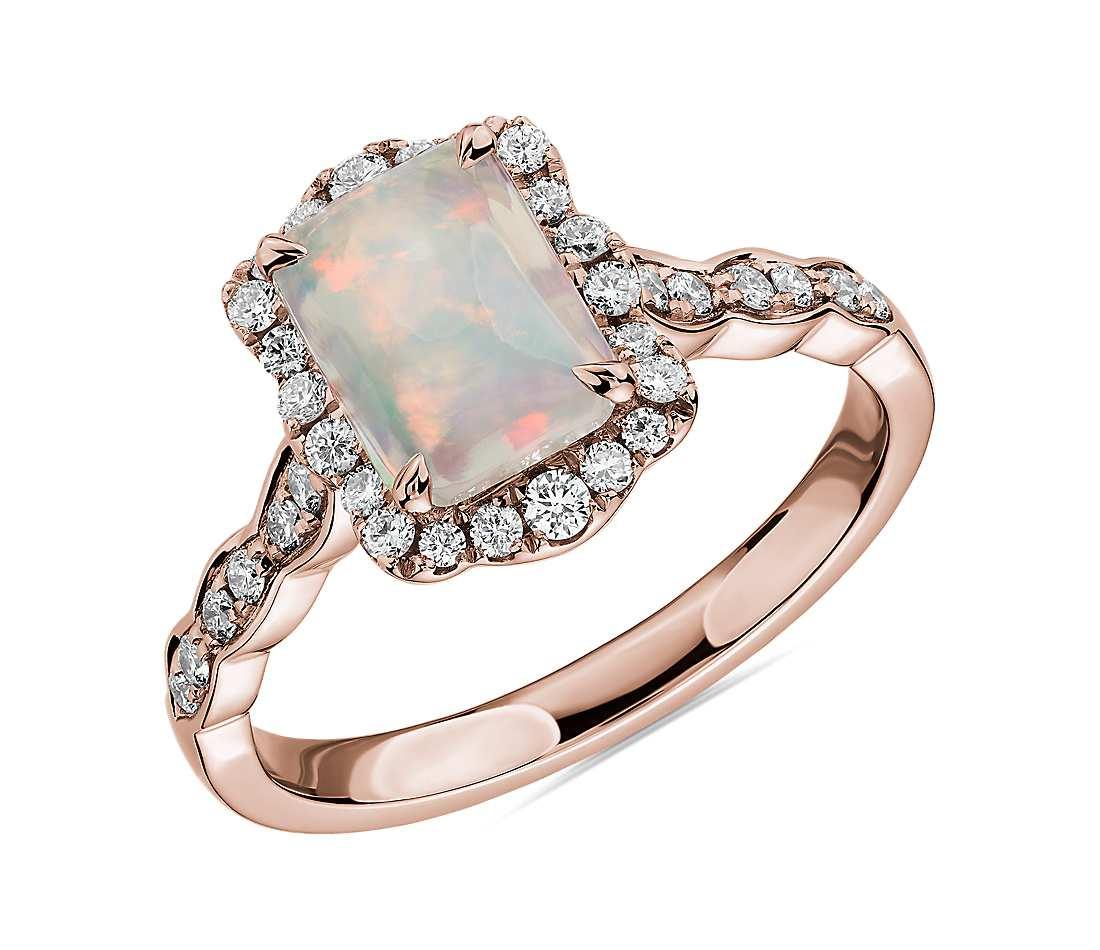 White Opal Engagement Ring
Rocking this engagement ring is like wearing glitter on your finger. Opals are highly iridescent and showcase a range of different colors from all angles, almost like a rainbow. A rose gold setting will bring out the pink tones of a white opal.
Blue Nile emerald cut opal ring with diamond halo in 14K rose gold, $1,390, Blue Nile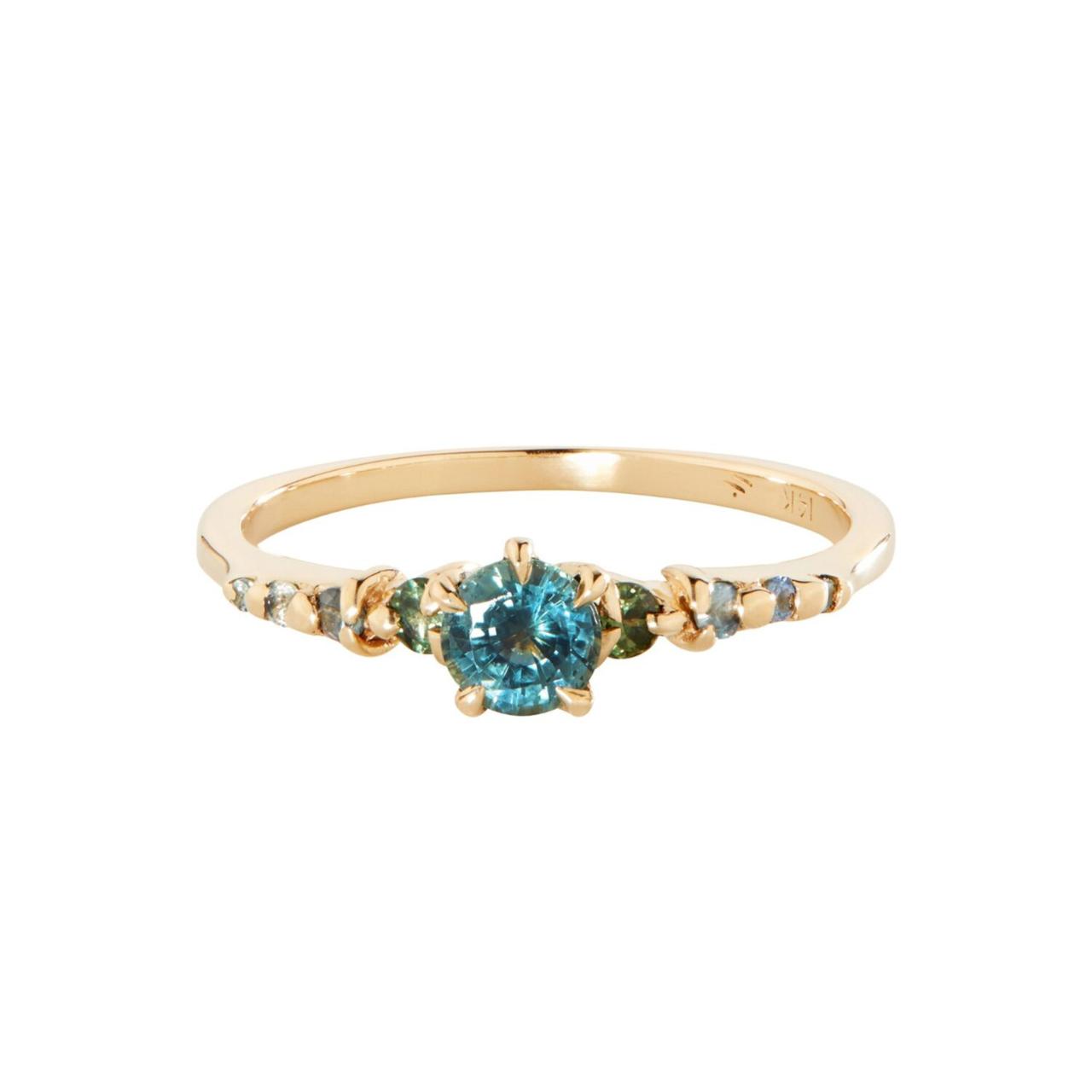 Teal Sapphire Engagement Ring with Yellow Gold
We can always count on New York City-based Catbird to have plenty of high quality (and more importantly, gorgeous) engagement rings that don't look like all the rest. This dainty ring features blueish green sapphires in a secure prong setting.
Laurie Fleming Cyndra ring, $1,325, Catbird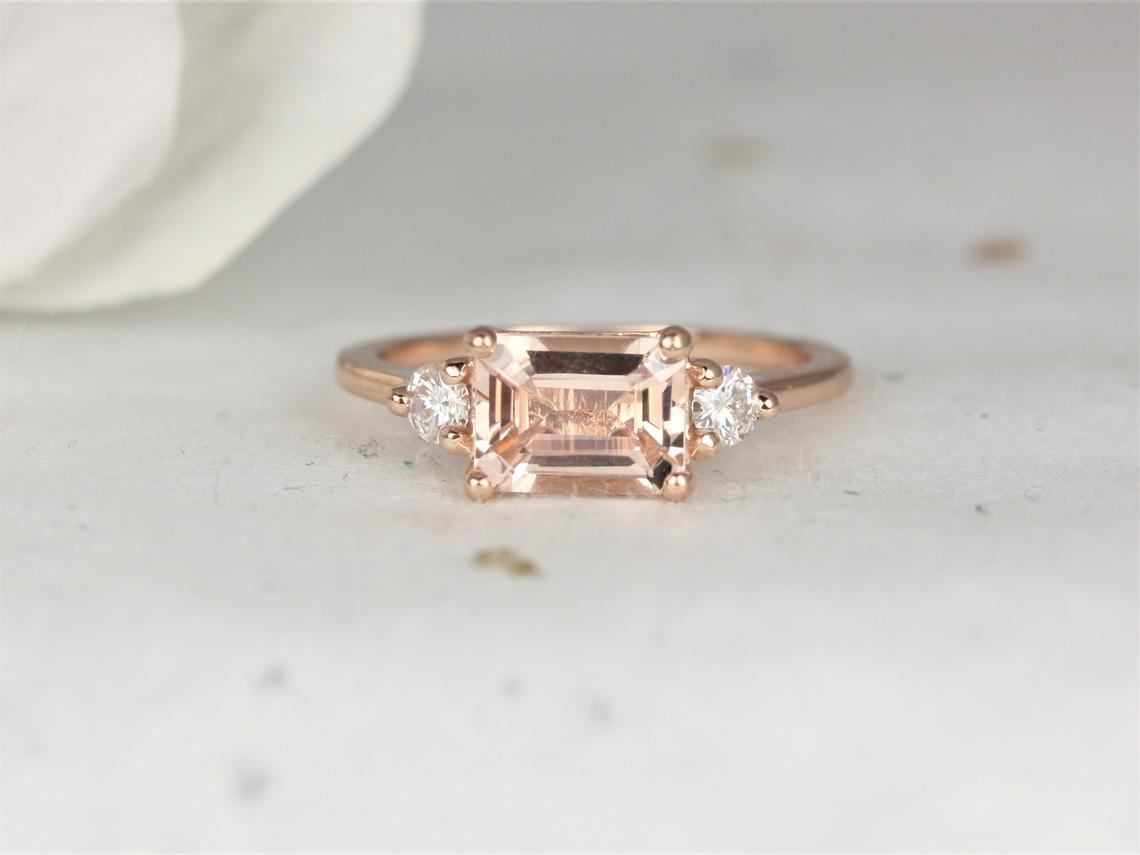 East-West Engagement Ring
For a diamond alternative engagement ring that's even more unique, look for an east-west setting: a center stone that's set horizontally rather than vertically. This emerald-cut morganite is a beautiful example of this engagement ring setting—it's a small detail, but it will set your ring apart from the masses.
RosadosBox 14K rose gold emerald cut morganite engagement ring, from $1,020, Etsy
Aquamarine Engagement Ring
Choose a pale blue aquamarine if you want a non-diamond engagement ring that's subtle and understated.
Blue Nile aquamarine and diamond ring in 18K white gold, $1,280, Blue Nile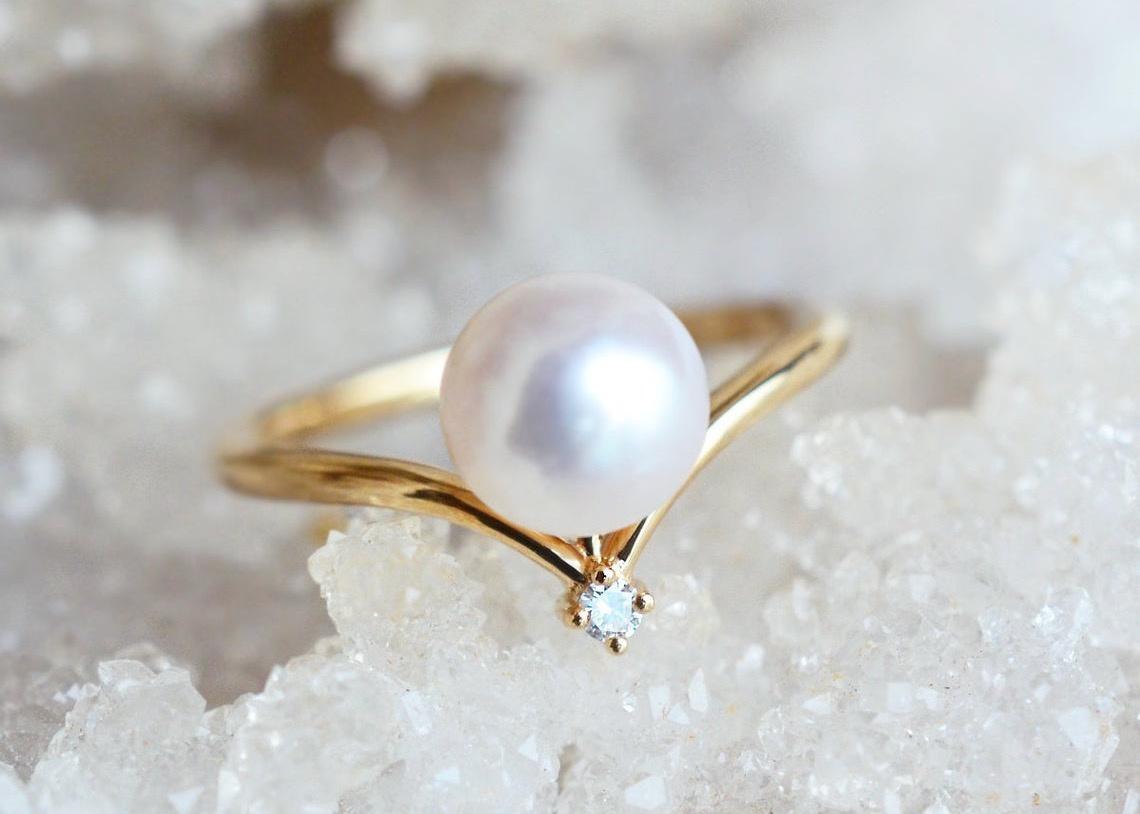 Saltwater Pearl Engagement Ring
If you're looking for a completely unexpected engagement ring, this modern pearl design is a worthy contender. It features a prominent saltwater pearl accented with a a single real diamond—just enough to add a hint of sparkle. Complete the set with the matching wedding band.
MichelliaFineJewelry Akoya pearl engagement ring, from $720, Etsy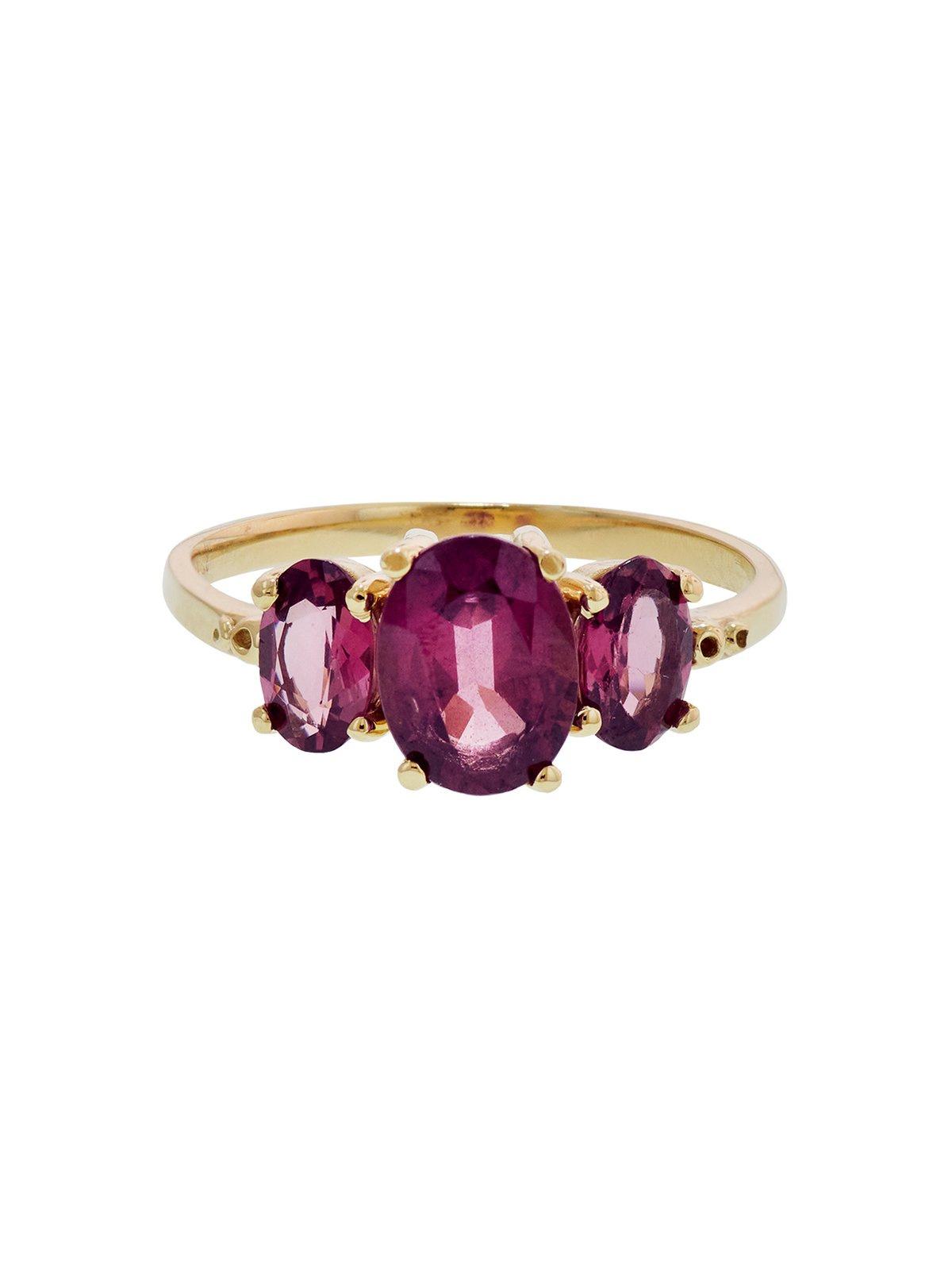 Three-Stone Rhodolite Engagement Ring
No traditional diamonds here. Three oval-shaped rhodolite stones adorn a simple 14K yellow gold band, which only enhances the gems' dark magenta color.
Ruta Reifen Oval the Moon yellow gold ring, $1,200, Ylang23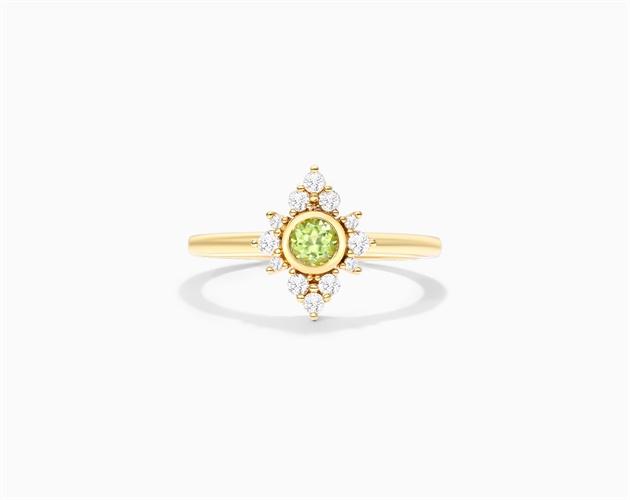 Vintage-Inspired Peridot Engagement Ring
Into Art Deco or bohemian style? Then this is the ring for you. A pale green peridot (one of the less common gemstones for diamond alternative engagement rings) sits at the center of a unique yellow gold setting.
James Allen 14K yellow gold lace peridot and diamond ring, $890, James Allen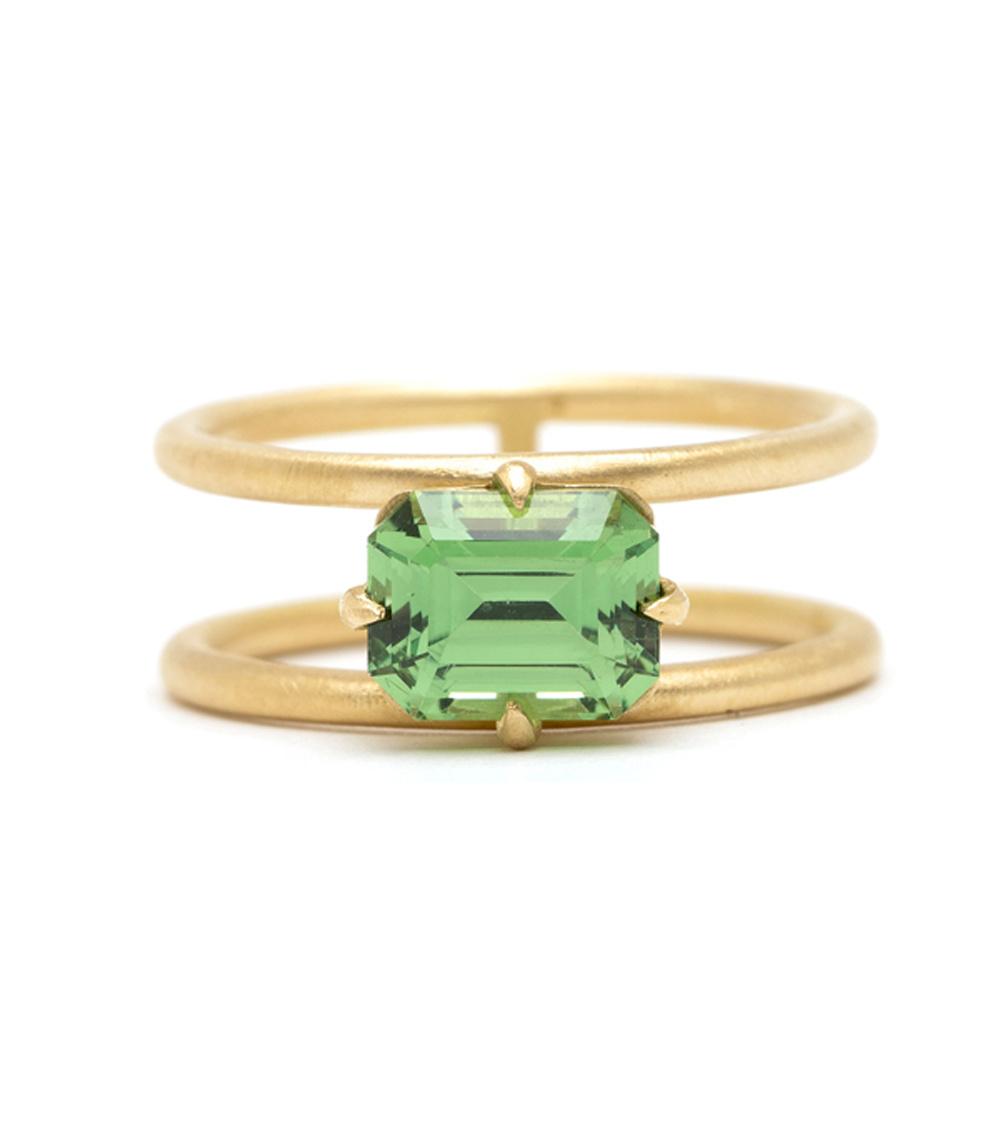 Green Garnet Engagement Ring
Garnets are typically red, which makes this bright green gem a rare find. With a stone as eye-catching as this, you don't need a fancy setting—a modern, minimalistic double band is functional and sleek.
Sofia Kaman Gemma double-banded green garnet engagement ring, $3,600, Sofia Kaman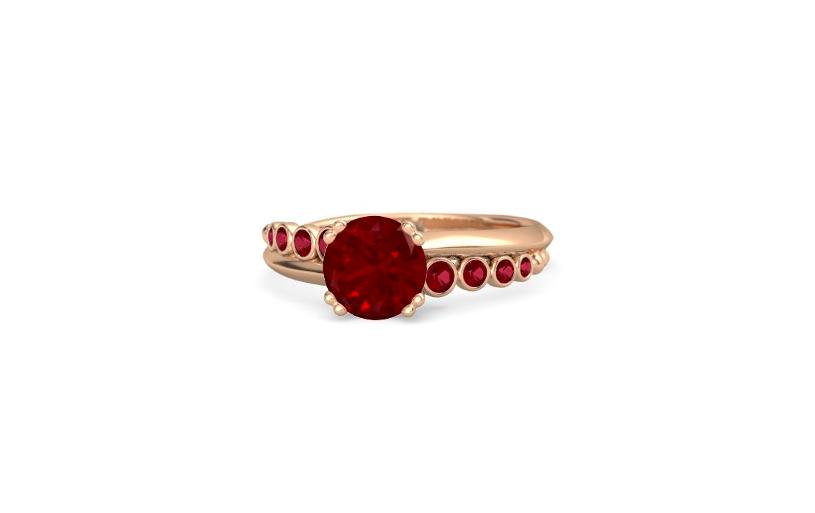 Rose Gold Engagement Ring with Rubies
With its unique twisted band, this ruby-covered rose gold ring is perfect for the bride who isn't afraid of a little extra attention.
Gemvara 14K rose gold round cut lab-grown ruby ring, from $875, Gemvara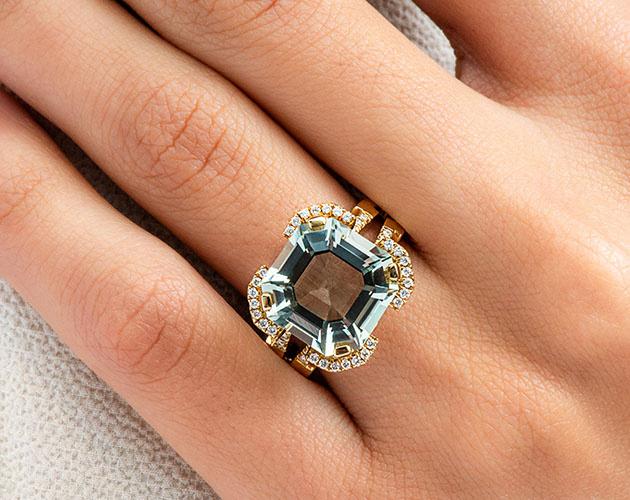 Octagon-Shaped Prasiolite Engagement Ring
Here's a darker version of prasiolite (or green amethyst)—we're loving the unexpected grayish teal hue that it takes when paired with a rose gold setting.
James Allen 18K yellow gold octagon prasiolite and diamond ring, $2,670, James Allen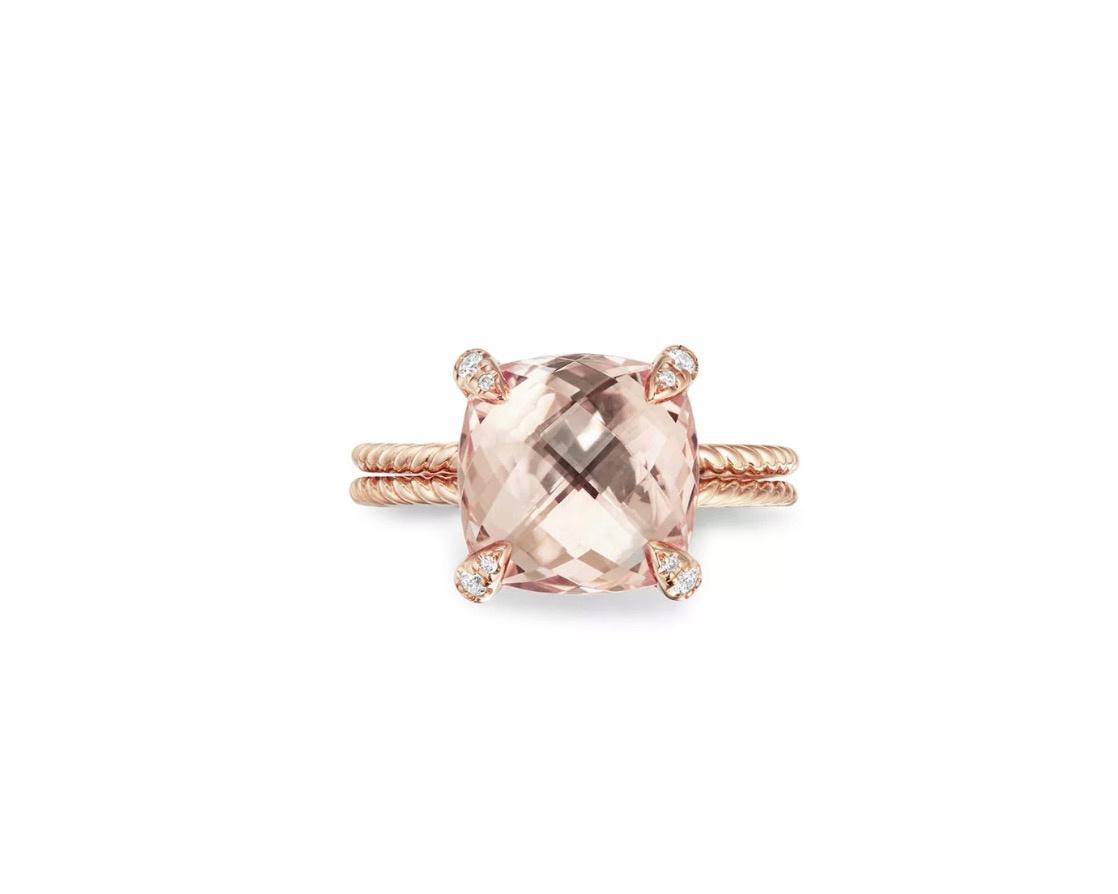 Morganite Engagement Ring with Double Band
The twisted double band is what makes this blush pink morganite engagement ring stand out from the rest. Add a pavé wedding band after your big day for a bit of extra sparkle.
David Yurman Châtelaine ring with morganite and diamonds in 18K rose gold, $2,800, Saks Fifth Avenue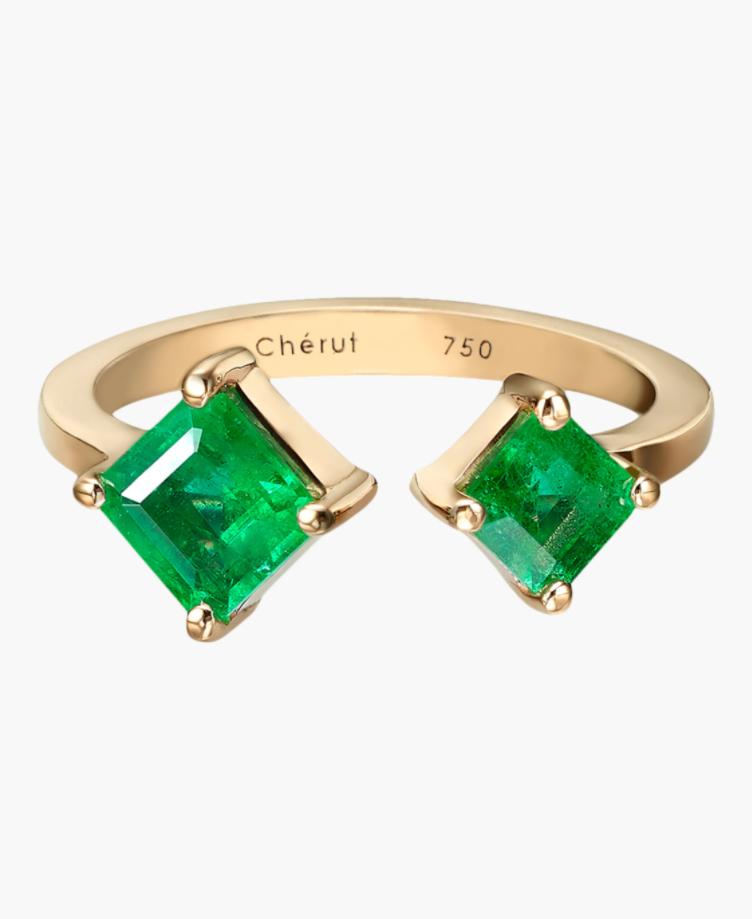 Emerald Toi et Moi Engagement Ring
Two-stone settings—or toi et moi rings, if you want to keep it fancy—are an engagement ring trend we expect to see sticking around for a while. This open band ring, which is bookended with bright green emeralds, is available in yellow or rose gold.
Chérut 18K yellow gold duo square emerald ring, $3,700, Olivela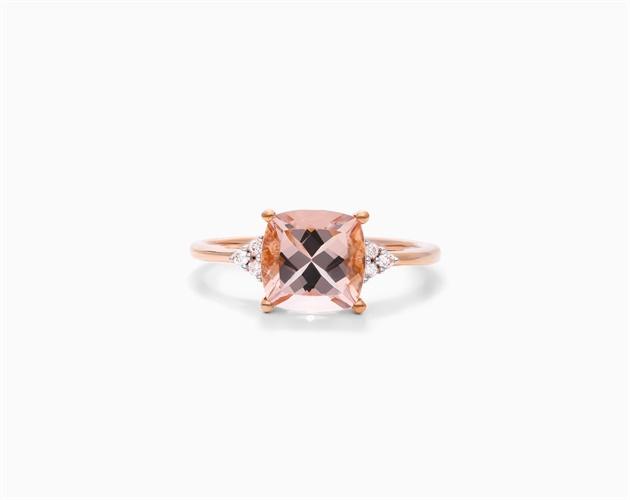 Cushion-Cut Morganite Engagement Ring
If you want a classic-with-a-twist engagement ring, opt for a pink morganite cushion-cut sparkler. A rose gold band will give you even more trendy flair.
James Allen 14K rose gold cushion-cut morganite and diamond trio accent ring, $1,290, James Allen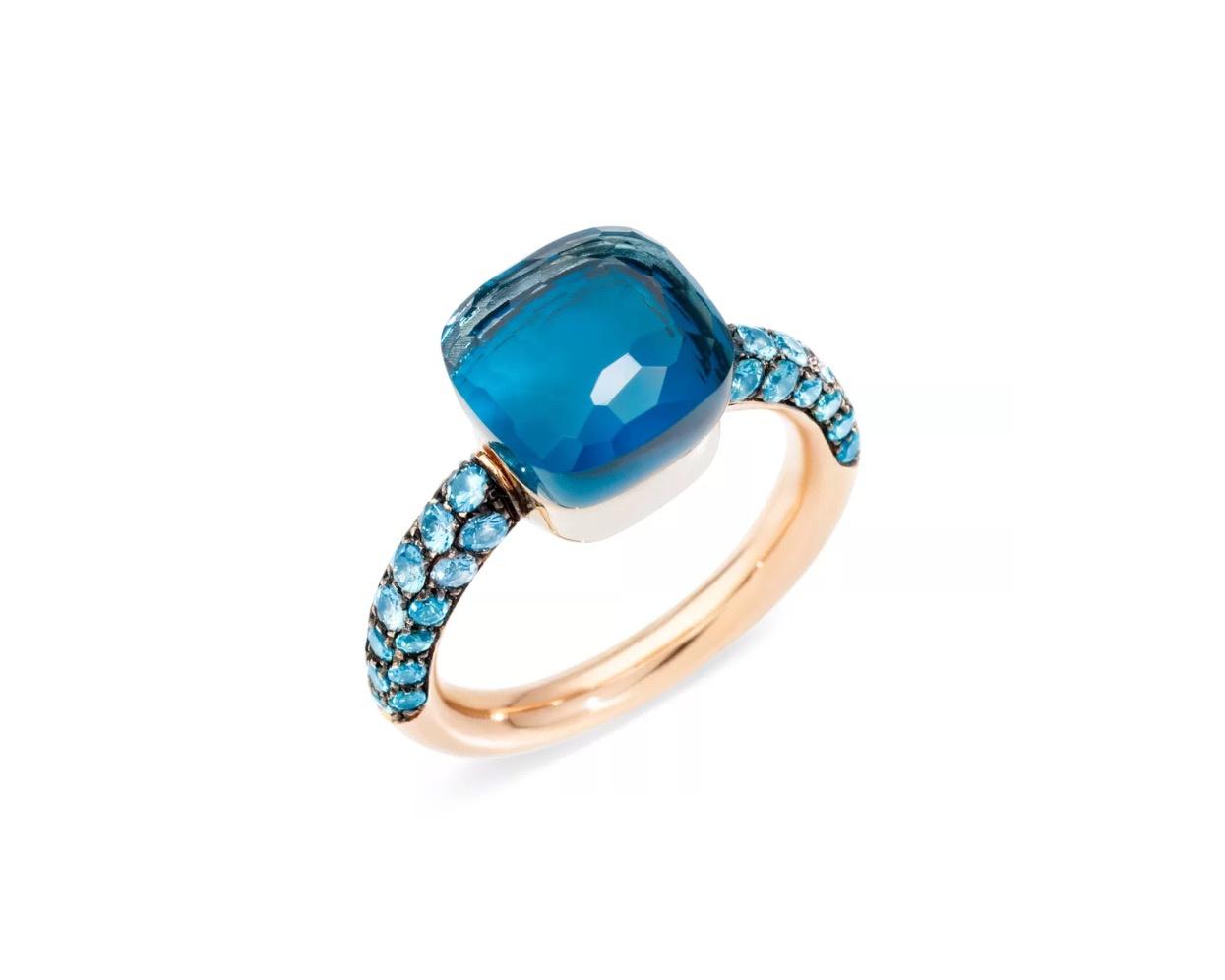 Turquoise and Rose Gold Engagement Ring
If you don't shy away from vibrant colors in your everyday life, your engagement ring is another chance to show off your spunky personality. London blue topaz has a gorgeous turquoise color that's amplified by a rose gold setting, so be prepared to answer ring envy questions everywhere you go.
Pomellato 18K rose gold London blue topaz and turquoise square ring, $4,200, Saks Fifth Avenue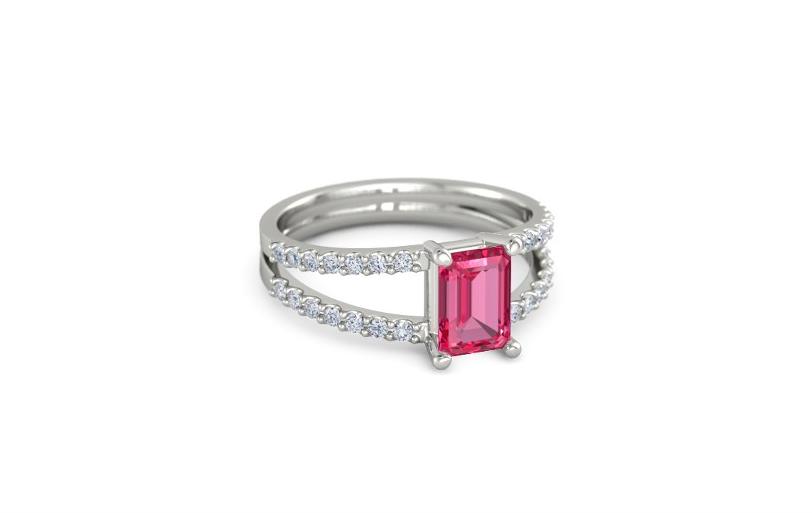 Pink Tourmaline Engagement Ring
Hello, modern-day princess vibes. Pink tourmaline symbolizes compassion, love, and is often said to calm anxiety, so this fiery pink gem is a thoughtful choice for an engagement ring.
Gemvara 14K white gold emerald cut pink tourmaline ring, from $1,410, Gemvara