We wanted to get a first look at the engagement ring trends for 2021, so we asked wedding jewelry experts to share their predictions for the most popular designs they expect to see in the coming months. Whether you're planning to pop the question, suspect that a proposal is on the horizon, or just want an excuse to look at some sparkly diamonds (no judgment from us), brushing up on these trends is an excellent place to start.
Here's the rundown on the engagement ring trends that will be everywhere in 2021.

Two-stone engagement rings
Double the diamonds, double the sparkle, right? Two-stone engagement rings—also known as toi et moi rings, if you're feeling fancy—are expected to be one of the year's biggest engagement ring trends. "Coming in hot this year and into 2021 is not just one main diamond, but two," says Kaeleigh Testwuide of The Diamond Reserve in Denver, Colorado. "For any bride that prides [herself] on standing out, this is a design to consider. Who said you have to just pick one diamond anyway?"
Choose a ring that has contrasting gems, such as a pear cut next to an emerald cut or a large stone with a smaller stone, for a total statement-making piece. Even better: this trend is an easy compromise if you can't choose just one favorite cut or shape. Look to Solange Knowles and Emily Ratajkowski for celeb-approved examples of this trend.
Three-stone engagement rings
If two stones aren't enough sparkle for your liking, consider a three-stone ring instead. "2020 has been an incredibly fun year as a jewelry designer with the resurgence of the timeless and classic three-stone engagement ring," says Testwuide. "Smaller side stones are in, accentuating the center diamond. Pear and heart-shape side stones taper into the trending dainty and thin band. Less is more when it comes to this style engagement ring—our designs allow brides to see the profile of their diamond, giving off radiating sparkle at every angle and allowing a wedding band to sit flush."
Thanks to the symmetry of the design, this engagement ring trend is actually not as edgy as the two-stone trend, making it a chic choice for brides who love classic-with-a-twist style. Demi Lovato, Miranda Kerr, Jessica Simpson, and Nicky Hilton are just a few celebrities known to wear three-stone engagement rings.

Blue engagement rings
Blue gemstones will be a major trend in 2021 for anyone who wants to rock a pop of color on their ring finger. Dark blue stones spiked in popularity after Kate Middleton famously got engaged to Prince William with Princess Diana's sapphire ring, but this year, lighter blue stones will be stepping into the spotlight. Aquamarines, tourmalines, topaz, tanzanite, and opals are a few eye-catching options if you're looking for blue gemstones. Bonus: blue stones look incredible with both platinum and yellow gold settings.
Alexandrite engagement rings
Alexandrite, which is notorious for changing color depending on the angle and type of light it's viewed under, is one of the must-see engagement ring trends if you're into non-diamond styles and alternative designs. "The next precious stone trend to make its debut is alexandrite," says Etsy Trend Expert Dayna Isom Johnson. "We've seen a 94% increase in searches on Etsy for alexandrite engagement rings in the last three months [compared to the same time last year]." Alexandrite's color ranges from purple and fuchsia to green, bright blue, and orange. It's also the June birthstone, along with pearl and moonstone.
Sustainable engagement rings
"I predict sustainable engagement and wedding rings will gain popularity in 2021," says Johnson. "From ethically sourced diamonds to recycled metals, couples are looking to prioritize sustainability when shopping for their rings."
With environmentally friendly practices and zero waste weddings being top of mind for many couples, it's not surprising that sustainable jewelry is a big engagement ring trend to watch. Although the jewelry industry has plenty of options for ethically sourced metals and stones, lab-grown diamonds are another way to ensure that your purchase is conflict-free—and they're gaining popularity. Meghan Markle, Bindi Irwin, and Penelope Cruz have all been spotted wearing lab-grown diamonds, but since they look identical to mined diamonds, you wouldn't know it. The only difference? Lab diamonds grow much more quickly, and are therefore often sold at a lower price. Recycled diamonds and metals are another option if sustainable materials are a priority for you. Take a cue from Natalie Portman, whose engagement ring features an antique center stone and a recycled platinum setting.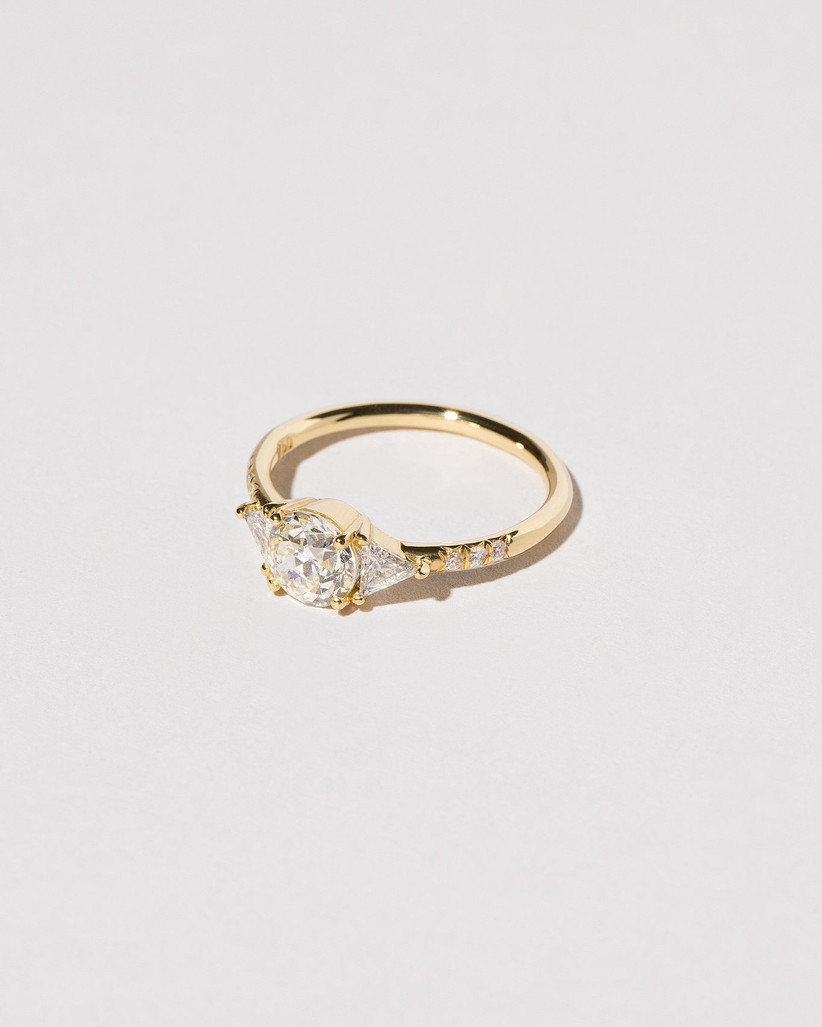 Timeless engagement rings
This 2021 engagement ring trend is actually the opposite of trendy—and we mean that in a good way! More than ever, couples are opting for engagement rings that are reminiscent of simplistic and sophisticated vintage styles, with the goal of achieving a timeless look. This means solitaire settings, simple bands, and a resurgence of round diamonds.
"I'm seeing a lot more clients this year looking for round center stones and going for our more classic designs," says Caitlin Mociun, founder and designer at Mociun in New York, New York. "With my custom pieces, I am seeing clients looking for more unusual cuts, both in step and brilliant cuts."
Step cuts, such as emerald and Asscher, are gorgeous options if you love Art Deco design. As for the brilliant cut, you can think of it as an updated (and much more precise) version of diamond styles that were popular in the late 19th and early 20th centuries, such as old mine cuts and old European cuts. All three cuts are designed with a high number of facets to achieve major sparkle, but what you choose ultimately depends on your personal preference. A round brilliant cut will radiate light, while old mine and European cuts are more rare and will draw the eye inward.