The 2019 engagement ring trends are here, and they're bringing plenty of sparkle to the table. Whether you're planning to pop the question, suspect that a proposal is on the horizon, or just want to look at some pretty ring pictures (hey, we do it all the time), here's the rundown on the 2019 engagement ring trends and types of rings you can expect to see on many a finger in the new year.
Prepare to obsess over the 2019 engagement ring trends below.
Three-Stone Rings
As soon as Meghan and Harry got engaged, we knew that their royal nuptials would spark an entire batch of wedding trends for the new year — and that includes 2019 engagement ring trends. Brides who are looking to catch a bit of the Markle Sparkle are opting for three-stone engagement rings that mimic the Duchess of Sussex's own, which was designed by Prince Harry himself. The Duchess' ring features a large center diamond from Botswana with two smaller diamonds from Princess Diana's personal collection.
Blue Stones
We've seen non-traditional brides favoring colored diamonds and gemstones for the last several years, but in the upcoming months, we're predicting that blue stones will take the lead as one of the top 2019 engagement ring trends. Specifically, sapphire engagement rings are having a serious moment. Newly-hitched Gwyneth Paltrow wears a sapphire engagement ring from her husband, Brad Falchuk, and actress Caitriona Balfe of Outlander fame has a diamond engagement ring flanked by two sapphires. Penelope Cruz also wears a sapphire engagement ring, and we can't forget Kate Middleton's oval-cut sapphire. Alternatively, aquamarine and topaz are other blue non-diamond engagement rings that look equally gorgeous.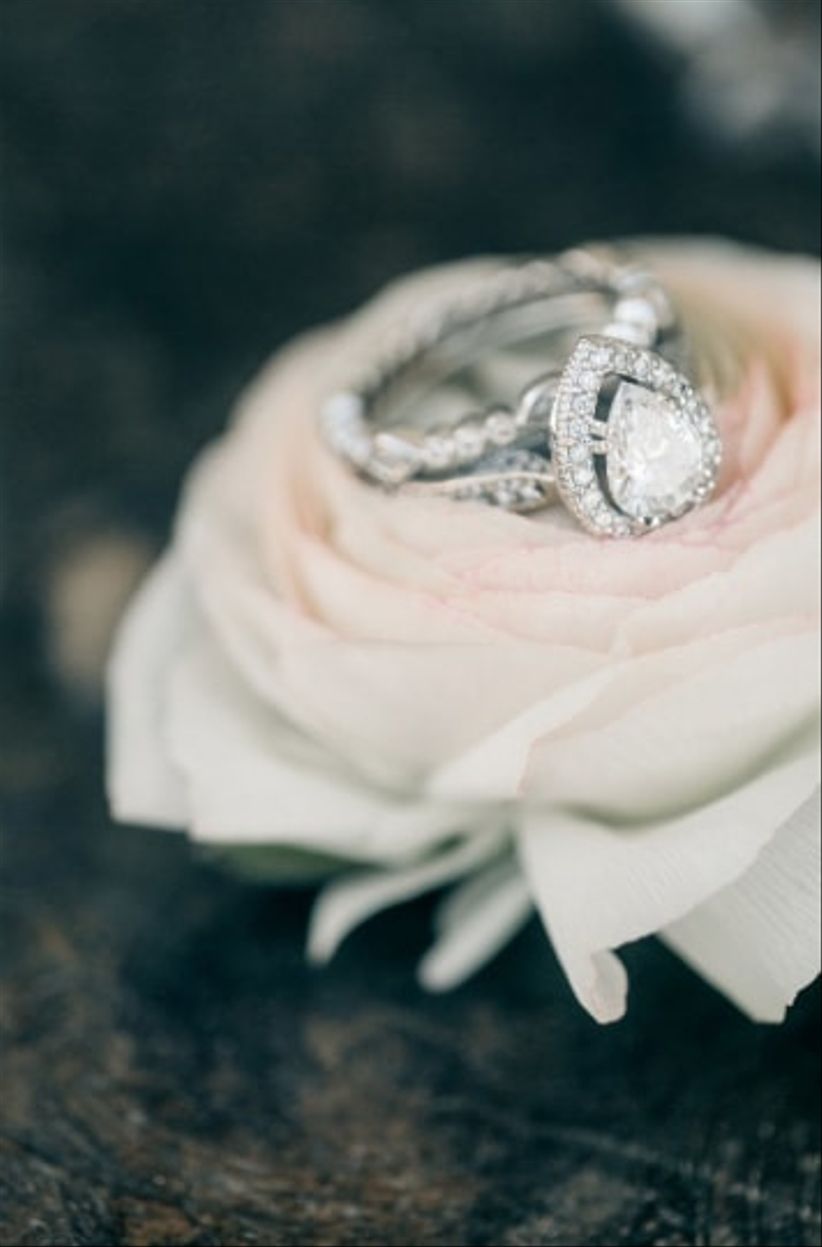 Pear Cut Rings
The pear cut is another one of the 2019 engagement ring trends we expect to see everywhere this engagement season. Pear cut rings are perfect for brides who want to stand out and make a statement, and we're guessing that's why they're also a favorite among fashion-forward celebs. Kaley Cuoco, Victoria Beckham, and most recently, Cardi B, all rock engagement rings with this eye-catching shape.
Geometric-Inspired Settings
Geometric details have been trending in wedding decor and wedding attire, and now they're finally popping up on engagement rings. Embrace the 2019 engagement ring trends by opting for a design that features a hexagonal halo, triangle cut stones, or an angular setting.
Yellow Gold Bands
As more brides are embracing non-traditional engagement rings, others are going back to the basics with simple solitaire diamonds and yellow gold settings. Platinum and white gold have long been two of the most popular engagement ring metals, but we're expecting to see a resurgence of yellow gold bands in the engagement ring trends for 2019. Delicate gold jewelry has become a trendy staple in ready-to-wear fashion, so it was only a matter of time before it caught on as one of the top 2019 engagement ring trends. The benefits of having a yellow gold engagement ring? The gold is universally flattering and easy to resize if necessary.
Vintage-Inspired Styles
For 2019, brides are embracing a blast from the past by wearing engagement rings with vintage-inspired diamond cuts such as emerald and marquise. The thing we love most about these two cuts is that they look stunning with or without a halo setting and can often make stones look bigger than they actually are. Plus, rocking an engagement ring with one of these cuts will bring a bit of Old Hollywood glamour to your big day.
Baguette Halos
This 2019 engagement ring trend is a must-see for any bohemian bride looking for an equally boho engagement ring. Instead of a traditional pavé halo, the center stone is encircled by tiny baguettes that create a sunburst-inspired effect — one that is sure to catch people's attention! Stick to all diamonds for a cool Art Deco vibe, or add colored stones for something more offbeat.