The Top 5 Engagement Ring Trends You'll See Everywhere in 2022
Prepare to see these sparkly styles in dozens of engagement announcements this year.
We have included third party products to help you navigate and enjoy life's biggest moments. Purchases made through links on this page may earn us a commission.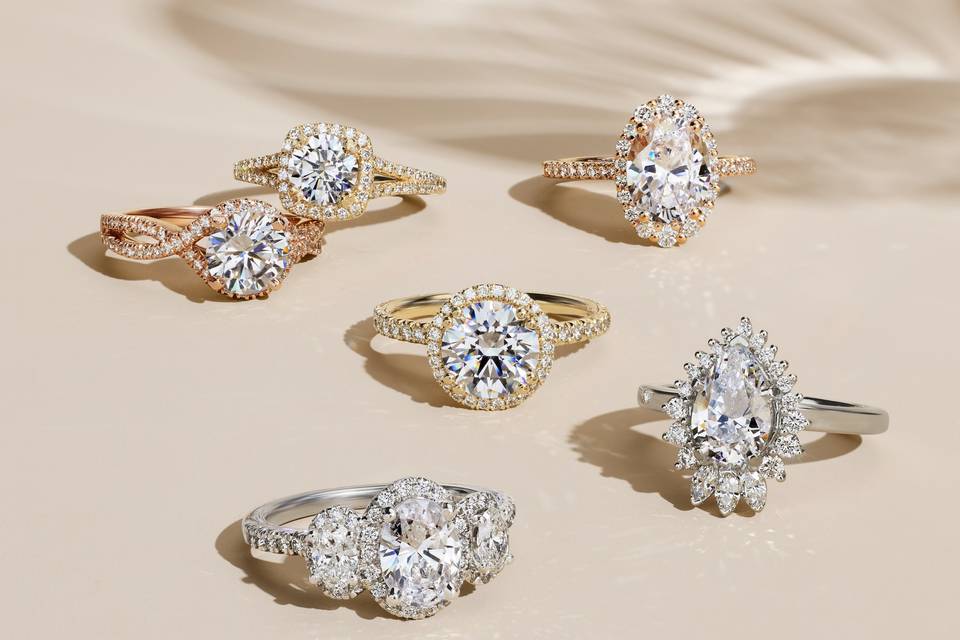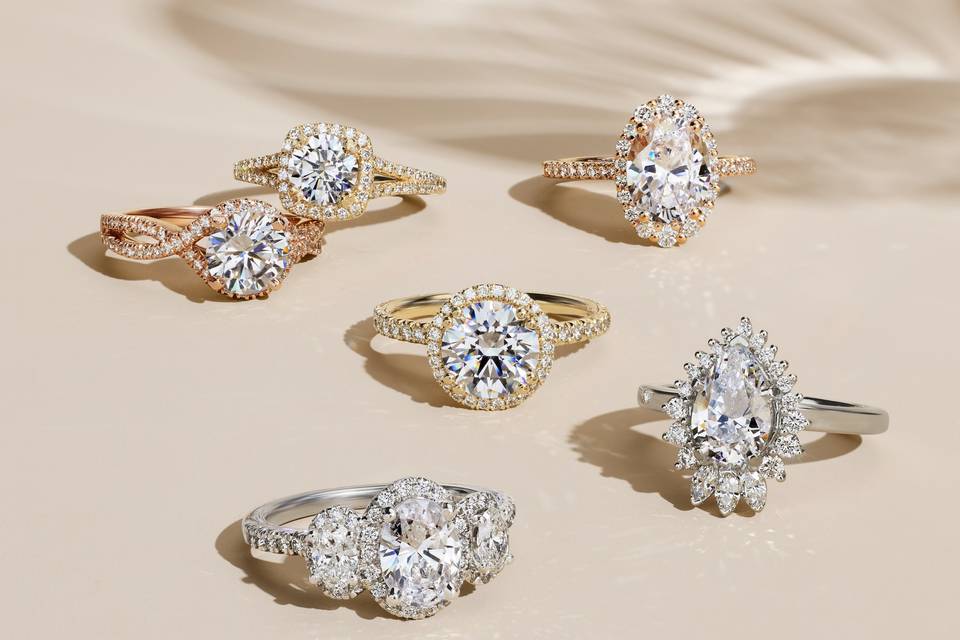 Every proposal season brings an entirely new batch of engagement ring styles, and this year is no different. (FYI: According to our company data, nearly 40% of proposals happen between November and February, with December often being the most popular month to get engaged.) To get the scoop on 2022 engagement ring trends, we asked wedding jewelry experts to share their predictions for the most popular designs they expect to see in the coming months, and the results are in: uniquely cut stones, extra sparkle, yellow metals, and sustainable materials will be top of mind for many couples. So if you're planning to pop the question (or you suspect that a proposal is imminent and want to brush up on your jewelry knowledge), here's the rundown on the engagement ring trends that will be everywhere in the upcoming months.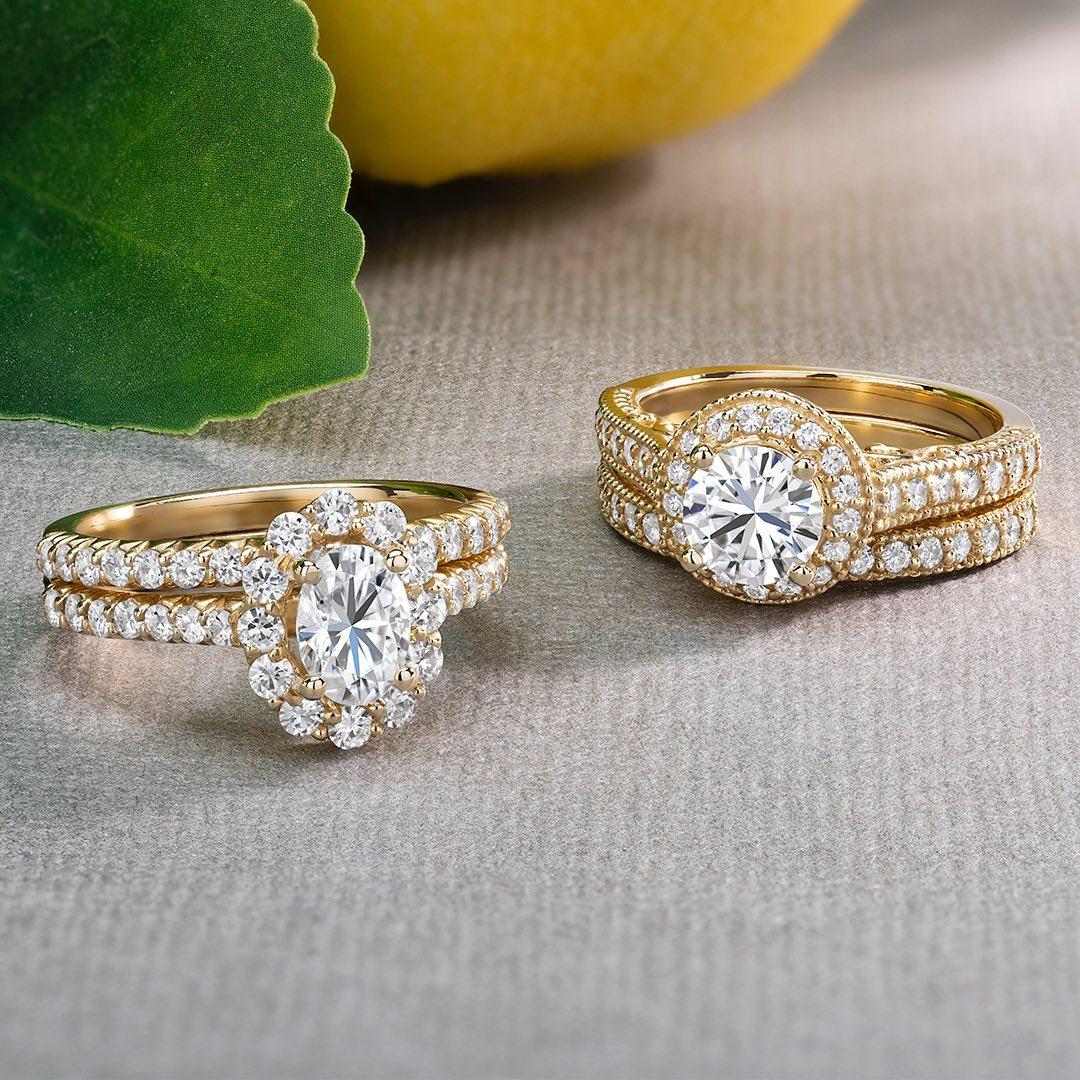 Yellow Gold Engagement Rings
White gold and silver metals will always be popular choices when it comes to engagement ring metals, but in 2022, yellow gold is expected to be even more in demand than it has been in recent years. Often associated with retro styles of the '80s and '90s, yellow gold jewelry has once again become a trendy staple in ready-to-wear fashion—and if we've learned anything about engagement rings trends, it's that everyday jewelry plays a huge role when influencing the wedding jewelry industry. "Yellow gold [is] having a major revival moment and will continue to trend," says Katie Zimmerman, chief merchandising officer at Blue Nile. Hillary Watson, senior director of sales and marketing at Charles & Colvard, has also noticed an uptick with this trend. "Yellow gold continues to be on the rise as the desire for rose gold seems to be decreasing," she says. "We are expecting that to stay steady as we move into 2022."
The benefits of having a yellow gold engagement ring? This type of metal is universally flattering on a range of skin tones, and it's easy to resize if necessary. To give this metal the most modern look, choose thin bands and delicate settings, and look for yellow gold rings with rich, honey-colored undertones.
Fancy Stone Shapes and Cuts
If you're into eye-catching diamond shapes that stand out from the classic round solitaire ring, you're in luck, because statement shapes are unanimously expected to be some of the top engagement ring trends in 2022. Non-round diamond shapes, which are also known as 'fancy shapes,' are great to consider if you're looking for a unique engagement ring. Fancy shapes like emerald cut, pear cut, and oval-cut engagement rings are already top sellers for 2022, according to Tonia Zehrer, senior vice president and chief merchandising officer at Signet Jewelers, the parent company of Kay Jewelers, Zales, and Jared.
This engagement ring trend is already being noticed throughout the rest of the industry too. "While traditional shapes such as round, oval, and cushion are still the most popular, [Charles & Colvard] have seen a bigger focus and demand for uniquely cut center stones such as radiant, emerald, and pear," says Watson. Aside from emerald-cut diamonds, pear-shaped diamonds, and radiant cuts, other fancy shapes include the princess cut, marquise cut, heart-shaped stones, and cushion-cut diamonds.
Timeless Engagement Rings
This 2022 engagement ring trend is actually the opposite of trendy, and we mean that in a good way. According to Zehrer, timeless, classic styles are performing well for both Zales and Kay Jewelers. Couples are opting for designs that are reminiscent of sophisticated vintage engagement rings, with a focus on pieces that will never go out of fashion. This includes solitaire engagement ring settings with larger center diamonds and simple bands, among other understated designs. But if you're skipping embellishments like pavé bands and halo settings, you can still maximize sparkle with certain diamond cuts or by investing in a ring with a higher carat weight.
Step cuts, such as emerald and Asscher, are gorgeous options if you love Art Deco design. As for the brilliant cut, you can think of it as an updated (and much more precise) version of diamond styles that were popular in the late 19th and early 20th centuries, such as old mine cuts and old European cuts. All three cuts are designed with a high number of facets—the flat parts of the gemstone that reflect light—to achieve major sparkle, but what you choose ultimately depends on your personal preference. A round brilliant cut will radiate light, while old mine, rose cut, and European cuts are more rare and have a bespoke, heirloom look to them.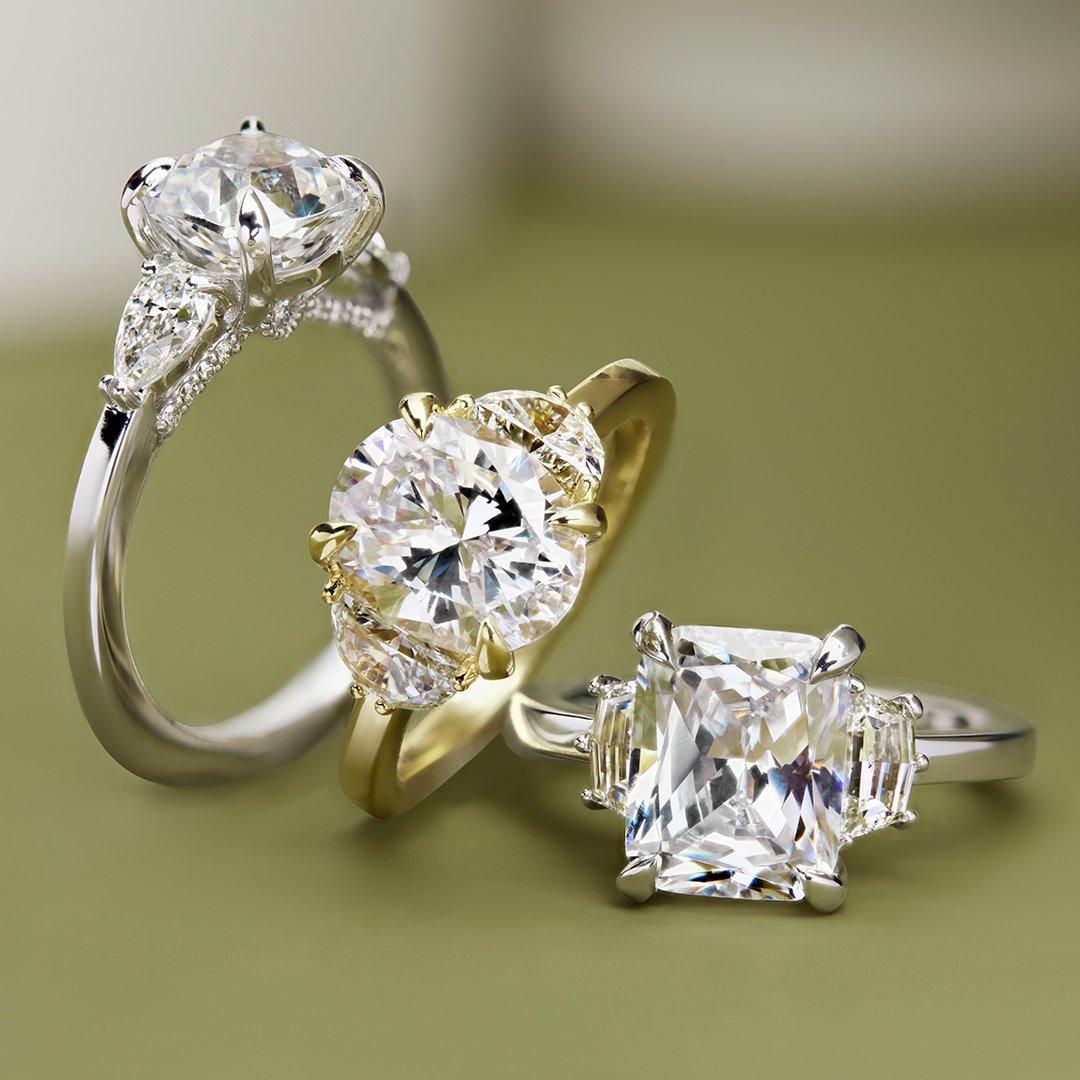 Two- and Three-Stone Engagement Rings
Double the diamonds, double the sparkle, right? Two-stone engagement rings—also known as toi et moi rings, if you're feeling fancy—are another trend we're making note of. From French, 'toi et moi' translates to 'you and me,' which is a sweet sentiment that adds extra meaning behind your proposal. And if two stones aren't enough bling for your liking, consider a three-stone ring instead. Either way, designs with multiple stones are solidifying their spot as one of the biggest engagement ring trends for 2022, and we're not mad about it. These multi-stone rings give you the opportunity to show off more than one diamond or gemstone, along with an assortment of different shapes, cuts, and even colors. "Three-stone engagement ring styling will be popular, and we anticipate that we'll see a lot of variety within three-stone rings," says Zimmerman. "Unique combinations, such as an emerald-shaped center with pear side stones, or an aquamarine center with round side stones, give customers the opportunity to personalize."
Three-stone engagement rings also hold a good amount of symbolism. They're commonly known as 'trinity rings,' with the three stones resembling either the past, present, and future of your relationship or the Holy Trinity, depending on your religious beliefs. Three-stone engagement rings are a stylish choice for couples who love classic-with-a-twist style, and they're also celeb-approved—Princess Beatrice, Miranda Kerr, Jessica Simpson, and Nicky Hilton are just a few famous faces known to wear three-stone engagement rings.
Lab-Created Diamonds and Diamond Alternatives
Although the jewelry industry has plenty of processes in place to verify ethically sourced metals and diamonds, lab-created stones are just one way to ensure that your purchase is conflict-free—and they'll continue to gain popularity in 2022. Since lab-created diamonds look identical to (and are chemically the same as) mined diamonds, you would never know which is which. The only difference? Lab-created diamonds grow much more quickly, making them easier to source, which is why they're often less expensive.
Diamond alternatives, like white sapphires and moissanite, are other options to consider if you want the look and durability of a diamond engagement ring at a slightly lower price. Maximizing your budget with a diamond alternative also gives you the option of purchasing a larger stone, which is another trend that the team at Charles & Colvard has noticed for 2022. "Customers appear to be gravitating to greater total carat weights, which we believe can be attributed to the value of moissanite," says Watson.
Lastly, with environmentally friendly practices and zero waste weddings increasingly being top of mind for many couples, sustainable jewelry is following suit. If sustainable materials are a priority for you, consider engagement rings made from recycled diamonds and metals.