How to Throw a Zero-Waste Wedding
A zero-waste wedding. Sounds impossible, right? Turns out it's pretty doable. Here are some ways to minimize impact as you plan your nuptials.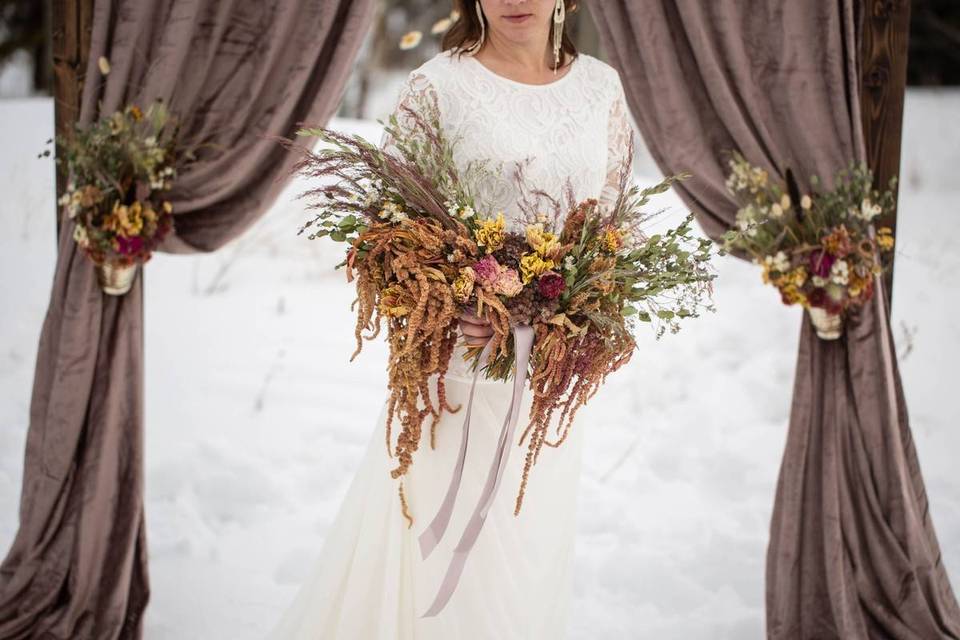 While it's not exactly fun to admit, weddings can create quite a lot of unnecessary waste. Whether it's food and drink tossed at the end of the night or out-of-season florals flown from across the world, the long-term impact of hosting an extravagant event isn't always positive. Of course, no couple wants to plan a waste-prone wedding, but figuring out how to minimize the impact (or even plan a low- or zero-waste wedding!) can feel totally overwhelming. Rest assured, the goal isn't to be perfect but to make smarter, more sustainable choices, one step at a time.
If you're looking to throw a zero-waste wedding or simply move in the right direction, we've got seven ways to plan intentionally and make it happen.
Use preserved or foraged florals.
Before you write off dried florals as a passing trend, keep in mind just how beautiful and eco-friendly preserved blooms can be. Dried pampas grass, lavender, palm leaves, eucalyptus, and hydrangeas are among the most popular choices, but the options are truly endless. As an added bonus, a dried bouquet means you'll have a preserved keepsake to save for years to come or to reuse at a later time.
Along with dried and bleached blooms, zero-waste wedding floral design is all about thinking locally. Ask your floral designer if they use in-season, locally sourced flowers, or forage natural elements when possible. Additionally, instead of tossing leftover flower arrangements, couples can work with their floral designer to coordinate a donation to a local nursing home, hospital, or church. Hiring a floral designer who shares your vision for sustainability is key to moving towards a zero-waste event.
Make ethical fashion choices.
Before you set out to buy a whole new wardrobe for all your wedding events, consider how your fashion choices can take a more waste-free approach. Renting, borrowing, or purchasing preowned wedding attire are all great ways to embrace more sustainable practices, plus save some money in your overall budget.
Along with preowned options, many bridal designers are moving towards more eco-conscious practices in the production of their clothing like Barbara Kavchok, Tara Lynn Bridal, and Reformation, just to name a few. Whether you buy new or preowned, consider donating your attire after the wedding to national organizations like Bride for a Cause and Brides Against Breast Cancer, or a local charity shop in your community.
Try recycled or paperless invitations.
When thinking about ways to reduce wedding-related waste, going paperless can be a great first step. Plus, with so many companies offering beautiful online invitations, along with fully customizable wedding websites, communicating with your guests electronically has never been easier.
If you've already got your heart set on printed save-the-dates or invites to physically mail your guests, opt for designers who use 100 percent post-consumer recycled paper. Interested in the recycled paper route? Make sure to follow suit when ordering programs, place cards, thank you notes, and all the stationery elements that go into your event.
Skip destination events.
Destination weddings, along with destination bachelor and bachelorette parties certainly have their perks, but they don't exactly fall into the eco-friendly category. Minimize the waste of car and plane travel by hosting all your wedding-related events locally at no or low-cost venues like a park, nature reserve, garden or backyard. Skipping out on destination events keeps things simple from a planning perspective, but it will lower your wedding's carbon footprint in a serious way.
Coordinate with your caterer.
Food, drink, plates, napkins, glassware, and utensils all play a significant role in wedding waste, so it's important to ensure your caterer and venue are on-board with a low-waste approach. As a first step, make sure clearly marked recycling receptacles are accessible for both servers and guests and skip out on disposal goods whenever possible.
Along with recycling and composting, work with your caterer to build a wedding menu that features in-season and locally sourced foods that support your community farmers. When it comes to leftovers, some homeless shelters and food banks accept meals and desserts that would otherwise be thrown away. Talk with your catering team to see if they have procedures in place or preexisting relationships with organizations in your area.
Nix the excess.
Planning a zero-waste wedding is all about eliminating the extras that simply aren't necessary. With that minimalist approach in mind, don't be afraid to skip favors, welcome baskets, or extravagant decor, and instead focus on borrowing, renting, or repurposing what you already own. In fact, many venues offer in-house decor available for rent, allowing couples to minimize the costs and travel associated with wedding day rentals altogether.
Skip the gifts.
Guests will want to shower you with gifts on the wedding day, but you'll likely receive more than a few items you simply don't want or need. To cut back on the waste-prone gift-giving, share your vision for a zero-waste wedding with your guests and ask for donations to a charity, set up a honeymoon fund, or request e-gift cards instead. If you've got an online retail registry in mind, try filling it with ethically-made gift options that support the causes you care about. Not only will you receive items you love, but you'll introduce your guests to brands they can feel great about supporting too.