These 21 Rough-Cut Diamond Engagement Rings Are One of a Kind
If you're looking for something more daring than the basic brilliant cut, these natural diamonds will bring an entirely unique vibe to your ring finger.
We have included third party products to help you navigate and enjoy life's biggest moments. Purchases made through links on this page may earn us a commission.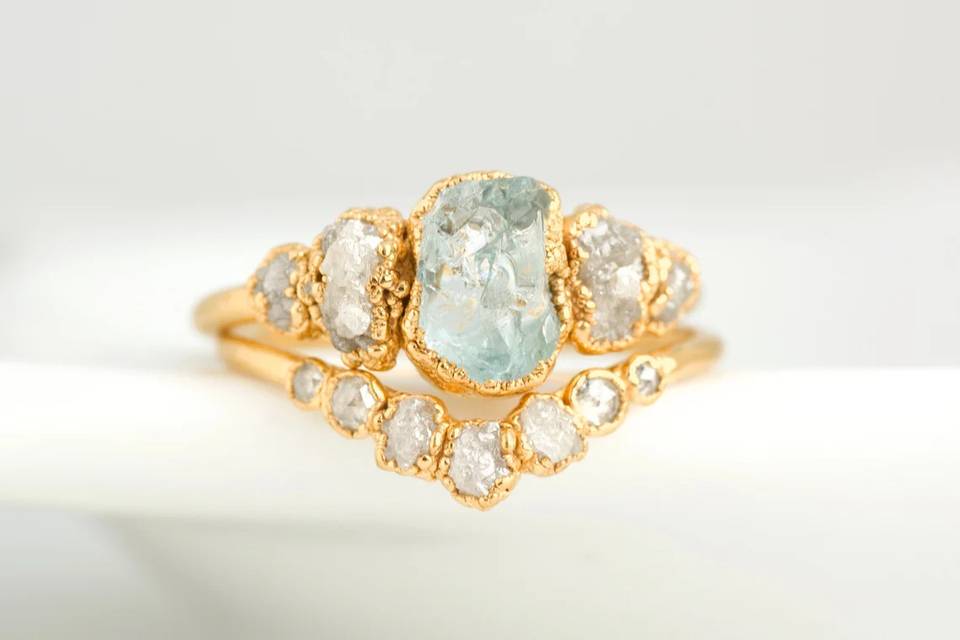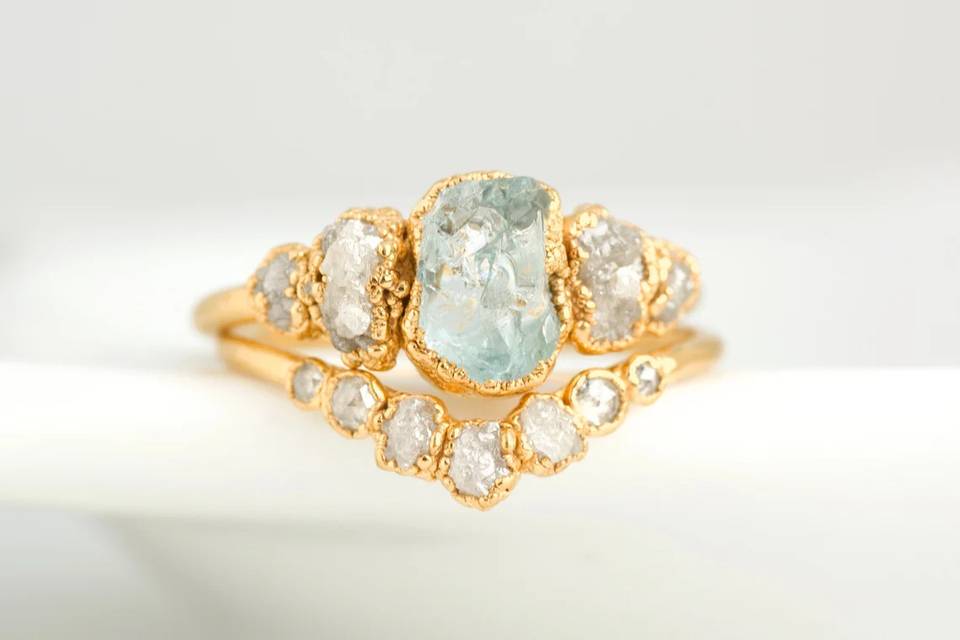 You've heard the saying, "a diamond in the rough," but if you're on the search for a unique engagement ring, the phrase takes on an entirely new meaning. Rough diamond engagement rings—engagement rings that include uncut diamonds—are a statement-making option if an ordinary stone just doesn't feel right for your style. We're outlining the basic details to explain what an uncut diamond ring actually is, plus 21 options you can shop online right now.
What is a rough diamond engagement ring?
Rough diamonds, also known as raw diamonds, rough cut diamonds, or uncut diamonds, often resemble pieces of glass or quartz. Once a diamond is mined from the earth, it has quite a long journey before it can be added to a sparkly engagement ring. For the majority of wedding rings, a diamond is hand-picked based on its clarity (i.e. whether or not the gemstone has internal spots or blemishes, called 'inclusions') before being precisely cut, polished, and set into a design.
But unlike traditional engagement rings, a rough diamond engagement ring includes stones that have been left in their natural state, exactly how they were found. Uncut diamonds have jagged edges, asymmetrical shapes, and odd colors, like brown, milky white, or a grayish hue—commonly referred to as a 'salt and pepper' diamond. Since these raw stones haven't been altered to look a certain way, they're truly one of a kind, making them an excellent engagement ring choice for anyone who isn't afraid to stand out. Check out these stunning rough diamond engagement rings to see exactly what we mean for yourself.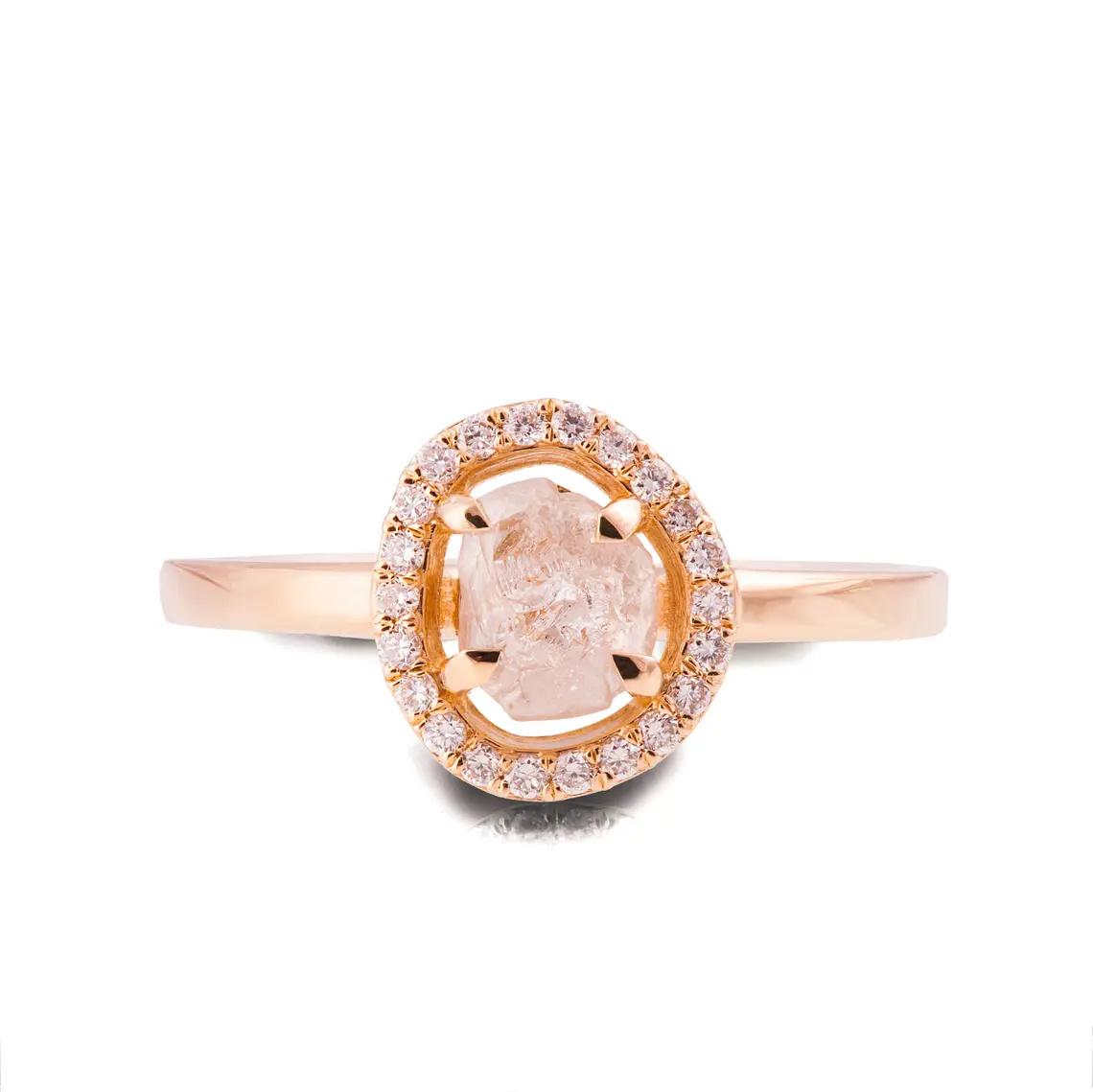 Rose Gold Halo Engagement Ring
A halo of white diamonds perfectly frames a raw diamond at the center of this rose gold engagement ring. This jeweler offers several different center stones in a range of colors and shapes to choose from, so you can pick the one that best matches your or your partner's style.
DoronMeravWeddings 18K rose gold rough diamond engagement ring, from $1,050, Etsy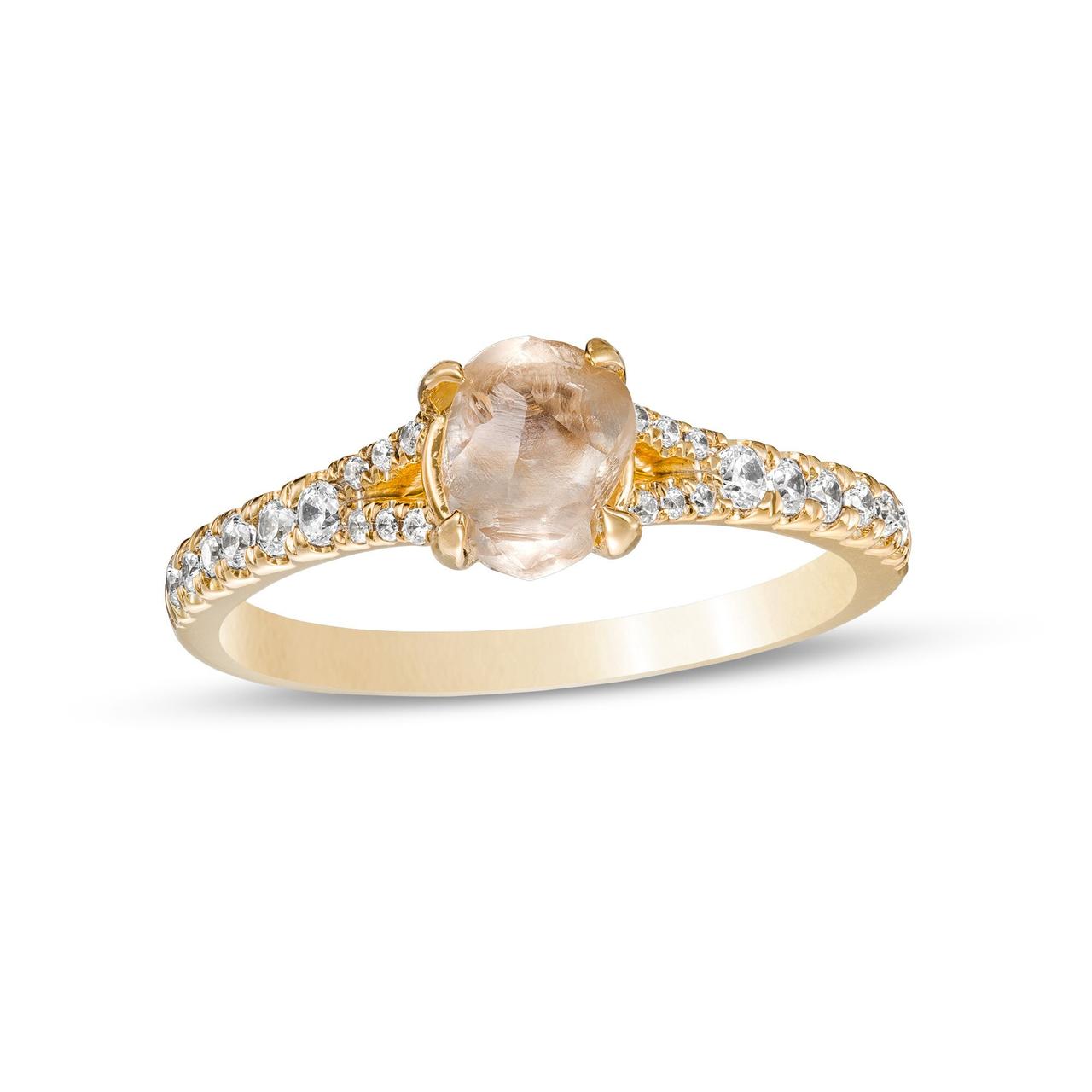 Solitaire Split-Shank Engagement Ring
If simple jewelry is more your style, this rough diamond engagement ring is an understated and chic option. The yellow gold band features pavé diamonds and a subtle split shank, leading to a pearlescent raw diamond at the center.
Zales rough-cut champagne and white diamond split-shank engagement ring, $1,750, Zales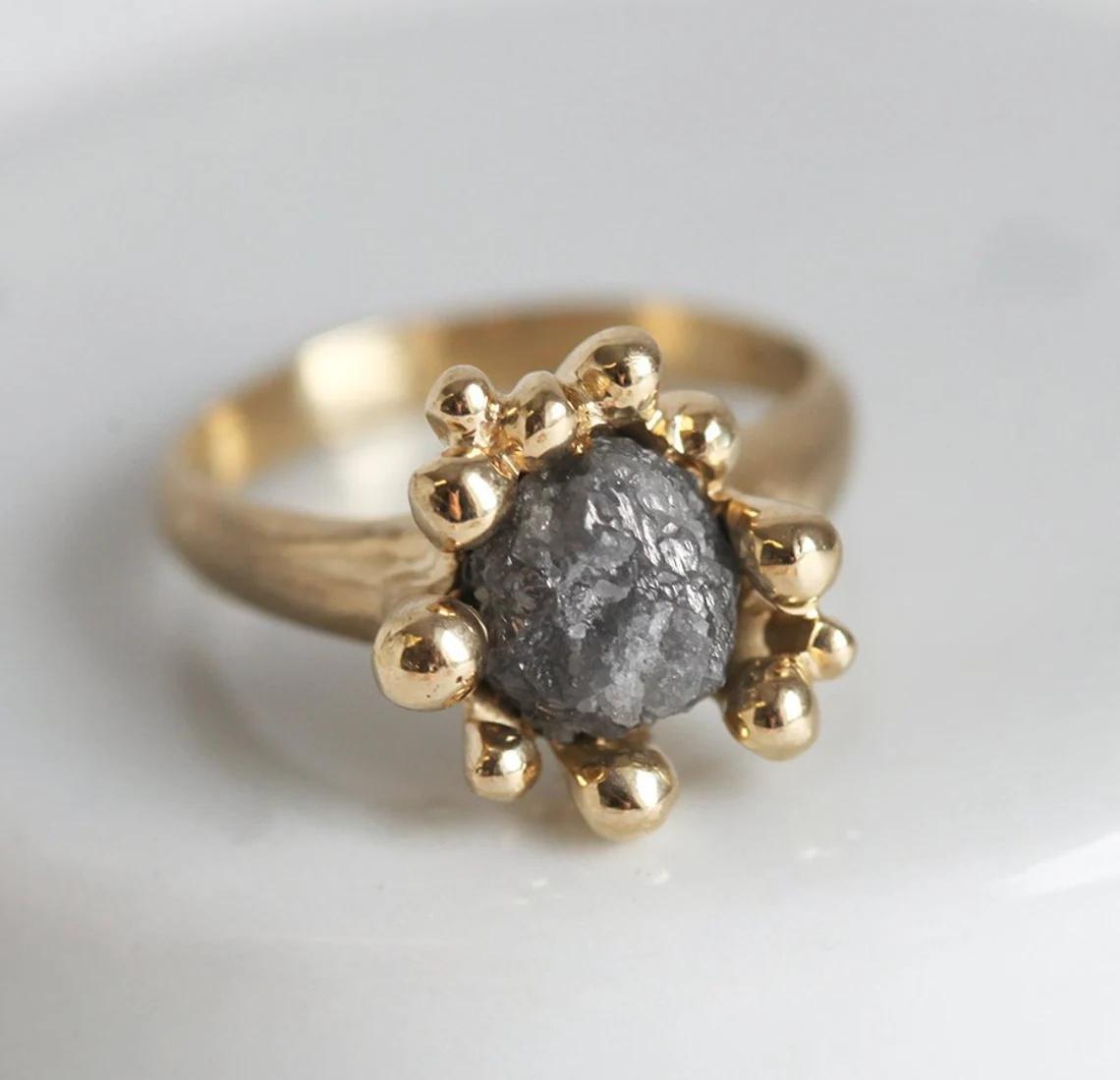 Gray Rough Diamond with Yellow Gold Setting
The gray diamond at the center of this gold ring is an eye-catching alternative if white diamonds aren't quite your taste. Each ring is made to order, and you can choose from six different metals, including rose gold or white gold.
Capucinne 14K yellow gold raw diamond ring, from $2,233, Etsy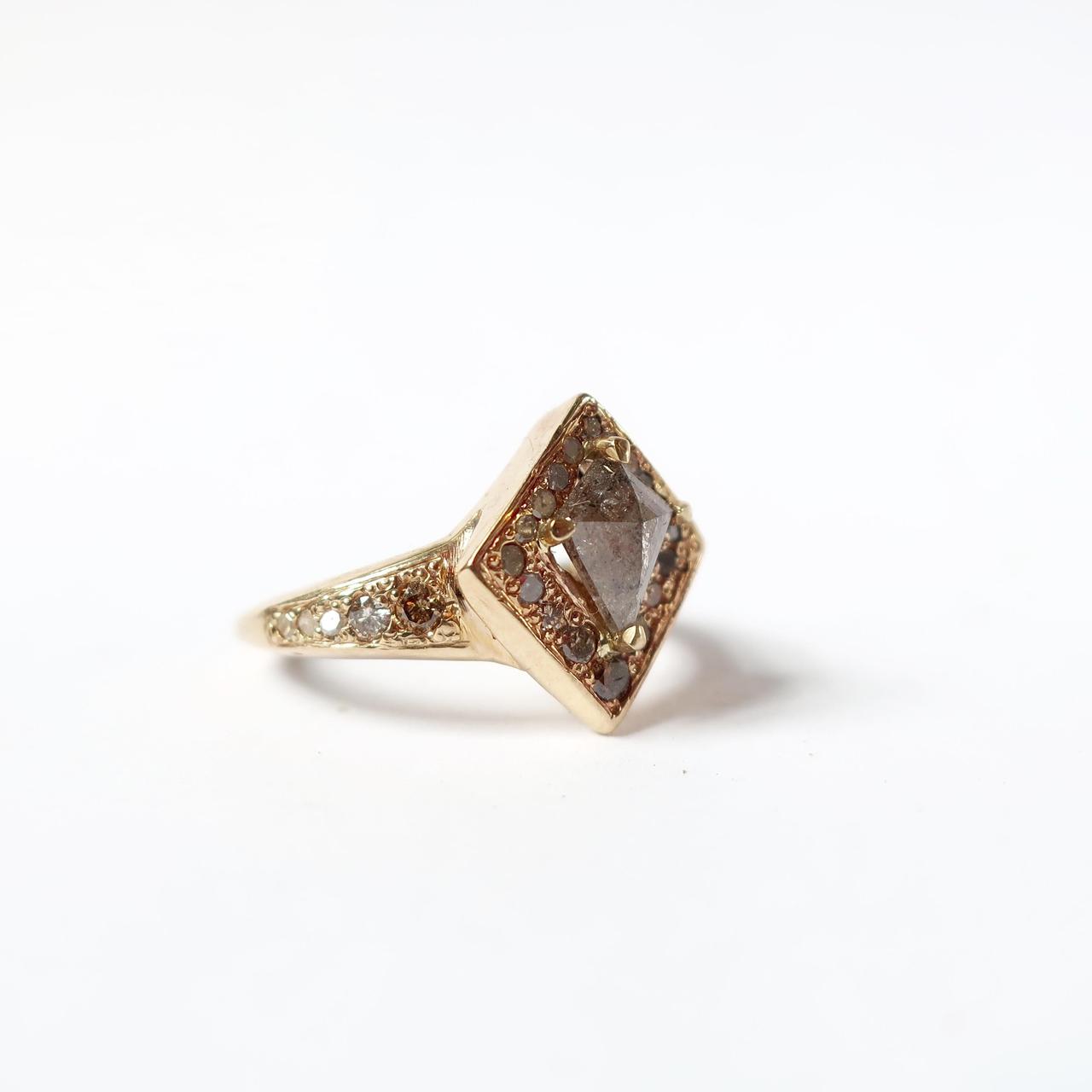 Geometric Rough Diamond Engagement Ring
Triangular and geometric engagement rings stand out enough on their own, but when you add a salt and pepper diamond at the center, this trendy style goes to an entirely new level. This kite-shaped rough diamond engagement ring includes an assortment of brown, white, and champagne-colored diamonds accenting the main stone.
Mary Gallagher 14K gold vintage-inspired halo kite diamond ring, $2,800, 1stdibs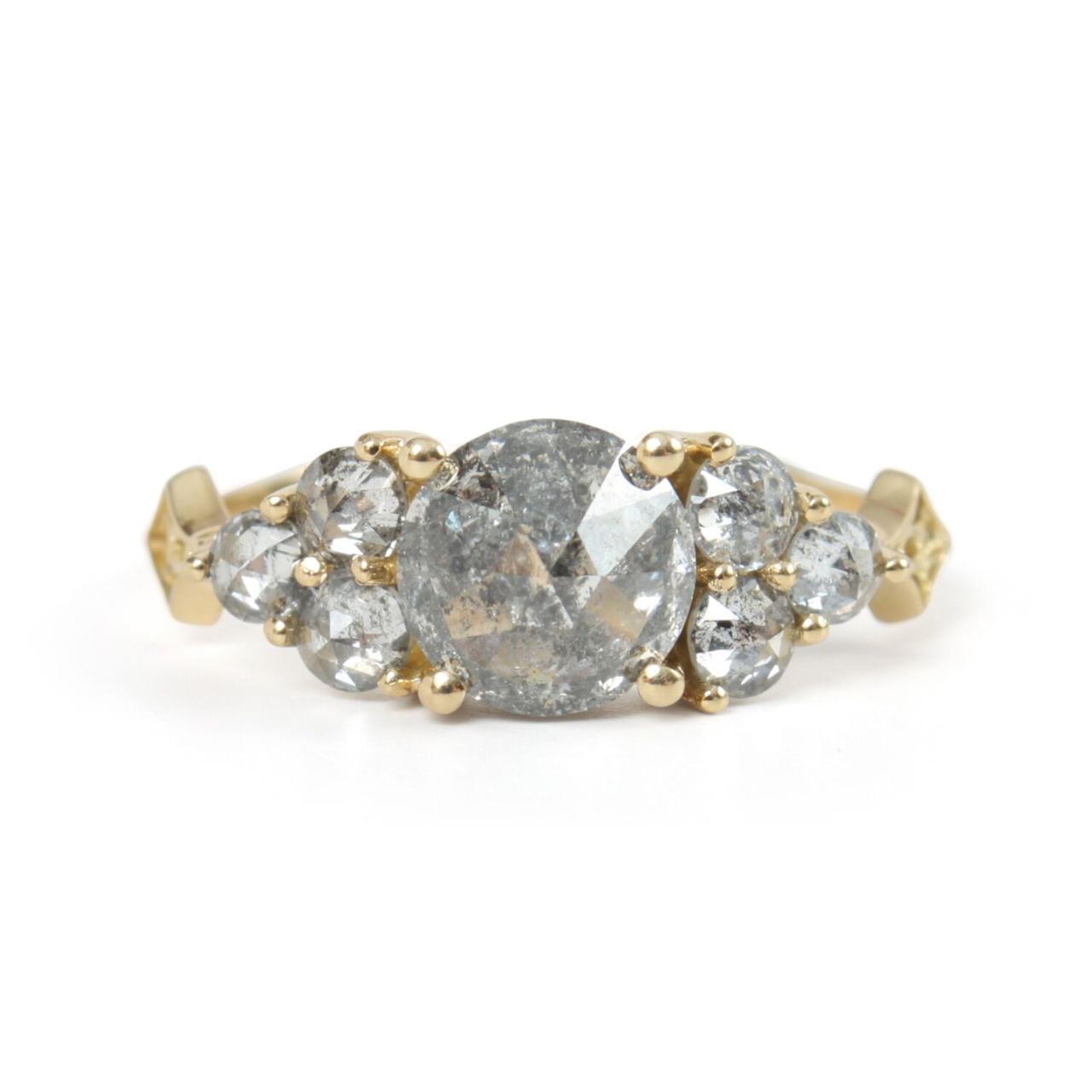 Yellow Gold Cluster Engagement Ring
Thanks to the gray salt and pepper diamonds, this cluster ring gives the appearance of rough stones while looking just a little more polished. The rose-cut diamond ring is the perfect compromise between a traditional ring and a fully rough diamond engagement ring, with a delicate yellow gold band finishing the design.
Digby & Iona Nico ring, $3,670, Catbird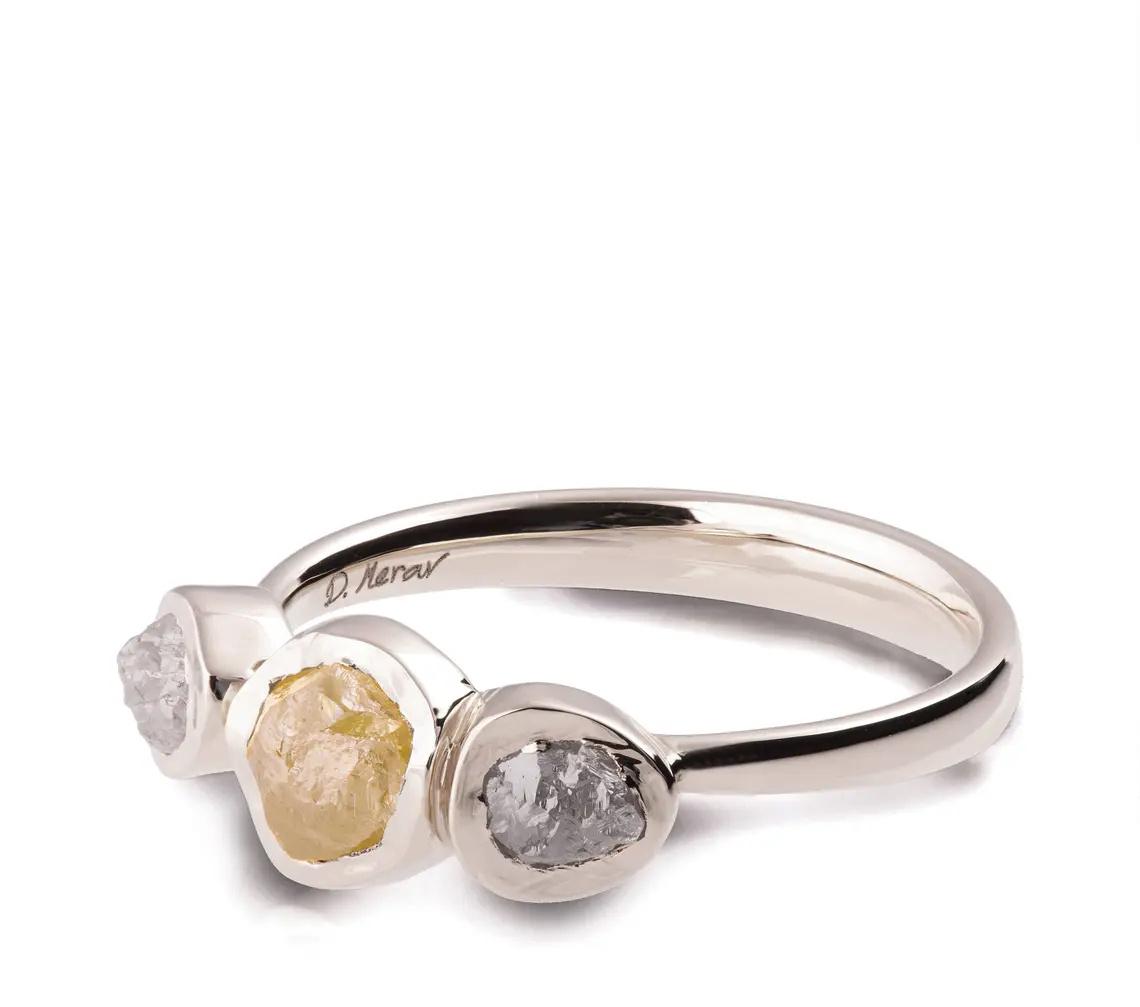 Three-Stone Raw Diamond Ring
A bezel setting encases three rough diamonds on this white gold engagement ring. The center stone of this ring has a golden yellow hue, but this seller offers other combinations of loose diamonds in brown and white colorways.
DoronMeravWeddings 18K white gold three-stone rough diamond engagement ring, from $1,500, Etsy
Pear-Shaped Diamond Ring with Halo Setting
Pear shapes continue to be a popular engagement ring trend, but you can put your own spin on the fashion-forward style by opting for a rough cut diamond that catches the eye. This 1.46-carat pear diamond is surrounded by a yellow gold pavé setting that puts all eyes on your ring finger.
Sutra rough-cut pear diamond ring, $4,500, Marissa Collections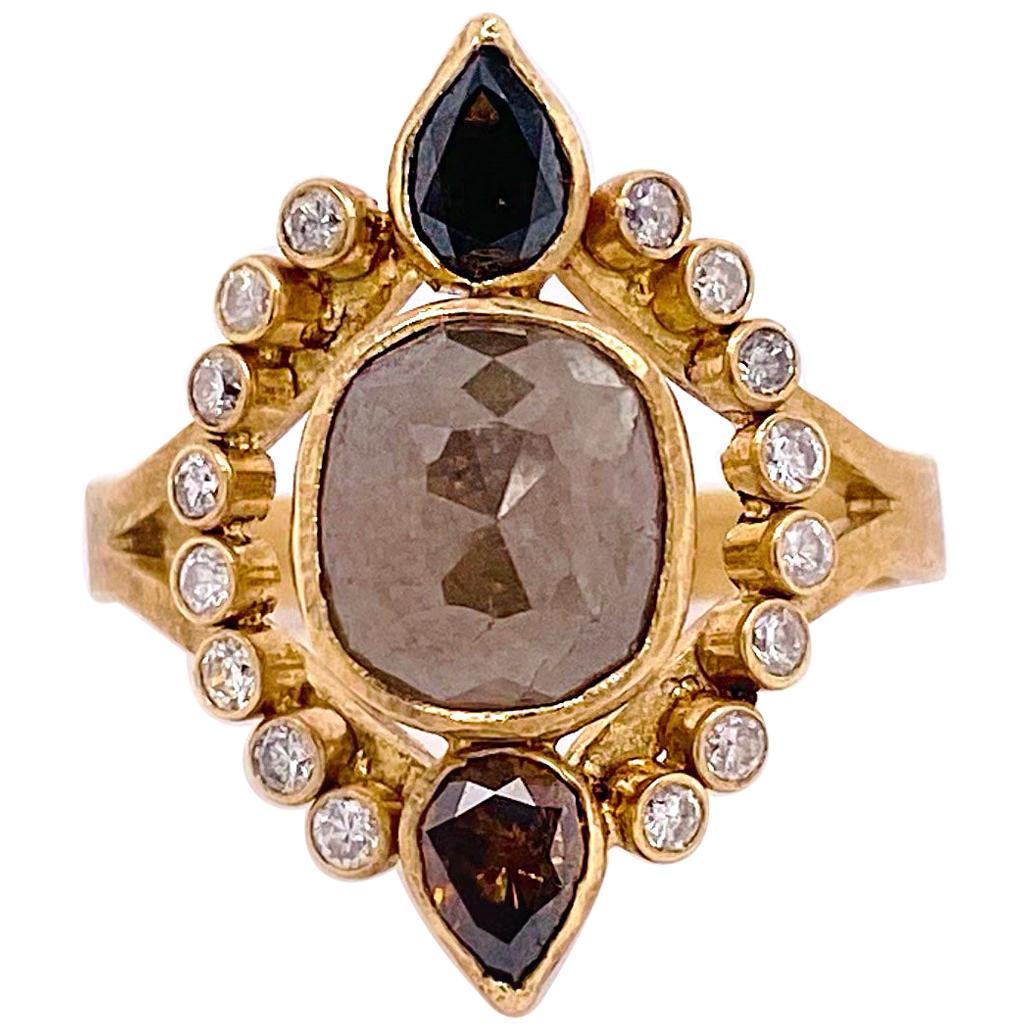 Rough-Cut Engagement Ring with Brown Diamonds
Hello megawatt sparkle. As if the center diamond wasn't enough, this rough diamond engagement ring has two pear-cut stones on either end, with 16 bezel-set diamonds down the sides. It's a gorgeous pick if you (or your S.O.) love vintage-inspired bohemian style.
Five Star Jewelry 14K gold rough diamond ring, $5,200, 1stdibs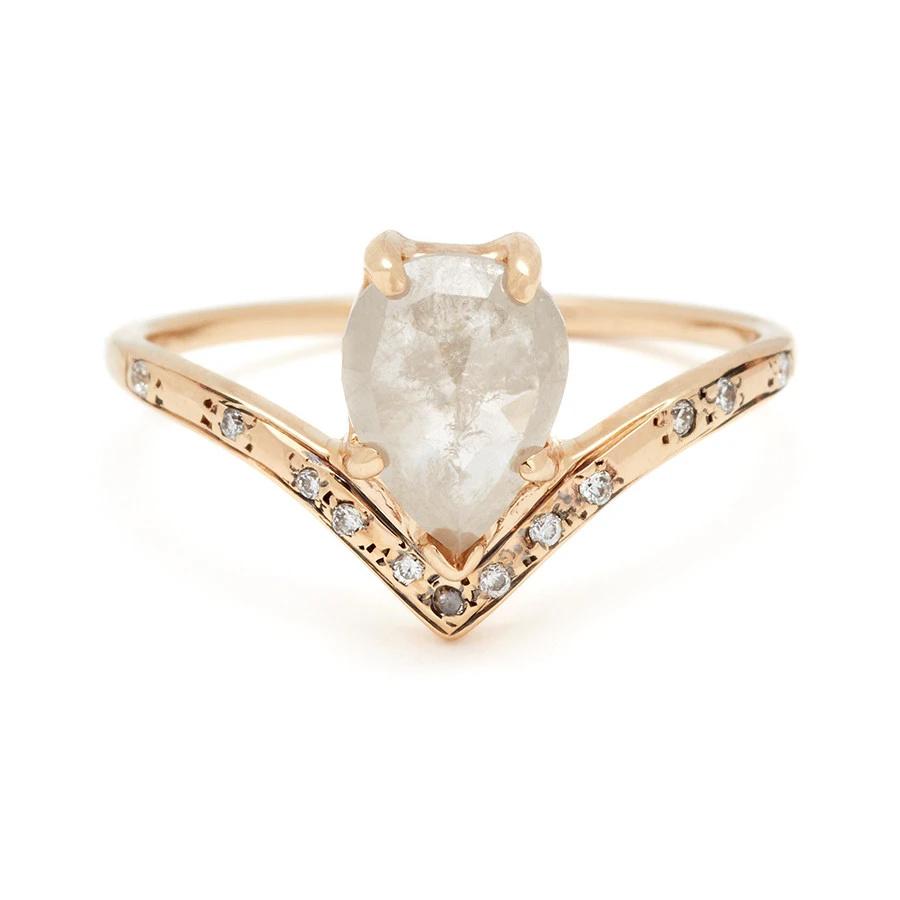 Gray Pear-Shaped Diamond Ring
Showcased on a unique V-shaped yellow gold band, this gray pear diamond is dreamy and ethereal. Tiny round diamonds accent the band for just a hint of extra sparkle.
Anna Sheffield Celestine pavé ring, $2,995, Anna Sheffield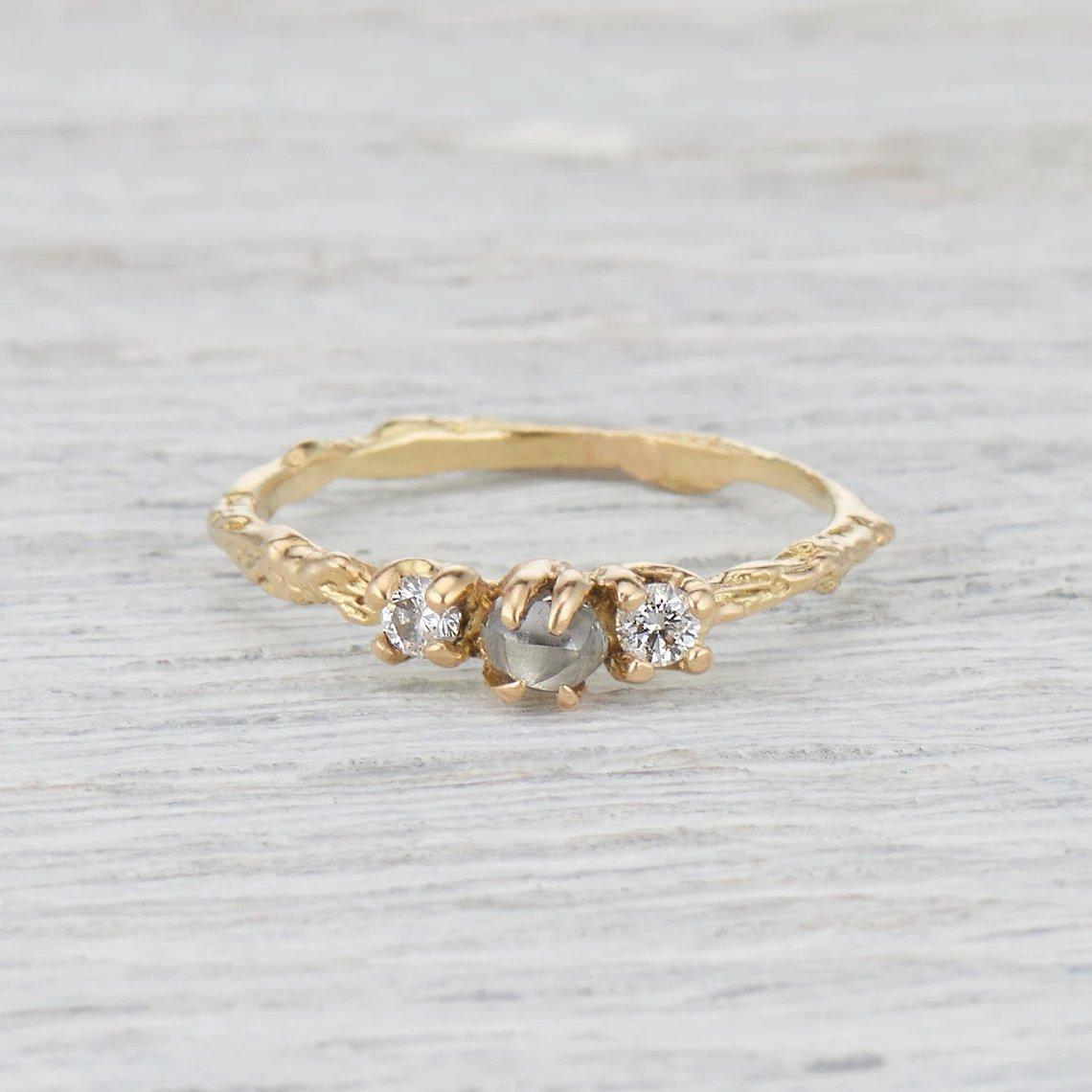 Three-Stone Engagement Ring with Rough Diamonds
A prong setting displays three diamonds on this dainty gold ring. The combination of raw stones and the twisted, twig-inspired band make this ring a fitting choice for anyone who loves nature and the outdoors.
OliviaEwingJewelry Naples uncut diamond trio ring, $2,450, Etsy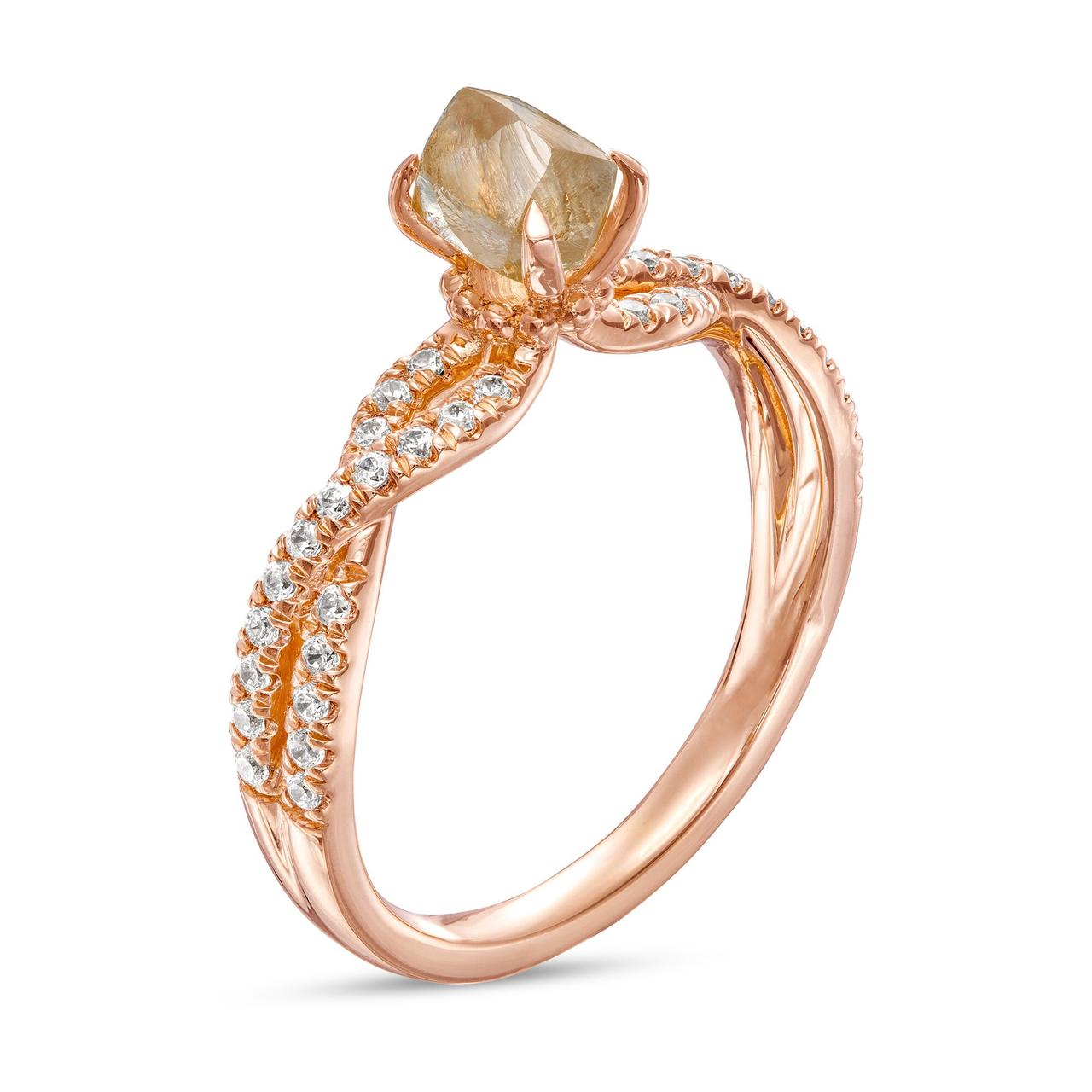 Rose Gold Engagement Ring with Twisted Band
Even with just one stone at the center, this solitaire ring is still heavy on the sparkle, thanks to the twisted band adorned with pavé diamonds. The pretty rose gold color makes the white diamonds stand out even more.
Zales rough-cut champagne and white diamond twist-shank engagement ring, $1,750, Zales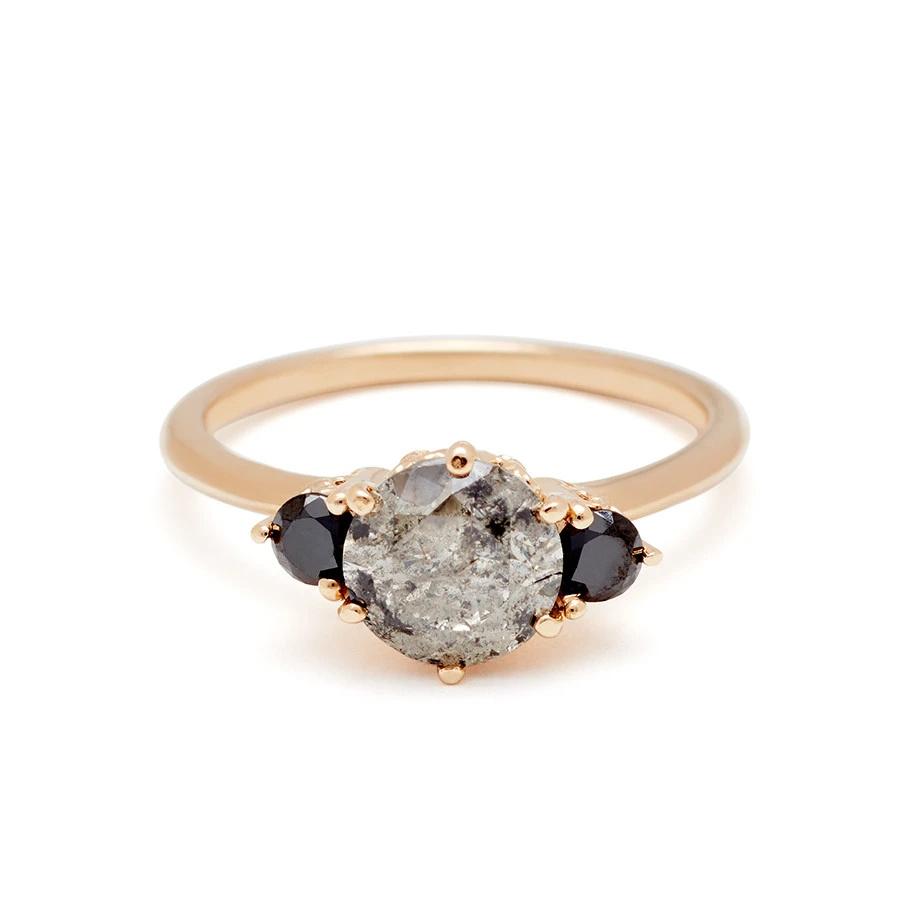 Gray and Black Diamond Engagement Ring
Two dramatic black diamonds flank a salt and pepper diamond at the center of this gorgeous ring. The main stone, which is a round brilliant cut, is considered a 'rustic' diamond because of its inclusions and speckled appearance.
Anna Sheffield Hazeline three-stone ring, $5,480, Anna Sheffield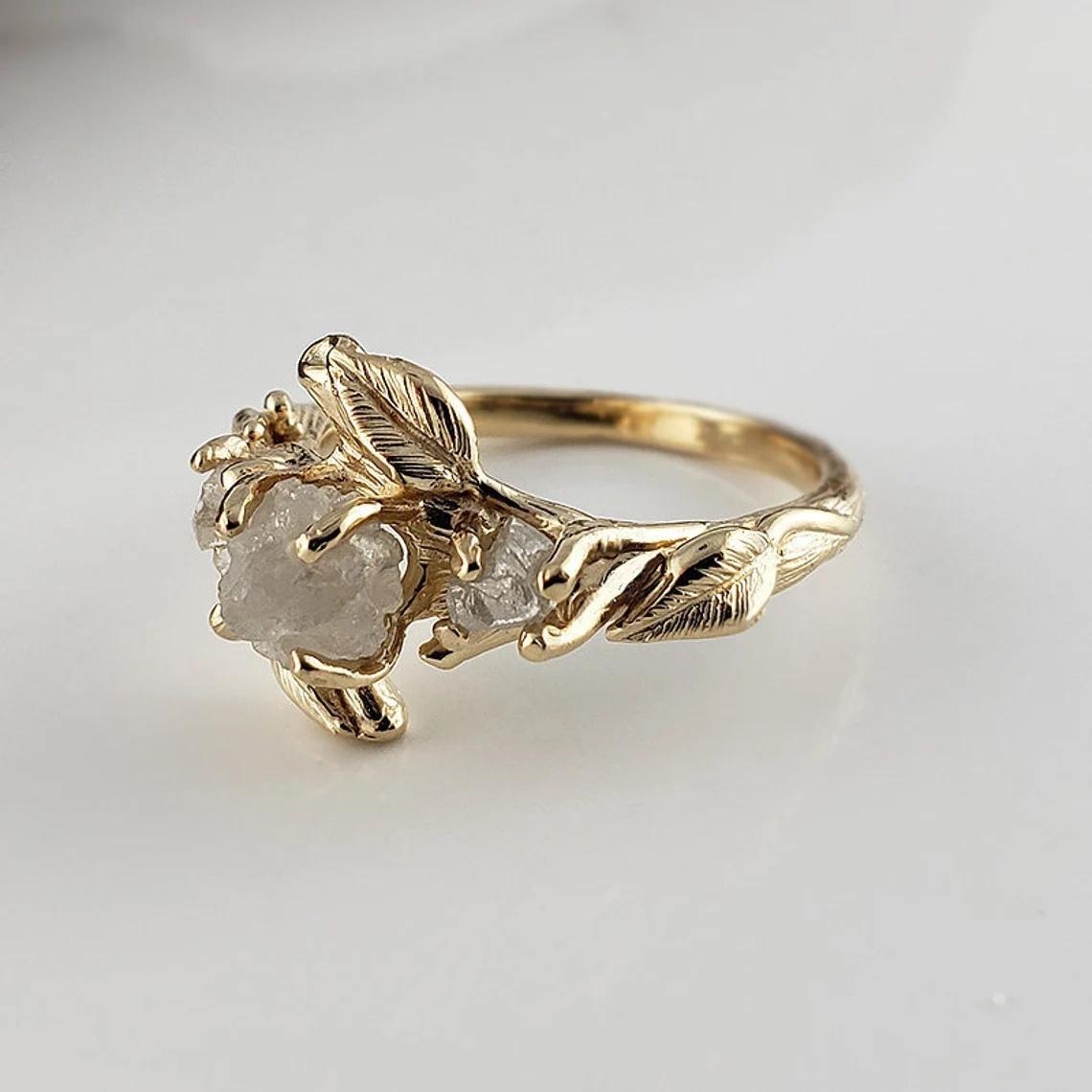 Nature-Inspired Rough Diamond Engagement Ring
If you're looking for a completely unique diamond ring, try this hand-sculpted design. It has three rough diamonds set on a band of yellow gold leaves, making it an instant conversation piece.
DawnVertreesJewelry twig and leaf engagement ring, from $1,430, Etsy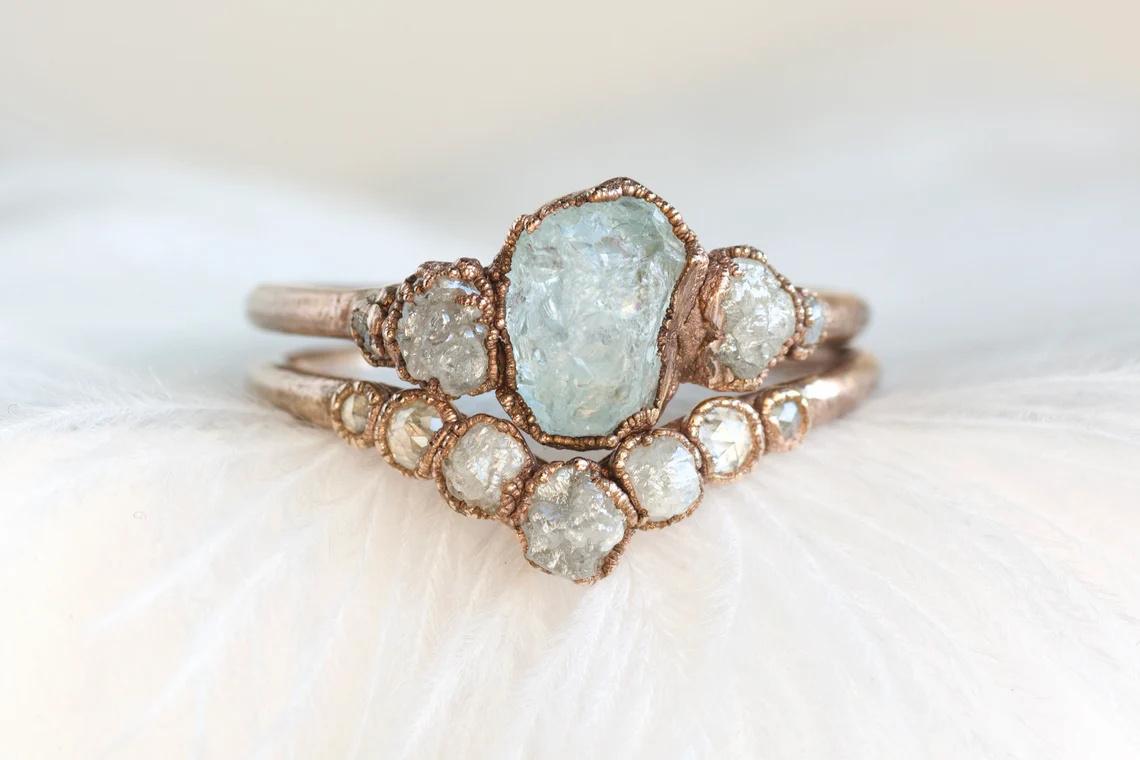 Rough Diamond Wedding Ring Set
Pair this engagement ring with the matching wedding band to create a gorgeous bridal set. The engagement ring features a rough-cut aquamarine and four rough diamonds in a variety of metals (pure silver, matte black, rose gold, and yellow gold-plated are just a few of your options). The wedding band is slightly V-shaped and includes seven additional stones for the ultimate ring stack.
eMerakaiGalaxy aquamarine and raw diamond engagement ring, from $534, Etsy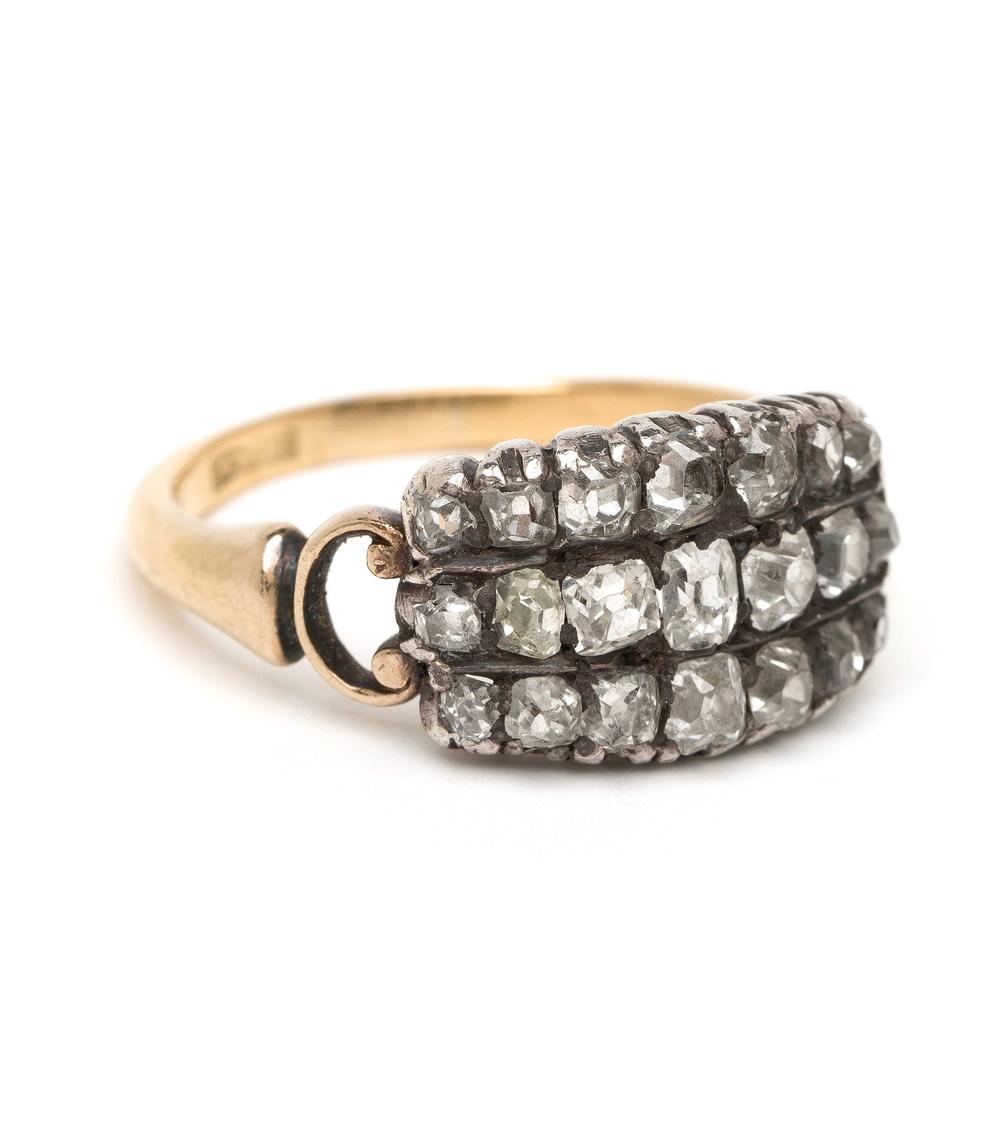 Antique Engagement Ring with Old Mine Cut Diamonds
Old Mine cut stones aren't technically considered rough diamonds, but since the shaping for each stone was done by hand, no two are alike. This show-stopping engagement ring dates back to the Victorian era—it's the perfect ring for anyone who loves Old World romance and vintage style. It has three rows of asymmetrical diamonds on a yellow gold band.
Sofia Kaman three-row diamond vintage engagement ring, $8,910, Sofia Kaman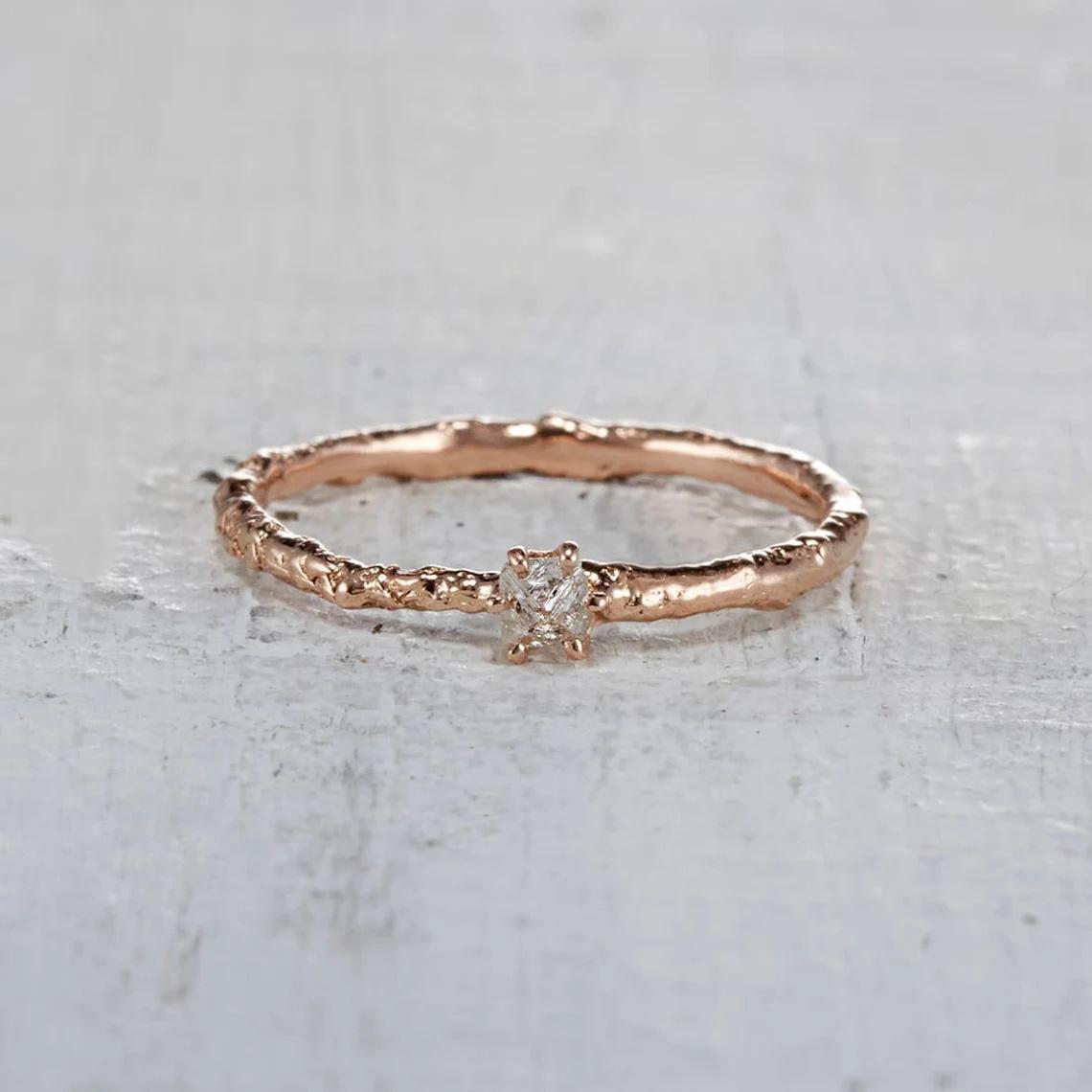 Simple Rough Diamond Engagement Ring
With a tiny uncut diamond at the center, this minimalistic engagement ring is ideal for those who want a unique bauble but don't love bulky jewelry. The textured band is molded from an actual juniper tree twig, giving the ring an overall rustic look.
OliviaEwingJewelry Brooks rough diamond engagement ring, $1,350, Etsy
Rough Diamond Eternity Band
This eternity band is stunning when worn on its own or paired with an engagement ring. Gray diamonds surround the entirety of the rose gold band, which can be engraved to make it true keepsake piece.
Annoushka rose gold eternity ring, $2,800, Annoushka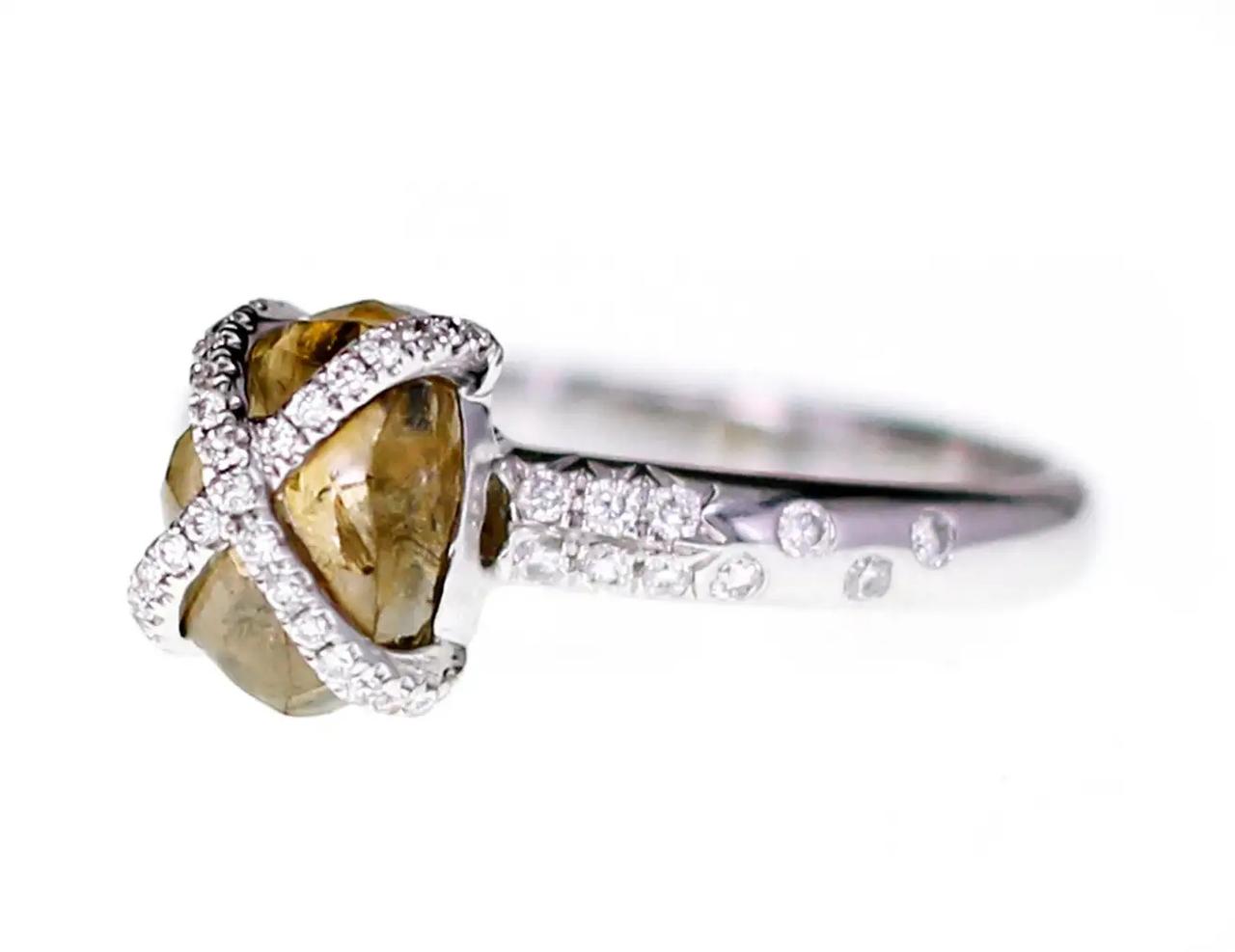 White Gold Ring with Brown Diamond
A 2.36-carat brown diamond is the main gem on this white gold engagement ring. The unique setting features an 'X' made from glittering pavé diamonds across the top of the center stone and down the sides of the band.
Malpani Jewels rough diamond cocktail ring, $3,600, 1stdibs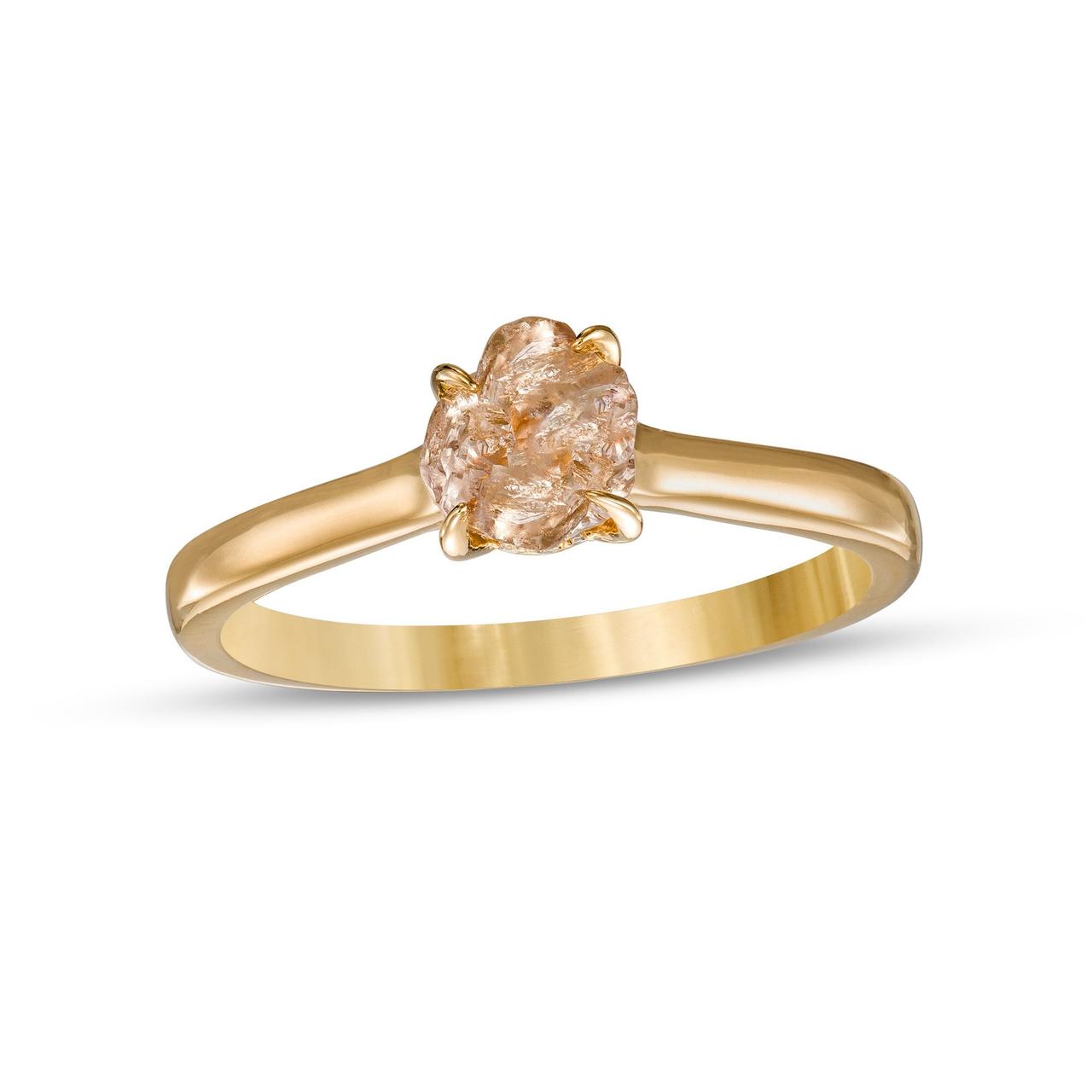 Solitaire Diamond Engagement Ring
This rough diamond engagement ring proves that simple doesn't have to be boring. A beautiful champagne-colored diamond is showcased with a classic cathedral setting and hidden stones that you'll notice when viewing the ring from the side.
Zales rough-cut champagne and white solitaire diamond engagement ring, $1,259, Zales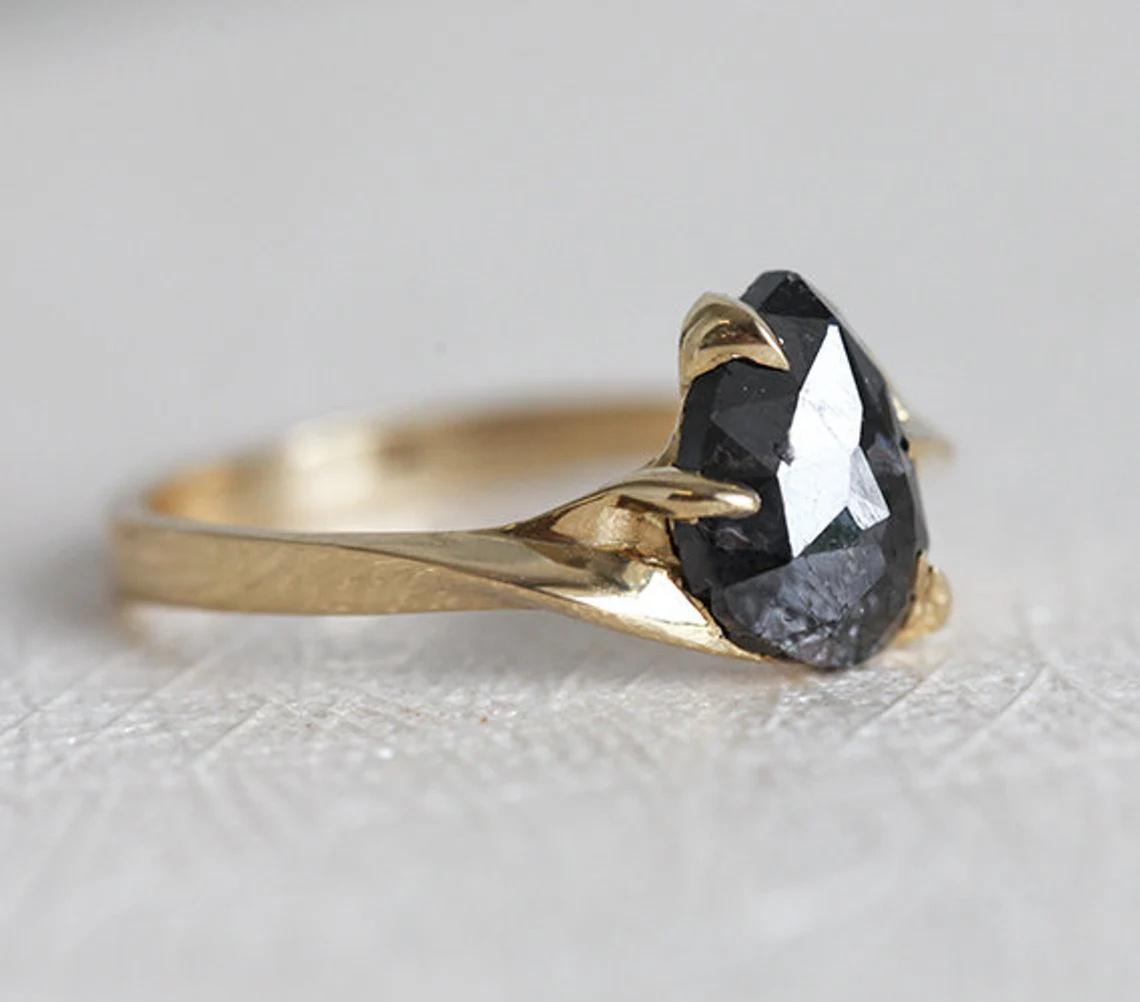 Black Pear-Shaped Diamond Ring
An asymmetrical 'claw' prong setting holds this black diamond in place on a simple yellow gold band. It's a worthy choice if you want a design that's just as unique as a rough diamond without the jagged edges.
Capucine pear-shaped black diamond engagement ring, from $1,960, Etsy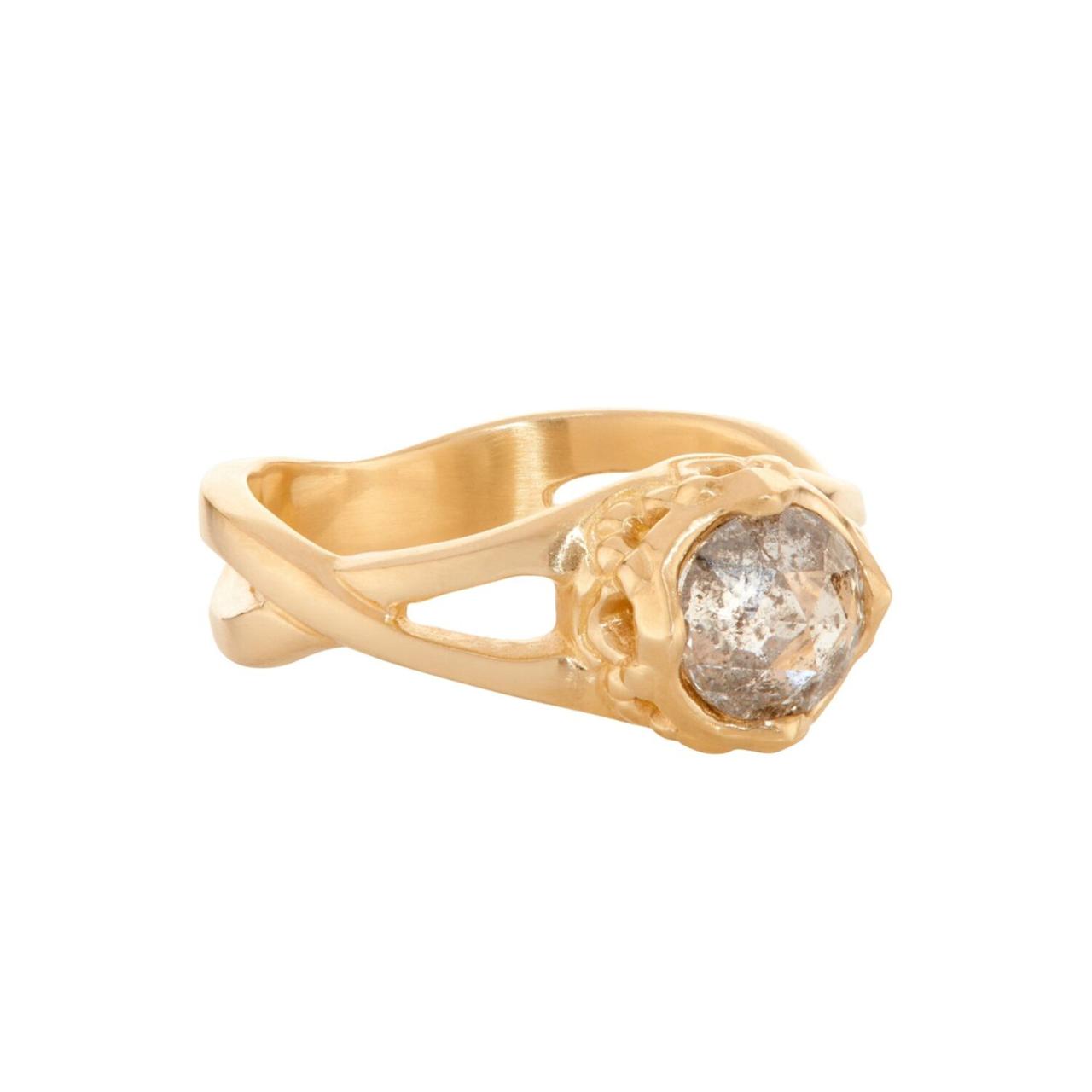 Gray Diamond Ring with Criss-Cross Band
When viewed from the side, the bezel setting on this engagement ring looks like a crown, making it perfect for anyone who's been waiting for their very own royal wedding-inspired moment. The center stone is a gray rose-cut diamond that gives the ring an antique vibe.
Susan Highsmith Liota ring, $4,490, Catbird