27 Minimalist Engagement Rings for Your Understated Other Half
Bigger isn't always better. If you're looking for a sparkler that's simple yet stunning, don't miss these minimalist engagement rings.
We have included third party products to help you navigate and enjoy life's biggest moments. Purchases made through links on this page may earn us a commission.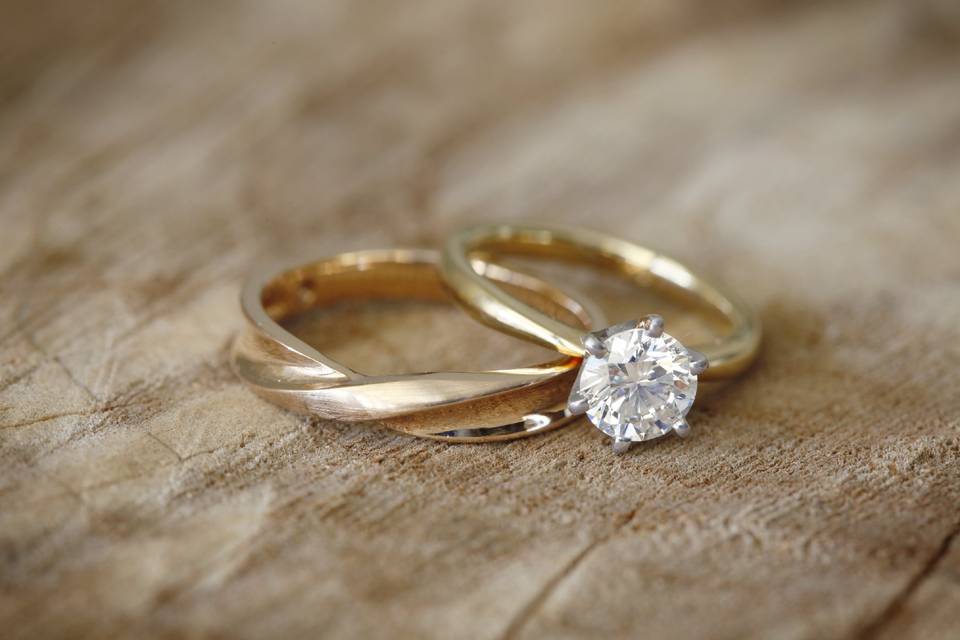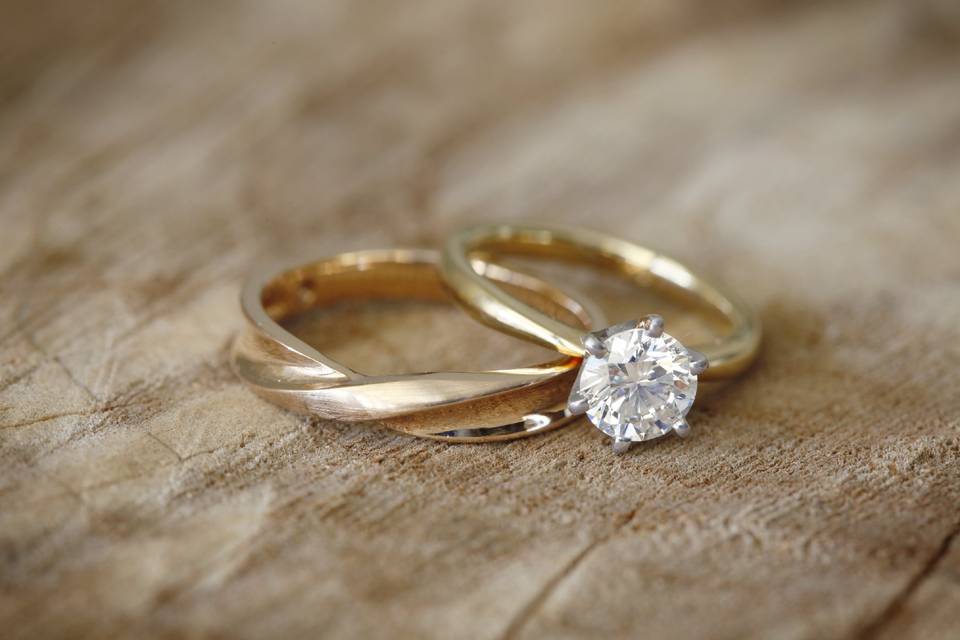 When it comes to engagement ring shopping, a common consensus is that bigger is better. And while it's easy to get dazzled by jaw-dropping rocks that pop up in our social media feeds (like the latest celebrity engagement rings), not everyone dreams of an over-the-top style—and that's totally okay! Minimalist engagement rings have their own sophisticated beauty that's just as stunning as any megawatt sparkler, and we're here to prove it. So whether you're looking for a minimalist option to match your low-key lifestyle or simply don't want to break the bank on a huge ring, these designs will give you plenty to choose from.
What Makes an Engagement Ring Minimalist?
There are a few details that set minimalist engagement rings apart. One easy way to keep things simple is to go for a solitaire stone on a plain band. That way, all the focus is drawn to one sparkling centerpoint. Stick with timeless round- or emerald-cut diamonds, or make it your own by opting for a more unusual cut like marquise or trillion. Another popular choice is to go for a ring that's ornate but dainty. Generally, that means smaller stones on a thin band. Again, there are lots of ways to make yours one of a kind, such as using colored gemstones instead of diamonds (sapphire and emerald are always in style). Alternatively, you could avoid standout stones altogether and go for something even more subtle like a pavé eternity ring.
Where to Buy Minimalist Engagement Rings
First things first: Reach out to your local jeweler to see if they've got something that catches your eye. You'll be able to hear from an expert face-to-face, as well as see the rings in person. If your neighborhood jewelry store doesn't have what you're looking for (or you just want to expand your options), you can also shop online for an engagement ring. To help get you started, these three top retailers all sell minimalist engagement rings.
Catbird: Catbird is a hub of stunningly unique wedding and engagement rings designed by some of the best in the industry. You'll find a nice selection of minimalist designs to suit an understated, one-of-a-kind style.
VRAI: VRAI is another awesome online retailer with a gorgeous range of clean, minimalist designs. Their sustainably sourced diamonds are produced with no carbon footprint, and each timeless piece of jewelry is professionally crafted and customized to your tastes.
KATKIM: A favorite amongst A-listers, KATKIM's fine jewelry has graced the pages of Vogue Paris. The brand's gorgeous solitaire engagement rings are an elegant blend of classic and contemporary, perfect for anyone with minimalist style.
Our Favorite Minimalist Engagement Rings
Ready to start your search? We've found minimalist and simple engagement rings to suit a whole range of styles, from classic vintage cuts to romantic boho designs.
1. Marquise-Cut Diamond
A plain, tapered band and unique marquise-cut diamond define this stylish-yet-simple engagement ring.
KATKIM Éternal Marquise Ring, from $3,880, KATKIM Fine Jewelry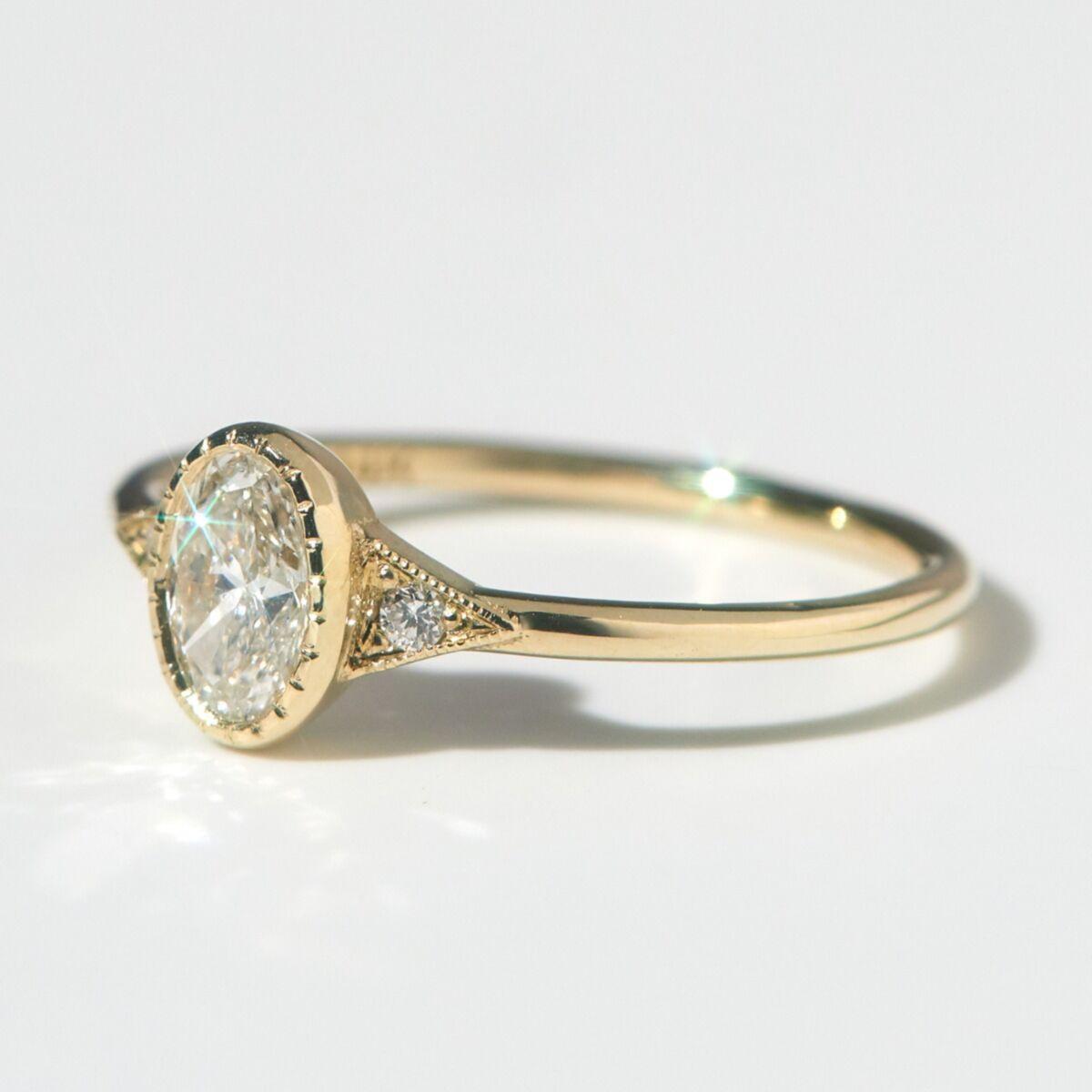 2. Three-Stone Style
While most minimalist engagement rings have only one center stone, there are a few ways to rock a multi-stone design without feeling extravagantly blingy. Stick with an unembellished band, keep the accent stones small, and stay away from halo settings for the cleanest look.
Jennie Kwon Exemplar solitaire ring, $3,850, Catbird NYC
3. Sideways Emerald Cut
Minimalist certainly doesn't have to mean boring, as our list of rings is about to prove. A sideways emerald-cut diamond is a less common option that's ideal for creating a unique look.
VRAI The Signature in Emerald, from $745, VRAI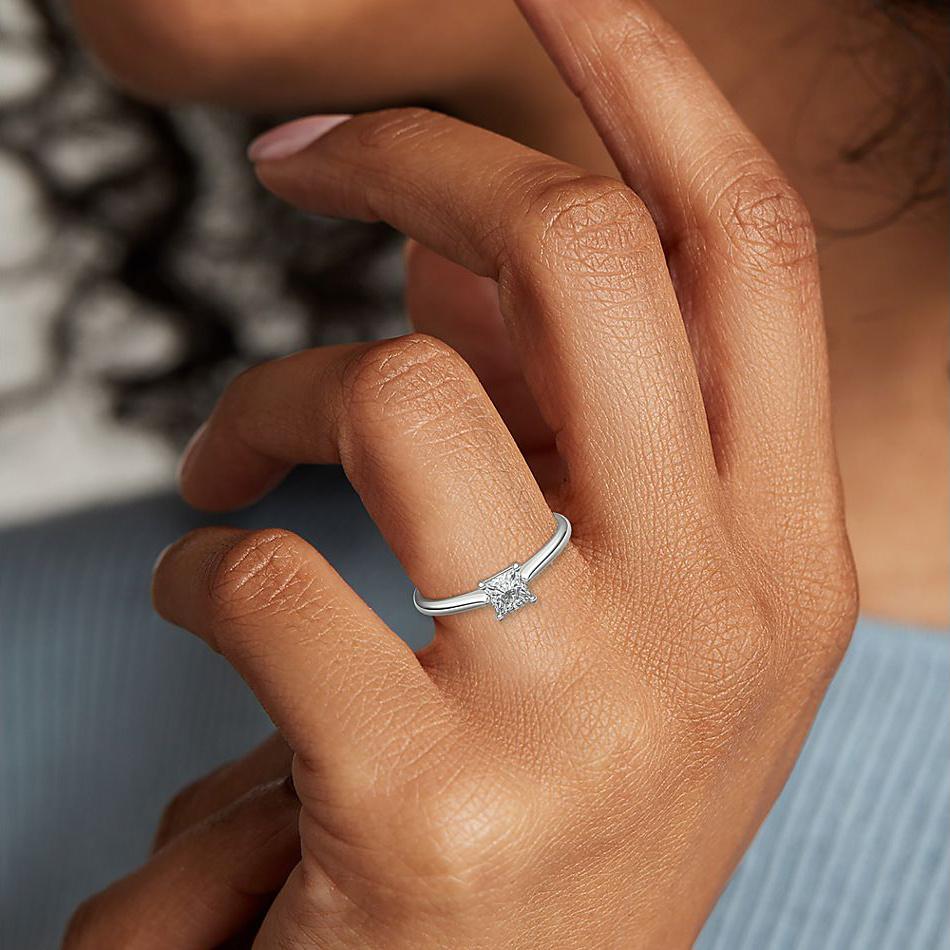 4. Stylish Princess Cut
This petite diamond ring comes in a popular princess cut set on brilliant and durable platinum.
Blue Nile 1/2 carat Astor princess-cut petite solitaire in Platinum, $2,500, Blue Nile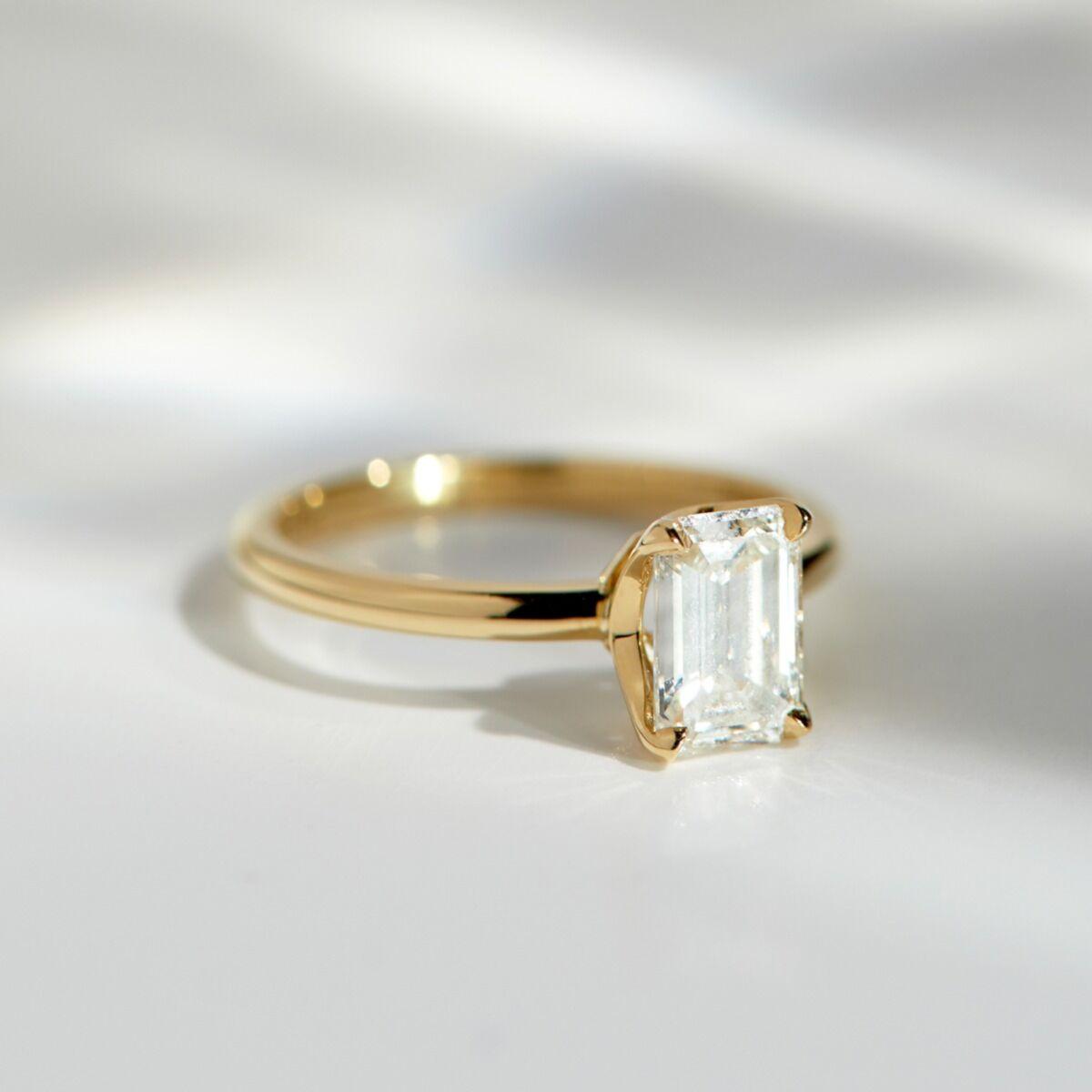 5. Antique Art Deco
If vintage is more their (or your) style, ask your jeweler about minimalist Art Deco engagement rings. We love this classic solitaire design featuring an antique emerald-cut diamond.
Erstwhile Deco solitaire ring, $9,200, Catbird NYC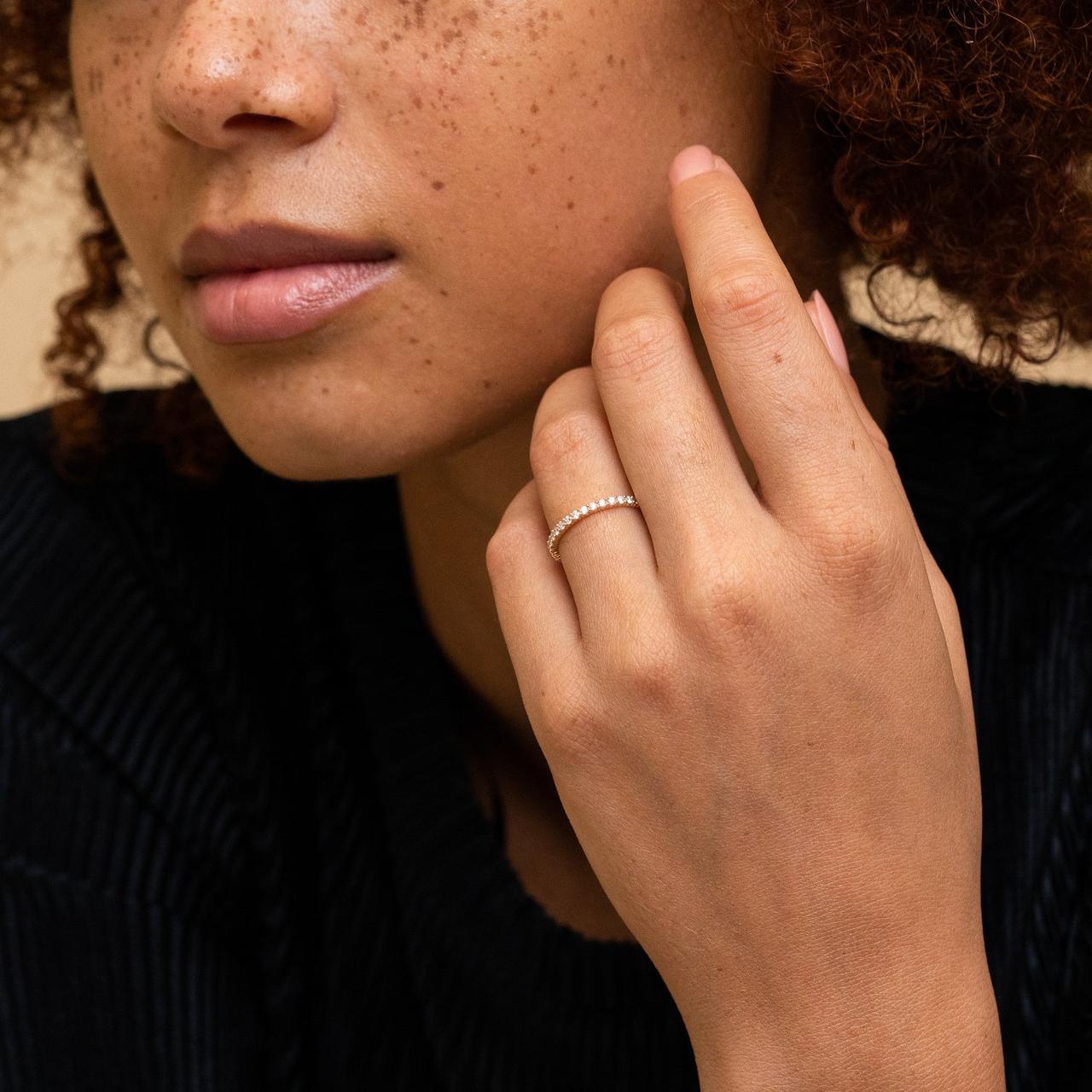 6. Pavé Eternity Ring
Big, bold diamonds aren't everyone's cup of tea. Don't feel like you have to stick to the standard "center stone and band" style if it doesn't feel right. A subtly sparkling eternity band can serve as a practical engagement ring alternative for those who don't like the height of a prong or halo setting. Stack it with a simple wedding ring to really put the diamonds in the spotlight.
Mejuri eternity band, $975, Mejuri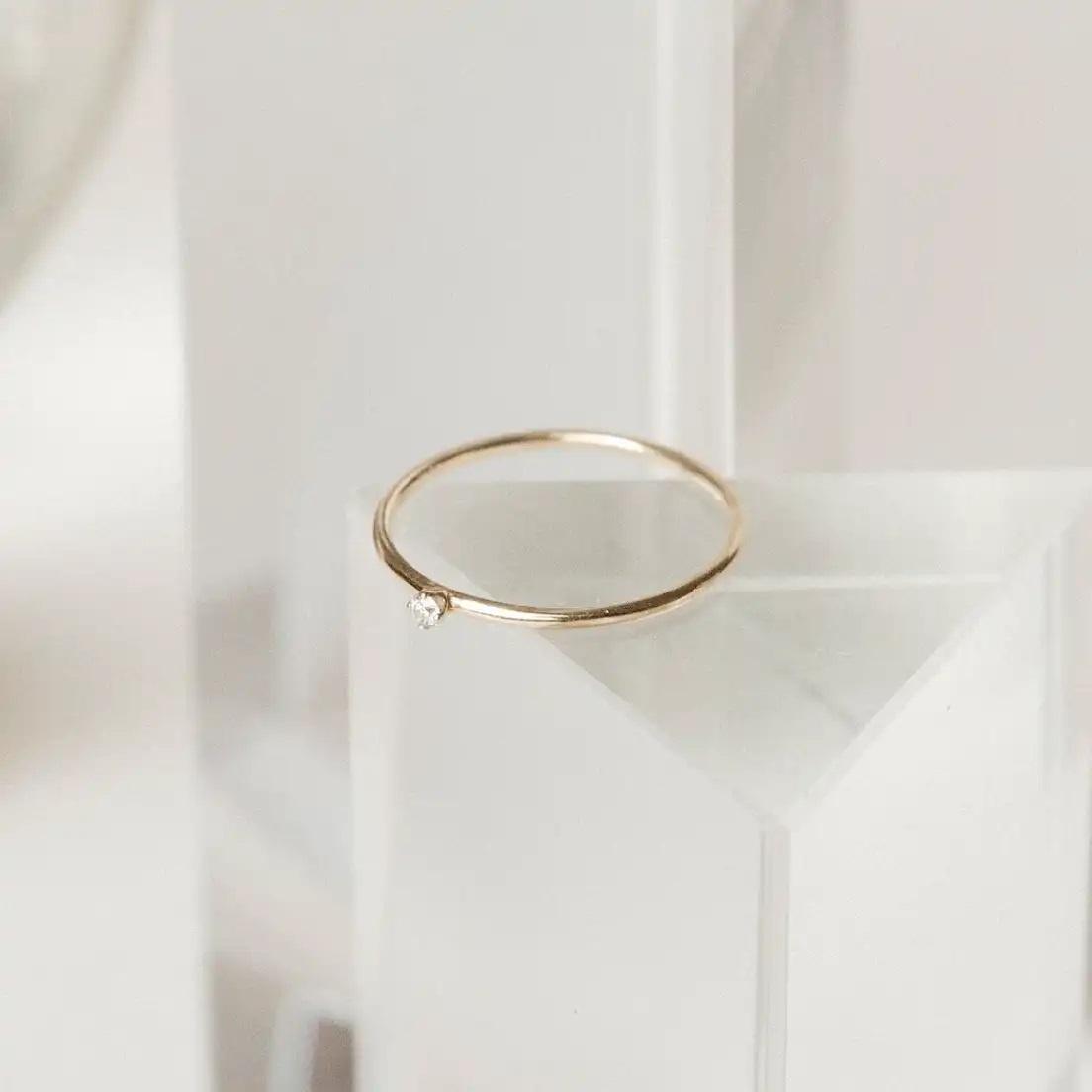 7. Barely-There Stone
On the other hand, if you do like a center stone but want something that's completely unfussy, a barely-there stone will do the trick. This delicate style is one of our favorite alternative engagement rings for slender fingers or small hands—but it can work for anybody!
VRAI tiny diamond ring, $195, VRAI

8. Elegant Bezel Setting
If you're looking for minimalist engagement rings that are also low-maintenance, you'll definitely want to consider a bezel setting. This type of ring setting wraps the center stone in metal on all sides, ensuring that it's extra secure and protected.
James Allen 14k white gold comfort fit bezel set solitaire engagement ring, from $600 for the setting, James Allen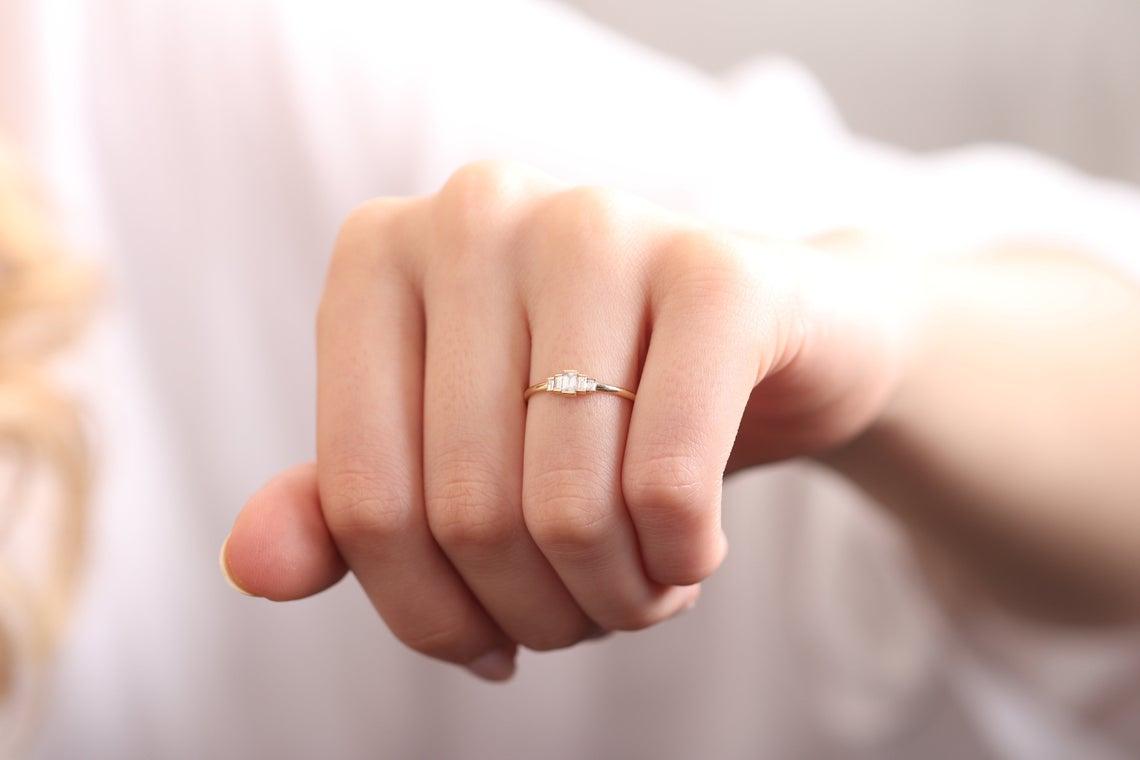 9. Dainty Baguette Diamonds
One of the biggest pros when it comes to minimalist engagement rings is the price. Avoid the cost of a traditional ring by opting for smaller diamonds with slight inclusions. This delicate five-stone sparkler will look stunning next to a plain wedding band.
Ike Fine Jewelry baguette diamond ring, from $240, Etsy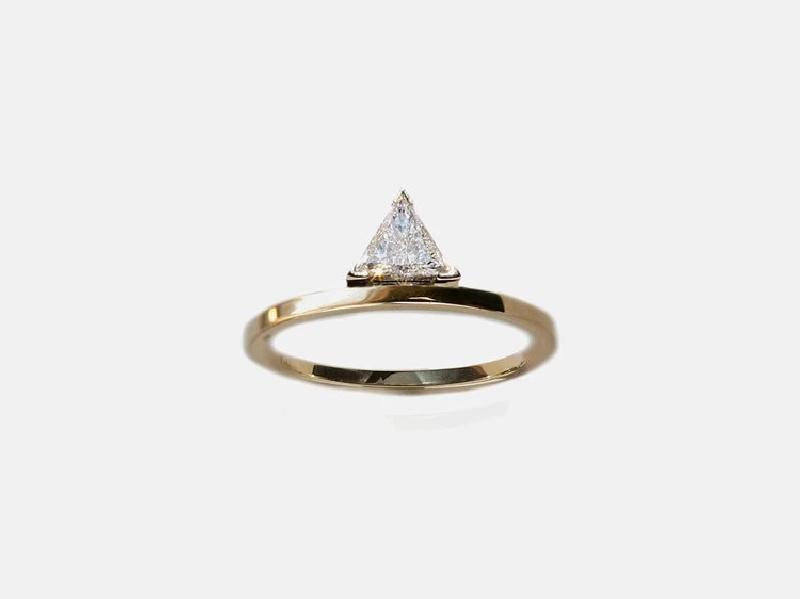 10. Trillion-Cut Stone
If you're looking for unique minimalist engagement rings, we've got you. This unusually cut diamond on a plain gold band is truly one in a trillion.
KATKIM trillion peak ring, $6,600, KATKIM Fine Jewelry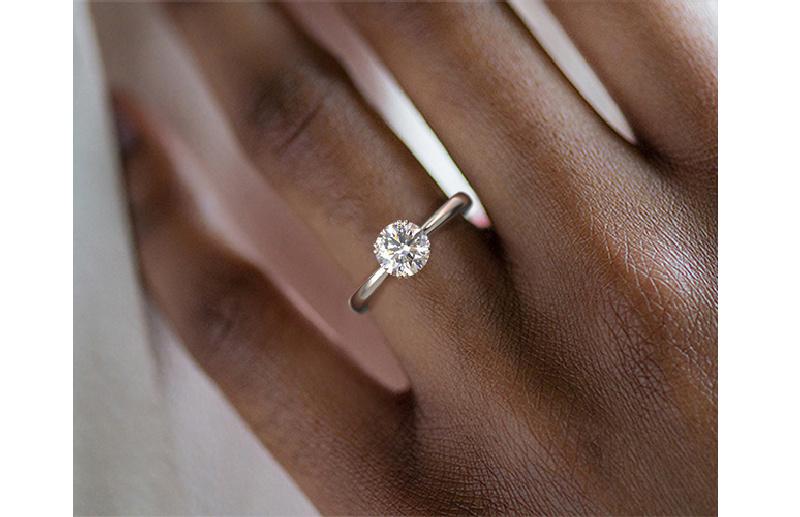 11. Round-Cut Solitaire
One of the most classic engagement rings also happens to be perfectly suited for those with a low-key style. Whether it's set in platinum, white gold, or yellow gold, we just can't argue with this combination: a solitaire round-cut diamond and unembellished band.
James Allen 14k white gold split prong solitaire engagement ring, from $790 for the setting, James Allen
12. Sapphire Center Stone
You can still rock a colorful stone even if you're going for a simple look! By opting for a solitaire stone and a plain band, the ring will have just the right amount of pizzazz while still coming across as minimalistic.
With Clarity petite solitaire sapphire ring, from $1,320, With Clarity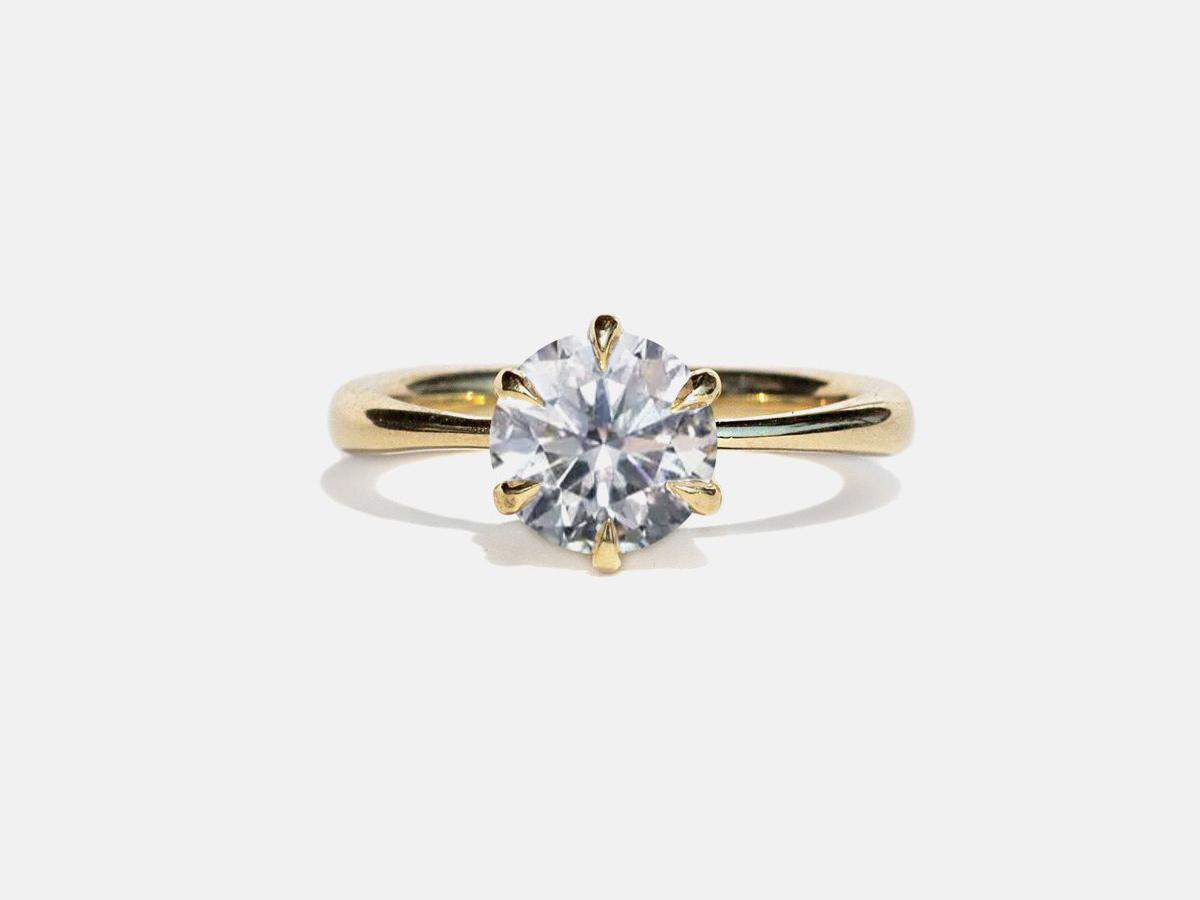 13. Timeless Solitaire Ring
This minimalist single-stone engagement ring will let your diamond take center stage, especially thanks to the chic tapered band. It's a clean, elegant design that'll never go out of style.
KATKIM diamond Arena ring, from $5,500, KATKIM Fine Jewelry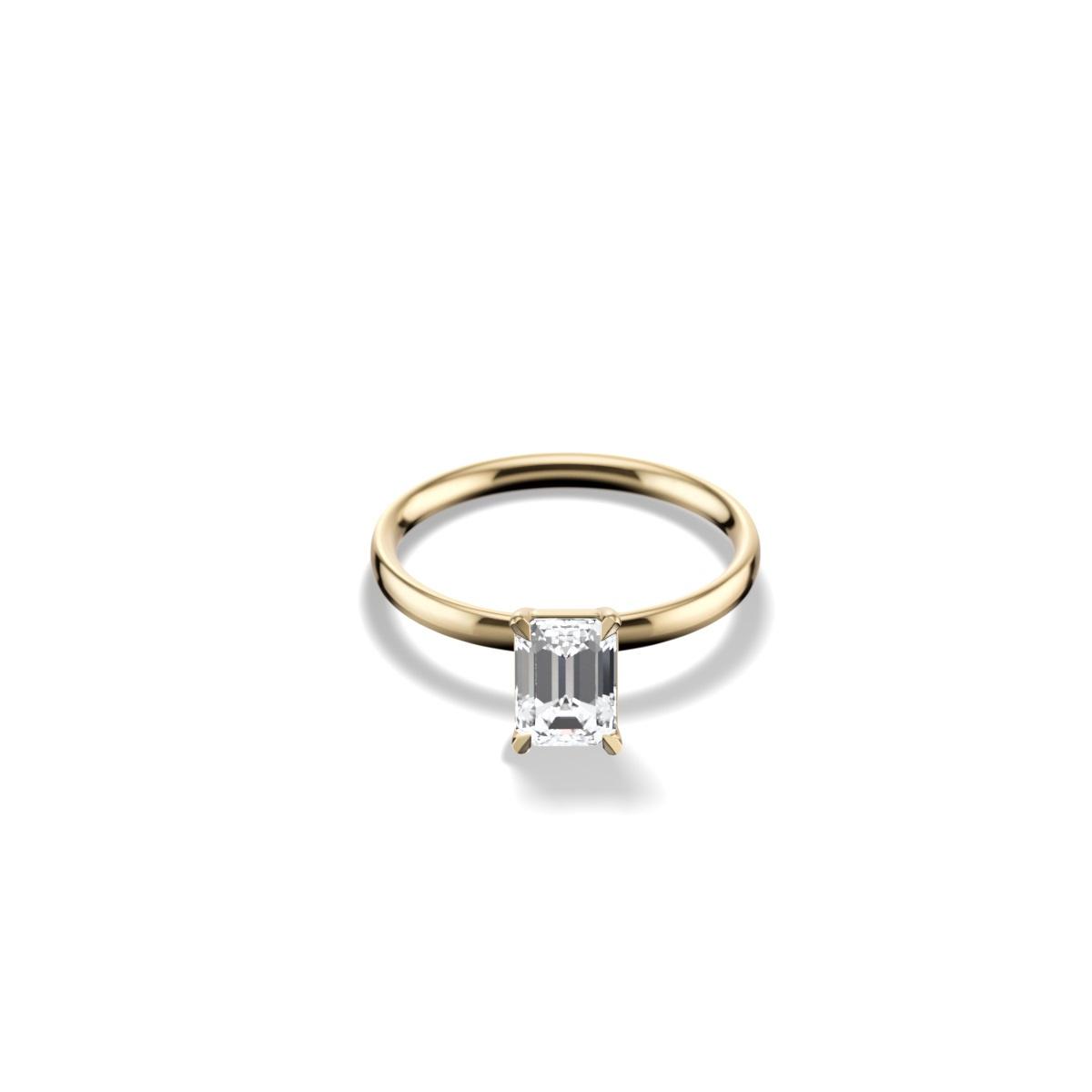 14. Classic Emerald Cut
We love solitaire stones with thin bands—can you tell? An emerald-cut diamond shines entirely on its own when set in elegant yellow gold. It's a lovely minimalist engagement ring choice if you're going for a modern-classic piece that will be stylish for decades to come.
Gemist The Emerald Solitaire, from $8,875, Gemist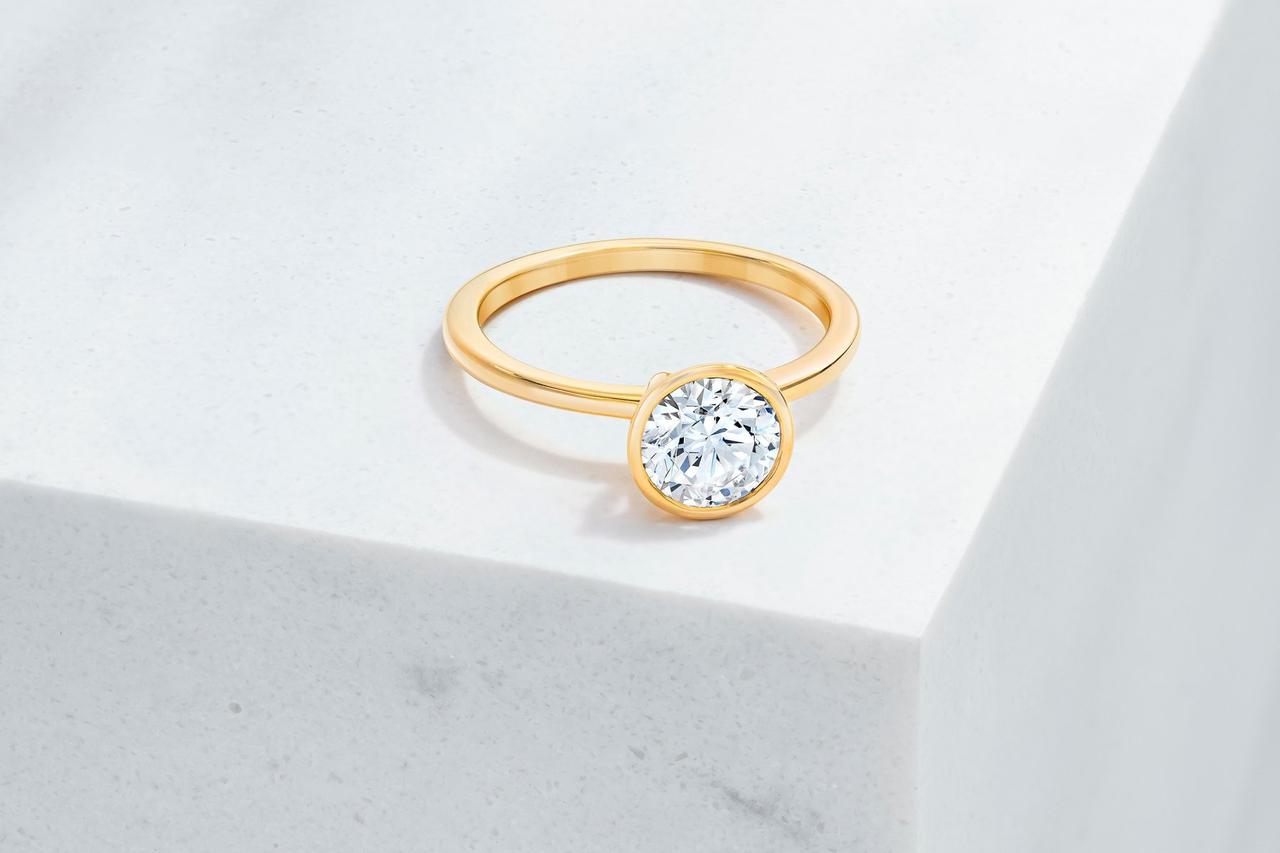 15. Round-Cut Bezel
Round-cut stones look fabulous with bezel settings. This is an ideal alternative for those who want a classic ring without having to worry about prongs snagging or diamonds coming loose.
Ring Concierge Mercer, from $998 for the setting, Ring Concierge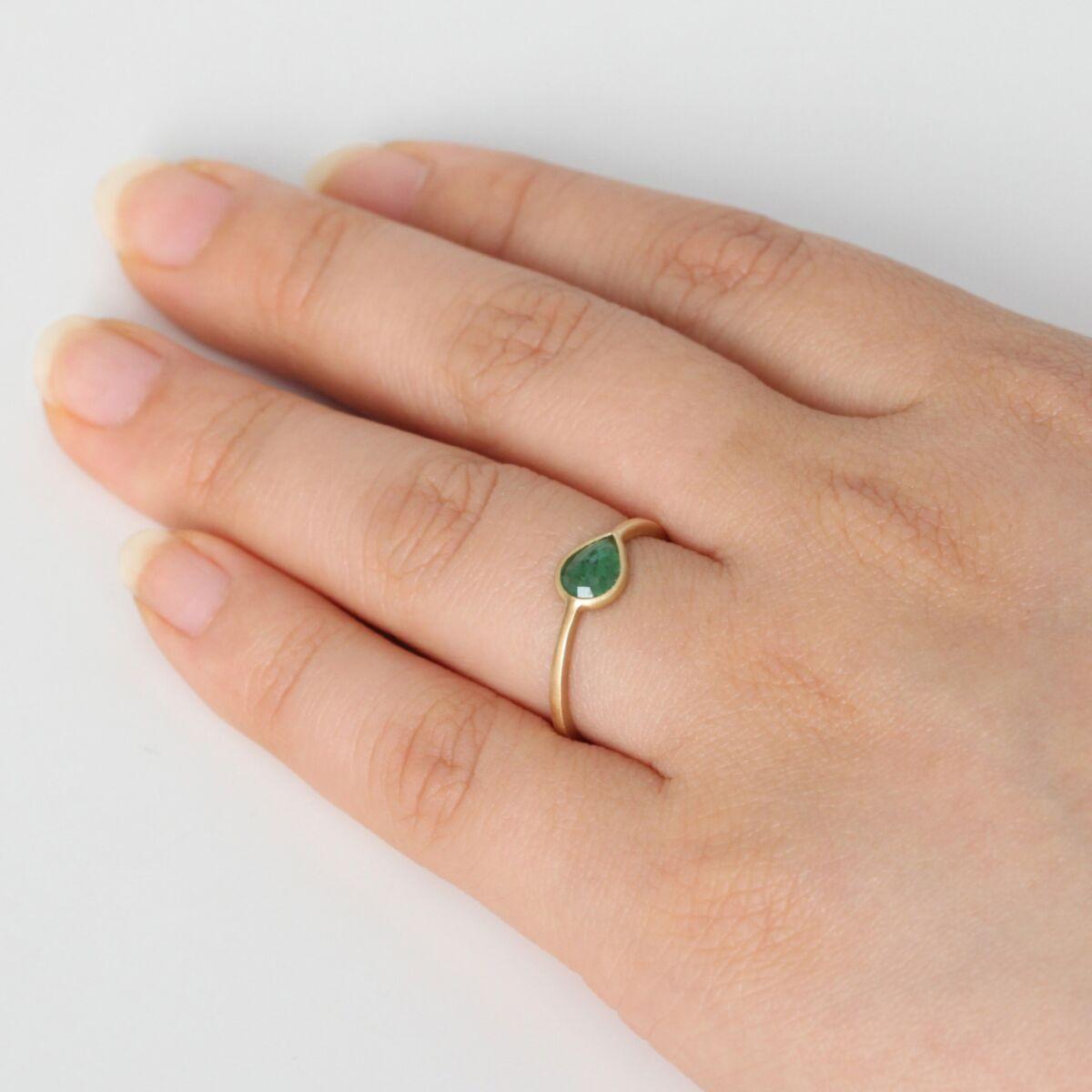 16. Rose-Cut Emerald
This vintage-inspired, minimalist emerald engagement ring feels utterly timeless. And who doesn't want to channel Jackie Kennedy's iconic sparkler in their bling?
Gillian Conroy pear ring with emerald, $1,800, Catbird NYC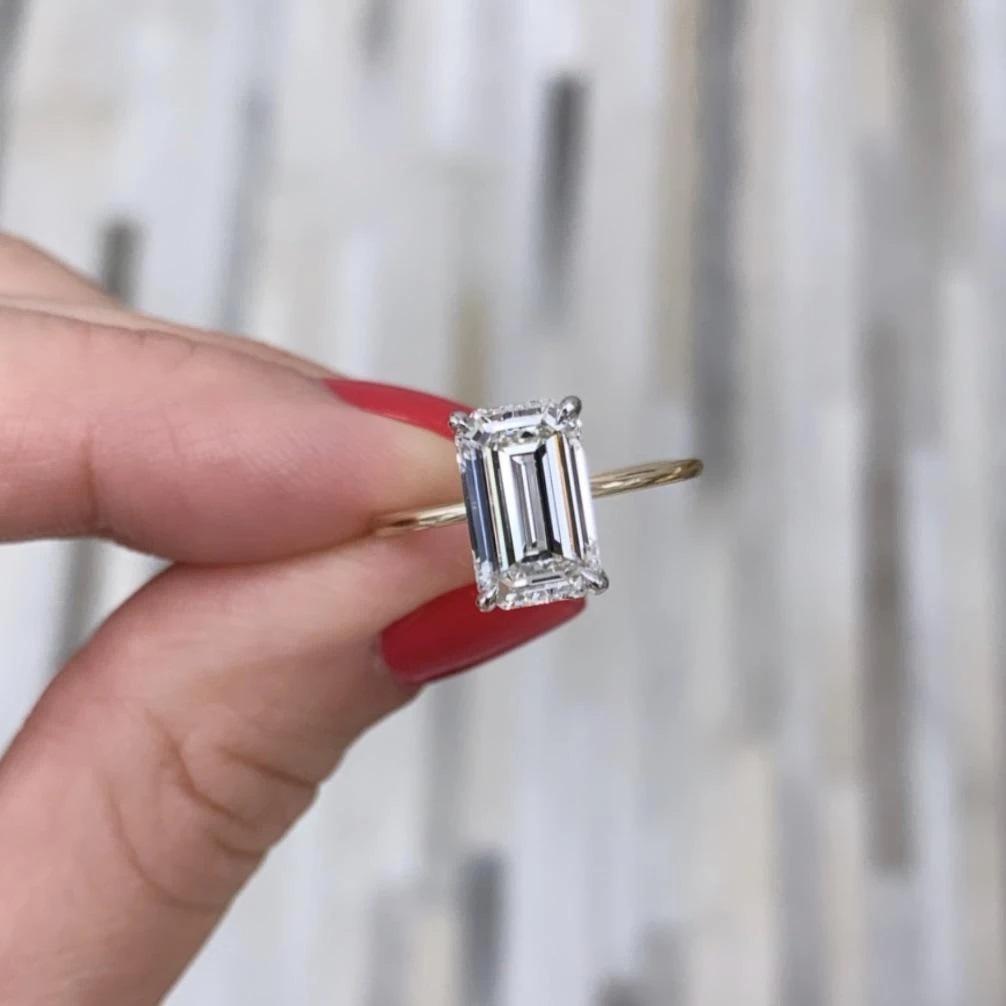 17. Ultra-Thin Band
Following the ready-to-wear trend of super-dainty jewelry, we've started seeing more engagement rings with extra-thin bands. Thanks to Ring Concierge, you can design your very own with the diamond shape and size of your choice. We love the clean, modern look of this emerald-cut stone.
Ring Concierge Whisper Thin engagement ring, from $10,000, Ring Concierge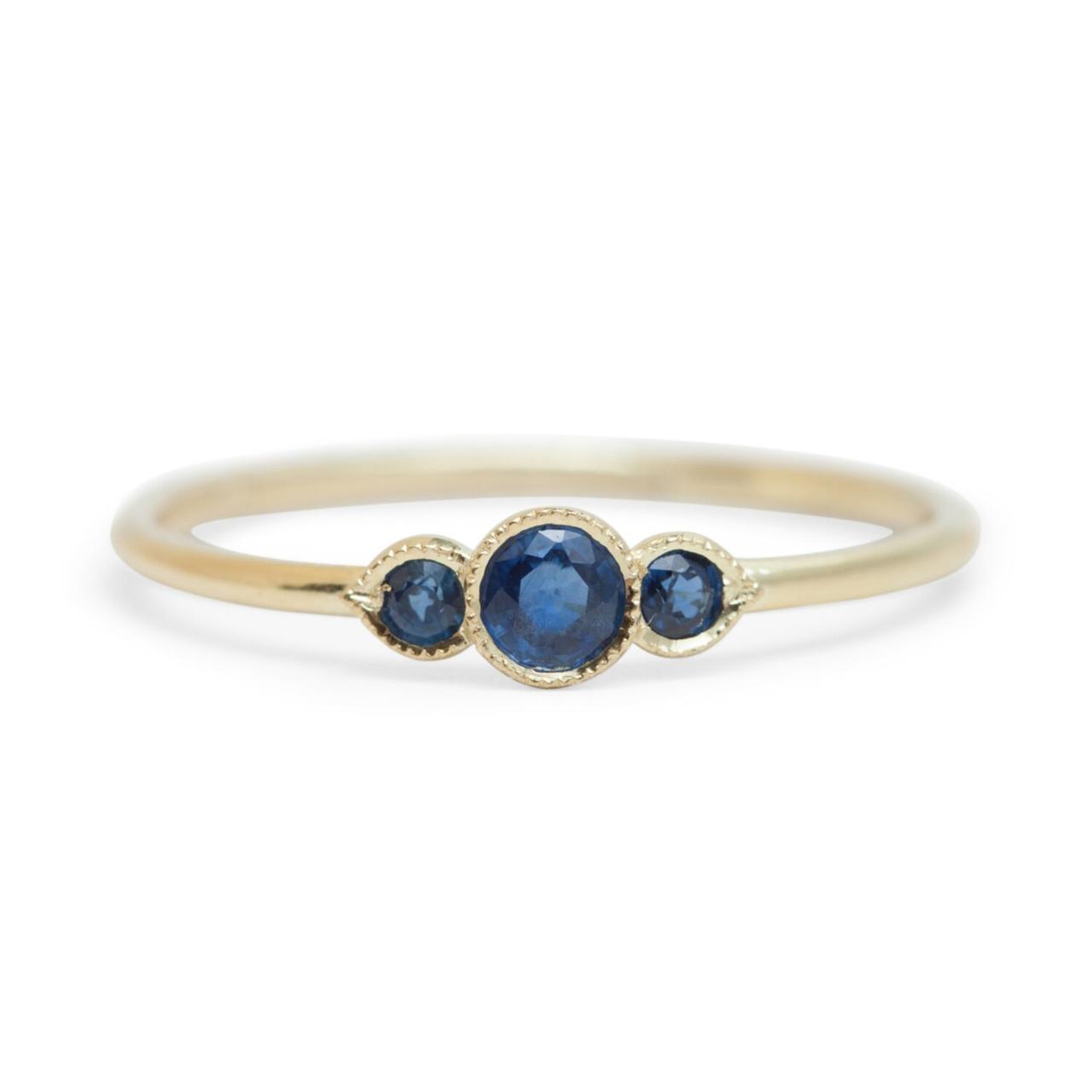 18. Three-Stone Sapphire
Take inspiration from the royals and opt for a toned-down version of Princess Diana's famous sparkler. Minimalist sapphire engagement rings are also a great option for those with September birthdays.
ILA Melika sapphire ring, from $575, Catbird NYC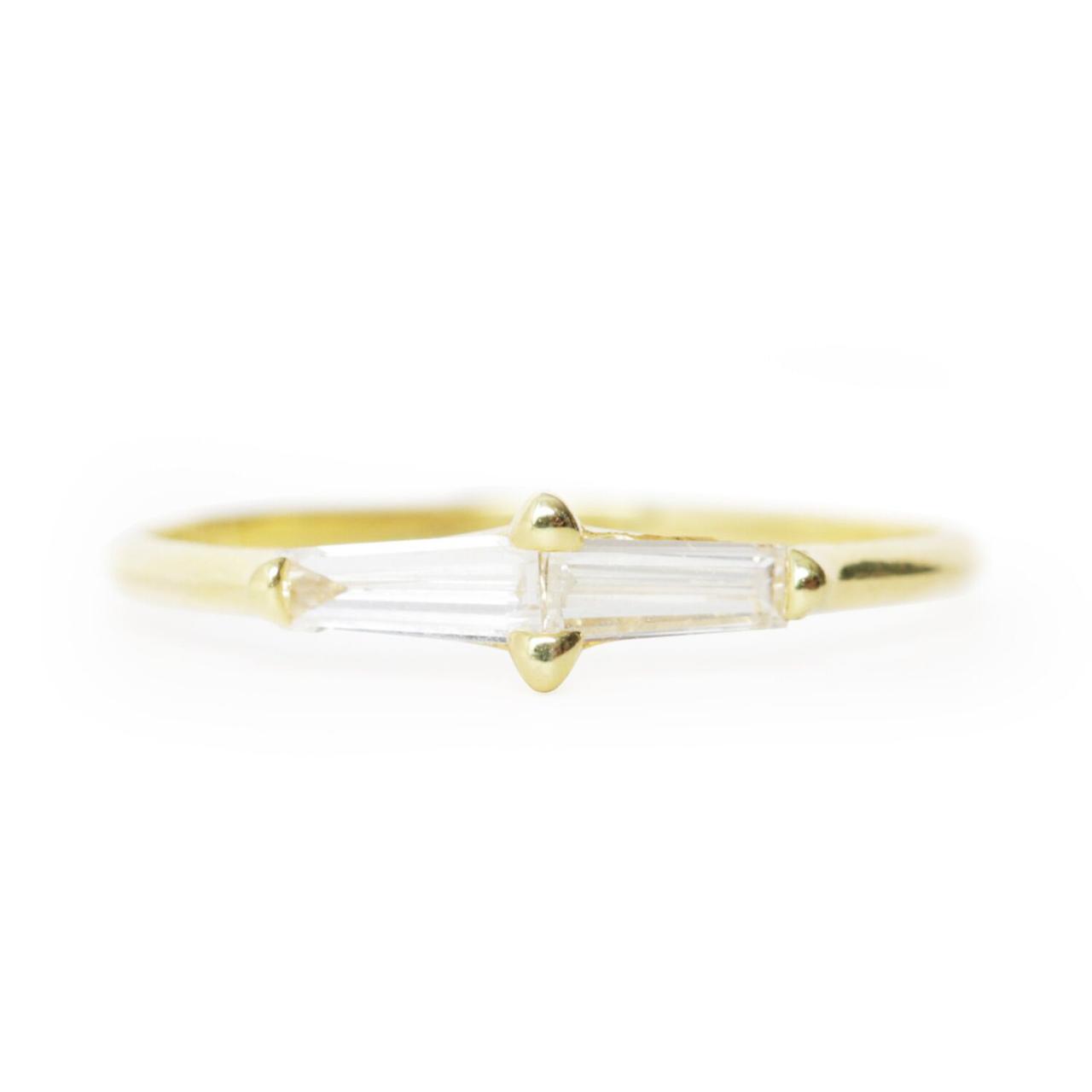 19. Back-to-Back Baguette Stones
This double baguette-cut diamond design is one of the most unique minimalist engagement rings we've seen. It's simple, modern, and stylish.
ILA Perryn diamond baguette ring, $2,200, Catbird NYC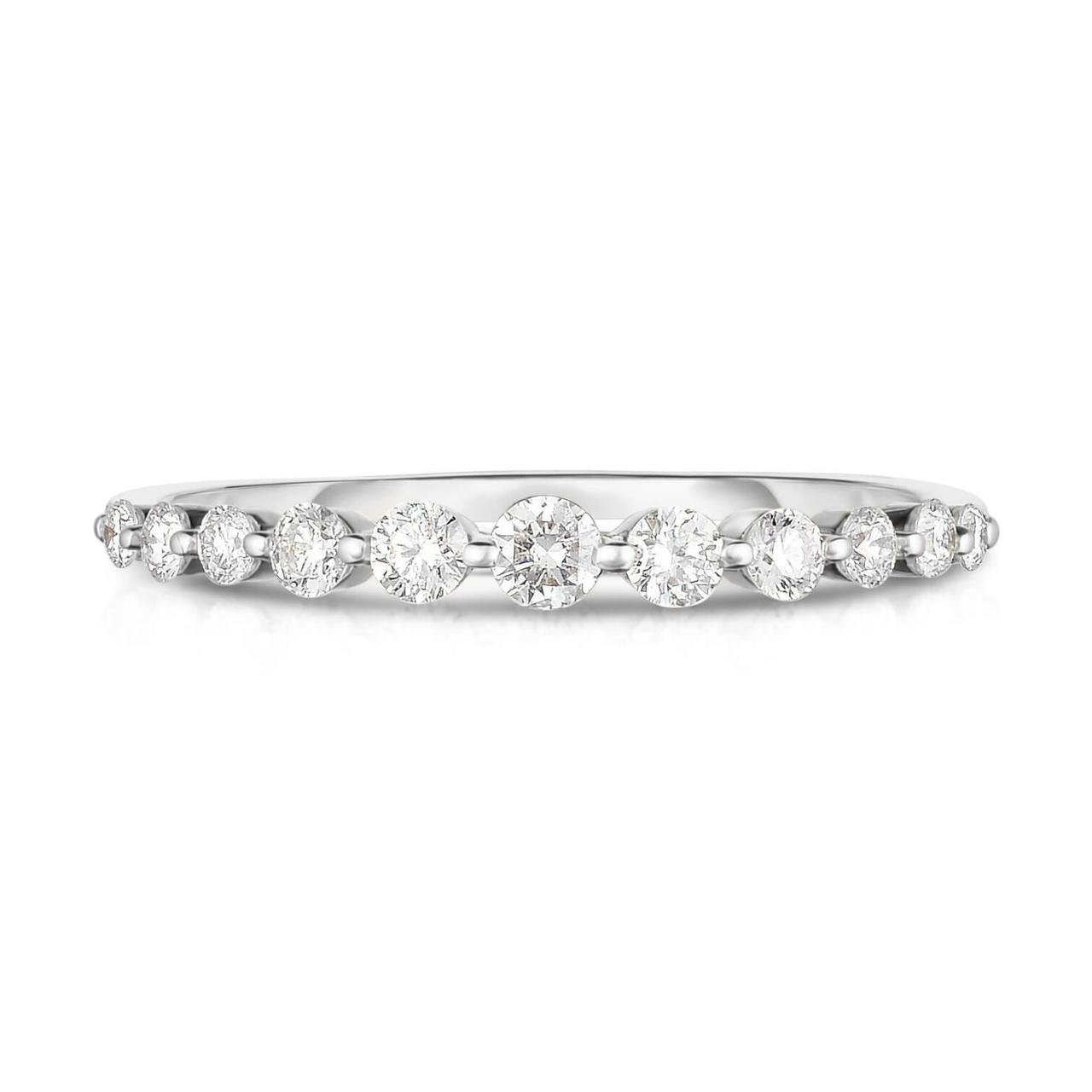 20. Neat Graduated Diamonds
Here's another unique option that still feels subtle. Small, symmetrical stones in a graduated style are equal parts simple and elegant.
Ring Concierge graduated single prong ring, $698, Ring Concierge
21. Classic Solitaire Diamond
There's a reason we've got so many gorgeous single-stone designs on our list. Solitaire styles make for some of the best minimalist engagement rings. Choose between a silvery white gold or platinum band for the most low-key look.
Ritani solitaire diamond gallery engagement ring, from $1,135 for the setting, Ritani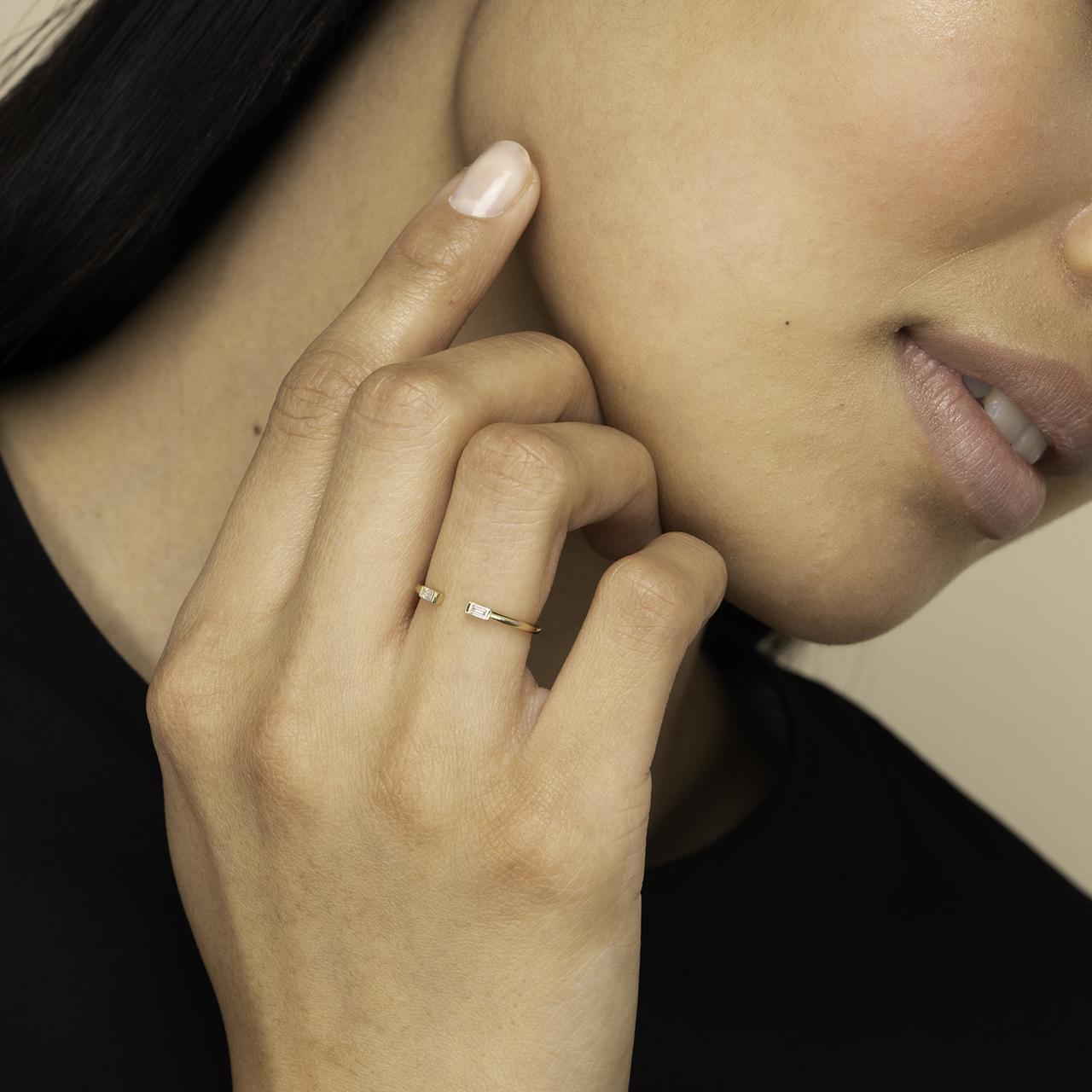 22. Open Engagement Ring
This beautifully simplistic ring features an open space instead of any extravagant jewels. Two petite baguette-cut diamonds add just the right amount of sparkle for someone with understated style.
Mejuri baguette diamonds open ring, $400, Mejuri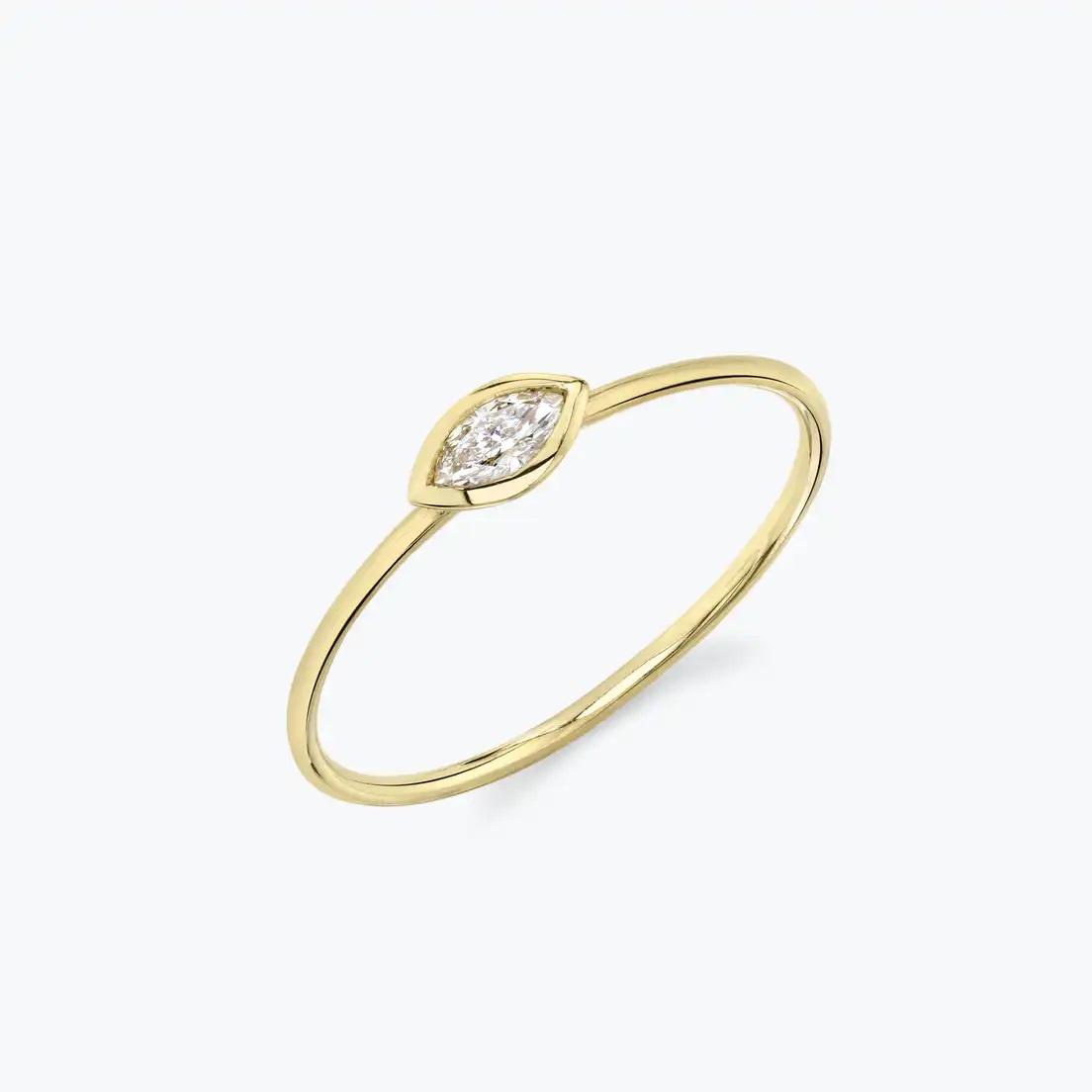 23. Bezel-Set Marquise
A graceful marquise-cut diamond, durable bezel setting, and plain, narrow band tick all the boxes for this minimalist engagement ring.
VRAI diamond bezel ring, $285, VRAI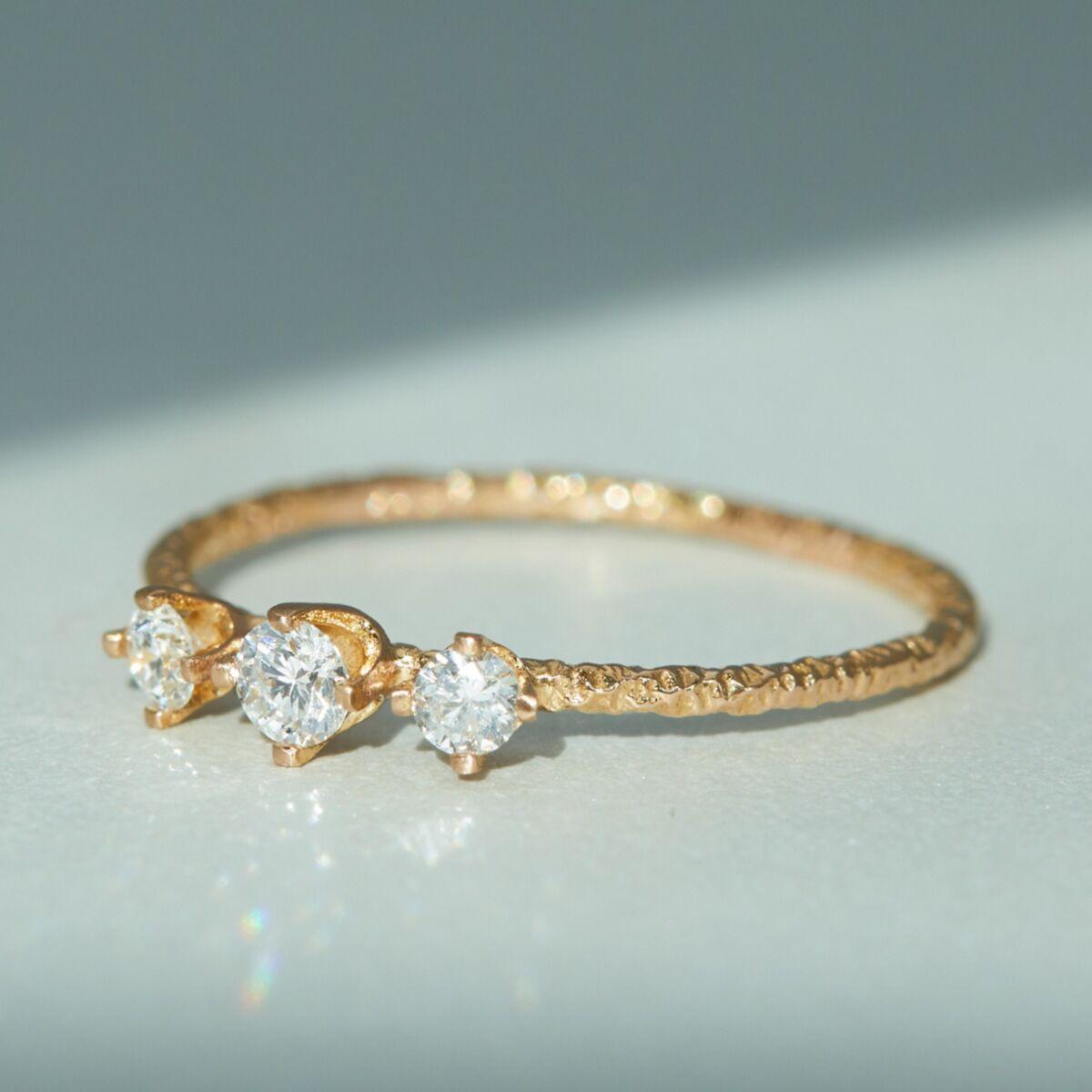 24. Textured Gold Band
Look close and you'll see that this simple three-stone style has a gorgeously textured band. If you're looking for minimalist boho engagement rings, this subtly stands out.
Satomi Kawakita three white diamond Homespun ring, $1,319, Catbird NYC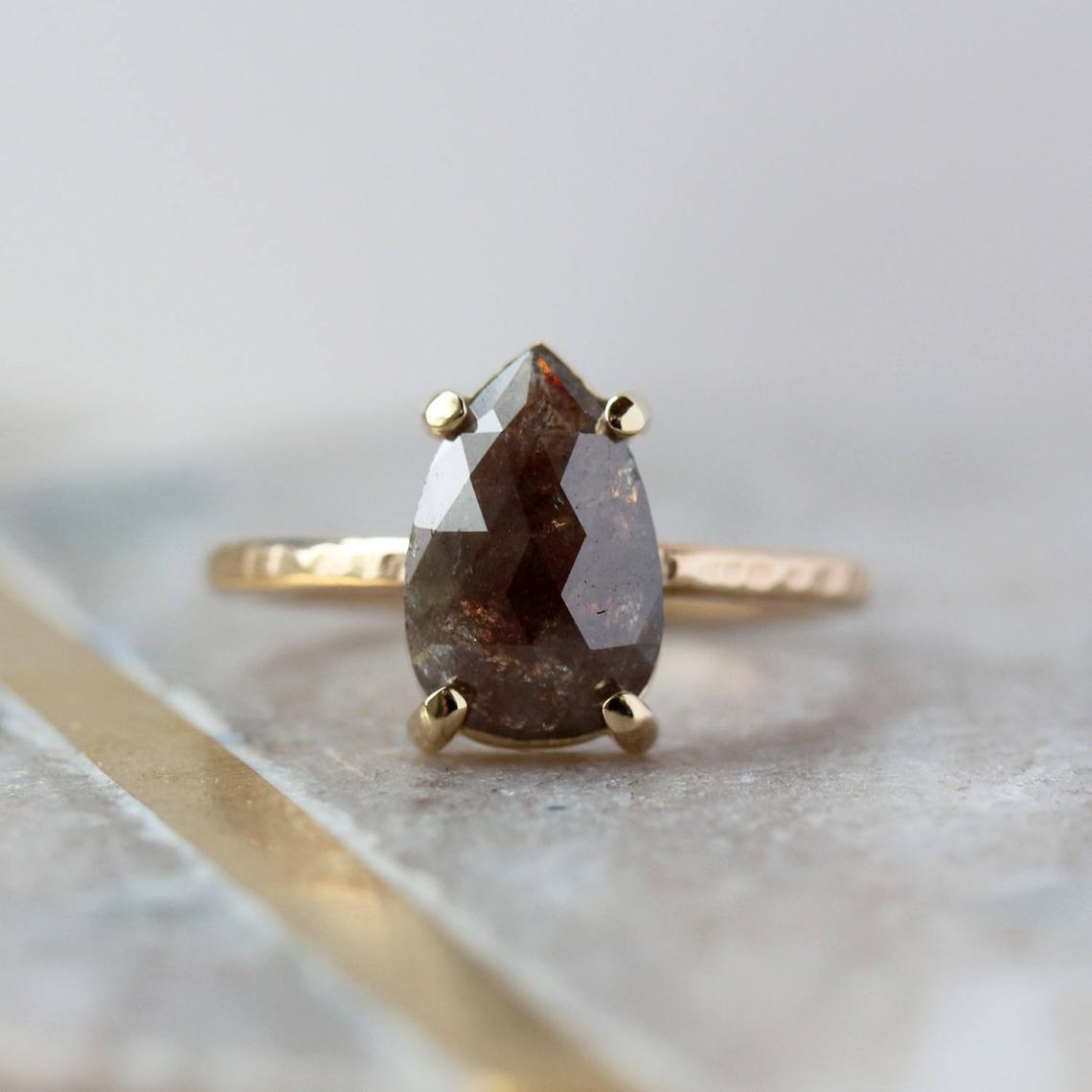 25. Natural Rose-Cut Diamond
Colored, natural diamonds are a simple way to save. Plus, they can make for truly unique minimalist engagement rings.
Shop Clementine rose cut pear natural diamond ring, from $758, Etsy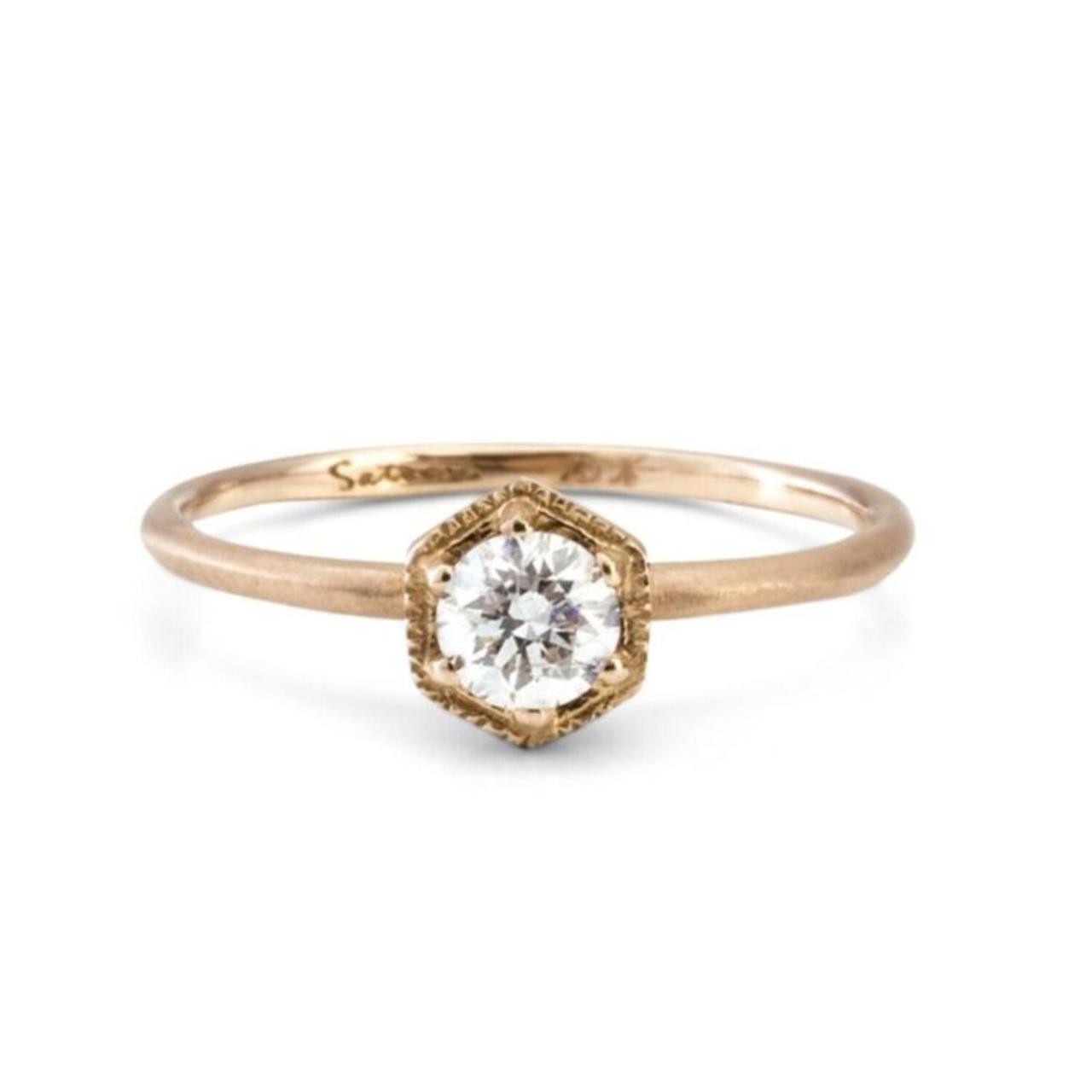 26. Heirloom Hexagon Ring
Minimalist Art Deco engagement rings can be hard to find—this style is usually more on the extravagant side. That said, we managed to find this gorgeous piece with a classic solitaire diamond and plain gold band.
Satomi Kawakita gold and white diamond hexagon ring, from $1,011, Catbird NYC
27. Diamond Accent Band
If you want something that's unique but understated, rose gold minimalist engagement rings are a great choice. This trendy piece of jewelry has a chic diamond accent that won't draw too much attention.
Holden The Flush Diamond in Rose Gold, from $399, Holden