9 Types of Engagement Ring Settings to Show Off Your Rock
With so many types of engagement ring settings to choose from, it can be tough to select your favorite! Here's a guide to engagement ring settings to help you narrow down the options.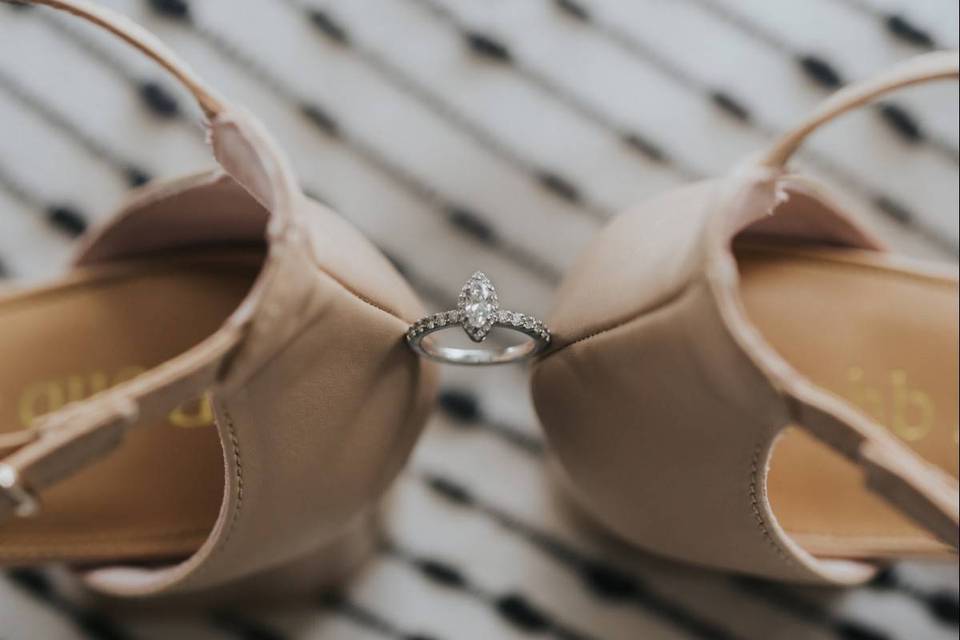 An engagement ring setting refers to how a ring's main stone is placed, or set, on the actual band. The types of engagement ring settings play a big role in the look and feel of the ring—and may be the first thing you notice when you look at an engagement ring. In fact, according to a WeddingWire study, women find the setting to be the most important feature of an engagement ring (men tend to focus on the quality of the stone). Some settings, like the prong set, are pretty simple, while others are more glamorous, like the halo. You'll have to shop around and look at a variety of rings to figure out the engagement ring setting (and stone cut!) that best suits your or your partner's style and taste.
There are lots of different types of engagement ring settings to choose from, but here are a few of the most popular to know as you start shopping.
Channel
The band features a row of diamonds set between two strips of metal. While this is a very sturdy engagement ring setting and the diamonds are likely to stay in place, because of the stones it can be difficult to resize the band.
Bezel Set
In this engagement ring setting, a band of metal wraps around the outer edge of the center stone. This is a popular setting for minimalist engagement rings, ideal for a clean and modern look.
Prong Set
Metal claws hold the center stone in place. This is a great engagement ring setting because it really highlights the beauty of the main stone. However, the prongs can get caught on clothes or become loose over time.
Halo
A row of diamonds surrounds a large center stone. One of the most on-trend types of engagement ring settings, the halo is perfect for those who love a lot of sparkle and a more glamorous look. It also allows you to pair unique stones with diamonds, a la Kate Middleton's halo-set sapphire ring.

Split Shank
The band has a split effect, almost resembling two bands in one. Those who like statement jewelry will adore this style, though it can be a bit tricky to find a wedding band that pairs well with this engagement ring setting.
3-Stone
Two smaller stones flank the larger center stone. The stones don't have to be the same size or type as the center stone. So if your partner can't decide between a diamond and a different type of stone (sapphires, rubies, emeralds, etc.), this setting allows you to utilize and feature multiple gems.
Pave
The band features a row of diamonds set very closely together. In other words, the band is "paved" with diamonds. While this is one of the most in-demand types of engagement ring settings, it's another one that's difficult to resize.
Tension
The center stone is held in place by pressure—the ring's metal presses together tightly and has grooves to keep the stone in place. This is a less common setting, but it's extremely modern, unique, and contemporary.
Flush
The stone is completely flush to the metal band. This is one of the types of engagement ring settings that's also popular for men's rings.

Ring credits: Channel set: Ritani tapered channel set engagement ring; Prong set: Jeff Cooper Chloe engagement ring; Bezel set: Simon G. Caviar collection bezel set engagement ring; Halo: Hearts on Fire Transcend engagement ring; 3-Stone: Nazarelle three-stone engagement ring; Pave: ArtCarved Blair pavé engagement ring; Split Shank: Nazarelle split shank engagement ring; Flush: Brilliant Earth notched low profile wedding ring; Tension: Allurez princess cut tension set engagement ring