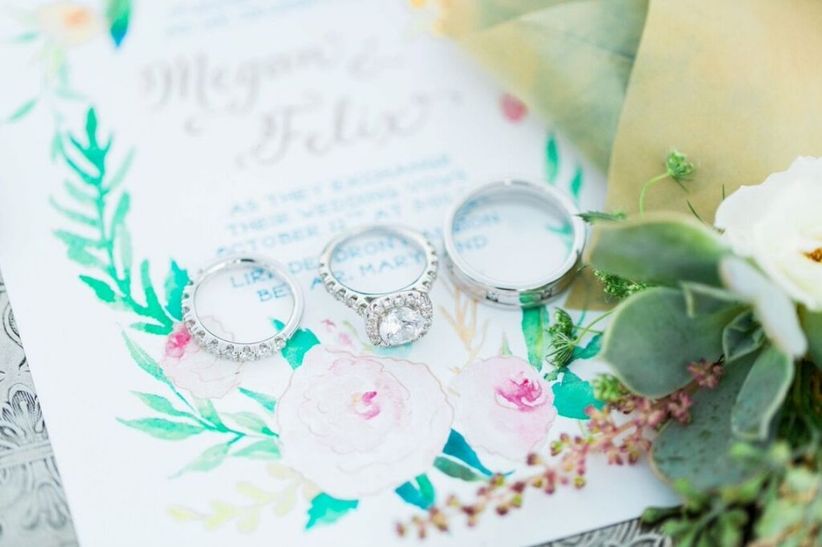 Photo: Alicia Wiley Photography
After you receive your gorgeous new engagement ring, you'll probably just want to sit and stare at it all day. And we can't blame you – it's beautiful! But, there are a few important tasks you'll want to take care of before settling into your state of engagement bliss. Don't worry, they're not too time-intensive – and, we promise, you'll be glad you checked these items off your list!

Get it sized.
Even if your ring feels like it fits, it's a good idea to take it to a jeweler to make sure it's not too big nor too small. Also, consider the weather – your ring may feel looser in colder weather due to your fingers contracting, and vice versa – your ring may be tighter if it's hot outside. If you're worried about your finger size changing, you might want to consider sizing beads or bumpers that are placed on the bottom interior of the ring and can be removed.

Get it insured.
Right now. First, you'll need to get your ring appraised so that your ring is covered for the correct amount under your insurance. Then, either use your renters' or homeowners' insurance or a jewelry insurance company like Jewelers Mutual to insure your ring. That way, if your ring is lost or stolen (yes, unfortunately, it does happen), you're covered.

Write a review.
Share your thoughts about your ring or ring shopping experience by writing a review on WeddingWire. Think of it as paying it forward – helping other couples find their jewelry vendor!

Get a manicure.
Yup, it may sound trivial, but you will be showing off your hands (specifically your ring finger) often going forward, so it's important to make sure they're well-taken care of. Whether you go for a full-out professional manicure or just be more conscious of making sure your hands are moisturized and your nails are trimmed, it's something to consider.

Get a ring holder (or a few!).
It's up to you when you decide to take off your wedding ring – some people rarely do, others take it off when they shower, at the gym, when they wash dishes, at bedtime, etc. To avoid misplacing your ring, get some cute ring holders to put around your house (near the kitchen sink, in the bathroom, on your nightstand), so you always have a safe place to keep your precious gem!