7 Things to Know Before You Buy an Engagement Ring Online
Yes, you can buy an engagement ring online, but not without researching all of your options first. Here's what wedding jewelry experts want you to know.
We have included third party products to help you navigate and enjoy life's biggest moments. Purchases made through links on this page may earn us a commission.
The COVID-19 pandemic has put many things on hold, but it's not stopping couples from moving forward with their plans to get engaged—and we fully believe that it shouldn't! But even if you're planning to propose to your partner, the circumstances surrounding your proposal—including buying the engagement ring—are likely to have been affected in some way. Buying an engagement ring online has skyrocketed in popularity during the pandemic (for obvious reasons), but since the process is still unfamiliar for most couples, it can seem a little bit daunting.
Luckily, as long as you do your research, it's actually a lot easier than you might expect! Local and national jewelers have stepped up to the plate to give couples an enjoyable at-home shopping experience that rivals in-store engagement ring browsing. Virtual jeweler consultations play a crucial role in the process of buying engagement rings online. They're an excellent way to recreate the personalized, one-on-one attention you'd normally receive in-store, and they give you the chance to ask questions and get recommendations from an expert if you're unsure about what to purchase.
The one caveat? This is likely your first time shopping for such an important diamond, so it's completely understandable if you're concerned about purchasing a stone that is certified, good quality, and fairly priced. By shopping with a reputable online retailer and following a few simple tips, you'll be on your way to finding the perfect ring in no time. Keep reading for the best places to buy an engagement ring online and the advice jewelers want you to know ahead of time.
Start your online engagement ring shopping early.
Like many other products and services, timelines for making rings and procuring diamonds during the pandemic have been a bit unpredictable. "In many cases, diamonds are cut and polished overseas, which means that they have to be shipped in from various countries around the world or even various states within the U.S.," says Slisha Kankariya, founder of With Clarity, an online jewelry retailer specializing in engagement rings and at-home engagement ring try-ons. "Because different countries and different states have different schedules for closures and different restrictions on their business, shipping has been unpredictable," she says. The lesson: Start looking at engagement rings online sooner rather than later, since you'll need to leave enough time for the consultation, customization process, ring production, and shipping. We'd recommend at least two or three months before you're planning to propose, if not longer.
Try before you buy.
Some online engagement ring retailers have thought of a pretty ingenious way to help you recreate the in-store ring shopping experience, and the best part is that you won't even need to leave your house (something that has become hugely important as the pandemic goes on). Brands like Gemist and With Clarity offer home try-on programs for your engagement ring, while Holden, a New York City-based jeweler, specializes in wedding bands and ring sizing kits.
The exact details and cost vary by brand, but the general concept is that you'll receive a realistic replica of the ring(s) you choose online and will then have several days to give them a test run before mailing them back. If you're keeping the engagement ring a surprise, you'll have the chance to inspect the jewelry up-close and compare different styles if you're on the fence (although the "diamonds" in the trial rings won't be real). If you're shopping as a couple, you can wear the practice rings around the house, take selfies, paint your nails—whatever will help you grasp the look and size of the ring to make sure it's exactly what you feel comfortable wearing.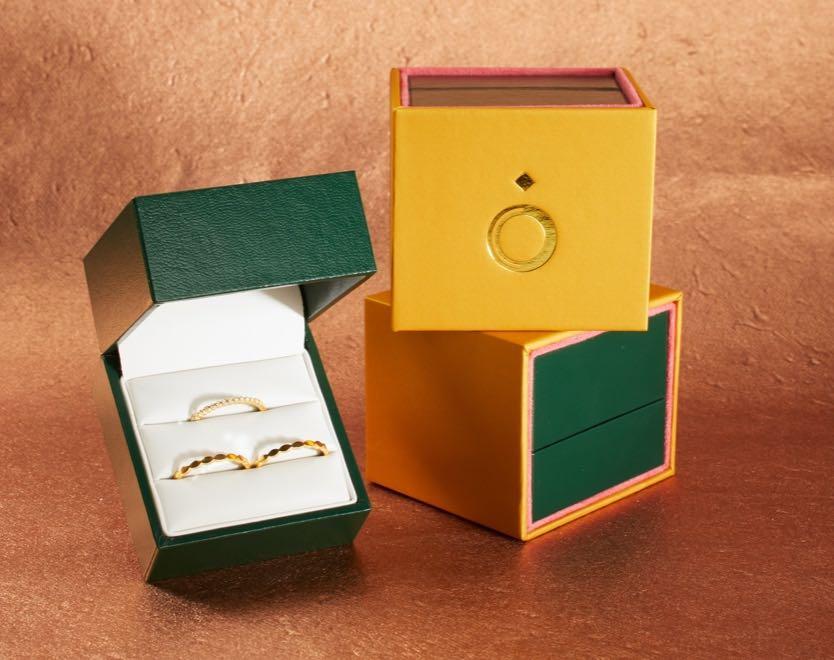 Read the jeweler's fine print first.
The best way to work around the pitfalls of buying an engagement ring online in a COVID-19 world is to work with a diamond expert the same way you would work with any other professional skilled in their job, says Dan Moran, founder of Concierge Diamonds, a Los Angeles-based private jeweler specializing in fine gemstones and custom engagement rings. "Working with an expert, especially one who operates as a wholesaler, can not only help you navigate the pitfalls of shopping for stones online, but also potentially save you money by not having to pay retail for your ring," he says.
In addition to choosing a reputable jeweler, Kankariya recommends making sure the company has a clear return and warranty policy. "This will ensure that you're able to buy with confidence, and if something isn't perfect you can return it," she says. "A lifetime warranty also ensures that the jeweler stands behind the quality of their jewelry to begin with and for years to come."
While we do recommend working with a local jeweler when possible, a few reputable places to look at and buy engagement rings online include Blue Nile, James Allen, Kay Jewelers, Jared, and Zales. If you're interested in non-traditional or simple engagement rings, consider purchasing from fine online jewelry brands like Mejuri, Catbird, and Olivela. If you're not quite sure where to begin, we love the consultation quiz from Ring Concierge—just answer a few questions about your desired stone shape, carat weight, budget, and setting, and their team will connect you with an engagement ring expert.
Don't be afraid to ask for second opinions on style and design.
You probably want to keep the fact that you're buying an engagement ring online under wraps so that your soon-to-be fiancé(e) doesn't find out, but you're also making a major purchase. If you and your partner aren't shopping for rings together, consider asking someone who's close with both of you—perhaps your partner's sibling, mother, or best friend—to help guide you in making the right selection based on their personal style and preferences. (Plus, they might be able to share valuable intel about your partner's engagement ring size!)
"More and more [people] these days want to be involved in the design of their engagement ring, since it's something they will be wearing on their hand and looking at every day for the rest of their life," says Sophie Quinn, founder and jeweler at Couplet, a fine jewelry brand specializing in handmade and one-of-a-kind pieces. Once you feel confident that you know your partner's ideal engagement ring style, the jitters about buying an engagement ring online will fade away.
Choose a simple engagement ring setting.
While you're shopping for engagement rings online, Quinn suggests opting for a solitaire setting, where a single diamond or stone is held in place by tiny prongs without additional diamonds. "It's not worth investing a lot in the setting when so little is in your control right now," she says. "This way, there's no harm and no loss if you want to rework the setting down the road or even as soon as shelter in place begins to lift." If your partner decides they want more sparkle, you can eventually work together to re-design the setting, or you can create a ring stack with pavé wedding bands that will instantly add bling.
Don't purchase more than you're comfortable spending.
According to the 2020 WeddingWire Newlywed Report, the average cost of an engagement ring is $5,900. Online engagement ring retailers know that it's no small charge to your credit card, which is why most will offer payment plans and experts who can help you maximize your budget without blowing it. Your engagement ring will likely be one of the most expensive purchases you'll make in your lifetime, but it doesn't have to be beyond your means—or comfort zone. "An engagement ring should be enough of a commitment to make you think twice about spending the money, but it should not be something that is a burden," says Moran.
Look out for (and avoid) deep sale prices.
A sale is always great, but if a deal seems too good to be true when you're buying an engagement ring online, there's probably a catch. "Diamonds are priced on the four C's (color, clarity, cut, carat weight) and retain their value [even years or decades after they are purchased]," says Moran. "Unless you're an expert or working with one, be very careful of unscrupulous outlets online." Our tip: Find a ring you like, then check multiple sites for styles that are similar in design, metal type, carat weight, etc. to get a ballpark price range. You'll be able to tell if something is drastically cheaper, which is usually a red flag.