How to Determine Your Partner's Ring Size
Planning to purchase a sparkler for your someone special? Here's how to determine the ring size for your partner to ensure a perfect fit.
We have included third party products to help you navigate and enjoy life's biggest moments. Purchases made through links on this page may earn us a commission.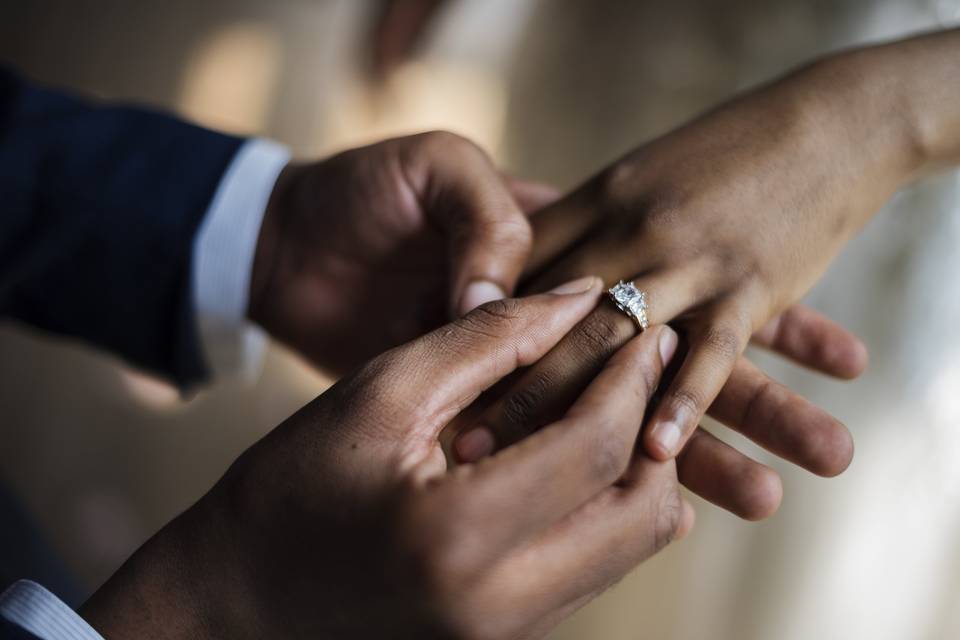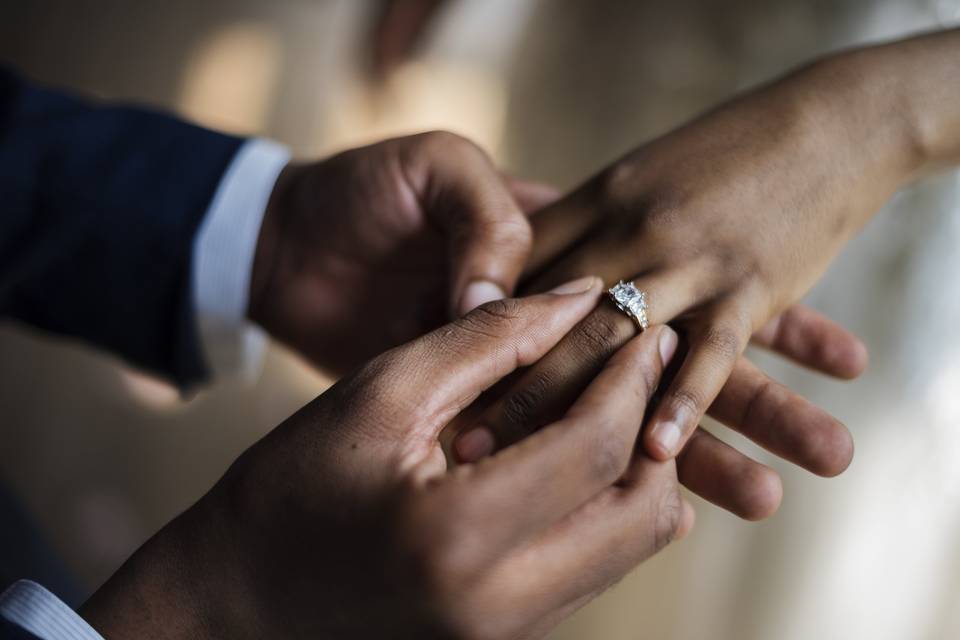 So, you're ready to pop the question—congrats! Now it's time to buy that jaw-dropping engagement ring for your intended. But if you're keeping your proposal a surprise, you're probably wondering how to determine the ring size for your partner. While most engagement rings can be resized, purchasing a ring that's a perfect fit (or as close to perfect as possible) can make a proposal even more special and memorable. And it turns out there are lots of easy ways for you to figure out how to size a ring without your partner realizing you've got a secret plan up your sleeve.
Want to know how to determine the ring size for your partner? Here are a few easy ideas that won't spark suspicion.
Ask around.
Figuring out how to determine your partner's ring size may be as simple as just asking a loved one. Perhaps your partner's mother has shopped for jewelry with them, or your partner shared their ring size with a pal over drinks. We don't recommend telling too many people that you're planning on popping the question, but it may be a good idea to ask a few of your partner's closest family members and friends to see if they know your love's ring size.
Borrow a ring.
Is your partner a frequent jewelry wearer? If so, grab a ring from their collection and use a ring sizing guide to determine its size—or if you don't think your partner will miss their ring, take it to a jeweler to have it professionally measured. You can also press the ring into a bar of soap to create a mold that you can show your jeweler (just be sure to wash the soap off before your partner sees!). Ideally, you'd find a ring that your partner wears on the correct finger (fourth finger of the left hand, next to the pinky), but a ring that's worn on the right hand could also work. Rings that are worn on the pinky or thumb are probably not useful for determining your partner's ring size for an engagement sparkler.
Use string or paper to measure your partner's finger.
If you're unable to find a ring, wrap a string or strip of paper around the fourth finger of your partner's left hand below the knuckle and mark off where the string overlaps. Then, measure the string to the spot where you marked. Use a ring sizer to determine which size best corresponds with your partner's finger. Now, you may have to be a bit sneaky when it comes to determining the ring size for your partner using this method. Wait until your partner is taking a nap or sleeping at night, and then quickly take their measurements. But if your partner is a light sleeper, it might be best to try another method.
Talk to your jeweler.
Especially if you're unable to get an exact ring size for your partner, a professional jeweler can help you guesstimate. Your jeweler will probably recommend choosing a larger-sized ring that can be scaled down after the recipient has received it. Note: The average woman's ring size is a 6 and for men, the average ring size is a 10.
Shop with your partner.
Did you know that seven out of 10 ring recipients have some involvement with selecting and/or purchasing their engagement ring? It's totally okay to shop for a ring with your partner, especially if you've been openly discussing your impending proposal. Your partner will likely be happy to provide input into this important piece of jewelry, and you can still keep the exact details of your proposal under wraps, even if the ring isn't. While yes, there's something to be said about totally surprising your partner, involving your love in the process is not only modern, it will also guarantee the ring you select together is a perfect fit.
Buy a ring that can be resized.
It's essential to ask your jeweler if your chosen engagement ring can be resized. In most cases, engagement rings made of gold, silver or platinum can be resized to be larger or smaller—or if the ring is slightly too large, a removable adjuster can be placed inside the ring to create a more snug fit. Beware of purchasing engagement rings made of titanium, stainless steel, or tungsten, which cannot be resized. Rings that have stones all the way around the band may also be difficult to resize. Depending on how labor intensive resizing your ring is, the process can cost several hundred dollars.
If it doesn't fit, don't fret.
If you've taken all the steps to determine the ring size for your partner and it still doesn't quite fit, don't sweat it. It's a good idea to have a resizing plan in place should the ring not fit perfectly (for example, a jeweler you can bring the ring to for resizing). After the excitement of your proposal settles a bit, ask your partner how the ring feels—and encourage them to be honest. If your partner says "well, it does feel a little big/small," respond with: "Great! I know just the place we can take it to get it resized—no problem!" You'll need to get the ring insured, so add that to your list of ring-related to-dos, as well!
Disclosure: This post contains affiliate links, some of which may be sponsored by paying vendors.