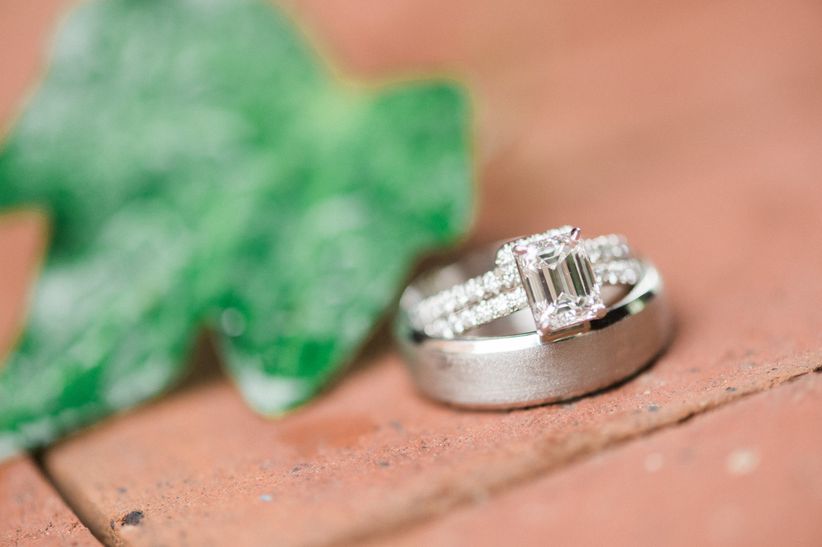 Photo: MyLife Photography
Find out the inside scoop of buying an engagement ring here!
Buying an engagement ring is no easy task (and it's a pretty big deal)! So we decided to reach out to the experts and ask them for their very best advice on what you should know and how the whole process works.
What should people know about ring shopping before they begin?
"Budget is the most important thing to know so that you can determine the best engagement ring that fits within the budget and taste of the shopper."
-Maria Vastola of
TwoBirch
in Englewood Cliffs, New Jersey
"They need to know the cut of the diamond they would like: round, cushion, oval, princess, radiant, etc. As for the mounting if they like the halo around the diamond or not. From there the choices become easier."
-Michael and Katy Bitton of
MB Diamond House
in Miami, Florida
"Do you have a couple weeks, months, days? If your timeline is a couple of days you are looking at buying something that is already designed & made. If you have a few months you might choose something fully custom."
-Sahra Cahoon of
Swoon Jewelry Studios
in Louisville, Colorado
"People should also know about the basics of diamonds, gemstones, and standard metal types."
-Jennifer Centola of
Joseph Schubach Jewelers
in Scottsdale, Arizona
What kind of research and prep should someone do before they begin shopping?
"Study the four C's: color, clarity, carat weight, and cost."
-Sarah Thrasher of
Artisan Jewelers
in Cary, North Carolina
"The most important research, believe it or not, is the mounting. They should browse the web and come in with pictures to show the jeweler."
-Bitton
"Research images and styles of rings you like, so that when you go to the jeweler, you can see them in real life and try them on. You should keep an open mind though, as you might fall in love with a ring you may have never considered."
-Centola
What's the most common question you get from shoppers about engagement rings?
"How do I find out her ring size? Our best advice is to borrow a ring that she already has and take it into your favorite jeweler where they can size it."
-Cahoon
"The most common question is by far price; after that it's the quality of the diamond and if it has a certificate. We usually explain them about the different characteristics of diamonds and the correlation of prices associated with them."
-Bitton
"They don't understand that carat is a unit of weight, not measurement. If someone wants a 1 carat [diamond], two 1 carat diamonds can look drastically different depending on the cut and shape."
-Kert Blodgett of
Chas. Schwartz & Son
in Washington, D.C.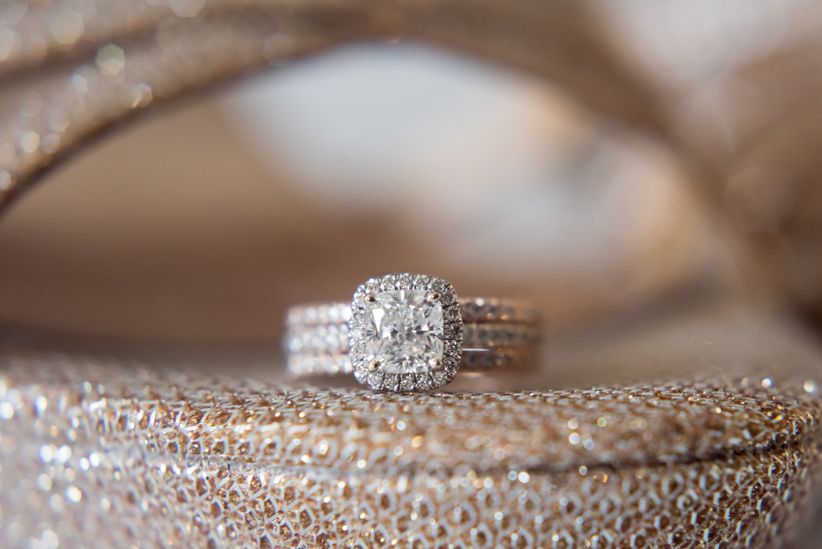 Photo: KMH Photography
What should people do when they come into the store looking for a ring?

"Come in with a max budget they are prepared to stick to."
-Centola

"Ask questions! Don't make a huge decision without feeling 100% comfortable that your questions are answered."
-Vastola

"Customers should have an idea of what shape their significant other wants their center stone to be. That's the most important aspect of a ring and is the deciding factor once they give it to their loved one."
-Thrasher

"Give the overview of what they know: timeline, metal choice, budget and if they have a design style in mind. This provides a launch pad for the designer to begin."
-Cahoon

"We're here to help them. Be forthcoming with the information that they're looking for because the more information they can assist us with, they better we can help them."
-Blodgett

How much do you recommend shoppers spend on an engagement ring?

"Prices vary depending on the four C's and it is safe to say that you pay for what you get in a ring purchase. You can start with an $800 budget, but be aware that you will get a smaller ring with lower quality stones. Be realistic. Save your money and get the person you love what they want, but be open and honest with them about your personal budget."
-Thrasher

"The engagement ring is a beautiful symbol of love and commitment, but it should not cause so much financial stress that shopping for it is no longer fun. For those on a tight budget, there are so many great diamond alternatives available these days that do not break the bank, and are durable, sparkly, and beautiful."
-Centola

How can someone determine their S.O.'s ring style if they're unsure of what it is?

"The best way to determine one's ring style is trying on different types of rings. We at MB Diamond House compare this to like trying clothes on. It's an individual process; each style looks very different from one person to another."
-Bitton

"Look at her Pinterest page! All lovestruck girls and daydreamers will more than likely have a Pinterest folder dedicated to their dream ring."
-Thrasher

"That's the beauty of working with a designer! Given information about your love we can help direct you to a style & design that will suite your partner beautifully."
-Cahoon

"Ask their friends or family if they have heard their S.O. talking about anything specific. If all else fails, look at their decorating and fashion style. People often tend to like the same kinds of things."
-Centola
Photo: Arte De Vie
Which ring styles are best suited for certain kinds of lifestyles?

"Channel setting is sturdy and can handle daily wear versus micro pave, which is quite delicate and can more easily lose stones."
-Vastola

"Someone who's really active I think it's more important for the metal. Put in platinum, it's stronger. Also keep it [the diamond] a little lower, a bezel is fine, setting it really high if they're active isn't going to be the best for them."
-Blodgett

"Halo rings or rings with smaller side stones are great for people who are glamorous and careful."
-Thrasher

"A solitaire is pretty universal, and can be dressed up or down with bands, depending on the person."
-Centola

How does the process of buying a ring work and how customizable is it?

"First they choose the mounting, than they look at diamonds, and last we discuss the pricing."
-Bitton

"You start with the consult & sketches which leads to a final design and from there we agree on a final design and get to making. The process can be as quick as come in pick a ring that is already made all the way to a 4 month process."
-Cahoon

"If you want to design a fully custom ring, it is easiest to start with some pictures of things you like. You will work with your jeweler to get all of your ideas into one design, and your jeweler will provide you with sketches. . .At that point the ring will move into production. Turn around time can vary, but 4-6 weeks is a good guide when it comes to planning a custom ring."
-Centola