12 Engagement Ring Shopping Rules to Know Before You Buy
Engagement ring shopping is a science—we break it down with these do's and don'ts you should keep in mind throughout the process.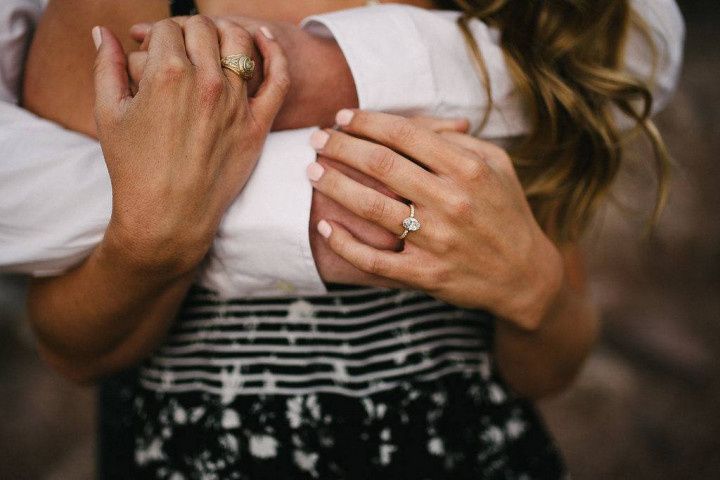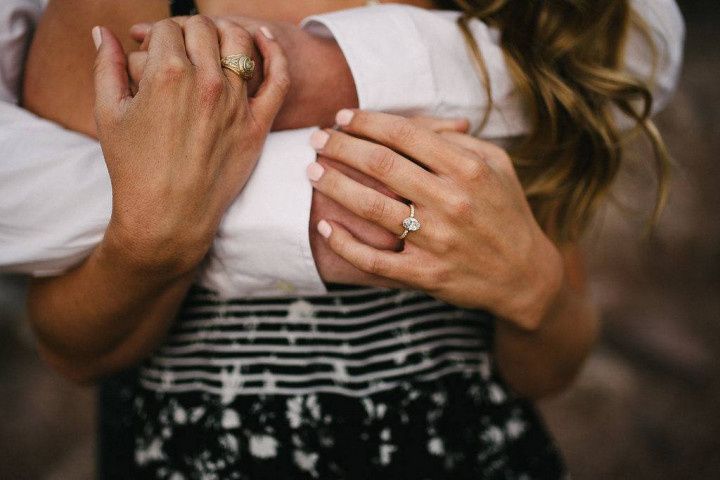 Engagement ring shopping is an exciting experience, but if we're being real, it can also be a nerve-wracking one. Buying an engagement ring is a big moment that requires two main things: choosing a ring your partner will love, and actually paying for the ring—and considering the average cost of an engagement ring in the U.S. is $5,000, it's no small investment.
But regardless of what you spend or the type of ring you buy, the engagement ring shopping experience will go much more smoothly if you prepare ahead of time. That's why we've created this list of engagement ring shopping do's and don'ts to help you understand what you need to know before you head to your local wedding jeweler, including engagement ring basics, how to find out what your partner wants in a ring, and ways to maximize your budget.
If engagement ring shopping is in your near future, use these tips to get started.
DO: Learn the basics
It pays to study up on the engagement ring basics, especially if you're planning to buy a diamond ring. You might have already heard about the 4 C's of diamonds: color, cut, clarity, and carat. All of these factors can affect the appearance and cost of a potential ring, so understanding their differences can come in handy when talking with a jeweler and ultimately getting exactly what you want.
DO: Look for hints
If the subject of marriage has ever come up in conversation between you and your partner, chances are, the thought of an engagement ring has also crossed your minds. Your partner might be dropping subtle (or not so subtle) hints about the type of ring they'd ideally want someday, and if you're ready to start engagement ring shopping, there are a few ways you can find out. Start by scouting their Pinterest boards for any recent jewelry or ring inspiration—and if you're really feeling like a detective, you can check out the content they've been liking across Facebook and Instagram (look out for other people's engagement photos and proposal stories!).
Another way to find out which type of engagement ring would be best for your partner is to ask their best friend or a close relative, like a sister or mom, for their opinion. Finally, don't be afraid to do a little bit of discreet digging in your partner's jewelry box. Pay attention to their everyday accessories: are they bold and colorful, or understated and classic? These details will help you decide which type of engagement ring would be the best fit.
Still feel unsure about how to find the right engagement ring? We can help with that! Answer a few questions about your partner's lifestyle, your personal preferences, and let us tell you what type of ring we recommend.
Take our engagement ring quiz »
DO: Set a budget—and stick to it
There's no right or wrong answer when it comes to deciding how much to spend on an engagement ring. Overall, what you spend should feel comfortable for your financial situation. Decide whether you want to pay for the entire cost of the ring at once, or if you'd rather start with a down payment and pay it off over time. The average cost of an engagement ring is $5,000, but that number can vary greatly depending on your location, the size and quality of the diamond (or other stone) you're purchasing, and the type of customizations you add, if any.
DO: Find the right retailer
Look for a wedding jeweler that offers perks like free resizing and upgrade policies. This will allow you to adjust your partner's ring band size and upgrade the size of the diamond as needed. Get recommendations from friends or family members, and read reviews of local jewelers to find one that feels right for you. If you're planning to do your engagement ring shopping online, we recommend taking time to find a reputable jeweler who offers gemstone certification, high-resolution previews, and a generous return policy. Most importantly, be cautious about online deals that seems too good to be true.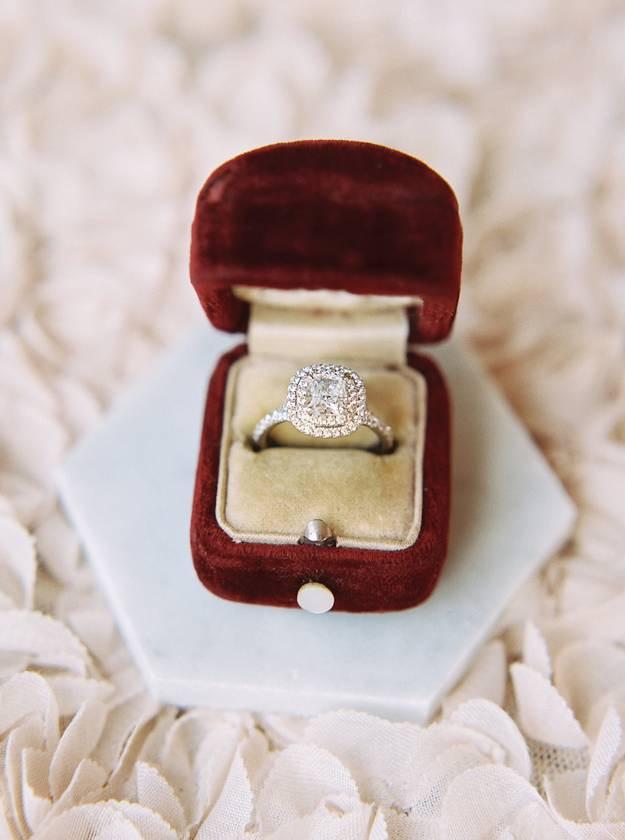 DO: Choose the setting first
When you're shopping for an engagement ring, in most cases you should choose the setting first. This is the part of the ring that will hold the main stone(s)—common engagement ring settings include halo, prong, and split-shank. When choosing the setting, you'll also need to decide which engagement ring metal you want the ring to have. Both will determine the cut and color of the center diamond.
DO: Customize together
Thinking about creating an engagement ring that's completely customized? We recommend designing it with your partner, or at least consulting with them first to get their thoughts. Since a custom ring has essentially endless possibilities, this an opportunity to bring your creative minds together and design something that reflects your partner's personal style in a one-of-a-kind way. WeddingWire research shows that about 20% of couples shop for an engagement ring together, but if you're worried about breaking tradition, consider keeping the finished ring a secret from your partner—and remember that you can still have the element of surprise with your proposal.
DO: Think about your partner's lifestyle
When you're engagement ring shopping, consider your partner's hobbies, daily routine, and overall fashion taste. Is your partner someone who's always on-the-go and doesn't like to fuss over their accessories? If so, an oversized, elaborate engagement ring may not be the most practical style—consider a minimalistic engagement ring instead. Does your partner love statement-making clothes and luxurious details? Try a unique engagement ring. For those who gravitate toward timeless, elegant pieces, a classic solitaire engagement ring is often an excellent choice. Ultimately, your wedding jeweler will be able to provide their expert recommendations.
DO: Ask questions
When you're engagement ring shopping, there are some obvious and not-so-obvious questions you should ask a jeweler before making a purchase. Be sure to cover the following topics:
How do I figure out my partner's ring size, and what if I buy the wrong size?
Do you offer regular ring maintenance, like ring cleaning services and size adjustments?
How do I purchase engagement ring insurance?
Is there an upgrade policy with the ring? How long does it extend and what does it cover?
Are all the ring materials (including the diamond and metal) conflict-free?
Are your diamonds certified by Gemological Institute of America (GIA) or American Gemological Society (AGS)?
What is the clarity, cut, and color grade of the center diamond? How does its price compare with diamonds of the same carat weight and quality?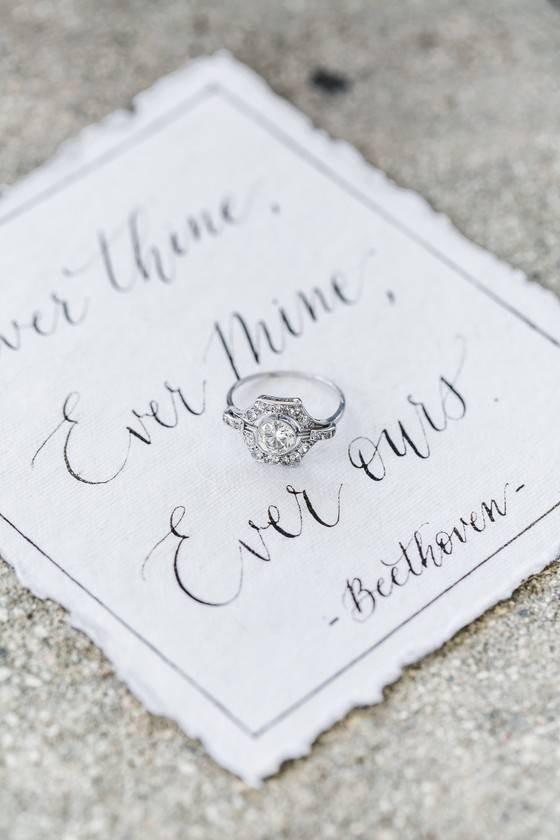 DON'T: Rush the shopping process
While most engagement rings are purchased about two months before the actual proposal, we recommend starting to research engagement rings at least six months before you're planning on popping the question. This window not only provides plenty of time to consider your partner's style, but it also gives you an opportunity to save money or budget as needed for the purchase.
DON'T: Feel like you must spend three-months' salary
This decades-old "rule" dates back to a time when average salaries and cost of living were much lower and financial debt had a totally different meaning (hello, student loans and mortgages). Remember: how much you choose to spend is a personal preference—ask yourself what you can comfortably afford considering your income, other expenses, and most importantly, the cost of a future wedding!
DON'T: Feel pressured to make a purchase
When you first go into a store to start engagement ring shopping, go in with the knowledge that you will probably not make a purchase that day. The initial trip to a jeweler should be dedicated to research and getting a feel for the process. Look at as many styles as possible. Use a notebook or your phone to take notes on styles you like. If you don't see a ring that feels like "The One" at a particular retailer, it's completely acceptable to leave without making a purchase—the last thing you want is to be pressured into buying something that leaves you with regrets.
DON'T: Stress out
While it's important to know your options and to familiarize yourself with the basics of engagement ring shopping, it's even more important to stay calm throughout the process. Buying an engagement ring should feel like an adrenaline rush—the good kind that leaves you excited with butterflies in your stomach. Don't overthink it or get too caught up in finding the "perfect" ring, because it's something you can always change in the future. Now, on to the proposal!