How to Buy an Engagement Ring Like a Millennial
Millennials are changing many aspects of society, including the way we buy engagement rings. Here's a rundown of how the engagement ring buying process has evolved.
We have included third party products to help you navigate and enjoy life's biggest moments. Purchases made through links on this page may earn us a commission.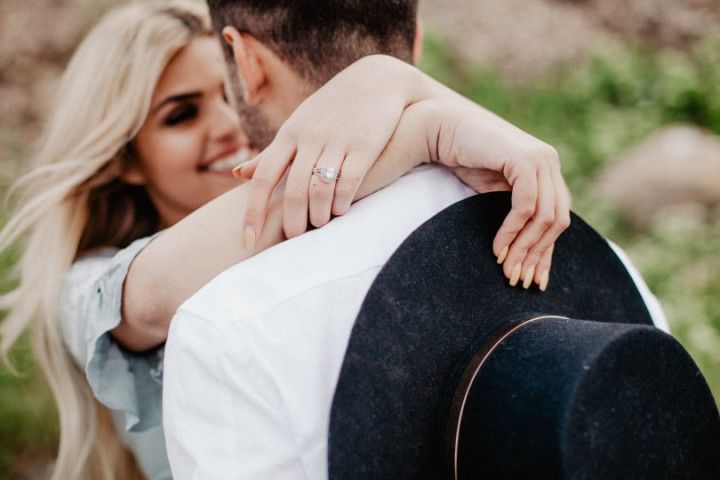 The way millennials think about how to buy an engagement ring is very different from how our parents or grandparents did things. A WeddingWire study sheds some light on how millennials are changing the game—from where they're purchasing engagement rings to how much they're spending. Want to know more about how millennials buy engagement rings? We've answered all your burning questions so you can buy the very best sparkler for your spouse-to-be—the modern way.
Here's a rundown of how to buy an engagement ring like a millennial.
Where should I shop for the ring?
While half of millennials buy engagement rings at brick-and-mortar-stores, 1 in 4 actually buy their rock online. Online jewelry sites, like Blue Nile, are popular choices for Generation Y, because they make it easy for couples to sift through a wide variety of styles, settings, and more. However, if you're more old school and want to see the ring in person before buying, don't freak out! Turns out that 1 in 3 millennials still opt to shop at mass retailers, like Zales or Jared, while nearly 1 in 3 purchase from their local jewelry store.
When should I buy an engagement ring?
Nearly 50 percent of engagement rings are purchased two months or less before the proposal. But, this doesn't mean you should wait when it comes to doing your research. In order to find the ring of your future forever's dreams, it's a good idea to start the engagement ring shopping process much earlier. This means you'll want to learn the different cuts, from classic princess-cut to trendy ovals, so you can more easily figure out what your partner would like. Keep your eyes and ears open, as well, since nearly 1 in 4 millennials drop hints to their partners about the style of ring they want.

Do I really have to spend three-months' salary on the ring?
While the two or three months' salary rule has been around since the early 80s, (thanks jewelry ads!) millennials aren't necessarily following it. According to our survey, nearly 40 percent said they paid actually less than two-months' salary on their ring, while 34 percent said they spent more than two-months' salary. So, to answer the question, use your best judgement when you buy an engagement ring and definitely don't feel you need to break the bank. After all, you'll have a wedding to plan and pay for once your future spouse says "yes".
Do I have to buy a diamond ring?
According to our survey, 70 percent of millennials still purchase a diamond engagement ring. But, nearly 10 percent opted for a precious gemstone, like a sapphire or ruby, instead. Non-diamond stones are growing in popularity because they are eye-catching and unique. Morganite, which is a pink gemstone, has been stealing the show in 2018 because it's not only affordable, but it's distinct coloring evokes a lot of personality, too.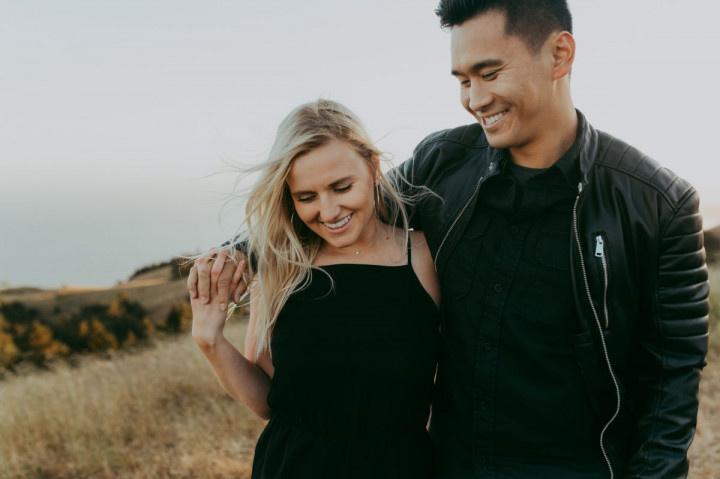 What are the most popular ring settings and styles?
Over 40 percent of millennials buy engagement rings with diamonds on the band. Engagement rings with settings like, pave, halo, and channel, are popular choices because they add a bit of dazzle and glitz to a standard band. Actually, 19 percent of millennials opted for a halo setting, which is where diamonds encircle the center stone making the rock appear larger. As for the preferred style of engagement rings, millennials are choosing stones that are uniquely cut to create a one-of-a-kind look. Our survey found that 1 in 4 couples said their engagement ring features a non-traditional cut, such as the oh-so trendy pear-shape, which is much different than the classic round shape we've seen in the past.
Should I invite my S.O. to go ring shopping with me?
Wondering how to buy an engagement ring that your S.O. will absolutely love? Go ring shopping together! One of the major ways millennials have changed the way they purchase engagement rings is that they go shopping with their partner. Twenty percent of millennials said that they go to the store with their S.O. to either try on rings or pick out the specific ring they want. This is a great way to know exactly what they want without having to snoop around on their secret Pinterest boards. However, if you still want to keep the ring a surprise, you aren't alone. The WeddingWire survey found that 32 percent of couples kept the ring a secret until the proposal. Actually, 19 percent of millennials talk to family and friends for ring ideas or advice while 14 percent go to a jewelry store with someone close to their partner to pick out the ring.
Disclosure: This post contains affiliate links, some of which may be sponsored by paying vendors.