Planning a proposal is an extremely personal and emotional event—not to mention a pretty BIG deal. Once you've decided that you're ready to spend the rest of your life with someone, the next step is sifting through the different ways to propose and deciding how you should pop the question. There are millions of romantic ways to propose, and "romantic" means something different to every couple, but whatever you choose should reflect you and your future spouse. Need a little help? These marriage proposal ideas are a great source of reassurance and inspiration for your own engagement moment. Trust us, you've got this!
Start planning your own bended knee moment with these romantic ways to propose, inspired by real couples.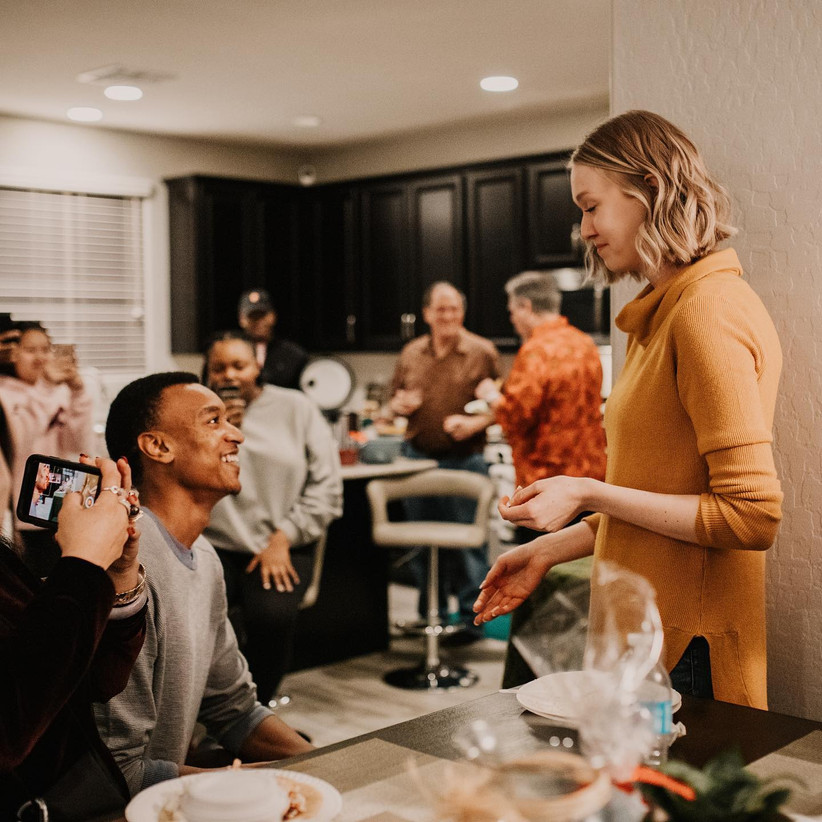 Surrounded by family
Announcing your engagement to your friends and family is an exciting moment, but it's even better when they're there to witness the proposal for themselves!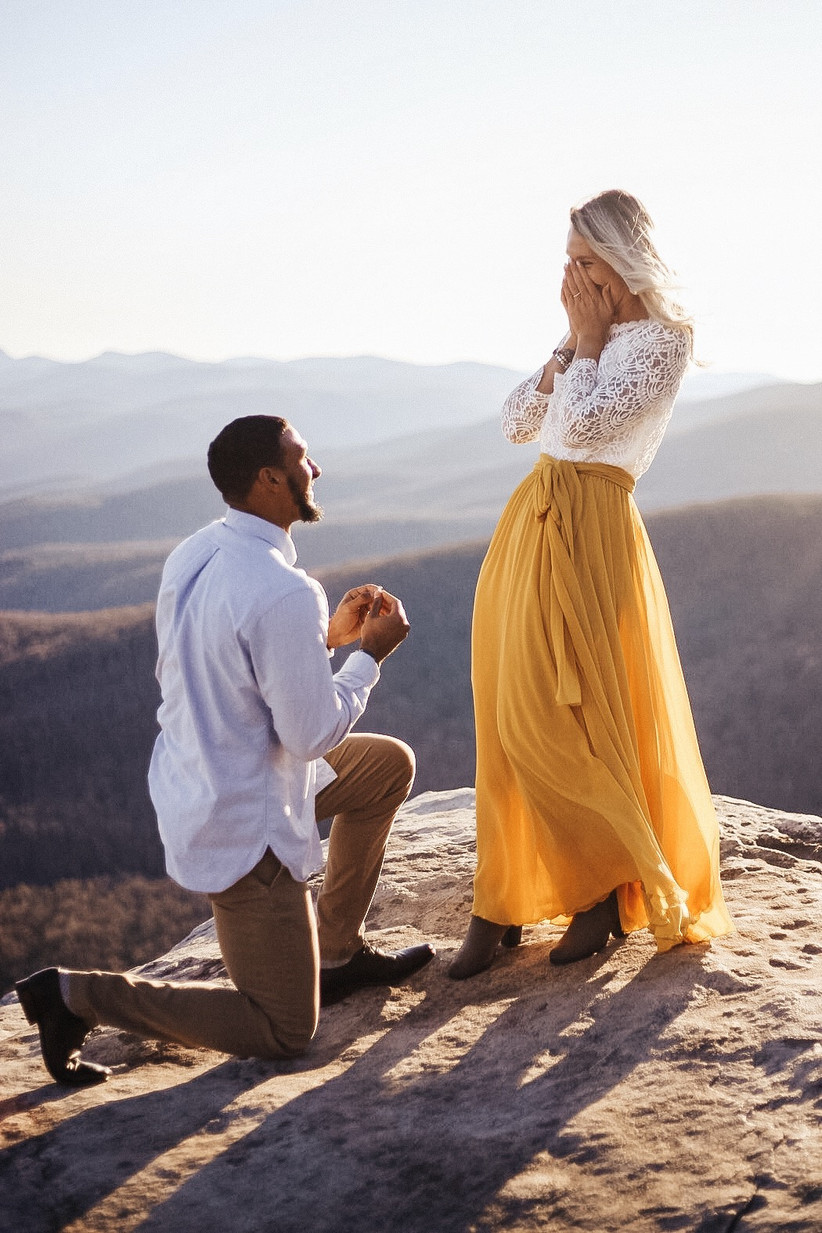 On top of a mountain
There's nothing like feeling on top of the world...when you're actually on top of the world. Proposing on a picturesque mountain or hilltop will give both of you the butterflies, and not just because of the view.
With your pets
If you already share pet parent duties with your partner, why not also involve your pets in the proposal? You can secretly add a new tag to your pet's collar with a proposal message, or create a custom sign to help you pop the question.
On the trip of a lifetime
Whether you're traveling abroad or taking the cross-country road trip that you've always dreamed about, a big trip with your S.O. is a memorable time to propose. Do your research ahead of time to find at least one spot where you'd like to propose, like this town square in Havana, Cuba, but don't be afraid to go with the flow if the time feels right somewhere else during your trip. And there's no need to worry about the post-vacay blues when you return home—you'll be too busy basking in your engaged couple bliss!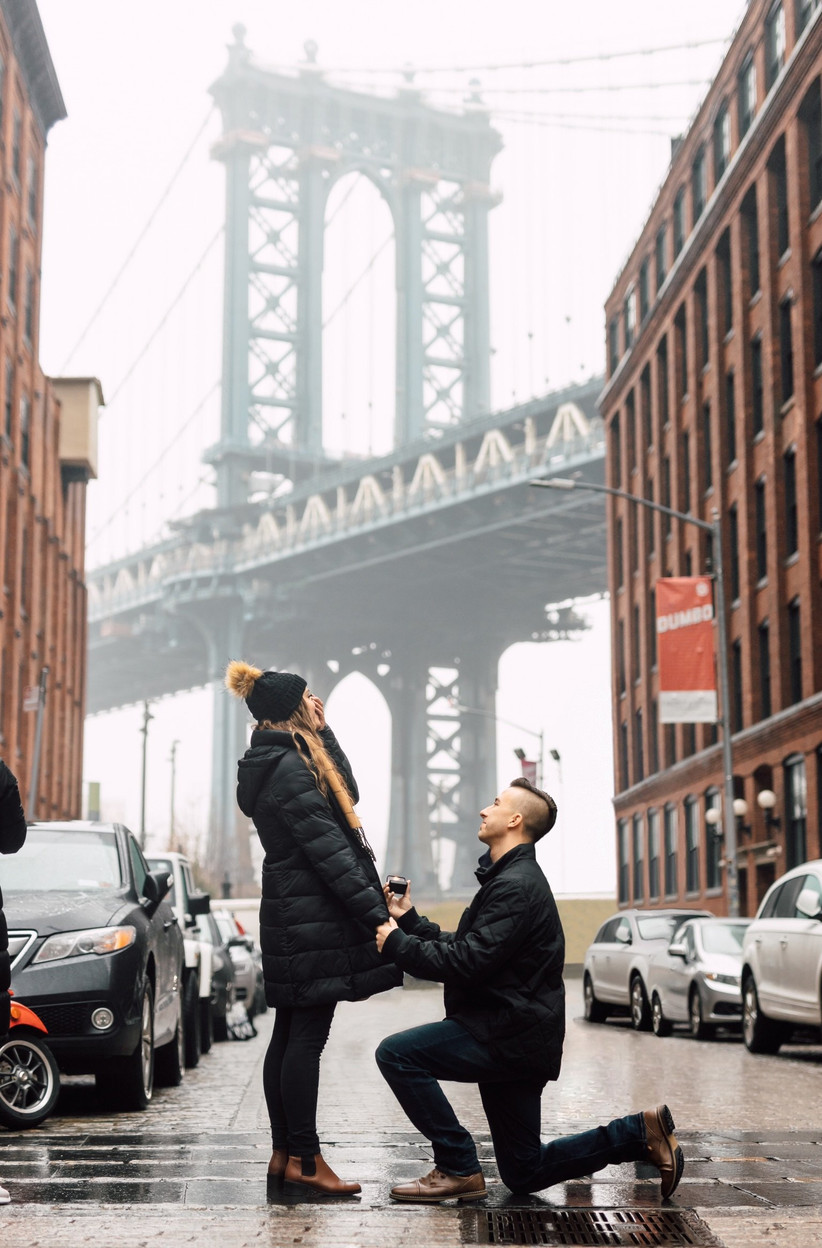 Under the Brooklyn Bridge
Whether you live in NYC or are just visiting, the Brooklyn Bridge (specifically this iconic spot in DUMBO) is an excellent backdrop for a proposal. It's also a great place for your proposal photographer to remain incognito and blend in with camera-wielding tourists until the big moment arrives.
On a scenic hike
Outdoorsy couples, this idea is for you. Pop the question during a hike to get the best of both worlds: privacy and a gorgeous setting. Even better if you can find a waterfall!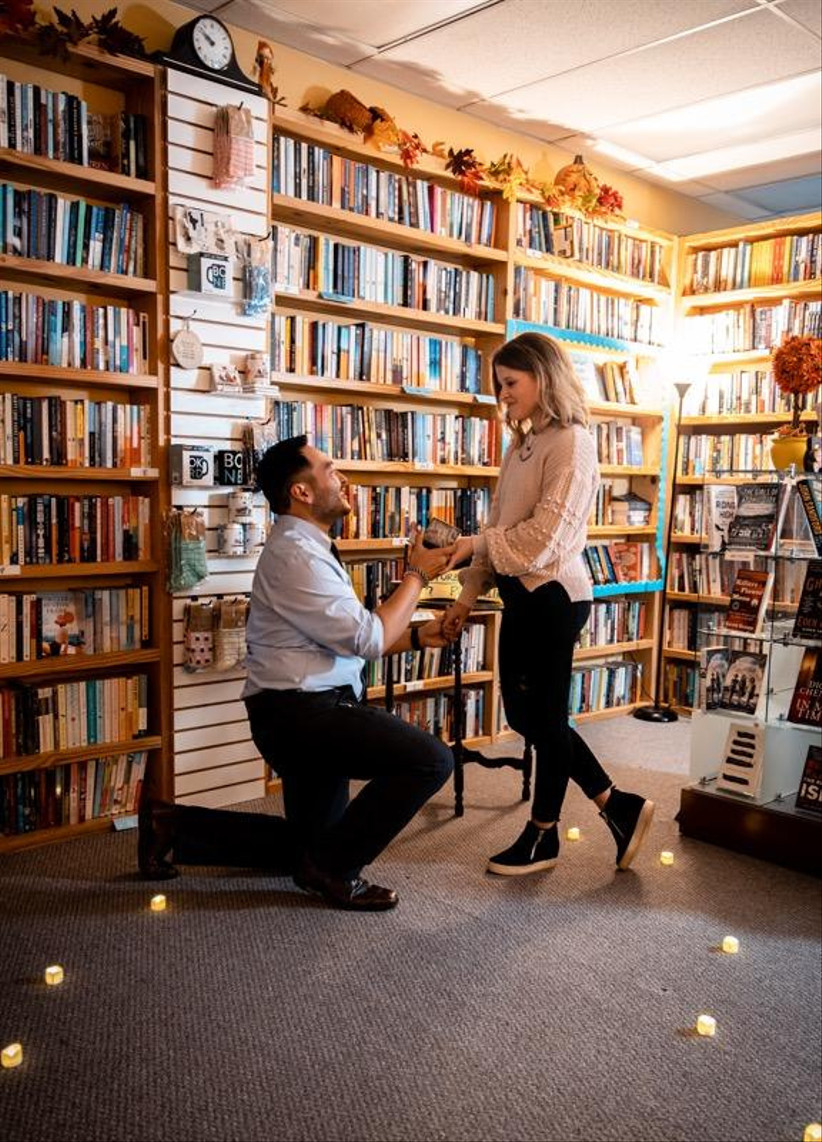 At a bookstore
Wondering how to propose to someone who loves books? Take them to their favorite bookstore and use it as the backdrop for your romantic gesture. Let the store know about your plans in advance to ask if they can arrange some privacy or will let you add any decorations.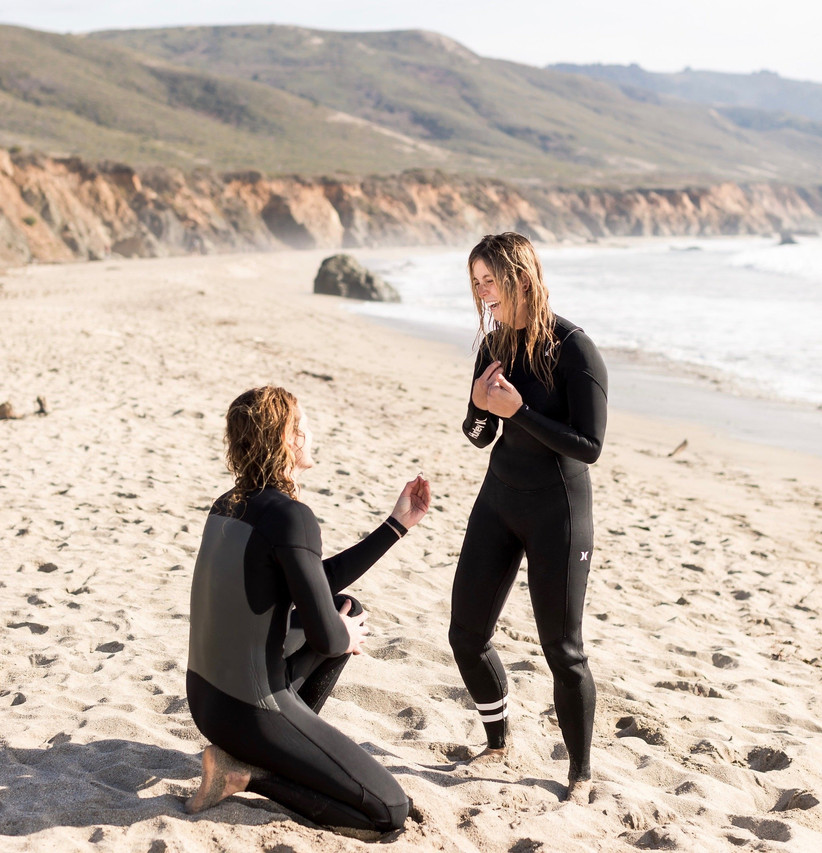 During a surf sesh
This couple got engaged—wetsuits and all—after catching some waves together at the beach. Not surfers? Think about proposing however you and your partner like to exercise together, whether it's a run on your favorite trail or a relaxing hot yoga class.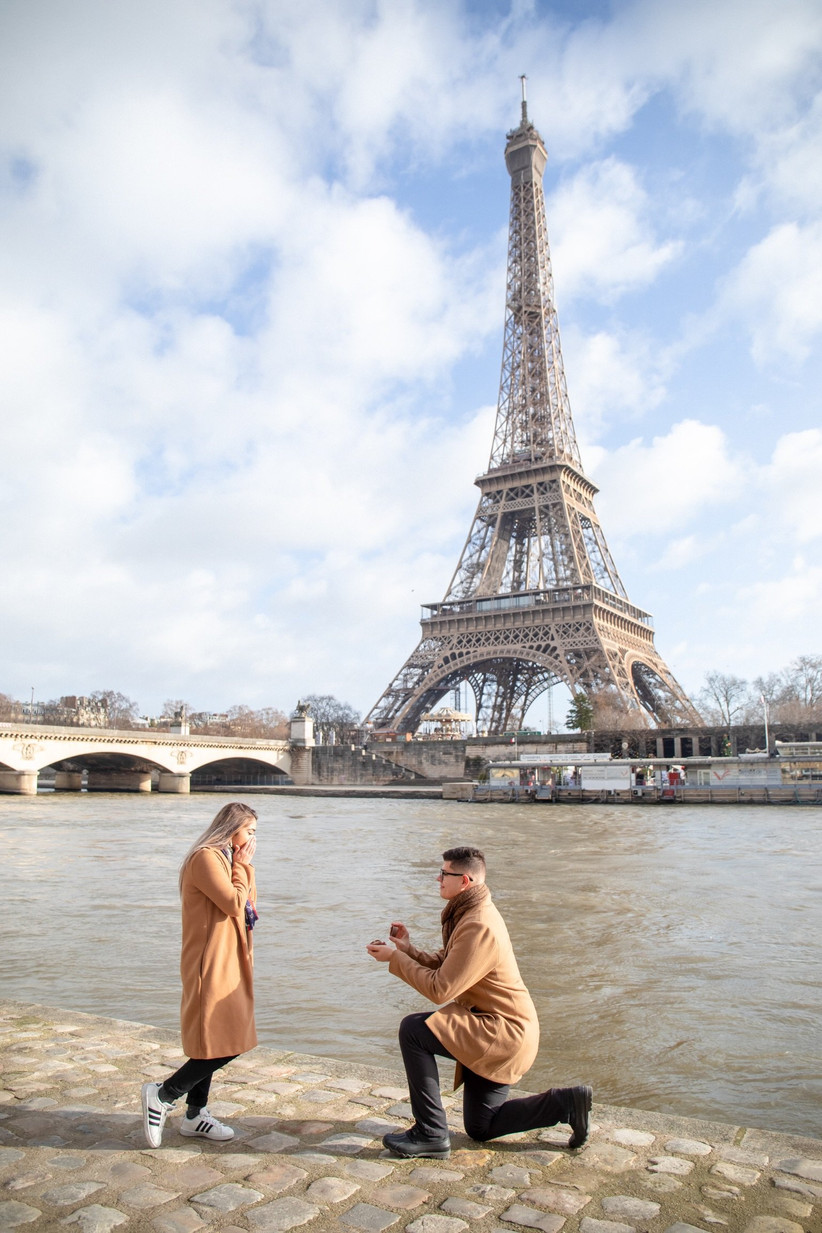 While exploring the City of Love
Getting engaged during a trip to Paris is one of the most romantic ways to propose—try to argue with us. From the Pont des Arts to the Eiffel Tower, there are so many iconic backdrops in the City of Love that you practically can't go wrong. Not able to make it all the way to Paris? Luckily, there are a handful of European-inspired cities right here in North America, like Montreal, Washington, D.C., and New Orleans.
With a caricature
Not only is this one of the most creative ways to propose, but the caricature will become a special keepsake you can treasure for the rest of your lives.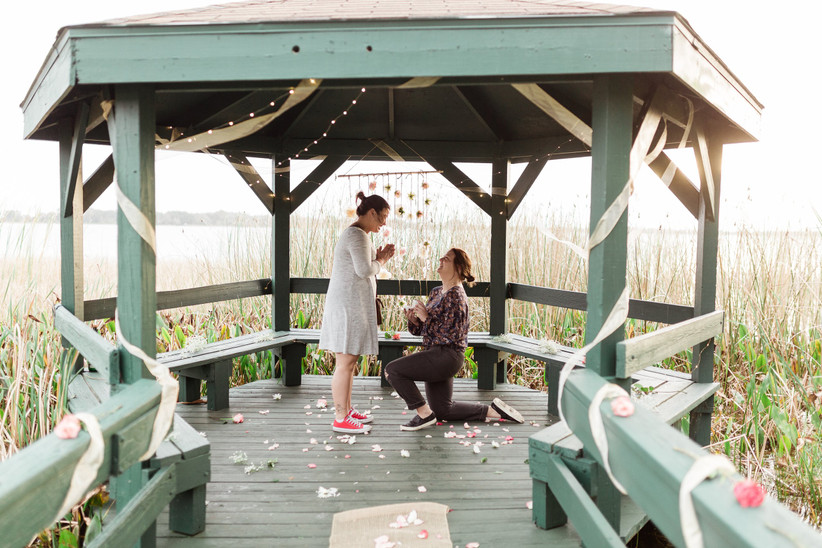 Surrounded by flower petals
You can create a dreamy proposal space practically anywhere by using rose petals to form an aisle leading to the exact spot where you'll ask for their hand in marriage. A scenic spot is always nice, but you can also create a cozy backdrop at home.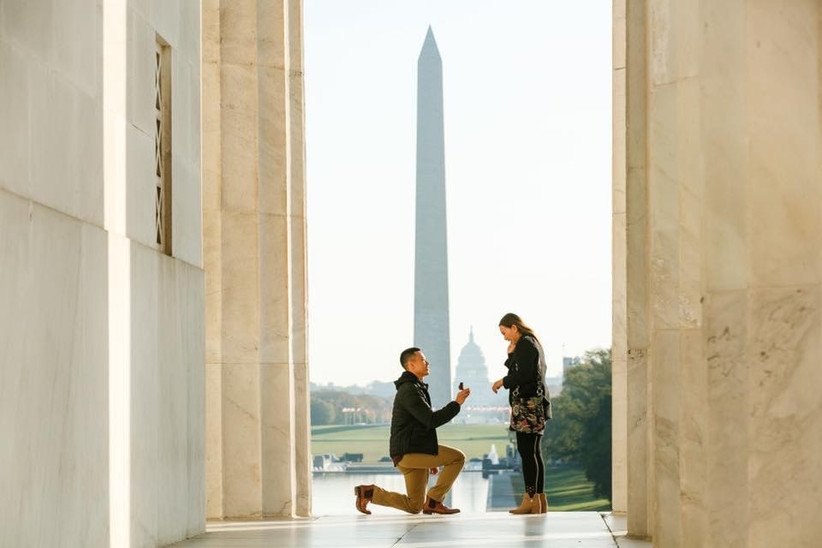 Overlooking a city monument
If you and your S.O. are city dwellers, take them to one of the best lookout spots in town and pop the question with an unforgettable view. This couple got engaged overlooking the monuments at the National Mall in Washington, D.C.
In a rainforest
Traveling to a tropical island? Whether you're headed to Hawaii, Asia, or somewhere in the Caribbean, you'll have no shortage of amazing rainforest scenery to serve as a stunning location for your proposal.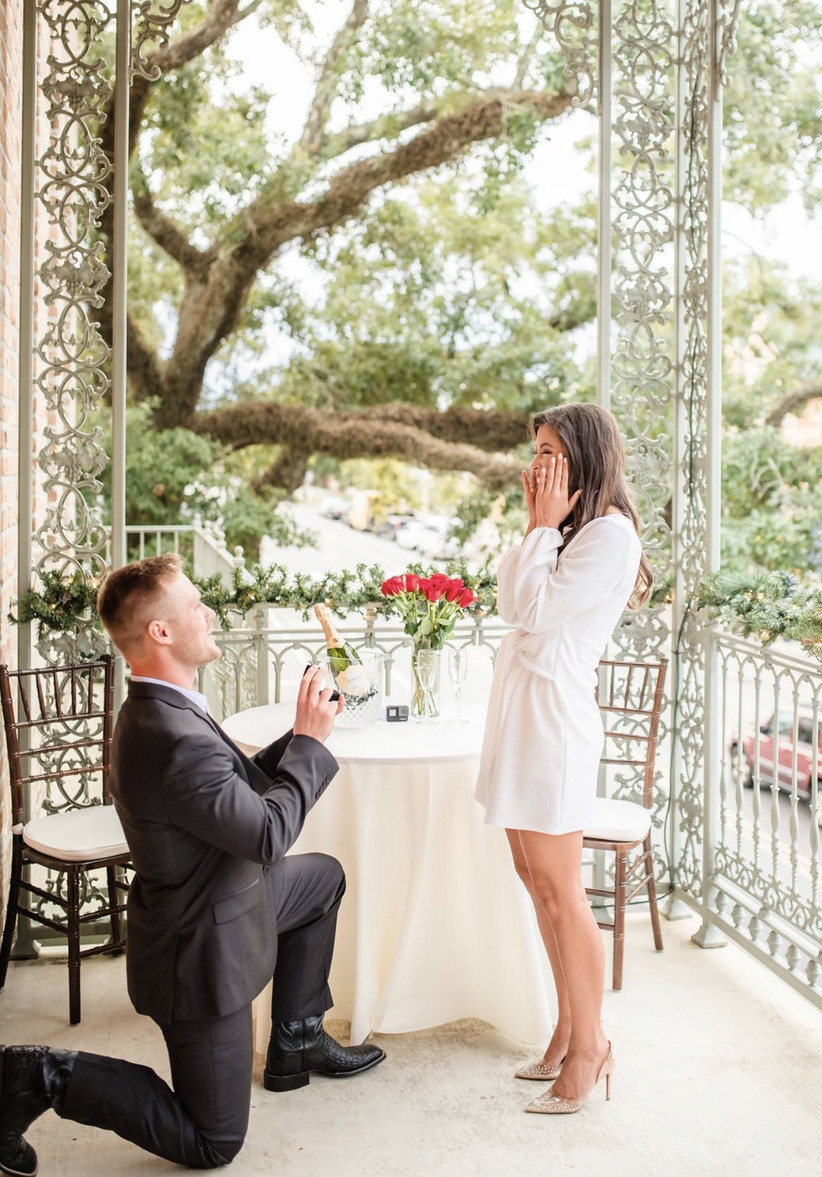 With champagne and flowers
Sometimes, it's the little details that make the biggest difference. This simple yet sweet balcony setup with red roses and an intimate table for two is oh-so romantic. Bonus points for having the champagne chilling ahead of time!
At a waterfront location
This proposal idea is perfect if you and your partner love spending time outdoors. Maybe you have a favorite weekend hangout spot by the lake, or maybe you vacation at the same beach together every summer. A waterfront venue is already a great place to propose, but you can make it even more special by choosing a place holds meaning for the two of you.
While Christmas tree shopping
The holidays are already the most wonderful time of the year—make them even more memorable with a proposal! If you celebrate with a Christmas tree, pop the question while you're searching for the perfect tree.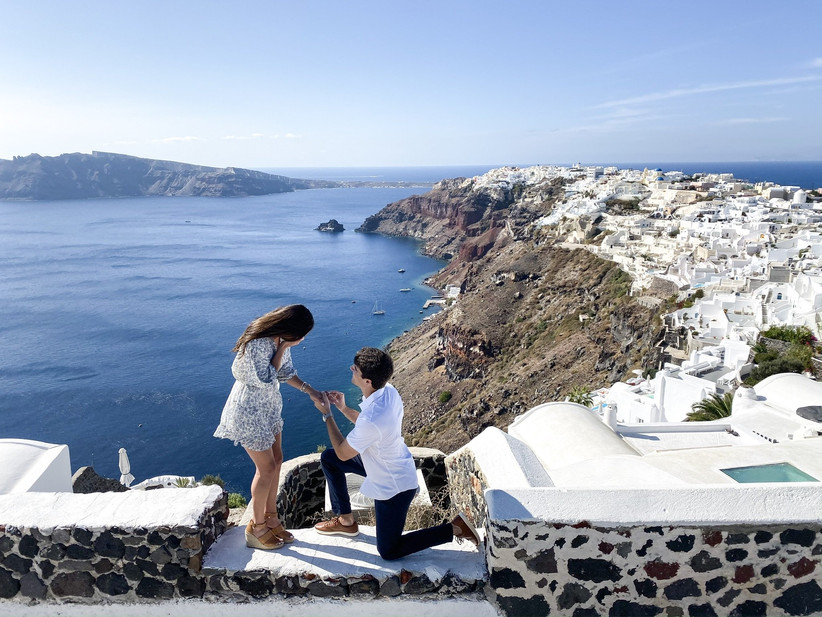 On a hilltop in Greece
There's nowhere else in the world like Greece, which is why it's a truly amazing place to get engaged. Find a scenic spot on a hill and ask your partner to marry you, then enjoy a sunset dinner overlooking the water.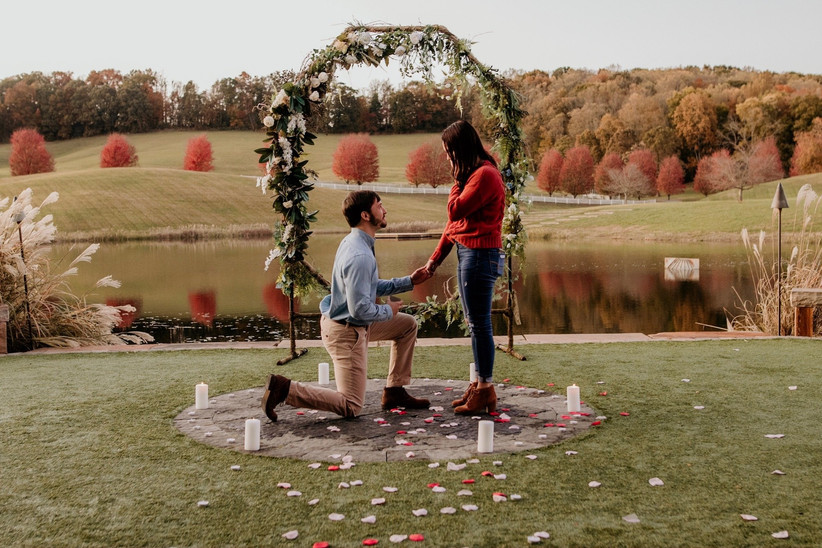 At your future wedding venue
If you and your S.O. have talked about marriage before getting engaged, you might even know the wedding venue where you'd ultimately want to have your wedding one day. This couple got engaged in the same spot where they're planning on marrying!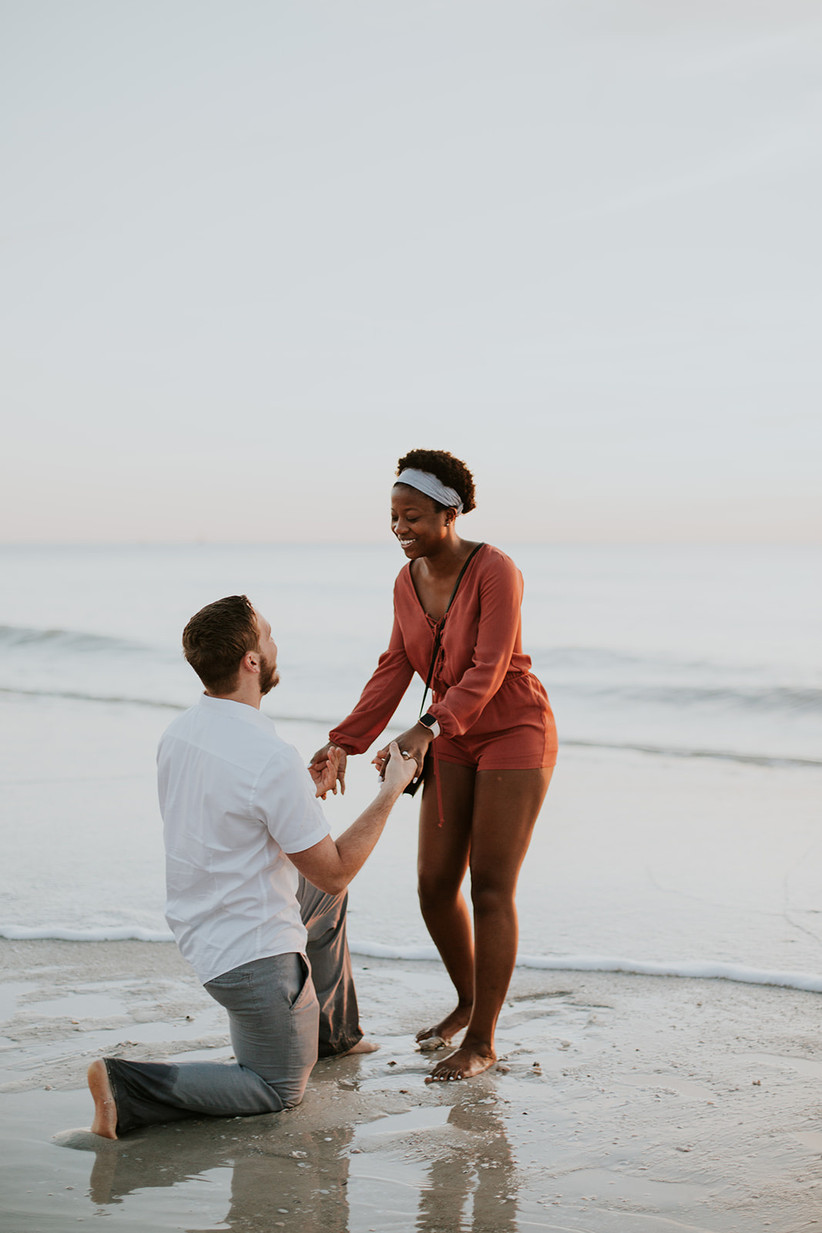 On the beach
It's hard to go wrong with a proposal on the beach! For your own #justsaidyes moment, choose a beach that holds special significance for the two of you as a couple, or start a new tradition by popping the question at a beach you haven't visited before.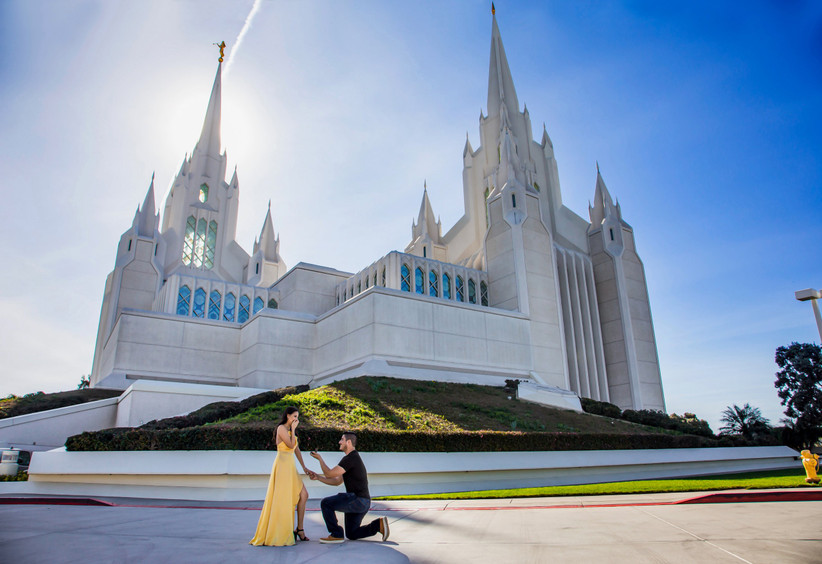 At your house of worship
Proposing at your house of worship is extremely special if you and your partner are a religious couple—especially if you're hoping to also get married at the same location.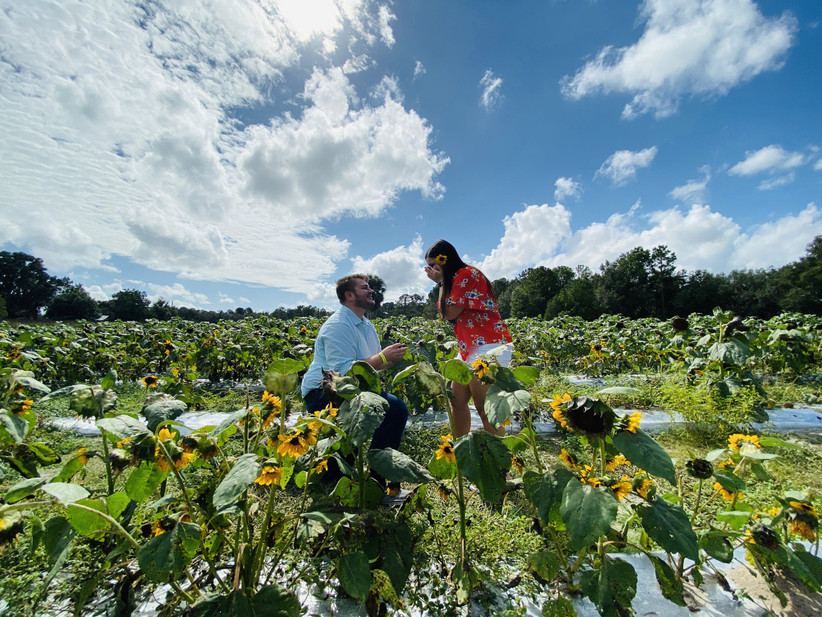 In a field of flowers
We imagine that it would be any flower lover's dream to get engaged in a field surrounded by colorful blooms. Check with local farms and orchards to see if they have public flower fields on their property and what types of flowers would be in season when you're thinking of proposing.
At the Grand Canyon
Whether you choose an iconic location like Horseshoe Bend or a spot away from the beaten path, you can't top a proposal at the Grand Canyon, which is why it tops our list of romantic ways to propose. Make it even more memorable by planning the big moment for sunrise or sunset, or go all out with a private helicopter ride.
In Central Park
There are dozens of places to propose in NYC, but getting down on one knee in Central Park is at the top of the list of romantic ways to propose. Even though the Big Apple is one of the busiest cities in the world, you can almost always find a private spot in Central Park if you wander long enough!
In a forest
For a total fairytale moment, ask bae to marry you with the magical redwood forest as your backdrop. Even if you aren't in the redwoods, any forest will do — it's a seriously romantic way to propose, especially when you add a blanket with rose petals and votive candles.
During a picnic
There's something classically romantic about going on a picnic with your love. The best part about this proposal idea is that you can make it as elaborate or as simple as you want!
With live music
If you want to capture your proposal on film, live music (or another type of performance) provides an ideal opportunity to do so. You'll have an excuse to get the camera rolling without completely revealing your plan. Plus, music will add to the ambience of the proposal!
Written on cupcakes
Here's one of the most creative (and yummiest) romantic ways to propose: cupcakes. This proposal idea requires a bit of coordination if you want to arrange something in advance with a bakery, but you could also put your own spin on it at home by making the cupcakes yourself.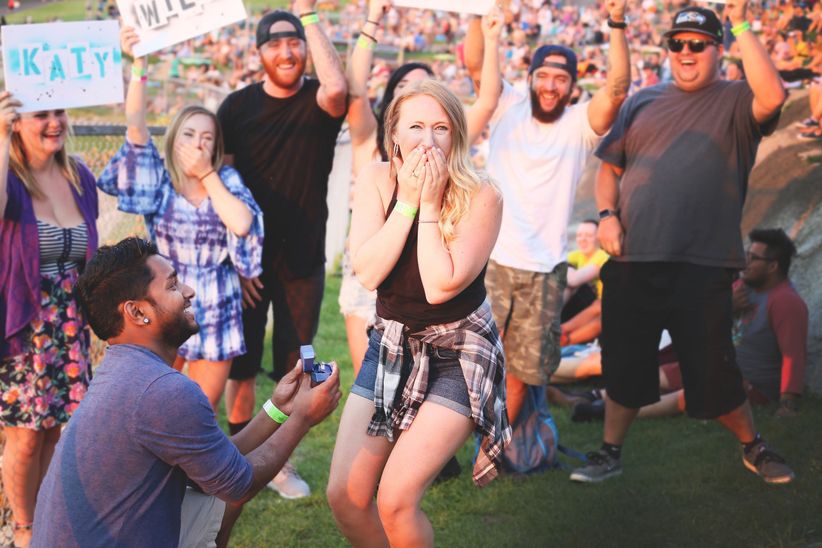 At a concert
If you and your S.O. aren't afraid of the spotlight, pop the question onstage at a concert. This of course takes a fair amount of coordination beforehand, and unless you have a connection to the performer, it could become complicated or downright impossible. But you don't have to be onstage to make it a memorable moment — get tickets to see the first artist you saw in concert together, or propose during a special song that you both love.

On horseback
A proposal made this "pinch me" moment completely unforgettable (as if a horseback ride on the beach at sunset wasn't romantic enough!).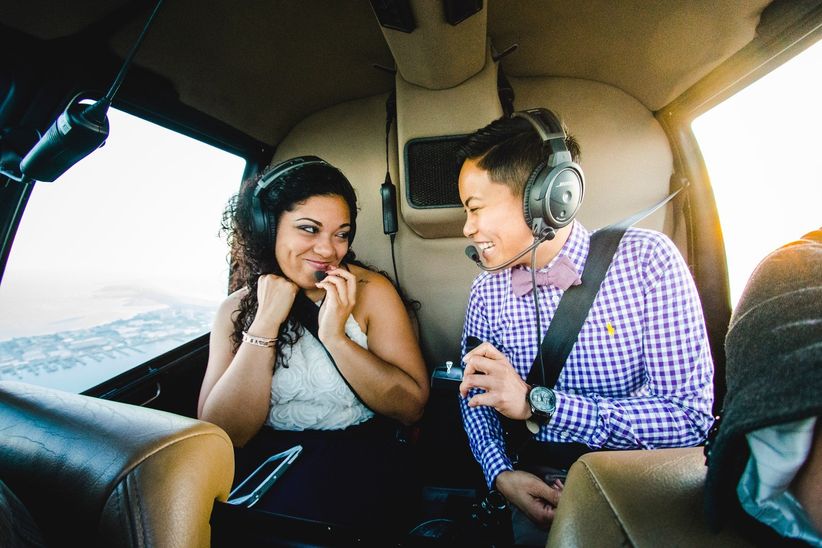 During a helicopter ride
This is one of those proposal ideas that isn't for the faint of heart (or those with a fear of heights), but asking your love to marry you while soaring thousands of feet in the air is definitely one of the most romantic ways to propose.

Using photos from your relationship
This is the perfect idea for the sentimental couple. Create a sweet backdrop for your proposal by displaying all of the pictures you've taken together throughout your relationship. Aside from pictures, you could also use other special mementos, like love notes or concert ticket stubs.

At Machu Picchu
A failsafe option on our list of romantic ways to propose: visit one of the seven wonders of the world and surprise your S.O. with the question of a lifetime.

On a boat ride
This proposal happened on a gondola ride while cruising down the Grand Canal in Venice, but if there's no trip to Italy in your near future, any type of boat ride would be just as romantic.
In a tunnel of string lights
If you're proposing around the holidays, take advantage of seasonal backdrops and decor to create an unforgettable (and festive) moment. This gorgeous tunnel of lights is located in Japan, but you don't have to travel to the opposite side of the world to pull off the same effect — a festival of lights or holiday market in your hometown is just as romantic.
While ice skating
Even if you can barely stand on your own two feet, ice skating is always a fun date idea, especially around the holidays. Bringing your S.O. to the center of the rink and getting down on one knee is one of the most unforgettable romantic ways to propose. Just make sure they're okay with being the center of attention!
Beneath the Northern Lights
If you're in a place with incredible scenery, catch your loved one off guard by setting up your camera and faking a "selfie moment" like this groom did! You can sometimes see the Northern Lights in parts of North America if you want to recreate this couple's engagement, but stargazing or overlooking a city skyline would be equally romantic.
With a huge banner sign
This type of grand gesture is definitely not for the shy couple, but that's why we love it! Let the whole world (or at least your town) know that you're in love by asking your S.O. to marry you via a huge custom sign.
By reversing the roles
Yes, it's tradition in heterosexual relationships for a man to propose to a woman, but this is the 21st century, people! If you're a girl who simply can't wait any longer to get engaged, why not take matters into your own hands? You've found the one you want to spend your life with and shouldn't feel the need to hold back because of taboos. Proposing as a woman is a romantic gesture that shows that you're confident and open-minded — two amazing qualities that are an important foundation for any relationship.