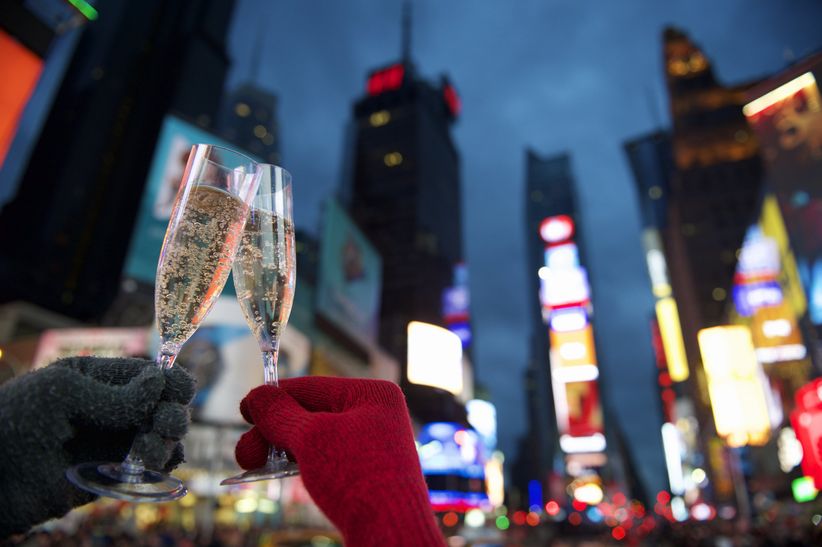 December is a month that feels snow-covered in magic. From the chill in the air to the renewed focus on community, the wonder of the season is felt throughout every street corner. This makes this time one of the dreamiest times to pop the question—and there are so many romantic places to propose to choose from! Because the spirit of joy and happiness often transcends over any arguments or stressful periods, many couples decide to take their relationship to the lifelong level between Thanksgiving and New Year's Day.

Even so, when you dream of your perfect proposal, you might not want to be sitting around the Christmas tree or lighting a menorah when you're asked to wed the love of your life. If instead you'd prefer to be on vacation (wouldn't we all?) - give the hint to your partner to head out of town to celebrate both the holiday - and your upcoming nuptials!.
Here, the absolute most romantic places to propose during the holiday season.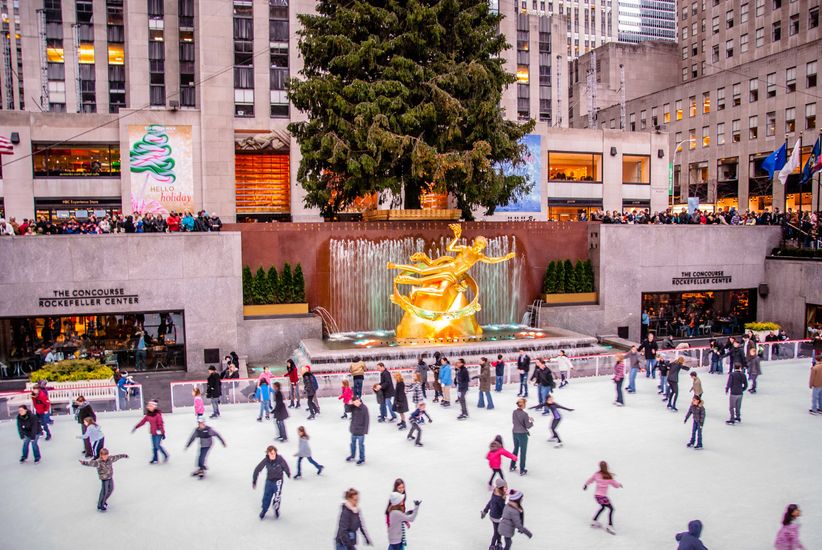 New York City
While it'll most definitely be chilly when you're checking out the whimsical holiday display windows on Fifth Avenue as you make your way to Rockefeller Center to see the oversized, beautifully decorated tree, you won't feel the frost because you'll be captivated by the splendor of holiday lights. New York City is truly one of the most romantic places to propose in the U.S. The options are as tall as the buildings, since the whole city is decked out in holiday charm. Pack a warm jacket to see all of the sights, from Macy's to the locally-made goods sold in Bryant Park and the chance to test your ice skating skills in Central Park. While the hustle-and-bustle the Big Apple is known for might be even more jampacked than other times of the year, tourists and locals alike are a little softer, as they relish the stillness that somehow makes it way over the skyscrapers.

Stay at the Sanctuary Hotel, where the classic charm of old New York will sweep you away, and you can have a bottle of bubbly sent to your suite near Times Square to toast to your future together.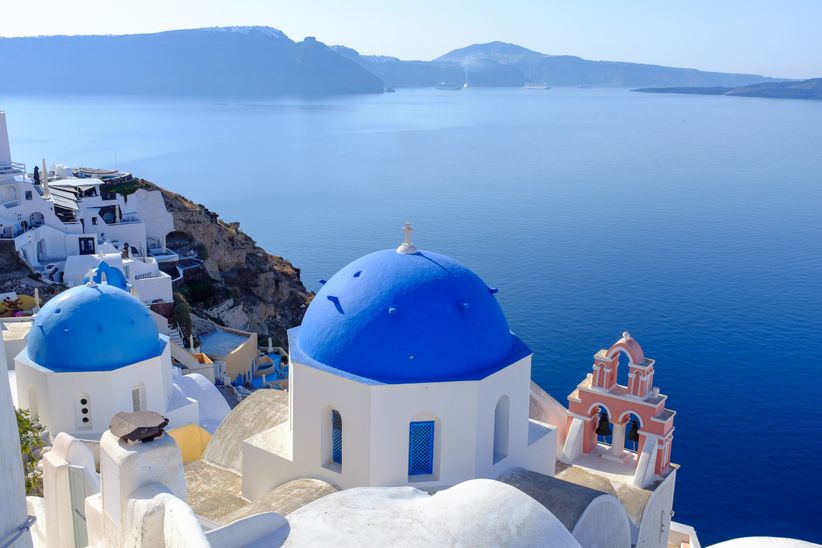 Santorini, Greece
Even in December or January, Greece still features warm-ish temperatures but attracts less visitors, making you feel as if you have a private island to yourself. The blue hues of the sea set against the must-see purple and pink sunsets over Oia make for the ideal backdrop for the 'we're engaged!' Instagram selfie. Your partner can book a reservation at a restaurant with a view (we recommend Lauda), where an attentive staff will make every course - including the one where the ring is revealed! - unique and romantic. Thanks to the natural beauty of this sought after destination by couples, every speck of Santorini - from the white rooftops to the breeze that waves the holiday decorations - will remind you of that magical time you said 'yes!'

Stay at Santo Maris Oia, just a short walk from the heart of Oia, where nearly every room offers an ocean view and private jacuzzi.
Tuscany, Italy
If you and your partner's idea of a vacation away together centers around what you'll eat and drink, there's perhaps no more romantic place to propose than Italy, where foodie couples rejoice. While any city - from Rome and Venice Milan - will offer holiday-inspired markets, shops and experiences, consider making your way toward Florence and Pisa to trek to Tuscany. Though you might not be cementing your love underneath the Tuscan sun, you will be bundled up together, sipping wine and enjoying the lights, wreaths and shops that abound nearly every vineyard. At many, you can even have a bottle engraved with the day you got engaged, creating a keepsake you'll pass down to your grandchildren.
For the evening of your proposal, stay on the private estate and hotel of Castello di Casole, where you'll be sent back into the region's history while enjoying modern luxuries.
Vail, Colorado
For the snowbunny twosome who spends as much time as they can swishing down the slopes, the holidays are less about congregating near a tree or a table, and more about racing up the chairlift. With some of the most beautiful views and skiing experiences in the world, your annual trip to Colorado might produce a different type of Instagram photo this year. Though there are many regions in this state to choose from, for a proposal, splurge on Vail, where settling in by the fireplace after a day of going-up-and-down mountains will warm your heart - and perhaps, add a diamond to your finger. Regardless if he or she is brave enough to carry the ring to the top of a peak or if they decide to get down on one knee while roasting s'mores, it'll be an experience you'll never forget.

Stay at the Four Seasons Resort and Residences Vail to ring in the beginning of your engagement with epitome of luxury in this region of the country. And hey, don't forget to put that 'Do Not Disturb' sign to good use, soon to be Mrs.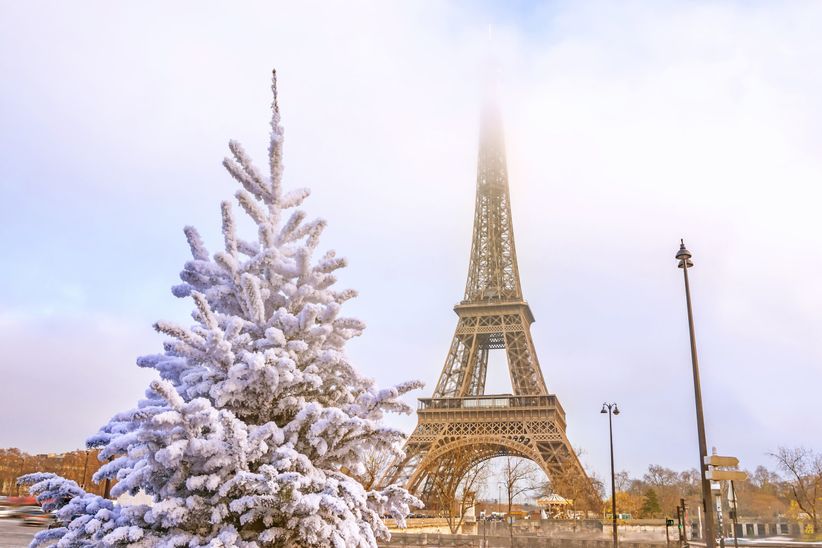 Paris, France
You'll be excitedly proclaiming 'oui! oui!' from the moment you touchdown in Paris during the holiday season. As if the City of Lights wasn't a city filled with amour already, the arrival of Christmas and other December celebrations make it an even more romantic place to propose. Bundled up in your sleekest Parisian-inspired garments, you can make your way to see the Eiffel Tower, Champs Elysees and the Louvre, sampling macarons and crepes as you stroll around the decorated city streets. Since there is no lack of spirits every which way you turn, you'll feel like you're (happily!) lost in a wonderland of wine.

Instead of opting for an expensive hotel room, consider booking an apartment to share from Paris Perfect. Here, your partner can make your engagement truly one-of-a-kind, covering your home-away-from-home with rose petals, candles and whatever else sets the mood.