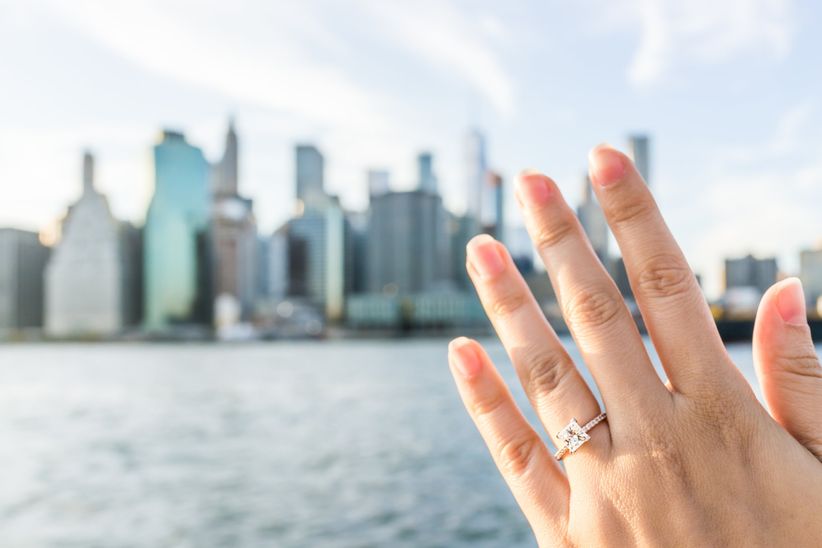 Whether you're a native New Yorker or just in town for a visit, you probably know that NYC is one of the most romantic cities in the world—and a perfect place to pop the question. With so many incredible places to propose in NYC, you may have a tough time finding the right spot amidst all the amazing locations NYC has to offer.
Here, a list of our tried-and-true favorite places to propose in NYC.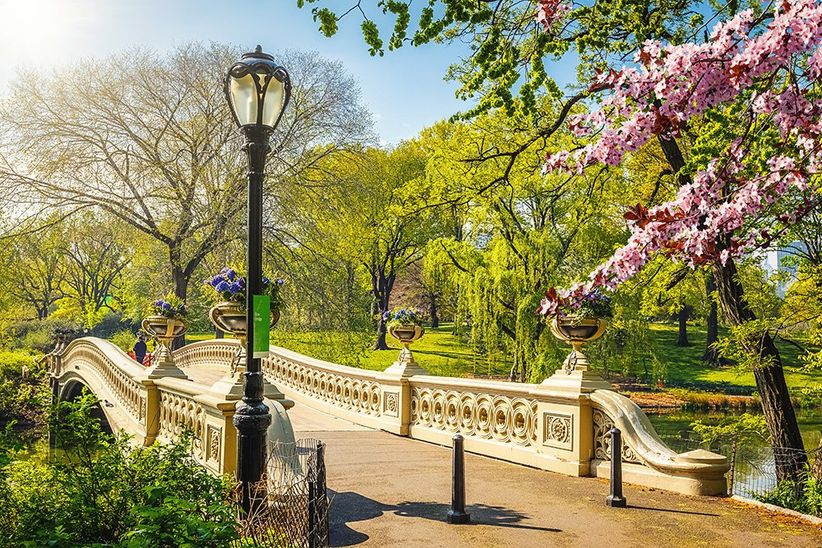 Central Park
If you're wondering where to propose in NYC, Central Park is a great place to consider. Within this expansive green space, there are a variety of specific spots that make truly romantic proposal locations. Some of our favorite places to propose in Central Park include: Strawberry Fields (a memorial to John Lennon), Bow Bridge, the Central Park Boathouse restaurant, Bethesda Fountain, and Belvedere Castle. If Central Park is your proposal spot of choice, do note that the park tends to get super-crowded on nice days, so if you're hoping for a more private proposal, try to bring your sweetie there in the early morning hours for a more intimate moment.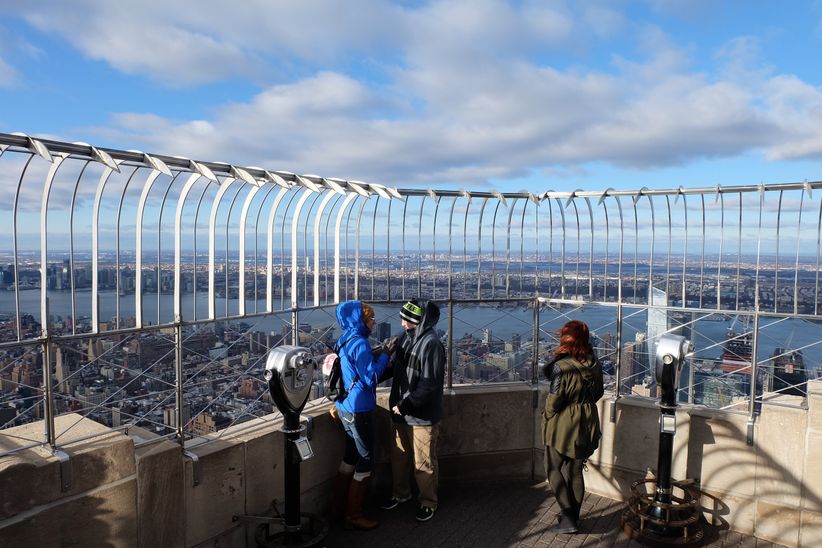 Empire State Building
If you've seen the movie Sleepless in Seattle, you probably already know that the top of the Empire State Building is a totally romantic spot—and one of our favorite places to propose in NYC. Of course, it's a major tourist destination so it might not be the most private, but if that doesn't faze you, you and your sweetie will love the incredible views from the top of this 102-story building. Be aware that the top Empire State Building is open 365 days a year, from 8 a.m. to 2 a.m. (last elevator up is 1:15 a.m.) so whether you're planning on popping the question in the morning, afternoon or late-night, the Empire State Building is the ultimate NYC proposal destination.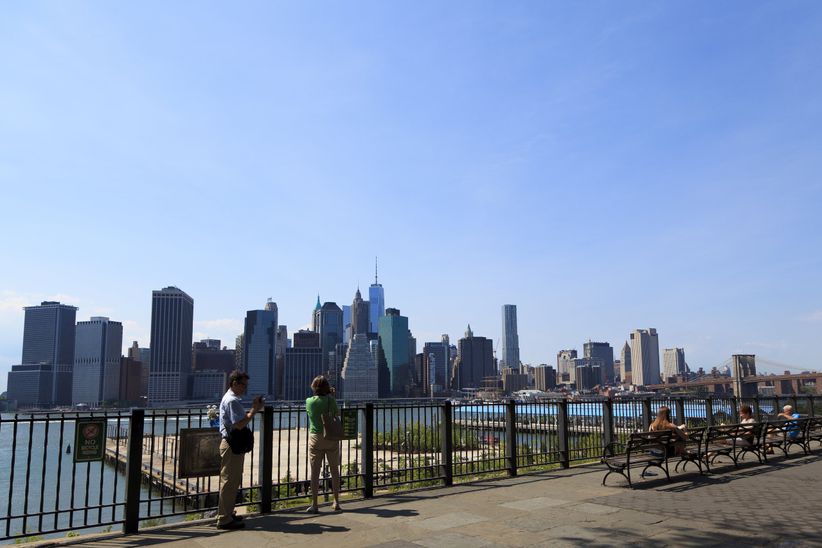 Brooklyn Heights Promenade
Looking for the ultimate "I Love NYC" moment for your proposal? Then head to the Brooklyn Heights Promenade for the ultimate view of the Manhattan skyline. The walkway is about 1/3 of a mile—take a stroll, and then sit down on a bench to ask the big question. We particularly love this spot at sunset or in the evening hours, when you can see the city all lit up.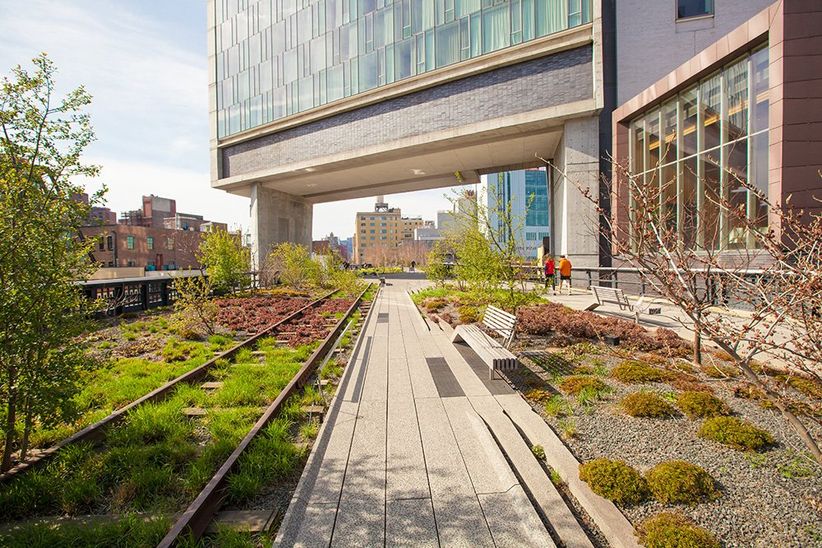 High Line
Located on the West Side of Manhattan, this "elevated park" allows you to walk from the Meatpacking District to Midtown. You'll find urban gardens, art installations, and other attractions, as well as gorgeous views. In the evenings during the warmer months, you can stargaze with members of the Amateur Astronomers Association—so romantic! Or for a more casual proposal, grab a drink at the Frying Pan or enjoy a meal at The Porch.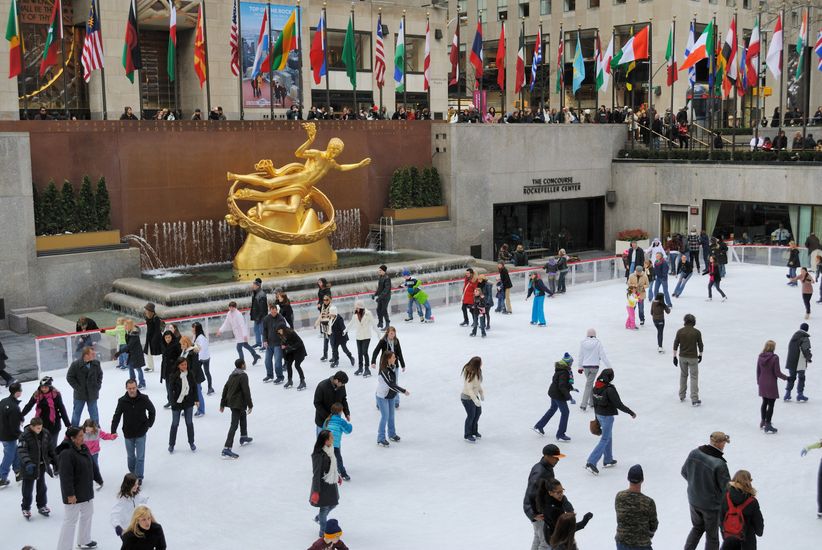 The Rink at Rockefeller Center
One of the top places to propose in NYC during the holiday season, this huge ice skating rink is open from mid-October through early April. It doesn't matter whether you and your partner fancy yourselves Olympic pairs skaters or will spend your entire skate hugging the wall, ice skating is a totally romantic activity, and there's nothing cuter than a wintertime proposal in the center of the rink. In fact, the Rink at Rockefeller Center offers several engagement packages, where you can get special passes, exclusive ice time to propose (meaning, they'll clear the rink so it's just the two of you), and the opportunity to play your favorite song during your big moment. Oh yeah, they'll provide the Champagne so you can enjoy some bubbly after your partner says "yes!"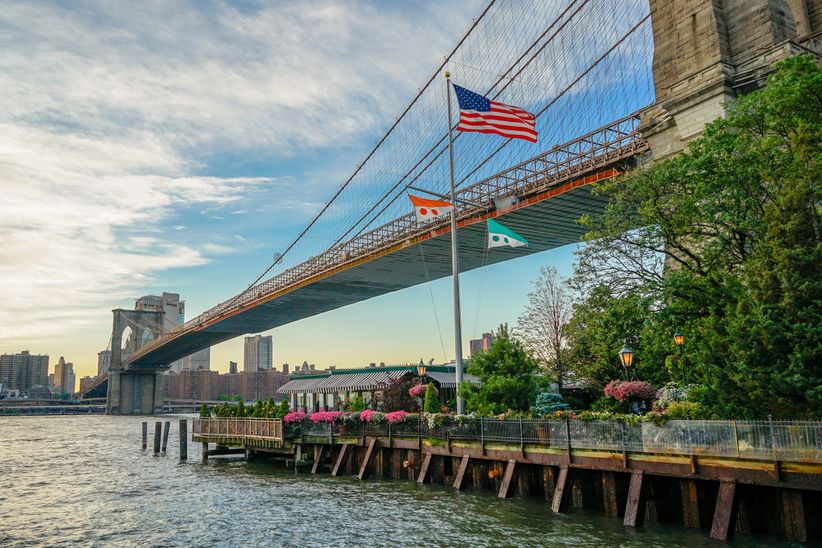 The River Café
Many proposals occur at restaurants, and this one is among our favorite places to propose in NYC—it's been around for over 40 years. Located underneath the Brooklyn Bridge and featuring lovely water views, The River Café in DUMBO is one of the ultimate spots to ask your beloved for his or her hand. Note that this restaurant is on the fancier side—jackets are required for gentlemen after 4 p.m.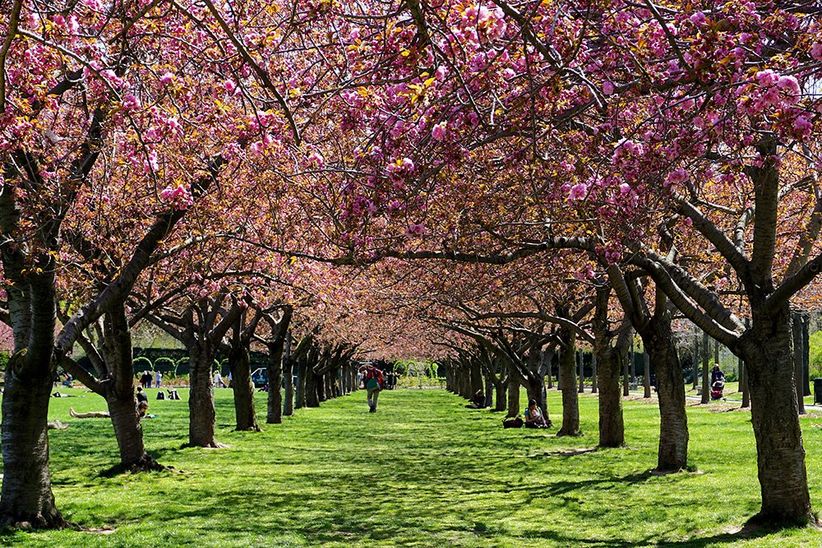 Brooklyn Botanic Garden
This is truly an oasis in New York City, and a very romantic one at that. If you and your partner are nature-lovers, the Brooklyn Botanic Garden is a must-visit location. A few of the best locations to propose in the Brooklyn Botanic Garden include the colorful Shakespeare Garden (recite a sonnet before popping the question for a totally on-theme proposal), the fragrant Cranford Rose Garden, and the serene Cherry Walk.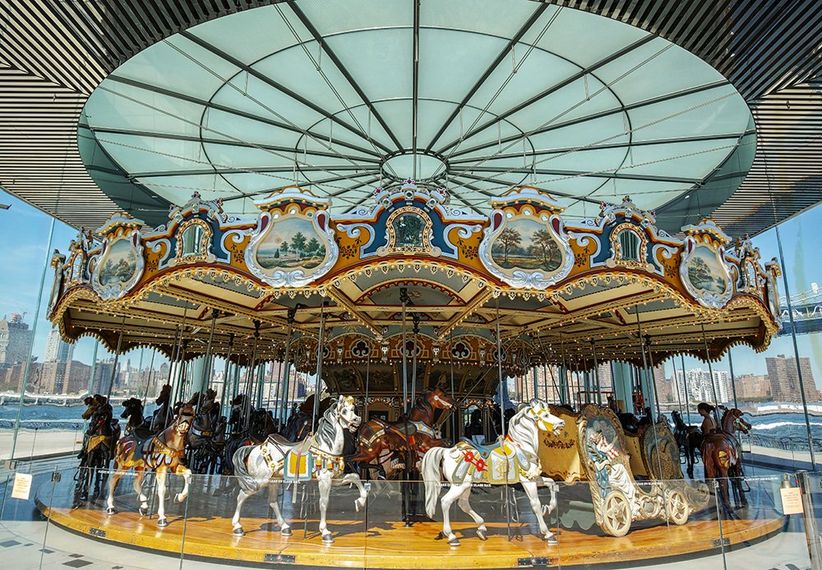 Jane's Carousel
We love the idea of a nostalgic proposal, especially if you and your sweetie have known each other since childhood—or you're just kids at heart. Located in Brooklyn Bridge Park and open year-round, this historic carousel is not only loads of fun, it also offers gorgeous water views. Propose while perched on one of the painted horses for a totally unforgettable (and oh-so-NYC) proposal.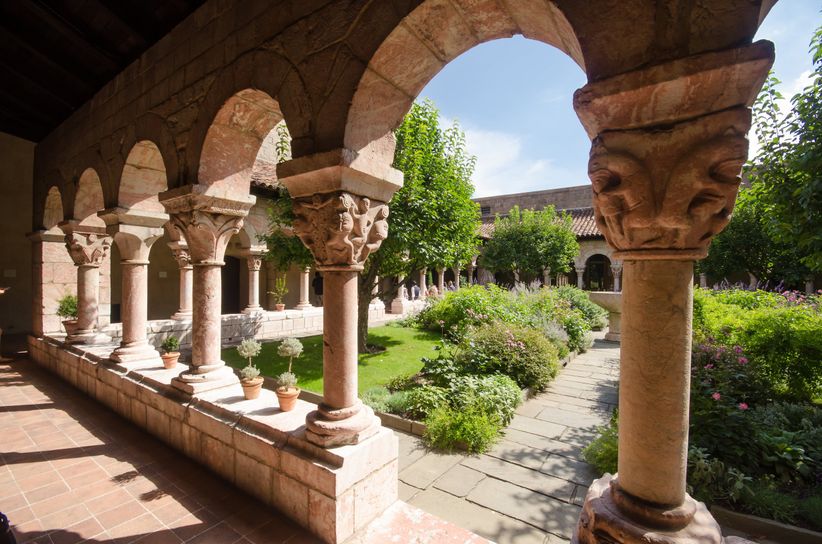 The Cloisters
This branch of the Metropolitan Museum of Art is dedicated to Medieval Europe—and whether or not you and your partner are huge Game of Thrones fans or not, you'll appreciate this unique setting in Fort Tryon Park in upper Manhattan. The medieval architecture is breathtaking, and the gardens are impeccable—such a hidden gem amid the bustle of the city and quite a serene and private place to propose.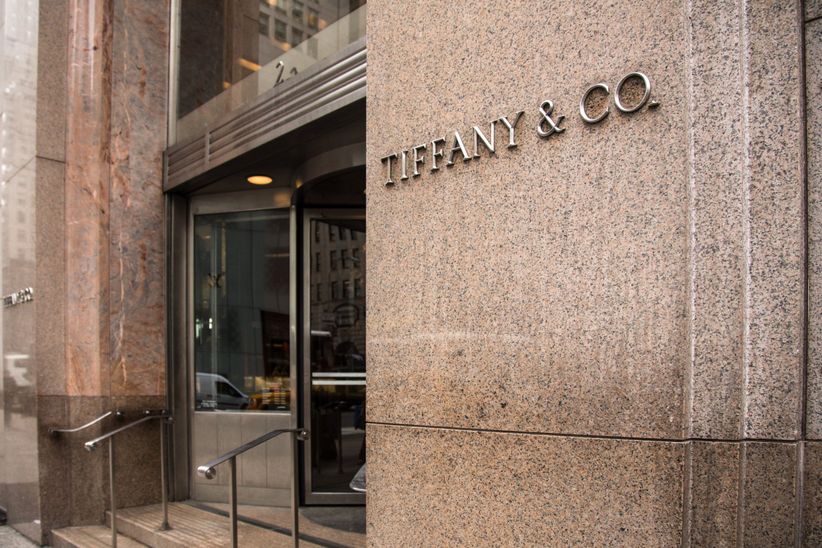 Tiffany & Co.
If you haven't already seen the incredible proposal scene from the film Sweet Home Alabama, get thee to Netflix, stat! The crazy-luxe proposal takes place at Tiffany & Co. on NYC's Fifth Avenue, and Reese Witherspoon's character is given full reign to choose whichever ring her heart desires. While this might not be possible for budget reasons, we still love Tiffany & Co. as a chic and luxe proposal spot—especially now that the jewelry store has opened its own eatery (the aptly named Blue Box Café) so that you can actually enjoy Breakfast at Tiffany's.