How to Get Married in NYC Without a Hitch
Planning a wedding in the Big Apple? If you're wondering how to get married in NYC, here are the tips you need to know to make your big day a success.
We have included third party products to help you navigate and enjoy life's biggest moments. Purchases made through links on this page may earn us a commission.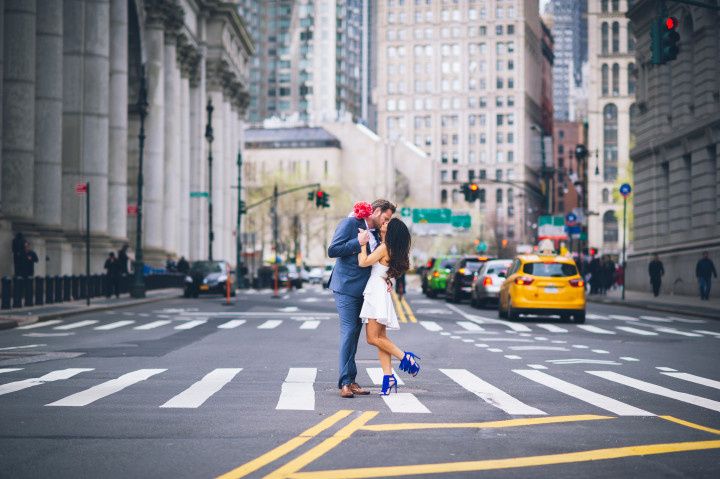 There are so many reasons why getting married in NYC is so popular—there's truly something so special (and utterly romantic!) about NYC weddings. But in such a big city, considering how to get married in NYC can feel a little complicated. Whether you're hoping to host a big grand wedding or a small intimate affair, there are so many venues and vendors to choose from in NYC—and the amazing photo ops are endless! While there can be some complicating factors to getting married in NYC, the end result is certainly worth it.
Wondering how to get married in NYC? Here's all the information you'll need to get started.
The Basics
When thinking about how to get married in NYC, coming up with a reasonable budget should be top priority. New York City is the most expensive city in the United States to wed. The average NYC wedding costs $47,700, well above the national average of $28,000. Couples in the NYC area seem to love late-summer and early-fall nuptials, as September is the most popular month for weddings. NYC weddings tend to be a bit larger as well, with an average of 135 guests, above the national average of 124 guests.

With NYC being such a fast-paced city and one of the top tourist destinations in the world, you can bet that there's going to be some sort of major event on any weekend you choose for your big day. Particularly busy weekends include the New York City Marathon in November, New York Fashion Week in February and September, the Thanksgiving Day Parade and New Year's Eve, and more. Because the city is so big, just because a major event is being held on a particular weekend doesn't mean it will negatively affect traffic in your venue's neighborhood. It's best to check with your particular venue (before booking!) about any major events that may cause issues for you and your guests.
Getting There and Getting Around
If you're getting married in New York City and your guests will be traveling to the area, there are lots of transportation options. For air travel, LaGuardia Airport, John F. Kennedy International Airport, and Newark International Airport are the three major airports in the area (note that LaGuardia only handles domestic flights).

For loved ones that live in the Northeast, train or bus travel may be another option. Your guests may be able to take an Amtrak train into Penn Station (particularly if they live in the Boston, Philadelphia or Washington, D.C. areas), or a bus into the Port Authority Bus Terminal.

NYC is known for its generally efficient public transportation system. While the NYC subway takes some getting used to, it can be an excellent way for your guests to get around and explore the city. There are also city buses that can get your guests from place to place. Taxis are plentiful, as are ride apps like Uber and Lyft.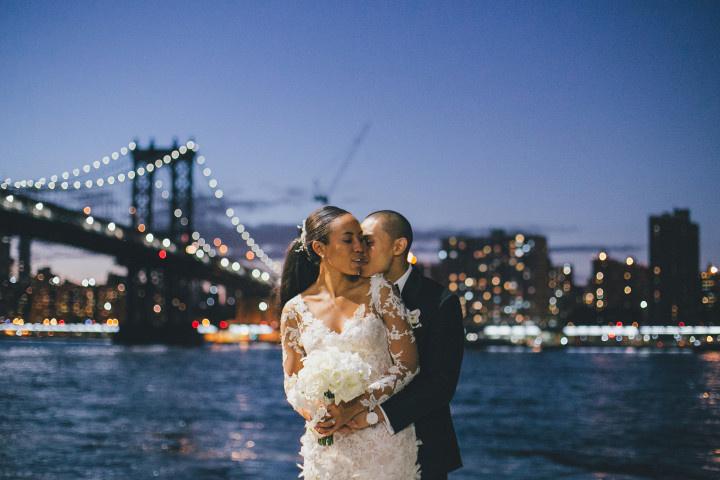 Weather
The weather in NYC can be quite unpredictable, but it's known for cold winters and hot, muggy summers. January is typically the coldest month, with an average high of 39 degrees. July is the hottest month, with an average high of 85 degrees. The city usually totals about 121 days of precipitation a year—so it's best to get those Plan Bs in place if you're planning an outdoor wedding.

NYC isn't in a very active hurricane zone, but hurricanes and tropical storms have hit the area in the past—usually in the late summer and early fall. And of course, the area has seen its share of blizzards in the wintertime. While major natural disasters aren't something to necessarily worry about when considering how to get married in NYC, you should be mindful of the potential.
Wedding Venues
Getting married in NYC? You're in luck! Whether you're getting married in Manhattan, Queens, Brooklyn, the Bronx, or Staten Island, there are so many amazing New York wedding venues and event spaces for every couple and style. From restaurants that host ceremonies and receptions to outdoor spaces with views of the Hudson River, small and intimate venues to huge and grand locations, you're sure to find a venue you'll love. For couples looking specifically at Brooklyn wedding venues, you'll love the variety in choosing from rooftop wedding venues, waterfront venues overlooking the East River, small venues for intimate celebrations, and catering halls with lots of in-house services.
Marriage Requirements
One of the most important parts of how to get married in NYC is actually receiving your license! To obtain a marriage license, you'll have to head to the marriage bureau at the City Clerk's office (there's one in each borough, depending on where you plan to wed). You'll have to pay a $35 fee by credit card or money order, and bring proper identification to apply for a marriage license. A marriage license is valid for 60 days, and you do have to wait 24 hours between receiving your license and having your marriage ceremony. Your ceremony must be performed by a marriage officiant who is registered by the city clerk, or you can get married at City Hall for a quicker ceremony!
Changing Your Name in NYC After Marriage
One of the last steps in figuring out how to get married in NYC is deciding whether or not you plan on changing your name. If you'd like to change your name, you'll first need to obtain your marriage license, which is considered your legal name-change document in New York State. You should request a few copies of your license, just to be safe. After your wedding ceremony has taken place, you'll want to first go to your local Social Security office to file for your new Social Security card. You'll then want to file for your new U.S. Passport, which can be done by mail. After these documents have been received, you can head to the DMV to change your name on your driver's license and apply for name changes in other places, such as credit cards, banks, your job, etc. If this all seems a bit overwhelming, not to worry! Services like HitchSwitch can handle all of the name-change paperwork for you.
Wedding Accommodations
If you're getting married in NYC and hosting out-of-town guests, you'll likely want to reserve room blocks for them at area hotels as soon as possible—accommodations in NYC tend to book up super-quickly. When scoping out accommodations for your loved ones, you'll want to look for hotels that are near your wedding venue (within walking distance is ideal, but a short taxi or subway ride is okay, too), and are a reasonable price point. We recommend giving your guests a few hotel options—one that's pricier for those who may want to splurge on a weekend in the city, and one more affordable for those on a tighter budget.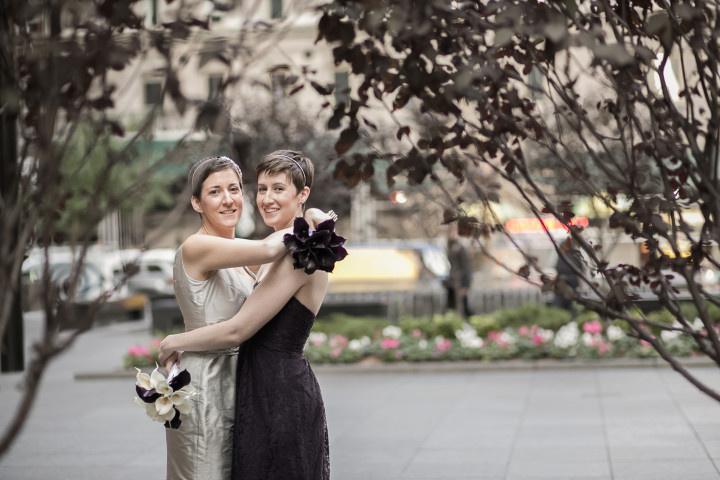 Things to Do in NYC
There's no shortage of things to do in NYC, and your out-of-town guests might feel a bit overwhelmed at the wide range of sites to see and areas to cover. Couples getting married in NYC should use a wedding website to provide guests with a concise list of your favorite activities to help them plan their trip. There are also bus lines and walking tours of the city that your loved ones might be interested in for a more all-encompassing look at the area.

Here are a few of our favorite must-sees in the Big Apple:
Museums
Guests of all ages will love the wide variety of museums NYC has to offer. Some of the most popular museums include the American Museum of Natural History (hello, dinosaur fossils!), the Metropolitan Museum of Art, the Museum of Modern Art, the Guggenheim, and more.
Central Park
While NYC is known for its hustle and bustle, Central Park serves as an oasis among the tall buildings. The park is absolutely huge and there's lot to see, so let your guests know if you have favorite spots. For example, there's the famous Strawberry Fields, the Central Park Zoo, the Great Lawn, and much more for your guests to enjoy.
Empire State Building
Yes, it's super-touristy, but there's nothing like having your Sleepless in Seattle moment at the top of this famous skyscraper.
Brooklyn Bridge
One of the most memorable and fun experiences a visitor to NYC can have is taking a stroll (or riding a bike!) over the Brooklyn Bridge. Your guests will love the views!
Freedom Tower Oculus
NYC has rebuilt the area around the World Trade Center site, and there's lots for visitors to see. Guests can marvel in the incredible views from the Freedom Tower Observatory or check out the unique modern architecture of the Oculus, a transportation hub and shopping area.
Eat Pizza
A trip to NYC isn't complete without a slice of the city's famous pizza. Share your favorite pizza spots with your guests for a meal or snack they won't soon forget!
New York City Wedding Inspiration
For couples who are thinking about how to get married in NYC, there is so much wedding inspiration out there and can certainly be a bit confusing. We recommend checking out real weddings from couples who got married at or near your venue to find details and ideas that will work for you big day! Here are a few of our favorite NYC real weddings:

Ariel and Steven's modern fall wedding in Brooklyn »
Chrissy and Anthony's industrial chic wedding in Long Island City »
Anna and Rob's restaurant wedding in Manhattan »
Stephanie and Kate's ballroom wedding in Manhattan »
Disclosure: This post contains affiliate links, some of which may be sponsored by paying vendors.