8 Stylish Brooklyn Wedding Venues on the Water
Enjoy easy access to the East River and stunning views of lower Manhattan with these beautiful Brooklyn wedding venues on the water.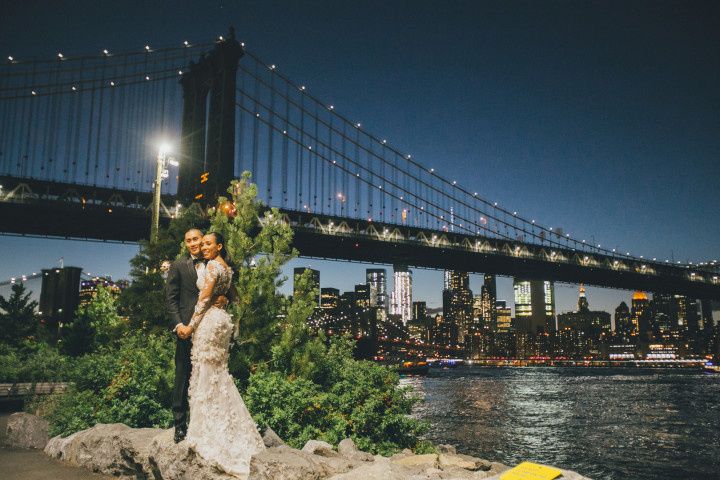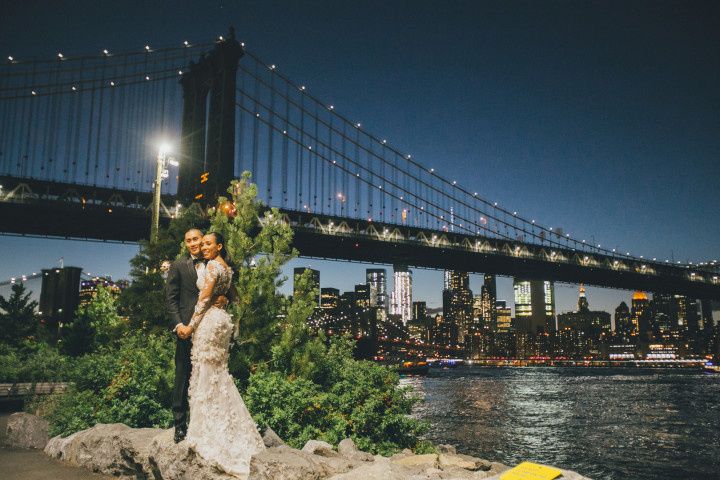 Nothing lends your wedding a sense of serenity like the calming views of a nearby body of water. Couples searching for Brooklyn wedding venues on the water have their pick of lofts, warehouses, restaurants, hotels, and catering halls dotting the shores of the East River. These waterfront Brooklyn wedding venues are often the best of two worlds, with the calming view of the water and the bustling, urban skyline of New York both serving as the backdrop to your "I do's." Whether you're in the market for intimate wedding venues for just a few of your closest, or you need a sprawling stunner of a venue for hundreds of friends, you'll find one or two Brooklyn wedding venues on the water to meet your needs on this list.
Explore our eight favorite Brooklyn wedding venues on the water!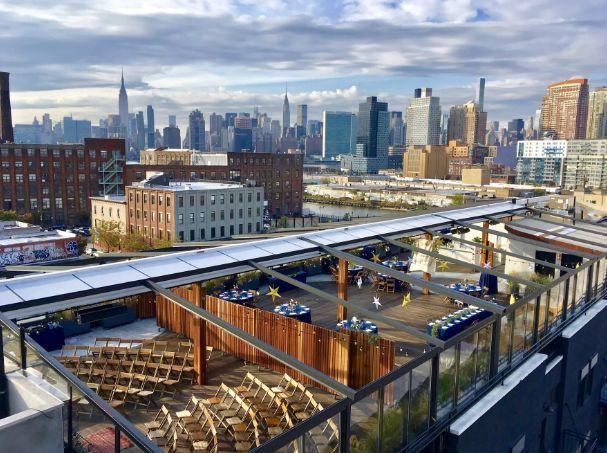 The Box House Hotel
This Greenpoint hotel originated the way many Brooklyn wedding venues on the water begin: with an abandoned factory. The Box House Hotel converted and restored the industrial space into a four-story, loft-style hotel with a spacious rooftop that overlooks New York and the river. This all-inclusive venue also boasts the only retractable roof in the borough, so you can choose whether you want a wedding under the stars, or some cover from the elements during your ceremony or reception. Bonus: Room blocks are easy with access to 130 guest rooms. Host between 120 and 293 wedding guests at this venue.
Learn more about The Box House Hotel »

26 Bridge
Located in DUMBO, 26 Bridge derives its name from its address on Bridge Street and close proximity to the Manhattan Bridge. It's a classic, warehouse-style venue that harkens back to Brooklyn's roots as an industrial hub with some of the original features, including exposed brick walls, wooden doors, and high ceilings with exposed beams and a skylight. Couples will enjoy an uncluttered canvas to make their wedding aesthetic come to life, with lots of space to experiment with greenery installations, romantic lighting, and modern seating arrangements. This venue can accommodate up to 250 people for seated events and up to 375 for standing events.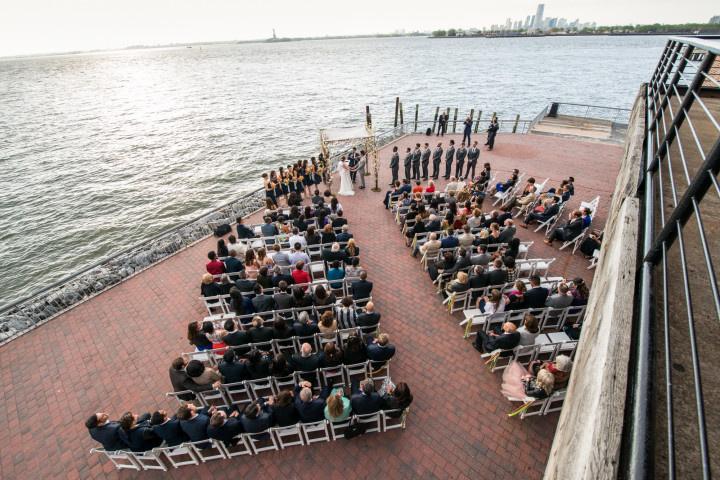 Liberty Warehouse
If you're a big Francophile, statue fanatic, or just have a particular affinity for the Statue of Liberty, there's no question that you'll love this Brooklyn wedding venue. Liberty Warehouse is named for its full-frontal view of Lady Liberty — the only wedding venue to offer this front-on look. Thanks to its prime location on Pier 41 in Red Hook, Liberty Warehouse allows you to exchange vows with the New York Harbor in the distance. Head indoors for cocktail hour and the reception inside one of the four, warehouse-style event spaces. Two larger event rooms face west for gorgeous sunsets while two smaller rooms work well for cocktails or smaller parties. With 15,000 square feet of space, host up to 400 guests for a seated dinner and more than 1200 for cocktails.
Learn more about Liberty Warehouse »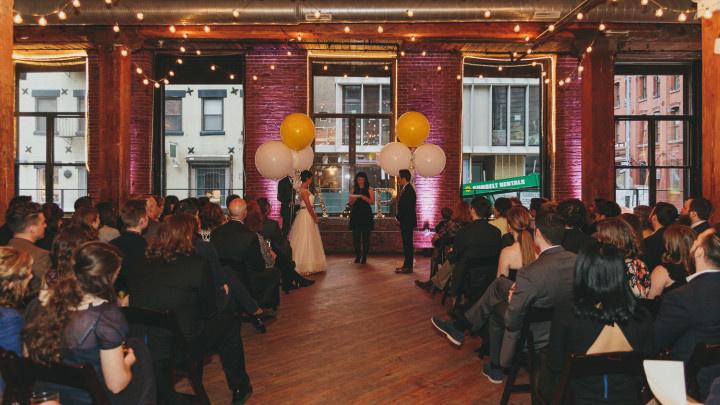 The DUMBO Loft
This building, at 155 Water Street, has survived more than 100 years of major changes in Brooklyn's Down Under the Manhattan Bridge Overpass neighborhood. After playing host to manufacturers of everything from brass foundry to steam heaters, the industrial-style brick building is now one of the chicest Brooklyn wedding venues on the water. Couples will find a virtual blank slate inside the loft with hardwood floors, exposed brick walls, wood beam ceilings, and a flood of natural light through the windows on all four walls. If you're planning a seated dinner, invite up to 140 guests here, while cocktail-style receptions can host up to 200 guests.
Learn more about The DUMBO Loft »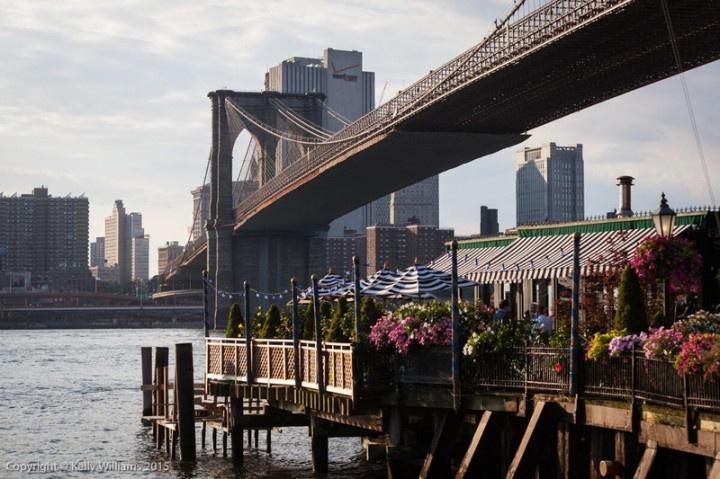 The River Cafe
Still mesmerizing jaded New Yorkers after 41 years on the river, The River Cafe is one of the most iconic Brooklyn wedding venues on the water. A great choice for intimate weddings, couples can accommodate up to 100 guests at this cozy restaurant's Terrace Room under the Brooklyn Bridge. In addition to panoramic views of the water and New York's famous skyline, The River Cafe is decorated with classic and sophisticated touches, making it ideal for couples who don't want to bring in lots of their own decor. An in-house florist, pastry team, and private dining department make coordinating catering, cake, and flowers super-easy, too.
Learn more about The River Cafe »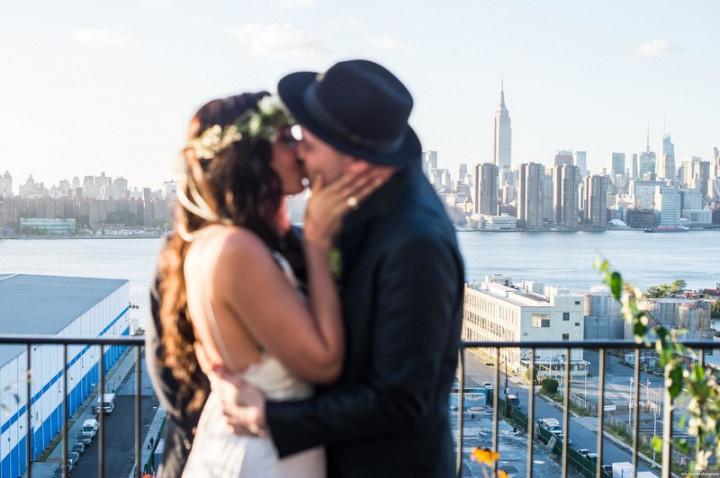 Wythe Hotel
This former Williamsburg cooperage (that's a place where barrels and casks are made) was built in 1901 and retains a lot of its original charm and fixtures. Wythe Hotel features an industrial brick facade on the outside and soaring ceilings, exposed brick walls, arched windows, and the original cast-iron columns and yellow pine beams. Perfectly perched on the edge of Brooklyn, this hotel overlooks the East River, offering unobstructed views of both the water and Manhattan. Weddings here can be as small as 15 guests and as large as 225. If you're expecting out-of-town guests, offer them one of the Wythe's 70 guests rooms for easy accommodations.
Learn more about Wythe Hotel »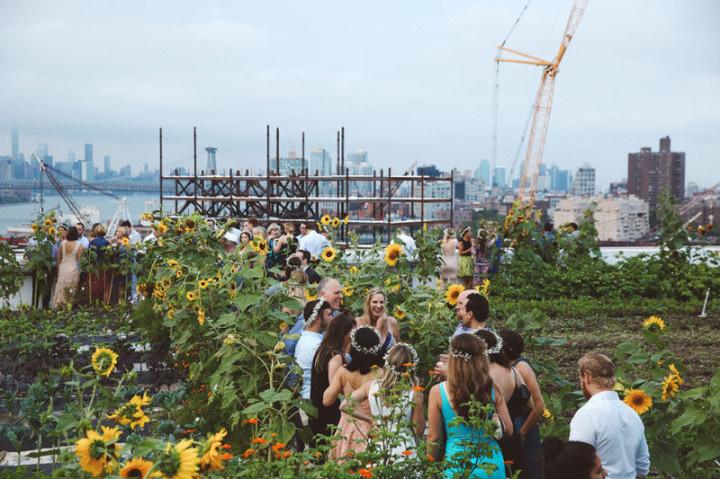 Brooklyn Grange Rooftop Farm
Located just off the river with convenient access to the three major bridges, Brooklyn Grange Rooftop Farm should definitely be on your shortlist of Brooklyn wedding venues on the water. Nuptials here take place on a tiled rooftop where the aisle is lined with fresh flowers and water vessels can be seen in the distance. Guests can mingle among the crops of this working farm during cocktail hour before heading to a tented dining area for dinner and dancing. An added bonus for couples who book this wedding venue is the ready availability of fresh, in-season produce to spruce up your wedding menu. This unique venue accommodates between 50 and 150 wedding guests.
Learn more about Brooklyn Grange Rooftop Farm »

The Prospect Park Boathouse
Not all Brooklyn wedding venues on the water surround the East River. The Prospect Park Boathouse is a historic treasure that sits on Prospect Park Lake with unrestricted views of the Lullwater and Lullwater Bridge. The Boathouse, built in 1905, features a stately Beaux-Arts style and elegant French doors that open out to a terrace facing the lake. Host up to 150 wedding guests for a seated dinner at this venue, which offers both an outdoor terrace and an upper-level covered balcony. As an all-inclusive venue, couples will enjoy their pick of catering options from Purslane, which is a slow-food company that focuses on vegetable ingredients.
Learn more about The Prospect Park Boathouse »
Disclosure: This post contains affiliate links, some of which may be sponsored by paying vendors.