A Guide to Getting Married in Seattle for PNW Couples
Planing your nuptials in the Emerald City? We've got everything you need to know about getting married in Seattle.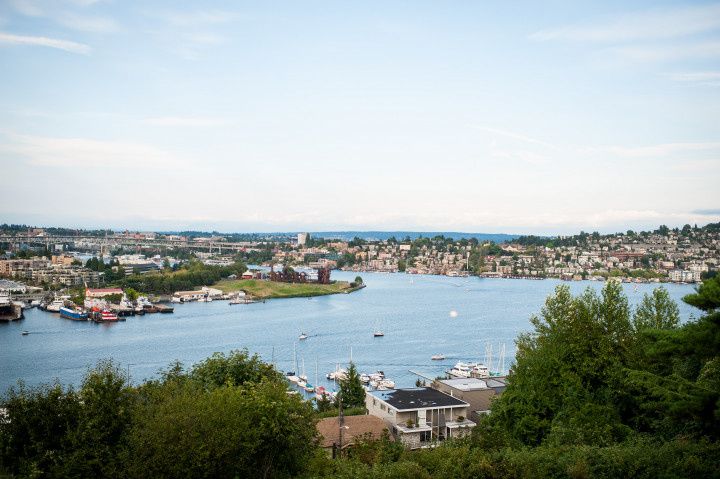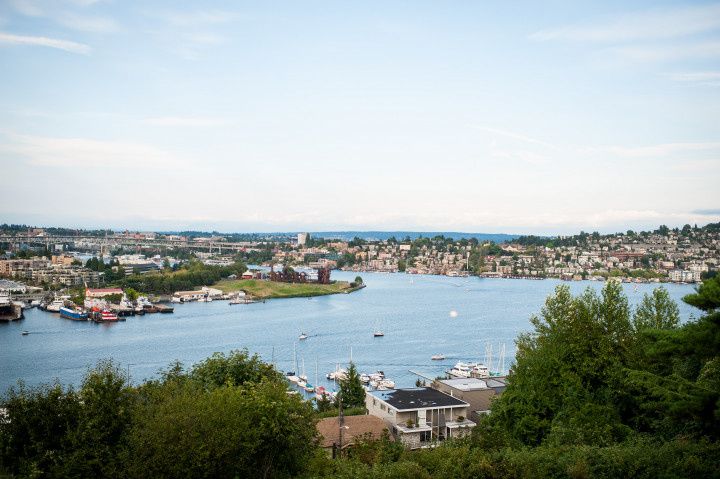 Seattle is known for being one of the hippest (and quirkiest) cities in the Pacific Northwest, and getting married in Seattle is a fabulous way to take advantage of all the cool things the city has to offer. Along with being the birthplace of grunge music and the setting for some of the most beloved television shows and rom-coms, Seattle is home to brands like Microsoft, Amazon, and Nordstrom. And, more importantly, it's a coffee lover's paradise. If you're envisioning a wedding that's fun, creative and unforgettable, this famous metropolis won't disappoint. Wondering how to get married in Seattle? This list of tips and advice will help you get started.
Here's everything you need to know about getting married in Seattle.
The Basics
Having a Washington state wedding has its perks — majestic mountains, enchanting forests, scenic coastline, and unique wildlife (orca whales!) to name a few. But Seattle has all of that and more, making it a great place to get married in our book. If you're considering getting married in Seattle, August is the most popular month to get hitched in the Emerald City, according to WeddingWire data.
Before choosing a date for your wedding, take a look at Seattle's schedule of festivals and events, which could increase traffic and crowds in the main tourism district. The Seattle International Film Fest takes place each May, with the Seattle Pride Parade following every June and the Seattle International Beerfest happening every July. Emerald City ComiCon, the Seattle Marathon, and the Seattle Street Food Festival are other big events.
Getting There and Around
The closest airport is Seattle-Tacoma International (SEA), which is about 13 miles from downtown Seattle. You can also reach Seattle by train via King Street Station downtown. There are four different train routes, with some originating as far east as Chicago and as far south as Los Angeles.
Public transportation in Seattle is relatively easy to navigate. The light rail system makes 14 stops throughout downtown and greater Seattle, including the airport. There are also streetcars, buses, a monorail, and ride sharing companies (Uber and Lyft) to get you around town if you won't have a car.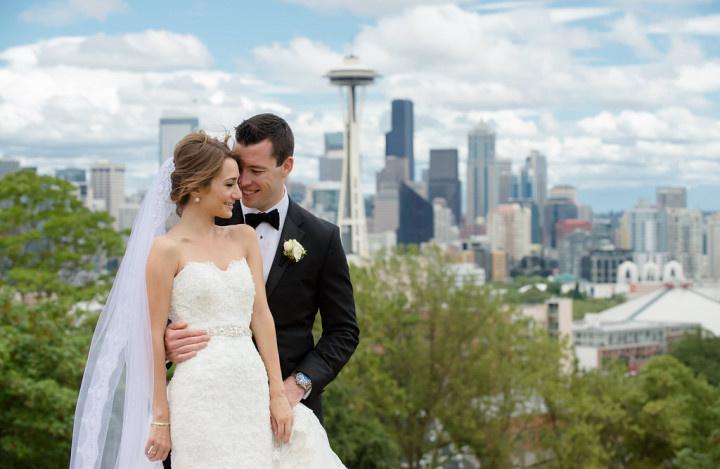 Weather
While this city does have a reputation for being one of the rainiest places in the country, don't let that stop you from getting married in Seattle. Cloudy, gray skies are the norm — Seattleites endure more than 200 overcast days per year — but light drizzle throughout the day is more common than heavy thunderstorms or downpours. A day of full sunshine is rare but is most likely to happen between May and September.
Seattle winters are cool and wet (December is the rainiest month), with an average high temperature of around 50 degrees and lows rarely below freezing. Summers are drier and milder, with highs around 70 to 80 degrees.
Wedding Venues
Seattle offers a wide variety of wedding venues for every style and budget. Here are some of the most popular types.
Waterfront
Seattle is literally surrounded by water, from Lake Washington and Elliott Bay on either side, to Lake Union right in the heart of the city. If you're getting married in Seattle, you'll have plenty of scenic waterfront wedding venues to choose from, right at your doorstep.
Check out waterfront wedding venues in Seattle »
Rustic
It wouldn't be the Pacific Northwest without mountains and forests. From quaint farms to upscale mountainside country clubs, rustic venues are a great way to showcase Washington's natural beauty at your Seattle wedding.
Check out rustic wedding venues in Seattle »
Unique
Seattle is full of unique and unexpected wedding venues. A blueberry farm, treehouses, a maritime museum, and a European-style chateau are just some of the standout Seattle wedding venue options.
Check out unique wedding venues in Seattle »
Marriage Requirements
If you're getting married in Seattle, you and your fiancé(e) will need certified copies of your photo IDs to apply for a marriage license. Once you're approved, there is a three-day waiting period before you can hold the wedding ceremony, and the license is valid for 60 days. A parent or legal guardian must be present if you're under the age of 18.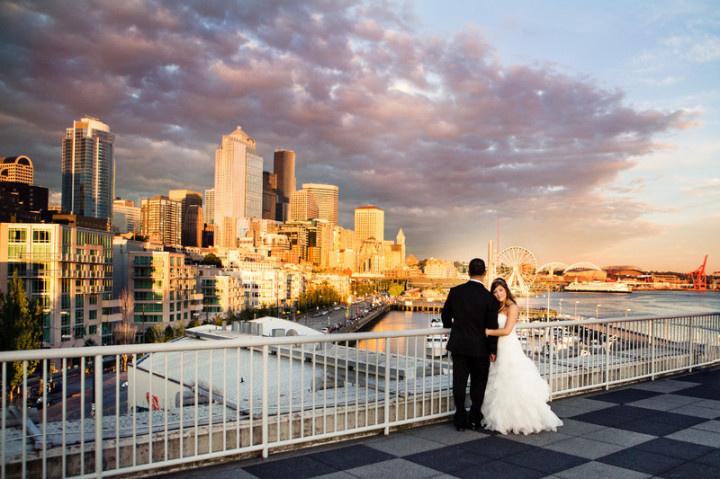 Things to Do in Seattle
Hosting guests who aren't local? Put together a list of Seattle's top activities and sights to guarantee that they have the best time ever while they're in town.
Space Needle
This observation tower has been a Seattle icon since it was built for the 1962 World's Fair. Towering 605 feet above the skyline, the Space Needle is one of the most famous landmarks not only in the U.S., but in the world. It's a must-see for any Seattle first timer. Take an elevator ride to the observation deck for panoramic views of downtown Seattle, Elliott Bay, and Mount Rainier. Feeling hungry? Grab a bite at SkyCity, the Space Needle's revolving restaurant.
Take to the Water
Board one of Seattle's many commuter ferries for a convenient and scenic outing on the water. Check out the Bainbridge Island ferry, which has frequent departures from the Seattle Waterfront. After a short 35-minute journey, you'll arrive at Bainbridge Island where you can explore Winslow, a historic town center with locally-owned boutiques, coffee shops, art galleries, and museums. There are also a number of wineries, vineyards, breweries, and distilleries on this charming island.
If you'd rather go out on your own, the University of Washington, Seattle offers public boat rentals during spring, summer and fall. Paddle through Union Bay where you'll encounter bald eagles and other Washington wildlife.
Museums
From music to movies, Seattle is tied to some of the biggest cultural phenomenons of the last few decades. Check out the Museum of Pop Culture, which houses a collection of music, film and television artifacts, like helmets and other props from the Lord of the Rings trilogy. There's also the Pacific Science Center, the Seattle Art Museum, and Chihuly Garden and Glass.
Pike Place Market
Dive headfirst into Seattle's local food, beverage and art scene by visiting this bustling farmers market. Whether it's fresh produce and fish or colorful flowers, one-of-a-kind crafts, and artisan shops, there's something for everyone to enjoy at Pike Place Market. It's a great place to check out if you have a few hours to spare or want to pick up a unique souvenir.
Starbucks Reserve Roastery & Tasting Room
Starbucks fans will enjoy going behind the scenes to see how the company's famous coffee is made (note that this roastery is not the first Starbucks store, which is located down the street in Pike Place Market). Sample exclusive small batch coffee and espresso-themed cocktails while enjoying a fresh pastry or browsing Starbucks merch.
Seattle Wedding Inspiration