The Getting Married in Los Angeles Guide All LA Couples Need
Planning a wedding in Southern California and need some help finding venues or reserving guest accommodations? Here's a go-to guide to getting married in Los Angeles.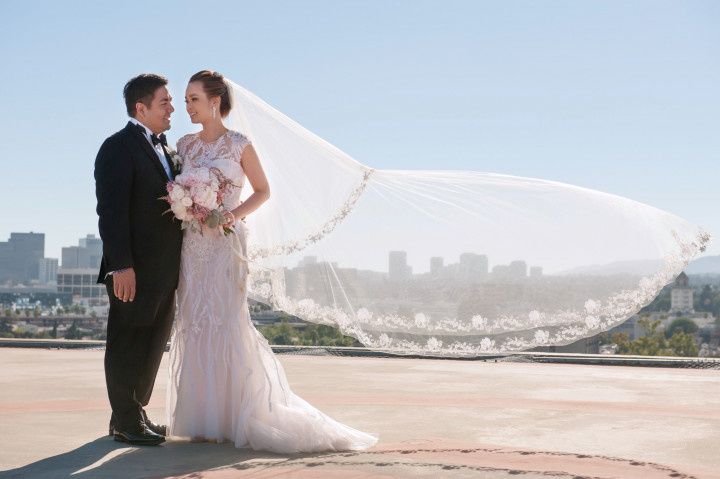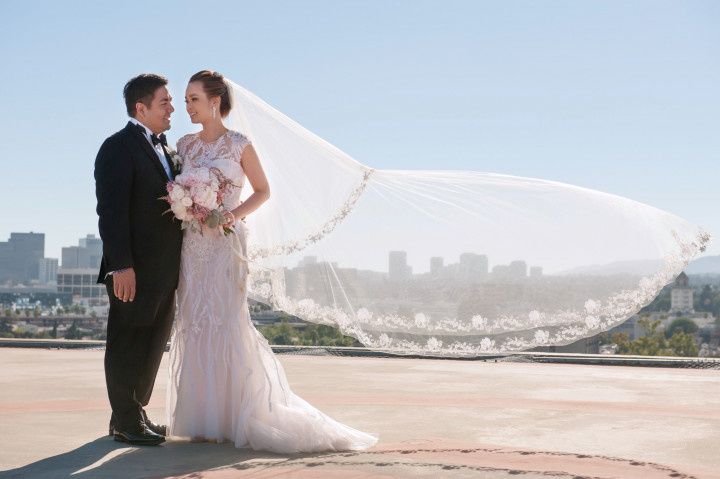 Los Angeles, while known for its iconic Hollywood sign, California sun, and vibrant nightlife, is also becoming a popular destination to host a wedding. Many couples are getting married in Los Angeles because the star-filled city provides a cool and trendy setting for "I dos." LA is also a great city for out-of-town guests to visit, since there's so much to do and see—after all, it's Hollywood. So, if you're getting married in Los Angeles and want to learn more about the stylish and chic city, we've got you covered. .
Here's everything you need to know about getting married in Los Angeles.
Basics
Los Angeles is not only the center of the film and television industry, but a mecca for celebrities, high-end shops, amazing cuisine, and more. Being one of California's biggest cities, there's no doubt that LA is a dream setting for West Coast brides and grooms-to-be. Filled with killer beaches and hot new bars and restaurants opening up almost everyday, LA has plenty of variety when it comes to hosting a wedding. This does mean that prices are usually a bit higher when it comes to booking vendors—especially since couples in the area are choosing up to 13 vendors for their wedding. The average cost of a wedding in Los Angeles is around $33,000, which is higher than the national average of $28,000. But don't let that discourage you! There are plenty of ways to easily save if you're getting married in Los Angeles.
Getting There and Getting Around
Los Angeles is an easy city for out-of-town guests to fly into because there are several major airports in the area. LAX is the most popular airport, since it is the largest airport in the entire state of California. There's also Ontario International Airport located in Ontario and John Wayne Airport in Orange County that are a little further out from LA, but still an easy drive.
Once you get into Los Angeles, Uber and taxis are readily available. LA is very spread out and doesn't have a center or "heart of the city", so having or renting a car is ideal. Even though it isn't the most walkable city, it does have plenty of public transportation options such, as metro buses and rail services to use.
Weather
The weather in Los Angeles is definitely one of the greatest things about the city. The temperatures are pretty much always warm with very little chance of rain—making it a great pick for an outdoor wedding. During the summer and early fall temperatures are usually in the high 70s where winter and spring seasons range from low 60s to mid 70s. October is the most popular month for getting married in LA, since it's after peak tourist season and the weather isn't smoldering hot. If you're getting married in Los Angeles and want a beach wedding, like in Malibu, keep in mind that the temperatures on the coast will be about 20 degrees lower than the rest of the city.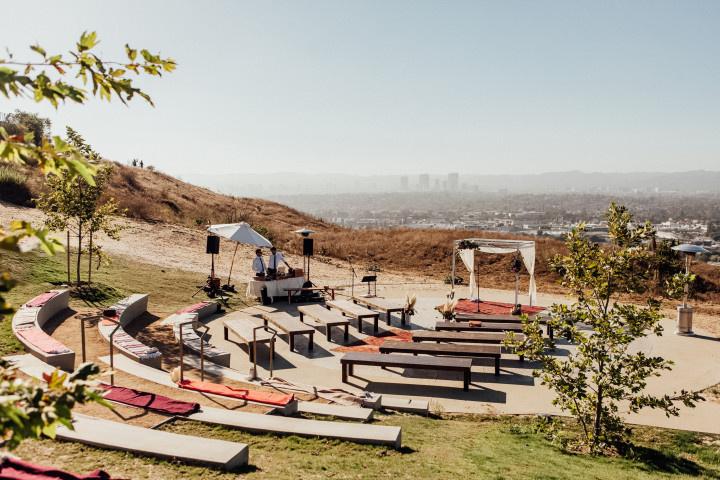 Wedding Venues
Finding a venue is never an easy task, however LA does provide couples with lots of options. Whether you're hoping to exchange vows outside on a killer rooftop or looking for something more chill and laid-back, Los Angeles wedding venues offer a wide variety of styles and sizes. Some of our favorites and most epic wedding venues include the hip SmogShoppe and the gorgeous Terranea Resort.
Marriage Laws
You'll definitely want to follow California's state marriage laws and obtain a marriage license before your wedding day. Every state has certain rules that must be followed in order to get legally married, such as being 18 years of age, having a proper forms of identification and more. Double check all the necessary requirements before the big day approaches, so you won't have any last-minute issues.
Wedding Accommodations
For couples who are getting married in Los Angeles, it is important to book accommodations early and reserve hotel room blocks as soon as possible. Los Angeles hotels tend to book up quickly, since it is such a big city with so much going on all the time—like concerts, festivals, and more. Therefore, we suggest finding accommodations for friends and family that are not only near your wedding venue, but affordable. Do your research by checking out the different hotel options and also make sure to provide accommodations and room block information on your wedding website.
Things to Do In Los Angeles
When planning a Los Angeles wedding it is a good idea to provide your out-of-town guests with information on things to do and see in the city. You definitely don't want your guests to feel overwhelmed, so here are a few of our favorite must-sees in and around Hollywood and LA.

• The Getty Center
Known for having an awesome hilltop campus, this museum is filled with some impressive works of art. From Van Gogh, Monet to Cezanne, The Getty Museum has a variety of rich collections that are definitely worth visiting.

• Rodeo Drive
If you love all things fashion and want to shop 'til you drop while visiting Los Angeles, then we suggest taking a stroll down Rodeo Drive. This two mile long street in Beverly Hills is filled with high end shops as seen in the iconic scene from Pretty Woman and other various films. So, if you're in need of some retail therapy, Rodeo Drive definitely should be added to your list.

•Santa Monica Bay Beaches
While visiting Los Angeles you can easily spend a day lounging and getting a tan at Santa Monica Bay. The beaches on Santa Monica Bay are known for being a hot spot for surfing, since they always have killer waves. If you're looking for an outdoor activity, behind the beaches is a paved bike path that is perfect for biking, walking or running.


Los Angeles Wedding Inspiration
Are you getting married in Los Angeles and need some help finding inspiration? We've got your back! Just check out these real weddings in Los Angeles that totally nailed it when it comes to gorgeous wedding details!

Natalia and Kyle's modern boho Los Angeles real wedding
Heather and Simon's black tie wedding in Los Angeles
Stevie and Brian's Old Hollywood wedding in Los Angeles
Suwicha and Edwin's ballroom wedding in Los Angeles
Disclosure: This post contains affiliate links, some of which may be sponsored by paying vendors.