The Wedding Venue Checklist & Guide Every Couple Needs
Before stepping foot on your first venue tour, become an expert in all things wedding locations, including questions to ask, styles, a checklist and more.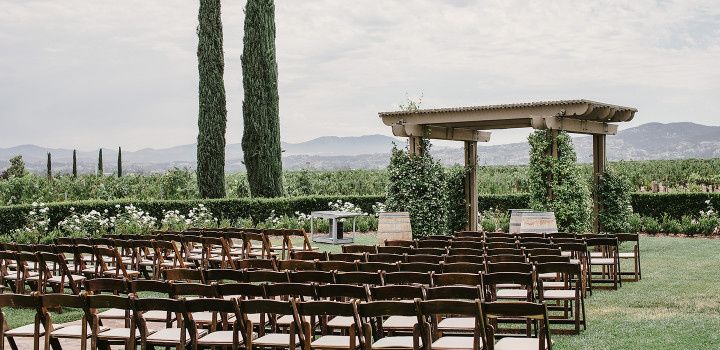 Choosing your wedding venue is one of the first big decisions you'll make in the wedding planning process, and it's not to be taken lightly. The wedding venue you choose will set the tone for your entire big day, from your décor to your attire and more. But with so many wedding venues to choose from, how do you decide which one is right for you? This wedding venue guide showcases the different types of wedding venues available, provides a wedding venue checklist to help you kick off your search, advises on what questions to ask a wedding venue, takes you through the styles and aesthetics of different wedding venues, as well as contains helpful advice from experts on how to find the wedding location of your dreams.

Happy (venue) hunting!



Wedding Venue Checklist
Finding Your Venue Style
Venue Style Chart
Questions to Ask a Wedding Venue
Wedding Venues 101: Ask the Pros

Use this wedding venue checklist to make sure you have all of the information you need to begin choosing a wedding venue!

1. Pick a Location
Most couples get married near the city where they currently live, but the world is your oyster! Once you have your wedding locale set, it narrows down the list of venues considerably.

2. Set a Budget
You need to have an idea of how much you can afford to spend on both your wedding as a whole and for the venue itself. Note that your venue and catering prices and cost will likely comprise about half of your budget.
Tip: Use WeddingWire's Budget Tool

3. Estimate a Guest Count
You do not have to have a complete and accurate guest list ready at this point. However, an estimated size will help you find a wedding recpetion and ceremony venue with the right capacity for your needs.

4. Think About a Date
You can pick a date first, and find a venue that is available then, or find the venue of your dreams, and then pick a wedding date based on the location's availability. Either way can work, but just note that a more flexible mindset will give you more options.

5. Find Your Style
Think about how you want your wedding to feel—formal, casual, or somewhere in between—and look for venues that match your wedding style.

Ready to go? Start your venue hunt on WeddingWire now »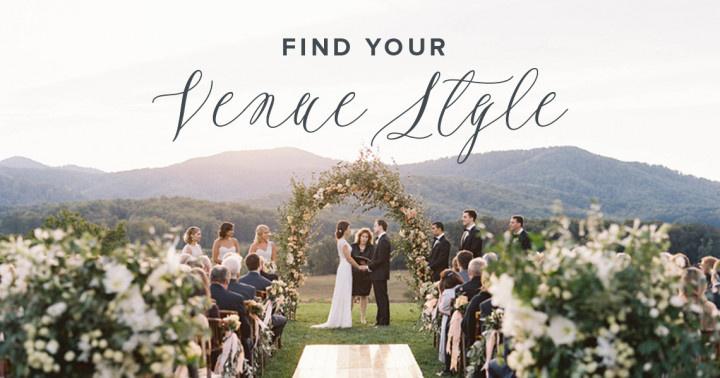 Find Your Wedding Venue Style
Your choice of wedding venue will set the tone for your entire wedding day. That's why it's so important to do your research about the many different types of wedding locations available. To help you on your venue-finding quest—and serve up some inspiration and ideas for your own big day—we've compiled a list of the most popular types of wedding venues and what makes each one unique.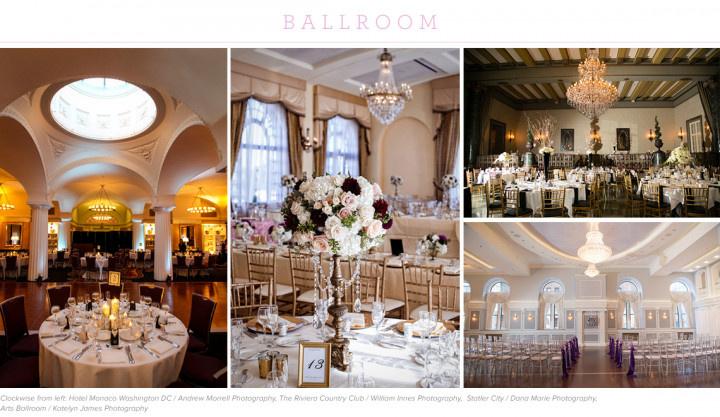 Ballroom
Couples hoping to host a formal, black-tie wedding should consider a ballroom venue, whether it's located in a hotel, country club, or as part of a banquet hall.
Many ballrooms make wedding planning a snap by offering in-house catering, as well as other on-premise services.
Hotel ballrooms allow guests to stay on-site for added convenience.
Is your guest list on the bigger side? Ballroom venues are usually a top pick to accommodate larger weddings.
Want to see more? Check out these ballroom real weddings: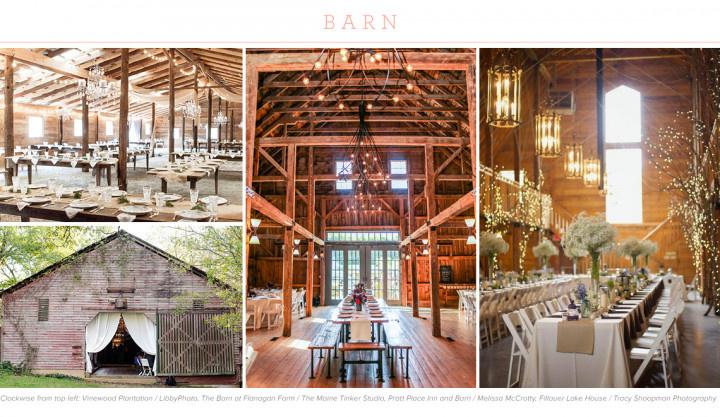 Barn
Rustic weddings and barn venues go hand-in-hand, so these venues are very popular right now.
When it comes to décor, barns can often serve as "blank slate" venues, which can accommodate a variety of different décor styles and color schemes.
Barns are best for more casual weddings and encourage guests to kick off their heels and party!
Barns located on farms or ranches often feature ample outdoor space for ceremonies, portraits, lawn games, and more.
Want to see more? Check out these barn real weddings:

Beach
If you've dreamed of getting married with your bare feet in the sand and the ocean waves in the background, a beach venue is for you!
A beautiful beach venue requires little added décor, which can be helpful for budget-minded couples.
Beaches are an inherently casual environment, which encourage guests to relax, mix, and mingle.
Beaches can be ideal for smaller, more intimate celebrations
Want to see more? Check out these barn real weddings: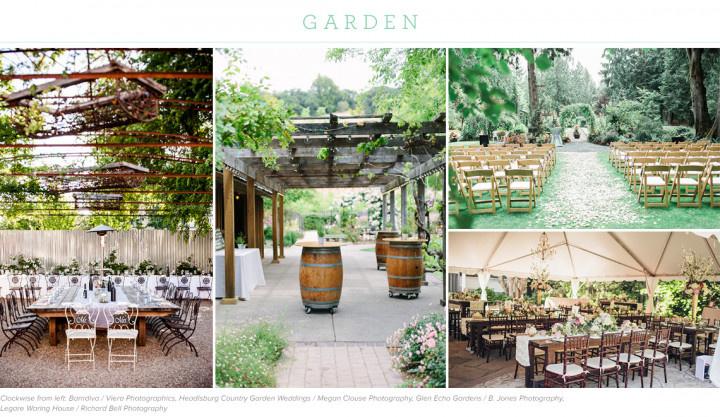 Garden
What could be more romantic than a wedding venue surrounded by the beauty of nature? Garden venues offer this and much more.
In terms of style, a garden venue is flexible—you can dress it up for more formal weddings or down for more casual events
Beautiful scenery means beautiful backdrops for wedding portraits.
Similar to a beach, gardens are a naturally gorgeous setting which may mean little need for added decor.
Want to see more? Check out these garden real weddings:

Modern Space
If you and your S.O. are hunting for a venue that's a little out of the box, a loft or modern space is a trendy alternative.
This venue will likely be somewhat bare, giving you creative control to style the space however you want!
Many modern venues offer sweeping views of the urban landscape, the perfect backdrop for a city wedding.
This is a good option for a smaller guest list, as lofts likely won't have the room for hundreds and hundreds of guests.
Want to see more? Check out these garden real weddings: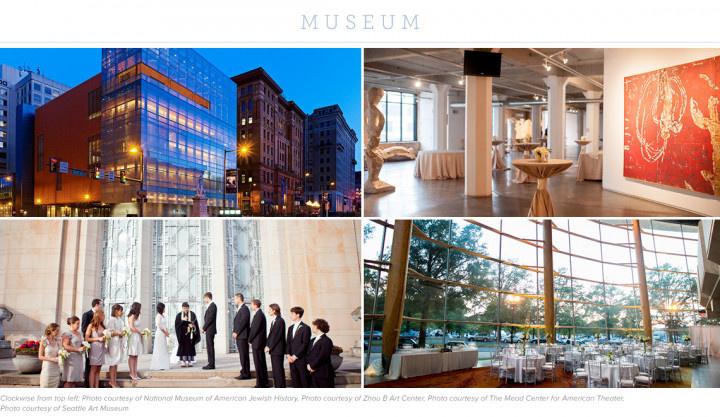 Museum
Couples who have a love of art or history, or just want a more formal setting, should consider hosting their big day at a museum.
Museum venues often put together events of many kinds, so the staff will be well-trained and will help make sure your big day runs smoothly.
You won't have to worry about decorating the space, since paintings and artifacts can serve as the backdrop.
During cocktail hour guests can keep themselves occupied by exploring what the museum has to offer.
Want to see more? Check out these museum real weddings:

Restaurant
If good food is a major priority for your wedding day, why not explore the option of a restaurant wedding venue?
Picking a restaurant you love will guarantee that the food will be spot on.
You can keep your guest list to a minimum since there likely won't be tons of space.
The casual dining atmosphere will allow guests to really get to know each other.
Want to see more? Check out these restaurant real weddings:

Vineyard
Is an outdoor venue a must-have on your wedding list? A vineyard will offer spectacular views and amazing wine.
Vineyards usually have an indoor space as well, so if mother nature decides to impose on your wedding day, you'll have a backup plan ready.
You'll be able to take the most romantic photos amongst the vines and rolling hills.
You won't have to do much to dress up the space since most vineyards tend to boast a naturally rustic aesthetic.
Want to see more? Check out these vineyard real weddings:
---
Your Venue Your Way

If you already know how you want your wedding to look and feel, you're already well on your way to finding the perfect venue! Just take a look at our Venue Style Chart below and see which venues will match your taste and vision best.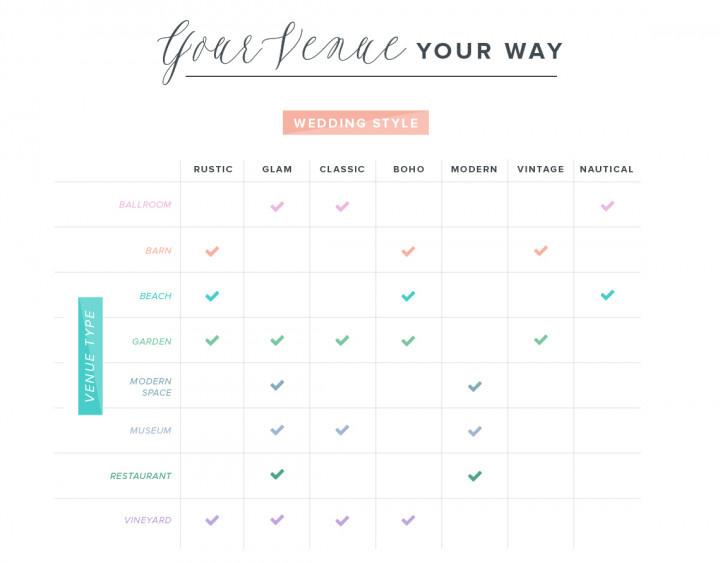 ---



Questions to Ask a Wedding Venue
You're almost there. You've fallen in love with a wedding venue's photos, read the reviews, and are ready to pay an in-person visit. Don't shy away from asking lots of questions during your venue tour—you'll want to have as much information as possible to make your decision. Check out this list of questions to ask a wedding venue—you'll want to ask these of each and every venue you tour.

1. What is your availability? Are you available on my target date?
2. What does your package include and how much does it all cost (including additional fees)? When do I have to pay?
3. Is there any wiggle room with the prices if I choose a date in the off-season or not on a Saturday night?
4. What is your capacity?
5. Is your venue accessible via public transportation? If not, what is the parking situation? Who pays for parking?
6. Do you have an in-house caterer or can/must we bring in an outside caterer?
7. Do you provide alcohol or can we bring our own? Are there additional corkage fees?
8. Can I hold the ceremony here (if desired)?
9. Is there a coordinator on staff? Who will my main contact be? Will that person be there on the day of my wedding?
10. Is there a list of approved vendors or can I use any vendors I wish?
11. What's the rain plan?
12. Is there climate control?
13. What are the accommodations for disabled guests?
14. What are the restrooms like?
15. Are there any additional rules I should know about, such as noise policies or rules against certain types of décor?
16. How long will my vendors and I have access to the venue before and after the wedding for set up and break down?
17. Will there be other events going on at the same time of my wedding or on the same weekend?
18. What will the room set up look like? Where will guests sit and where will the dance floor be?
19. Can I read your contract?
20. What's your cancellation policy?

Ready to sign your venue contract? Congrats! Add your venue to your Vendor Manager on WeddingWire »

---

At first, booking your wedding venue might seem like an easy task: set your budget, choose a date, sign the contract, and you're good to go. But, as it turns out, there are a few more details you should take into consideration. We reached out to venues across the country in search of tips and advice to help make searching for your dream venue a breeze. Read on to see what the experts had to say!
Q: What details or information should couples finalize before touring a potential wedding venue?
A: "Couples should know what time of year [they want to get married], how many guests, if they prefer indoor or outdoor options, if the venue fits within their budget, if it has food & beverage minimums, and if the time the venue allows on-site fits with their overall idea of their wedding day."
— Sarah Keeker of The Barn in Zionsville in Zionsville, Indiana
Q: What kind of research should couples do when they're looking for a wedding venue?
A: "This all-important decision should include the proper size reception facility when considering their total guest count. An ample dance floor accommodating the amount of guests attending is advantageous; bridal suite availability is a plus. Are there handicap amenities for those with special needs and/or elderly guests? Is there flexibility to include items that will personalize their celebration and make it special?"
— Kerry Fair of The Manor House at Prophecy Creek Park in Ambler, Pennsylvania
Q: On average, how far in advance should couples plan to book their wedding venue?
A: "For a less stressful planning window, couples should plan on having their venue booked a minimum of a year out. For couples who are planning on a church ceremony, planning should start with a 16 to 18-month window, and definitely book the church first. Venues with outdoor spaces such as ours book quickly for the summer month dates."
— Monica Alegria of Ignite Glass Studios in Chicago, Illinois
Q: What are three important questions that couples should ask when they're touring a potential wedding venue?
A: Here are the three questions you should ask:
1. Will I have the same person throughout the entire wedding process, or will there be one person helping me through the planning process and a different person running my wedding?
2. In an average five-hour reception with one hour of cocktail hour, after dinner and all of the formalities are over, how much dance time will we have?
3. Can you provide us with a price quote at our first meeting that includes all taxes and fees?
— Stacy L. Merola of Canoe Club Ballroom in West Bridgewater, Massachusetts
Q: How does a couple's wedding style/theme affect how they choose a venue?
A: "A couple who is more on the creative side should consider a venue that is a "blank slate" instead of leaning towards, for instance, a hotel. Utilizing a modern, open space where they can create their own décor will allow for a one-of-a-kind wedding. This will truly reflect their personal style and taste, while offering their guests a unique experience."
— Ellen Weiss of National Museum of American Jewish History in Philadelphia, Pennsylvania
Q: What's the difference between all-inclusive and a la carte venues, and what should couples consider when deciding between the two?
A: "An all-inclusive venue usually will provide everything you need: food, beverage, flowers, linens, etc. at one price, but you are a little more restricted as to what you can and cannot do. À la carte venues are designed more for the hands-on bride that is wanting to really personalize every aspect of their day. It will take more time and thought to coordinate but does tend to be much more personally reflective and unique."
— Kathy Richter of Brutocao Cellars in Hopland, California
Q: What should couples do first: book their wedding venue or set their guest count?
A: "Venue first, without a doubt! You can adjust [the] number of guests until RSVPs come back. Venue dates go quickly, especially certain times of the year. Once you land the place, there is a moment of exhale until the fun begins."
— Tammera McClendon of Rumours East in Nashville, Tennessee
Q: What's the number-one thing you wish couples knew about booking a wedding venue?
A: "Find the venue that embodies the two of you as a couple and then make absolutely sure it is within your budget. Selecting a venue outside or at the highest end of the budget can cause tremendous stress and typically results in skimping on other details that you would have otherwise loved to have had. Any disappointments on wedding day are no fun, therefore it's best to be realistic when selecting your venue."
— Debbie Norris of Sanderling Resort in Duck, North Carolina






Contributing Editors: Kim Forrest, Jacqueline Tynes, Samantha Iacia, and Sarah Title