9 Industrial and Unique Charleston Wedding Venues
We've found the best unique Charleston wedding venues in town, whether you're looking for an industrial loft space, a trendy downtown distillery, or even the aquarium!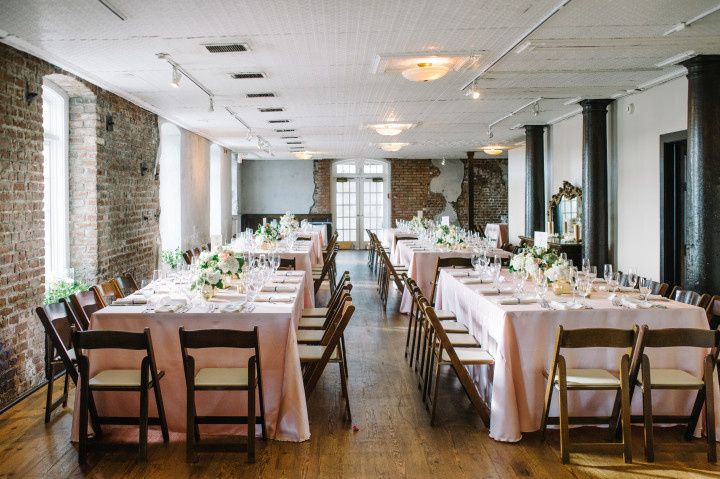 Have you always pictured yourself getting married at a non-traditional wedding venue? If the answer is yes, you're in luck, because there are plenty of unique Charleston wedding venues and trendy industrial spaces that will turn your big day into a one-of-a-kind celebration. These venues put an unconventional twist on Southern charm by combining traditional details, like chandeliers, hardwood floors, and marble fireplaces with edgy elements such as exposed ducts, beamed ceilings, and rugged brick walls. From old-fashioned breweries to modern aquariums, refurbished warehouses, and even a renovated cigar factory, these wedding venues are some of the coolest and most unexpected places to get hitched in the Holy City.
Here are the most unique Charleston wedding venues for hosting an unforgettable event.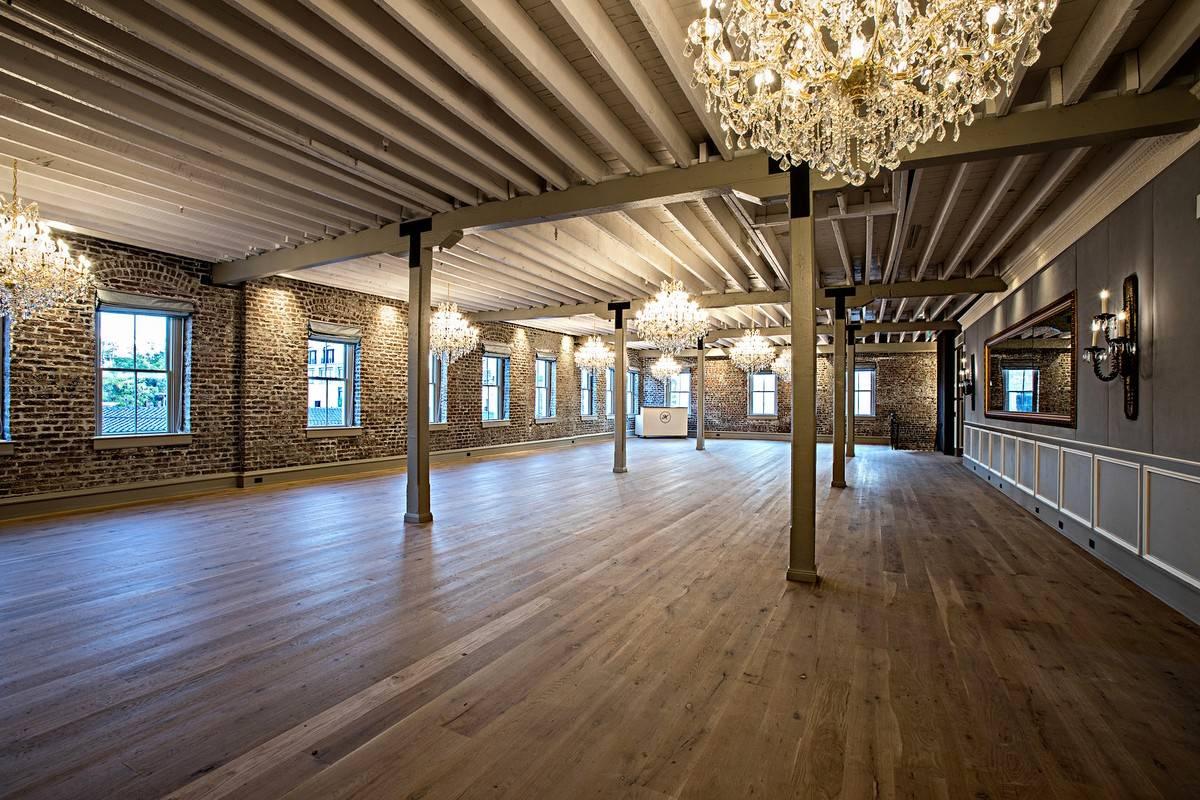 Merchants Hall
Built around 1856, Merchants Hall is a venue that brings a piece of the past to your wedding day. The refurbished space, which overlooks City Market, has exposed brick walls, open beam ceilings, gold chandeliers, and wood columns throughout the banquet room for an urban-meets-glam vibe. This venue's neutral finishes and flexible layout gives you the freedom to decorate it in a variety of ways, whether you opt for simple greenery garlands and metallic accents or go all-out with a bold color scheme and statement decor. With 2,800 square feet of event space, Merchants Hall can host ceremonies and/or receptions for a maximum of 210 people, including event staff. A private dressing suite and catering kitchen are also onsite.
Learn more about Merchants Hall »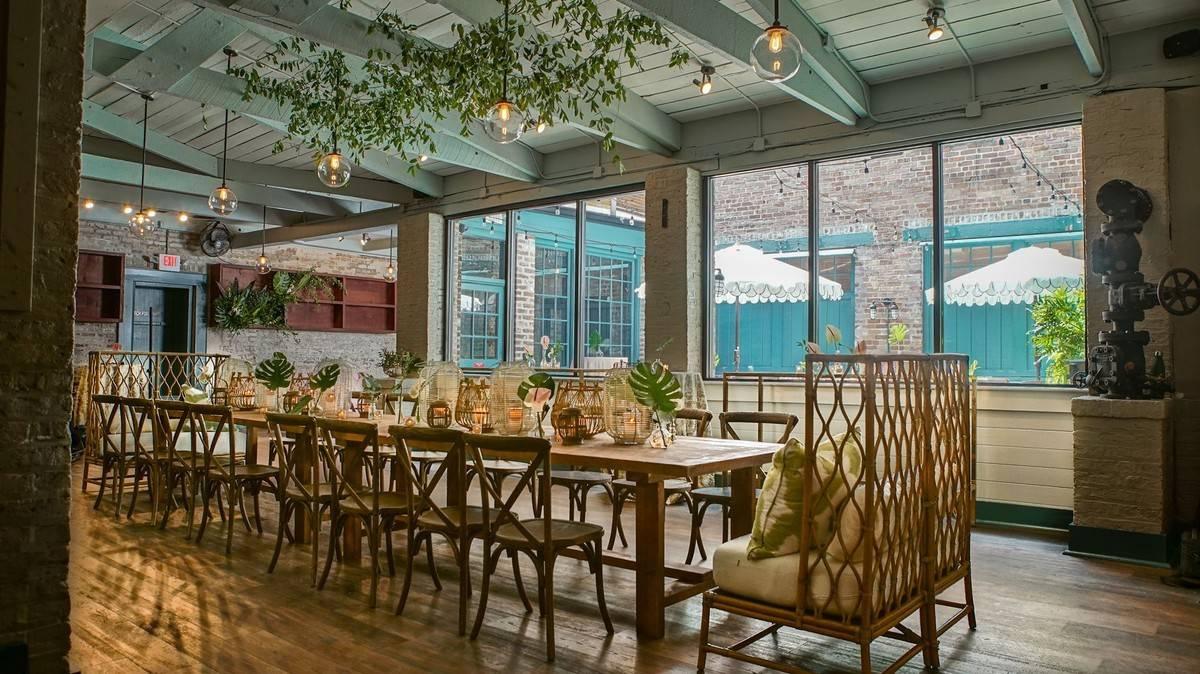 Poogan's Courtyard
If you're looking for a venue that has both indoor and outdoor event spaces, check out Poogan's Courtyard on Cumberland Street. This laid-back wedding venue is filled with natural light, an earthy color palette, and subtle industrial details, like old-fashioned factory gears, paned windows, and exposed brick. As the sister venue of iconic Charleston eateries Poogan's Porch and Poogan's Smokehouse, you're guaranteed to be wowed by the in-house catering and hospitality from the Poogan's Courtyard staff. Your wedding day can flow between the venue's sunny courtyard and the adjoining indoor space, which features large windows, a full bar, and plenty of room for dancing or a seated dinner. Poogan's Courtyard can host weddings for 150 people.
Learn more about Poogan's Courtyard »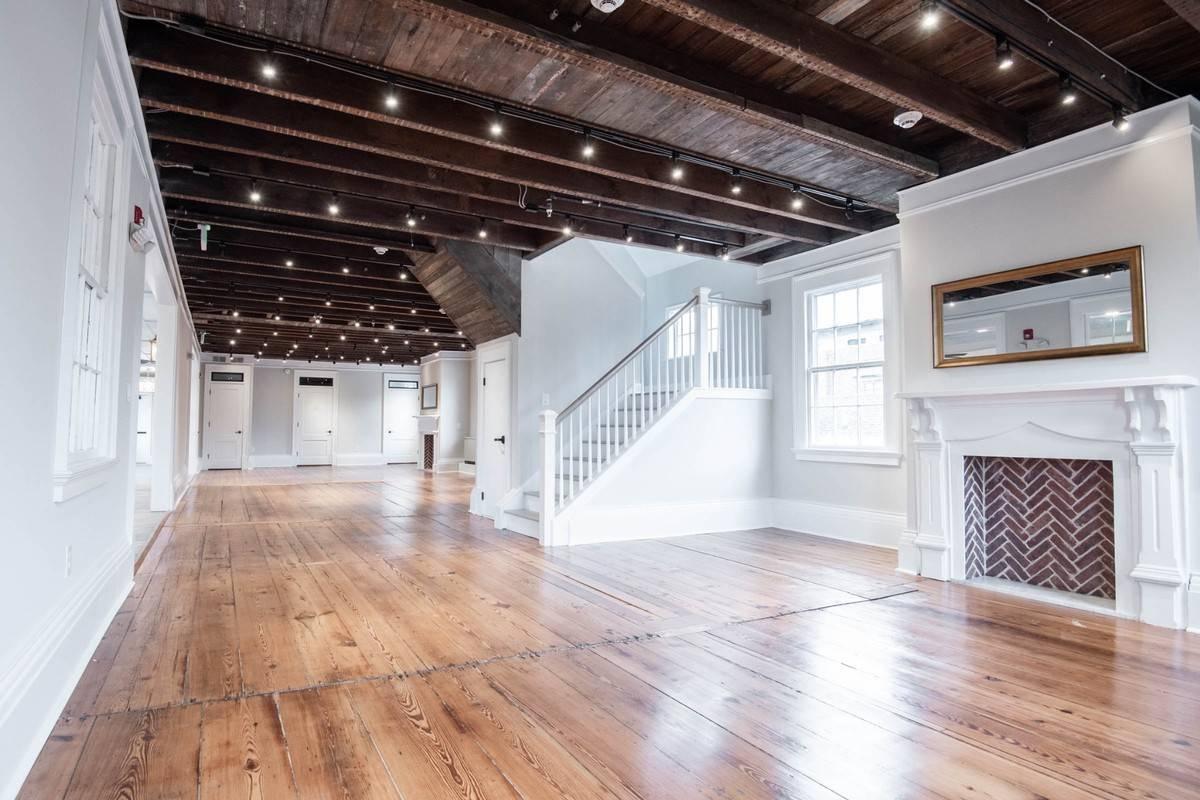 159 Rutledge
With a wine cellar, a ballroom, and sunny loft-inspired space all in one building, 159 Rutledge gives you plenty of options to create a one-of-a-kind wedding. The restored house, which was first built in 1845 and can host weddings for up to 150 people, still has its original heart pine floors and other details to give it an undeniable feeling of welcoming and warmth. Sitting just a few blocks from the MUSC campus and King Street, this unique Charleston wedding venue is conveniently located in the center of town. 159 Rutledge offers in-house bar services, event setup/cleanup, parking, and is fully wheelchair accessible.
Learn more about 159 Rutledge »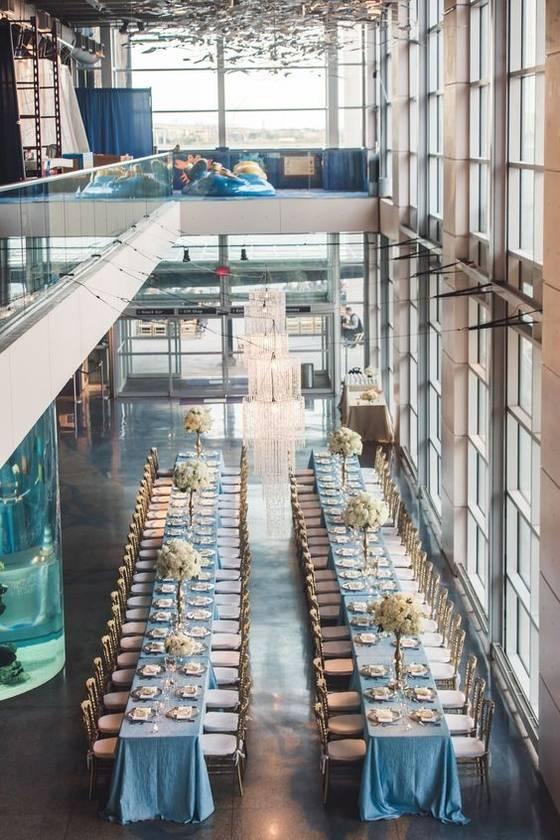 South Carolina Aquarium
If the amazing aquatic exhibits aren't enough to convince you to get married at the South Carolina Aquarium (side note: you can exchange your vows in front of a two-story ocean tank), the views of the Charleston harbor from the venue's private overlook surely will. This unique Charleston wedding venue offers several indoor and outdoor event spaces for your big day, along with customizable packages that include wedding rehearsal time, transportation options, photo booths, and more. You can even personalize your event with add-on experiences to wow your guests, such as animal encounters, stingray touch tanks, or an appearance from a scuba diver carrying a custom sign.
Learn more about the South Carolina Aquarium »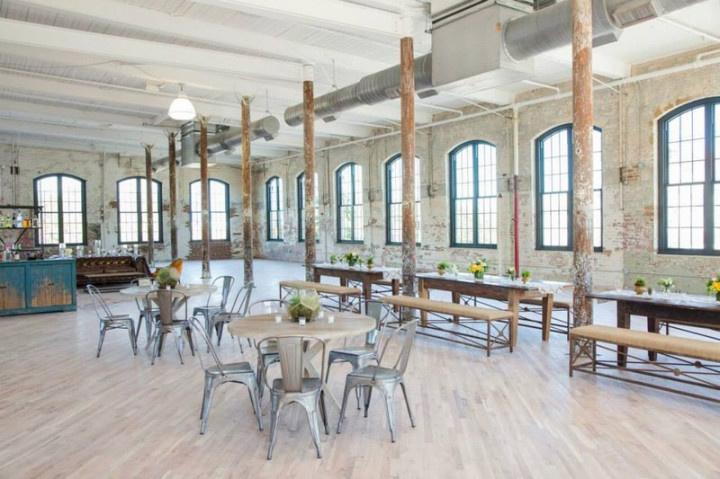 The Cedar Room at the Cigar Factory
The Cedar Room at The Cigar Factory is a 1881 building that has been meticulously restored to house a variety of private parties and wedding celebrations. With an open and airy interior that features exposed brick, hardwood floors and columns, we can't think of a better place for a wedding reception! For couples who are looking for an all-in-one wedding venue, this unique Charleston wedding venue also offers a bridal suite to get ready in, built-in bar and kitchen, along with a courtyard that's perfect for an outdoor ceremony. Whether you want a wedding venue that can easily accommodate banquet-style seating or a venue with a hint of historic charm, the Cedar Room has it all. Built originally as a cotton manufacturing facility, this spacious venue provides 7,500 square feet to use for your celebration. The floor-to-ceilings windows along the walls of the building also provide sweeping views of property and are great as backdrops! Wherever you decide to wed inside (or outside!) this industrial chic building, you won't be disappointed with The Cedar Room's unique setting. Just check out this ultra chic Charleston wedding to see how easily this venue can be transformed!
Learn more about The Cedar Room at The Cigar Factory »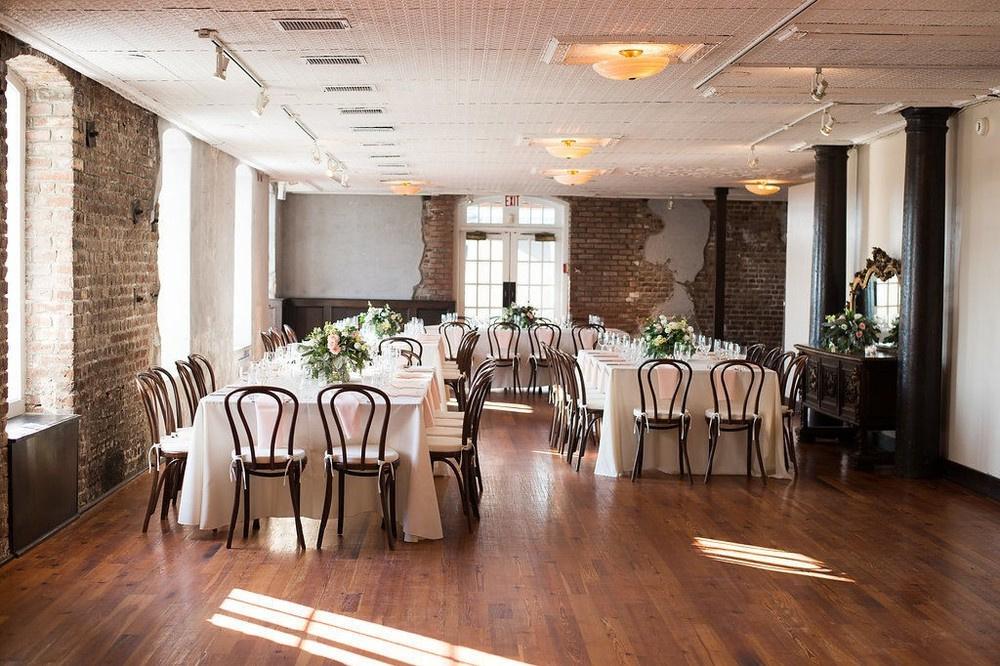 Historic Rice Mill
If you and your partner are looking for a unique Charleston wedding venue that's on the waterfront, then we recommend putting The Historic Rice Mill on your must-see venue list. Built back in 1861, this historical building overlooks Charleston's Ashley River and is the perfect choice for couples opting for a spacious venue. The classic design of the ground floor event space is met with exposed brick and large double windows creating a chic and classy wedding setting. We also can't get enough of the pressed tin ceilings, which can hang a variety of different light fixtures based on the ambiance you and your future-spouse want to create. Are you looking for a venue with an entertaining bar? Just check out The Historic Rice Mill's gorgeous mahogany marble bar, which makes for the perfect place to serve your signature drinks. Not only will you and your S.O. have a blast celebrating at this remodeled Mill, your guests will also appreciate the vast amount of room the venue has to offer. With versatile indoor and outdoor spaces and an exclusive caterer, Good Food Catering, we can't picture a better place for offbeat couples to tie the knot.
Learn more about The Historic Rice Mill »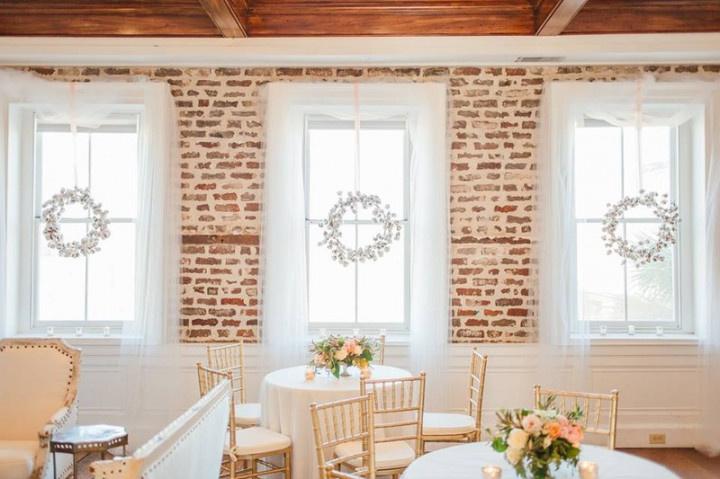 Upstairs at Midtown
The Upstairs at Midtown is a unique and private wedding venue that can easily accommodate up to 150 guests. Nestled right on King Street in the heart of downtown Charleston, this venue is one of King Street's oldest buildings. It was beautifully restored in order to keep its charm and still features pine floors, original fireplaces and tall coffered ceilings. We really can't think of a better modern-meets-classic wedding venue. If you and your S.O. have your heart set on exchanging vows outside, The Upstairs at Midtown also has a private rooftop patio which is the perfect place for a romantic ceremony. Just think of all the scenic backdrops and views of the city this rooftop can provide!
Learn more about The Upstairs at Midtown »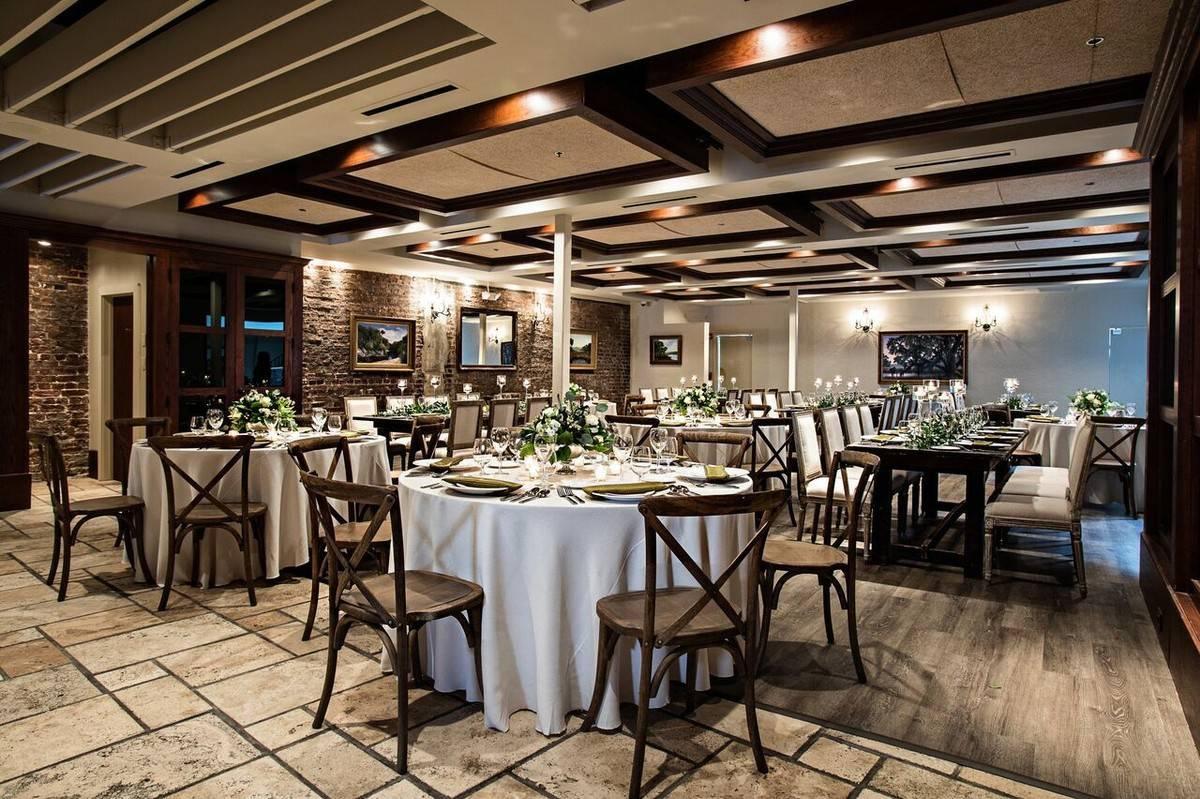 Halls Signature Events
Looking for a historic warehouse to celebrate your wedding day? Halls Signature Events is a modern events space that has a historic charm perfect for any wedding style. The spacious and unique Charleston wedding venue provides a modern, yet refurbished look with the help of its open and airy interiors filled with exposed wooden beams and red brick walls. With the use of votive candle lighting and candelabra or hurricane vase centerpieces, you can easily transform this industrial wedding venue into a chic and elegant space. The warehouse also provides several smaller rooms where you can set up a relaxing lounge with vintage upholstered furniture or cocktail tables for guests to use during cocktail hour. Couples also have the option to choose their own vendors at Halls Signature Events, too!
Learn more about Halls Signature Events »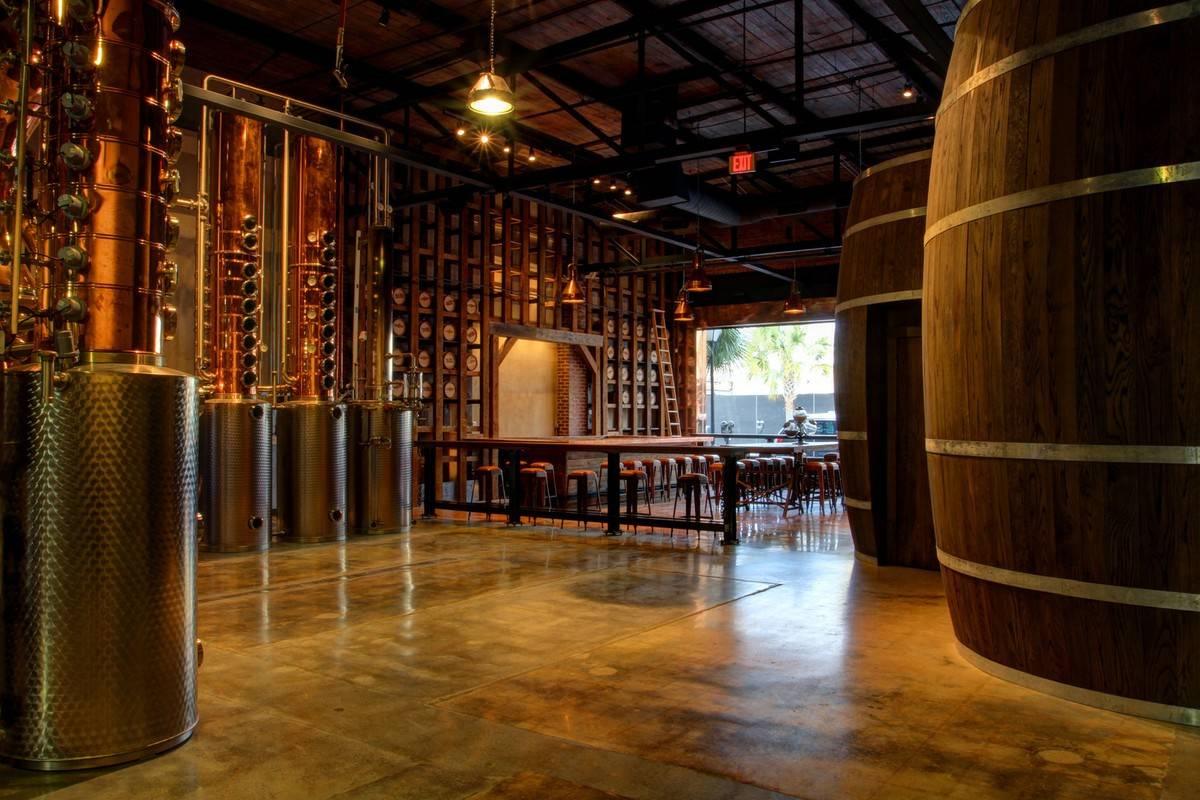 Charleston Distilling Co.
Are you and your future-spouse notoriously known for being beer or cocktail lovers? Do you spend your weekends checking out the latest restaurants or bars in order to find a new drink or dish to obsess over? If so, then we suggest you opt to wed at the Charleston Distilling Co. located on King Street. This independent distillery not only makes handcrafted spirits but also evokes a unique wedding setting for both intimate or larger scale weddings. Just dress the rectangular tables with greenery aisle markers and string twinkling lights from the high ceilings to create a warm and cozy feel.