22 Reviews
Recommended by 97% of couples
Quality of service

4.9 out of 5 rating

Average response time

4.9 out of 5 rating

Professionalism

4.9 out of 5 rating

Value

4.9 out of 5 rating

Flexibility

4.8 out of 5 rating
11 User photos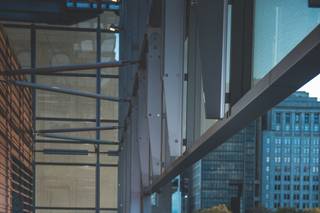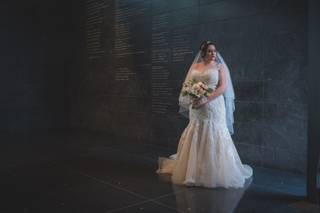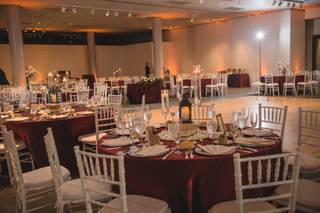 + 7

photos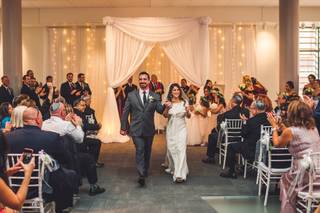 Rachel L.

Married on 09/22/2019

Gorgeous venue!

SO SO happy we chose NMAJH for our wedding! The venue was beautiful and Ellen was so easy to work with. She answered all of my many, many questions throughout this entire process. My friends and family were amazed by the venue and we've gotten so many compliments. Can't recommend this venue enough. The beautiful balcony on the 5th floor ballroom was the perfect place for our second bar and as a backdrop for photos. Loved it!!!

+ 4

photos

Poonam

Married on 05/01/2019

Perfect space for the most amazing wedding day!

Before I go into the details, our wedding at the museum was everything we could have hoped for! We had our Indian wedding ceremony and reception at the museum. The baraat traveled from 5th and Spruce to the front of the museum. Then the guests traveled up the the 5th floor for our wedding ceremony (~1hr). The cocktail hour was all way downstairs in the concourse area (1.5 hr), followed by the reception in the converted 5th floor ballroom. We had roughly 200 guests (21 tables) with a large dance floor and 2 dinner buffets and 2 bars. the ambiance of the space allowed the DJ and decorator to make the ceremony feel truly special and momentous. During the reception, the room did not feel crowded at all.

Ellen Weiss is simply amazing. She is hyper responsive and made everything seem so straightforward and easy to accomplish. She provided us with recommendations for various vendors and was also extremely flexible with allowing us to visit and look at the space over and over again. We were able to bring in things ahead of time (alcohol, DIY decor, etc) and pick everything up the next day after the wedding, which was such a plus!

The event space was perfect. It could be considered a blank slate, but in itself has such clean lines that we were able to accomplish the vision that we wanted. Also, the balcony! We, and our guests, just loved the balcony! We were also able to supply our own alcohol, which made it possible for us to get wine, beer, and liquor that we love!

1000% recommend!

Mark M.

Married on 04/19/2019

Amazing first impression

We met with Ellen she gave us a tour of the facility and showed us the possibilities of an amazing wedding setup. She showed us different areas for ceremony, cocktail hour, and reception, along with photos from another wedding around the size that we want.

Are you interested?

Send a message

Jen B.

Married on 03/23/2019

What a fun night!!

First off, Ellen Weiss is extremely helpful and responsive, typically replying to emails within a matter of minutes. The venue is beautiful and classy, and everyone had so much fun taking pictures on the balcony with Independence Hall in the background. NMAJH is very accommodating, and worked seamlessly with my preferred caterer, who was not on their recommended list. Our guests all had a blast, and I'm so so glad that we found NMAJH as our perfect wedding venue!!

Brittany

Married on 07/28/2018

We had the wedding of our dreams at the National Museum of American Jewish History! We had the ceremony and reception in the beautiful 5th floor ballroom, which has a balcony overlooking Independence Mall, and cocktail hour on the 3rd floor. The museum was even kind enough to leave the 3rd floor exhibit open for our guests to see. The staff was extremely helpful - they assisted us in unloading all of our cars with wedding decorations and move them up to the 5th floor. We also had the pleasure of working with Ellen Weiss from booking the venue through our big day. She is extremely organized, kind, and made our experience as amazing as it was. We would recommend the National Museum of American Jewish History to all couples looking to have a beautiful event with memories that will last a lifetime!

Alison

Married on 06/22/2018

If you are looking for a modern, beautiful venue that offers an incredible view, National Museum of American Jewish History is it!!! My husband and I both went to college in Philadelphia and knew we wanted to have a wedding in the city and wanted a venue that could let our guests fall in love with the city as well. Our ceremony and reception were in the ballroom on the 5th floor, and our cocktail hour was on the third floor. The architecture in the space is just beautiful, and our cocktail hour on the 3rd floor really let our guests appreciate that with their exposed staircases. The terrace off the ballroom was a huge hit. It rained a big on our wedding day, but it didn't stop our family and friends from getting out there to take pictures and appreciate the incredible view. Additionally, Ellen was incredibly easy to work with. She accommodated so many of my requests and she responded to emails within an hour almost EVERY time. I loved our venue and would recommend it to anyone looking for a beautiful center city gem.

My wife and I had our wedding ceremony and reception at this museum and have been very happy that we went with them. Our contact at the Museum was Ellen, and she has been prompt and responsive to all of our inquiries. The space that we used on the 5th floor was big enough for our wedding of 115 people, but they have an airwall that can expand the space to fit so many more. There is a lot of natural light coming in through a skylight as well as the large windows on one of the walls. There is also a balcony on that space which looks out to Independence Mall, Independence Hall, the Liberty Bell, and even City Hall.

They have been so flexible for us, and even allowed my wife and I to have a set aside space for our yichud right after the ceremony while our guests enjoyed cocktail hour on the 3rd floor.

Going with NMAJH has been one of our best decisions when we planned this wedding.

Luke

Married on 07/01/2017

We're so happy we had our wedding here! Ellen was flexible and responsive and the venue was truly unique and memorable in every way for a very reasonable price! We had our ceremony on the 5th floor, cocktail hour on the 3rd and reception back up on the 5th floor. The balcony made for some amazing backdrops for our photos and the location is one-of-a-kind. Couldn't have imagined getting married anywhere else. A few pros: you can bring your own alcohol (saves you $$), Ellen provides you with a list of approved caterers (pick Sage!) and you can drop all of your decor and alcohol a few days prior in a loading dock and pick up after the party is over.

I cannot speak highly enough of our experience at the NMAJH. It was the perfect venue for our October wedding. From the moment we met Ellen she was so wonderful and accommodating. She shared the dates that were available, one was a weekend in September but she said the Pope was coming so she would advise against it. I appreciate her being so upfront about that because had we picked that date we would have needed to switch it!
Our wedding was so special and we love it because visits to NMAJH can be a continual reminder of our wedding. It was such a beautiful venue and very easy to work with. Ellen provided us with a list of approved vendors (although you can use vendors not on the list) and reached out a few weeks in advance and the week of to make sure everything was taken care of; she was also a wonderful resource for suggestions and questions.
I would highly recommend NMAJH to any bride (and groom) looking for a venue that is really special and a little different than a catering hall or ballroom...and the view of Independence Hall cannot be beat.

I had my wedding (ceremony, cocktail, and reception) at the museum in September. I worked with Ellen and she was amazing. So flexible and helpful. I couldn't have asked for someone better to work with. I really felt like she cared that our day went well. As far as the venue itself, it was the first and only one my husband and I saw. We didn't want to make a rush decision, but we loved the modern look and once we saw the views and balconies we knew nothing else would compare for us. It was everything we were looking for. The wedding itself went smoothly and our guests loved the venue as well as the location - with so many great hotels, restaurants and bars, and of course the historical sites nearby it was the perfect location for our out-of-town guests who were spending a few days in Philly.

Mandy

Married on 09/12/2015

The NMAJH is the perfect wedding and reception venue! We had a small wedding and initially thought the Museum could only accommodate large parties. We contacted Ellen, the Museum's facilities and events manager, who assured us that the venue was perfect for parties big and small. She was right. We looked at a few places before we went to visit the NMAJH, and as soon as we set foot in the space and met Ellen, we knew we had our venue. Ellen was extremely helpful and responsive. We had many questions and Ellen literally responded to every email within 15 minutes, and usually much less! She worked with us and our vendors to accommodate sight visits and to help make the event just what we wanted. The space in the museum is lovely by itself. We added a few touches and transformed it into an even more beautiful, elegant and intimate venue. The NMAJH was quite reasonably priced, and the cost included Chiavari chairs and the dance floor. We also like the fact that people of all faiths (or no religion at all) get married in the Museum, and that we were not required to serve kosher food. The NMAJH has a long list of caterers, which was also attractive to us. We got so much more than a wedding venue, we got a family of supporters who helped make our wedding everything we dreamed it would be and more! The NMAJH gets our highest praise and I recommend it without hesitation. Thank you NMAJH!

Rebecca

Married on 06/06/2015

We loved our venue! Ellen, the coordinator, was extremely responsive and helped us a lot. We didn't have a planner, so she helped answer a lot of questions for us. The location was perfect and everyone loved the space. Very reasonably priced for Old City, as well! Overall, very happy with our decision to get married here!

Vicki

Married on 07/12/2014

We had our wedding there in July and enjoyed every moment of it. Ellen, the event manager, is great to work with and was super flexible. Every time we wanted to visit the museum, she made herself available. The space itself is very beautiful and the balcony of the 5th floor was a hit with our friends.

Having my wedding at the NMAJH was a dream come true. It was perfect and beautiful and I couldn't have been any happier with this choice.

We loved everything about having our wedding at NMAJH - it was Jewish, but more modern-feeling than a synagogue, and cultural, and unique. It helped that Ellen was great to work with as well - very professional and responsive! I wish we could do it all over again, but I'll have to settle for highly, highly recommending hosting your event at NMAJH!

This place is great. It's new, so has a fresh/modern look, is clean and in a gorgeous area. The terrace overlooks the liberty bell and has a wonderful view of the downtown skyline. The prices are very reasonable (about half of other museums), and the best part: 1) You can bring any insured caterer that you want (just confirm with the venue), and 2) you can bring your own booze (talk about HUGE money saver). The museum coordinator is very kind/friendly and flexible. She allowed us to come on over, on multiple occasions, to view the location.
If you are looking for a downtown Philadelphia venue, then look at this place. You can throw a first class wedding, at a very reasonable price due to their flexibility.

Daniella

Married on 03/16/2013

Not many people can say they got married in a museum. Our wedding was a destination for most of our family, and the museum's location was perfect for guests to explore the city.
Ellen, who was the event coordinator at the museum was amazing. She helped us make sure the day went smoothly.
We had our beautiful cocktail hour in the lobby and our ceremony and reception in the event space on the 5th floor. The space is a blank slate, white wall, with big windows. You can really get imaginative with that space. We out color washed on the walls to give it a nice warm glow.
Any occasion would be great to celebrate at the NMAJH!

Kim

Married on 12/27/2014

I had both my ceremony and reception at the museum. The ceremony took place on the 5th floor which was converted into the reception area afterwards. Our cocktail hour was on the third floor. Our wedding was 100 guests so we easily fit in the cocktail space and we rented half of the 5th floor space.

Working with Ellen was a breeze. She worked out everything with our vendors, allowed us to drop things off before the wedding, and was around the whole night for anything we might have needed. We were also able to leave some things after the wedding and pick them up the next day.

The reception space is pretty much a blank canvas for you to decorate as you please. I chose, for budgetary reasons, to do without the up lighting but thought that between my decorations and everything supplied by the caterer, that it looked perfect. We were lucky to have an unusually warm day so our guests really enjoyed going out on the balcony to get some fresh air and fantastic pictures.

Two important things to know. You supply your own alcohol which we felt was a definite plus! Also, they do not require that your food be kosher, but you are not allowed to have seafood or pork.

Over all, we loved our venue and we would chose the museum all over again!

Sarah

Married on 10/27/2019

Museum Wedding Perfection!

We picked this venue because my now-husband is a huge history geek, we're both Jewish, and we wanted something unique. He did an internship program through the museum while we were dating, so when we got engaged, he suggested we check it out. It honestly wasn't my first pick because the ballroom is pretty much a huge, white blank space and I couldn't envision how things would come together, but I'm so glad we chose it. The selling point for us was the terrace. The terrace was a phenomenal place to take photos, and guests loved the amazing view of Independence Mall. We had our ceremony and reception in the 5th floor ballroom and our cocktail hour on the concourse. We got so many compliments on the venue, both from our guests and from the vendors who love working events at the museum. They don't have a space for getting ready, but they have a small bridal suite with a private bathroom and plenty of room for the bridal party to store stuff. Ellen, the event coordinator for the museum, was extremely responsive at all times, generally responding within minutes of any email inquiries. It ended up raining on our wedding day, so we took our pictures at the museum on the third floor, and it worked out well for us!

My only small nitpick with the museum was the lack of involvement on the actual wedding day. I didn't expect Ellen or any of the museum staff to be full-on wedding coordinators for us or anything, but they really did nothing to help us on our big day. After the ceremony, someone from the museum was supposed to take me and my groom to the private back elevator then to the bridal suite so we could have a few minutes alone and then I could get bustled. No one was there to direct us, so we ended up in the middle of our cocktail hour, trying to politely push through the sea of people who wanted to greet us so I could have my train bustled instead of being stepped on. Other than that, the museum was great. All of the staff was pleasant, there were so many great places to take pictures, and the ballroom was the perfect blank slate.

Samantha

Married on 10/27/2018

The perfect place to get married

We loved having our wedding at NMAJH! We live close by and it was meaningful for us to have our wedding day in the same neighborhood where we live, but with a larger guest count it was difficult to find something in our budget. The museum had the modern, city feel we wanted, while being big enough (but not TOO big) for our 200 guests. We found it really reasonably priced and loved that we were able to customize the space with all of the other vendors we hired.
Our guests all loved it (especially the balcony off of the event space, it's such a hit for photos!) and we loved how convenient the location is.

Viraj

Married on 05/27/2017

Truly an outstanding location and building! We had our wedding reception there, it was just AMAZING!

The venue was amazing and beautiful and perfect. I highly recommend it. The coordinator left much to be desired. My family and bridal party felt that she was rude, she did not respond to my emails and outreach the weekend of, and she was not at all helpful the day of. I was very disappointed. But the venue itself- magnificent! And if I had to (which I hope I never do!) I would get married here over again.
Are you interested?
Send a message