22 New England Wedding Venues for Every Style
Say "I do" at one of these New England venues.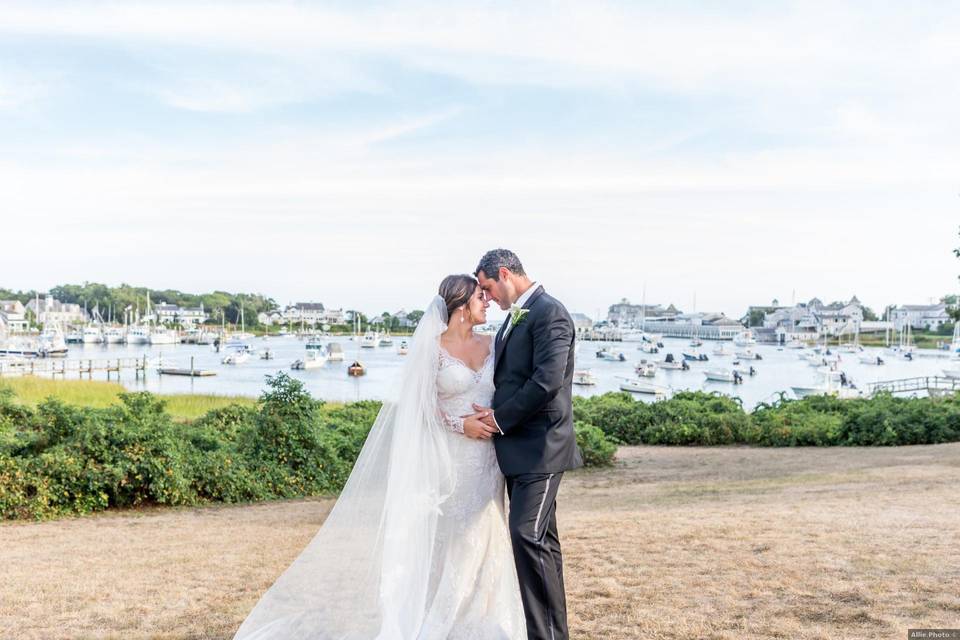 When it comes to abundant natural beauty and charm, there's nothing quite like a New England wedding venue. The varied landscapes, from the Atlantic Ocean to the Green Mountains, make New England a truly spectacular place to wed. And whether you're looking for a historic estate, a relaxed, beachy event space, or a modern hotel, New England has wedding venues for every style and budget. We've gathered our favorite New England wedding venues so you can start envisioning and planning your big day.
Willowdale Estate
Topsfield, Masschusetts
Located about 40 minutes north of Boston, this New England wedding venue's park setting offers spacious, beautifully-manicured grounds for your ceremony and reception. You can say "I do" with the classic stone house as your backdrop, or inside the light-filled Conservatory. Receptions can be held inside the home or tented on the property. There's space for up to 240 guests, and all-inclusive wedding packages are available.
Learn more about Willowdale Estate »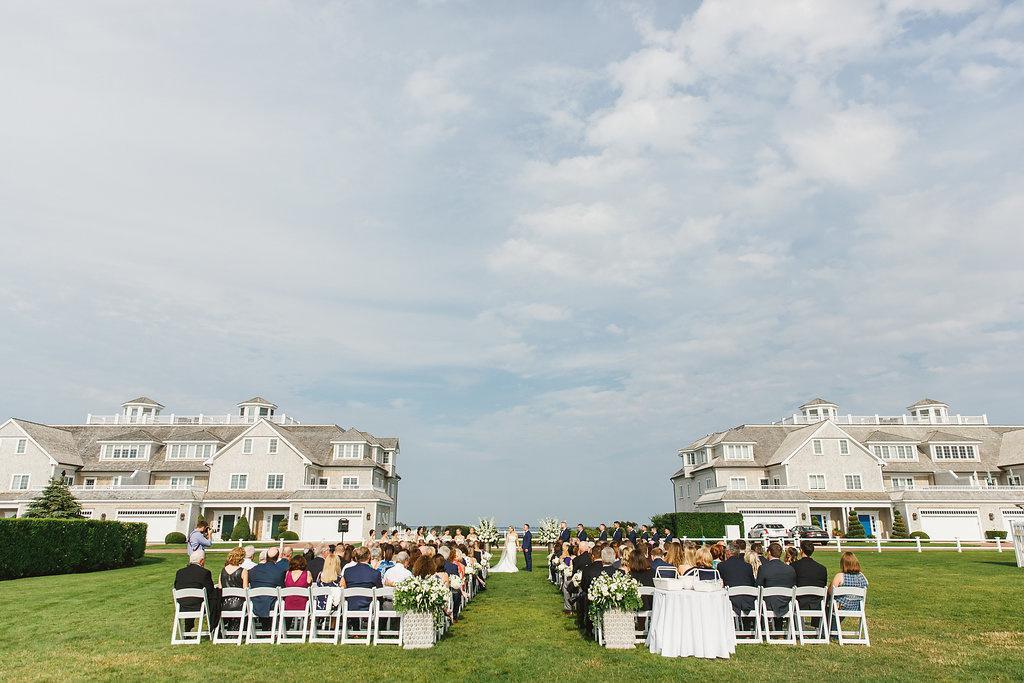 Wychmere Beach Club
Harwich Port, Massachusetts
If you're dreaming of a nautical-chic wedding, there may be no better location than Cape Cod—and this modern waterfront venue in Harwich Port is one of the best. Host your outdoor ceremony on the expansive lawn overlooking the water, or right on the sand, followed by a cocktail hour on the deck. Then, enjoy dinner and dancing inside the ballroom, which features gray hardwood floors, French doors, and sparkling chandeliers. On-site accommodations, including four suites, are available for you and your guests. Whether you're hosting a wedding, elopement, rehearsal dinner, engagement party, or other special event, Wychmere Beach Club is the perfect spot for a Cape Cod celebration.
Learn more about Wychmere Beach Club »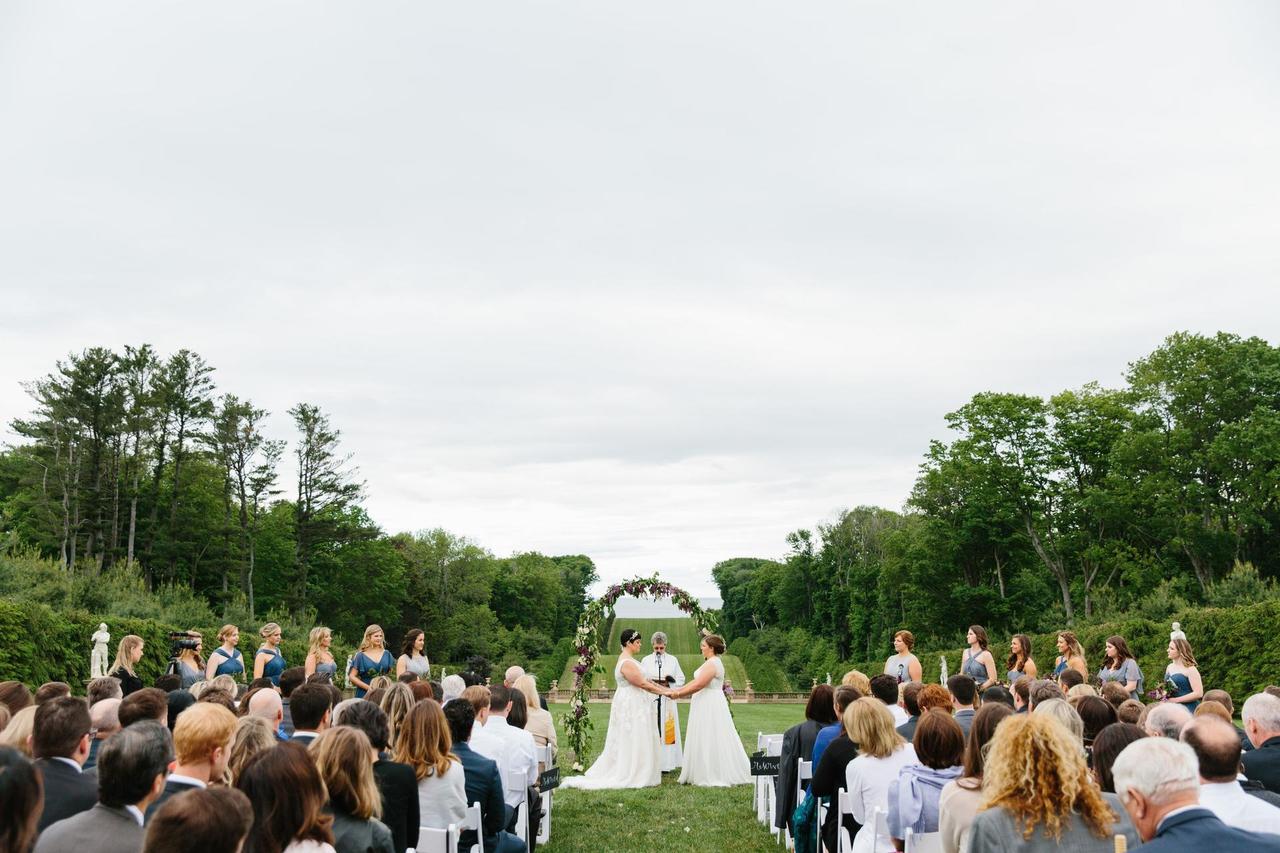 The Crane Estate
Ipswich, Massachusetts
We love the versatility of this seaside event venue, where there are three wedding locations to choose from. At the Great House, you can exchange vows on the dramatic lawn with a classic tented reception on the 2,100-acre property for over 200 guests. Or, say "I do"at Steep Hill Beach, overlooking the Atlantic Ocean. There's also The Barn at Crane Estate, an Italian-style barn, that's perfect for a more rustic-style event, with space for up to 140 guests. This all-inclusive venue works with the renowned Fireside Catering to help you pick the perfect menu for your wedding day.
Learn more about The Crane Estate »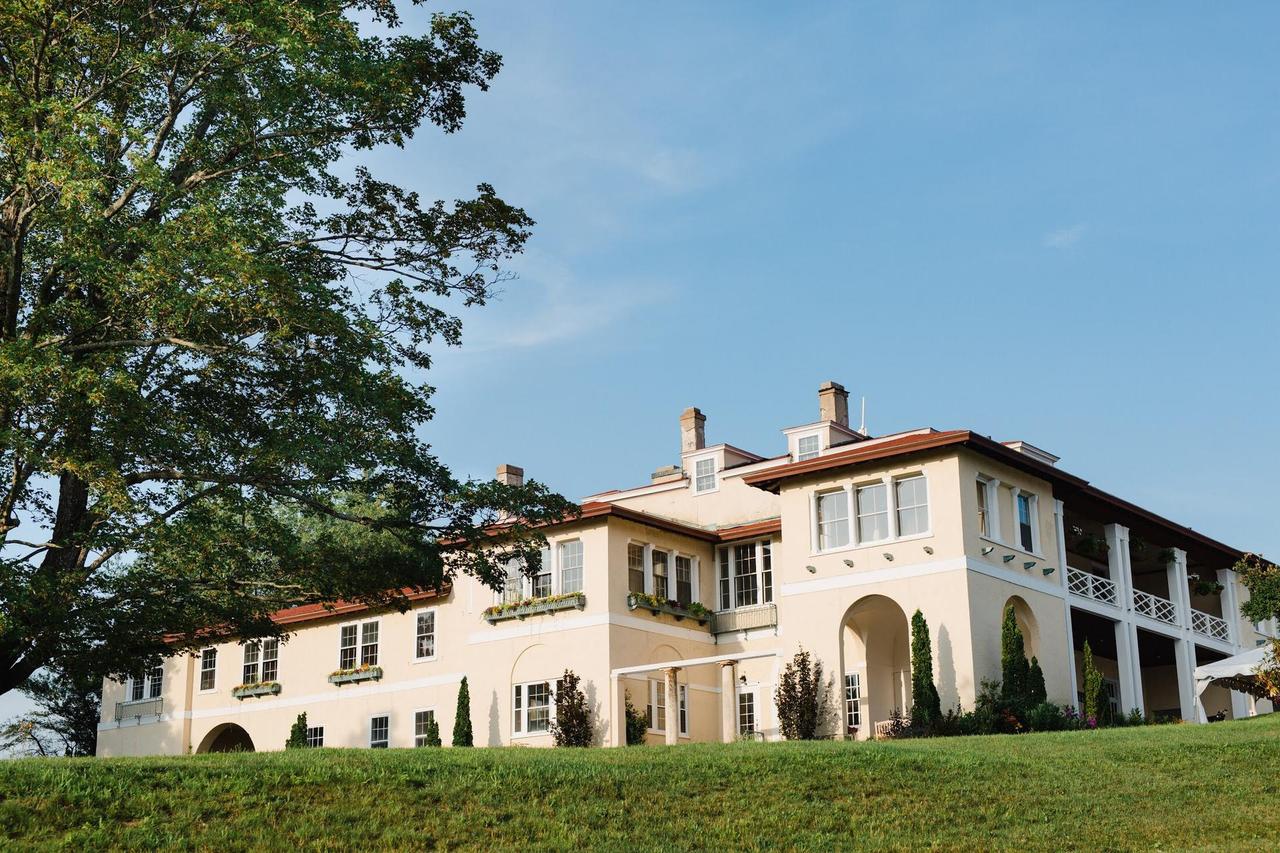 Aldworth Manor
Harrisville, New Hampshire
For a wedding that feels like something out of a fairytale, this New England wedding venue is picture perfect. Located on 175 acres in the New Hampshire countryside, Aldworth Manor features panoramic views of Mount Monadnock and several locations for weddings and events. For a more intimate indoor wedding, the dark wood Great Room, featuring chandeliers and a large fireplace, can host weddings of up to 60 guests. Outdoor wedding ceremonies and receptions can held on the lawn with the mountains as your backdrop. On-site catering and rentals are provided to make your wedding planning process a breeze.
Learn more about Aldworth Manor »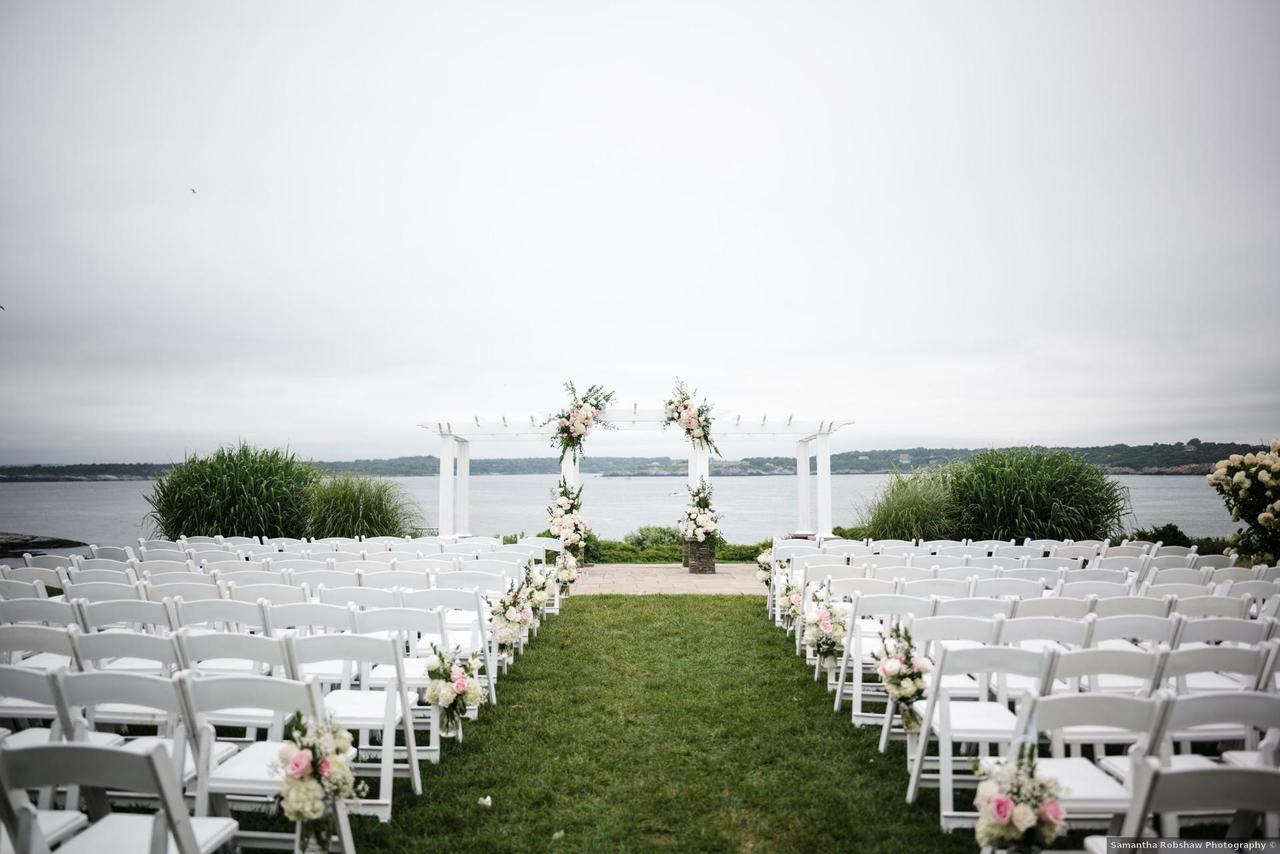 OceanCliff
Newport, Rhode Island
If ocean views are on your venue must-have list, this Newport, Rhode Island venue is definitely worth checking out. Ceremonies are held overlooking the Atlantic, while receptions are held in the Grand Ballroom, which can host up to 225 guests, or on the Upper Deck (featuring views of Narragansett Bay!), which can accommodate up to 150 people. Smaller events, like rehearsal dinners or post-wedding brunches, can be hosted inside the Safari Room. And with 24 guest rooms and a four-bedroom guesthouse, your guests can enjoy a weekend getaway in beautiful Newport.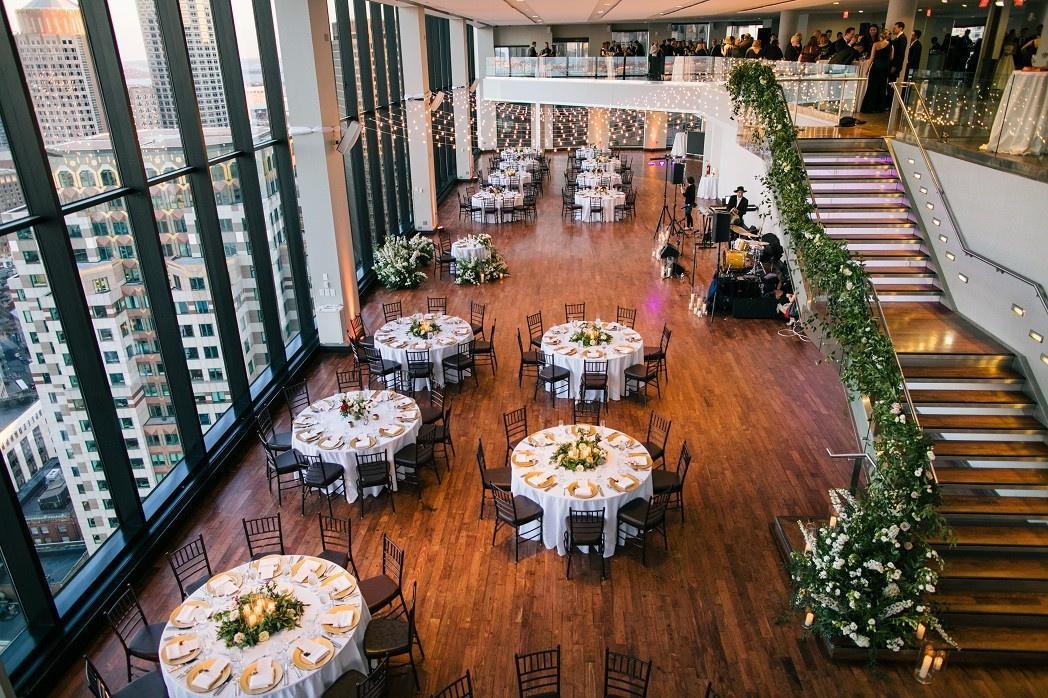 State Room: A Longwood Venue
Boston, Massachusetts
For a venue with a more contemporary, urban vibe, the State Room in the heart of Boston is an ideal choice. Located at the top of the Sixty State Street building, you'll find a dramatic space that's able to accommodate larger weddings of up to 450 guests—and some of the best views of the city. There are several spaces to choose from, including the two-story Great Room and Mezzanine, the Harborside 1 and 2 spaces featuring views of Quincy Market and Zakim Bridge, and the modern Cityside. This venue wins rave for its in-house catering and service.
Learn more about State Room: A Longwood Venue »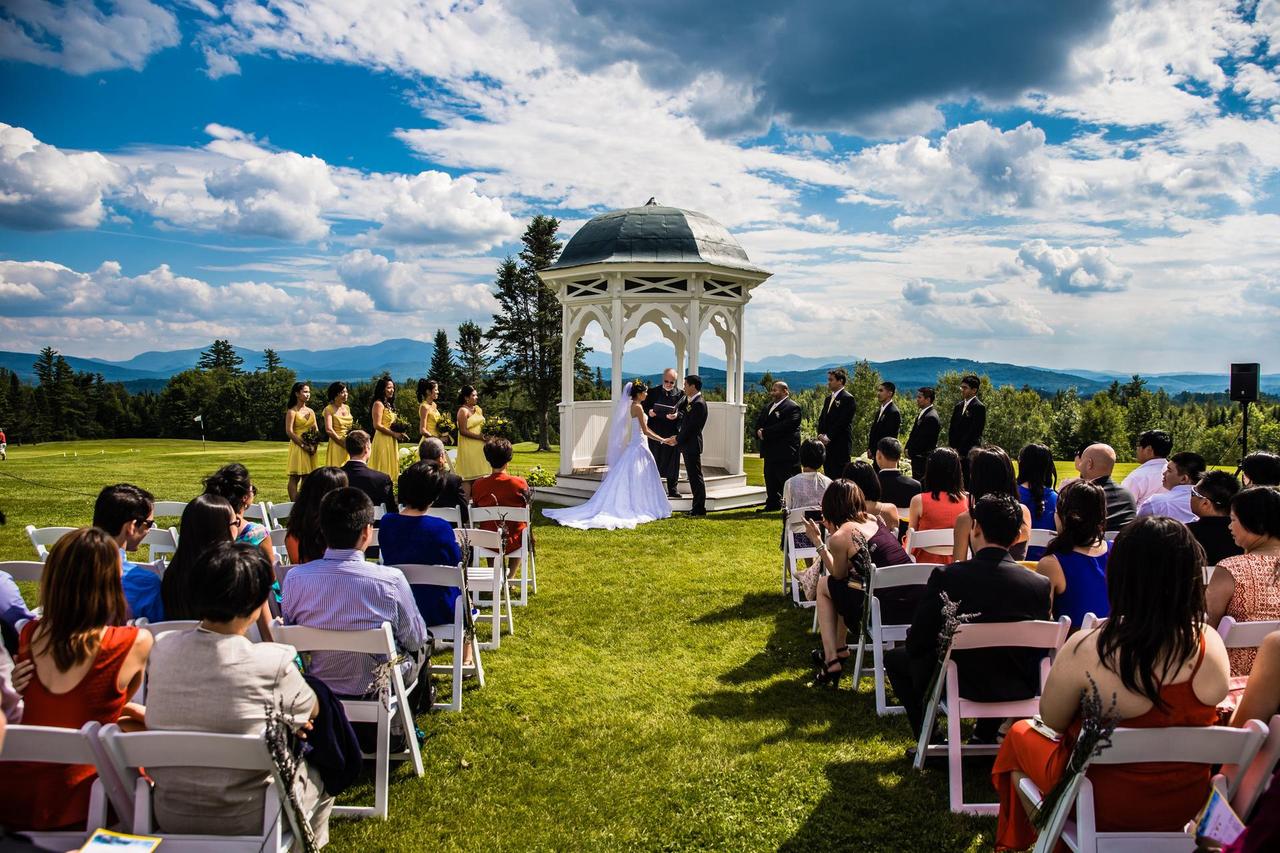 Mountain View Grand Resort & Spa
Whitefield, New Hampshire
We love the idea of hosting a destination wedding weekend at a resort, where your guests can bond and enjoy activities together. At the Mountain View Grand Resort and Spa in New Hampshire's White Mountains, you'll be able to plan the ultimate weekend getaway. With 1,700 acres of scenic property, Mountain View has 140 guest rooms, as well as indoor and outdoor event spaces that can accommodate up to 250 of your loved ones. Host your wedding ceremony on the Overlook Lawn, complete with a gazebo overlooking the mountain range, or the Grand View Gardens, which has its own waterfall. Receptions can be held in the Crystal Ballroom, a domed space with nearly 360-degree picture windows, or one of several smaller event venues.
Learn more about Mountain View Grand Resort & Spa »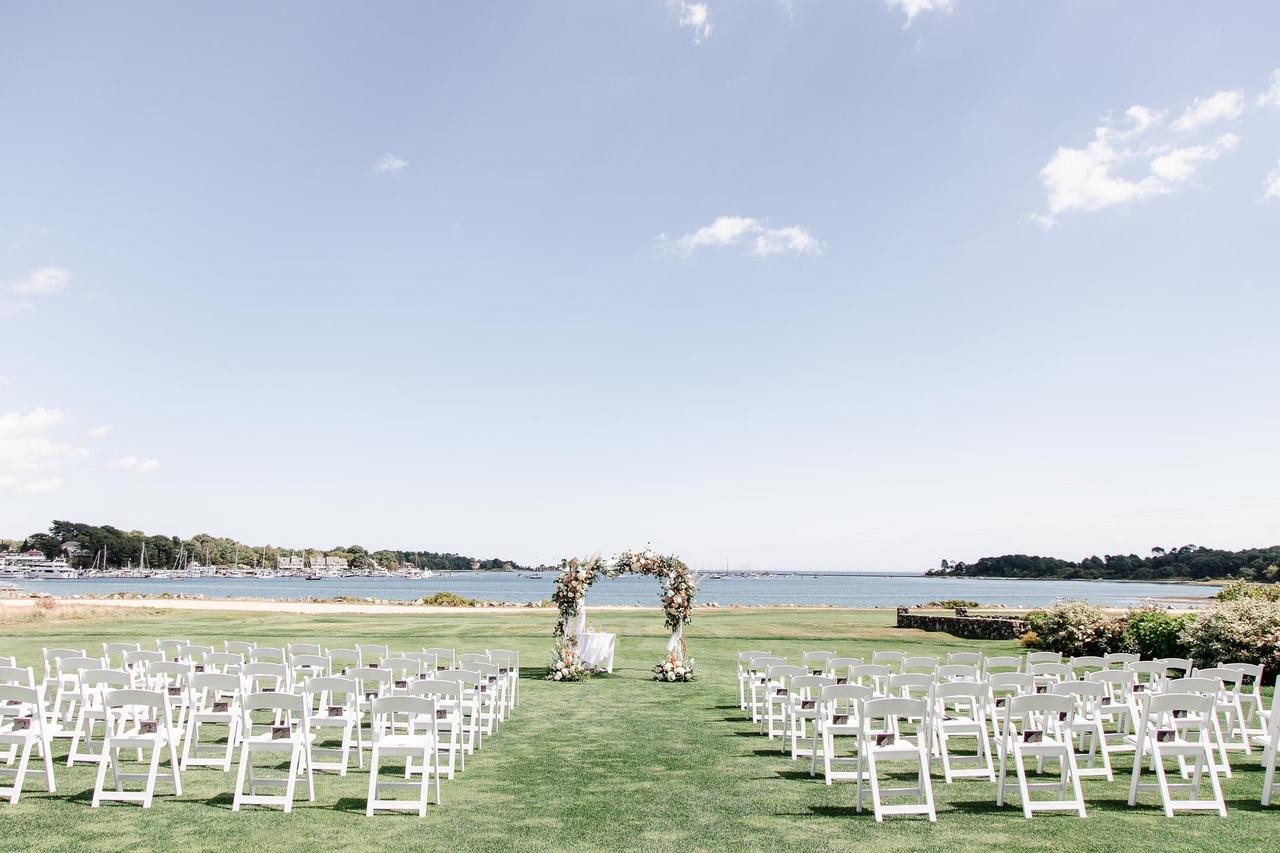 Wentworth by the Sea Country Club
Rye, New Hampshire
This country club wedding venue truly embodies New England charm, and effortlessly combine classic style with nautical-chic vibes. The seaside venue in New Hampshire offers an outdoor ceremony experience overlooking Little Harbor and the Wentworth Marina, followed by a reception inside a beautiful (and so New England!) Sperry sailcloth tent. There's space for up to 250 guests, and the all-inclusive venue handles everything from food to rentals.
Learn more about Wentworth By The Sea Country Club »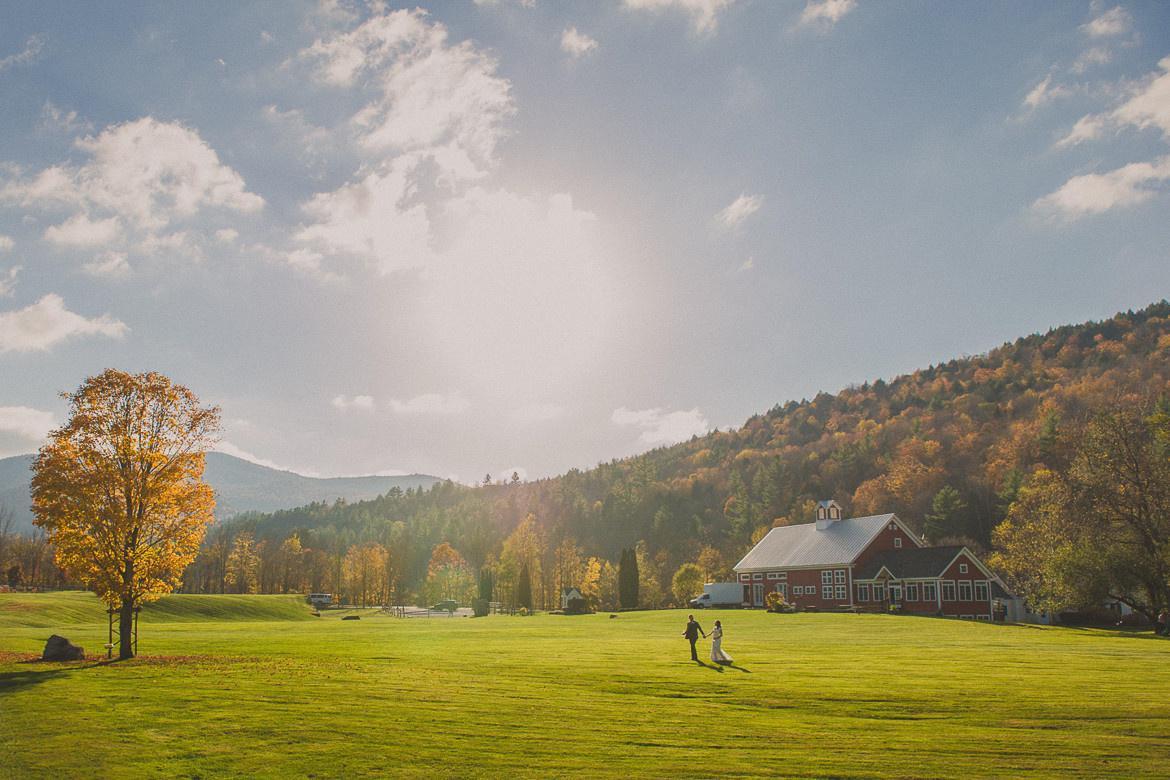 Riverside Farm
Pittsfield, Vermont
This 700-acre Vermont farm specializes in three-day destination wedding weekends, where you can host everything from your rehearsal dinner to your wedding to your next-day brunch on the property—talk about convenience! With the help of a designated wedding planner and caterer Vermont Farms Catering, you'll be able to plan the whole experience, including an outdoor ceremony with mountain views, a tented cocktail hour, and a rustic barn reception. There's space for weddings of more than 200 guests. And—bonus!—cottages, cabins, and barn-style accommodations are available for your nearest and dearest so your VIPs can stay on site.
Learn more about Riverside Farm »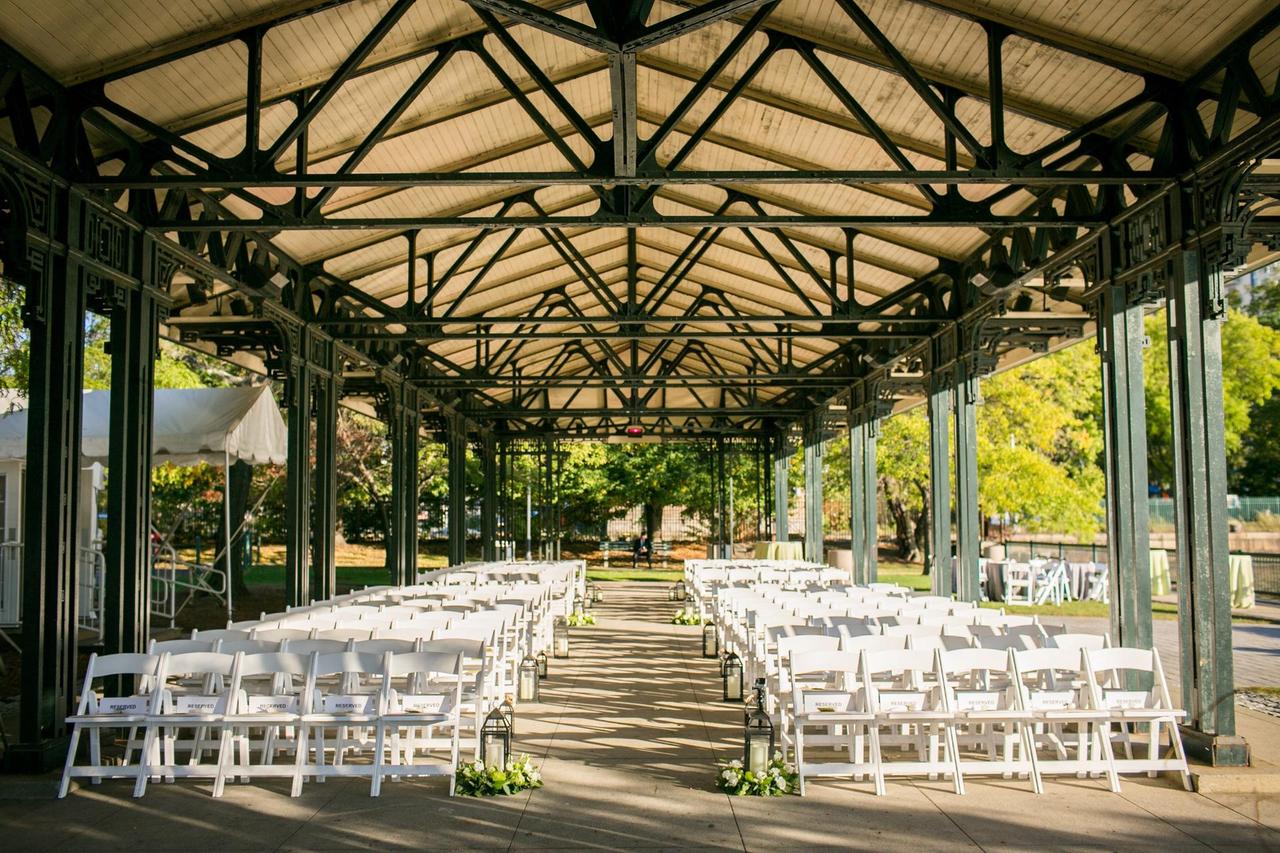 Museum of Science
Boston, Massachusetts
Whether you're a science buff or just love gorgeous New England wedding venues, the Museum of Science in Boston offers a breathtaking event space for your big day. With views of the Charles River and the city skyline, the museum's Washburn Pavilion is the prime space for ceremonies and receptions of between 100 and 250 guests. Indoors event spaces are available as well.
Learn more about the Museum of Science »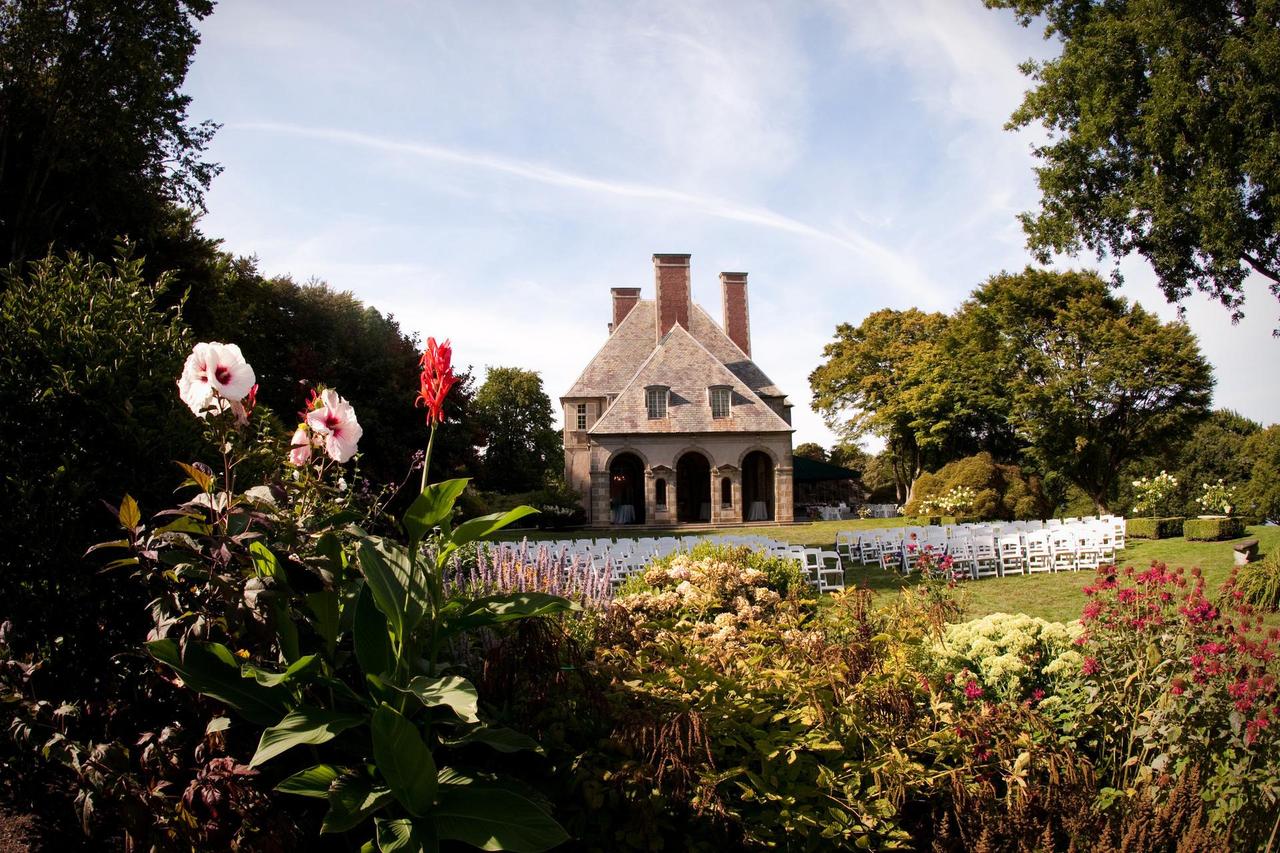 Glen Manor House
Portsmouth, Rhode Island
At Glen Manor House, you'll feel transported to the French countryside without leaving New England. Exchange vows with the Sakonnet River as your backdrop, followed by cocktail hour on the patio and a reception inside the chateau-style home, which features marble fireplaces and other European-style details. It's an utterly romantic wedding venue, and a photographer's dream, with lots of gorgeous backdrops for indoor and outdoor wedding photos.
Learn more about Glen Manor House »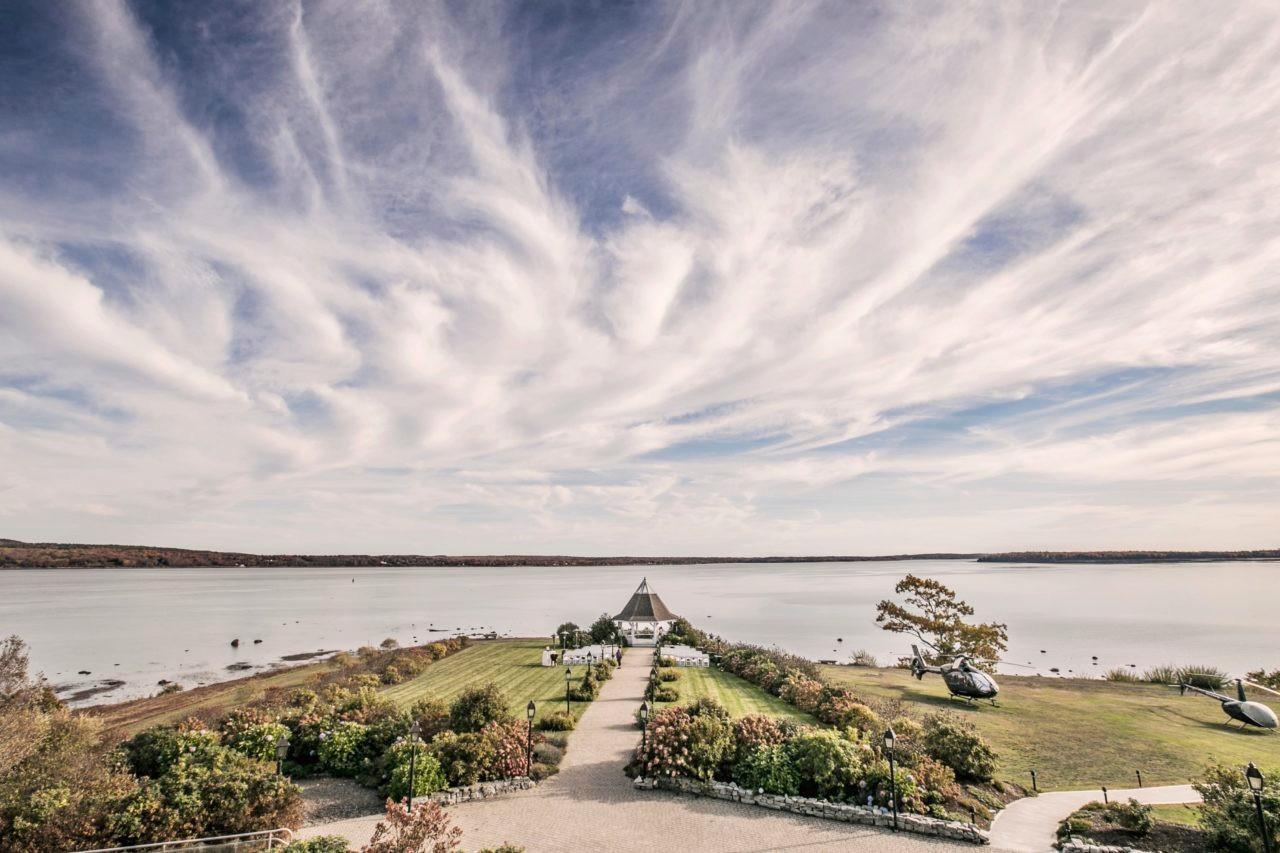 French's Point
Stockton Springs, Maine
These days, weddings are all about personalization—and this New England wedding venue is all about ensuring your wedding day feels uniquely your own. At French's Point, you'll be able to choose between nine ceremony settings and 20 reception spaces. Whether you want to wed in a gazebo overlooking Penobscot Bay, or elsewhere on the property, your ceremony will be breathtaking. And for weddings during the warmer months, a sailcloth tent makes the perfect locale for a festive reception. There are three homes on the 20-acre property, so up to 60 of your guests can stay on site. You'll also be able to customize your wedding by choosing your own vendors from the site's preferred vendor list.
Learn more about French's Point »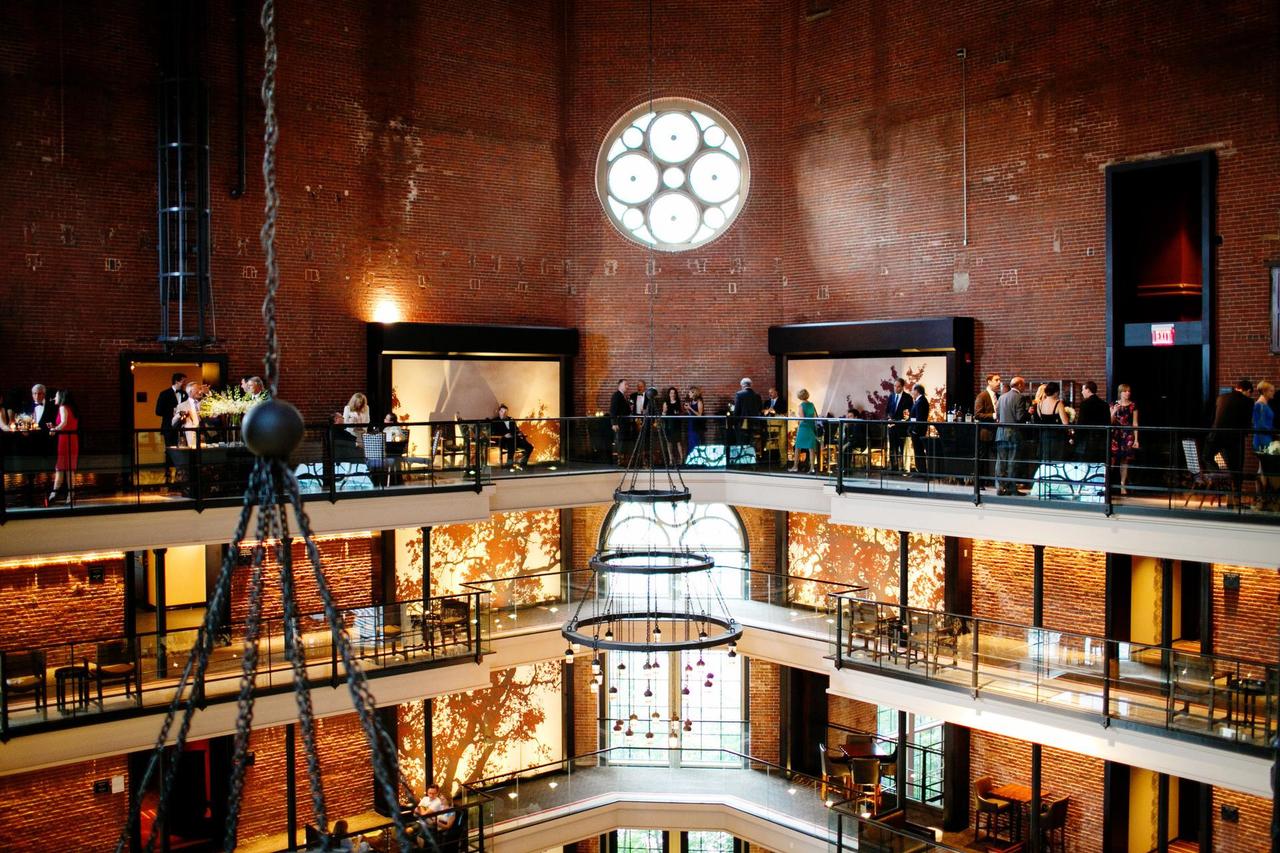 The Liberty Hotel
Boston, Massachuetts
A wedding at a former jail? Sounds a little odd, but the historic Liberty Hotel in Boston is definitely one of the most unique wedding venues in New England. Overlooking the Charles River, The Liberty Hotel can host weddings and events for up to 180 guests. Say "I do" outdoors in the Yard, followed by cocktail hour in the majestic, 90-foot Rotunda. Receptions are held in the Liberty Ballroom, a 3,000 square foot event space featuring chandeliers and floor-to-ceiling windows. And, there are 298 guest rooms, so your entire crew can stay the weekend and enjoy all that Boston has to offer.
Learn more about The Liberty Hotel »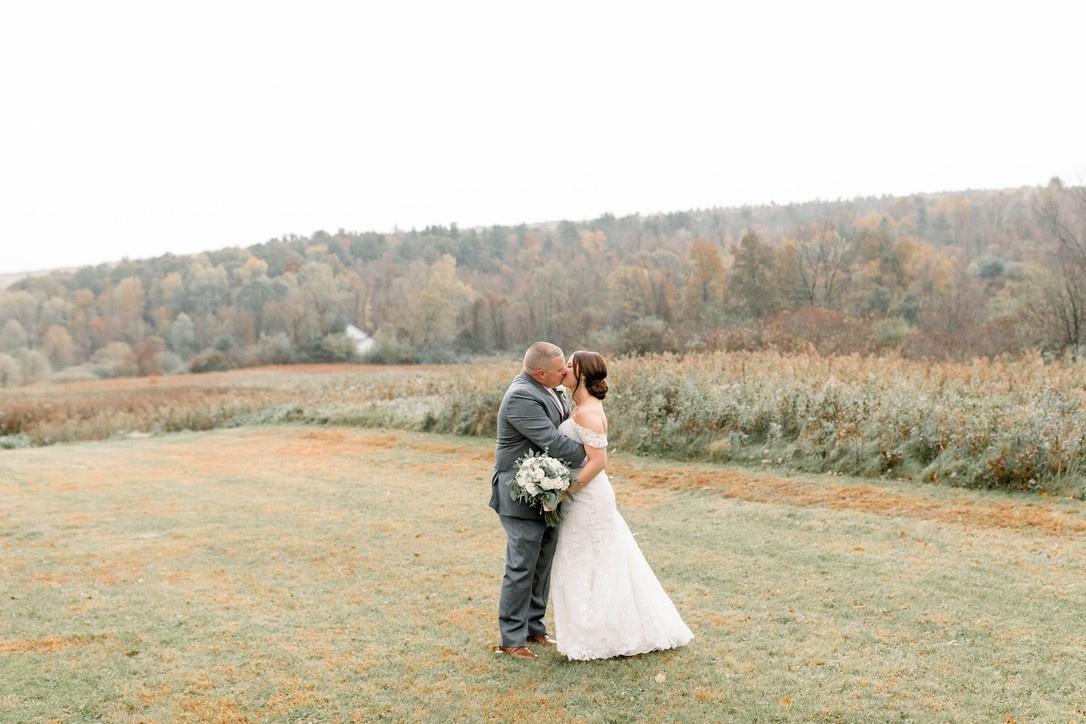 Crissey Farm
Great Barrington, Massachuetts
Planning a wedding in the Berkshires? Check out Crissey Farm, a former dairy farm in Great Barrington. This farm wedding venue (which also owns and operates Barrington Brewery), offers mountain views and a scenic setting for your big day. Enjoy your ceremony under a floral-bedecked pergola on the farm's lawn or in front of a cozy stone fireplace inside. Receptions are held inside in the warm and welcoming event space, which features vaulted ceilings and exposed wood beams. All told, this venue can host weddings and events of up to 200 guests. Catering and event rentals are all handled in-house.
Learn more about Crissey Farm »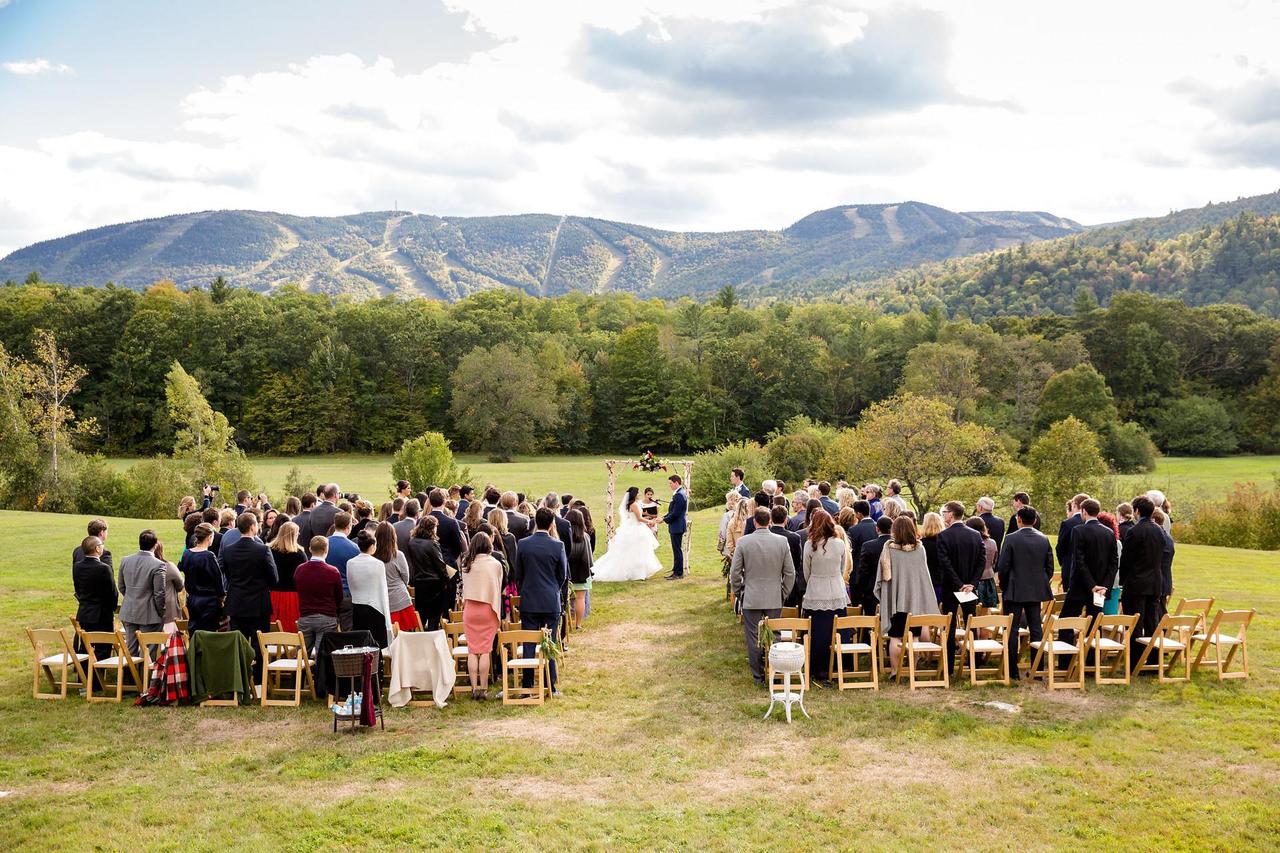 Mountain House on Sunday River
Newry, Maine
For top-notch mountain views, the Mountain House on Sunday River offers a truly spectacular setting. Set on 15 acres, this venue has both outdoor and indoor space for your big day. Host your wedding ceremony at Mountain View Meadow, with panoramic views of the Mahoosuc Range as your backdrop (and don't be surprised if a local moose crashes your vows!). The Pine Cathedral is a more intimate ceremony site in the woods, and the Apple Grove is a romantic and charming outdoor location. Receptions for up to 150 guests are held in the dining tent—and late-night fun around the fire pit is encouraged!
Learn more about the Mountain House on Sunday River »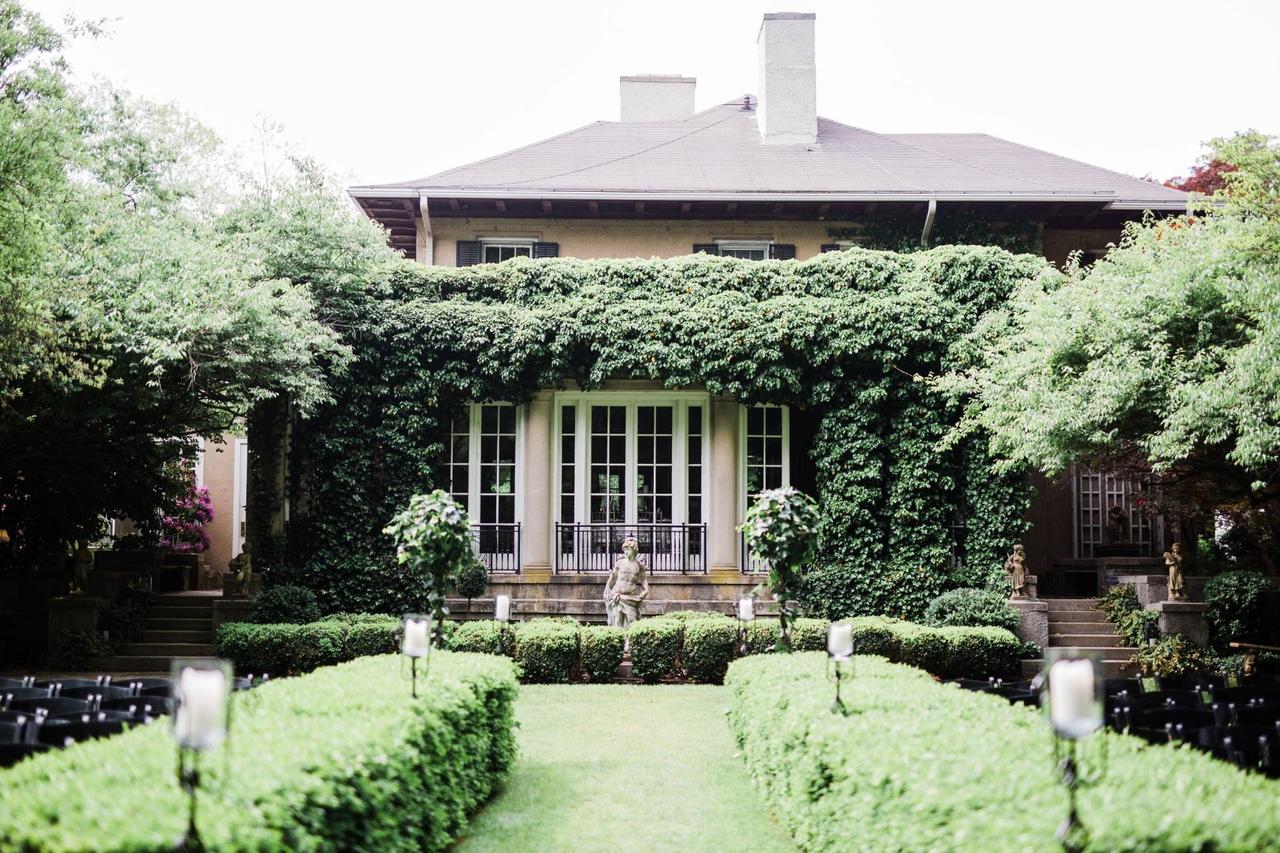 Lord Thompson Manor
Thompson, Connecticut
Why limit your wedding to just a single day when you can host an entire wedding weekend at Lord Thompson Manor? This New England wedding venue encourages the use of their property from Friday to Sunday, with events including the rehearsal dinner, pre-wedding activities and games, the wedding itself, and the post-nuptial brunch. The impeccably-manicured garden is perfect for an outdoor ceremony, and the reception space is lovely, as well. You'll work with the renowned catering team to create your wedding-day menu at this Couples' Choice Award-winning venue.
Learn more about Lord Thompson Manor »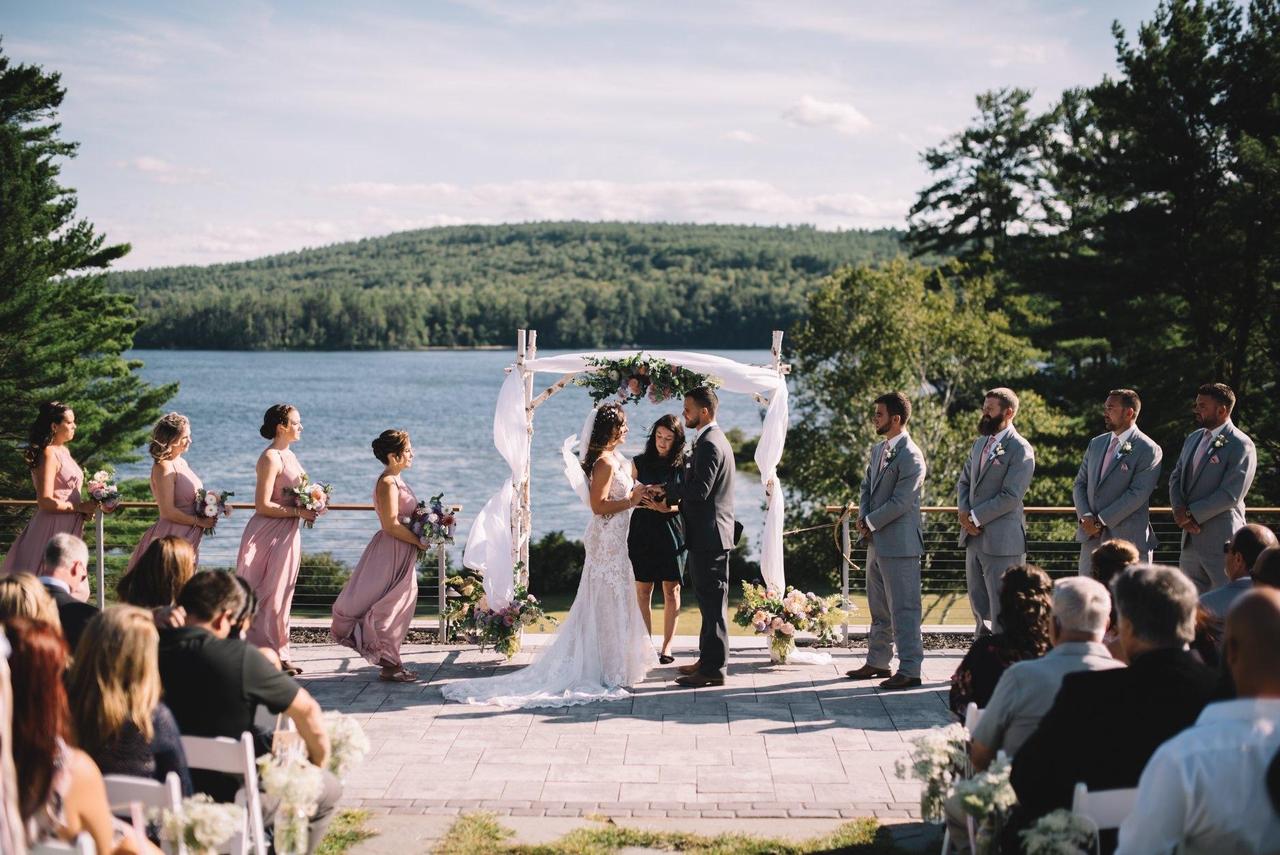 Bear Mountain Inn + Barn
Waterford, Maine
In terms of beautiful scenery, this newly-renovated Maine wedding venue has it all—mountains, woods, and lake. Host your wedding ceremony overlooking sparkling Hessian Lake, followed by a reception in a tent near the water or inside the upgraded, yet still rustic, barn. This event venue can host weddings of up to 200 guests, as well as elopements. A four-time Couples' Choice Award winner, Bear Mountain Inn + Barn wins raves for their service.
Learn more about Bear Mountain Inn + Barn »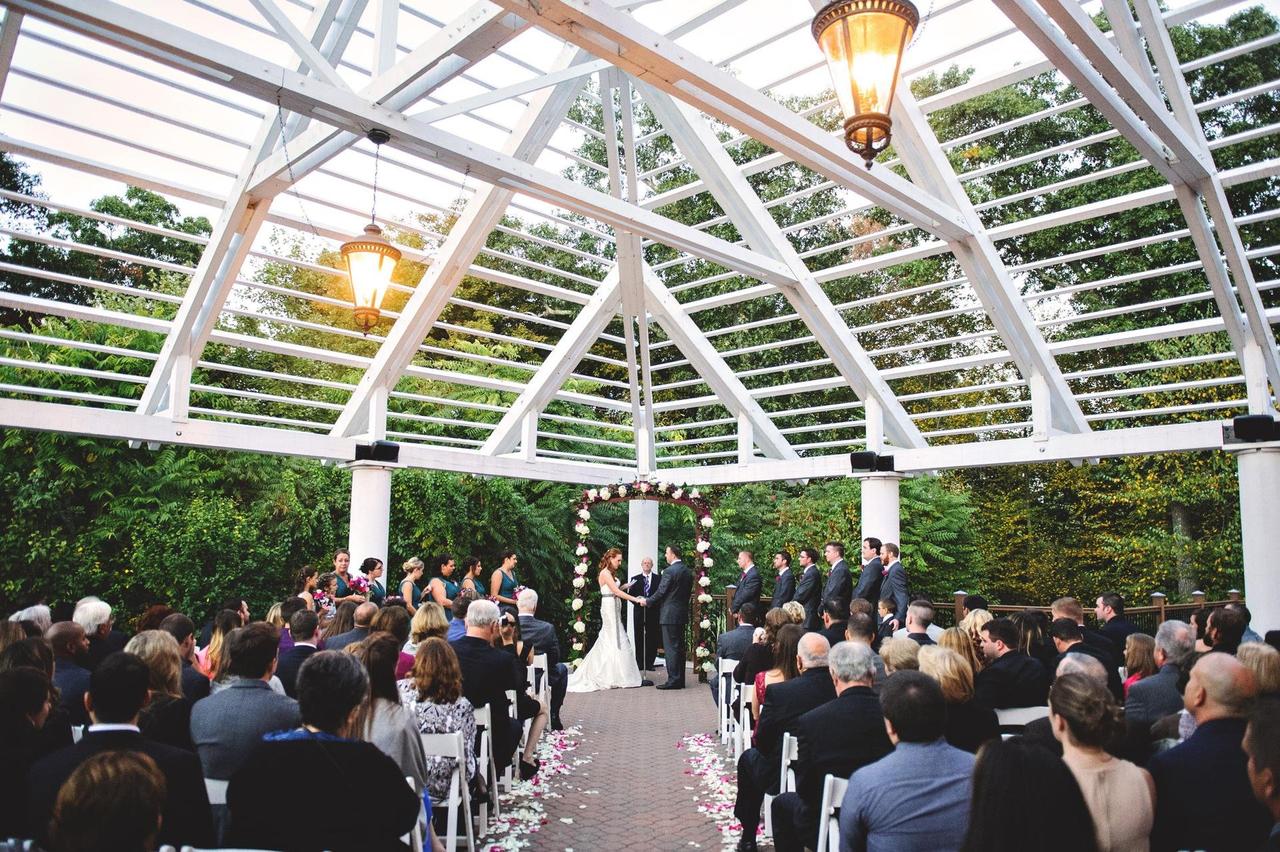 The Riverhouse at Goodspeed Station
Haddam, Connecticut
For a romantic garden wedding venue in Connecticut, you'll love The Riverhouse at Goodspeed Station. Located on the Connecticut River, this all-inclusive venue offers one of our favorite ceremony settings—a dramatic white pergola that stretches over all of your guests. Inside, the ballroom can hold events of up to 300 guests and features large windows and chandeliers. The gardens make a beautiful backdrop for your wedding photos, as do the river banks and docks. There's even a decked-out children's room so your youngest guests will be entertained on the big day.
Learn more about The Riverhouse at Goodspeed Station »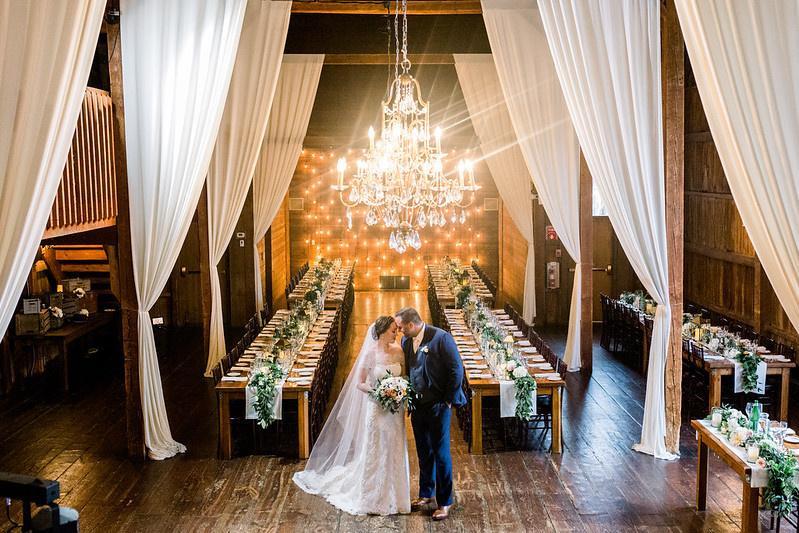 The Barns at Wesleyan Hills
Middletown, Connecticut
For a wedding venue that blends history with modern touches, The Barns at Wesleyan Hills is one of our top picks. From the outdoor ceremony setting to the 140-year-old barn reception area, the event spaces are ideal for a rustic wedding celebration. There's space for up to 225 guests inside the climate-controlled main barn, and the property itself, featuring ponds and bridges, is a wedding photographer's dream. Catering and rentals are handled in-house, so your planning process will be streamlined and enjoyable.
Learn more about The Barns at Wesleyan Hills »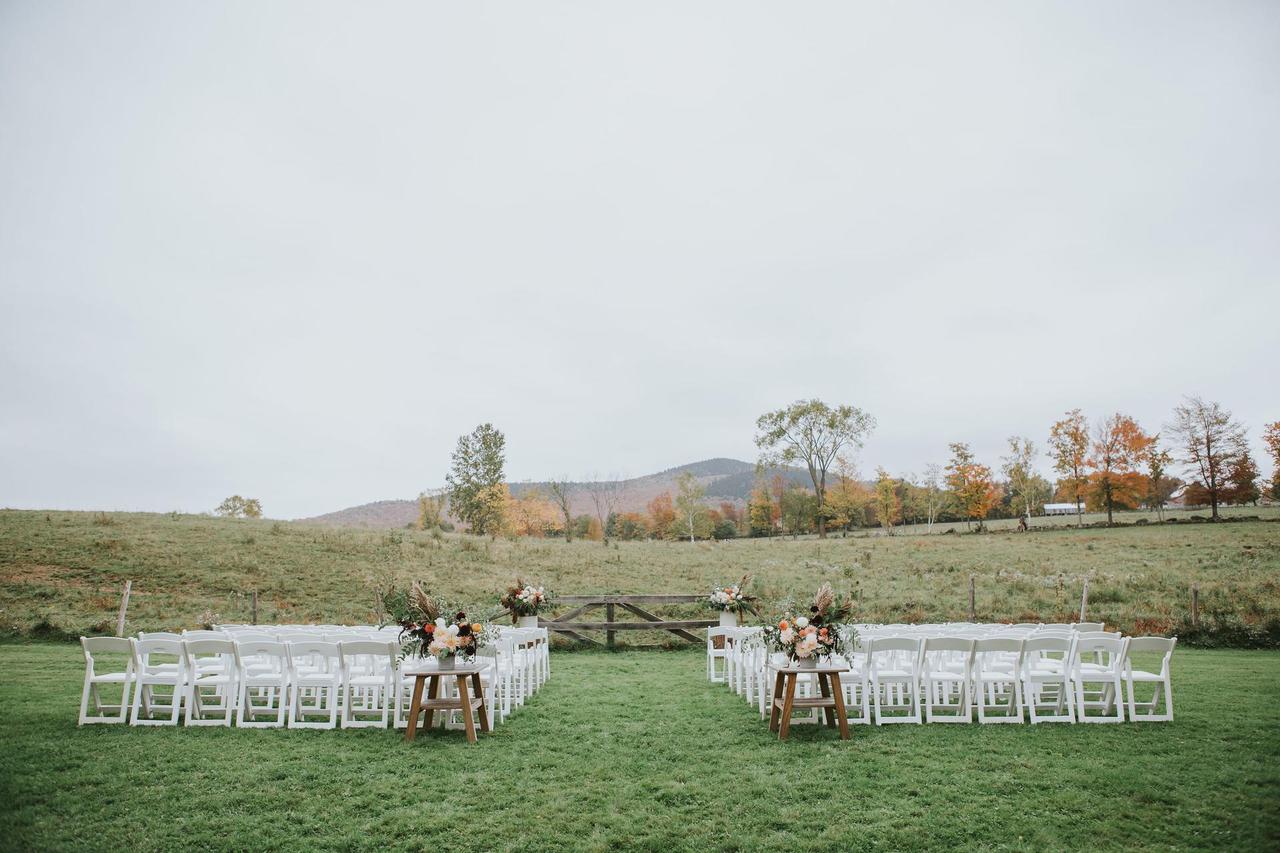 The Inn at the Round Barn
Waitsfield, Vermont
This Vermont wedding venue isn't your average barn event space. The barn's unique round shape sets it apart, as does this venue's natural beauty and stellar service. You'll have access to the entire property for your ceremony, and the barn for your reception. This venue can host weddings and events of up to 200 guests, and the on-site (and pet-friendly!) guest rooms allow your VIPs to stay on site for a fun-filled wedding weekend. In-house catering, rentals, and bar services are available.
Learn more about The Inn at the Round Barn »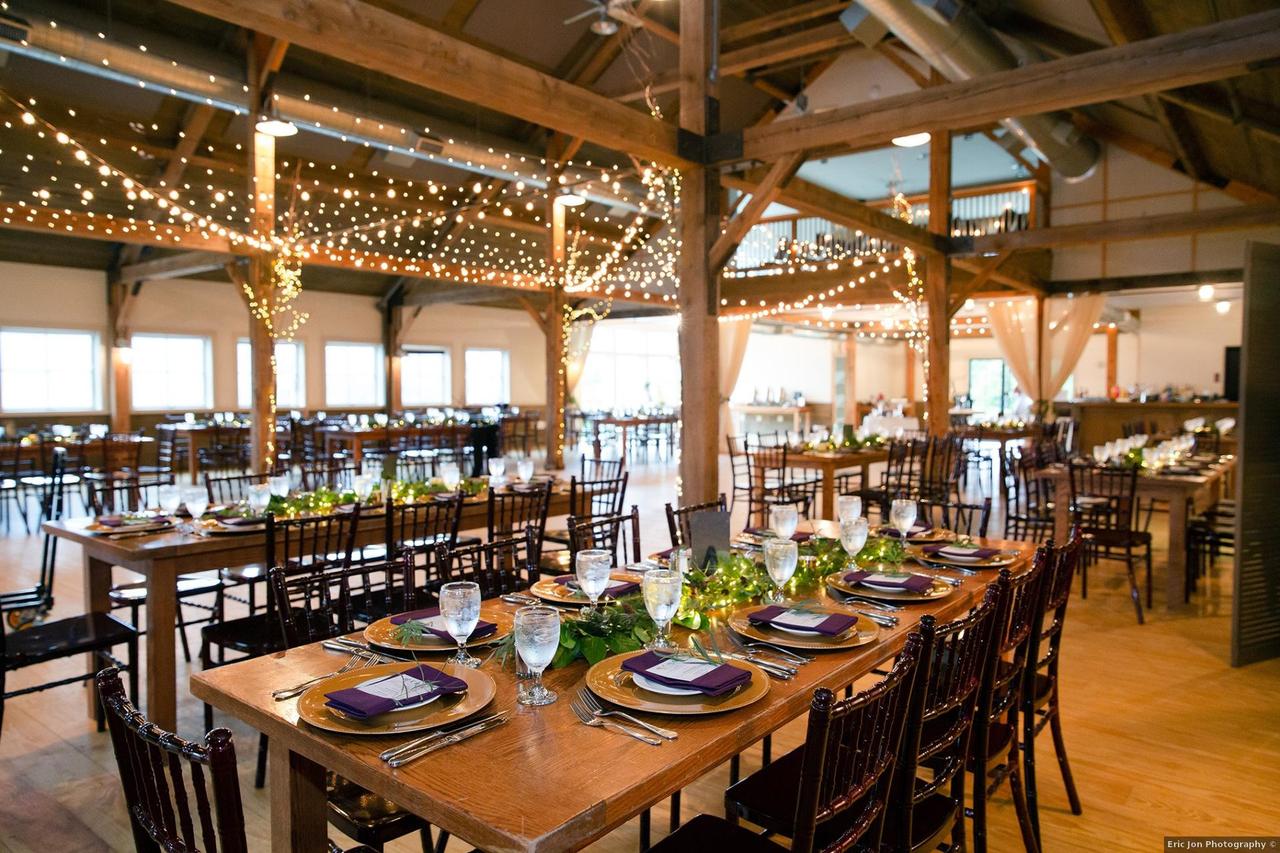 The Mountain Top Inn & Resort
Chittenden, Vermont
For a wedding weekend in the Green Mountains at any time of year, check out The Mountain Top Inn & Resort in Vermont. There are 12 (yes, 12!) indoor and outdoor event spaces to choose from, including several overlooking the mountains and lake. Receptions are held in the three-story barn or a lakefront pavilion on the property. Plus, there are guest rooms, suites, and cabins on site so your guests can enjoy all of the activities the resort has to offer, from horse-drawn sleigh rides in the winter to swimming in the summer.
Learn more about The Mountain Top Inn & Resort »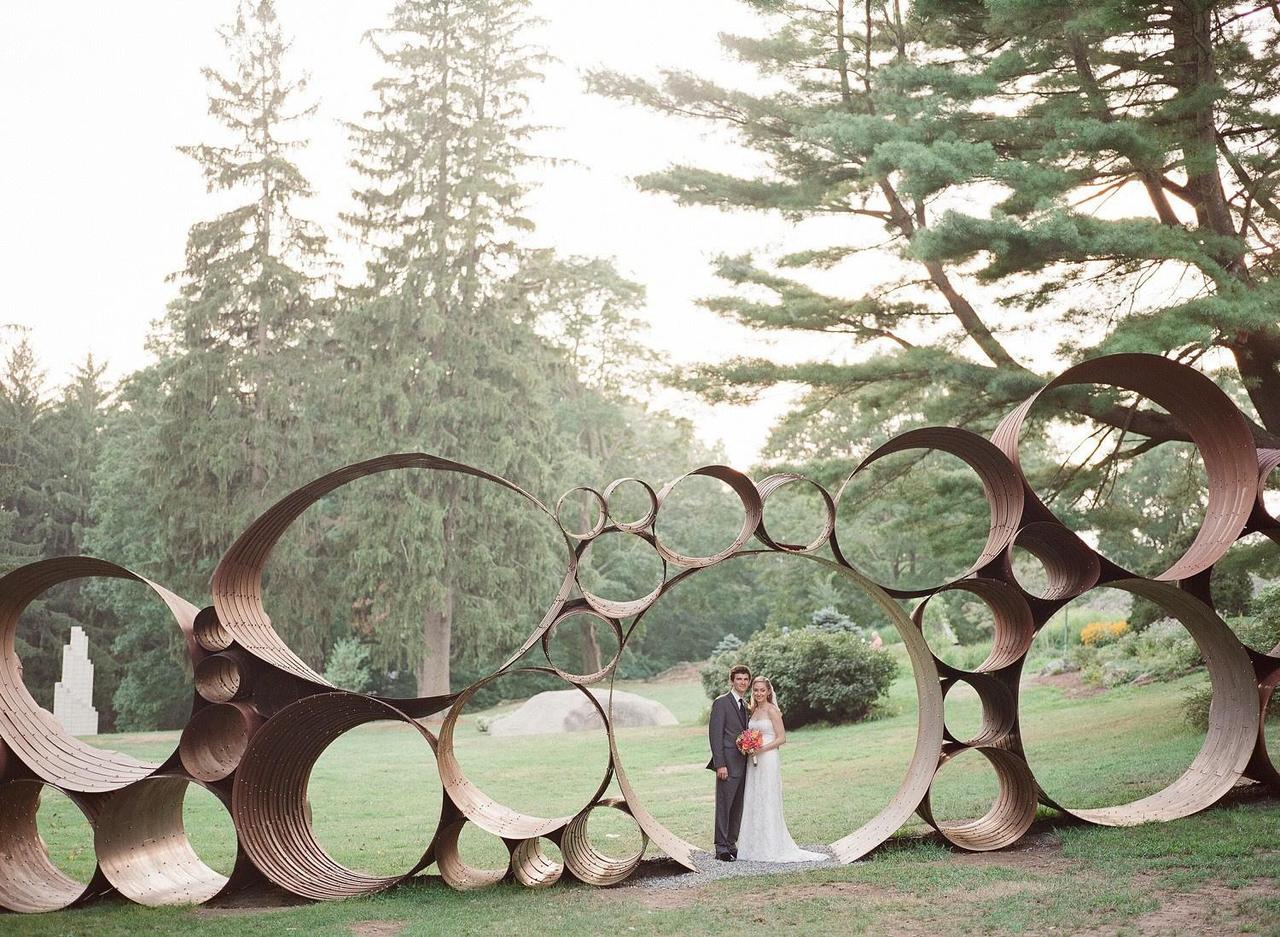 deCordova Sculpture Park and Museum
Lincoln, Massachusetts
Creative couples will love this unique New England wedding venue. Yes, you'll find gorgeous works of art, but you'll also be surrounded by stunning natural beauty. Host your ceremony in the Sculpture Park, followed by a reception in one of the unique reception spaces, including the Dewey Family Gallery or a tent outside. Your guests will love viewing the artwork as they celebrate your nuptials.