The Boston Wedding Guide Massachusetts Couples Need
Looking to get started planning a Boston wedding? Check out our guide to planning a wedding in Beantown, from start to finish.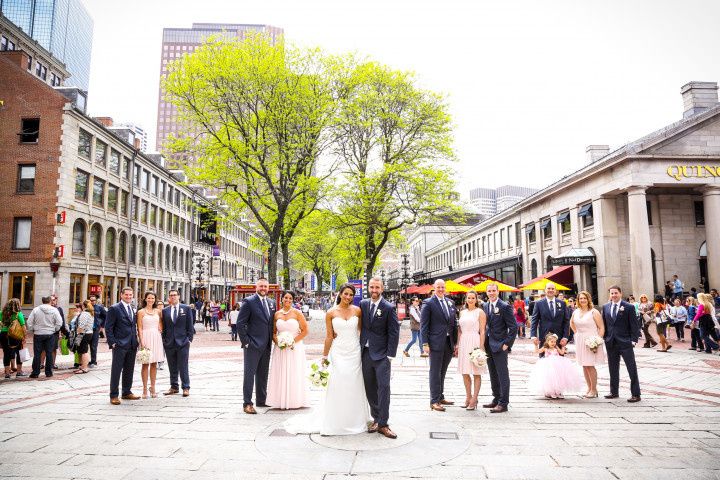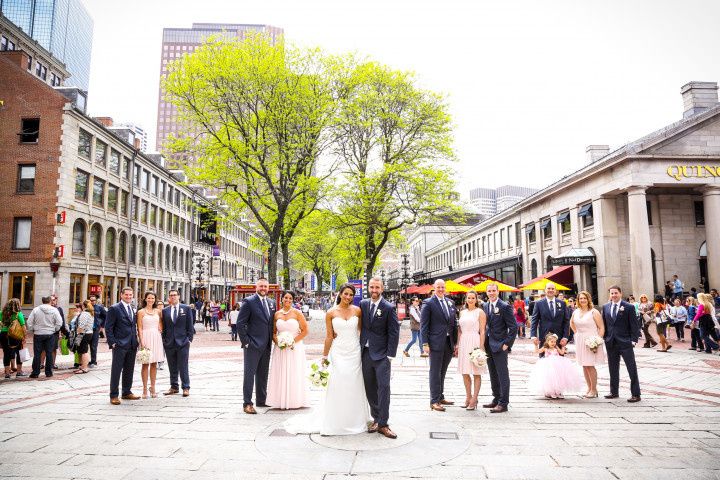 Photo: One Eleven Images
There's so much to love about planning a Boston wedding. From the city's history to the gorgeous waterfront location, the New England cuisine to the wide range of activities and attractions, Boston is the perfect setting to host your big day. And with the variety of amazing Boston wedding venues and talented wedding professionals, planning a Boston wedding has never been easier—or more fun.
Ready to plan your Beantown wedding? Here's a guide to ensure your Boston wedding goes off without a hitch.
The Basics
Boston is a popular city for weddings—and it turns out it's one of the most expensive as well. The average cost of a Boston wedding is $36,300, putting it just behind New York and San Francisco when it comes to the priciest cities to plan a wedding. As in the rest of the country, fall weddings are most popular in Boston, with October being the top month for nuptials. Boston weddings have an average of 120 guests (right around the national average of 124 guests) and Beantown couples tend to be engaged a bit longer than average, 15 months.

Boston is a busy city and a popular tourist destination. It's important to do your research before setting a wedding date to ensure that your big day doesn't conflict with a major event, or else you'll risk booked hotels and traffic issues putting a damper on your big day. One of the biggest events in the area is the Boston Marathon, which takes place on Patriot's Day in mid-April. And because of the area's many colleges and universities, you'll want to be aware of the various moving-in weekends (in late August and early September), as well as the graduation season in May and June. Other major events to look out for include Boston Harborfest (Fourth of July), Head of the Charles (in October), and St. Patrick's Day in March. Any Red Sox game days may result in crowding around the Fenway Park area, as well.
Getting There and Getting Around
Your out-of-town guests will likely fly into Boston Logan International Airport. Those guests located in the Northeast region may wish to take the train or bus into South or Back Bay stations.

Once they've arrived into the city, they'll be delighted to learn that Boston is quite a walkable city, depending on where your guests are staying. There's also the public transportation system, known as the T. The rail line covers most of the area and is a great way for your guests to explore all that Boston has to offer. There are also taxis and ride-sharing apps like Uber and Lyft available as well.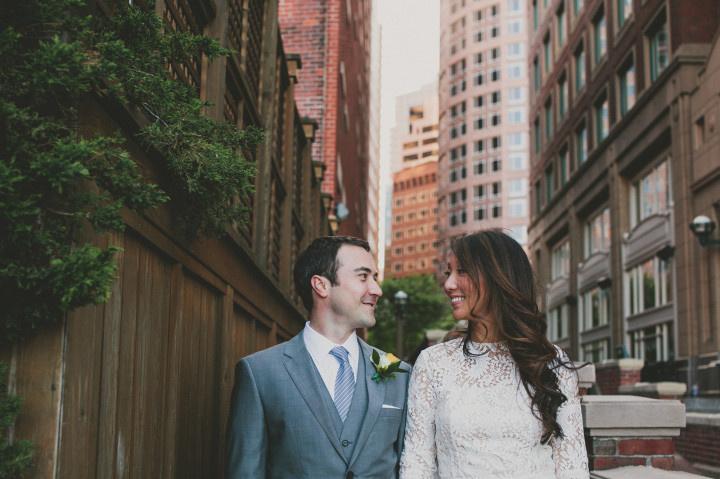 Photo: Kendra Elise Photography
Weather
Boston natives know that the weather is pretty predictable—extremely cold in the winter (with lots of snow!) and warm in the summer. The average temperature in January, the area's coldest month, is 36 degrees, while in the warmest month of July, the average is 81 degrees. Boston does experience quite a bit of precipitation each year, so if you're planning an outdoor wedding, it's a good idea to ensure your venue has a Plan B in case of inclement weather.
Wedding Venues
Whether you're planning a grand, elegant wedding or a more intimate affair, there are lots of Boston wedding venues to choose from. These are some of the most popular types of venues that host wedding ceremonies and receptions.
One of the best parts of planning a Beantown wedding is being near the Boston harbor and waterfront area. There are many venues that are located on or near the Boston waterfront, some with incredible views of the city skyline, as well.
While there aren't any barn wedding venues exactly in the city of Boston, it turns out there are lots of rustic spaces nearby. If you're looking to get out of the city for your big day, check out these barn venues.
Boston is known for its historic event spaces, but there are a lot of more modern and unique wedding venues to choose from, as well. From contemporary restaurants to offbeat museums, there's more than meets the eye when it comes to Boston venues.
Bigger isn't always better. If you're hosting a wedding of 150 guests or fewer, there are plenty of smaller Boston wedding venues to choose from.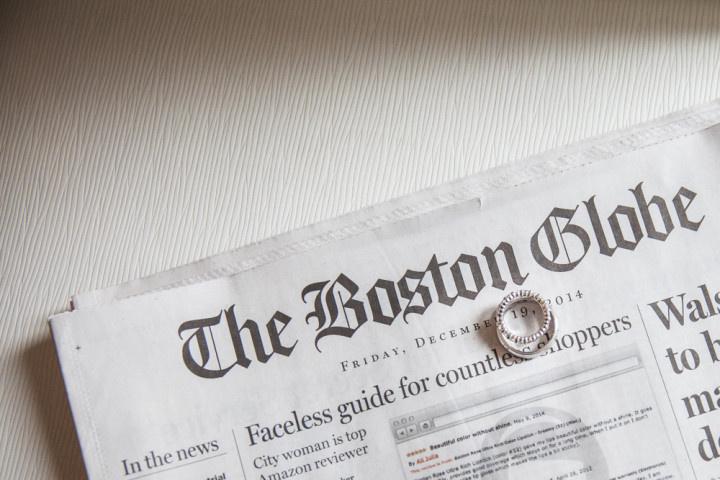 Photo: Photography by Amanda Morgan
Marriage Requirements
One of the most important parts of planning a Boston wedding is knowing the legal requirements for obtaining a marriage license. You'll need to go to City Hall, bring proper identification, and pay a $50 fee. A Massachusetts marriage license is valid for 60 days in Boston, and there is a three-day waiting period (though you can get a waiver for the waiting period for a $195 fee). During your initial visit to City Hall, you'll file a "marriage intention," and then must return to City Hall to pick up the actual license after three days. You'll also need to make sure that a licensed officiant performs your ceremony, completes the license, and returns it in a timely fashion.
Wedding Accommodations
If you're hosting out-of-town guests, it's a good idea to reserve room blocks at area hotels that are as close as possible to your venue. Fortunately, there are many Boston hotels to choose from at a variety of price points. Do your research on what each area hotel offers, and create your room blocks accordingly.
Things to Do in Boston
Your guests will have no shortage of fun things to do in the Boston area during their stay. We recommend providing your guests will a list of your favorite area attractions, either on your wedding website or as part of their welcome bag. Here are a few of our favorite Boston activities:
Visitors can easily explore the city by walking the Freedom Trail, a 2.5-mile route that takes you to 16 important sites, from churches to museums, and more. Your guests can take a guided tour or simply walk the trail at their own pace.
Whether you're an art lover, a science fan or a history buff, there are too many amazing museums in Boston to count. A few favorites include the Museum of Science, the Museum of Fine Arts, the New England Aquarium, the Boston Tea Party Ships & Museum, and much more.
During the warmer months, find serenity at the Boston Public Garden—an oasis amid the bustling city.
This neighborhood combines history, culture, and amazing food. Known as the Little Italy of Boston, the North End has lots of historic buildings and incredible restaurants (don't leave without enjoying some cannoli!).
If your guests will be in town during baseball season, attending a Red Sox game is a must-do. Fenway Park is the oldest baseball stadium in the country and is just as lively as ever.
If there's time during your wedding weekend, your theater and music-loving guests might enjoy a show at the Boston Opera House. The architecture is incredible and there's always a concert, show, or dance performance going on.
Boston Wedding Inspiration
Boston is a city with its own unique style and vibe, so it's a good idea to check out real weddings that have taken place in the area to find inspiration for your big day. Here are a few of our favorite Boston weddings where you'll find some great ideas:

Megan and Ed's spring hotel wedding »
Evie and Bryan's intimate restaurant wedding »
Kristin and Shawn's colorful museum wedding »
Jessica and Matthew's formal winter wedding »
Disclosure: This post contains affiliate links, some of which may be sponsored by paying vendors.