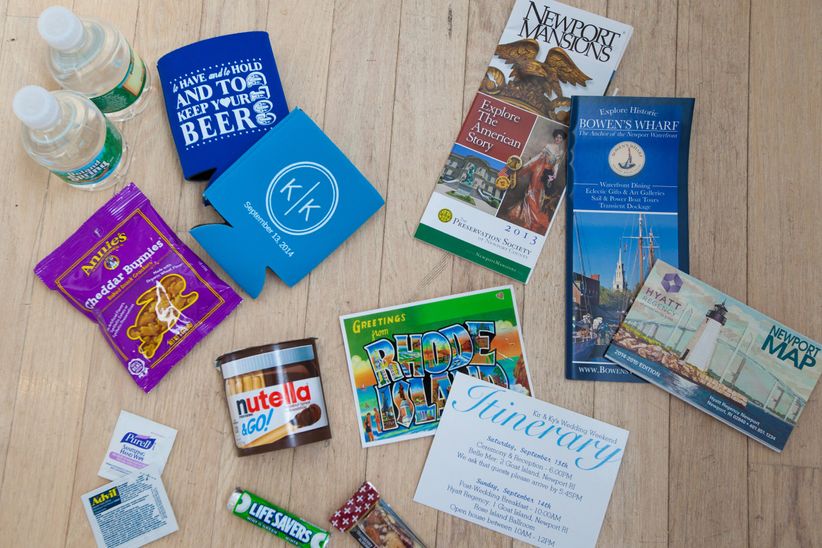 Photo: Gumula Photography
If you've got out-of-town guests making the trip for your wedding, treating them to a wedding welcome bag at the hotel is a great way to say thank you (in addition to providing them a killer hotel room block). It's also a fun way to get your guests acclimated to the area and make them feel appreciated!
Here are a few suggestions for what to include in wedding welcome bags:
1. Weekend itinerary
Including a timeline of events in a wedding welcome bag will not only benefit your guests, but you as well. If you lay out all the info for them then they're less likely to contact you with last-minute questions. Be sure to include transportation information in your wedding welcome bags as well so guests know when they'll get picked up from the hotel and when they can expect to be dropped off after the wedding.
2. Map
Include a map of the area in your wedding welcome bags so guests know what's nearby and can do some exploring during their down time. A lot of calligraphers and stationers will design custom maps of the area if you ask them.
3. Aspirin and breath mints
They'll be thankful for these the morning after your wedding, trust us.
4. Keepsake related to your wedding location
Be sure to include a special local-themed item in your wedding welcome bags. For example, Baltimore is known for delicious crabs, so including a personalized mallet would be a cute option. If you're getting married in Napa Valley, including a mini bottle of wine would be an appropriate addition. Think about what makes your wedding location unique and play it up!
5. Local snacks or candies
What guest wouldn't appreciate some edible goodies in their wedding welcome bag? Again, think local for this one. Does the area have a specific food or delicacy that it's known for? For example, Ghirardelli Chocolate was founded in San Francisco, so thats a clever treat to include if you're getting married there. Garrett Popcorn Shop is a well-known tourist attraction in Chicago, so guests are sure to appreciate munching on a bag when they get back to their hotel rooms.
6. Custom "Do not disturb" door hangers
Include door hangers that say something along the lines of, "Do not disturb, we're tired from celebrating (name 1) and (name 2)'s wedding last night!". It's a great way to personalize the wedding welcome bag and it will definitely come in handy the next day!
7. Water
It'll definitely be something your guests reach for in the morning so why not be prepared? Take off the label and add a personalized one over it! Include your names and the wedding date for a cool twist on a simple favor.
8. Postcard
Why not put a postcard in your guests' hotel gift bags? They can share what an awesome time they had at your nuptials with friends and family or they can keep it as a memento of the fun weekend!
9. Thank-you note
Don't forget to thank your guests for coming! Even if it's just a short printed letter, it's important to let them know how happy it makes you to be able to celebrate your wedding day with them.
10. Don't forget the vessel!
Now that you've figured out what to include, you need to think about how you want to pack up all of your items. From personalized tote bags and wicker baskets to gift boxes tied with ribbon, opt for the a wedding welcome bag that allows you to present your goodies in the most appropriate way!
Disclosure: This post contains affiliate links, some of which may be sponsored by paying vendors.